Federal lawsuit challenging New Hampshire classroom censorship law filed
'This law erases the legacy of discrimination & lived experiences of Black & Brown people, women, LGBTQ+ people, & people with disabilities'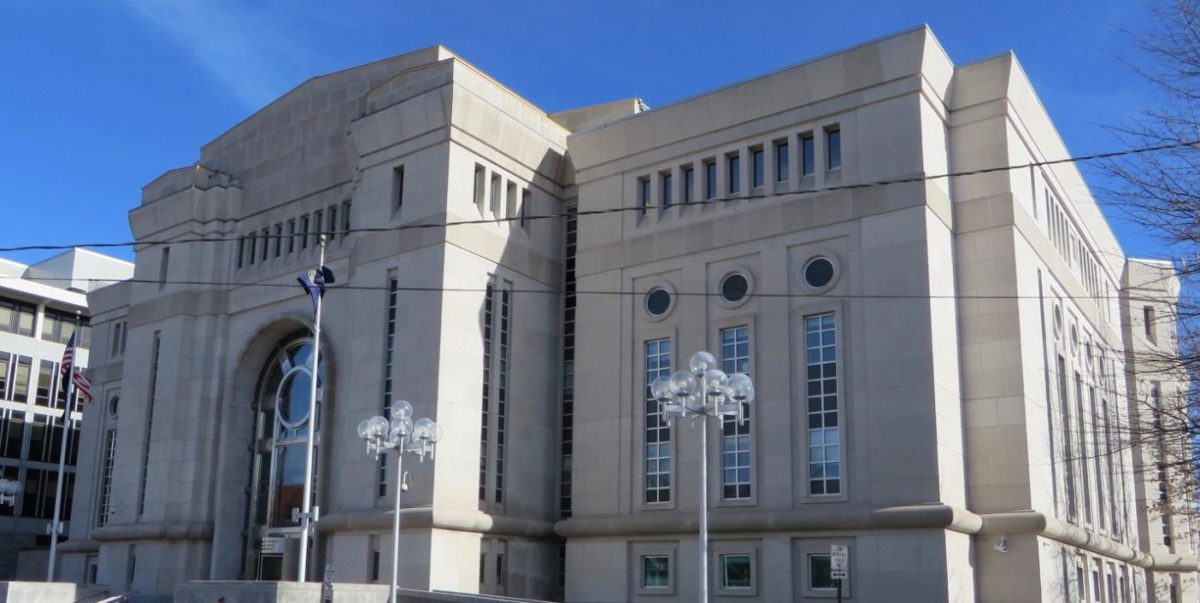 CONCORD, N.H. – A diverse group of educators, advocacy groups, and law firms filed a federal lawsuit Monday challenging a New Hampshire classroom censorship law, contained within state budget bill HB2, which discourages public school teachers from teaching and talking about race, gender, sexual orientation, disability, and gender identity in the classroom.
New Hampshire is one of many states across the country that passed similar laws in 2021 aimed at censoring discussions around race and gender in the classroom. This is the third federal lawsuit in the country to facially challenge one of these bans, including the ACLU's recently filed lawsuit challenging Oklahoma's classroom censorship law.
The lawsuit argues that HB2's vague language unconstitutionally chills educators' voices under the 14th Amendment, and prevents students from having an open and complete dialogue about the perspectives of historically marginalized communities, as well as on topics concerning race, gender, sexual orientation, gender identity, and disability.
The lawsuit was brought by New Hampshire school administrators Andres Mejia and Christina Kim Philibotte, who both specialize in diversity, equity, and inclusion. The lawsuit was also brought by the National Education Association – New Hampshire (NEA-NH), which is comprised of more than 17,000 member educators in New Hampshire and represents the majority of all public school employees in the state.
They are represented by lawyers from a broad coalition of organizations and law firms, including the NEA-NH and National Education Association, the ACLU, the ACLU of New Hampshire, Disability Rights Center – New Hampshire, GLBTQ Legal Advocates & Defenders, Nixon Peabody LLP, Preti Flaherty Beliveau & Pachios LLP, and Shaheen & Gordon, P.A.
"We have dedicated our careers to creating an education community where every student—including Black and Brown students, students of color, students from the LGBTQAI+ community, students with disabilities, and students from other historically marginalized identities—feel like they belong," said plaintiff Andres Mejia, the Director of Diversity, Equity, Inclusion, and Justice for the Exeter Region Cooperative School District, and plaintiff Christina Kim Philibotte, the Chief Equity Officer for the Manchester School District. "This law chills the very type of diversity, equity, and inclusion work that is absolutely necessary to ensure that each student is seen, heard, and connected, especially as New Hampshire becomes more diverse. We are proud to join this broad coalition challenging this law."
According to the lawsuit, the law is so unclear and vague that it fails to provide necessary guidance to educators about what they can and cannot include in their courses, and that it invites arbitrary and discriminatory enforcement—up to and including the loss of teaching licenses.
"This unconstitutionally vague law disallows students from receiving the inclusive, complete education they deserve, and from having important conversations on race, gender, disability, sexual orientation, and gender identity in the classroom," said Gilles Bissonnette, Legal Director of the ACLU of New Hampshire. "It is an attack on educators who are simply doing their job. Just four months into the school year, teachers are reporting being afraid to teach under this law for fear of being taken to court. This law, through vagueness and fear, erases the legacy of discrimination and lived experiences of Black and Brown people, women and girls, LGBTQ+ people, and people with disabilities."
Following the bill's passage, the NEA-NH began to hear from teachers that they were confused about what they could and could not teach, and that they were scared of the repercussions for guessing wrong. On multiple occasions, NEA-NH and other groups sent letters to the state asking for specific clarification. These letters went unanswered and unacknowledged.
"Teachers are trained and experienced in education and have a duty to set their students up to be successful contributors to society," said Megan Tuttle, President of the National Education Association – New Hampshire. "Across New Hampshire, parents and educators are working together to build stronger public schools and create opportunities for students. Parents and educators agree that students should learn complete facts about historical events like slavery and civil rights. They agree that politicians shouldn't be censoring classroom discussions between students and their teachers, and that educators shouldn't have their licenses and livelihoods put at risk by a vague law."
Although significant advances have been made in protecting the legal rights of people with disabilities, they continue to confront discrimination, ableism, stigma, and bias on a daily basis. For instance, in New Hampshire, school discipline has proven to be disproportionately harsh on students with disabilities, with even higher suspension rates for students of color with disabilities. Breaking down these barriers, both physical and societal, has required and continues to require open discussion about difficult subjects by people of all ages, especially by young people in educational settings.
"The banned concepts statute is a significant threat to the disability rights movement," said Stephanie Patrick, Executive Director of Disability Rights Center-NH. "Necessary classroom discussions about disability, mental illness, ableism, inclusion, and other related topics will not occur if teachers fear that they will face discipline as a result. The chilling effect of this law not only threatens continued progress toward an inclusive society, it also jeopardizes the progress we have already made."
In New Hampshire, LGBTQ+ youth face staggering levels of discrimination, with a 2019 state survey assessing school climate for LGBTQ+ youth in the state's secondary schools finding that up to 63% of respondents reported verbal harassment for sexual orientation, and up to 22% reported physical harassment.
"Every day, dedicated teachers and administrators in New Hampshire public schools work to help students understand the world around them and prepare them for success as adults in this increasingly diverse state and country. This includes teaching the full picture of American history—both good and bad—so that students can reconcile its effect on our society in the present," said Chris Erchull, Staff Attorney at GLBTQ Legal Advocates & Defenders. "Setting vague conditions on what educators can say about race, gender, gender identity, sexual orientation, and disability not only harms students with historically marginalized identities but creates a climate of fear that denies all students the freedom to learn and the opportunity to develop critical thinking skills, and to appreciate human differences."
The lawsuit asks the court to declare the Banned Concepts Act unconstitutional under the 14th Amendment, and issue an order barring its enforcement.
NEA President Becky Pringle said, "Parents and teachers want to give kids – regardless of race and place – the best public education possible. They want kids to learn and grow and to prepare them to make sense of the present and prepare for the future. While educators—in New Hampshire and across the country—work to deliver our children an accurate and honest education, some policymakers continue to deny far too many of our children the resources needed for a quality public education based on what they look like or where they live. Now those politicians want to censor instruction, threatening educators with sanctions, including the loss of their very licenses to teach, for providing honest answers to students who ask how our history affects our present and how racism and sexism continues to impact our society. Our students deserve the truth so they can build the more perfect union for which we all long. Our educators deserve our support, not sanctions for educating our children."
Emerson Sykes, Staff Attorney at the ACLU, said, "All young people deserve to learn an inclusive and accurate history in schools, free from censorship or discrimination. This law is drafted in a way that districts and teachers have no way of knowing what concepts and ideas are prohibited. The law unconstitutionally chills students' and educators' rights to learn and talk about race, gender, and disability and prevents students from having open conversations about our history."
Morgan Nighan, an attorney with Nixon Peabody LLP, said, "Access to a public education that is equitable, inclusive and accurate is every students' right. This bill attempts to censor what is taught in the classroom, to prevent honest, open dialogues about our country's history with race, gender, gender identity, sexual orientation, disabilities, and many other marginalized groups. In order to avoid repeating the mistakes of the past, we must encourage students to explore our history with a critical eye and embrace our differences as strengths."
Below are additional comments from:
Asma Elhuni, Movement Politics Director at Rights and Democracy NH, said, "Every child regardless of race, gender, or religion deserves the freedom to learn and develop the knowledge and skill set to wrestle with the past, create a better future, and have the opportunity to live out their dreams. Self-interested politicians have chosen to censor the truth from our students, robbing them of the ability to understand that mistakes do and have happened, and what we do with mistakes, whether we learn from them or decide to repeat them is what matters. Rights and Democracy is thankful to see such a broad range of people in our communities coming together to challenge this unjust law. Together we will prove that when we join forces, we can build schools where every student – no matter their color or zip code they live in- have the freedom to learn honest history and stride together for a better tomorrow where everyone will have the ability to thrive."
Maggie Fogarty, NH Program Director at American Friends Service Committee, said, "The Banned Concepts Act prevents the learning and critical thinking that are essential for a healthy society. It harms teachers and administrators who are forced to navigate its vagueness under threat of penalty, as well as students who are denied access to education about essential concepts such as racism and injustice. New Hampshire communities are weakened by the silence and fear that this Act seeks to impose. It is truth-telling that is needed now, not censorship. It is courage that is needed now, not fear. The American Friends Service Committee applauds this important lawsuit as an effort to protect public education and democracy, and to support the ongoing and urgent work for a more equitable society."
Zandra Rice Hawkins, Executive Director of Granite State Progress, said, "Our children deserve an honest education that teaches them about America's triumphs and also where our country has failed to lead, so that we can continue to build a more perfect union. Far-right actors at the state and national level are using laws like this to slow progress on racial justice and diversity, equity, and inclusion efforts, and to further push for the privatization of public education. It is to our detriment as a society to let them succeed. We are thankful for this lawsuit."
James McKim, Managing Partner of Organizational Ignition, said, "The Right to Freedom from Discrimination statute passed as part of 2021 NH HB2 (formerly called the 'Divisive Concepts' statute) is an example of how seemingly well-intentioned legislation, and I am being generous here giving the benefit of the doubt that the legislation's sponsors had in mind the benefit of everyone – not just those socialized as white, can be more damaging than saying nothing. My consulting practice helping organizations benefit from the diversity in our state and nation has been significantly negatively impacted by this statute. And people of color I know around the nation have told me this legislation makes New Hampshire seem unwelcoming. It is not only poorly crafted in language, but this it was not asked for by those whom it seems to seek to protect which makes it poor governance as articulated by the NAACP's legal challenge to Executive Order 13950 (the 'Order') on which the New Hampshire statute was modeled. The citizens of New Hampshire, deserve better."
Ronelle Tshiela, Co-Founder of Black Lives Matter Manchester, said, "The law prohibiting 'banned concepts' is an attempt to root out teaching of systemic racism by forcing educators to be dishonest about our nation's history. Black Lives Matter Manchester supports any effort to overturn it, and we applaud the educators who are fighting back."
This lawsuit comes weeks before the start of the 2022 New Hampshire legislative session, which will include multiple bills designed to double down on classroom censorship. HB1255 would expand New Hampshire's Cold War-era "teacher loyalty" law to restrict the teaching of "any doctrine or theory promoting a negative account or representation of the founding and history of the United States." HB1313 would expand HB2's banned concepts language to include the state's public higher education institutions. Legislation has also been introduced, including HB1090 and SB304, which would repeal the banned concepts language in HB2 and replace it with language that would protect educators who teach about the "historical or current experiences" of protected groups.
This lawsuit was filed in the United States District Court for the District of New Hampshire.
Disney sues DeSantis, says he orchestrated government retaliation
'Disney is left with no choice but to file this lawsuit to protect its cast members […] from a relentless campaign to weaponize government"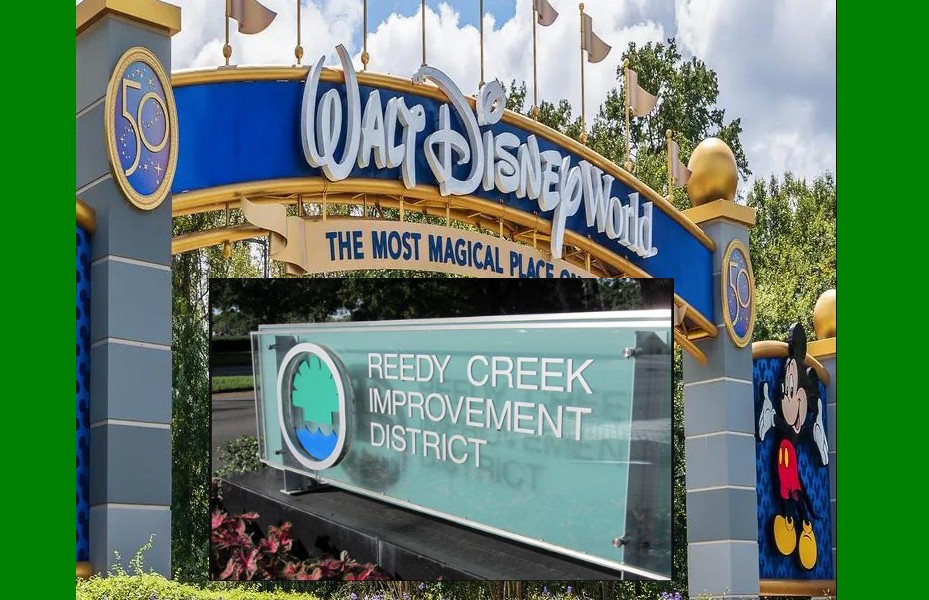 TALLAHASSEE – Attorneys for Walt Disney Parks & Resorts US Inc. in a 77 page filing Wednesday, sued Florida Republican Governor Ron DeSantis over what the company alleges is a "targeted campaign of government retaliation—orchestrated at every step by Governor DeSantis as punishment for Disney's protected speech."
Disney had expressed opposition to the anti-LGBTQ+ 'Parental Rights in Education bill' the governor signed into law a year ago, which opponents have labeled as the "Don't Say Gay" law.
In response to DeSantis signing H.B. 1557, titled "Parental Rights in Education," into law a spokesperson for the Walt Disney Company had issued a statement condemning the legislation.
"Florida's HB 1557, also known as the 'Don't Say Gay' bill, should never have passed and should never have been signed into law. Our goal as a company is for this law to be repealed by the legislature or struck down in the courts, and we remain committed to supporting the national and state organizations working to achieve that. We are dedicated to standing up for the rights and safety of LGBTQ+ members of the Disney family, as well as the LGBTQ+ community in Florida and across the country."
DeSantis accused Disney of imposing a "woke ideology" and warned that it'll "destroy" the United States if left "unabated."
Speaking to reporters at the state capitol DeSantis ranted: "For Disney to come out and put a statement and say that the bill should have never passed and that they are going to actively work to repeal it, I think one was fundamentally dishonest, but two, I think that crossed the line."
The governor added: "This state is governed by the interest of the people of the state of Florida, it is not based on the demands of California corporate executives. They do not run this state, they do not control this state."
The battlelines were drawn and over this past year, DeSantis and his allies have escalated the attacks on the media conglomerate. In mid April of 2022, the governor announced that he had expanded the special session of the state legislature to include eliminating the 1967 law that allows the Walt Disney World Resort property to operate as a self-governing body.
The bill that would dissolve Walt Disney World's 55-year-old self-government by June of 2023 was given final passage by Florida's Republican-controlled state legislature that would eliminate the Reedy Creek Improvement District, as the Disney self-government is known in late April of 2022.
In May, a trio of Central Florida residents who live near the Walt Disney Resort filed suit Tuesday in federal court, claiming that the Republican Governor Ron DeSantis violated the rights of the state's taxpayers with passage of the anti-Disney law that stripped the media conglomerate of its special self-governing status.
Michael Foronda, Edward Foronda and Vivian Gorsky filed an 11 page complaint in the U.S. District Court for the Middle District of Florida, that alleges that the law signed by DeSantis at the end of April eliminating the Reedy Creek Improvement District, as the Disney self-government is known, will burden them and other Floridan taxpayers with Disney's bond debt which is estimated at more than $1 billion.
3 weeks ago as the public feud between DeSantis and Disney raged on, Disney invoked a rare legal clause.
Before DeSantis could replace the Reedy Creek Improvement District board of supervisors, that Disney-allied panel signed a long-lasting development agreement that drastically limits his control. The former Reedy Creek Development board signed its power back to the Disney company before leaving office, a binding declaration that doesn't expire until England's monarchy dies out.
CNBC reported: "On Feb. 8, the day before the Florida House voted to put DeSantis in charge, the previous Disney-allied board signed a long-lasting development agreement that drastically limits the control that can be exercised over the company and its district.
As part of a 30-year development agreement, Disney no longer needs board approval to build high-density projects or buildings of any height and can sell or assign development rights. It also bans the board from using Disney's name or any of its characters."
To thwart the Florida Governor's hand-picked appointed board, the agreement included an obscure but legal "royal clause dating back to the reign of William III, also widely known as William of Orange, in 1692 which would extend its term limit for decades.
This "Declaration shall continue in effect until 21 years after the death of the last survivor of the descendants of King Charles III, King of England, living as of the date of this declaration," the document said.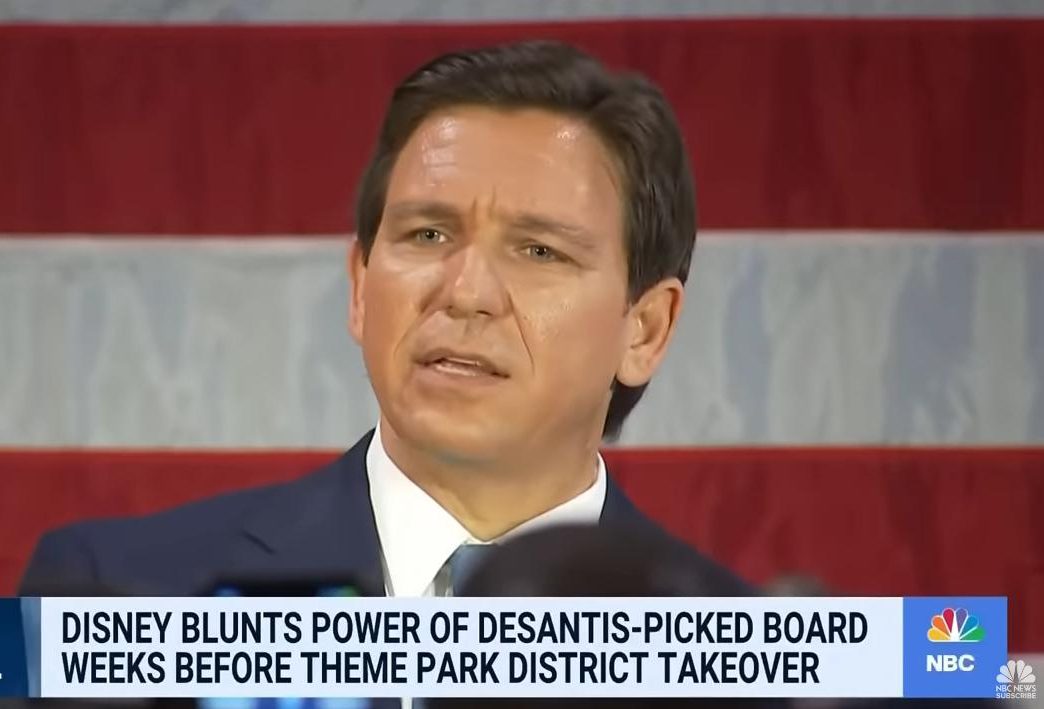 When the governor replaced all of the Disney-allied board members with five Republicans on Feb. 27, it was only then that Disney's new binding agreement was discovered. The clause was so obscure that several journalists who attended a Feb. 8 meeting apparently didn't pick up on it.
"This essentially makes Disney the government," Ron Peri, one of the new board members appointed to the CFTOD by DeSantis, said at the Feb. 27 meeting. "This board loses, for practical purposes, the majority of its ability to do anything beyond maintain the roads and maintain basic infrastructure."
CNN reported that DeSantis' political allies overseeing Disney's special taxing district threatened last week to hike taxes, raise utility rates and develop land around the entertainment giant's Central Florida theme parks as retribution for the company's efforts to avoid a state takeover.
In a meeting full of harsh words for one of the state's largest private employers, board members accused Disney of engaging in a covert, yet legally flawed attempt to take over the district's powers and thwart DeSantis' power grab and vowed it would not stand.
"It really is shameful what Disney tried to do," board chairman Martin Garcia said.
The comments echoed recent criticism from DeSantis, who on Monday vowed swift punishment against Disney and suggested a prison or competing theme park could be built on the land around the company's vast Orlando-area footprint.
In the court filing, Disney attorney's made note of the governor's threat: "The Governor
recently declared that his team would not only "void the development agreement"—just as they did today—but also planned "to look at things like taxes on the hotels," "tolls on the roads," "developing some of the property that the district owns" with "more amusement parks," and even putting a "state prison" next to Walt Disney World. "Who knows? I just think the possibilities are endless," he said."
The company expressed that it had enough of the governor's threats, actions, and using the state government as a weapon directed at it: " Disney regrets that it has come to this. But having exhausted efforts to seek a resolution, the Company is left with no choice but to file this lawsuit to protect its cast members, guests, and local development partners from a relentless campaign to weaponize government power against Disney in retaliation for expressing a political viewpoint unpopular with certain State officials."
In a news conference in Israel Thursday where he is on an economic development junket, DeSantis criticized the move by Disney: "I don't think the suit has merit, I think it's political," he told reporters.
"They had no transparency, no accountability, none of that, and that arrangement was not good for the state of Florida. We did not think that that should continue, so we now have brought accountability," the governor added.
******************************************************************************************