Mother of nonbinary adult accuses Delta of discriminatory ticketing policy
According to the Movement Advancement Project, 21 U.S. states allow individuals to identify as a gender option other than "male" or "female"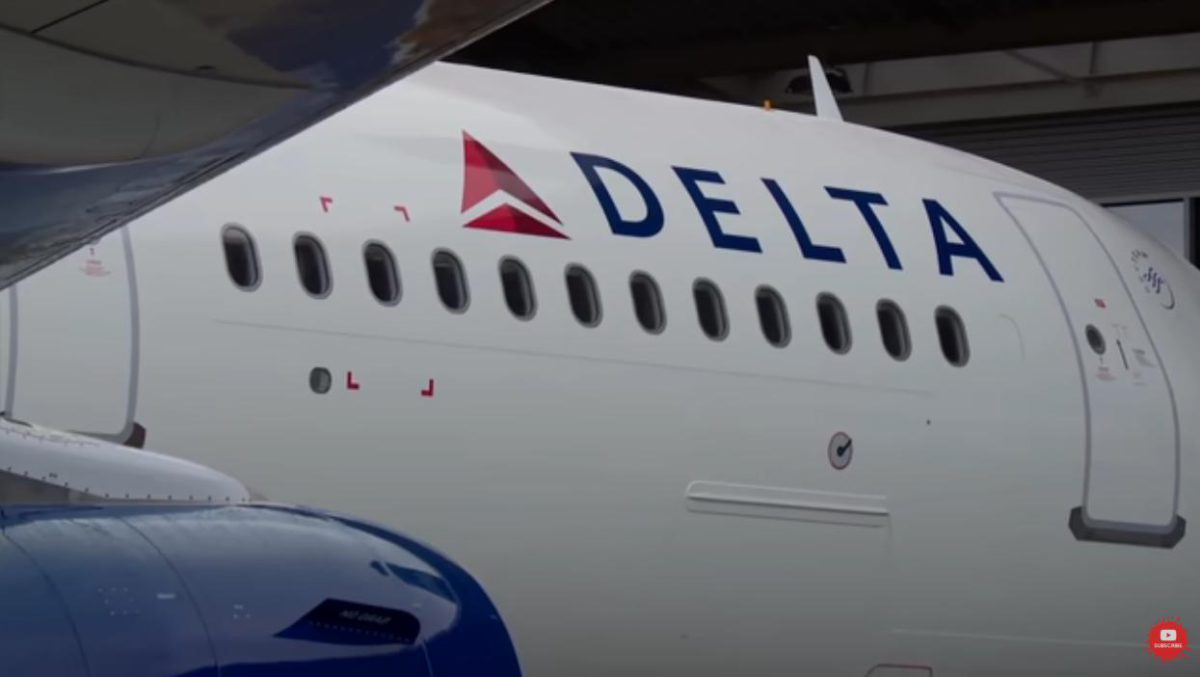 TUCSON, Az. – The mother of a nonbinary adult is accusing Delta Air Lines of discriminating against gender-nonconforming individuals after she was unable to buy a ticket for her child without inaccurately marking their gender as "male" or "female."
"@Delta is discriminating against #nonbinary individuals and not allowing them to fly despite legal ID issued by states that allow X on birth certificates and state-issued IDs," the mother, Aurora Dawn, tweeted.
Dawn voiced her frustration with Delta for not having a gender-neutral option when booking in the now-viral Twitter thread.
"I first discovered this problem when trying to make an online reservation to buy a ticket as a Christmas present for my #nonbinary adult child," she said. "The only gender options in @Delta and @AlaskaAir online reservation systems is male or female."
Dawn called Delta and connected with a representative who "was really trying to help," but could not change the gender marker to "X."
After waiting over 30 minutes on hold, Dawn said she was told to use the gender marker on the birth certificate. But the birth certificate also had an "X" designation, she said.
Dawn was concerned because the marker on her child's I.D. wouldn't match the gender on their ticket.
"I explained again that my adult child is #nonbinary and #LGBTQ and their ID is X and TSA requires them to match," she said.
After a heated exchange between Dawn and a Delta supervisor, she was "upset" and hung up the phone.
"I still have no airline ticket for my #nonbinary adult child," she said.
In a statement to the Blade, a Delta spokesperson said the company is a "proud, long-time supporter of the LGBTQ+ community."
In 2019 Delta, along with other major airlines, said it was planning to add a gender-neutral option for ticketing in what advocates hailed as a "significant step forward for nonbinary individuals."
However, Delta said the COVID-19 pandemic sidetracked the plans.
"While we quickly shifted focus due to COVID in early 2020 to help customers navigate the rapidly changing environment and government regulations, we are back on track to be able to offer a non-binary gender option in our booking systems in 2022," the statement read.
The spokesperson added that Delta has made other LGBTQ-inclusive policy changes, including having flight attendants use gender-neutral greetings – swapping language like "ladies and gentleman" for "everyone." 
According to the Movement Advancement Project (MAP), 21 U.S. states and the District of Columbia allow individuals to identify as a gender option other than "male" or "female."
Love's around the world & this adorable traveling couple will take you there
Michael had recognized a soul mate in Matthew- They made contact, and three weeks later, Michael flew to see Matthew in Seattle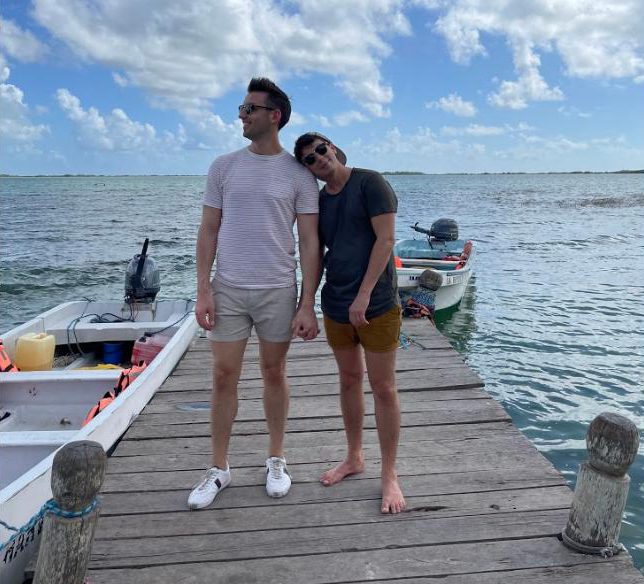 HOLLYWOOD – A young man named Matthew Schueller made a You Tube video. It was not his first video, nor was it the first of its kind. It was, however, the one that would change the trajectory of his entire life.
It was his "coming out" video. He sat in front of the camera trying to decide what to say, and how to say it. "I am gay… that's the crux of it…" he blurted out when he got on camera. He went on to describe the feelings he had in which he defined himself as a human mistake. He lamented a period of darkness where he was completely emotionally alone. He backed this up by sharing how his then best friend helped confirm that he was indeed a mistake: when he told her he was gay, she pledged to pray for him to be changed. At the time, both he and she thought this gesture was helpful and supportive. It eventually drove him to a suicide attempt. His parents got him the help he needed, even they did not know sexuality was the core of his issues.
In the video, he pledges to lay down his pain, and resolves to move on in a wave of light and love, and gratitude. "The world would be so boring if everyone was straight. I am so grateful to be a gay guy in this crucial time in history… anyone listening, you are wonderful, beautiful, perfect—just the way you are," he told the video audience. He pledged his support of anyone struggling with their sexuality, especially if they felt it conflicted with their religious beliefs.
Nearly 333,000 people were listening. Among them, was one young man in particular, who related on a very deep level. His name was Michael Lindsay. He lived 1300 miles away, and he too was gay, but had not come out yet himself. Matthew's words and strength gave him hope.
A year later, Matthew asked his followers to submit their own coming out videos to him. Michael's was sent immediately, and was the first Matthew received.
Michael had recognized a soul mate in Matthew, and when Matthew watched Michael's video, that recognition became mutual. They made contact, and three weeks later, Michael flew to see Matthew in Seattle. The weeks before their meeting in person were spent getting to know each other deeper, and neither disclosing the growing love they had for the other. "Spirituality was very important to each of us, we both had just come out and were trying to find ourselves in conjunction to our beliefs, and not sure what was coming next in life for us. Neither of us knew the next step," Matthew told me when we sat down on the Rated LGBT Radio podcast.
In story books, their week together when they met in Seattle would have been written as one of glamor and romance. That was not the reality. Just after Michael had arrived, and while Matthew was playing tour guide, there was an active shooter on Matthew's college campus. "We were riding back across the sound to the city when we heard about the shooting. We immediately went into full support mode of the victims, shock over the events, candlelight vigils. It took where we were on a superficial 'Oh I think you are cute' to a much deeper life or death level. Together, we were looking at life differently," Matthew shared. "He was there for me in a tremendous way through a situation with a lot of trauma. It was monumental."
In the next years that followed, Matthew took a leap of faith and moved to Nebraska to be with Michael as he finished dental school. "I was in love. I needed to give it a try."
A few years later, Michael proposed in Copenhagen, after a boat trip. Amongst the bright and beautifully colored buildings and romantic canals, there is a bridge full of "love locks" representing love forever. Michael insisted on a final picture… and went down on one knee. It was not until he started opening the ring box that Matthew realized what was happening.
They got married and moved to Portland where Matthew is a fulltime freelance photographer, and Michael is a dentist. They have chronicled buying their first house on their blog.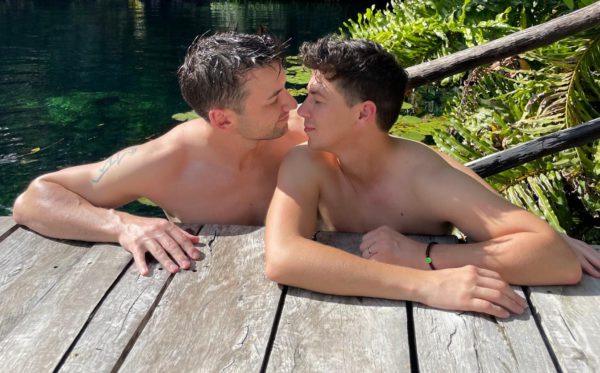 Since living life to the fullest, and in one's most authentic way, is a core value of the couple, they decided to share adventures of world exploration with their thousands of followers. They are on a quest to visit both exotic and familiar locales and share the breadth of sights and flavors that are available for LGBTQ couples.
Their travel blog includes some over-all guidance such as the most up to date travel sites to follow and how to deal with travel during COVID-19 times.
They also take us on journeys with them. In Puerta Vallarta, we go on both gorgeous hikes, and then an eating tour of ten great places to eat. In Portland, Oregon, we explore their new hometown. We go with them on a Scottish Highland adventure – and if those highlands are not enough, they bring us to a stateside "highland", and exploration of the Appalachians.
They write of places from Ecuador to Oahu, Hawaii to Juneau Alaska; and in between, explore the best of San Diego and the San Francisco-area East Bay.
Michael also throws in helpful guidance on recycling dental products. He is a world travelling dentist, after all.
They advise researching areas thoroughly before you travel. There are many areas where being LGBTQ is not treated well. Connecting with the local LGBTQ resources is also important.
On their future plans, India tops the list. "I hear it blows your mind, I am in awe of it," Matthew states. Australia and New Zealand are also projected trips post pandemic.
They are a couple in love. Their romance grew from a journey that started with self-acceptance, a realization and embrace of their true selves, and an integration of their strengths through trauma. They have now expanded that journey to one across the geographic world, sampling culture, color and flavor. It is a journey of fun and in finding all that is fabulous.
And they want to take you with them. Go.
You can follow them on their journeys below:
https://www.michaelandmatt.com/
https://www.instagram.com/michaelandmatt/?hl=en
https://www.youtube.com/channel/UCEzpZObez51nBnI6E1TQRwg
********************
********************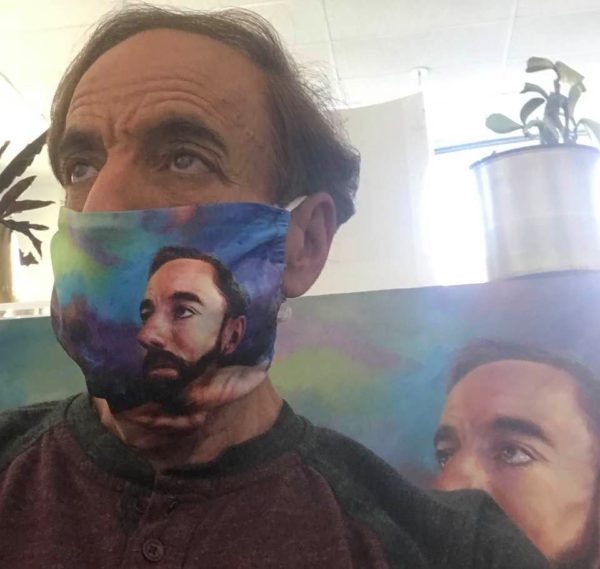 Rob Watson is the host of RATED LGBT RADIO, a national podcast and he's one of the founders of the evolequals.com.
A gay dad, business man, community activist and a blogger/writer, Watson is a contributor to the Los Angeles Blade covering entertainment, film, television, and culture with occasional politics tossed in.
VIDEOS: Wilton Manors during a pandemic
Bars, restaurants and clubs open with some COVID restrictions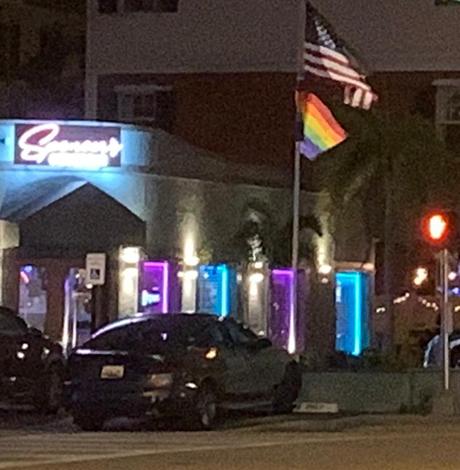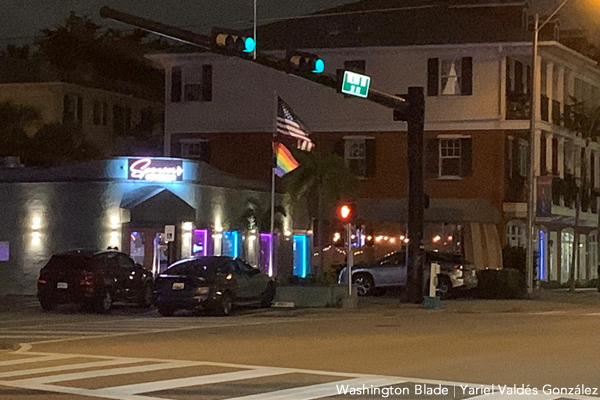 WILTON MANORS, Fla. — Bars, clubs and restaurants in the Florida city of Wilton Manors are open, but with some pandemic restrictions still in place.
Georgie's Alibi Monkey Bar, a bar and restaurant on Wilton Drive, on March 6 had socially distant tables inside and outside.
Bartenders and servers wore masks, but a go-go dancer who was dancing on a platform near the dance floor did not wear one.
Small groups of patrons who were standing on the dance floor were also not wearing masks.
A drag queen who greeted patrons inside Georgie's Alibi Monkey Bar was wearing a mask and a face shield. Windows were also open to provide additional ventilation.
Several dozen people at Hunters, a nightclub in the same strip mall where Georgie's Alibi Monkey Bar is located, on the same night were crowded onto an outside patio as they were drinking. Lit, a bar a few blocks away on Wilton Drive, had cornhole and other games set up in the parking lot.
Other bars and restaurants along Wilton Drive had tables placed along the sidewalk. Indoor dining was also available, but at limited capacity in order to adhere to social distancing rules.
Broward County as of last Oct. 16 has allowed businesses to serve food and alcohol to remain open until midnight, and offer dine-in service until midnight.
"Social distancing and facial covering requirements, restaurant capacity limits, and sanitation and safety requirements to prevent the spread of the Coronavirus (COVID-19) remain in effect," reads the city of Wilton Manors' website.
The website notes businesses "licensed to serve food may operate at up to 100 percent of indoor capacity if a distance of six feet is maintained between tables, and no more than six people at a table." Bars that "only serve alcohol, and are not licensed to serve food, must operate at no more than 50 percent of their indoor capacity."
VIDEO: Bourbon Street in the French Quarter
Coronavirus restrictions remain in place in New Orleans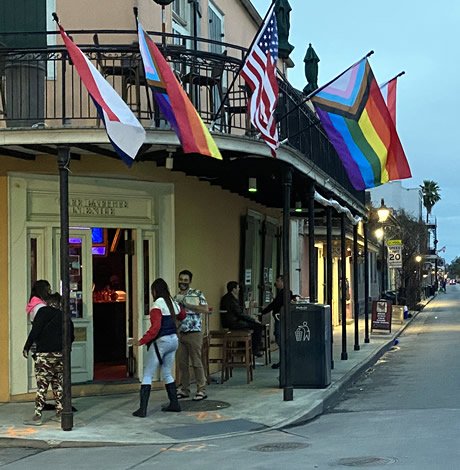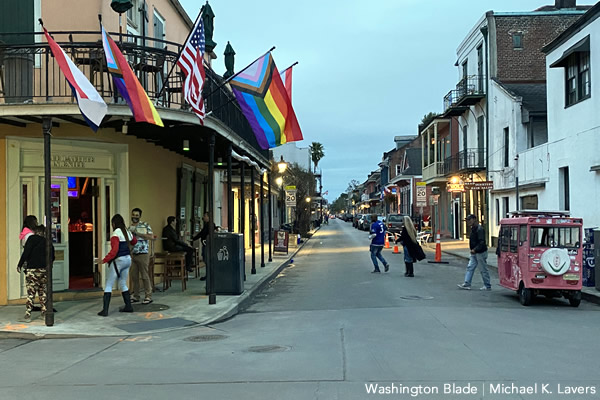 NEW ORLEANS — Bars in New Orleans continue to operate at limited capacity because of the coronavirus.
Café Lafitte in Exile, a gay bar on Bourbon Street in the French Quarter, on March 1 allowed groups of up to six people to sit at indoor tables on both of its floors. The bar is open every day from 11 a.m. to 11 p.m., but it requires patrons to wear masks when they enter.
A handful of people were drinking on the sidewalk in front of Café Lafitte in Exile at around 6 p.m. on March 1 when the Blade drove down Bourbon Street. Oz, a gay dance club across the street, was closed.
Several other bars on Bourbon Street were also open, but only a handful of people were inside them.
Bars in the French Quarter were closed last July when the Blade reported from New Orleans.