Bill to stop 'gay panic defense' clears New Hampshire House
New Hampshire could soon join over a dozen other states which ban the use of 'gay panic' as a defense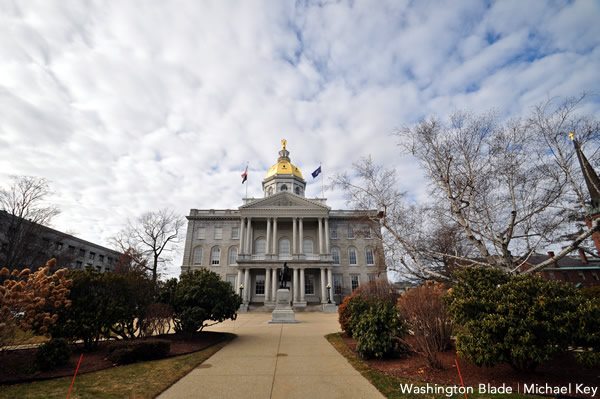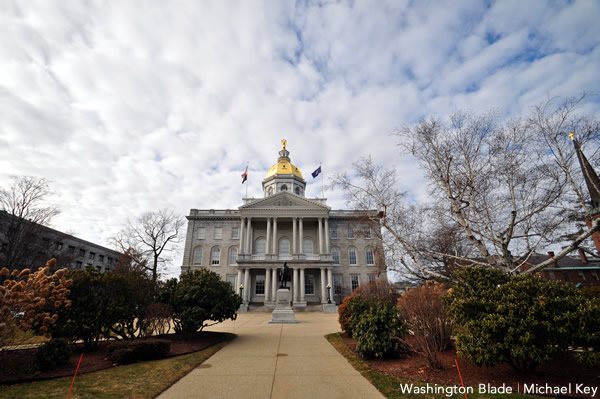 CONCORD – Legislation prohibiting defendants accused of manslaughter from using the victim's gender, gender identity or sexual orientation as a defense, which had died in committee during the 2021 regular session of the New Hampshire House of Representatives, was reintroduced this session and passed with a 223-118 vote last week.
House Bill 238, stirred up controversary from opponents who claimed that state statues already covered murder and manslaughter. During a Criminal Justice committee hearing last Spring, Rep. Dick Marston, a Manchester Republican, voiced opposition, saying that the laws already cover murder and manslaughter and that "there's no way in heck that you're going to be able to say 'Well because he or she was some deviant sexuality that I'm not–'"
Marston was cut off by committee chairman Daryl Abbas, a Salem Republican, who gaveled him down and rebuked him for the derogatory language the Concord-Monitor reported.
Later, the committee Republicans blocked an effort to move the bill out of committee alleging it needed more work and was not necessary because a jury could already strike down a similar attempted defense. The bill was then stalled in the committee, effectively killing it from being pushed further in last year's session.
As the measure now heads to the state Senate, New Hampshire could soon join over a dozen other states which ban the use of the 'gay panic' as a defense.
Right-wing group offers 'bounty' on public school teachers in Granite State
"Live free or die" has given way to "shut up or else." New Hampshire lets public turn in teachers for violation of its new anti-divisive law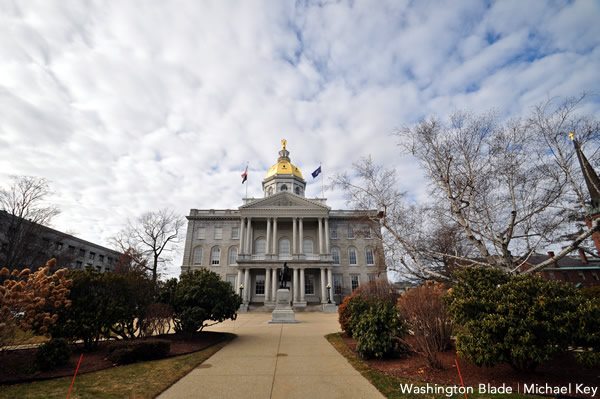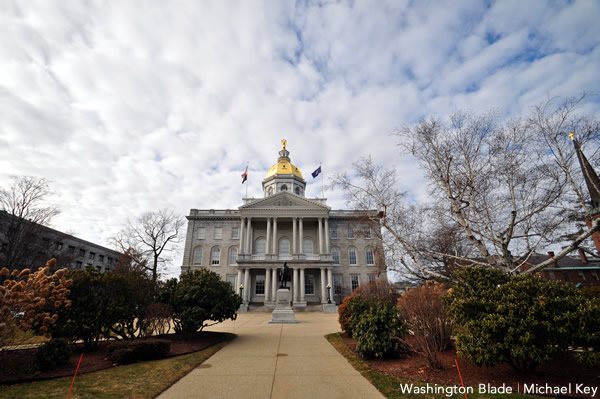 CONCORD – The Florida-based Moms for Liberty, a nonprofit claiming to advocate for "parental rights," which has been working to advance a far-right agenda of banning the instruction of 'Critical Race Theory' and gender studies- which includes transgender people, is offering a cash bounty to parents or others who turn in public school teachers for violation of New Hampshire's new anti-divisive subject matter law.
Peter Greene, a retired high school English teacher and senior contributor to Forbes magazine writes; "Live free or die" has given way to "shut up or else." New Hampshire has set up a system for letting the public turn in public school teachers for violation of its new anti-divisive subject matter law, and Moms for Liberty have offered a cash reward to parents who use it."
The Republican controlled legislature had inserted language into the state's annual budget legislation earlier this year that forbids the teaching of "divisive concepts" related to race and gender. Critics of the bill charge that the language used in the measure is vague, with some questioning its constitutionality.
The Washington Post reported that after the Republican Governor of New Hampshire, Chris Sununu, signed the measure nearly three-quarters of his diversity council quit.
We've got $500 for the person that first successfully catches a public school teacher breaking this law.

Students, parents, teachers, school staff… We want to know! We will pledge anonymity if you want. https://t.co/hA7fqvj62u

— Moms for Liberty NH (@Moms4LibertyNH) November 12, 2021
Forbes reports that teachers who violate the law can be brought before state authorities and lose their license if it is found they have "discriminated against an individual or identified group."
Additionally the state has now set up a website to let parents and students to turn in teachers that they believe have violated the law. Students and parents may fill out this form, a questionnaire that can be submitted to the state. There's a space to describe "what action was taken against you that you believe to be discriminatory" which can include any differentiation in privileges, discipline, harassment, or retaliation. It asks the parent if they have filed a complaint with the court of the Department of Education, and gives the option of giving race and national origin of the complainant Forbes notes.
"Live free or die" has given way to "Shut up or else." New Hampshire And Moms For Liberty Put Bounty On Teachers' Heads via @palan57 https://t.co/Xb5W6ZJ0bJ

— Peter Greene (@palan57) November 13, 2021
New Hampshire's DMV removes barriers to updating gender markers
New Hampshire's State Legislature in 2019 passed the new law allowing an option for the gender marker "x" on government-issued IDs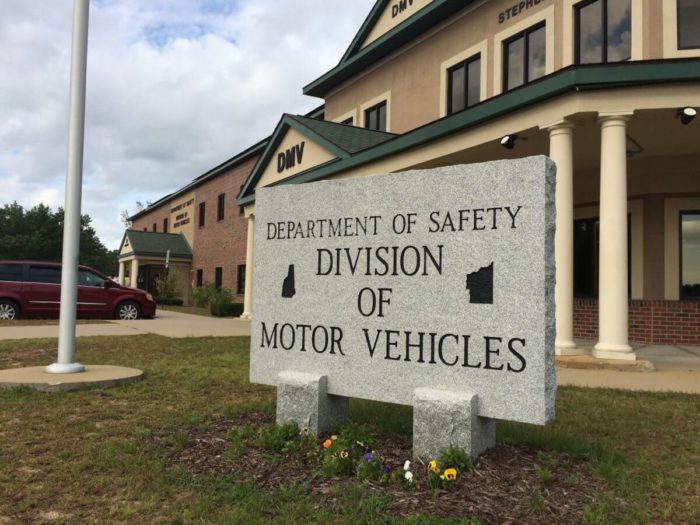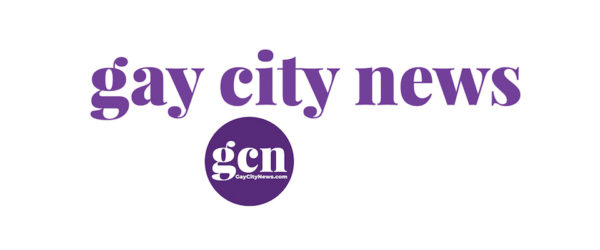 By Tat Bellamy-Walker | CONCORD – The New Hampshire Division of Motor Vehicles (DMV) is finally recognizing an existing law that allows transgender and non-binary individuals to update the gender marker on IDs without presenting a doctor's letter.
New Hampshire's State Legislature in 2019 passed the new law allowing an option for the gender marker "x" on government-issued IDs, and last year the law went into effect. Nowhere in the law did it point to a requirement for medical documentation, but the DMV still required it — at least until now.
A Granite University student named Rho said they previously tried updating their legal sex to "X" but were told they needed a doctor's letter to affirm their gender identity. Rho informed GLBTQ Legal Advocates and Defenders (GLAD), an LGBTQ legal group, and they brought the issue to the attention of New Hampshire Attorney General John Formella. The DMV went on to update its website to allow folks to update their gender marker on their own.
Rho said they hoped correcting their state ID would help them build community with others and avoid transphobia in the workplace. Rho also emphasized that it's critical for them to have "a legitimate document that accurately expresses" their gender.
"As someone who is non-binary, Indigenous, and a person of color, I felt I had to stand up for all my identities," Rho said. "Acknowledging our name and identity is a human right. It's a means of respecting one another."
Rho also highlighted the impact that the change could have on non-binary individuals across the state.
"I'm happy this is happening in my life," Rho said. "But I'm really happy it's helping other non-binary young people to be respected Americans, because it's our birth right to be free."
Rho's lawyer, Andru Volinsky of 160 Law, PLLC, in Concord, New Hampshire, noted that the former policy made it difficult for non-binary and trans people to access a legal gender marker change.
"My client, Rho, simply wanted a New Hampshire state ID that accurately reflects their non-binary gender," Volinsky said in a written statement. "Being asked for a signature from a medical provider didn't make sense and added unnecessary stress to what should have been a straightforward process. The requirement also penalizes individuals with less access to medical resources, exacerbating an already inequitable situation. I was glad to be able to assist Rho in advocating for this change that will allow them and other non-binary residents in New Hampshire to have accurate identification."
In defending Rho's case, legal advocates praised local government leaders for acting on the issue.
"We were pleased to see that once the issue was brought to their attention, the attorney general's office and the Division of Motor Vehicles recognized that the health care attestation form was unnecessary and removed that form from use for any new or corrected driver's license or state ID," Chris Erchull, a lawyer at GLAD, said in a written statement.
This year, New York state enacted the Gender Recognition Act, which allows LGBTQ folks to update their state IDs with the gender marker "X." The law stipulates that trans and non-binary people are not required to present a doctor's note when updating their legal gender marker and waives a rule requiring individuals to publish their name change in a paper.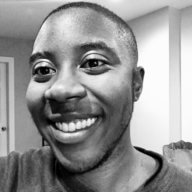 Tat Bellamy – Walker is Gay City News' digital editor
The preceding article was originally published by Gay City News and is republished by permission.