Manchin & Sinema join GOP defeating passage of voting rights legislation
The 52-48 vote defeating changing Senate rules was followed by sustained applause from the Republican side of the Senate chamber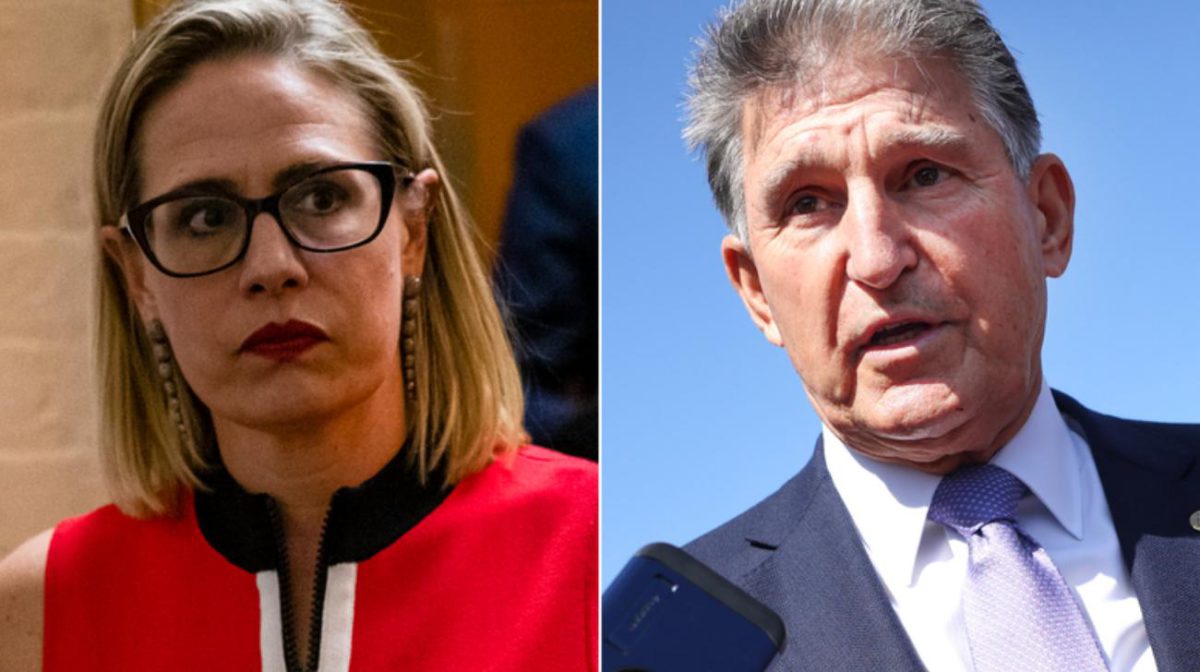 WASHINGTON – On the eve of the anniversary of his first year in office, President Joe Biden suffered a major set-back Wednesday as Senate Republicans joined by conservative West Virginia Democrat Joe Manchin along with fellow Arizona Democrat Kyrsten Sinema, blocked efforts by their party to change filibuster rules in order to pass critical voting rights legislation.
The 52-48 vote defeating changing Senate rules was followed by sustained applause from the Republican side of the Senate chamber. The vote was preceded by an effort to break a GOP filibuster on voting legislation that combines key provisions of two bills: the Freedom to Vote Act and the John Lewis Voting Rights Advancement Act.
That effort failed by a vote of 49-51. New York Democratic Senate Majority Leader Chuck Schumer changed his vote to "no" before the vote was gaveled so that he can offer a motion to reconsider the vote.
In a show of support for voting rights and changing Senate rules, House members in the Congressional Black Caucus marched to the Senate, warning that no matter what happens, they won't stop fighting to pass it, CNN reported.
"We want the Senate to act today in a favorable way, but if they don't, we ain't giving up. I am too young to give up," Rep. Jim Clyburn, (D-SC) the No. 3 Democrat in the House, told CNN.
In separate statements released after the vote by the White House, President Biden and Vice-President Kamala Harris weighed in.
"At the core of our democracy is a basic principle: the right to vote, and to have that vote counted. That principle was assaulted one year ago, when a violent mob attempted a coup seeking to overturn the will of the people. And today, in state after state, Republican state legislatures are engaged in an unprecedented effort to suppress the sacred right to vote and subvert the American bedrock of free and fair elections," Biden said.

"In the face of those threats, I am profoundly disappointed that the United States Senate has failed to stand up for our democracy. I am disappointed — but I am not deterred," he added.

"My Administration will never stop fighting to ensure that the heart and soul of our democracy — the right to vote — is protected at all costs. We will continue to work with allies to advance necessary legislation to protect the right to vote. And to push for Senate procedural changes that will protect the fundamental right to vote." the president stressed.

"As dangerous new Republican laws plainly designed to suppress and subvert voting rights proliferate in states across the country, we will explore every measure and use every tool at our disposal to stand up for democracy. The Vice President will continue to lead this effort, as she has for the past year," the statement concluded.
In her statement, Vice President Kamala Harris speaking about the Senate Vote said;
"Every member of the United States Senate—Democrats, Republicans, and Independents—takes an oath to preserve and protect our Constitution. It is their duty to safeguard our democracy and secure the freedom to vote. Yet today, Senators voted to preserve an arcane Senate procedure rather than secure that fundamental freedom. The American people will not forget this moment. Neither will history.
"Across our nation, anti-voter laws could make it more difficult for as many as 55 million Americans to vote, and will be felt by every American.
"Our Administration will continue to fight to pass federal legislation to secure the right to vote. We will not stop fighting against the anti-voter legislation that Republican legislatures continue to push at the state level—and to champion and support state and local elected officials who work to enact pro-voter legislation. We will work to ensure Americans everywhere can register to vote, cast their vote, and have their vote counted in a free and fair election.
Generations of Americans have fought to strengthen and expand the freedom to vote. While victory was never assured and almost always preceded by setback, ultimately, We the People have prevailed. We will again."
Robert Weissman, President of Public Citizen released a statement saying;
"This is a sad and tragic day for America. As a result of lock-step opposition to basic measures to safeguard our democracy and the refusal of Sens. Sinema and Manchin to agree to rules reform to win passage of legislation that they support, America now faces a frightening future.
"Republicans across the country are engaged in a concerted effort to make it harder for people of color to vote. Extreme partisan and racial gerrymandering is stripping voters of meaningful influence. And proto-fascist forces motivated by Trump's Big Lie are actively organizing to subvert elections in 2022 and 2024 – aiming to override actual results with predetermined outcomes.
"Though the Senate's failure to pass Freedom to Vote: John R. Lewis Act makes the challenge of protecting our democracy exponentially greater, we cannot – and will not — accept this as our fate."
Mayor Annise Parker, President & CEO of LGBTQ Victory Fund, released the following statement on voting rights:
"The right of candidates to compete in fair and democratic election processes is fundamental to our mission to increase the number of LGBTQ elected officials and ensure they reflect the diversity of those they serve. Voter suppression efforts deny voters the equal opportunity to elect their representatives and are a direct challenge to Victory Fund's efforts to advance equality through representation. These laws disproportionately impact LGBTQ people of color and voters in urban areas where LGBTQ people are concentrated. The increasingly strict voter ID laws create unnecessary and sometimes insurmountable obstacles for transgender and nonbinary people attempting to access the ballot box.
"Our Victory Fund Campaign Board – made up of more than 150 political leaders and advocates from across the country – votes to determine who Victory Fund endorses. Senator Kyrsten Sinema is not currently endorsed and if she runs for reelection, her record and actions on the advancement of legislation impacting the equality of LGBTQ people will be a primary consideration for whether she receives our endorsement. That board vote would take place in 2024."
 Kierra Johnson, Executive Director of the National LGBTQ Task Force Action Fund said in a statement:
"The failure to enact the Freedom to Vote, John R. Lewis Act is a profound blow to our Democracy. The inability to ensure voting rights for Black and Brown people and other vulnerable groups like LGBTQ people lays at the feet of those who voted "nay." These are the votes of political extremists, whose fear of losing power has become a justification for carving out LGBTQ+ folks, People of Color, women, poor people and other already marginalized groups from the political process.
Senators who voted for the right of all to participate in our Democratic process have our appreciation. To the rest – shame on you. Nineteen states have passed 34 laws that undermine voting rights, rights that are the threshold of our democratic values and civic responsibility – the very heartbeat of our Democracy. We pledge to do all in our power to Queer the Vote in the 2022 midterm elections and beyond, and we will continue to advocate to restore voting rights to all our nation's people."
Out Assemblymember Evan Low eyes South Bay House seat
Long considered a likely U.S. House candidate once a seat opened up, Low is widely expected to enter the 2024 race to succeed Rep. Anna Eshoo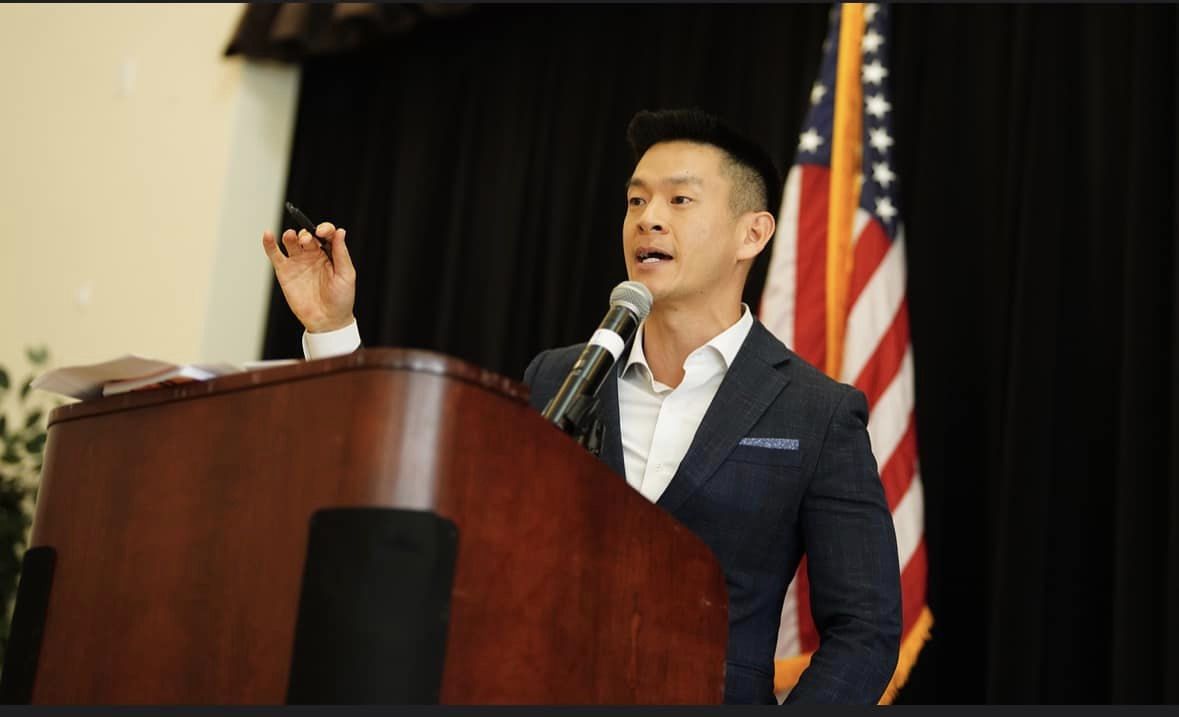 By Matthew S. Bajko, Assistant Editor | SANTA CLARA COUNTY, Calif. – With the news Tuesday that Congressmember Anna Eshoo (D-Palo Alto) will retire from the South Bay House seat she has held since 1993, it provides an opportunity to see the first LGBTQ person from the Bay Area be elected to Capitol Hill.
Long considered a likely congressional candidate once a seat opened up, gay Assemblymember Evan Low (D-Cupertino) is widely expected to enter the 2024 race to succeed Eshoo. Low, 41, told the Bay Area Reporter that he is interested in running for it but is not yet ready to make an official announcement.
"Any person who follows in her footsteps must commit themselves completely to upholding her incredible legacy. Today, I'm going to celebrate one of our valley's greatest public servants and a personal mentor to me. There are a lot of people in the community I need to talk to before I make a formal decision," Low, who has until early December to decide, wrote in a texted reply November 21.
Tuesday morning Eshoo released a video about her decision not to seek reelection next year in order to break the news to her constituents.
"As the first Democrat and first woman to ever represent this distinguished congressional district, no one could ever be prouder than me to carry our Democratic Party values," Eshoo wrote in an email to her supporters.
Eshoo's 16th Congressional District spans both San Mateo and Santa Clara counties. She had first sought a House seat six years after winning election to the San Mateo County Board of Supervisors but fell short in the general election of 1988 to Republican then-Stanford professor Tom Campbell.
When Campbell opted not to run for another term in 1992, and instead mounted an unsuccessful U.S. Senate bid, Eshoo ran again and won. She has long been a champion of LGBTQ issues in Congress and has enjoyed strong support from the LGBTQ community throughout her time in the House.
As the B.A.R.'s online Political Notes column reported last year, Eshoo ran her first TV ads since being elected to Congress for her 2022 candidacy. In it, she touted being an original co-sponsor of the Equality Act, the federal omnibus LGBTQ rights legislation adopted by the House in 2021. (It died when the U.S. Senate failed to vote on it.)
It is believed to be the first time a Bay Area congressmember highlighted their support of the Equality Act in a campaign commercial. In an interview Eshoo had told the B.A.R. she was proud to have that distinction.
"I have always believed there is one class of citizenship in our country and that is first class. So without the movement for equality and fullness of citizenship that can't happen," Eshoo had told the B.A.R. "I am very proud of that, so I wanted to highlight the Equality Act."
Eshoo also had the honor of being the first woman to serve as chair of the Democratic Party in San Mateo County, as she noted in her email to constituents. She also served as a member of the Democratic National Committee.
"I'm so proud of all we've achieved together and that the strength of our party rests on a strong foundation of clubs, caucuses, and county committees with our allies in Labor and other valued advocates. Our party continues to be strengthened by our diversity, and I'm confident this will continue because it is who we are," wrote Eshoo. "As the last year of my service in Congress lies ahead, be assured that I will continue to bring my tenaciousness and unswerving commitment to my work to strengthen our democracy, and our work together for a sweeping Democratic victory for the country we love so much."
In a statement he released reacting to Eshoo's news, Low called Eshoo "an icon" and a "personal hero" to him. He also praised her for being a "champion who leads this community with tremendous energy, grace, and grit."
He added that he is looking forward "to the many ways" the community can honor Eshoo for "her extraordinary service" over the years.
"We are so blessed to have her as our leader, gracefully navigating the complex issues in this valley of high expectations," stated Low. "Her public service has been noble and selfless, advancing quality healthcare access for all, immigration reform rooted in compassion and humanity, and stringent consumer protections unfettered by special interests."
As the B.A.R. reported last year, Low moved into the redrawn 26th Assembly District that includes Cupertino, Santa Clara, Sunnyvale, and parts of San Jose in order to avoid competing against his colleague Assemblymember Marc Berman (D-Palo Alto) for reelection to the state Legislature. Berman had been drawn into Low's former Assembly District.
Doing so required Low to vacate the 1,100 square foot condo in Campbell that he co-owns with his brother, a San Jose police officer. He moved into the Sunnyvale home of his father and stepmother.
Low grew up in San Jose, and his parents separated when he was 18. He graduated from San Jose State University and went on to win election to the Campbell City Council in 2006.
He was the first Asian American to serve on the governing body. Four years later he became the youngest openly LGBTQ+ mayor in the country at age 26.
He first won election to the state Assembly in 2014. He has strong ties to Silicon Valley's tech industry, which could benefit him in a House race as a source of support and financial donations to his campaign.
Low would be the second out candidate running next year for an open House seat in the Bay Area. Jennifer Kim-Anh Tran, Ph.D., a queer leader within the state's Vietnamese American community, is seeking to succeed Congresswoman Barbara Lee (D-Oakland), who is running for U.S. Senate rather than seek another House term.
Tran is the partner of Nenna Joiner, who owns several sex shops in the East Bay and a downtown Oakland nightlife venue. She is in a tough race to survive the March primary along with fellow Democrats BART board member Lateefah Simon and business owner Tim Sanchez, a U.S. Navy Reserves veteran who served in Afghanistan.
As the B.A.R. first reported in an online story November 17, there are now out House candidates in all three of the West Coast states. The 2024 election could thus see the California congressional delegation's LGBTQ contingent expand from its current two gay members, while those in Oregon and Washington state could see their first out members.
**************************************************************************************
The preceding article was previously published by the Bay Area Reporter and is republished with permission.
Help keep the Bay Area Reporter going in these tough times. To support local, independent, LGBTQ journalism, consider becoming a BAR member.