White House responds to 'Don't Say Gay' bill advancing in Florida Senate
"The Biden-Harris Administration will not shy away from holding leaders accountable for dangerous actions that hurt our nation's students"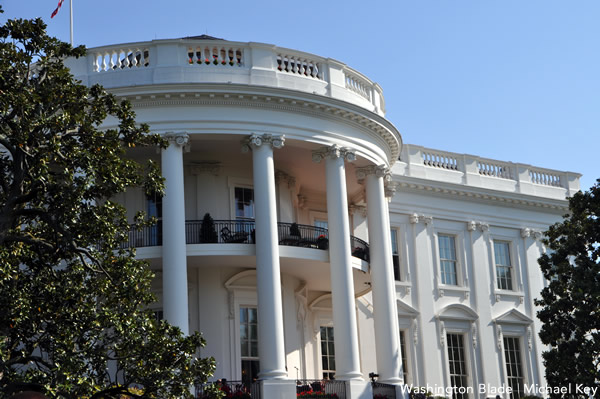 WASHINGTON – Following Gov. Ron DeSantis' comments signaling support for "Don't Say Gay" legislation in Florida that would restricting school teachings on sexual orientation and gender identity in K-5 education, the White House has denounced the bill as a measure "designed to target and attack the kids who need support the most."
A White House spokesperson blasted out the statement on Tuesday on Florida's HB 1557/SB 1834, which critics say is the latest in an attempt by conservatives to erase LGBTQ visibility in schools.
"Every parent hopes that our leaders will ensure their children's safety, protection, and freedom," the White House spokesperson said. "Today, conservative politicians in Florida rejected those basic values by advancing legislation that is designed to target and attack the kids who need support the most – LGBTQI+ students, who are already vulnerable to bullying and violence just for being themselves."
After a Florida House committee approved the 'Don't Say Gay' legislation last month, DeSantis — widely seen as a possible Republican candidate for president in the 2020 election signaled support for the legislation, telling reporters on Monday it was "entirely inappropriate" for teachers to be having conversations with students about gender identity.
Speaking with reporters during a press event on Monday, Florida Republican Governor Ron DeSantis noted that in his view it was "entirely inappropriate" for teachers and school administrators to have conversations with students about their gender identity.
Critics say the legislation effectively stigmatizes LGBTQ families and students in schools and is part of a wider effort by conservatives to stymy visibility of LGBTQ people. Texas libraries, have banning books with LGBTQ material and sexually explicit content.
Defenders of the legislation have pointed out the restrictions in the "Don't Say Gay" bill apply only to grade school, which they say isn't an age-appropriate forum for discussion on sexual orientation and gender identity and leaves open the possibility of discussion in higher education.
The White House spokesperson said the Florida "Don't Say Gay" legislation "not an isolated action" and part of a broader movement throughout the country.
"Across the country, we're seeing Republican leaders take actions to regulate what students can or cannot read, what they can or cannot learn, and most troubling, who they can or cannot be," the White House spokesperson said. "This is politics at its worse, cynically using our students as pawns in political warfare. At every step of the way, Republicans have peddled in cheap, political attacks, instead of focusing on the issues parents, students, and teachers care about."
The Biden administration, the White House spokesperson said, has instead "focused on keeping schools open, providing resources to combat learning loss, and supporting students' mental health."
"The difference in leadership could not be more stark, and the Biden-Harris Administration will not shy away from holding leaders accountable for dangerous actions that hurt our nation's students," the White House spokesperson said.
The White House spokesperson drew a contrast between the message sent by the "Don't Say Gay" bill and the Biden administration to LGBTQ students.
"Just imagine what it would feel like to be a kid watching the leaders in your state bully you through legislation that tries to erase your existence," the spokesperson said. "These types of attacks are the root cause of the mental health crisis that LGBTQI+ face. The president wants LGBTQI+ young people who may be feeling scared or alone because of these legislative attacks to know that they are loved exactly for who they are, and that he won't stop fighting for the protections and safety they deserve."
I want every member of the LGBTQI+ community — especially the kids who will be impacted by this hateful bill — to know that you are loved and accepted just as you are. I have your back, and my Administration will continue to fight for the protections and safety you deserve. https://t.co/OcAIMeVpHL

— President Biden (@POTUS) February 8, 2022
Biden executive order bolsters efforts to secure release of Americans detained abroad
Brittney Griner remains detained in Russia
WASHINGTON — President Joe Biden on Tuesday signed an executive order that will bolster his administration's efforts to secure the release of Americans who are detained or being held hostage abroad.
The executive order, which is based on the 2020 Robert Levinson Hostage Recovery and Hostage-Taking Accountability Act, a retired FBI agent who Iranian authorities arrested in 2007, reinforces what a press release describes as "the administration's tool kit in key ways."
Reinforces the U.S. government's efforts to support families of Americans wrongfully detained or held hostage overseas;
Authorizes agencies to impose costs and consequences, including financial sanctions, on those who are involved, directly or indirectly, in hostage-taking or wrongful detentions to support expanded and ongoing interagency efforts;
Directs relevant parts of the U.S. government to bolster their engagement and sharing of relevant information, including intelligence information, consistent with the protection of sources and methods, with families regarding their loved ones' status and U.S. Government efforts to secure their release or return, as appropriate; and
Charges experts across the interagency to develop options and strategies to deter future hostage-taking and wrongful detentions.
"It reaffirms the fundamental commitment of the president of the administration to bring home those Americans held hostage (and) wrongfully detained abroad," said senior administration on Monday during a conference call with reporters.
Another senior administration official added the executive order "reinforces U.S. government efforts to support the families of Americans wrongfully detained or held hostage overseas by directing parts of the federal government to bolster their engagement with such families and their sharing of relevant information, including intelligence information, with families regarding their loved one's status, and the government's efforts to secure their release or their return."
"This EO (executive order) reflects the administration's commitment not just to the issues generally, but to the families in particular and it has been informed by the government's regular engagements with them and other stakeholders who have and continue to undertake important constructive advocacy efforts on behalf of their loved ones," they said. "President Biden and those across the administration will now draw on this EO to advance our efforts and we hope to do so in an active conversation with family members and outside stakeholders."
The executive order also creates a "D" indicator in the State Department's travel advisories that notes the countries in which American citizens are at risk for "wrongful detention." Burma, China, Iran, North Korea, Russia and Venezuela are the first six countries named.
"We're committed to provide us citizens with comprehensive safety and security information about foreign countries so they can make informed travel decisions before they before they head overseas," said another senior administration official during Monday's conference call. "The United States opposes wrongful detention and the practice of using individuals as political bargaining chips everywhere. These practices we know represent a threat to the safety of all US citizens traveling and living abroad."
Biden signed the executive order against the backdrop of WNBA star Brittney Griner's continued detention in Russia.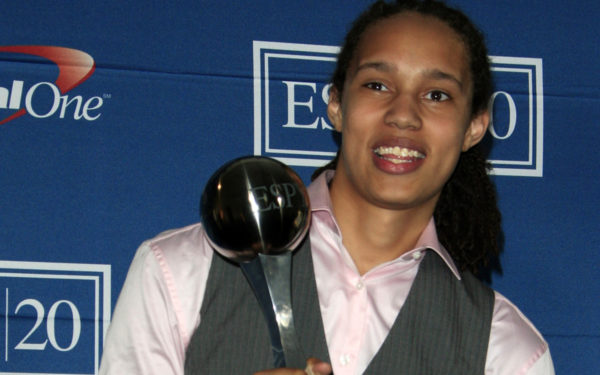 Officials at Moscow's Sheremetyevo Airport in February detained Griner — a Phoenix Mercury center and two-time Olympic gold medalist who is a lesbian and married to her wife, Cherelle Griner, — after customs inspectors allegedly found hashish oil in her luggage.
The State Department has determined that Russia "wrongfully detained" her.
Griner's trial, which began on July 1, continues, even though she has pleaded guilty to charges that she smuggled drugs into the country. The White House is under increased pressure from Griner's wife and family, teammates and LGBTQ+ activists to secure her release.
A senior administration official on Monday's call did not directly respond to a question about how the executive order will help secure Griner's release.
"There are a number of ways in which it would affect cases like that case in the wrongful detainee category," said the official. "The executive order directs those across the executive branch to share consistent accurate information with the families of those who are deemed wrongfully detained, to ensure that they receive support and assistance throughout the ordeal, and to work with parts of our government to try to impose costs on those responsible."
First Lady Jill Biden addresses LGBTQ+ donors at Equality PAC fundraiser
The Equality PAC is a congressional political action committee led by the openly gay and lesbian members of the U.S. House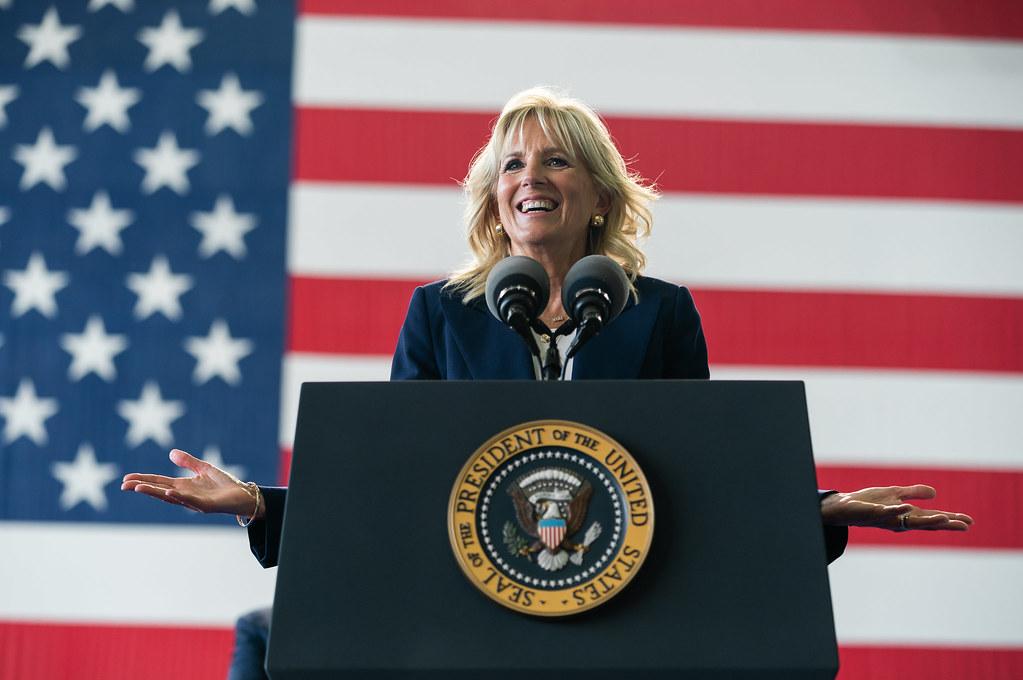 WASHINGTON – First lady Jill Biden expressed solidarity with members of the LGBTQ community Monday at a D.C.-based fundraiser hosted by the Equality PAC, urging action amid fears same-sex marriage is under threat in the wake of the U.S. Supreme Court ruling overturning Roe v. Wade.
"Right now we're fighting the battles we thought we had already won," Jill Biden said. "And we don't need to guess where the extremists are going next because they've already told us in the Dobbs decision."
The Equality PAC is a congressional political action committee led by the openly gay and lesbian members of the U.S. House. Among the notables seen in attendance who spoke at the fundraiser were Reps. Mark Takano (D-Calif.) and David Cicilline (D-R.I.), who co-chair the caucus. The event was held at the Long View Gallery.
"Progress isn't a line," Jill Biden said. "It sometimes feels like an ocean, pushing forward and pulling back. But with time and persistence, the shore of injustice does wear away."
Jill Biden touted President Biden's actions on behalf of the LGBTQ community, pointing out he signed an executive order against anti-LGBT discrimination, ended the transgender military ban, and appointed LGBTQ federal officials. She also mentioned an executive order President Biden signed in June, which included new prohibitions on widely discredited conversion therapy.
The first lady closed the event urging action and expressing solidarity, although she momentarily tripped over the LGBTQ acronym.
"I want you to know that I will be there beside you every step of the way. It won't be easy," she said. "The legacy of the LGD – the LGBTQI community is a hope that has never been crushed."
Takano also spoke at the event and said Equality PAC raised a total of $217,000 at the event and more than $10.8 million this cycle, envisioning wins for Democrats on Election Day despite expectations of Republican gains.
"We are going to keep our majority and I dare say we're going to expand it," Takano said.
Biden defends human rights commitment before Saudi Arabia trip
Homosexuality punishable by death in kingdom
JERUSALEM — President Biden on Thursday stressed he has "never been quiet about talking about human rights" in response to a question about whether he will raise them while in Saudi Arabia.
Biden made the comment in response to a reporter's question during a press conference in Jerusalem with Israeli Prime Minister Yair Lapid after their meeting, which took place a day before the U.S. president travels to Saudi Arabia.
Saudi Arabia is among the handful of countries in which consensual same-sex sexual relations remain punishable by death.
The reporter specifically asked Biden about Jamal Khashoggi, a Washington Post columnist who was killed inside the Saudi Consulate in Istanbul in 2018.
American intelligence has concluded Saudi Crown Prince Mohammed bin Salman approved Khashoggi's murder. Biden is expected to meet with bin Salman while in the Saudi city of Jiddah, even though the U.S. president previously said he wanted to make Saudi Arabia a "pariah" state.
Secretary of State Antony Blinken last month told the Washington Blade during a roundtable with LGBTQ+ and intersex reporters that the State Department has used the "Khashoggi Ban" to sanction more than 70 Saudi citizens and others who have targeted journalists, government critics and others in a third country. Biden on Thursday said his "views on Khashoggi have been made absolutely, positively clear."
"I always bring up human rights, but my position on Khashoggi has been so clear," said Biden.
Blinken last month said Biden "will be bringing up rights issues across the board when he's in Saudi Arabia, as he does in any country where we have or he has concerns." Blinken further noted the U.S. welcomes the Saudi government's efforts to combat extremism, counter Iran's influence in the Middle East and its role in the continued ceasefire in Yemen.
"At the same time, we have been very determined from day one to recalibrate the relationship, not rupture it, recalibrate, because we had concerns that it wasn't as effectively as it could be advancing our own interests and our own values," said Blinken. "So, we took the time to do that."
"It's a long way of saying that there are complex issues," he added. "Human rights, including LGBTQI rights, are something that is central to our foreign policy, but it's not the totality of it. And everything has to be reflected in what we do and we have to make a judgment, which may be right or may be wrong, about what is the most effective way to advance these issues in this agenda."