Log Cabin Republicans (NY) boosted QAnon U.S. Capitol insurrectionist
She has actively supported QAnon conspiracies & promoted former President Donald Trump's lie that the election was stolen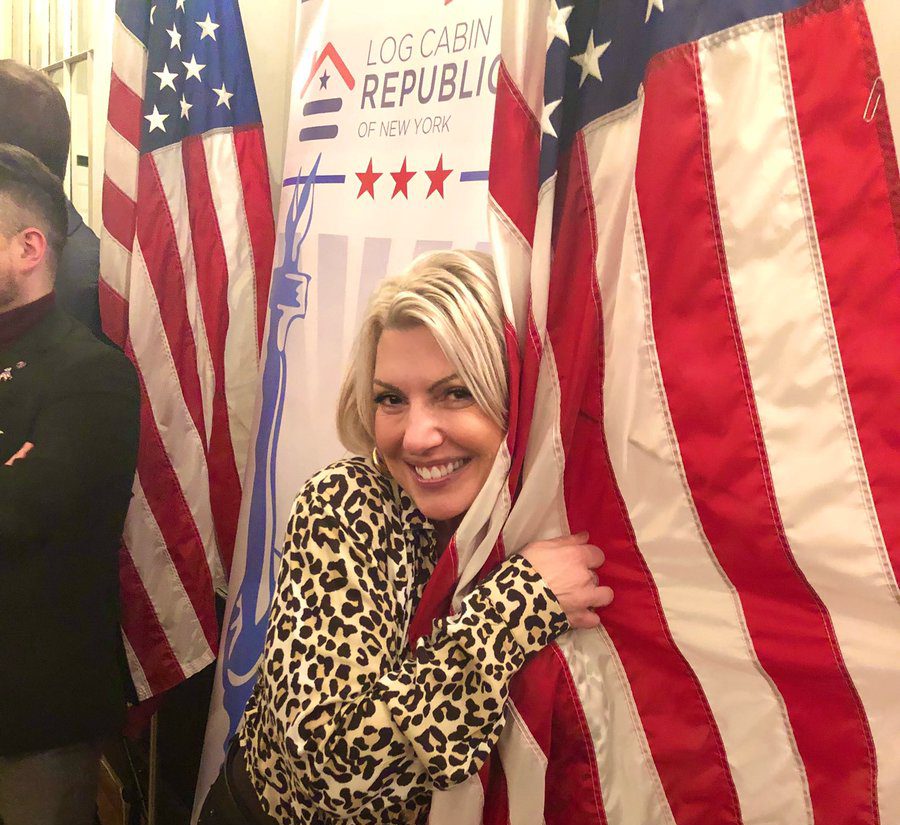 NEW YORK – Tina Forte, a registered member of the Republican Party, running for election to the U.S. House was given a boost by the New York chapter of the Log Cabin Republicans on Wednesday.
Forte is running for a seat to represent New York's 14th Congressional District, located in New York City, currently held by Democrat Rep. Alexandria Ocasio-Cortez. Forte will face the other Republican challengers, Desi Cuellar, Pura De Jesus-Coniglio, and Miguel Hernandez in the Republican primary on June 28, 2022.
Snopes reported that Forte promoted and attended the January 6, 2021 insurrection at the U.S. Capitol. Additionally she has actively supported QAnon conspiracies, promoted former President Donald Trump's lie that the election was stolen. Forte also appeared in a video with Proud Boys leader Henry "Enrique" Tarrio.
The Proud Boys are described by The Associated Press as a "far right fascist group." In August 2021, Axios reported that Tarrio was sentenced to five months in jail for burning a Black Lives Matter flag in Washington, D.C., on Dec. 12, 2020. Forte appeared in a photograph with Tarrio on the very same day.
In the lengthy 27 August 2021 investigative piece, Jordan Liles, Newsroom Editor and senior reporter for Snopes noted that he also found multiple times when Forte posed with Tarrio in 2020, including twice in October, once in November, and others. She seemed to often appear where the Proud Boys showed up.
In a series of tweets, beyond their endorsement of Forte, the New York chapter of the Log Cabin Republicans took aim at progressive policies and liberal LGBTQ+ community members.
The so-called #DontSayGay bill doesn't ban LGBT discussion as the Big Gay Inc™️ media says. It allows parents to decide how and when to handle discussions about sexuality and gender, not public school teachers and officials. Parental decision over government indoctrination.

— LCR New York 🇺🇸 (@LogCabinNY) February 11, 2022
We're not part of "your community" of commie-alphabet-pronoun-racists. Our lives aren't defined by our sexuality, gender, or skin color. We judge people on the content of their character and behavior and find "your community" subpar. Enjoy. #LGBFJB https://t.co/DU0ohP1Fkf

— LCR New York 🇺🇸 (@LogCabinNY) February 17, 2022
LCRNY LOVES @TinaForteUSA 🇺🇸 she is the real deal! This is just the beginning. #AmericaFirst pic.twitter.com/6kBRUdonBj

— LCR New York 🇺🇸 (@LogCabinNY) February 17, 2022
Obama rallies for Warnock as Walker goes transphobic in latest ad
"Tomorrow is the last day for early voting and then we need to get people out to the polls on Tuesday, which means we still got work to do"
ATLANTA – Former President Barack Obama held a rally with Sen. Raphael Warnock (D-GA) tonight in Atlanta as the Georgia election runoff for the U.S. Senate seat currently held by Warnock enters its final week.
Speaking to the enthusiastic crowd in the historic Pullman Yard, Obama urged supporters to continue pressing to secure Warnock's chances as early voting ends Friday ahead of next Tuesday's election.
"Now I know a lot of folks have been voting early over the last few days, that is a good thing. That is an encouraging thing. But — you knew there was a but —plenty of folks haven't voted yet. Tomorrow is the last day for early voting and then we need to get people out to the polls on Tuesday, which means we still got work to do," Obama said.
A spokesperson for the the Georgia secretary of state's office told the Blade that more than 1.1 million votes have been cast so far.
Warnock's Republican challenger meanwhile focused on his opposition to transgender rights. In a recent campaign ad, Herschel Walker is featured alongside cisgender former University of Kentucky swimmer Riley Gaines, who tied with University of Pennsylvania trans female swimmer Lia Thomas.
In the ad Gaines says she "worked so hard" at competitive swimming but she was "forced to compete against a biological male."  The ad also goes on to attack Warnock in the Chyron onscreen stating: "Raphael Warnock voted to allow biological men to compete in women's sports." That particular charge by Walker's campaign is factually incorrect as the U.S. Senate has not held any votes on the subject of transgender women in sports.
Politico's National political reporter Natalie Allison tweeted:
Herschel Walker is up with a new runoff ad about transgender athletes, featuring a swimmer who tied with Lia Thomas.

"My senior year, I was forced to compete against a biological male," Riley Gaines says in the ad for Walker's Senate campaign. pic.twitter.com/MlVxnJwkgB

— Natalie Allison (@natalie_allison) November 21, 2022
During the rally in Atlanta this evening Politico reported Warnock received roaring applause when he poked fun at Walker, something Obama also did, referencing a series of outlandish comments the retired football star has made over the course of his candidacy.
"We all know some folks in our lives who, we don't wish them ill will, they say crazy stuff … but you don't give them serious responsibility," Obama said.
"He was an amazing running back," Warnock said of Walker. "And come next Tuesday, we're going to send him running back to Texas."
Walker, who was raised in the Peach State and was a star player at the University of Georgia, lived the majority of his adult life in Texas before returning to run for Senate in 2021.
Politico also noted that Warnock, the pastor of the Atlanta church that Martin Luther King Jr. attended, tied the election to the long struggle of African Americans for equal rights, noting the crowd had gathered on the 67th anniversary of Rosa Parks refusing to get up from a bus seat in Montgomery, Alabama. Walker is also African American.