SMARTER Plan, next phase of California's pandemic response unveiled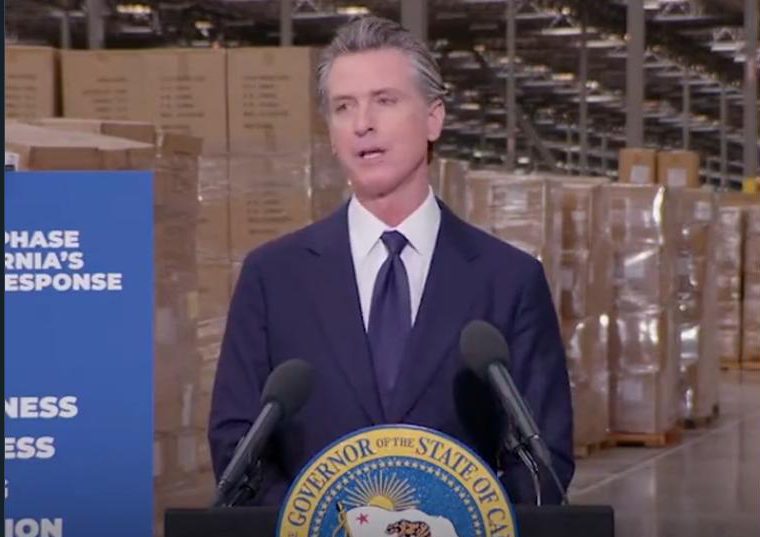 FONTANA – As California emerges from the Omicron surge, Governor Gavin Newsom on Thursday unveiled the state's SMARTER Plan, the next phase of California's pandemic response in a news conference from a state warehouse overflowing with pandemic supplies in Fontana, east of Los Angeles.
Building on lessons learned over the past two years and the state's ongoing commitment to equity, the SMARTER Plan will guide California's strategic approach to managing COVID-19 while moving the state's recovery forward, state health officials Newsom pointed out.
"We are moving past the crisis phase into a phase where we will work to live with this virus," Governor Gavin Newsom said.
A disease reaches the endemic stage when the virus still exists in a community but becomes manageable as immunity builds. Newsom stressed that "This pandemic won't have a defined end. There's no finish line."
Read the California SMARTER Plan: The Next Phase of California's COVID-19 Response here.
"As we enter the next phase of the pandemic, the state is better equipped than ever to protect Californians from COVID-19 with smart strategies that save lives and advance our ongoing recovery," said Newsom. "Building on proven tools – rooted in science and data – that have been honed over the past two years, we're keeping our guard up with a focus on continued readiness, awareness and flexibility to adapt to the evolving pandemic. As we have throughout the pandemic, the state will continue applying the lessons we've learned about the virus to keep California moving forward."
NEW: The next phase of California's COVID-19 response is here.

The SMARTER Plan focuses on what works, based on lessons learned from the last 2 years –

Shots
Masks
Awareness
Readiness
Testing
Education
Rx treatments

— Gavin Newsom (@GavinNewsom) February 17, 2022
The SMARTER Plan's core pillars and preparedness metrics focus on lifesaving public health measures and strategies the state has successfully used to slow the spread and protect Californians. Recognizing that each variant brings with it unique characteristics relative to the specific conditions in our neighborhoods and communities, the Plan preserves needed flexibility and ensures the state has the resources and capabilities in place to tackle the COVID-19 challenges that lie ahead:
Shots- Vaccines are the most powerful weapon against hospitalization and serious illness. Under the Plan, California will maintain capacity to administer at least 200,000 vaccines per day on top of existing pharmacy and provider infrastructure.
Masks- Properly worn masks with good filtration help slow the spread of COVID-19 or other respiratory viruses. The state will maintain a stockpile of 75 million high quality masks and the capability to distribute them as needed.
Awareness- We will continue to stay aware of how COVID-19 is spreading and evolving variants, communicate clearly how people should protect themselves, and coordinate our state and local government response. California will maintain capability to promote vaccination, masking and other mitigation measures in all 58 counties and support engagement with at least 150 community-based organizations.
Readiness- COVID-19 isn't going away and we need to be ready with the tools, resources and supplies that will allow us to quickly respond to protect public health and to keep the health care system well prepared. The state will maintain wastewater surveillance in all regions and enhance respiratory surveillance in the health care system while continuing to sequence at least 10 percent of positive COVID-19 test specimens. The state will also maintain the ability to add 3,000 clinical staff within 2-3 weeks of need and across various health care facility types.
Testing- Getting the right type of tests – PCR or antigen – to where they are needed most. Testing will help California minimize the spread of COVID-19. California will maintain commercial and local public health capacity statewide to perform at least 500,000 tests per day – a combination of PCR and antigen.
Education- California will continue to work to keep schools open and children safely in classrooms for in-person instruction. The state will expand by 25 percent school-based vaccination sites supported by the state to increase vaccination rates as eligibility expands.
Rx- Evolving and improving treatments will become increasingly available and critical as a tool to save lives. The state will maximize orders for the most clinically effective therapeutic available through federal partnerships, ensuring allocations of effective therapeutics are ordered within 48-hours.
The SMARTER Plan maintains the state's focus on targeted investments and outreach to tackle COVID-19 health disparities in disproportionately impacted communities. The Plan features a new COVID-19 Assessment and Action Unit to monitor data and frontline conditions in real-time.
It also includes building upon a robust, regionally-based waste-water surveillance and genome sequencing network to have early and rapid insights into the changing nature of the virus and early identification of variants.
In collaboration with external partners and the federal government, California will launch the first-in-the-nation impacts of COVID-19 longitudinal cohort study to examine the direct and indirect impacts of COVID-19 on individuals and communities over time. Under the Plan, the state is pursuing a public-private partnership with a test manufacturer to drive down the costs of at-home tests while securing a reliable and timely supply chain for California.
The state will also continue taking steps to ensure the health care facilities can continue to ramp up with additional staff and resources to respond to potential surges while minimizing strain on the health care systems.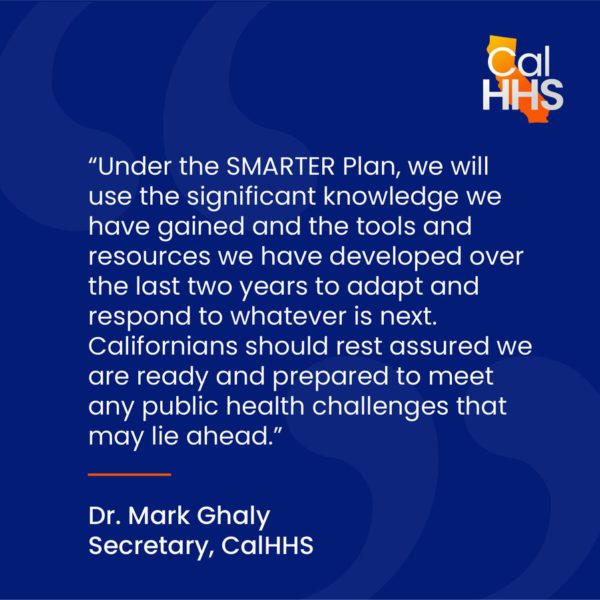 "California is prepared to lean in on the principles that have made us successful in our COVID-19 response. Under the SMARTER Plan, we will use the significant knowledge we have gained and the tools and resources we have developed over the last two years to adapt and respond to whatever is next," said California Health and Human Services Agency Secretary Dr. Mark Ghaly. "Californians should rest assured we are ready and prepared to meet any public health challenges that may lie ahead."
"How do we continue to live with a virus that changes and kind of throws curveballs at different times?" Ghaly said then noted; "The focus is going to be being prepared and being ready."
Since the onset of the pandemic, California has led the nation's fight against COVID-19 with early, robust public health measures that have saved tens of thousands of lives, contributing to California's maintaining one of the lowest death rates among large states.
California's pandemic response to date has administered more than 70 million COVID-19 vaccines; distributed more than 870 million N-95 and surgical masks; deployed more than 28,000 state supported staff to support health care facilities; and administered more than 140 million COVID-19 tests, distributed 33 million at-home COVID-19 antigen tests and established more than 7,500 testing sites statewide.
The state has also significantly closed disparities in infection and death rates in disproportionately impacted communities through equity-focused vaccination and testing outreach and culturally-competent engagement and information.
Newsom to hold oil industry accountable for price gouging
Governor calls special session to pass price gouging penalty on oil companies, push new efforts to increase transparency & accountability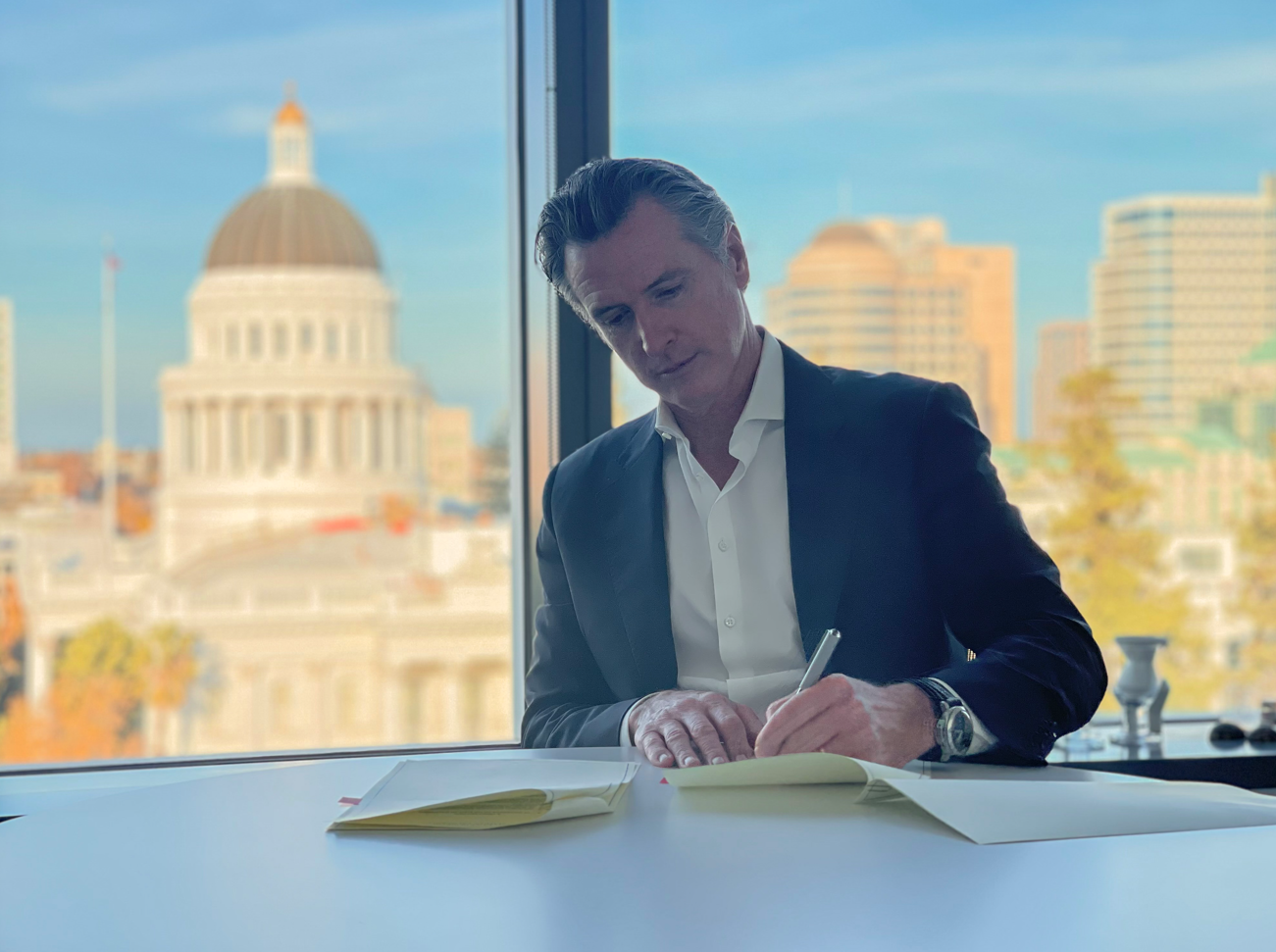 SACRAMENTO – As oil companies continue to evade questions about unexplained gas price increases, Governor Gavin Newsom today convened a special session of the California Legislature on December 5 to pass a price gouging penalty on oil companies that will keep money in Californians' pockets.
The Governor's action comes on the heels of a state hearing yesterday – which five major oil refiners refused to attend – to investigate this fall's unprecedented spike in gasoline prices. This spike in gasoline prices resulted in record refiner profits of $63 billion in just 90 days, disproportionately affecting low- and middle-income families.
"Big oil is ripping Californians off, and the deafening silence from the industry yesterday is the latest proof that a price gouging penalty is needed to hold them accountable for profiteering at the expense of California families," said Newsom. "I'm calling a special session of the Legislature to do just that, and to increase transparency on pricing and protect Californians from outrageous price spikes in the future."
This fall's spike occurred while crude oil prices dropped, state taxes and fees remained unchanged and gas prices did not increase outside the western U.S., so the high prices went straight to the industry's bottom line.
During the special session, the Legislature will also consider efforts to empower state agencies to more closely review gas costs, profits and pricing as well provide the state with greater regulatory oversight of the refining, distribution and retailing segments of the gasoline market in California.
Taking action to lower prices at the pump, Governor Newsom in September ordered the switch to winter-blend gasoline and demanded accountability from oil companies and refiners that do business in California. Since California's record-high gas prices of $6.42, the Governor's actions have reduced those prices to $4.95 most recently – a decrease of $1.47 since the peak.

In the third quarter of 2022, from July to September, oil companies reported record high profits:
The text of the Governor's proclamation convening a special session can be found here.