HRC launches 'Reality Flag' campaign to boost Equality Act
Removal of 29 stars symbolizes states that lack LGBTQ protections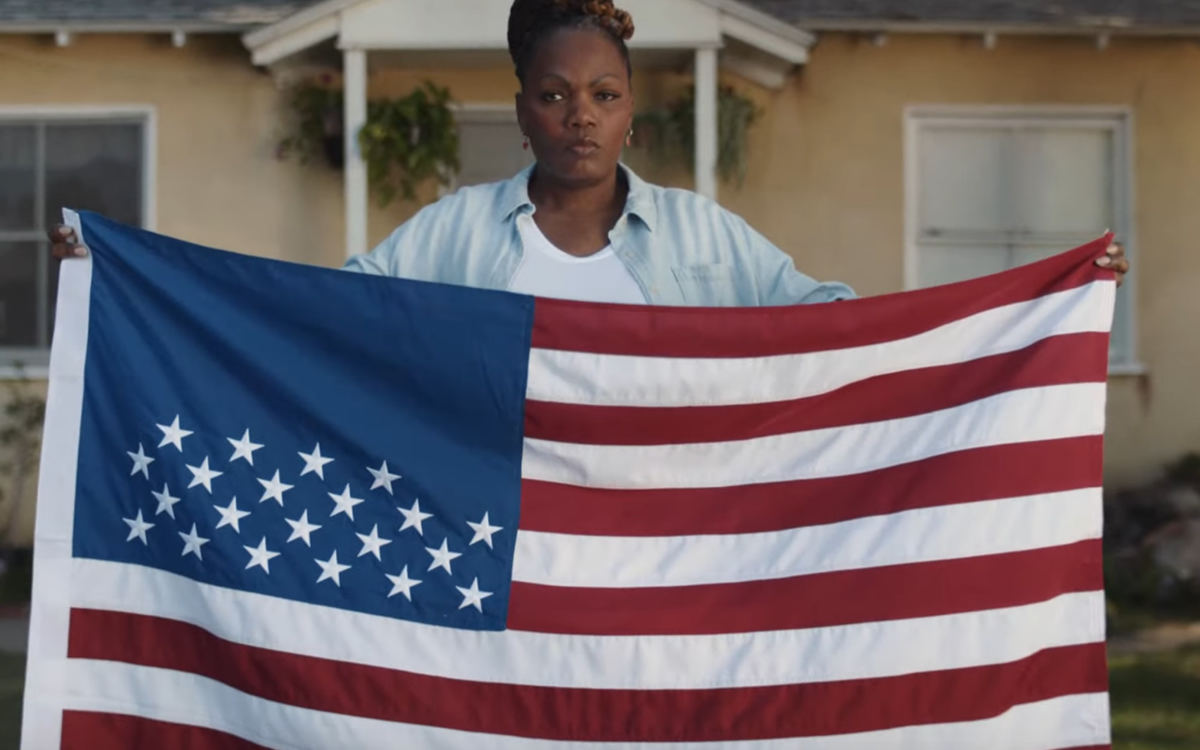 The Human Rights Campaign, the nation's largest LGBTQ civil rights organization, announced it is launching a nationwide multimedia campaign to promote the approval by Congress of the LGBTQ nondiscrimination legislation known as the Equality Act.
In a Feb. 23 statement HRC says the campaign, among other things, will include a series of "powerful" video ads for social media and TV created by Emmy Award-winning director Joey Soloway that tell stories of how individual LGBTQ people are adversely impacted by discrimination.
At the center of the campaign as depicted in the videos is an American flag with 29 of the 50 stars removed to draw attention to the 29 states that do not have comprehensive legal protections for LGBTQ people that HRC is calling the "Reality Flag."
In its official launch of the campaign on Feb. 23 HRC unveiled an 85-foot-long version of the Reality Flag on the outer wall of its headquarters building in D.C. that HRC points out is located just six blocks from the White House.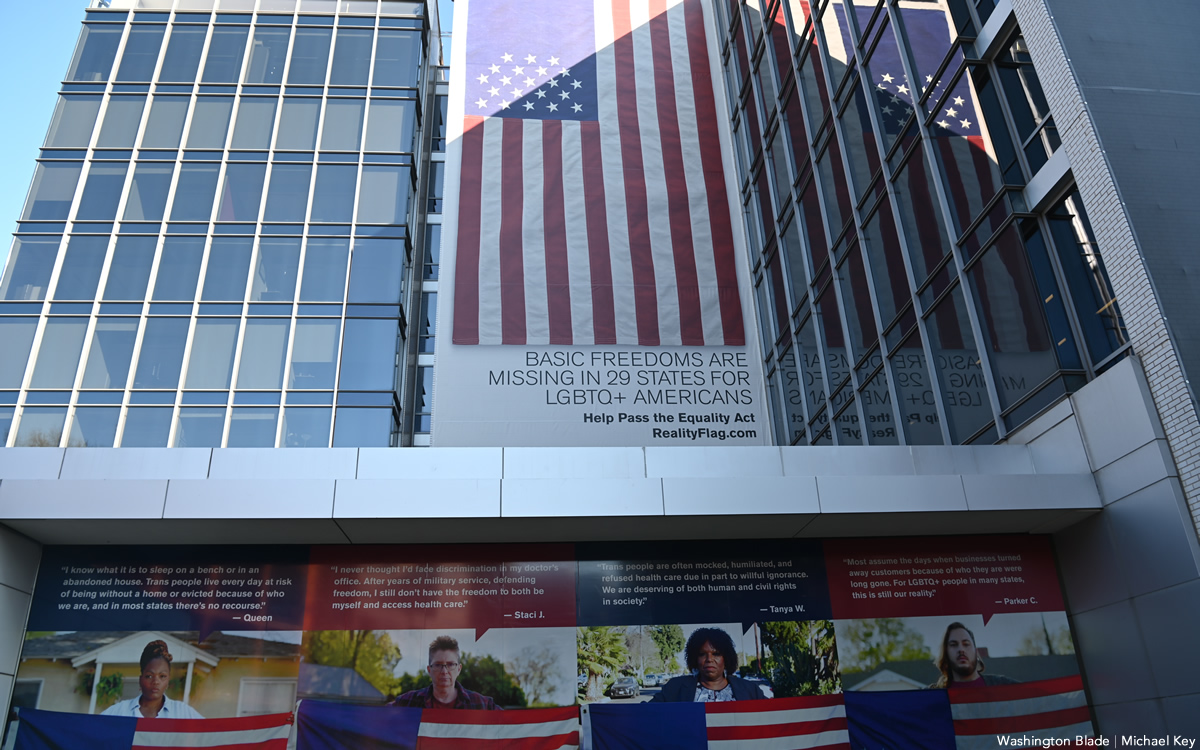 "The Reality Flag campaign is designed to point out the inequalities LGBTQ+ individuals face every day – in our own voice," said Joni Madison, HRC's interim president. "From housing and educational discrimination to denial of government and health services, LGBTQ+ people are confronted by hurdles to simply exist every day," Madison said in a statement.
"This needs to change," she said. "The Reality Flag not only calls out the 29 states where basic freedoms are still missing for millions of people but stands as a symbol of hope that communities can rally behind to enact meaningful change."
HRC's Reality Flag campaign comes at a time when most political observers unaffiliated with the Equality Act's staunch supporters and opponents believe the bill has no chance of passing in the U.S. Senate any time soon, even though it passed in the U.S. House in February 2021 by a vote of 224 to 206. In the House vote, only three Republicans joined all 221 Democrats in voting for the measure.
Observers note that although Democrats have a slim majority in the 50 Democrat-50 Republican Senate with Vice President Kamala Harris set to break a tie vote in favor of Democrats, the Senate's longstanding filibuster rule that Democrats are unable to change means the Equality Act needs a 60-vote majority to pass.
Forty-nine of the 50 Senate Democrats have signed on as co-sponsors of the Equality Act. Maverick Democratic Sen. Joe Manchin of West Virginia emerged as the sole Senate Democrat saying he cannot support the Equality Act in its current version due, in part, to what Manchin says is its provisions related to transgender nondiscrimination in school sports and school bathroom use.
Sources familiar with the Senate told the Washington Blade last May that even if the filibuster rule is eliminated, other Democratic senators from swing states would likely join Manchin in withholding support for the Equality Act due to efforts by some Republicans to turn transgender rights into an inflammatory wedge issue.
The official congressional website Congress.gov states that the Equality Act calls for prohibiting "discrimination based on sex, sexual orientation, and gender identity in areas including public accommodations and facilities, education, federal funding, employment, housing, credit, and the jury system."
The Congress.gov site adds, "The bill prohibits an individual from being denied access to a shared facility, including a restroom, a locker room, and a dressing room, that is in accordance with the individual's gender identity."
Several moderate GOP senators, including Sen. Susan Collins (R-Maine), have said they support the principle of protections against discrimination for LGBTQ people and would be willing to vote for a revised Equality Act that includes what they call religious rights protections and some changes in the transgender provisions.
Some Republican observers have said enough Republicans would likely join Democrats to reach the needed 60 votes to pass the Equality Act in the Senate if Democrats agree to the changes proposed by the moderate Republicans.
Other Republicans, however, including the national LGBTQ GOP group Log Cabin Republicans, have said the Equality Act should be discarded altogether following the landmark U.S. Supreme Court decision in 2020 known as Bostock v. Clayton County. The decision declares that Title VII of the U.S. Civil Rights Act of 1964, which bans sex discrimination, also prohibits employers from discriminating on the basis of sexual orientation and gender identity.
Equality Act supporters have argued that the legislation is still needed to ensure that LGBTQ people are fully protected from discrimination in other areas such as housing and public accommodations.
Representatives of both sides have said negotiations have been taking place over possible changes in the Equality Act since at least the beginning of last year, but nothing has emerged from those reported negotiations as of this week.
Many LGBTQ advocacy organizations, including HRC, have said the GOP suggested changes to the Equality Act related to "religious freedom," which the bill's supporters say means a right to discriminate against LGBTQ people based on religious grounds in a nonreligious setting such as a private business open to the public, are unacceptable.
Most LGBTQ advocacy groups have also declared as unacceptable GOP proposals to weaken or remove protections for transgender people in the legislation, saying such proposals are being promoted by people who have been misled or are themselves misleading others to believe cisgender women in sports and in public restrooms as well as in school bathrooms and showers would be adversely impacted by the current version of the legislation.
With both sides in what most Capitol Hill observers consider to be a complete deadlock, Senate Democrats, including Senate Majority Leader Charles Schumer (D-N.Y.), have not indicated a willingness to bring the Equality Act up for a vote in the Senate this year.
Schumer's office didn't reply to an inquiry from the Blade last week asking whether Schumer would consider bringing the Equality Act to the Senate floor for a vote this year or next year if Democrats retain control of the Senate in the 2022 midterm elections.
With that as a backdrop, David Stacy, HRC's Government Affairs Director, told the Blade in a Feb. 25 statement that passage of the Equality Act remains a high priority for HRC and the LGBTQ+ community.
"Getting any legislation through the U.S. Senate is not easy," Stacy said. "In the meantime, support continues growing for the bill, and we believe the Reality Flag campaign will continue to generate the awareness and education needed to continue growing support and pressure for action," he said.
"We've already seen since our launch people coming out saying they had no idea LGBTQ+ people didn't already have these protections, and that's what we aim to do here: educate people and inspire them to take action at the grassroots level across the country – call their senators and make it clear that it's time we need this done," Stacy said. "Some people may be ready to give up. We are not," he said.
In its three-page statement announcing the launch of its Reality Flag campaign, HRC says the campaign is being produced in partnership with a team of advertising and public relations agencies affiliated with the international marketing and communications company giant WPP.
"While the campaign seeks to galvanize public support for the Equality Act and driving audiences to take action at RealityFlag.com, it also underscores the importance of lifting up and showcasing the real stories and lived experiences of LGBTQ+ people impacted by discrimination," the statement continues.
It says the stories about individual LGTQ people will primarily be featured in "video vignettes" created by TV writer and director Joey Soloway, the Emmy Award-winning creator of "Transparent," an original Amazon Studios streaming television comedy-drama series about a transgender woman and her family. Soloway identifies as non-binary and gender non-conforming.
"These stories … will be amplified through both an advertising campaign, including partnerships with 20 national media platforms, achieving an anticipated 30 million-plus impressions during launch, including TV, print, display, video, audio, cinema, OOH, social, and search," the HRC statement says.
Access to some of the video ads slated for the HRC Reality Flag campaign can be found at RealityFlag.com.
Rainbow Youth Project 'walks the walk'
"It has been really hard to see the progress LGBTQ people made, just to watch Republicans try to rip that out from under us"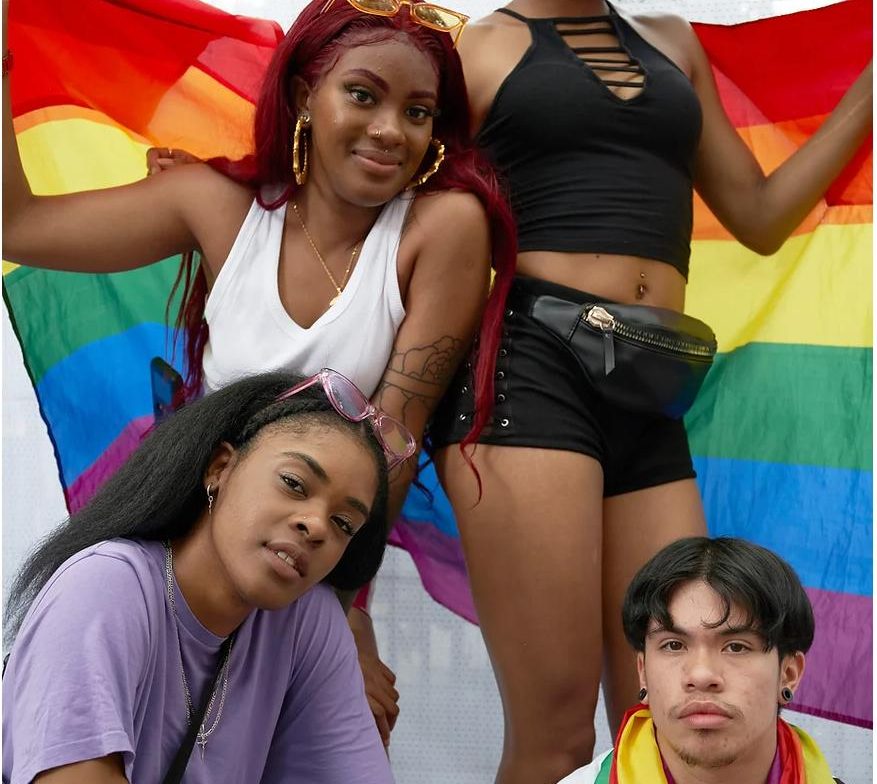 INDIANAPOLIS – As students across Virginia staged a mass walkout on Sept. 27, protesting Republican Gov. Glenn Youngkin's new restrictive guidelines on transgender students, Rainbow Youth Project sent a tweet showing "unwavering support and appreciation" to the young people taking a stand for the LGBTQ community.
But the group was doing much more than social media work that day. In Norfolk, Va., the organization's legislative liaison, Rebecca W., had her rainbow Chuck Taylor Converse on the ground, standing side-by-side with the students.
During her time in the coastal city, Rebecca – who requested her last name not be printed due to privacy concerns – spoke with a 15-year-old transgender student who would see the direct effects of Youngkin's rewrite of the state's model policies. The guidelines would ban transgender students from using facilities that align with their gender identity and prohibit them from changing their names and pronouns at school without a parent's permission.
Rebecca recalled asking the student what her biggest concern with the policy was. The student looked at her and said: "I don't think people understand. The boys don't want me in their areas. The girls don't want me in their areas. I have no space."
"That actually got me just now," she told the Los Angeles Blade.
The Rainbow Youth Project, in seven months, has deployed its small but dedicated group across the country to "build and foster accepting and welcoming communities for our young LGBTQIA+ siblings and their families," according to its website. The organization, which is based in Indianapolis, says it's dedicated to "walking the walk" as it pursues its goal to inspire and support the LGBTQ community.
"It's not phone calls and emails," Rebecca said. "It's, let's put boots to pavement; let's walk the walk; let's do what we can to make a difference."
Most of the small staff also have one thing in common: They attempted suicide as teens because of difficulty accepting their queer identities.
"We know what those hardships are like; we've come through them. We're all, for lack of a better term, extremely successful in our private lives and our professional lives," Christopher Cooper, Rainbow Youth Project's director of legal and legislative initiatives, told the Blade. "We know that it's possible to come out of that and actually do something with your life. To help others to do that is something that we take to heart."
One of the organization's functions is suicide prevention, including emergency counselors. Rainbow Youth Project also has a legal and legislative side – where Rebecca and Cooper work – in addition to other mental health services and transgender health care assistance.
"We take it on a personal level," Rebecca said. "It's not just another case. It's not just another situation. Everyone truly cares."
As legislative liaison, Rebecca is in charge of tracking the hundreds of anti-LGBTQ bills in statehouses across the country. The legislation overwhelmingly targets transgender youth, from blocking participation in sports to baring access to gender-affirming care. Lawmakers have also attempted, and in some cases passed, legislation limiting how LGBTQ+ issues can be taught in schools and keeping transgender kids from using restrooms that correspond with their gender identity.
"It's basically addressing the legislative part and how we can make a positive impact and try to challenge [the legislation] as best possible," she said.
Rebecca's job also involves a lot of travel. After Virginia, for example, she took a plane to Oklahoma City and met with one of the teens in the group's mental health program. He and his immediate family were experiencing hardship at a local hospital.
"One of the things that makes this job probably the most delightful is every day is different," she said. "It's spontaneous; It's constantly evolving; and it truly depends on what's going on in the world."
Cooper, on the other hand, focuses on legal initiatives, mainly claims of discrimination. His services extend to LGBTQ adults, as well as youth.
"I analyze those situations and determine if we should take legal action on behalf of that client," he said. "Quite frankly, most of the time, a simple letter will work. But, other times we have to get involved."
Earlier this year, Cooper began helping a transgender man from Dallas, Chris Sederberg, who was a trucker for a company headquartered in Alabama.
In May, Sederberg crossed paths with a former boss, who mistakenly took his load earlier in the day. "This was the first time I actually had to even step within five feet of him in about two years because we avoided each other," Sederberg told the Blade.
While speaking with the foreman, Sederberg alleges his former boss used she/her pronouns when referring to him. It was "right there in the middle of the yard where everybody was," Sederberg said.
Sederberg said he gave the man a "you need to stop" look, but he kept going. The situation continued to escalate until Sederberg's former boss yelled, "What do you want me to call you a guy?" The man, according to Sederberg, wanted to physically fight him on the yard.
After being outed, Sederberg said he faced harassment at work, so he took to TikTok, pleading for help. That's how he got in contact with Rainbow Youth Project's founder, Lance, who connected Sederberg with Cooper – who is still working on the case. Sederberg, meanwhile, has landed with a new employer that he says is very accepting.
"The company was actually very excited to have a transgender person working for them," Cooper said. "It was absolutely amazing. They were literally celebrating this, which was incredible."
According to Lance, the group wants to expand its legal initiatives. "Litigation is far too often the only substantive recourse for claims of discrimination and the process can be both time-consuming and costly," he said, adding: "As financial resources become available, we hope to expand this program in an effort to make a larger and more positive impact on the lives of LGBTQIA+ young people and adults."
Cooper and Rebecca have extensive experience in their respective fields. Cooper has been practicing law for nearly three decades, starting his career with the Department of Justice's Civil Rights Division and then shifting to private practice. Rebecca has built her career in advocacy.
Both said Rainbow Youth Project's mission was not something they could pass up – even though, when they joined, the group had no track record. Rebecca recalls Lance telling her: "This is what I want to do. This is how I'm going to do it. We're going to be small, you're not gonna have million dollar budgets. But you're gonna have a chance to make a difference."
Rebecca told him she would give the organization 90 days. "That was in April, and I have no plans of going anywhere," she said.
"Working from a cubicle somewhere, you don't actually get to see that impact up close and personal," Rebecca said. "You can see it on paper; you can see it in reports; and you can see it in statistics. But here you are right face to face with that impact. And that makes a difference that is just immeasurable."
Rebecca said it has been really hard to see the progress LGBTQ people made, just to watch "Republicans try to rip that out from under us after we had it for a few years." 
From bills targeting transgender youth to record bans of LGBTQ-themed books, activists have warned the U.S. is taking a step backward. Over the summer, those fears increased dramatically after the U.S. Supreme Court overturned the Constitutional right to an abortion. In his concurring opinion, Justice Clarence Thomas said the high court "should reconsider" its rulings on same-sex marriage and same-sex relationships.
"It took a long 20, 30 year fight to attain those rights," Rebecca said. "Now to see that rug pulled out from under us – not only the young people who are viciously under attack, but that attack is towards the whole community. To see that is terrifying."
At a recent staff meeting, Rebecca asked Rainbow Youth Project's principal team: "Do you guys see a light at the end of this tunnel?"
Lance, the group's founder, responded: "Do we care?"
"I just kind of thought, what does he mean?" Rebecca said. "Then it made perfect sense to me. Whether there's a silver lining or not, there's kids' lives at stake. And we just keep fighting for those kids – period – whether we actually can see the silver lining or not. We hope for it. But we don't have to expect it in order to fight and stand up for these kids."