Singapore high court dismisses sodomy law challenges
Advocacy groups expressed disappointment over decision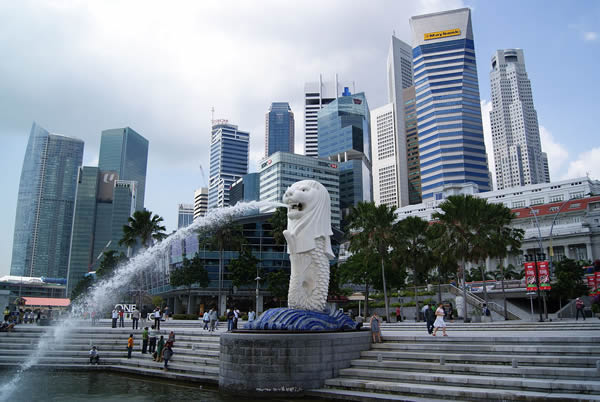 SINGAPORE — Singapore's highest court on Monday upheld a lower court's decision to dismiss three challenges to a law that criminalizes sexual relations between men.
While delivering the judgment, given by a bench of five judges, Chief Justice Sundaresh Menon of the Singapore Court of Appeal said that the appeals are not about "whether (Section) 377A (of the penal code) should be retained or repealed, that being a matter beyond our remit."
"Nor are they about the moral worth of homosexual individuals," said Menon. "In the words of our prime minister, Mr. Lee Hsien Loong, homosexual individuals are 'part of our society' and 'our kith and kin.'"
The appeal court went ahead and said the appeals are also "not about the fundamental nature of sexual orientation, whether immutable or not, which is an extra-legal question well beyond the purview of the courts."
The court also suggested that political resolution of the issue is more appropriate than litigating it. The chief justice said that the advantage of the political process is its ability to accommodate divergent interests and opinions, while litigation is "not a consultative or participatory process."
"This is so for good reason because litigation is a zero-sum, adversarial process with win-lose outcomes," said Menon. "The political process, in contrast, seeks to mediate — it strives for compromises and consensus in which no one side has to lose all."
The chief justice also said that it is "unnecessary" for the court to address a constitutional issue.
"They do not face any real and credible threat of prosecution under 377A at this time," said Menon while delivering the judgment. "Therefore, (they) do not have the standing to pursue their constitutional challenges to that provision."
"We, as organizations advocating for LGBTQ+ equality in Singapore, are disappointed with the Court of Appeal's landmark ruling on Section 377A, which comes as a setback for all who were hoping for a resounding conclusion to this decades-long fight for equality," said Ready4Repeal, a Singapore-based LGBTQ rights group, in a press release. "Despite recognizing the current situation as deeply unsatisfactory for the LGBTQ+ community, the Court of Appeal has still decided to retain the law, albeit with legal assurances on its unenforceability."
Last year, three men, DJ Johnson Ong Ming, retired general practitioner Roy Tan Seng Kee, and Bryan Choong Chee Hoong, the former executive director of Oogachaga, an LGBTQ+ non-profit organization, decided to appeal against a Supreme Court's decision to dismiss their cases against Section 377A.
"While this is a small step in the right direction, this simply does not go far enough to provide real protection to the LGBTQ+ community, who continue to be impacted by the cascading effects of Section 377A," said Ready4Repeal. "The judges themselves acknowledged that even with the assurance of unenforceability, homosexual men will still be left open to police investigations as if a crime had been committed."
Ready4Repeal started a petition in 2018 to pressurize the Singaporean government on repealing the colonial-era law. The petition has received 51,047 online signatures.
Section 377A is a highly debated law in Singapore that prohibits sexual relationships between two men. According to the law, any man in public or private who commits an act of gross indecency with another male shall be punished with to years in prison.
Last year, Home Minister Affairs K Shanmugam said that everyone in Singapore will be protected regardless of community and social, religious or sexual beliefs. He also said that the government's position is clear. He also said that amendments to the Maintenance of Religious Harmony Act make it an offense to urge violence on the grounds of religion or religious belief against any person or group.
Finance Minister Lawrence Wong last year reiterated that different sections of the society have valid concerns, and it needs to be addressed.
"Tribalism is inherently exclusionary, and it's based on mutual hate: 'us' versus 'them,' 'friend' vs 'foe,'" said Wong. "Once this sort of tribal identity takes root, it becomes difficult to achieve any compromise. Because when we anchor our politics on identity, any compromise seems like dishonor."
Ankush Kumar (Mohit) is a freelance reporter, who has covered many stories for Washington Blade and Los Angeles Blade from Iran, India, and Singapore. Recently covered story for The Daily Beast. He can be reached at [email protected].
Chinese activist continues fight for LGBTQ+, intersex rights from U.S.
Yanhui Peng successfully challenged 'conversion therapy' clinic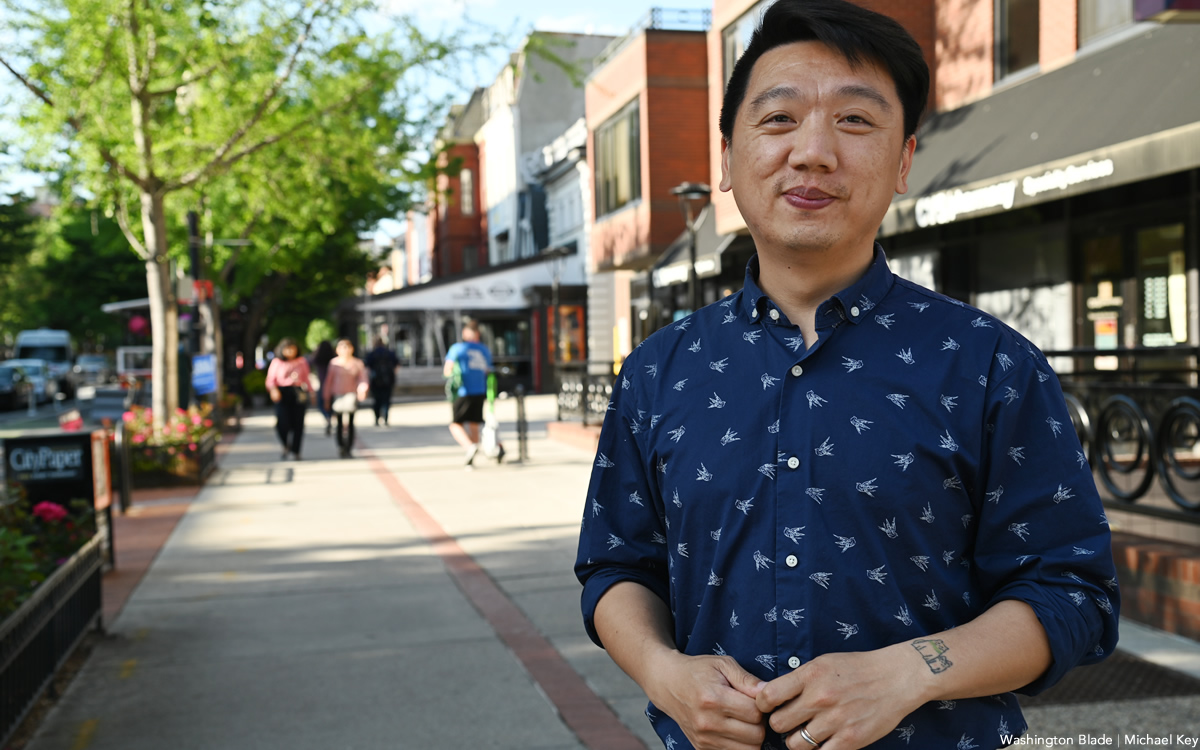 WASHINGTON — Yanhui Peng, co-founder of LGBT Rights Advocacy China, a Chinese advocacy group, in 2014 sought to expose doctors and therapists who practice so-called conversion therapy.
He saw an ad on Baidu, a Chinese search engine, for a therapist in the city of Chongqing who used electroshock therapy to "cure" a person's homosexuality. The therapist charged patients $5,000 (34,506 Chinese yuan) for 30 treatments.
"They will make sure you will be straight," Peng recalled to the Washington Blade during a May 19 interview in D.C.
Peng decided to receive a treatment, which cost $90 (621.12 Chinese yuan) and lasted an hour.
"He asked me to lay down on a sofa and he started to hypnotize me," recalled Peng. "He asked me to close my eyes, calm down, breathe in, breathe out."
Peng described the room in which he was as "small" and "very uncomfortable."
"He then started to ask me to think about a situation, having sex with men, and see if I have some mental or physical reaction to move my fingers … he didn't wait until I moved my finger. He just used the electroshock equipment. He electroshocked me on my arms," he said. "It wasn't so strong, but it was scary because it was sudden."
Peng said he received two additional electroshock treatments before he left the clinic. Peng kept his receipt and included it in a complaint against the therapist that he filed in court.
A judge ruled in his favor, noting homosexuality is not a disease and "gay cure advertisement is illegal." The ruling is the first time a judge in China ruled in favor of LGBTQ+ and intersex rights.
"Luckily we won the case," Peng told the Blade. "It was a surprise."
Peng said the ruling inspired LGBT Rights Advocacy China to file additional cases.
One case involved a 37-year-old man whose parents forcibly admitted him to a mental hospital for 19 days because he is gay. Peng told the Blade that personnel forced the man to take medication and punished him if he refused.
Another case involved a kindergarten teacher who was fired after he posted gay-specific news on social media. LGBT Rights Advocacy China also represented a lesbian couple from China who had a child after they legally married in Los Angeles.
LGBT Rights Advocacy China shut down in November 2021 amid increased government restrictions against NGOs and what the Associated Press described as "social activism."
Peng, who currently studies at Yale University, continues to champion LGBTQ+ and intersex rights in China. Peng, among other things, speaks with IBM and other companies with offices in China about the need to support their LGBTQ+ and intersex employees.
"In China, they focus on economic development and there are so many international companies," he said. "More and more companies realize there is a pink dollar."
'I just persuaded myself that I'm not gay'
Peng, 39, grew up in a small town about 180 miles outside of Guangzhou, a city in southern China that is close to Hong Kong. Peng was still in the closet when he enrolled in a Guangzhou university in 2002.
"It was my first time knowing the term homosexuality," he said, noting he learned about homosexuality on the internet that had just begun to become widely available in China. "It was so negative because when I searched the term 'tong zhi' (gay in Chinese) it all appeared abnormal, [gay people] have sex with everybody and get diseases like HIV. I was scared. I thought it wasn't ok."
Peng said he went to his university's library to research homosexuality. He told the Blade that most of the books he read "didn't mention homosexuality" and the few that did "said homosexuality is a disease."
"I couldn't even accept myself," he said. "I just persuaded myself that I'm not gay."
Peng said he didn't talk about his homosexuality with his family, in part, because his classmates bullied him because he was "kind of feminine." Peng told the Blade that he was afraid to use the bathroom in school because he "was afraid that when I would go to the toilet people would laugh at me."
Peng said he "persuaded myself to fall in love with other girls" when he was a university student.
He told the Blade that he was still in the closet when he began to work for an NGO and "started to realize there were LGBT groups in Guangzhou."
"The community was there, but I was so scared to join them," said Peng. "I tried to be a volunteer and persuade myself that I'm not gay."
Peng was 27 in 2010 he finally mustered the courage to come out to a colleague on whom he had a crush while they were participating in a two-day hiking event. The man was straight, but Peng told the Blade that his reaction to his homosexuality was "so positive."
"He encouraged me a lot," said Peng. "I forgot to tell him that I love him."
"After that I started to come out to everybody," he added.
Peng in 2013 quit his job and co-founded LGBT Rights Advocacy China. He filed suit against the Chongqing conversion therapy clinic the following year.
Peng's parents still did not know about his homosexuality, but they did watch him on Chinese television after the judge ruled in his favor.
"The national media talked about our case," he said. "All my relatives called them and asked what happened, what happened to your son. I think they got a lot of pressure. They presented not to know and haven't discussed this topic with me. They know … I think they don't accept it. They can't control me because I live so far away."
Peng over the summer married his husband in Utah.
Government censorship, COVID-19 lockdowns among community challenges
China decriminalized homosexuality in 1997, but the government has banned depictions of same-sex relationships and "sissy men" in the media. Transgender people who are at least 18 can legally change their gender after the undergo sex-reassignment surgery.
The State Department's 2021 human rights report cites reports of discrimination and harassment based on sexual orientation and gender identity. The report also notes LGBT Rights Advocacy China's decision to shut down.
Peng told the Blade that the Chinese government's sweeping lockdowns to prevent the spread of COVID-19 have had a serious impact on LGBTQ+ and intersex people.
He noted NGOs in Wuhan worked with local authorities to provide medications to people with HIV/AIDS when the city was locked down from Jan. 23, 2020, until April 8, 2020. Peng said they also sought to hold virtual meetings in which LGBTQ+ and intersex people could participate from their homes.
Pride Month events took place in Shanghai in June 2020, but the city was under a strict COVID-19 lockdown when Peng spoke with the Blade.
"It's kind of difficult," he said.
Hong Kong had been scheduled to host the Gay Games in November, but the pandemic prompted organizers to postpone them to 2023. The Federation of Gay Games, which organizes the quadrennial event, earlier this year announced Hong Kong will co-host it with Guadalajara, Mexico.
Gigi Chao, co-founder of Hong Kong Marriage Equality, late last year during an interview with the Blade dismissed calls to boycott the 2023 Gay Games over China's human rights record.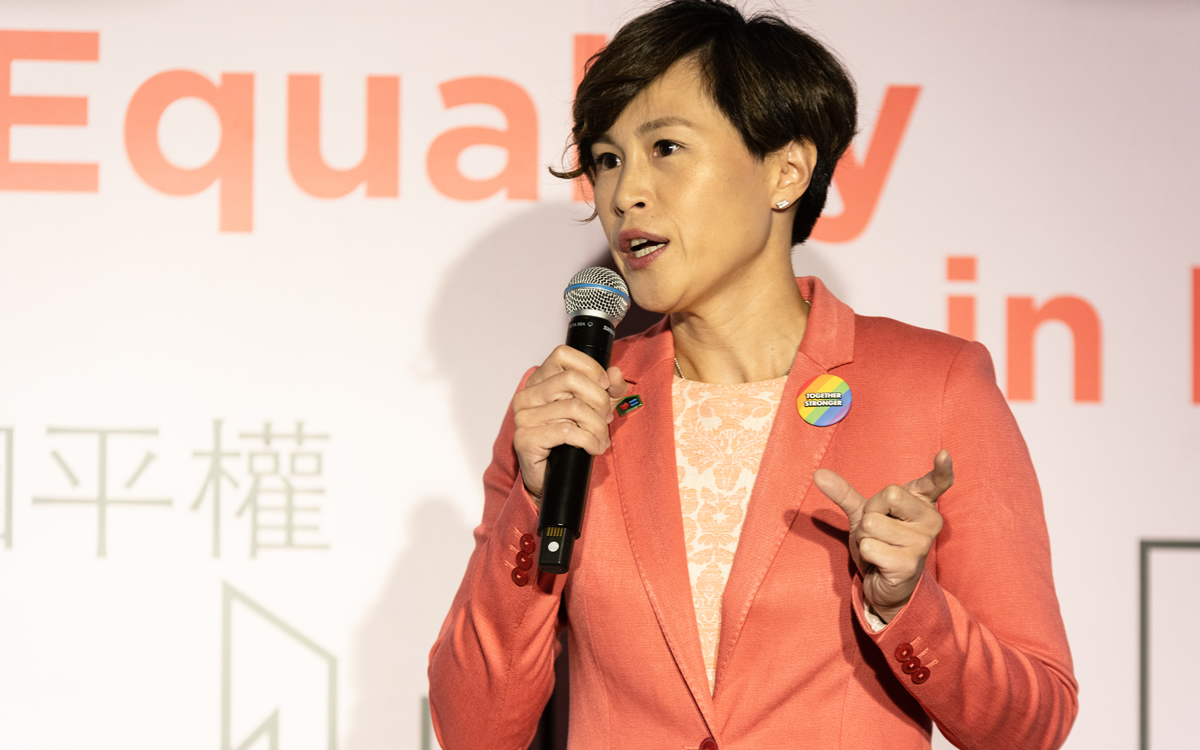 Peng said he and other activists in China "were so happy that Hong Kong was going to organize" the Gay Games, but he did not specifically discuss the human rights concerns. Peng nevertheless said he continues to support the event's organizers in Hong Kong.
"I hope they won't give up," he said. "It's a good opportunity for more businesses because there are a lot of international businesses in Hong Kong to show support. I think they should speak out to support them."
Asian Development Bank LGBTQ+, intersex safeguards 'quite important'
Chantale Wong, the U.S. director of the Asian Development Bank who is the first openly lesbian American ambassador, was born in Shanghai in 1954. Her parents in 1960 placed her in the bottom of a boat that brought her and her grandmother to Hong Kong, which was a British colony at the time.
Peng praised Wong and her ambassadorship. He has also testified in support of LGBTQ+ and intersex-specific safeguards for the Asian Development Bank.
"It's quite important because ADB invests $2 billion every year in China," said Peng. "If there's an LGBT safeguard, these projects can be LGBT-inclusive, friendly … can have some benefit for LGBT people."