Four Ukraine LGBTQ+ activists attacked inside Kyiv office
Nash Mir says group of 'bandits' responsible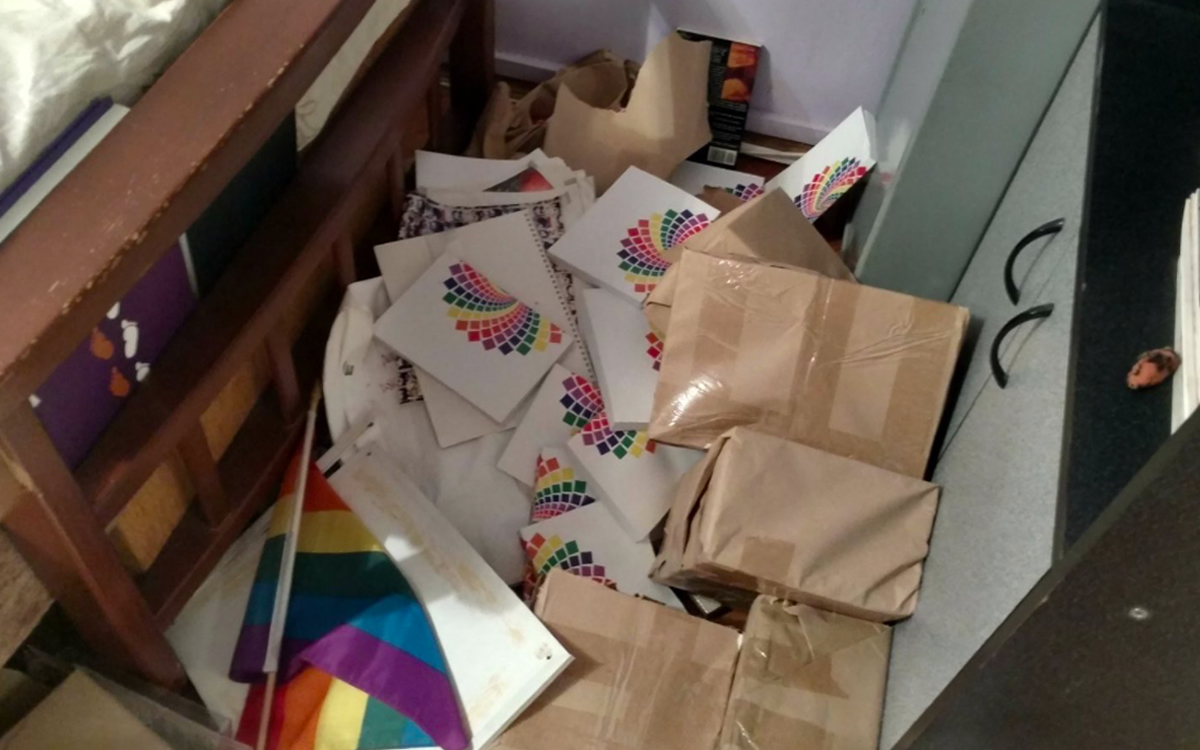 KYIV, Ukraine — An LGBTQ+ rights group in Ukraine on Tuesday said a group of "bandits" broke into their office in the country's capital and attacked four activists who were inside.
Nash Mir Coordinator Andriy Maymulakhin in an email to supporters wrote that "some unknown people broke (the) door in our office in" Kyiv where four of his colleagues were living and "brutally beat them and robbed (them.)"
"We do not know who they are," said Maymulakhin, who noted the assailants had guns. "They humiliated my friends. They are bandits."
Maymulakhin said his four colleagues are now at a "shelter" in Kyiv.
An LGBTQ+ activist in the Ukrainian capital with whom the Washington Blade spoke on Tuesday confirmed the Nash Mir staffers who were attacked "are safe." It is not immediately clear who carried out the attack, but it took place against the backdrop of Russian troops' continued advance towards Kyiv.
Magomed Tushayev, a Chechen warlord who played a role in the anti-LGBTQ+ crackdown in his homeland, on Saturday died during a skirmish with the Ukrainian military's elite Alpha Group outside of Kyiv. A White House official late last week told the Blade the Biden administration has "engaged directly" with LGBTQ+ Ukrainians and other groups that Russia may target if it gains control of their country.
'I am not going anywhere'
Olena Shevchenko, chair of Insight, another Ukrainian LGBTQ+ rights group, in a post to her Facebook page on Tuesday said she heard "powerful explosions nearby" in reference to the destruction of Kyiv's main TV tower. Shevchenko, who lives in Kyiv, in another Facebook post on Tuesday wrote the city "is under permanent bombing all the time." 
"It's the sixth day of this nightmare," wrote Shevchenko. "Many of my friends are spending all night in the basements or subway stations. My parents told me they put Ukrainian flag on their balcony. They are not going anywhere, it's their home. I am not going anywhere, it's my home too. We are staying and continue to help others as much as we can do in these circumstances."
Anna Sharyhina is the co-founder of the Sphere Women's Association, which is based in Kharkiv, the country's second largest city that is less than 30 miles from the Russian border in the eastern part of the country.
Sharyhina on Tuesday posted to her Facebook page a video of a Russian missile strike a regional administration building in Kharkiv that is on the city's Freedom Square.
"I am in Kharkiv right now with my family in an extended compound," said Sharyhina on Tuesday in another post to her Facebook page that she wrote in Russian. "We live close to the city center and here a lot of sounds. We go into a room without windows."
Sharyhina in the same Facebook post pleaded with Russia to stop shelling Kharkiv.
"I know that the European Parliament is meeting now," wrote Sharyhina. "Everyone asks me what will we be, given the status of a candidate country, and I don't know what to answer, but let the explosions in Kharkiv stop, so we can at least do something."
The Sphere Women's Association, Insight and Nash Mir are all accepting donations through their respective websites.
Huge show of support for Slovak LGBTQ+ people after murders
"Certain people are responsible for this tragedy. They are intensively & increasingly inciting spreading hatred towards the LGBTI community"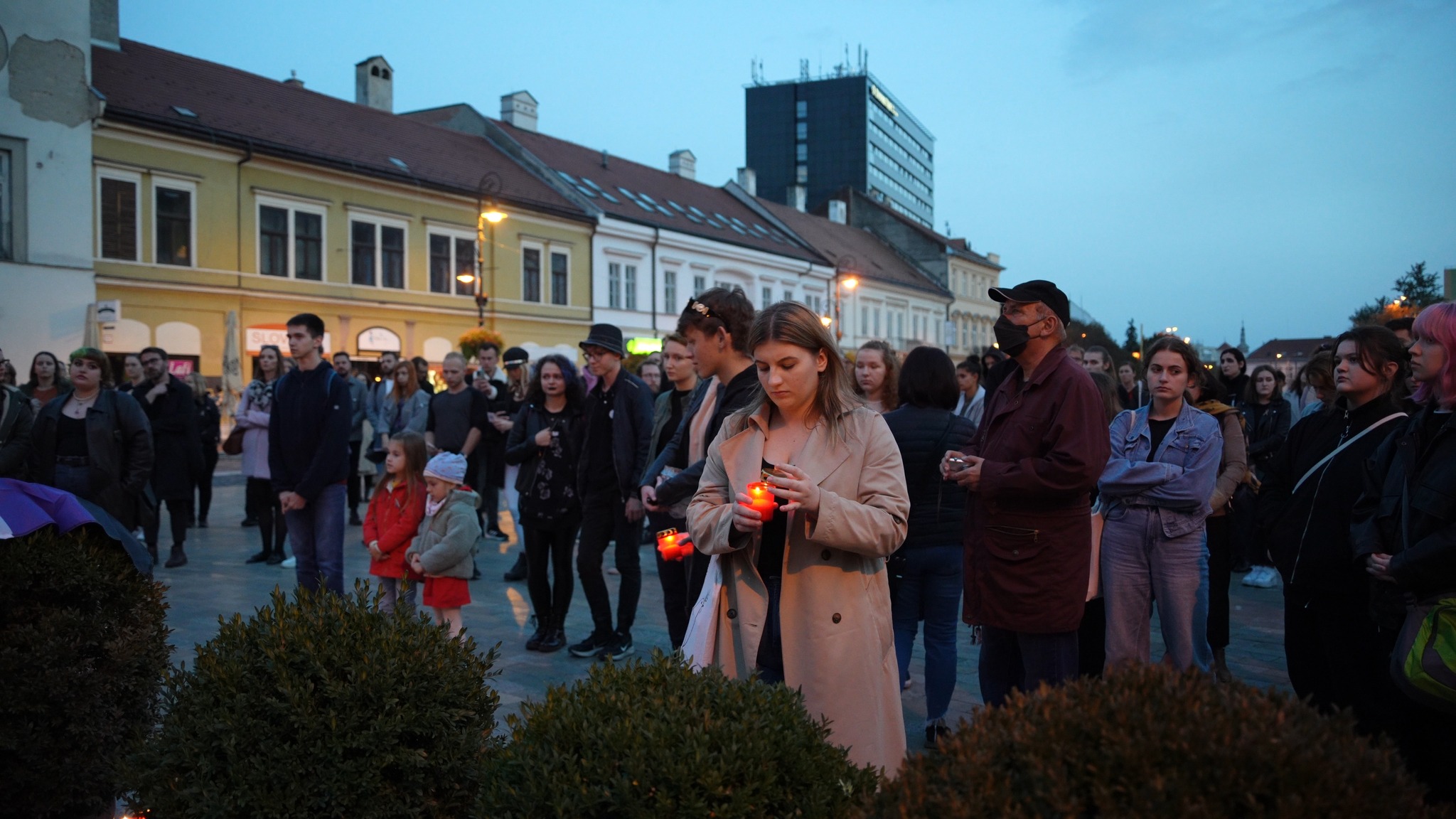 BRATISLAVA, Slovakia – A vigil held Friday evening in the Slovakian capital city to honor the two victims killed and a third who was badly wounded in a Wednesday night shooting outside of the Tepláreň bar, a popular LGBTQ+ establishment in the old city, was also attended by the nation's president and the European Parliament's Vice-President.
Organized by the Initiative Inakosť (Iniciatíva Inakosť), a LGBTQ+ non-governmental agency, there were an estimated 20,000 plus people gathered according to officials. The murders shook the tight-knit Slovakian LGBTQ+ community and its allies. Slovakia is a fairly conservative European Union member country where same-sex marriage is not legal.
A spokesperson for the Polícia Slovenskej republiky, the country's national police force, said that his agency has classified the shootings as premeditated murder, motivated by hatred of a sexual minority.
19-year-old Juraj Krajcik, the son of a prominent member of the far-right extremist Vlast party, a radicalised student from Bratislava, had left social media posts filled with anti-Semitic and anti-LGBTQ+ messages including a so called 'manifesto' which the gunman had posted prior to the rampage.
Krajcik, who had an online history of hate-filled rhetoric had posted a picture of himself outside the Tepláreň bar this past August along with other writings and posts that led Polícia Slovenskej republiky investigators to conclude that the crime was planned.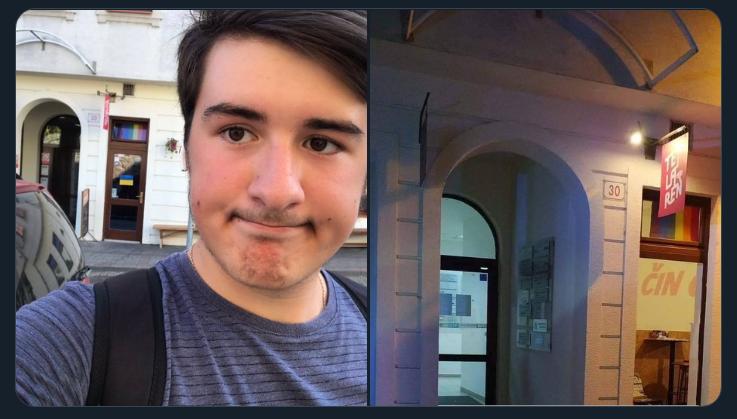 According to Polícia Slovenskej republiky, the gunman was outside of the bar for nearly an hour before opening fire at around 7 p.m. local time. Investigators said multiple rounds were fired but did not disclose the number nor the weapon used. Police say he was found dead from a self-inflicted gunshot.
During the vigil for the shooting victims, Slovak President Zuzana Caputova told the crowd, "I'm sorry that our society was not able to protect your loved ones," adding, "You belong here, you are valuable for our society."
BBC Europe reported that European Parliament Vice-President Michal Simecka was also at Friday's event. Simecka expressed his determination to have the European legislature discuss the murders during a session next week.
"To express our sympathy, but also to call on the Slovak authorities to take clear steps to put an end to the language of hatred towards LGBTI people," he said.
In addition to political leadership at Friday evening's vigil, Elena Martinčoková (Eleny Martinčokovej) the president of the Association of Parents and Friends of LGBTI+ people spoke expressing her grief and anger towards the environment in the country that fostered far-right hate.
In a Facebook post published by Košice PRIDE, she told the crowd;
"I'm going through a lot of pain. Since I heard about this tragedy, I'm in spirit with the parents of the murdered children. They were adults, but they were mainly children, grandchildren, cousins, friends, colleagues who will be greatly missed and the wound and pain the survivors will feel will never heal.
Many tragedies affect us in life, some of them cannot be prevented. Yes to some of them. And this is exactly the one that could have been prevented. Long-term and intensively spreading and inciting hatred towards LGBT+ people in our public space. It is hatred that blinds people, prevents them from thinking sober.
Certain people are responsible for this tragedy. They are the ones who are intensively and increasingly inciting and spreading hatred towards the LGBTI community. They are all over the place. In the National Council of Slovakia, in government, among many church representatives, in extremist groups, among disinformation spreaders and those who do not have credible information, or when they have it, they do not understand them or do not want to understand. I hope this tragedy will not leave the public indifferent. We must act, we must act now. We will not be quiet. We are not going to be intimidated."
Video via România liberă, a Romanian daily newspaper founded in 1943 and currently based in Bucharest: