President renews call to pass LGBTQ Equality Act in State of the Union
Biden incorporated the Equality Act in a speech where he included numerous items such as elements of his Build Back Better plan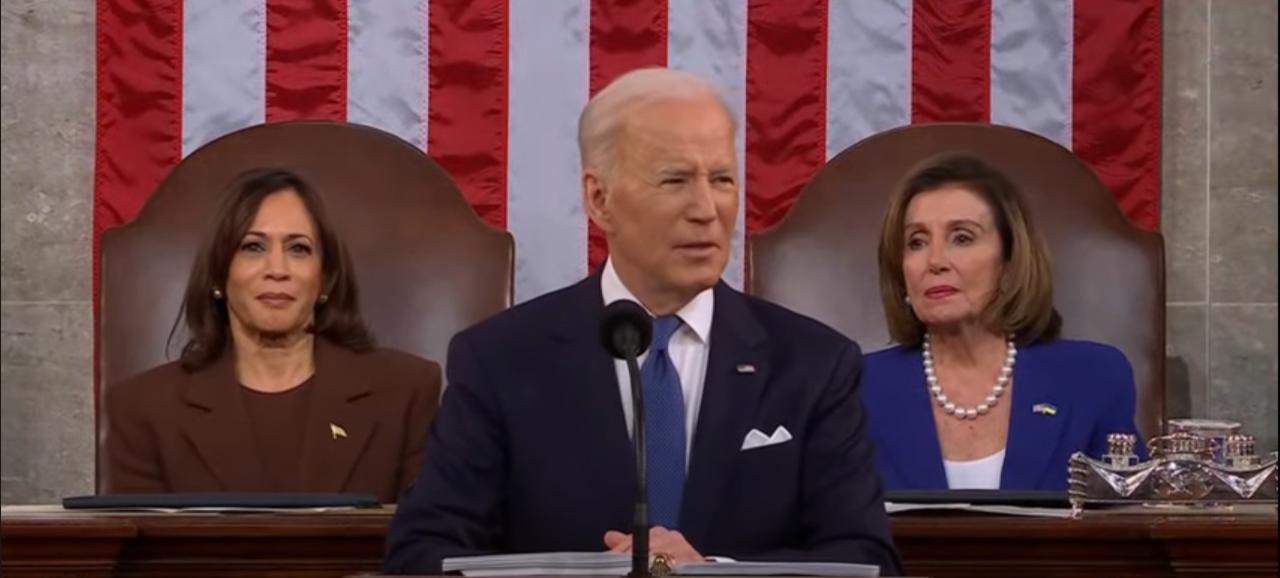 WASHINGTON – In a State of the Union address front-loaded with calls to challenge Vladimir Putin's invasion of Ukraine, President Biden on Tuesday called for assistance from Congress in enacting his domestic agenda — and renewed his call for passage of the Equality Act to advance LGBTQ rights.
"And for our LGBTQ+ Americans, let's finally get the bipartisan Equality Act to my desk," Biden said, making his strongest push yet for legislation that has been pending in the U.S. Senate for nearly a year despite Biden's campaign promise to sign it into law within his first 100 days in office.
Echoing remarks he made in his speech to Congress last year in support of transgender youth, Biden also denounced anti-transgender bills in state legislatures, many of which seek to restrict access to transition-related care for youth and to keep transgender kids out of school sports.
"The onslaught of state laws targeting transgender Americans and their families is wrong," Biden said. "As I said last year, especially to our younger transgender Americans, I will always have your back as your president, so you can be yourself and reach your God-given potential."
Despite Biden's renewed call to pass the Equality Act, the legislation is all but dead after the U.S. House passed it in March of last year as opponents have twisted the measure as a threat to sex-segregated spaces for women and the biological definition of gender. Biden's words, however, coincide with a recently launched campaign from the Human Rights Campaign highlighting the patchwork of legal protections for LGBTQ people in different states.
Biden incorporated the Equality Act in a speech where he included numerous items from his domestic agenda, such as elements of his Build Back Better plan. Among the items Biden ticked off were the ability of Medicare to negotiate prescription drug prices and expansion of the child care tax credit. The Build Back Better legislation is also dead in Congress, but supporters have held out hope that some components of the package still have a shot.
Also highlighted in Biden's speech were measures already signed into law, including the bipartisan infrastructure package, which Biden cited as evidence of working across the aisle, and the American Rescue Plan, which Biden credited with boosting the economic recovery amid the coronavirus pandemic. Not everyone in Biden's audience in the joint session of Congress agreed with him on the latter bill, however, as evidenced by Republicans booing the measure.
Critics have said Biden's moves have worsened the economy and instigated the continued rise in inflation that has increased the cost of goods from gasoline to groceries. Biden, however, made a point to include inflation in his speech, saying enacting his domestic agenda could alleviate rising prices.
"But with all the bright spots in our economy, record job growth and higher wages, too many families are struggling to keep up with the bills," Biden said. "Inflation is robbing them of the gains they might otherwise feel. I get it. That's why my top priority is getting prices under control."
The most prominent component of Biden's speech, as Russia continues to assault Ukraine, was efforts to contain Russia through economic sanctions, including an announcement the United States would join other countries in refusing to let Russian aircraft enter the United States. Biden also made clear the United States would stick to its obligation to defend allied nations in NATO, pledging to "defend every inch of territory of NATO countries with the full force of our collective power."
"In the battle between democracy and autocracy, democracies are rising to the moment, and the world is clearly choosing the side of peace and security," Biden said. "This is a real test. It's going to take time. So let us continue to draw inspiration from the iron will of the Ukrainian people."
Seated with Jill Biden in the first lady's box above the floor of the House was Oksana Markarova, Ukraine's ambassador to the United States, who waved a small blue-and-yellow striped flag of her country when President Biden mentioned her in his address. Many others present in the House chamber brought Ukrainian flags to wave and had pins of Ukraine's colors on their lapels to show American solidarity with the country under onslaught by Putin.
Sarah Kate Ellis, CEO of the LGBTQ group GLAAD, said in a statement after Biden's speech his words in support of LGBTQ people come at critical time as Texas Gov. Greg Abbott declared in a recent memo parents who provide transition-related care for their kids would be prosecuted for child abuse.
"President Biden has delivered on commitments to include LGBTQ citizens in the promise of America," Ellis said. "Every lawmaker at every level of government must commit to do the same, especially for LGBTQ families and children under attack. The state of our union is only as strong as our action and commitment to ensure no marginalized person is left behind. LGBTQ voters are more motivated than ever to hold elected officials accountable in the midterms."
Attorney expects Santos FEC complaint will deadlock
New York Democratic Reps. Ritchie Torres and Daniel Goldman have filed a complaint against Santos to the House Committee on Ethics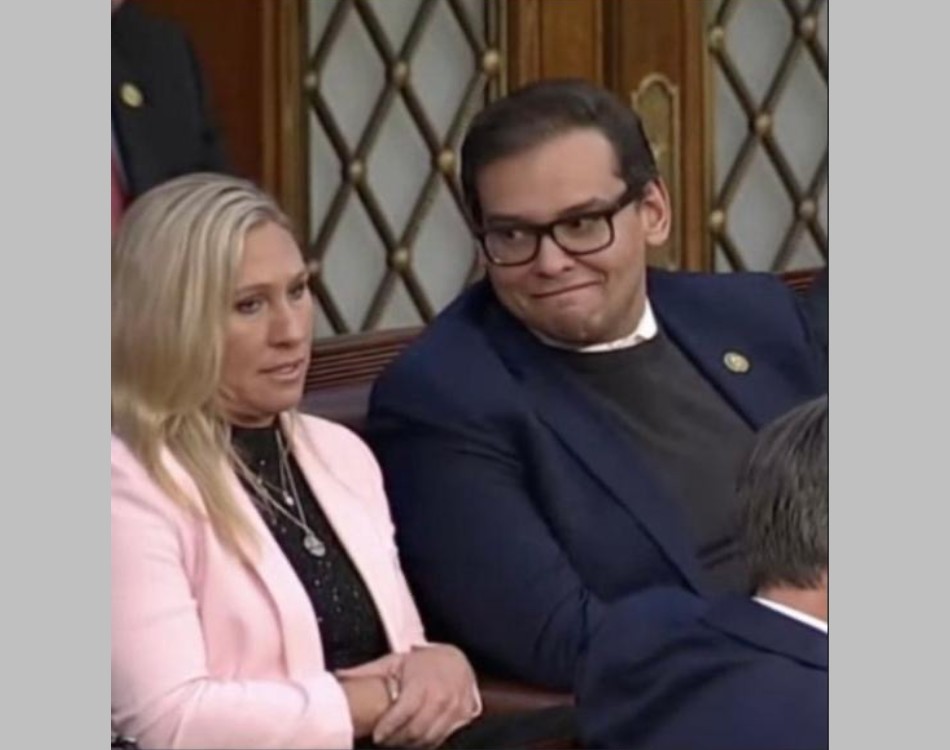 WASHINGTON – An attorney with the group that filed a complaint to the Federal Election Commission (FEC) on Monday against Republican Rep. George Santos (Ny.) said the FEC is unlikely to pursue an investigation or bring any enforcement action against the congressman or his campaign.
"There are at least 3 commissioners who are ideologically opposed to enforcing campaign finance law," Campaign Legal Center Senior Vice President and Legal Director Adav Noti told The Washington Blade by phone on Tuesday.
With a four-vote majority of the FEC's six sitting commissioners required to open an investigation, "the working assumption has to be – for every FEC complaint, no matter how egregious – that at least 3 commissioners will block an investigation," Noti said.
Noti previously served at the FEC in the Office of General Counsel, as associate general counsel for policy, and in the Litigation Division, where he argued cases before federal district and appellate courts as well as the U.S. Supreme Court, including the landmark 2010 case Citizens United v. FEC.
Notwithstanding what may happen at the FEC, Noti told The Blade the Santos case is unlike anything he had ever seen, in multiple respects.
Per the Campaign Legal Center's complaint, Santos and his 2022 campaign committee, Devolder-Santos for Congress, stand accused of engaging "in a straw donor scheme to knowingly and willfully conceal the true sources of $705,000 that Santos purported to loan to his campaign; deliberately reporting false disbursement figures on FEC disclosure reports, among many other reporting violations; and illegally using campaign funds to pay for personal expenses, including rent on a house that Santos lived in during the campaign."
Some of these allegations, which sometimes result in prosecutions, happen, unfortunately, "with some regularity," Noti said. "But I cannot think of another situation where a successful candidate turns out to have fabricated his entire campaign apparatus."
Sometimes, candidates will falsify the source of the money they received to fund their campaigns, and other times they will conceal how they spent those funds, but "I can't think of another instance where every dollar that went into a campaign and a significant portion of the dollars that were spent by that campaign appear to be fictitious, or just made up," Noti said.
Looking at the money that was funneled through the campaign, even if assuming that the dollar amounts that were reported were accurate, "we don't know where it came from, and we know where almost none of it went," Noti said.
Unfortunately, however, "Even in the highly unlikely event that the FEC does conduct an investigation or [pursue an enforcement action], it would take years," Noti said, adding that slow-rolling the process is another means by which the commissioners can prevent the agency from enforcing the law.
Nevertheless, Santos is in potential legal jeopardy. Investigations of the congressman have reportedly been opened by the U.S. Attorney's Office for the Eastern District of New York, the Nassau County District Attorney's Office, and the office of New York Attorney General Letitia James.
On Tuesday, New York Democratic Reps. Ritchie Torres and Daniel Goldman filed a complaint against Santos to the House Committee on Ethics.
Noti said the Justice Department's case would be a criminal probe into Santos's possible violations of campaign finance laws, but otherwise the FEC has sole jurisdiction over these matters, so other legal actors are likely looking into other types of financial malfeasance by the congressman.
The FEC will typically wait for the resolution of a criminal probe initiated by the U.S. Attorney's Office before proceeding with a complaint, Noti said. "If the DOJ starts investigating, they'll tell the FEC, and then the FEC will wait for the criminal investigation to conclude."
Either way, "I would be shocked if [Santos] were not seeking legal counsel," Noti said, adding that he might have a difficult time finding an attorney to represent him.
Santos has been under fire for weeks after media reports revealed the congressman had lied about virtually every aspect of his life, career, and identity.
With respect to his treatment of campaign finance laws, "What he did was intentionally deprive the public of the information that voters are entitled to before they decide who to vote for," Noti said.