Caitlyn Jenner attacks Trans girls athletes (again)
"I don't think biological boys should compete in women's sports — we have to protect women's sports. That's the bottom line"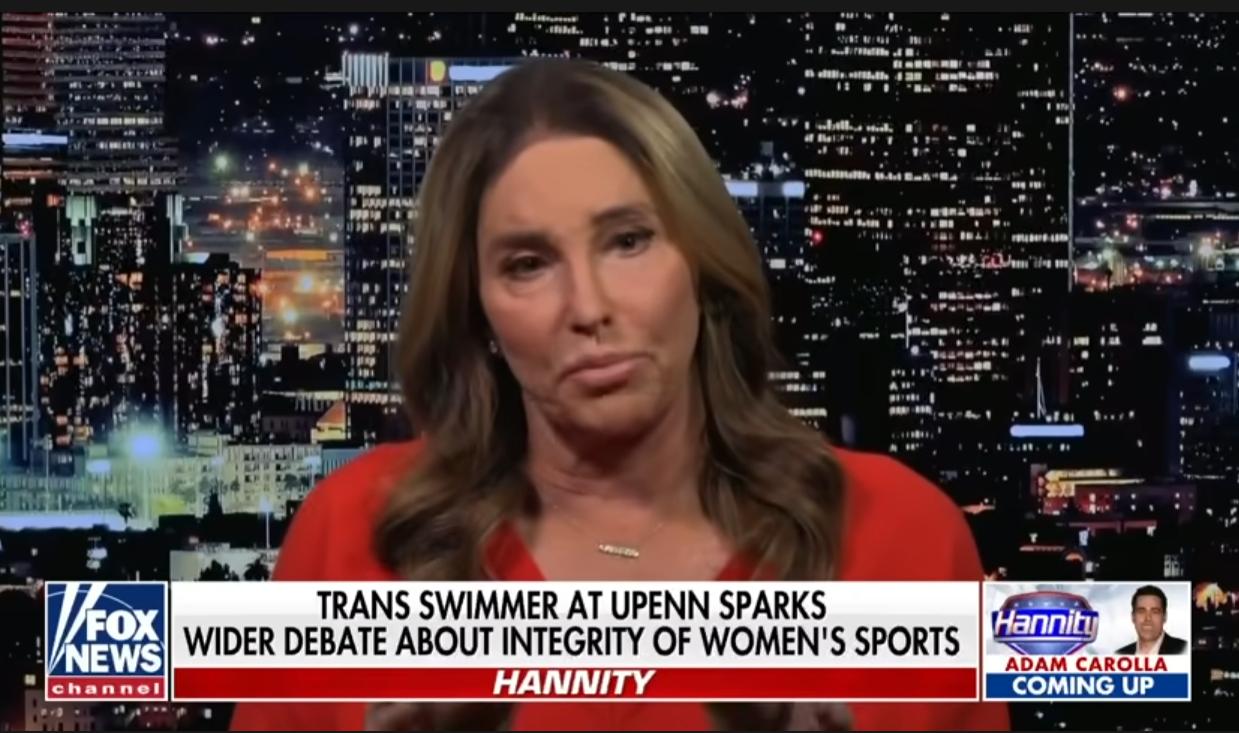 MALIBU – This week coming up in Atlanta, the NCAA Women's Division I Swimming and Diving Championships, begin on March 16. One of the top-seated competitors is Lia Thomas from the University of Pennsylvania Women's Team. The 22-year-old senior is no ordinary athlete as she is a Trans female at the center of a rancorous national debate over Trans athletes in competition sports.
Earlier this month Thomas was profiled in a cover story for Sports Illustrated magazine in an exclusive interview explaining why she has to compete when many—including some teammates—say she shouldn't be able to compete against other women. "The very simple answer is that I am not a man,' Thomas told SI. "I'm a woman — so I belong on the women's team."
Her answer rankled opponents of Trans girls and females participating in sports including reality-television star, a pre-transition Olympian, and conservative Trump Republican Caitlyn Jenner. In a March 4 2022 by Barbara McMahon, UK journalist based in Los Angeles for the British tabloid The Daily Mail, Jenner tells her; "I don't think biological boys should compete in women's sports — we have to protect women's sports. That's the bottom line."
"I respect her right to transition and I hope she has a wonderful, wonderful life. But she grew up as a biological boy and I don't think it's fair that she's competing in women's sports,'" Jenner tells The Daily Mail. "Her cardiovascular system is bigger, her heart is bigger, she's got longer arms and legs."
"Three years earlier, she was on the men's team ranked 462; now she's No. 1 in the same event for women? Obviously, it's not fair," Jenner comments.
Thomas is adhering to the standards and regulations set out by the U.S. National Collegiate Athletic Association (NCAA), which requires Trans female athletes to be on hormone therapy for at least 12 months before they can compete.
The NCAA adopted new policies in January covering the competition of transgender athletes, creating a "sport-by-sport" approach that also requires documentation of testosterone levels across the board amid a fervor of recently transitioned swimmers breaking records in women's athletics.
Although the policy defers to the national governing bodies for individual sports, it also requires transgender athletes to document sport-specific testosterone levels beginning four weeks before their sport's championship selections. The new policy, which consistent with rules for the U.S. Olympics, is effective 2022, although implementation is set to begin with the 2023-24 academic year, the organization says.
The NCAA guidelines now specify that Trans athletes would need to register continuously on HRT for 36 months before applying to swim as a woman. Thomas has been on HRT for a total of 34 months, however she is covered as the new policies have not yet been implemented.
Although critics charge that the NCAA policies doesn't go far enough in protecting women's sport and essentially make an exception for Thomas, Jenner agreed that the collegiate swimmer is following the rules. "But the rules have to change," Jenner claims.
'Here's an example: I play golf and, seven years after my transition, I still have a big advantage over women players. I'm 6ft 1in. I have longer arms than the ladies and I can outdrive them by a hundred yards,' she explains. 'Even being off testosterone and on oestrogen for seven years now, what I've got left over is still more than they've ever had. So, it wouldn't be fair.'
Jenner told the Daily Mail she was regularly invited to take part in ladies' golf tournaments, but she always turned them down. "I'd feel bad taking a trophy away from one of the ladies at our club who really deserves it," she said.
Jenner says she fully supports Thomas embracing her gender identity and living as a woman, but she says she does not understand her motives in sport.
"I don't see how you can be happy beating other girls under these circumstances. You have to have a sense of personal responsibility. You can still enjoy sports but not play at a competitive level, right?"
In January Jenner also attacked Thomas:
We must protect women's sports. We cannot bow down to the radical left wing woke world and the radical politically charged agenda of identity politics. pic.twitter.com/LBRx3w8hrQ

— Caitlyn Jenner (@Caitlyn_Jenner) January 28, 2022
Jenner continues to draw a firestorm of criticism for her viewpoints regarding Trans girls and women in sports.
Last Spring, while running as a conservative Republican candidate for the Office of Governor in the special recall election of incumbent Democratic Governor Gavin Newsom, Jenner was asked by a reporter from celebrity news tabloid TMZ about her position on the multiple pieces of anti-Trans youth sports legislation across the United States, outside a coffee shop in her hometown of Malibu.
Jenner responded that she saw it as a question of fairness saying that she opposed biological boys who are Trans- competing in girls' sports in school. "It just isn't fair," Jenner said adding, "and we have to protect girls' sports in our school."
This past February Jenner attacked those members of the Trans community battling for greater inclusion of Trans girls and females in sports as "a fringe minority" accusing them of endangering children with transgender policies.
'RUINING IT FOR EVERYBODY': @Caitlyn_Jenner blasts 'fringe' members of LGBTQ community, accusing them of endangering children with transgender policies. pic.twitter.com/EUrhkaftt2

— Fox News (@FoxNews) February 23, 2022
The Los Angeles Blade interview: Iszak Henig
LA Blade Sports Editor Dawn Ennis interviews Yale trans swimmer Iszac Henig in his first interview since the NCAA championship last March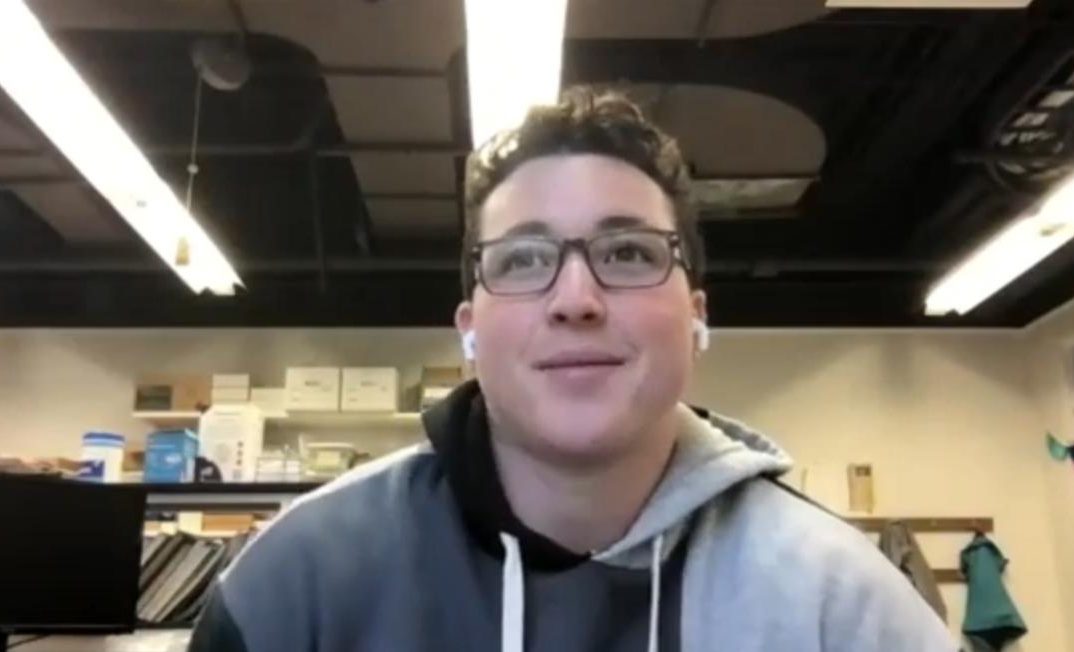 NEW HAVEN, Ct. – Ten months have passed since the first historic matchup of two out, NCAA transgender student-athletes, competing against one another for a national championship: trans man Iszac Henig vs. trans woman Lia Thomas.
Although Henig represented Yale's women's swim team in that contest, he made it clear in a March 2022 interview with the Los Angeles Blade: I'm not a woman," Henig said. "I am just a guy trying to go as fast as I can."
Now, in his first interview since that championship, and after sharing his story with the world in The New York Times, the Yale University senior from Menlo Park, Calif. sat down with the Blade to talk about switching to swim with the men's team, his plans after graduating, the trolls on social media and anti-trans politics. Also, he revealed: he has a girlfriend.
"I wonder, politically, do you align with progressive politics, or is politics something that doesn't interest you?" the Blade asked. "Are you conservative?"
"I was having the conversation with my girlfriend last night," said Henig, 21. Earlier in the conversation, he deflected when asked if he had someone he'd consider a partner. Then he let it slip he was dating a classmate at Yale, and we shared a laugh. "I will admit to it, yes," he said with a smile.
"So, I started talking about political identity. She's a politics major, so this is sort of her jam," said Henig. "Politics does interest me in that it is incredibly relevant to my life, incredibly relevant to the lives of people that I care deeply about. Policy has widespread impacts. And so, I think from that level, it is interesting to me. I'm a citizen who votes. It's interesting to me in terms of political identity, generally progressive, sort of left leaning. That follows naturally from how I was raised and how I was taught to view the world and how I choose to view the world."
How Henig views the world is with compassion, something that came up repeatedly in the conversation on Zoom last week. He said he learned that at home, growing up in Menlo Park.
"My parents always have sort of instilled a level of kindness, compassion, thoughtfulness," he said.
A competitive swimmer since he was four, Henig was one of the top 20 high school swimmers in California at 18, and one of the top 100 swimmers in the country. As he explains in his Times essay, Henig also excelled in the pool at Yale, but floundered in his identity in the company of women, especially in the locker room. He told the Blade that gap year he took during the pandemic provided an opportunity for him to explore who he was, who he wanted to be, and after working with a therapist, finally come out as the man he'd known himself to be since he was a teen.
"The first time I verbalized it was at 14, to my mom," said the college senior, who realizes, in hindsight, he needed more time. "The climate was different. I was young. I was a teenager and I was not ready to advocate for myself in that way that I would have needed to."
But to those who believe children, even teens, cannot possibly know they are trans, Henig says:
"I was certain. There was no doubt in my mind. You know, people are like, 'Oh, kids are too young to know.' No," said Henig, "We're sure. We're certain."
What's it like swimming with the other guys at Yale? "It's been great. It's been awesome," he said. "I love the guys on the team. It's been a really cool experience for me, just spending time with them."
He shrugs off the negative reports by anti-trans reporters at Fox News and the National Review, who have focused on his top surgery and his performance since starting on testosterone eight months ago. Although he wrote in his op-ed that his times are "about the same as they were at the end of last season," Henig is bashed for finishing 79th out of 83.
"A lot of the articles are like, 'This guy stinks at swimming, he got 79th out of 83.' And I'm like, 'Yes, I could have told you that myself! You don't need to remind me, you know?' I knew I was coming in bottom of the pack," he said. "A lot of the comments have been like, 'Oh, you know, a real man would want to win, or a real man would want to care.' And I'm like, 'You need to meet more men!' I'm sorry, not every man is the same. There are so many good reasons to be an athlete, and winning is one of them, but it's not the only reason. I love my sport and I get to race and I get better because the people around me are better than me."
Trolls will also comment on his posts that feature his flat chest, saying awful things like this: "So sad to see you cutting your own body parts. It is the same as cutting your arms or legs so sad. You would regret this once your brain has finish developing and stop taking hormones."
"There's no sort of nice way to put it: It sucks, right? It's never going to be a positive experience," he said. "I had someone comment on my Instagram posts, literally like, 'Oh, I wonder if you were molested as a child?' And I was like, first of all, that is so disrespectful to survivors, you know? And that is a completely unrelated thing. And second, I'm so sorry that you think that that's okay to say to someone, that people have treated you in a way that you're like, 'Yeah, that's a normal thing to say.' And you block."
Henig said he never responds to hate but does offer kindness, and stays on-brand with compassion.
"What I try and remember, what I try and live by, is you can't respond to hate. That is never going to be productive. What I try and do is find compassion," he said. "I say, 'Okay, you are saying this to me for a reason, and I am so sorry that whatever has happened in your life that has led you to this point, where you think that it's okay to say something like that to someone.'"
Henig credits his friend and supporter, trans trailblazer Schuyler Bailar, with providing advice to handle the haters with the same energy that comes from being a fellow competitive swimmer: "I think, in an ideal world, that derives naturally from sport, from teamwork. You learn how to say, 'We fundamentally disagree, but let's get something done together. Let's find common ground.'"
Bailar has also showed him the power of advocacy. "But I probably wouldn't self-identify as an activist," he said. "I think I think I'd opt for advocate athlete."
Once he graduates in May, he's hoping to work in renewable energy, calling climate change his passion. But he said he won't be swimming competitively after this season and has ruled out the Olympics. Henig hopes to become, in his words, a NARP: "A Non Athletic Regular Person." Or, as he also put it: "Just some guy." And maybe, someday, just some dad.
"The idea of motherhood, fundamentally, was uncomfortable to me, and I'm actually quite excited about the idea of fatherhood," he told the Blade. "I was pretty sure that I'm going to be dead by 30. I'm really glad to say that I absolutely don't feel that way anymore, because transition has been so life affirming. I do want kids. I do want a family."
To the trans kids living in states of hate, where laws and policies may prevent them from competing in sports as their authentic selves or receiving gender-affirming healthcare, Henig has this message: "Do what you need to do to keep yourself alive, to keep yourself safe as long as you can, until you have the opportunity to do something else. Know that we're fighting. There are so many people on the ground trying to make changes, trying to prevent bills from getting passed, trying to get resources to places that don't have them. It's something that I want to continue to support."
By writing his essay and talking to reporters, Henig hopes he can also reach those who aren't supportive of inclusion and trans healthcare. "I would really like to call people in, and ask, 'If you can, set aside a belief that you currently have, and open your mind to trying something new.' See if you can say, 'Okay, you know what? What could I learn today? What can I open my mind to?' That would be my ask, because I think the world just needs more empathy, more compassion in general."
This is Iszac's first interview following his moving essay in The New York Times: