A monumental day for Chile
Country's marriage equality law took effect on March 10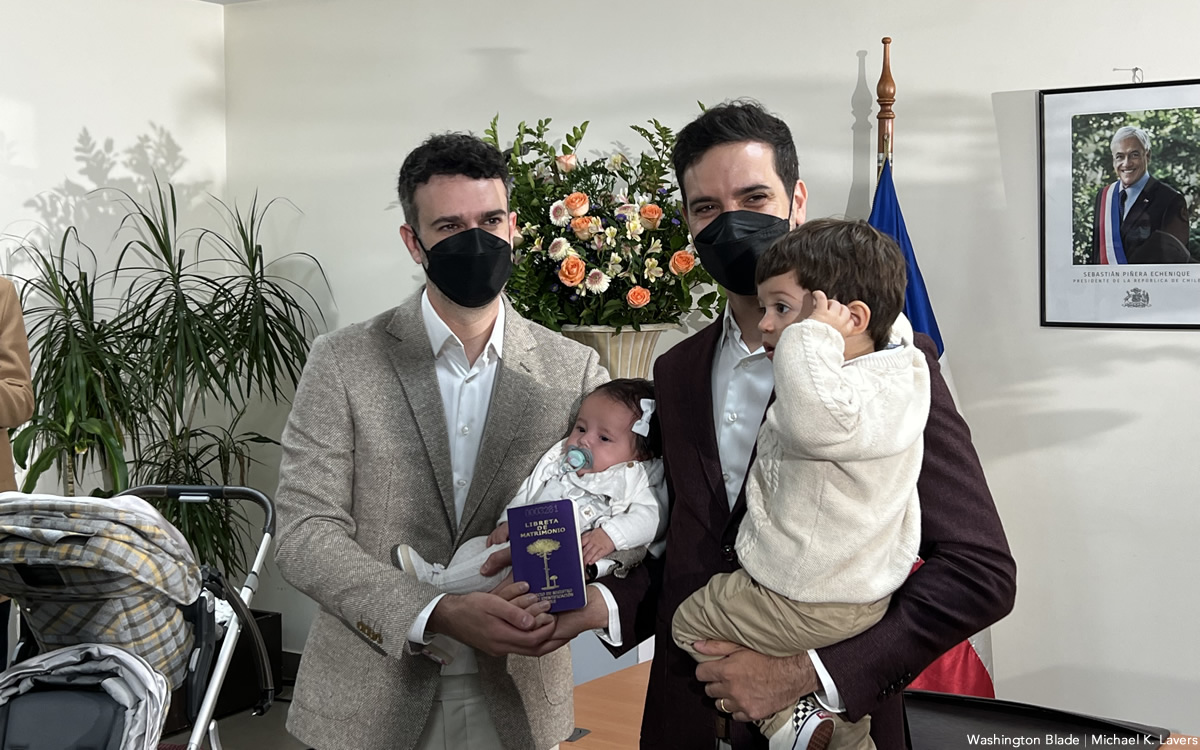 SANTIAGO, Chile — I was on the steps of Cambridge (Mass.) City Hall on May 17, 2004, when the first same-sex couples legally married in the U.S. I was inside a Chilean Civil Registry and Identification Service office in Santiago, the country's capital, nearly 20 years later when the first same-sex couple legally married in the South American country.
Javier Silva and Jaime Nazar, a gay couple who has been together for seven years, married on March 10 as they held their two young children. Then-Chilean Justice Minister Hernán Larraín, then-Deputy Human Rights Secretary Lorena Recabarren, two prominent Chilean LGBTQ+ rights activists — long-time Movimiento de Integración y Liberación Homosexual (Movilh) Director Rolando Jiménez and Fundación Iguales President Isabel Amor — Hunter T. Carter a U.S. based lawyer who advocates for marriage equality throughout Latin America and this reporter were among the dozens of people who were in the room to witness this historic moment.
Consuelo Morales and Pabla Heuser, a lesbian couple with a young child who has been together for 17 years, married in the same room less than half an hour later. Both couples, Larraín, Recabarren, Jiménez and Amor spoke with the dozens of Chilean reporters who were inside the Civil Registry office after the weddings took place. Well wishers cheered and threw flower petals at the newly married couples as they left the building.
My husband happens to have been born and raised in Santiago, so the country's first same-sex weddings were more than just another story to cover. March 10 was a watershed moment for one of Latin America's most conservative countries. It was also a demonstration that progress is possible in the most unexpected of places.
Divorce only became legal in Chile in 2004. Abortion remains largely prohibited in the country, although a bill that would allow a woman to terminate her pregnancy up to 14 weeks has begun to work its way through the Chilean Congress.
Chile on March 10 joined neighboring Argentina and less than three dozen other countries around the world that have extended marriage rights to same-sex couples.
How did Chile achieve such a historic milestone?
Movilh in 2012 filed a lawsuit with the Inter-American Commission on Human Rights on behalf of three same-sex couples who were seeking marriage rights. The Inter-American Court of Human Rights that same year ruled in favor of Karen Atala, a Chilean judge who lost custody of her three daughters to her ex-husband because she is a lesbian.
The Atala case established a legal precedent that has been used to advance marriage equality throughout Latin America.
Chile's civil unions law took effect on Oct. 22, 2015. I happened to be in Santiago with my husband, his niece and her husband on that day. The activists with whom I spoke on one hand welcomed the civil unions law, but on the other stressed it did not sufficiently protect same-sex couples and their children.
The government of former President Michelle Bachelet — who is now the U.N. high commissioner for human rights — in 2016 said it would introduce bills to extend marriage and adoption rights to same-sex couples as part of an agreement it reached with Movilh and the Inter-American Commission on Human Rights. Movilh in 2020 withdrew from it after accusing then-President Sebastián Piñera of not doing enough to advance marriage equality in Chile.
Piñera last June announced his support of the issue.
He met with Silva and Nazar on March 10 at the Presidential Palace in Santiago after they married. The meeting took place on Piñera's last day in office.
President Gabriel Boric's inauguration took place on March 11 at the Chilean Congress in Valparaíso.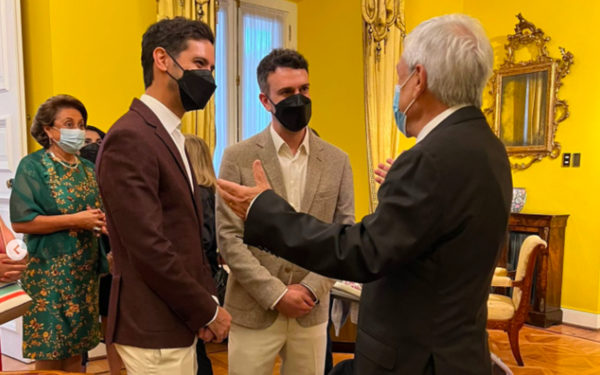 "'Two people' — these words change life, history. They solidify the dreams and aspirations of many," said Atala on March 10 in a tweet that included the new definition of marriage in Chile. "A dream that became a reality today. I cannot be happier."
"Dos personas" esas palabras cambian la vida, la historia, concretan sueños e ilusiones de muchos. Un sueño que hoy se hizo realidad. No puedo más de emoción. #matrimonioigualitario #Chile #LGTBI pic.twitter.com/WYZ47OMgTS

— Karen Atala Riffo (@AtalaKaren) March 10, 2022
"Javier and Jaime's civil wedding was simple but enormously important," said Carter earlier this week after he returned to the U.S. "This short legal proceeding has been enjoyed by millions because it protects the couple and the children they may have. It should not have required a decade of litigation and often intense negotiations backed by the Inter-American Human Rights Commission to get to this day of joyful tears and rosy cheeks, but love always wins."
March 10 was the day that Chile legally recognized Javier and Jaime, Consuelo and Pabla and their families. March 10, as Carter notes, was the culmination of a long and at times painful effort to ensure LGBTQ+ Chileans could receive the same rights and privileges of marriage about which their heterosexual brothers and sisters likely don't think twice. March 10 was also a day that my husband and many others who were either born in Chile and/or live in the country likely never thought would happen.
March 10 was a good day in Chile.
Judy Heumann helped so many of us with disabilities to be out and proud
'Like the color of my eyes or the color of my hair, it is a part of who I am'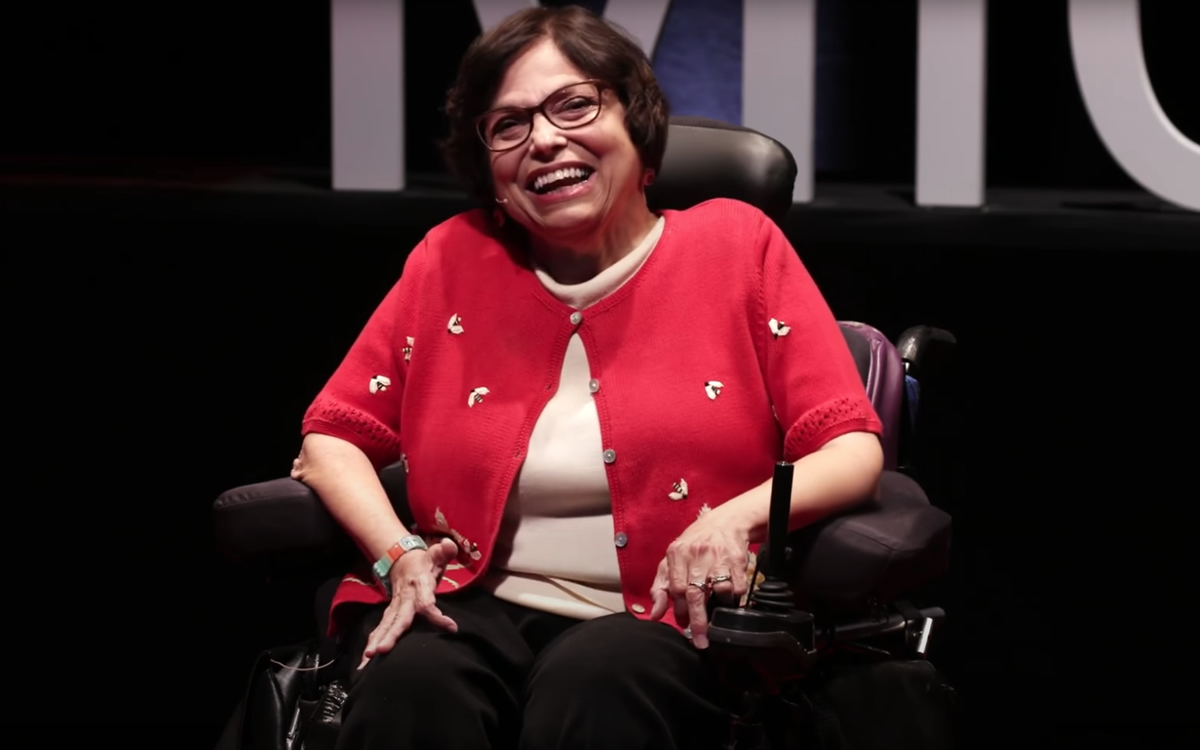 When I was growing up, people like me, who were disabled, were usually met with scorn, pity and exclusion.
On March 4, Judith (Judy) Heumann, a founder of the disability rights movement, died at 75 in Washington, D.C.
For decades, Heumann, who contracted polio when she was 18 months old, was a leader of a civil rights movement that changed the lives of millions of folks like me.
Judy (so many of us, whether we knew or not, connected with her on a first-name basis), was known as the "mother" of the disability rights movement. She was the Harvey Milk of our struggle.
You might think: why should LGBTQ people care about the passing of a disability rights leader?
Here's why: Nearly, 20 percent of people in this country have a disability, according to the U.S. Census Bureau. This includes LGBTQ+ people. An estimated three to five million people are queer and disabled.
Studies, including a study by the Map Advancement Project, reveal that queer people are more likely than non-queer people to become disabled. We face the double-whammy of anti-queer and disability-based discrimination. The MAP study reported that of the more than 26,000 transgender people surveyed, 39 percent reported having a disability.
If you're queer and have a disability (blindness, epilepsy, cerebral palsy, psychiatric disorder, etc.), you've likely run up against employers who don't want to hire you or restaurants who don't care to serve you. If you're a queer parent of a disabled child, you've probably had to fight to get your kid the education they need.
These battles are hard. But, thanks to Heumann and the movement she led, there are ways — from the Americans with Disabilities Act to working the media — to fight this injustice.
Heumann, who at 29 led a month-long protest that was the Stonewall of the disability rights movement, and in her 70s was the star of the fab, Oscar-nominated documentary "Crip Camp," was a powerhouse of energy, discipline, hard work and humor. She was a quintessential bad ass who worked for justice 24/7, and kicked your butt if you didn't."Kathi, get your self together!" commanded the voice over the phone, "or you won't get anything done."
It was 1987, and I was writing my first news story. I was interviewing Heumann about an historic protest that she'd led a decade earlier. It was the 10th anniversary of what is believed to be the longest non-violent sit-in a federal building.
In April 1977, more than 100 disabled people took over the (then) Health, Education and Welfare building in San Francisco. President Richard Nixon had signed the Rehabilitation Act into law in 1973. But, regulations, known as "504," a section of the Act that prohibited discrimination against disabled people by institutions (schools, hospitals, etc.) receiving federal funding, hadn't been signed. After protesting in the San Francisco building for a month and in Washington, D.C. (including at then President Jimmy Carter's church), the "504″ regulations were signed.
Heumann, who was an official in the Clinton administration and a special adviser in the Obama State Department, was tough, kind, and proud of herself and the movement that she founded.
For Heumann, who is survived by her husband and brothers, disability was a normal part of life, not a tragedy.
"I never wished I didn't have a disability," Heumann wrote in her memoirs "Being Heumann: An Unrepentant Memoir of a Disability Rights Activist."
When Heumann was a child, disabled children were often institutionalized. Like being queer, being disabled wasn't considered to be normal then.
Doctors advised Heumann's parents to send Judy to an institution when she was a child. But her parents, who were Jewish and had fled Nazi Germany, refused. This experience turned her mother and father against institutionalizing her, Heumann wrote in her memoir.
"If I'd been born just 10 years earlier and become disabled in Germany, it is almost certain the German doctor would also have advised that I be institutionalized," Heumann wrote, "The difference is that instead of growing up being fed by nurses in a small room with white walls and a roommate, I would have been taken to a special clinic, and at that special clinic, I would have been killed."
Just as it is if you're queer, if you're disabled, if you want to respect yourself, you need to be out and proud.
Judy more than anyone I've ever known, helped so many of us with disabilities to be out and proud. She taught us that being disabled isn't something to be ashamed of. That it's an important aspect of who we are.
Her disability, Judy often said, is, "Like the color of my eyes or the color of my hair, it is a part of who I am."
I knew Judy only from interviewing her over the years and being on an episode of her podcast "The Heumann Perspective." But Judy, whether you'd known for decades or just a few months, made you feel like you were a friend. She'd advise you, cheer you on and challenge you over the phone, in texts and on Zoom.
She almost got me, a non-make-up wearing lesbian, to wear lipstick (so I wouldn't look like a ghost on her podcast). Earlier this winter, Judy wondered why I didn't put my disability on my resume. Being nervous could be good, she said, when I was scared of reading at a poetry festival.
"If you don't respect yourself and if you don't demand what you believe in for yourself, you're not going to get it," Judy said.
Thank you, Judy for teaching us to respect ourselves and to demand our rights! R.I.P., Judy!
Kathi Wolfe, a writer and a poet, is a regular contributor to the Blade.