'Don't Say Gay' pile-on: Louisiana State Rep. introduces sweeping bill
Horton told WBRZ ABC 2: "I talked to my pastor and he challenged me and said, 'we definitely need to do this'"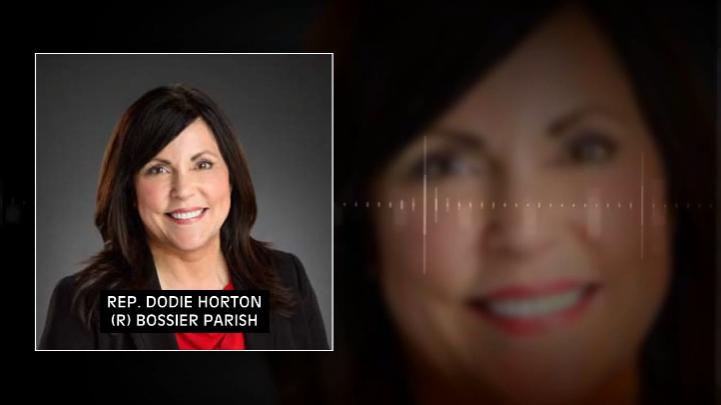 BATON ROUGE- Louisiana House Representative Dodie Horton, Republican District 9-Bossier Parish, introduced a sweeping bill Thursday that would bar school employees from discussing sexual orientation or gender identity in K-12 classrooms in the state.
House Bill 837 states:
No teacher, school employee, or other presenter shall cover the topics of sexual orientation or gender identity in any classroom discussion or instruction in kindergarten through grade eight.
No teacher, school employee, or other presenter shall discuss his own sexual orientation or gender identity with students in kindergarten through grade twelve.
Horton, speaking with ABC News' Baton Rouge affiliate WBRZ-2, told the station;
"I wasn't aware of the need [for this legislation] until I looked at some things on Twitter and Facebook," Horton told WBRZ Thursday. "It just solidified for us to protect our Louisiana children, as well."
"I started to pray about how we could protect our children here from inappropriate conversations until they are able to dissect it and old enough to understand it," Horton explained. "I talked to my pastor and he challenged me and said, 'we definitely need to do this.'"
About a week after lawmakers passed Florida's controversial "Don't Say Gay" bill, a Louisiana legislator has proposed a similar law regulating the discussion of sexual orientation in classrooms. https://t.co/qsRnoSURuO

— WBRZ News (@WBRZ) March 17, 2022
This legislation follows passage of a similar bill in Florida and efforts in Virginia, Tennessee and Georgia and 16 other states in at least 40 bills have been introduced to ban classroom discussion of LGBTQ+ people which opponents charge leads to erasure of LGBTQ+ identity and increased risks of suicide by LGBTQ+ youth.
URGENT: HB 837, a #DontSayGay bill authored by Rep. Dodie Horton, is meant to stigmatize #LGBTQ people, isolate LGBTQ kids, and make teachers fearful of providing safe, #inclusive classrooms. Call her office and ask her to withdraw House Bill 837. 318-949-2463 pic.twitter.com/4AysUej0Gq

— LA Trans Advocates (@LouisianaTrans) March 18, 2022
Governor John Bel Edwards' office released the following statement in response to the bill, reiterating comments made by the governor during Monday's State of the State address.
"Some of the bills being brought up this session do nothing to make lives better. Nothing to continue moving us forward. They only serve to divide us. And frankly, some are reminiscent of a dark past that we should learn from, not relive."
MAGA anti-LGBTQ+ Republican elected as Louisiana's governor
Landry received 52% of the statewide vote, and was the surprise victor Saturday by winning over 50% in the primary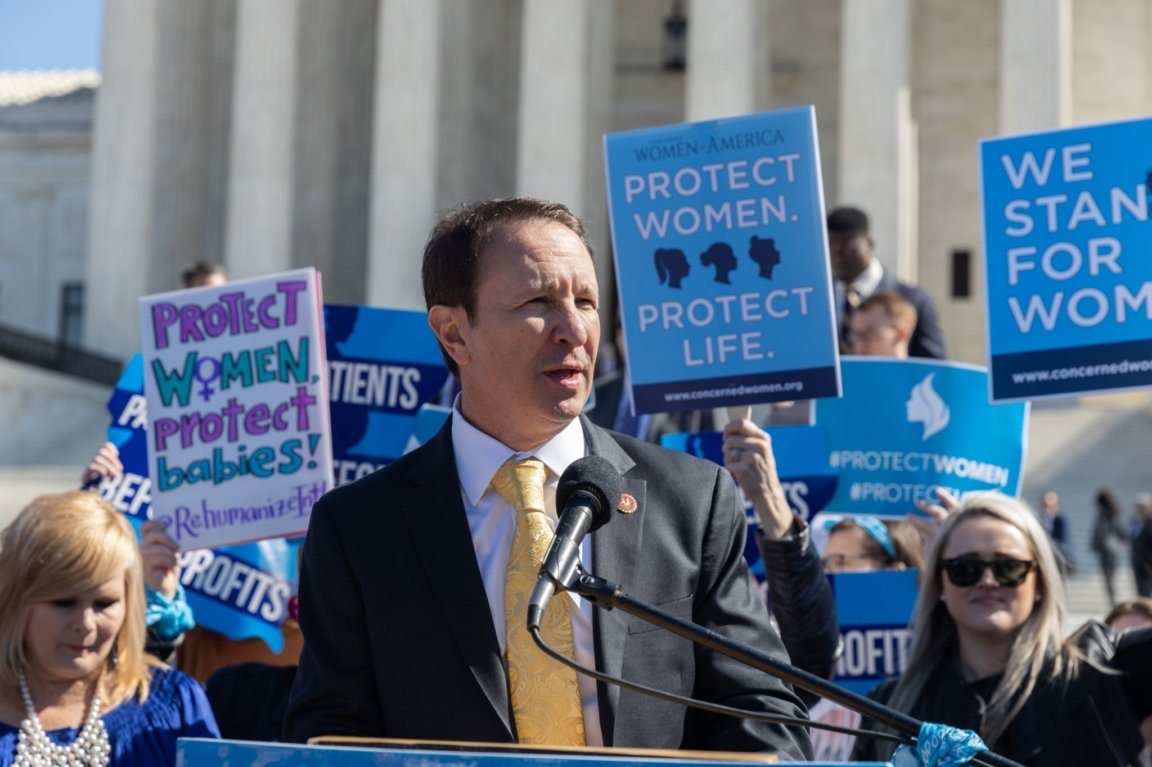 BROUSSARD, La. – Republican Attorney General Jeff Landry will become Louisiana's 57th governor, after winning Saturday's primary in a field with three other Republican candidates, a conservative independent and a lone Democrat.
Landry was endorsed by former President Donald Trump and garnered endorsements from House Majority Leader Steve Scalise, who represents the congressional first district of Louisiana. Tony Perkins, the head of the Family Research Council, listed by the Southern Poverty Law Center as a anti-LGBTQ+ hate group for its lies and propaganda against LGBTQ+ people, also endorsed Landry.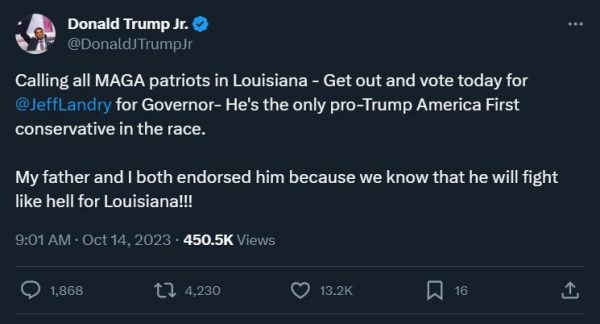 "Today's election says that our state is united," Landry told supporters as he celebrated his victory speech Saturday night. "It's a wake up call and it's a message that everyone should hear loud and clear, that we the people in this state are going to expect more out of our government from here on out."
The Associated Press noted that Landry's win is a major victory for the GOP as they reclaim the governor's mansion for the first time in eight years. Landry will be sworn into office in January, replacing current Gov. John Bel Edwards, the lone Democratic governor in the Deep South, who was unable to seek reelection due to consecutive term limits.
Landry is a conservative firebrand who has repeatedly clashed with Edwards over LGBTQ+ rights and in 2020, was part of the group of Attorney's General who joined the lawsuits that attempted to overturn the 2020 election.
The Louisiana Illuminator reported Landry received 52% of the statewide vote, and was the surprise victor Saturday by winning over 50% in the primary securing him the governor's chair.
Shawn Wilson, the lone Democrat in the race, drew 26% of the vote — a paltry figure when considering that Democrats comprise roughly 40% of Louisiana's electorate. Louisiana's open primary format results in a runoff between the top two finishers unless a candidate receives 50% or more of the vote.
"There are no regrets in the Wilson household," the Algiers native told supporters at the Westin Hotel in New Orleans.
Wilson's chances of making a runoff with Landry hinged on coaxing enough turnout in the state's urban centers. Heading into Election Day, a small segment of Republicans predicted Landry could claim the governor's seat in the primary, perhaps serving as a deterrent to Democrats and supporters in the rest of the field.
A spokesperson for Wilson said he called Landry to concede once the governor-elect completed his victory speech. Wilson said he asked Landry to keep Medicaid expansion in Louisiana and raise teacher pay. Landry has previously said he would maintain status quo with Medicaid, which Gov. John Bel Edwards expanded on his first day in office in 2016.
"…While we might not understand everything that Jeff Landry wants to do as governor, I believe he wants to try to do the right thing, and it's our job as Louisianians to make that happen," Wilson said.
The 52-year-old governor-elect has garnered national attention the Associated Press reported since taking office as the state's attorney general in 2016 over his involvement and staunch support of Louisiana laws that have drawn much debate, including banning gender-affirming medical care for transgender youths, the state's near-total abortion ban that doesn't have exceptions for cases of rape and incest, and a law restricting youths' access to "sexually explicit material" in libraries, which opponents fear will target LGBTQ+ books.
Landry has repeatedly clashed with Edwards over matters in the state, including LGBTQ rights, state finances and the death penalty. However the Republican has also repeatedly put Louisiana in national fights, including over President Joe Biden's policies that limit oil and gas production and COVID-19 vaccine mandates, the AP also noted.
Additional reporting by The Louisiana Illuminator & The Associated Press.