TERFs challenge reporter's gender at NCAA Women's Championship
The full story of what happened when 10 members of two anti-transgender groups and a swimmer's dad confronted me in Atlanta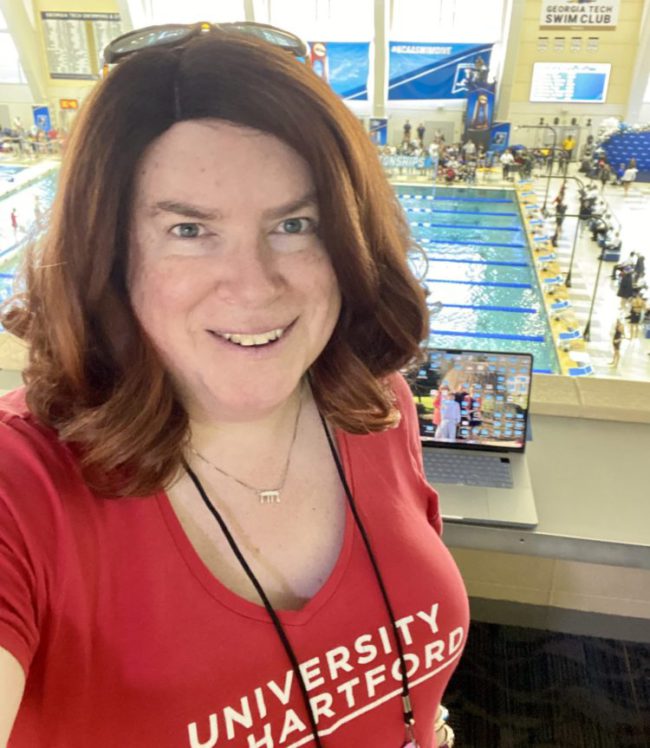 Editor's note: The following piece illustrates the ugly reality faced by Trans people virtually everyday- unceasing malevolent attacks on their humanity and very existence. Los Angeles Blade Sports Editor Dawn Ennis was on assignment for this publication in partnership with Forbes to cover the NCAA Division One Women's Swimming & Diving Championships in Atlanta. As part of her assignment she conducted interviews with athletes and at one point was ganged up on by Trans Exclusionary Radical Feminists, (TERFs) known in Britain, the UK, as 'Gender Criticals:'
ATLANTA – The first rule of being a journalist is that our job is to witness news, not make news. I did not get credentialed to cover the NCAA D1 Women's Swimming & Diving Championships in Atlanta with the aim of becoming one of the stories. My only mission was to report on the success or failure of out transgender swimmers Lia Thomas and Iszac Henig.
Like Thomas, I am a woman who also happens to be trans. My pronouns are she/her/hers. But to anti-trans inclusion groups like Save Women's Sports and the U.K. based organization, Standing for Women, I am a "biological male" which is a phrase meant to imply that I am not who I say I am. To them, I am a man.
That became quite clear while I was doing my job as a reporter, when one British activist started asking me questions during an interview. My off-the-cuff answers—some of which were admittedly inelegant, abstractly metaphorical and definitely not my best choice of words—resulted in shouting, screaming, in-your-face misgendering and bullying. Somehow, I managed to keep my composure, but I will confess, I am still shaking from this. I didn't show it, but they succeeded in scaring me in a way I haven't felt since being surrounded by bullies in grade school.
This is the full account of what transpired, a portion of which was posted to Instagram by Kellie-Jay Keen (@theposieparker) and shared across social media. You can also listen to the unedited raw audio recording that I uploaded to YouTube. 
At the conclusion of swimming finals on Saturday evening, I approached Beth Stelzer, founder of the Save Women's Sports group, who was assembling her fellow activists in the hall outside the McAuley Aquatics Center on the Georgia Tech Campus. I had interviewed her and others from her group earlier in the week, and although we stand apart on the issue of transgender inclusion in sports, we had been civil to one another, and respected what each of us came here to do.
That all changed in just over six minutes.
Keen wanted to know if I used "women's spaces" here in Atlanta. My answer, over and over, was, "I'm a woman." I don't claim to be the same as a cisgender woman, but there are many ways to be a woman, and I identify as one who's trans.
With her phone camera pointed up at me, the petite Brit then proceeded to lecture me on why I should not be using "women's spaces" like bathrooms and changing rooms and locker rooms.
As she pressed on, I asked Stelzer, "Would you call off your dog?"
That was unfortunate on my part, because although the metaphor might have felt apt, it only increased the tension in the air.
All hell broke loose when I used the word "mom" to describe myself.
"How dare you!" Keen responded. Immediately, I was surrounded, screamed at, had more cameras and fingers pointed in my face, and bullied for identifying both as a woman and as a mom.
"You're not a mother!" Stelzer screeched. "You never birthed your children, Dawn!" She stepped closer, so that she was inches from my face with Keen so close to my body that her video shows only the UChicago logo over the shape of my breasts under my pullover hoodie.
I tried to explain that while I am not my children's birth mother, I consider myself a mom because I do the job of mom, raising my three children alone.
That's when the father of a Cal swimmer, who identified himself as Matthew, also joined the fray.
"Did you have a period?" I asked him why he was so intent in asking questions about menstruation. Not all women do, I told him, and they're still women.
He went on to tell me, "I have nothing against Lia as a person. I just think competing in this arena is not the right thing to do," Matthew said.
Fortunately, there was no violence and Georgia Tech security was present for most of the confrontation. A security official eventually intervened and escorted the activists outside, where I've learned there was a subsequent angry squabble among them that was described by one witness as "a spectacle."
Keen shared a 2-minute video of the confrontation with her 11.5 million followers on Instagram, and as of press time it has more than 7K views. That same video has been shared nearly 200 times and attracted hundreds of comments on Standing for Women's Facebook page. At least on Facebook, the group got my name right; Keen deadnamed me on Instagram, and also identified me as being from "Outsports" even though I haven't been with the company since May 2021.
My hope in sharing this is not to defend myself or give these activists more attention, but to give everyone some perspective on what it's like to be bullied for being who I am when I'm merely doing my job.
Since this morning, I have been communicating privately with Beth Stelzer and we both regret that this interaction escalated as it did, and we hope we can find a way to have more productive, less confrontational and mutually respectful engagements in the future.
Turkey Pride crackdowns only strengthen LGBTQ+ resistance
Hundreds arrested in Istanbul on Sunday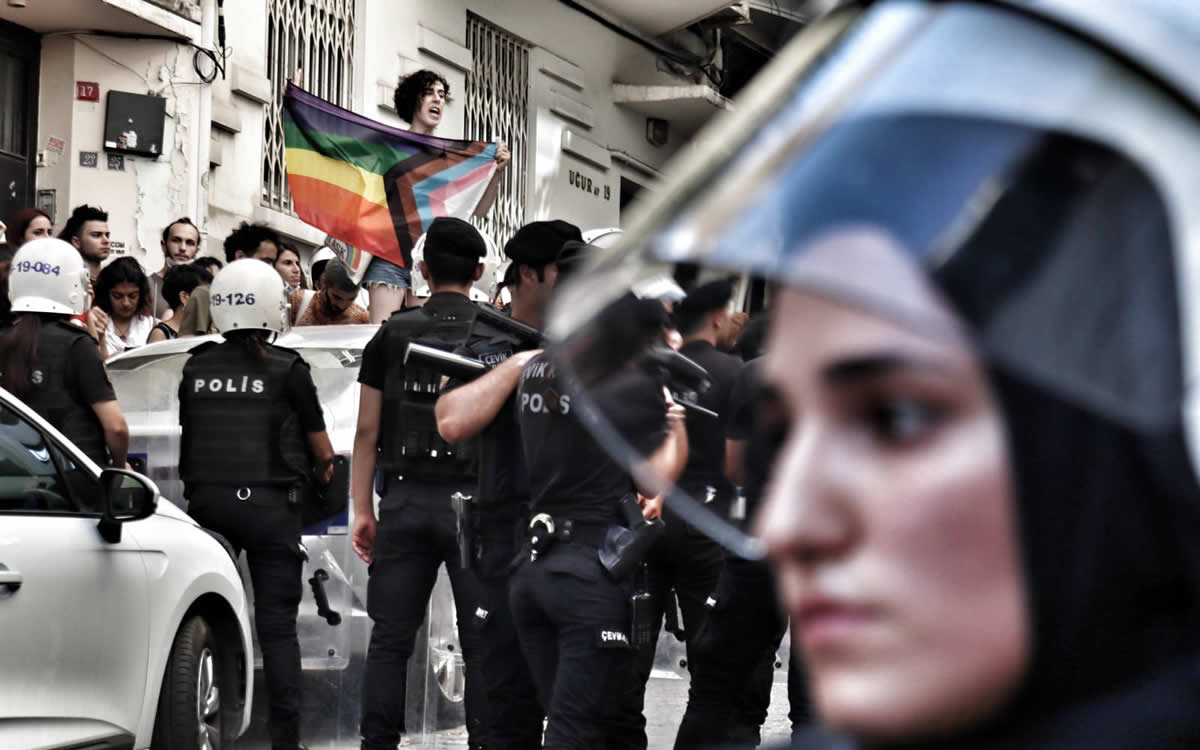 The waving colors of the thousand shades inside of a rainbow,
The sparkling joy from the pride and honor of self-declaration,
The echoing sounds of the steps for solidarity in the cobblestone streets of İstanbul,
To unite for equality, for justice, for solely our right to be.
This was our goal, our expectation and our hope for Pride Turkey 2022. It has, however, been overshadowed by the government's vicious attempts to repress the colors of the LGBTQI+ community.
First, it started with the ban of Pride speeches and panels that many district governors and other local authorities across Turkey announced. Local police officers raided the many event venues as if "illegal" activities were being conducted.
As in the last couple of years, it was already expected the government would ban the Pride marches in many cities. It was, however, the first time the government officially tried to prevent even face-to-face community gatherings of LGBTQI+ organizations. It was a type of intervention reflecting the level of fear and intolerance of the government regarding the growing connection, solidarity and public visibility of LGBTQI+ community.
Nevertheless, oppression often brings out the most creative means. As such, Pride committees have carried all the activities on digital platforms. Many activists and civil society representatives have shown support by participating in live broadcasts from event venues, and the voice of LGBTQI+ solidarity still reached a wide audience.
Subsequently, the most drastic pressure by the government has manifested itself during the Pride marches. The police violently intervened and used unproportionate force against marchers in many cities, which resulted in a radical number of unwarranted detentions.
While 530 LGBTQI+ activists were taken into custody over the last 37 days across Turkey, 373 of them were arrested during the Istanbul Pride march on June 26. This constitutes a first, since the Istanbul Pride arrests constituted the largest number of people taken into custody during a street march since the Gezi protests.
Will these enormous efforts to pressure win the day? The answer is "definitely no." On the contrary, it sparked a backlash by triggering strong solidarity among Turkey's queer community. The outstanding resistance of LGBTQI+ marchers gained public recognition on social media, while persistent legal support of LGBTQI+ initiatives canceled all the detentions. In the end, the exhaustive pressures of the government could not manage to fade the multicolor of LGBTQI+ identity. In fact, it helped our rainbow flag to shine even more glamorous and visible.
We, as members of the LGBTQI+ community, have once again proved through this entire experience that solidarity, togetherness and collective resistance are the most powerful facilitators in our fight to exist equally.
In honor of the unbreakable resistance of Turkey Pride 2022 supporters,
Thanks to you, the cobblestones of Istanbul and every street in Turkey echoed with the steps of LGBTQI+ solidarity.
Dilek İçten is a journalist, researcher and civil society expert with a demonstrated history of working in interdisciplinary and investigative research projects examining the socio-cultural dynamics of media, gender and migration. The focus of her work varies from freedom of expression, media censorship and journalistic independence to gender based-discrimination and hate speech against disadvantaged groups and minorities.
The Right's targeting LGBTQ liberty- SCOTUS ruling on Roe is a precursor
"We now live in a country where it's illegal to help a 12-year-old rape victim end her pregnancy. We must reform SCOTUS"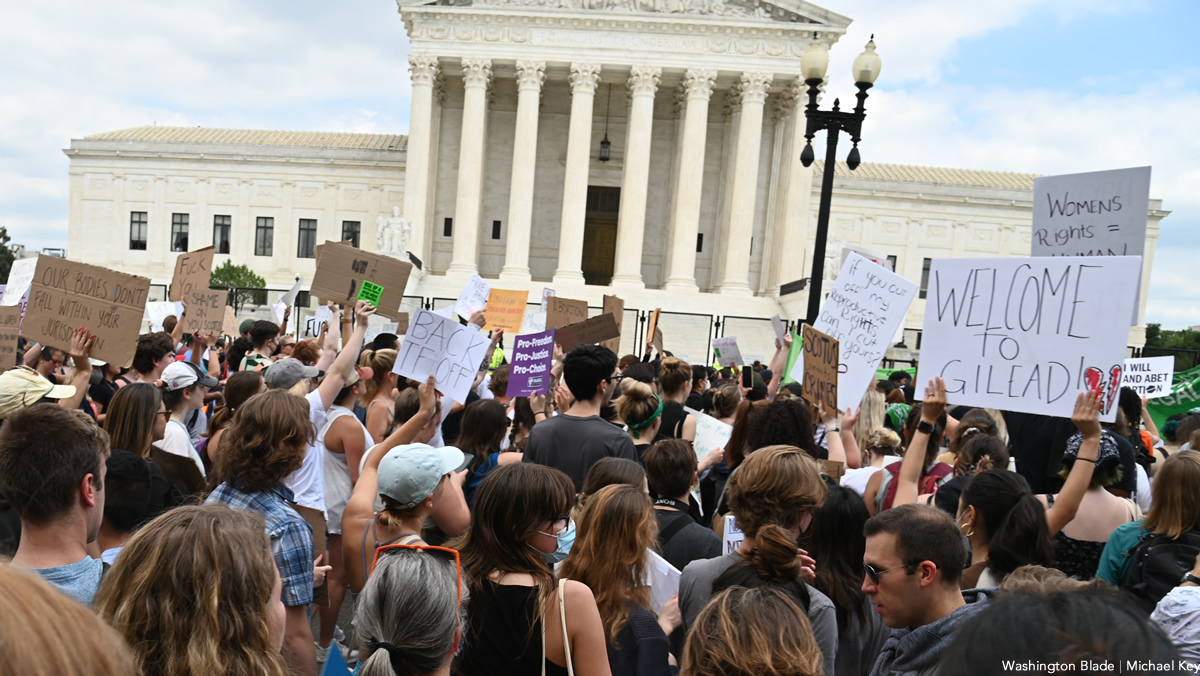 By James Finn | DETROIT – Somewhere in the U.S. this morning, a young girl is pregnant because she was sexually violated by somebody she trusts — a parent, an uncle, a teacher, maybe a Southern Baptist pastor. She's terrified, believing it's her own fault. Her mother is doing everything in her power to help, but her position is agonizing.
Because they live in Alabama, Arkansas, Florida, Kentucky, Louisiana, Missouri, Oklahoma, Ohio, South Dakota, Tennessee or Texas, her 12-year-old daughter cannot legally end her pregnancy — not even as a victim of rape or incest. If they're poor, traveling out of state for an abortion will be difficult or impossible, especially when abortion is illegal in surrounding states.
In at least two states, that mother could face crippling financial/legal consequences if she takes a bus with her daughter out of state for an abortion, and if one of her neighbors turns them in to authorities.
Welcome to the Republic of Gilead
This is real. This is happening right now, as you read this. For 50 years, women in the U.S. have enjoyed the Constitutional right to end their pregnancies before "viability," the point when a fetus can survive outside the uterus. This morning, I wake up in a country where a small cabal of religious extremists on the Supreme Court, in Dobbs v Jackson Women's Health Organization, have overturned Roe v Wade, snatching personal liberty from women and girls.
I wake knowing those justices are gunning for other fundamental privacy rights like contraception, same-sex marriage, and even the right to have consensual sex with other adults.
How did we get to this dark corner of official religious fanaticism?
Katherine Stewart in The Guardian spells out a decades-long process, detailing "how the Christian right took over the judiciary and changed America," despite representing only a fringe minority of Americans and a fringe minority of legal thinkers.
* If we fail to take the justices at their word about the rest of their extremist agenda, we do so at our peril as a free people. *
A super majority of Americans disagree with the high court, insisting traditional American liberty MUST include women, insisting the justices got it RIGHT 50 years ago when they recognized the Constitution implicitly guarantees to women the right to make their own reproductive choices based on their own values and religious beliefs — or lack of religious beliefs.
A super majority of Americans believe religious Jews, for example, have every bit as much right to act on their consciences, based on their faith traditions, as conservative Christians have. Traditional Jewish ethics require abortion in circumstances where the mother's well being would be severely impacted by pregnancy — like with that 12-year-old girl above.
The extremist Christian conservatives on the Supreme Court don't care.
They just said, in effect, we only care about what conservative Christians like us want. Welcome to the Republic of Gilead, where our religious beliefs dictate your lack of liberty.
Religious extremists on the Court take aim at LGBTQ equality
Justice Clarence Thomas isn't shy in his concurring opinion, writing, "We should reconsider all of this Court's substantive due process precedents, including Griswold, Lawrence, and Obergefell."
He means such "trivial" rights as using contraception to prevent pregnancy, having sex in private with a same-sex partner, or marrying a same-sex partner. He says the Constitution does not and should not prohibit the State from intruding into those extraordinarily private portions of American lives. Justice Samuel Alito is on the record agreeing with Thomas, although he wrote in yesterday's majority opinion that Dobbs should not be read to mean an automatic end to other substantive due process rights.
Legal scholars aren't impressed with that disclaimer, especially given Alito's prior statements expressing hostility to such rights. They note Justice Amy Coney Barrett is equally hostile to privacy rights. They ask how Dobbs' reasoning could fail, ultimately, in eviscerating general privacy rights for all Americans.
Writing in the LA Blade, leading LGBTQ activists express alarm over Dobbs' reasoning, warning that unless we act decisively, we will lose many of our cherished liberty guarantees.
Human Rights Campaign Legal Director Sarah Warbelow writes, "we know that if the Court was willing to overturn 50 years of precedent with this case, that all of our constitutional rights are on the line. Lawmakers will be further emboldened to come after our progress."
National Minority AIDS Council Executive Director Paul Kawata adds, "Justice Thomas's chilling concurring opinion makes it very clear that the court could target other rights."
They're right. We already know the conservative justices want to end civil equality for LGBTQ Americans. They've told us so in blistering language many times. Yesterday, as the justices snatched critical liberty from women and girls, they showed us not even 50 years of entrenched legal precedent will stop them. If we fail to take the justices at their word about the rest of their extremist agenda, we do so at our peril as a free people.
We must protect women and girls
In the short to medium term, working together to help women like that hypothetical 12-year-old rape victim must be a critical priority. The governors of California, Washington, and Oregon have already announced a joint effort to offer safe haven to women and girls, saying they plan to order state law enforcement agencies not to cooperate with out-of-state agencies investigating women or abortion providers.
According to The Atlantic, outraged women are already organizing around activism and safe-haven networking, determined to make abortion available for women and girls who need it.
The federal government has announced steps to make medical abortion (by pill) more accessible, although that's no panacea. It's usually illegal for a physician to prescribe medication via telemedicine to a patient in a state where such medication may not be lawfully dispensed.
Our Number One priority must be Supreme Court reform
President Biden called yesterday for a massive turnout at the polls in November to elect a Congress that will pass abortion protection legislation. He's absolutely right that we need that massive turnout, but he doesn't go far enough.
No amount of federal legislation will stop Supreme Court religious extremists from defending state abortion bans. Congress, arguably, lacks the authority to tell states how to regulate abortion, and if you think the conservative justices will just let that slide, you aren't paying attention.
As Stewart explains in The Guardian, the conservative justices hold fringe legal views, so don't expect them to play by conventional rules. Senators Susan Collins and Joe Manchin learned that the hard way yesterday after Justice Brett Kavanaugh broke what they describe as his personal, private pledge not to overturn Roe.
Only Supreme Court reform will save LGBTQ equality
The extremist religious justices are on a rampage right now, tearing down traditional walls of separation between Church and State, privileging religious instructions that discriminate against LGBTQ people, even ruling last week that Maine has an affirmative legal obligation to fund religious instruction with taxpayer dollars. Legal experts threw their arms up in astonished horror.
None of this is going to go away on its own. The justices aren't going to magically see the light and stop eviscerating liberty in favor of fringe religious views.
Yes, we need massive voter turnout in November to elect a Congress willing to save American freedom. No, passing a federal abortion law isn't the answer, or at least not the whole answer.
We must enact fundamental judicial reform
We must expand the number of justices on the Supreme Court and give President Bident the opportunity to appoint mainstream legal thinkers who will put the religious extremists dominating the court today in a minority.
That's perhaps a radical idea, but it's no more radical today than when FDR did the same thing in 1937 when faced with a judiciary implacably opposed to his efforts to rescue the U.S. from the Great Depression — implacably opposed to the will of the American people and mainstream legal thinking.
The only thing more radical than taming the court would be not taming it, allowing the Republic of Gilead to emerge from the pages of dystopian fiction into cruel reality.
Doubt me? Go talk to that 12-year-old rape victim and her mother who can't find a way to save her daughter.
In the meantime, act, organize, get out the vote. Our most cherished American liberties depends on massive turnout in November.
Get out there and make it happen!
************************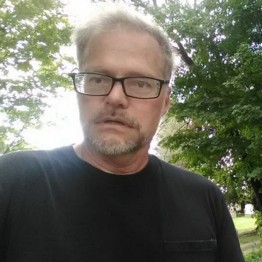 James Finn is a columnist for the LA Blade, a former Air Force intelligence analyst, an alumnus of Queer Nation and Act Up NY, and an "agented" but unpublished novelist. Send questions, comments, and story ideas to [email protected]
********************
The preceding article was previously published by Prism & Pen– Amplifying LGBTQ voices through the art of storytelling and is republished by permission.
Cops help masked Proud Boys terrorize kids at NC Pride event
Multiple library patrons report on Facebook that they felt threatened and terrorized by the masked Proud Boys and by the deputies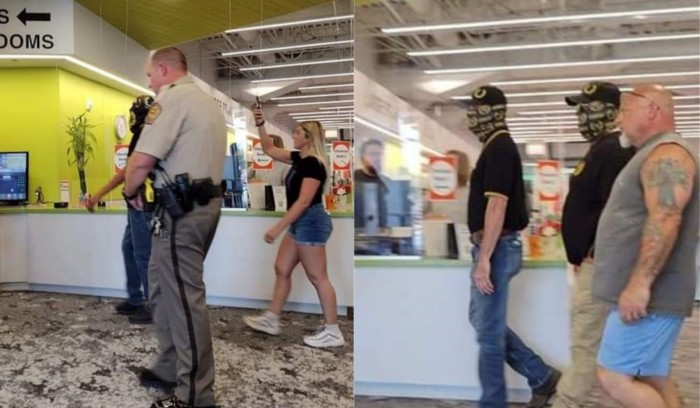 WILMINGTON- According to patrons at a Pride story event in the Pine Valley branch of the New Hanover, North Carolina library system, a group of 15 masked men terrorized them yesterday with the active assistance of sheriff's deputies, forcing families with children as young as 17 months old to flee through a side door, and preventing the library from being used for its ordinary purpose for as long as 90 minutes..
Bring out the drag queens!
According to local news reports, deputies responded to a demonstration at the Pine Valley library where a group of four parents brought a reported six children under seven years old to listen to library staff stories about diverse families.
Then, according to parents and witnesses, all hell broke loose.
They say the families and other library patrons were terrorized by a group of "Cape Fear Proud Boys" who deputies escorted from the parking lot into the library and up to the door of the reading room. Multiple witnesses report that the demonstrators shouted obscenities through the door and screamed, "Bring out the drag queens! Bring out the drag queens!"
Library staff say the event did not include drag queens.
Library patrons on Facebook report that deputies fist bumped the protestors and engaged in casual banter with them while they created a disturbance that ended the reading and forced librarians to hustle the parents and children out through a side door for their safety.
Sheriff's office denies allegations of unprofessional conduct and dereliction of duty. Eyewitnesses say the sheriff is lying.
According to a statement the New Hanover County Sheriff's Office posted on Facebook, nothing happened at all. The sheriff posted that the Pride event was completely orderly and that he fulfilled his oath of office:
A Sheriff's Office supervisor entered the library and positioned himself between the private room holding the reading and the demonstrators. The supervisor instructed the demonstrators that they were not allowed to enter the room. At no time did Sheriff Deputies witness nor did any library staff report any of the demonstrators causing a disturbance within the library or try to enter the private room that was holding the reading. After the reading, all the participants left the library with no incident.
Multiple witnesses agree that statement is false, claiming deputies let the protesters scream through the door and did not try to stop them from disturbing the peaceful use of the library or from terrorizing the families and the performer inside the reading room.
Angie Smith Kahney posted that she saw, "the [New Hanover County Sheriff's Office] escort the Proud Boys and their klan into the building straight to the room where children as young as 1 were with their parents, while they shouted obscenities and threats." She adds that the protestors "taunted parents and children" inside and outside the library after the event was over, while still being escorted by deputies who did not act to protect the public.
* The children aren't driving themselves to the library. Parents have the right to choose what they teach their children. *
Sandra Dawn posted that she "watched these protestors SCREAM at young children and their families as they exited the building. The sheriffs allowed these people to stand within feet of young children and SCREAM at them."
She asks, "Why on earth did the sheriffs allow these protestors to stand within feet of the doorways and go inside the building and stand outside of the room where the event was held? Why did the sheriffs not require these people to keep their distance?"
Witness Amy Holland says of the Sheriff's Office statement: 'This is a lie. At no time did deputies place themselves "between the room and protestors."
One mother tells reporters she felt blindsided
Emily Jones tells Star News that she took her 17-month-old daughter to the Pride event because she thought a library would be safe and peaceful. "I felt like this story time was really one of the safest places I could take my daughter for a Pride event. I just felt like it's the library, it's probably pretty low-risk."
She says she felt nervous when she saw demonstrators gathered in the parking lot holding signs saying "LGBT is grooming our kids" and "the library is responsible for child abuse." She added that she wished parents would have been notified prior to the event that safety was a concern.
She did not say what she thought about deputies escorting protestors to the door of the room she was in with her toddler or what she thought about deputies letting those protestors scream obscenities and threats through the door.
Community members express support for the Proud Boys
While community reaction to the Sheriff's Facebook statement is largely skeptical, some local residents are expressing solidarity with the Proud Boys.
Kevin Rigsbee writes, "Biggest question…. Why was there a "pride story time" for young children? These are kids…. They don't need this logic shoved down their throats too!"
Pamela Eaton writes, "Sad Childrens minds are innocent! They don't need to hear this garbage!"
Bruce True writes, " Public library means open to the public. NO PRIVATE ROOMS ! NO DOUBT THEY WERE INDOCTRINATING LITTLE KIDS"
Those statements and others like them are getting pushback, well represented by Alyssa Rangel, who writes, "The children aren't driving themselves to the library. Parents have the right to choose what they teach their children. If you don't want your children to be read pride books, stay home… These beautiful families were just trying to enjoy their day."
LGBTQ families deserve protection and support from law enforcement
New Hanover County residents have been commenting on Facebook and Twitter that the Cape Fear Proud Boys have been disrupting local school board meetings for months and that the Sheriff's Office appears to give them wide latitude to bully and harass citizens, often tolerating what appear to be blatant violations of "orderly meetings" and "disturbing the peace" laws. Locals observe that deputies appear to be overly friendly with the Proud Boys, often bantering and laughing with them instead of enforcing the law.
Locals say they believe the Sheriff's Office is actively biased against LGBTQ people and did not stop the Proud Boys from disrupting the Pride event yesterday because deputies approve of what the Proud Boys were doing. They say that among other things, the fist bumps between some of the deputies and the Proud Boys clearly signal the deputies' support for the Proud Boys, an avowed white supremacist organization whose leadership is under federal indictment for seditious conspiracy in the January 6 attack in the U.S. Capitol.
Besides open racism against Black people and Jews, the Proud Boys oppose equality for transgender and gay people. Proud Boy members terrorized a different Drag Queen Story Hour event on June 11 at the San Lorenzo Library in Alameda County, California.
At least in Alameda County, the Sheriff's Office is investigating and has pledged to crack down on the group and work to stop future harassment. New Hanover County residents say that their sheriff's "There's nothing to see here, move along" attitude shows them they can't rely on law enforcement for protection, especially if they're LGBTQ, Black, or members of other groups the Proud Boys don't like.
LGBTQ people in North Carolina deserve the active cooperation of law enforcement to keep Pride events safe and to be safe in their own persons at all times.
If the New Hanover County Sheriff's Office chooses to support white nationalist terrorists instead of enforcing the law, then state and federal authorities need to step in fast and take action to stop the collusion and corruption.
************************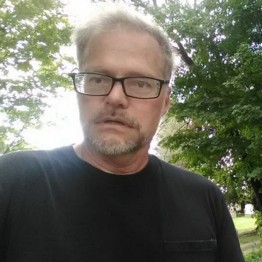 James Finn is a columnist for the LA Blade, a former Air Force intelligence analyst, an alumnus of Queer Nation and Act Up NY, and an "agented" but unpublished novelist. Send questions, comments, and story ideas to [email protected]
********************
The preceding article was previously published by Prism & Pen– Amplifying LGBTQ voices through the art of storytelling and is republished by permission.