Texas GOP Senator attacks Obergefell- Judge Jackson firm in her support
In the exchange Cornyn said SCOTUS interpretation of due process/equal protection led to Obergefell- comparing it to Dred Scott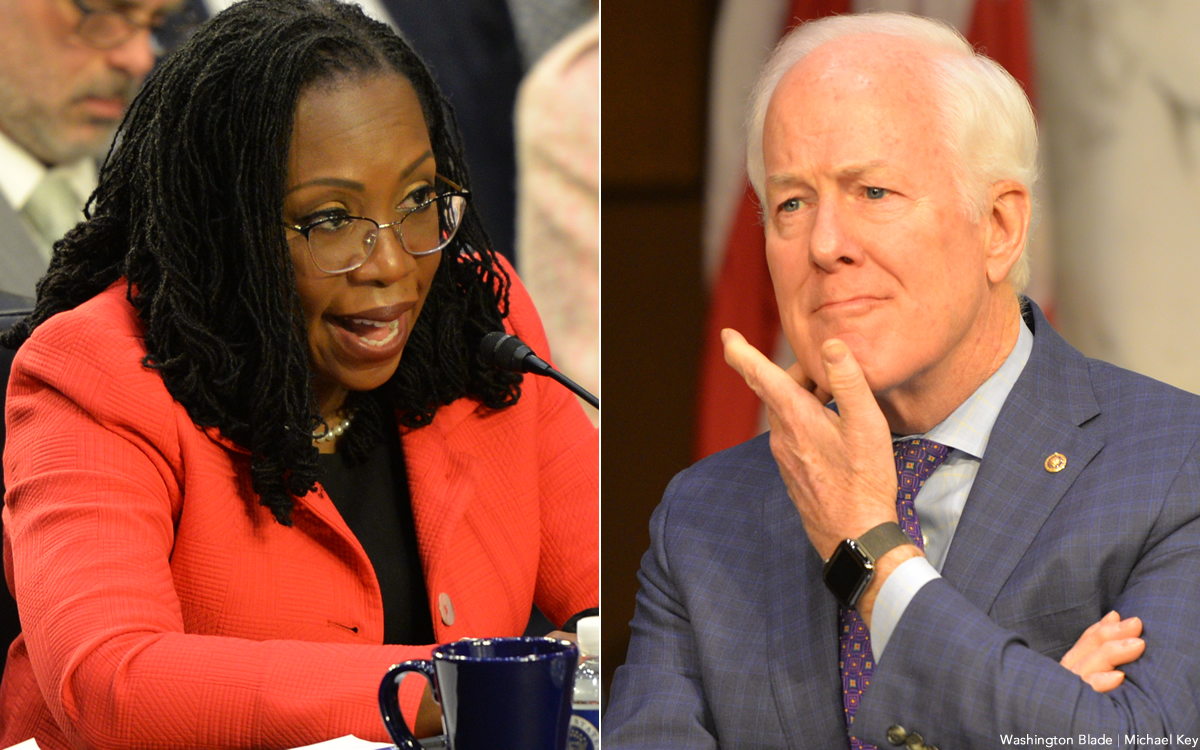 WASHINGTON – The U.S. Supreme Court ruling for same-sex marriage — issued nearly seven years ago in 2015 — is considered settled law and in the rear-view mirror of history for many Americans, but Sen. John Cornyn (R-Texas) opted to press Judge Ketanji Brown Jackson on the decision as an example of policy-making from the bench in his first round of questions during her confirmation hearing.
Jackson, nominated by President Biden to serve on the U.S. Supreme Court, stood firm in response to the questions despite lamentations from Cornyn the decision found a due process and right for same-sex couples to marry that overruled the will of the people who voted to ban gay nuptials in his state.
"That is the nature of a right," Jackson replied. "When there is a right, it means that there are limitations on regulation, even if people are regulating pursuant to their sincerely held religious beliefs."
In the nearly 15-minute exchange between Cornyn and Jackson, the Texas Republican pressed her on the expansive interpretation by the courts of due process and equal protection clauses, which he said led to decisions condemned to the dustbin of history like Dred Scott and Plessy v. Ferguson.
Cornyn, however, also included with those rulings the 2015 decision in Obergefell v. Hodges, which he said was a "dramatic departure from previous laws in the states and in the nation." (Cornyn throughout the questioning had difficulty pronouncing the name "Obergefell," which at least one time he called the "Ober-fell" case.)
"In the opinions that were written there at the time, it was noted that here we are 234 years after the Constitution had been ratified, 135 years since the 14th Amendment had been ratified, that the Supreme Court articulated a new fundamental right, which is a right to same-sex marriage," Cornyn said.
Cornyn recalled at the time 11 states and D.C. had legalized same-sex marriage, but said 35 states had put the question on the ballot and 32 had decided to "maintain the traditional definition of marriage between a man and a woman."
The Texas Republican went on to describe the issue as not just an overriding the will of the states and the people, but also major religions, and asked Jackson if she agrees "marriage is not simply a governmental institution, it's also a religious institution."
When Jackson replied, "Well, senator, marriages are often performed in religious institutions," Cornyn followed up with questioning on whether she agrees many major religions, including Christianity, Judaism, and Islam, have defined marriage as one man, one woman (ignoring denominations within those religions, such as Episcopal and Presbyterian Church, that recognize and wed same-sex couples).
Jackson wouldn't engage with Cornyn beyond what was directly necessary: "I am aware that there are various religious faiths that define marriage in a traditional way."
That's when Cornyn framed the Obergefell decision as stepping up a conflict between religious views and the decision of the court.
"Do you see that when the Supreme Court makes a dramatic pronouncement about the invalidity of state marriage laws, that it will inevitably set in conflict between those who ascribe to the Supreme Court's edict and those who have a firmly held religious belief that marriage is between a man and a woman?" Cornyn asked.
Jackson, as is customary for a nominee up for a seat on the Supreme Court, declined to offer her views, pointing out "these issues are being litigated, as you know, throughout the courts" and therefore she was limited in what she could say.
But Cornyn wouldn't up let up, pressing Jackson again on the Obergefell ruling. Jackson responded the "nature of the right" found the U.S. Constitution trumps regulation "even if people are regulating pursuant to their sincerely held religious beliefs."
Cornyn continued his questioning by asking whether the concept of marriage is enshrined in the Constitution, drawing on the dissents from Chief Justice John Roberts and Associate Justice Samuel Alito lamenting opponents of same-sex marriage will be labeled as bigots.
More broadly, Cornyn went on to lament the substantive due process rights found by the courts as "another way for judges to hide their policymaking under the guise of interpreting the Constitution."
Jackson gave an answer demonstrating her knowledge of case law, saying courts have found the right to due process to mean "not just procedural rights relative to government action but also the protection of certain personal rights related to intimacy and autonomy."
"They include things like the right to rear one's children, I believe the right to travel, the right to marriage, interracial marriage, the right to abortion, contraception," Jackson said.
Cornyn interjected the same interpretation led to the Dred Scott decision, citing "treating slaves as chattel property" as an another outcome of the expansive interpretation of the due process clause.
After more questioning from Cornyn on whether "you can use substantive due process to justify basically any result whether it's conservative or liberal, libertarian or conservative," he went on to ask Jackson whether she can understand "why ordinary folks wonder, Who do these people think they are? And where does this authority come from?" Jackson, in response, kept her answer simple: "Absolutely, senator, I do understand it."
It should be noted the Supreme Court has rejected subsequent legal claims to overturn the Obergefell decision, or even to chip away at the decision. Even with the 6-3 conservative majority on the Supreme Court, justices in 2020 declined to hear a case brought by Indiana seeking to challenge the decision on the basis of birth certificates for the children for women in same-sex marriages. Alito, however, and Associate Justice Clarence Thomas have declared war on Obergefell, writing in a filing two years ago the ruling falls short in accommodating religious freedom.
Marjorie Taylor Greene tweets homophobic attack on Sen. Wiener
"Greene is a toxic person & embodies why the MAGA movement is dangerous, a threat to our democracy & to the personal safety of LGBTQ people"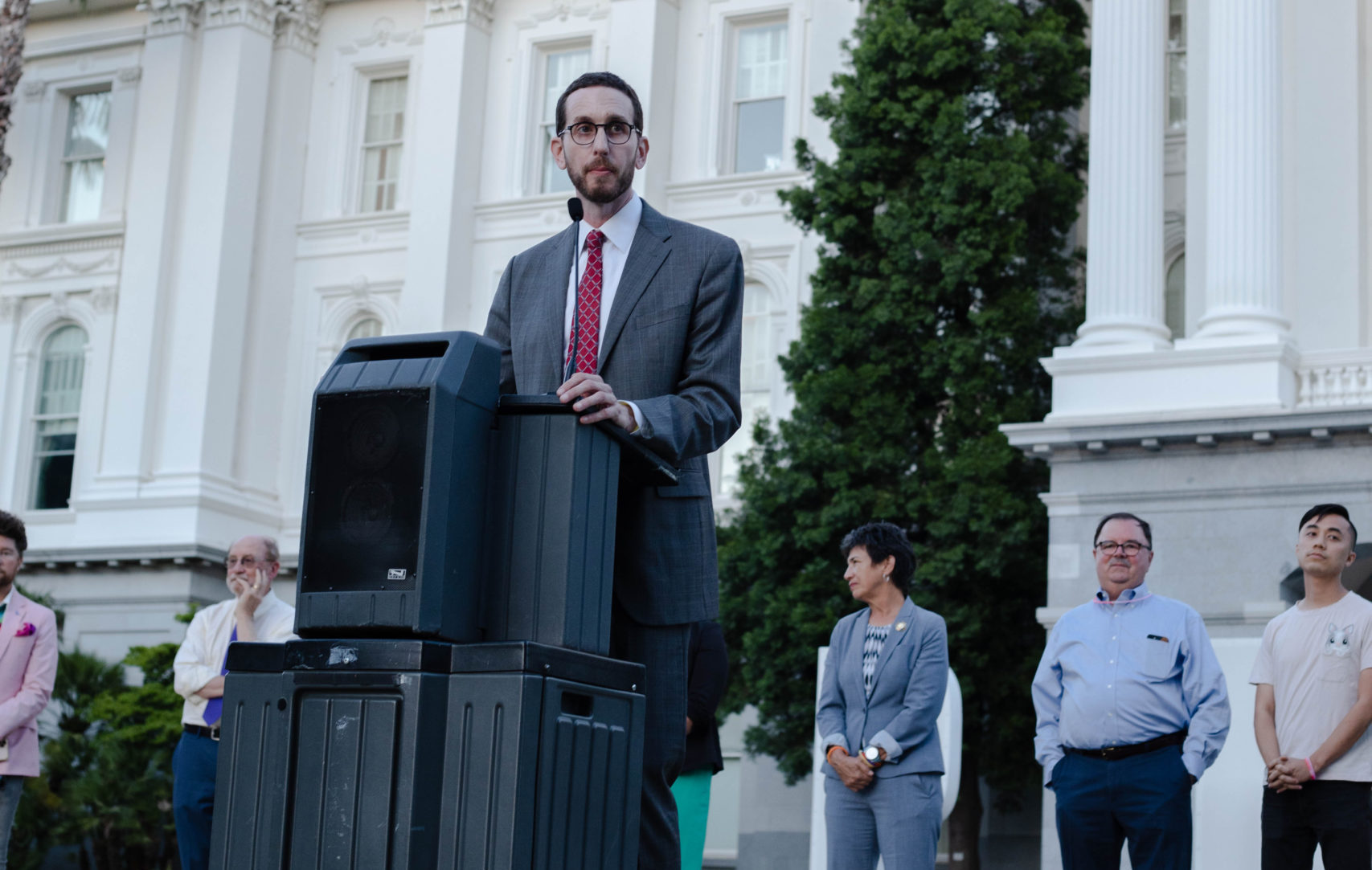 LOS ANGELES – Far-right Republican U.S. Rep. Marjorie Taylor Greene attacked Calif. State Sen. Scott Wiener, (D-San Francisco) on Tuesday after Wiener made a point of calling out use of the word "groomer," as the abusive reaction and fallout from right-wing sources regarding the mass-shooting at Club Q in Colorado Springs, continues to ratchet up against the LGBTQ+ community.
"The word "groomer" is categorically an anti-LGBTQ hate word. It's super homophobic/transphobic. It plays into the slander that LGBTQ people are pedophiles. It's no different than calling someone a fagg*t. If you call someone groomer, you're inciting violence against LGBTQ people," Wiener stated in his tweet.
Quoting Wiener's tweet the far-right MAGA Georgia congresswoman called the Senator a "communist" questioning Wiener's loyalty and service to both the State of California and the U.S. she then went on to accuse Wiener of being a "groomer" implying that the Senator was a predator of minors for sexual purposes:
"Pass my Protect Children's Innocence Act to stop communist groomers like this from using state government power to take children away from their parents to allow a for-profit medical industry to chop off these confused children's genitals before they are even old enough to vote."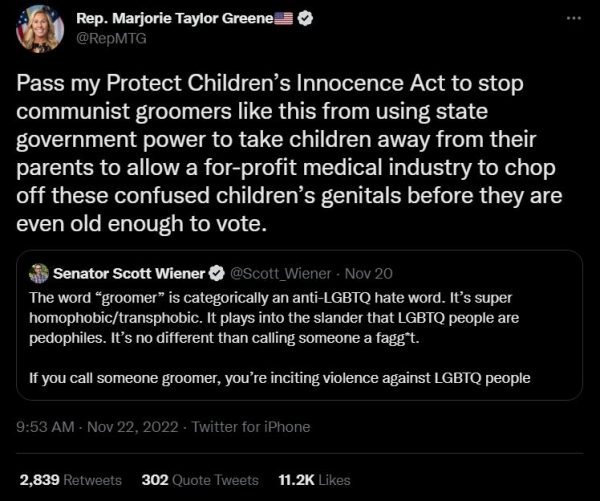 In an emailed statement, Senator Wiener responded to the homophobic attack by the Georgia Republican:
"The same day Elon Musk reinstated QAnon extremist Marjorie Taylor Greene, she launched a vile homophobic attack on me because of my vocal advocacy in response to the Club Q slaughter. When Greene has attacked me in the past, threats against me have typically increased. She is a toxic person and embodies why the MAGA movement is so dangerous. Green is a threat to our democracy and to the personal safety of LGBTQ people."
The term 'groomer' is considered highly offensive as it broadly brushstroke paints LGBTQ+ people as child molesters.
The definition according to the Urban online dictionary:
1 (the crime definition): An adult that builds a sense of trust with a minor to exploit and/or abuse them, typically (but not always) in a sexual manner. This is a crime, and it also causes harm to the minor.
2 (in US politics): What republican politicians and supporters refer to LGBTQIA+ people and their allies as, to manipulate their audience to pass anti-LGBTQIA+ legislation. This is targeting and harming LGBTQIA+ people and the people using the word in this manner typically are (or have connections with those who are) actual groomers.
National Public Radio, (NPR) reported this past May the Movement Advancement Project's executive director, Ineke Mushovic, pointed out:
"What the far right often does is they engage people's reptilian brains, the fight-or-flight instinct," says Mushovic. "And so it behooves far-right conservatives to put people in a state of fear, because then they're reactive. They don't support change."
The "grooming" narrative, Mushovic added, "taps into this primal sense of fear and this kind of parental protective instinct. But we know it's a completely false narrative."
The "grooming" narrative has been actively promoted by conservative activist Christopher Rufo, and Daily Wire pundit and transphobe Matt Walsh who have both attacked gender affirming care in their assaults on the LGBTQ+ community.
It took three days after the mass shooting at Club Q for the Daily Wire's Matt Walsh to blame the victims for the massacre. pic.twitter.com/08kitTdpMt

— Ari Drennen (@AriDrennen) November 22, 2022
Green's H.R.8731 – Protect Children's Innocence Act, was introduced this past August 19 and has forty-nine Republican members listed as co-sponsors. The language as introduced stated targets primarily Trans youth healthcare and targets colleges and universities from "offering instruction in gender affirming care:"
This bill places restrictions on the provision of gender affirming care. Gender affirming care includes performing surgery, administering medication, or performing other procedures for the purpose of changing the body of an individual to correspond to a sex that differs from the individual's biological sex.
Specifically, the bill makes it a felony to perform any gender affirming care on a minor and it permits a minor on whom such care is performed to bring a civil action against each individual who provided the care.
Additionally, the bill prohibits the use of federal funds for gender affirming care or for health insurance that covers such care. Such care may not be provided in a federal health care facility or by a federal employee. The bill also prohibits qualified health plans from including coverage for gender affirming care. Further, plans that include coverage for such care are not eligible for federal subsidies. […]