Texas GOP Senator attacks Obergefell- Judge Jackson firm in her support
In the exchange Cornyn said SCOTUS interpretation of due process/equal protection led to Obergefell- comparing it to Dred Scott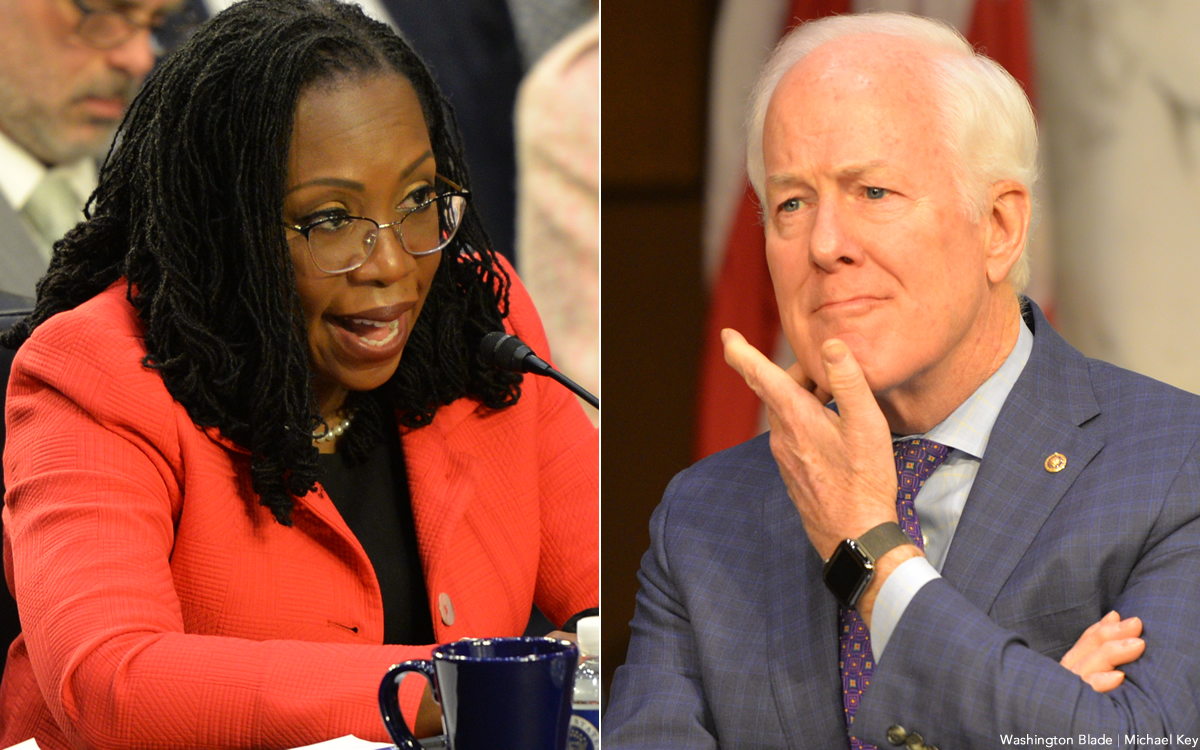 WASHINGTON – The U.S. Supreme Court ruling for same-sex marriage — issued nearly seven years ago in 2015 — is considered settled law and in the rear-view mirror of history for many Americans, but Sen. John Cornyn (R-Texas) opted to press Judge Ketanji Brown Jackson on the decision as an example of policy-making from the bench in his first round of questions during her confirmation hearing.
Jackson, nominated by President Biden to serve on the U.S. Supreme Court, stood firm in response to the questions despite lamentations from Cornyn the decision found a due process and right for same-sex couples to marry that overruled the will of the people who voted to ban gay nuptials in his state.
"That is the nature of a right," Jackson replied. "When there is a right, it means that there are limitations on regulation, even if people are regulating pursuant to their sincerely held religious beliefs."
In the nearly 15-minute exchange between Cornyn and Jackson, the Texas Republican pressed her on the expansive interpretation by the courts of due process and equal protection clauses, which he said led to decisions condemned to the dustbin of history like Dred Scott and Plessy v. Ferguson.
Cornyn, however, also included with those rulings the 2015 decision in Obergefell v. Hodges, which he said was a "dramatic departure from previous laws in the states and in the nation." (Cornyn throughout the questioning had difficulty pronouncing the name "Obergefell," which at least one time he called the "Ober-fell" case.)
"In the opinions that were written there at the time, it was noted that here we are 234 years after the Constitution had been ratified, 135 years since the 14th Amendment had been ratified, that the Supreme Court articulated a new fundamental right, which is a right to same-sex marriage," Cornyn said.
Cornyn recalled at the time 11 states and D.C. had legalized same-sex marriage, but said 35 states had put the question on the ballot and 32 had decided to "maintain the traditional definition of marriage between a man and a woman."
The Texas Republican went on to describe the issue as not just an overriding the will of the states and the people, but also major religions, and asked Jackson if she agrees "marriage is not simply a governmental institution, it's also a religious institution."
When Jackson replied, "Well, senator, marriages are often performed in religious institutions," Cornyn followed up with questioning on whether she agrees many major religions, including Christianity, Judaism, and Islam, have defined marriage as one man, one woman (ignoring denominations within those religions, such as Episcopal and Presbyterian Church, that recognize and wed same-sex couples).
Jackson wouldn't engage with Cornyn beyond what was directly necessary: "I am aware that there are various religious faiths that define marriage in a traditional way."
That's when Cornyn framed the Obergefell decision as stepping up a conflict between religious views and the decision of the court.
"Do you see that when the Supreme Court makes a dramatic pronouncement about the invalidity of state marriage laws, that it will inevitably set in conflict between those who ascribe to the Supreme Court's edict and those who have a firmly held religious belief that marriage is between a man and a woman?" Cornyn asked.
Jackson, as is customary for a nominee up for a seat on the Supreme Court, declined to offer her views, pointing out "these issues are being litigated, as you know, throughout the courts" and therefore she was limited in what she could say.
But Cornyn wouldn't up let up, pressing Jackson again on the Obergefell ruling. Jackson responded the "nature of the right" found the U.S. Constitution trumps regulation "even if people are regulating pursuant to their sincerely held religious beliefs."
Cornyn continued his questioning by asking whether the concept of marriage is enshrined in the Constitution, drawing on the dissents from Chief Justice John Roberts and Associate Justice Samuel Alito lamenting opponents of same-sex marriage will be labeled as bigots.
More broadly, Cornyn went on to lament the substantive due process rights found by the courts as "another way for judges to hide their policymaking under the guise of interpreting the Constitution."
Jackson gave an answer demonstrating her knowledge of case law, saying courts have found the right to due process to mean "not just procedural rights relative to government action but also the protection of certain personal rights related to intimacy and autonomy."
"They include things like the right to rear one's children, I believe the right to travel, the right to marriage, interracial marriage, the right to abortion, contraception," Jackson said.
Cornyn interjected the same interpretation led to the Dred Scott decision, citing "treating slaves as chattel property" as an another outcome of the expansive interpretation of the due process clause.
After more questioning from Cornyn on whether "you can use substantive due process to justify basically any result whether it's conservative or liberal, libertarian or conservative," he went on to ask Jackson whether she can understand "why ordinary folks wonder, Who do these people think they are? And where does this authority come from?" Jackson, in response, kept her answer simple: "Absolutely, senator, I do understand it."
It should be noted the Supreme Court has rejected subsequent legal claims to overturn the Obergefell decision, or even to chip away at the decision. Even with the 6-3 conservative majority on the Supreme Court, justices in 2020 declined to hear a case brought by Indiana seeking to challenge the decision on the basis of birth certificates for the children for women in same-sex marriages. Alito, however, and Associate Justice Clarence Thomas have declared war on Obergefell, writing in a filing two years ago the ruling falls short in accommodating religious freedom.
LGBTQ+ Asian American candidate in Texas attacked with racist ad
"At a time when the AAPI community is the target of an unprecedented surge in attacks, it is not only hateful, but dangerous"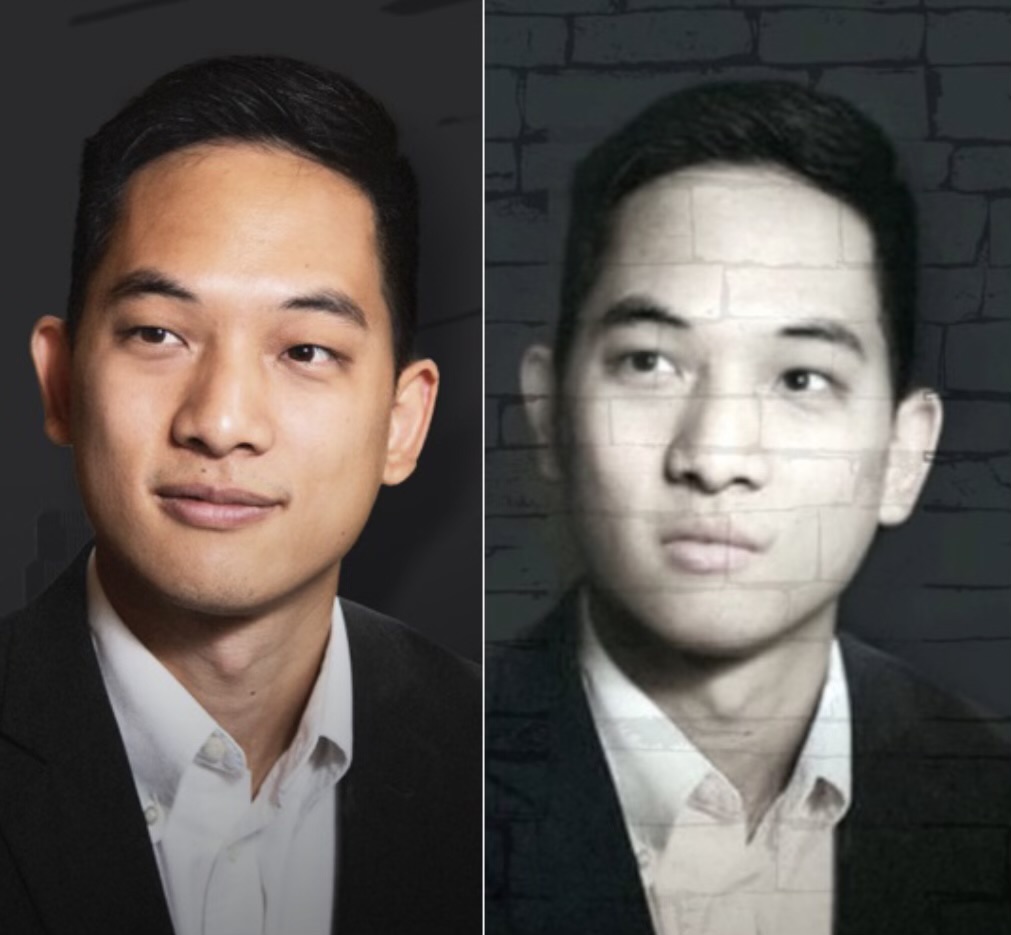 HOUSTON – An Out Asian American LGBTQ+ candidate the seat of Harris County Commissioner representing Precinct 4 in the Northeastern neighborhoods of Houston was the target of a series of negative ads on Facebook and Instagram earlier this week.
Democratic candidate Ben Chou, who hopes to be elected in the precinct that is home to the largest Asian American population in Harris County, accounting for 13% of the district's population, was angered over the blatant racial stereotyping in the ads released on social media by his run-off opponent Lesley Briones.
The negative ads on Facebook and Instagram, doctored Ben Chou's eyes, nose, and lips, and white-washed his skin. In a phone call with the Blade Thursday, Chou noted that such depictions of Asian-Americans and Asians follows a long history of doctoring images of people of color to make them look angry or menacing, reinforcing negative stereotypes that have been peddled about Asian Americans in the United States for more than a century.
"I am saddened to see my opponent stoop to leveraging racist stereotypes that have been used to attack Asian Americans for more than 150 years. With anti-Asian hate rising, Briones should know better than to redraw my eyes and face to suit her campaign," Chou told the Blade.
"During Asian Pacific American Heritage Month, Houstonians of all backgrounds should be celebrating diversity instead of changing our features to fit someone else's narrative. The Briones Campaign owes an apology to not just the Asian community but to all Harris County voters for her vicious, hateful propaganda. I will be spending the last 6 days of this runoff election focused on the issues that matter in this race: protecting our voting rights and improving ethics in government," he added.
His opponent who identifies as a native Texan, proud Latina, and a Democrat fired back on Twitter Thursday accusing Chou of lying. "Shame on Ben Chou. Rather than answering for his false attacks and defamatory lies, he is spreading even more lies," Briones wrote in a tweet attaching a press release from her campaign: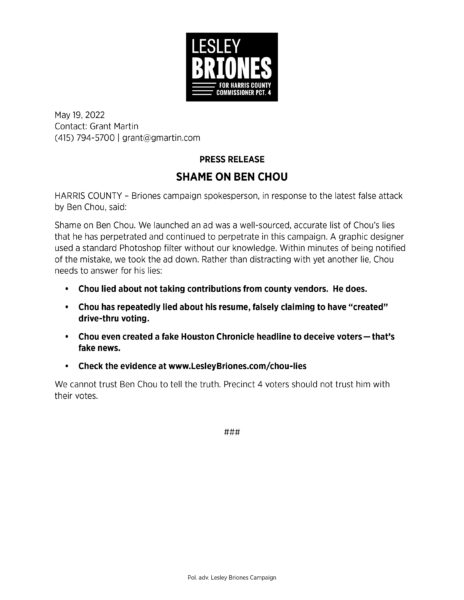 "This racist attack against Ben – who would be the first out LGBTQ Asian American elected to Harris County government – is disgusting and morally reprehensible. At a time when the Asian American and Pacific Islander community is the target of an unprecedented surge in attacks, it is not only hateful, but dangerous. Anyone who peddles in racism and bigotry is clearly unfit for office," Albert Fujii, LGBTQ Victory Fund spokesperson, told the Blade in an email.
According to the Victory Fund there are only 32 LGBTQ elected Asian American, Pacific Islander (AAPI) officials in the United States currently.
NPR poll: Supreme Court leak firing up Democratic voters
Two-thirds of Democrats say the contents of the Supreme Court leak make them more likely to vote in November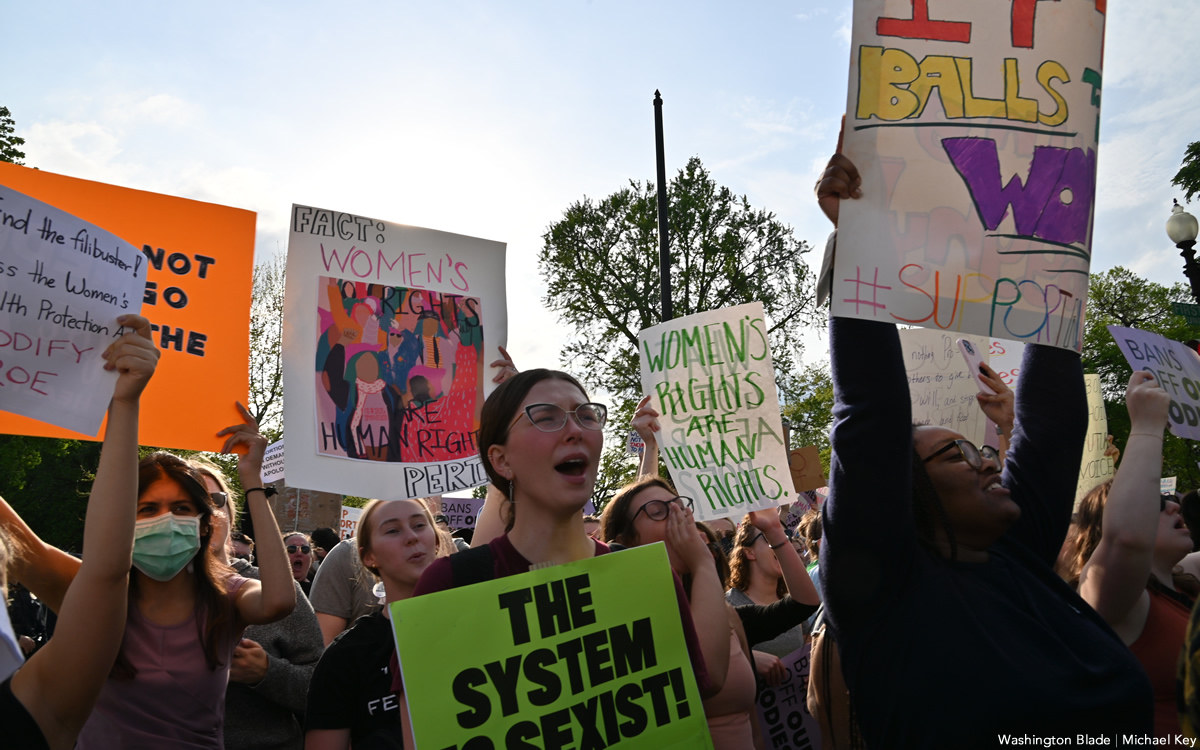 WASHINGTON – The latest NPR/PBS NewsHour/Marist poll released Thursday showed that two-thirds of voters do not support overturning Roe v. Wade. However, the poll also revealed that in this mid-term election year cycle, the leak of the draft U.S. Supreme Court opinion that indicated the court's willingness to overturn the landmark ruling on abortion rights has fired up Democrats.

NPR reported that the poll shows that two-thirds of Democrats say the contents of the leak make them more likely to vote in November, as compared to just 40% of Republicans who said so.
"It definitely has them [Democrats] focused as no other issue in the recent months has," said Lee Miringoff, director of the Marist Institute for Public Opinion, which conducted the poll. "And to have a gap of that magnitude over the Republicans is something that, at this point, should not go unnoticed."
The survey of 1,304 adults, including 1,213 registered voters, has a margin of error of +/- 3.9 percentage points when adults are referenced and +/- 4.1 percentage points when referring to voters. That means results could be about 4 points higher or lower. The poll was conducted from May 9 to 13 by live interview callers, who reached respondents via cell phone and landline in English and in Spanish.
History making primary win- Out Lesbian could be Oregon's next governor
"This will be a three-way race for the highest office in our state, and this will be an election unlike anything any of us have ever seen"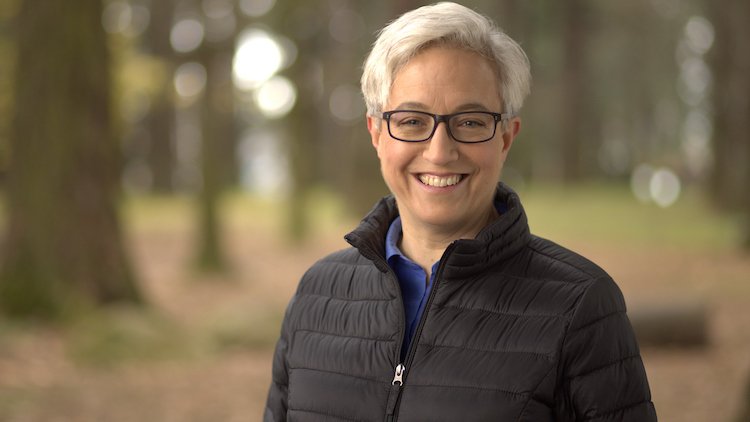 PORTLAND – The Democratic gubernatorial primary Tuesday win by Oregon Speaker of the House Tina Kotek, who had announced her run for the governor's seat to replace incumbent Democratic Governor Kate Brown who is term limited last September 1st, 2021, positions her to become the first Out Lesbian governor in the nation should she win the general election in November.
Kotek's win comes during an uptick in the elections nationwide as more candidates running for office identify as LGBTQ. More than 600 LGBTQ candidates are on ballots this year, according to the LGBTQ Victory Fund.
According to the Victory Fund, at least 101 people ran or are running for the U.S. Senate or U.S. House – with 96 still actively running as of February 21, 2022. That marks a 16.1 percent increase in LGBTQ Congressional candidates compared to the 2020 election cycle, when 87 people ran.
Speaking to her supporters after it became clear she had won over Oregon Treasurer Tobias Read, who was polling second among Oregonian progressives, "This will be a three-way race for the highest office in our state, and this will be an election unlike anything any of us have ever seen," Kotek said.
Republican state legislator Christine Drazan along with an independent candidate, Betsy Johnson are slated to be on the November ballot.
Last Fall when she announced her candidacy, she said, "I am running for Governor because I know that, together, we can reckon with the legacies of injustice and inequality to build a great future for Oregon." She also noted, "Oregonians are living through a devastating pandemic, the intensifying impacts of climate change, and the economic disruptions that leave too many behind. We must get past the politics of division and focus on making real, meaningful progress for families across our state."
"A victory for Tina would shatter a lavender ceiling and be a milestone moment in LGBTQ political history, yet she is running not to make history, but because there are few people as prepared and qualified to serve as Oregon's governor," said Mayor Annise Parker, President & CEO of LGBTQ Victory Fund. "Under Tina's leadership, Oregon has led in passing legislation to improve roads and education, raise the minimum wage and ensure all residents are treated fairly and equally. As governor, Tina will make Oregon a role model for the nation."