We will not back down from bullies! Look who's on the side of Trans folks
The Los Angeles Blade's sports editor reflects on a week of being the target of hate, and it's not over yet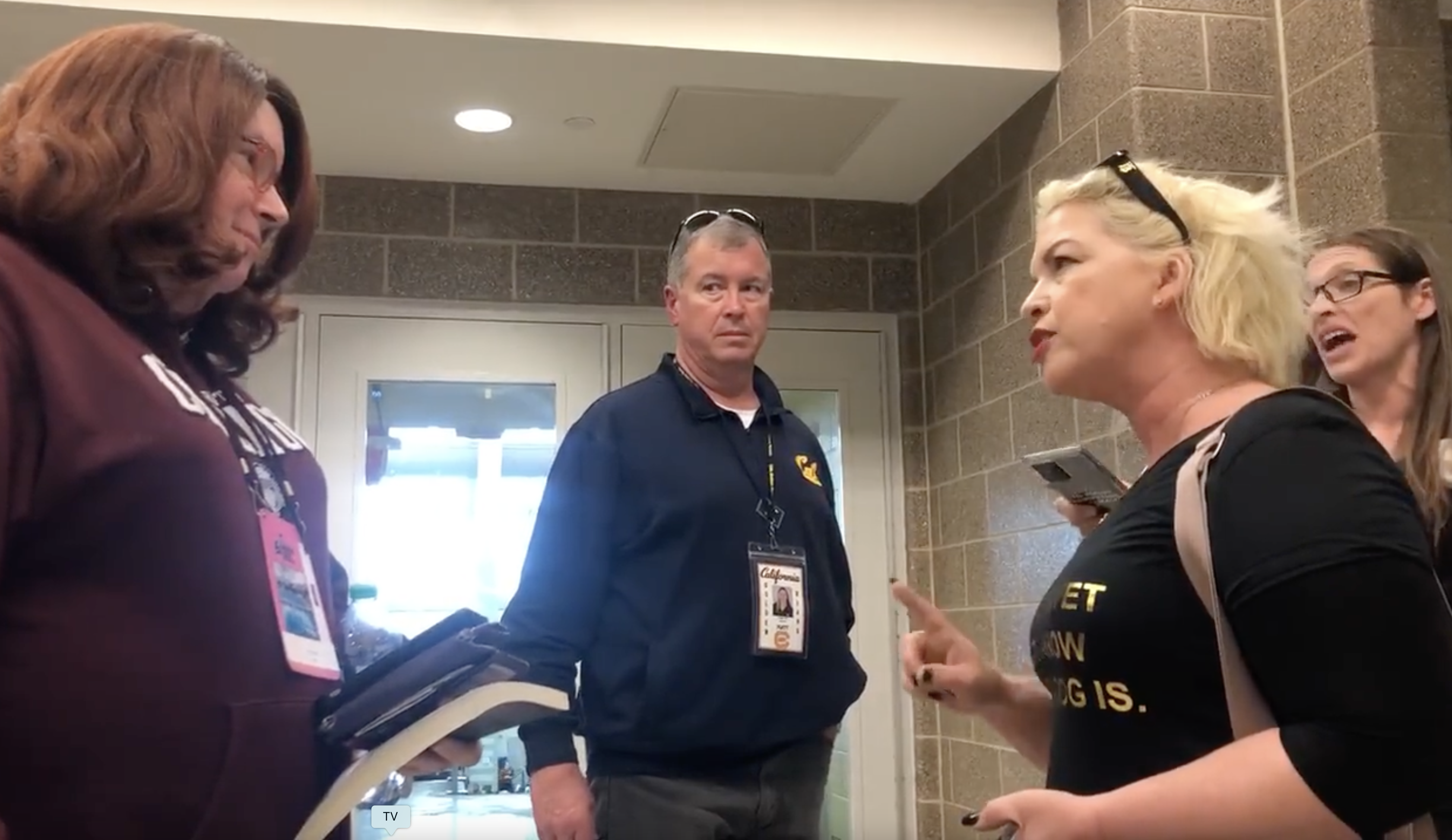 HARTFORD, Ct. – What a week it's been. But whenever I think, this is so hard, dealing with a death threat, hatemongers and malcontents, I remember there are many who have it worse than me.
Like Lia Thomas. Like the latest trans women murdered, Kathryn Newhouse and Tatiana Labelle.
One week ago today, what started as a boring, run of the mill interview with a vocal opponent of transgender women competing in women's sports turned into a viral video that so far has been viewed 1.7 million times on Twitter. U.K. anti-trans activist Kellie-Jay Keen accomplished her goal by ambushing me last week while I was reporting at the NCAA Women's Swimming & Diving Championships in Atlanta.
Despite being banned by Twitter, Keen (aka "Posie Parker") somehow turned this stunt into a successful fundraiser for her group, "Standing for Women."  
And while my own recordings of that same event have only been seen a total of 5.4K times, what really gets my goat is that Twitter, YouTube and Instagram have basically turned a blind eye to harassment I've been subjected to by haters, bigots, transphobes, GCs and TERFs (those are acronyms for, respectively, Britain's "Gender Critical" activists and "Trans Exclusionary Radical Feminists" here in the U.S.).
It appears this ambush-style activity is becoming a thing. British comic Jen Ives shared video this week of being harassed in London, at a conference held by anti-trans activists.
Yet in the face of all this animus, I have been buoyed by support from both within the transgender community and allies across the board, on both sides of the Atlantic. In objecting to me using what she termed "women's spaces" on the Georgia Tech campus, Keen did something few of us could have ever accomplished on our own: She showed the world what a bully she is.
She gave me an opportunity to show that we can keep our cool and stand up for ourselves without resorting to drama when confronted. And most of all, I seized the moment to defend the right of every woman who did not give birth to their children but is raising them as a mother, to call themselves one. 
Then, today, I was offered a chance to do something I didn't think would have happened without Keen's tyrannical display of bigotry and exclusion: I was invited to discuss these issues on the far-right-of-Fox News, conservative cable channel, Newsmax.
Hosts Alison Maloni and Carl Higbie and I had a polite, respectful and informative discussion of Lia Thomas, trans inclusion and "women's spaces."
Another highlight: The NCAA provided the Los Angeles Blade with this statement about what happened on their watch, and specifically Keen's behavior:
"Sportsmanship is a key pillar of the NCAA, and we expect that everyone who competes or attends our championships is treated with dignity and respect. Our campus host worked diligently before and during the Division I Women's Swimming Championships to maintain a safe competitive environment, as all host schools and venues attest they will do. We support every individual's right to free expression, but we also expect any demonstration be conducted in a respectful manner."
Despite standing with Keen in protesting and booing Thomas, and ultimately becoming a part of the posse that took part in Keen's viral video, even Save Womens Sports founder Beth Stelzer is distancing herself from Keen, declaring to the Blade, "For the record: I did not fly Kellie-Jay Keen to the United States."
While Keen stood so close to me with her mobile device that at times all you can see in her video is the logo on my University of Chicago hoodie, National Review staff writer Madeleine Kearns stood to my right, and captured the father of a swimmer from University of California Berkeley joining the fray. What he said, however, appears only on my own YouTube video.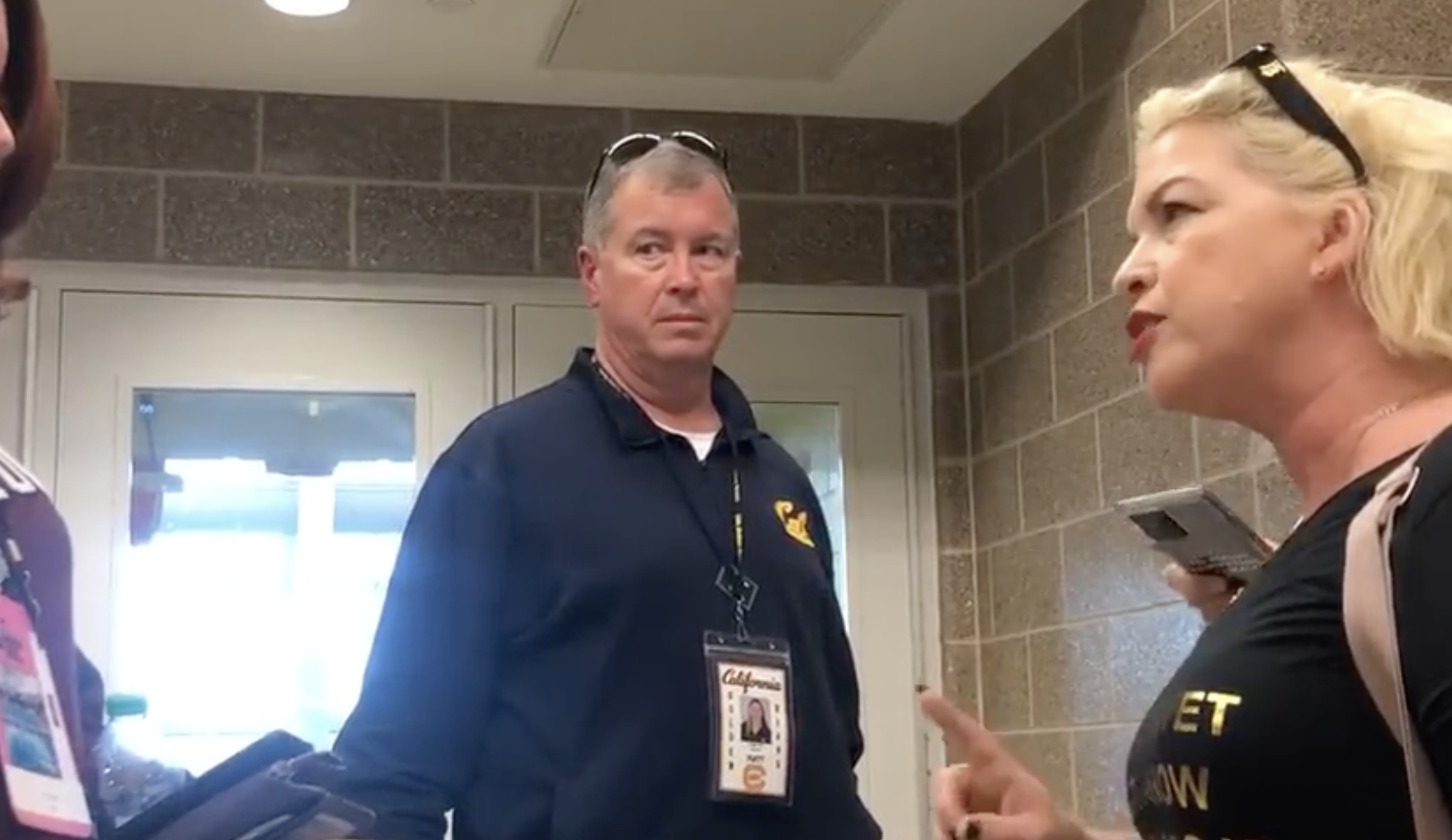 "Matthew" persisted in asking me if I had ever had a period, if DI 500-free National Champion Lia Thomas had experienced menstruation, and he wanted to see proof the out trans swimmer from the University of Pennsylvania had started her medical transition in May 2019.
That swim dad's behavior, while reportedly prompted by his daughter's loss to Thomas in one of the events last week, earned a clapback from UC Berkeley spokesperson Herb Benenson. "Please know that parents of students do not speak for our university," Benenson told the Blade. "Our team and athletic department are and will always be committed to fostering a culture where everyone feels safe, welcome and respected and that people should be accepted and appreciated for being their true selves."
While it was good to see the NCAA and UC Berkley come to my defense, what really made my week were the Newsmax viewers who sent me tweets and emails thanking me. Whaaat?
Sure, there were plenty of "u r a Man & u have a mental disorder" messages from anonymous assholes, too; My mentions are a mess and I'm probably going to have to shut down comments on my YouTube video today. But having reached even these few folks, young and old, gives me hope:
"Hi! I saw your interview this morning on Newsmax and I wanted to thank you for doing it. You handled yourself with such grace even with Carl's ridiculous bathroom fears. I am a 50 yr old Trump supporter and I don't know any transgender people, but you are an awesome person! Thank you for talking about these issues on conservative TV, it is important."
"informative interview on Newsmax"
"You are exactly the kind of person who should be teaching our kids. You are fair-minded, objective and very respectful of other people's feelings."
"I also went on to your website and saw the clip of how you were treated by the 'tiger moms' at the swim meet. Such abhorrent, disgusting behavior. I am so sorry that you were subjected to this and I'm proud of you because you held your ground."
"I just want to say that I am so, SO sorry that happened to you. Disgusting doesn't even begin to describe it. It truly makes me sick to my stomach that there are people who live their lives spreading so much hatred into the world."
"I wish there had been people present at that moment to step in and stand up for you, instead of you standing there being ganged up on when you were just minding your own business, doing your job. You handled the situation with grace. The reaction of everyone after you asked that one woman to get her dog off you was genuinely COMICAL. They all recoiled like you said a slur when you were the one being harassed. And to be asked about menstruation — I truly have no words. So incredibly inappropriate and degrading."
These messages give me hope and inspire me to keep advocating for trans girls and women. I may not be an activist, but I'm going to keep fighting like one.
Thank you Madam Speaker: Karen Ocamb reflects on Nancy Pelosi
Whether comforting a friend with AIDS or pointing a powerful finger at Trump, Pelosi exemplifies the humble nobility of servant leadership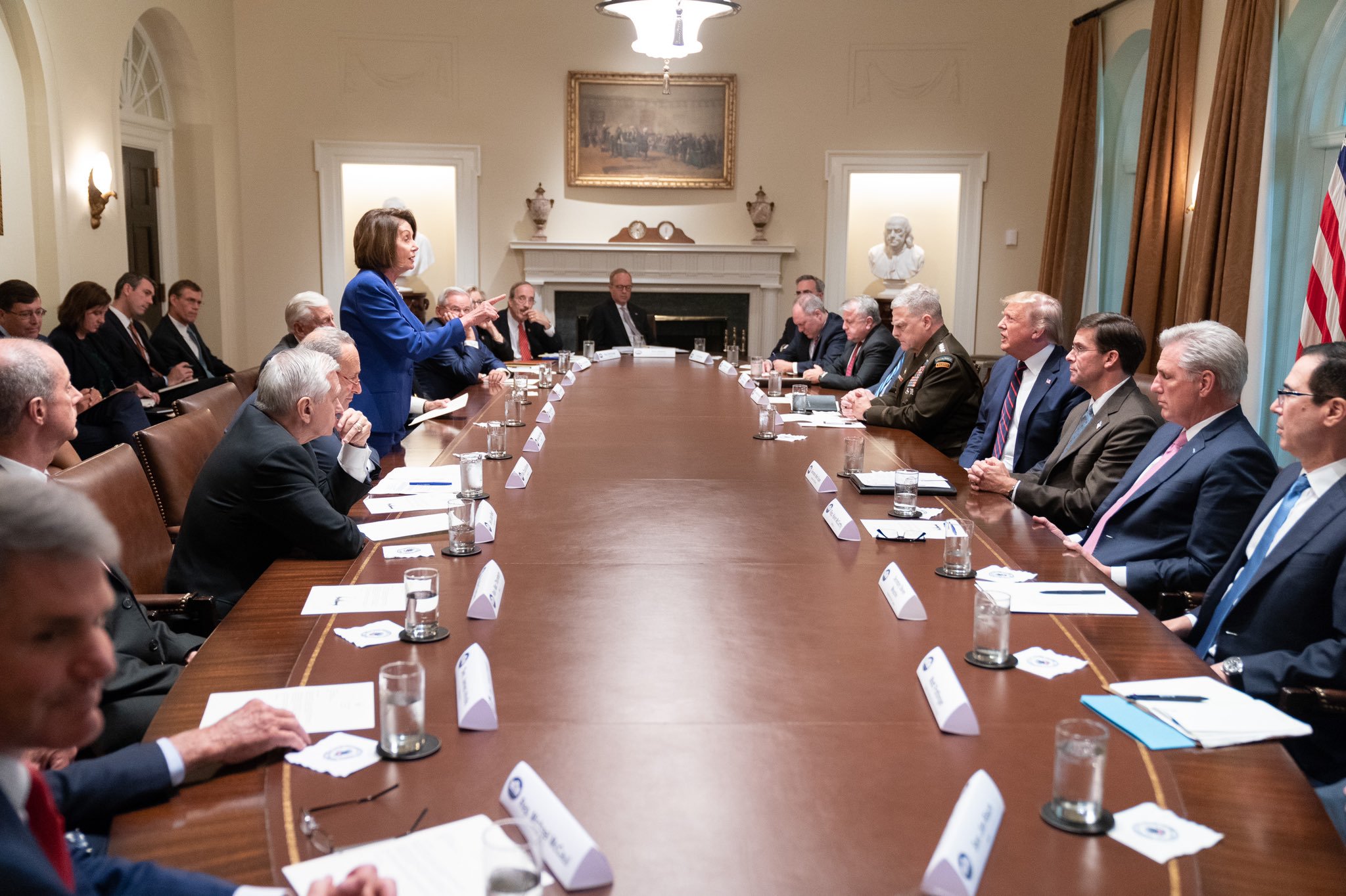 WEST HOLLYWOOD – Thank you, Speaker Nancy Pelosi! Let me add my gratitude to the praise that's poured in since Pelosi announced she would stay in Congress but was not seeking re-election as Speaker to make way for a younger generation.
In typical Trumpian fashion, CA GOP colleague Kevin McCarthy rudely absented himself as commentator after commentator – including some Republicans – called Nancy Pelosi the best Speaker in American history as she gave her "future plans" speech from the Floor of the House of Representatives.
Some commentators applauded how many extraordinary pieces of legislation she got passed – key among them ObamaCare, about which Pelosi repeatedly said: "Because of the Affordable Care Act – and I hope that every woman in America understands this – being a woman is no longer a preexisting medical condition. As a mother of five children, four daughters and one son, I'm very excited about this."
Thanks to one of those daughters, Alexandra Pelosi, who caught her mother's brave, caring and powerful reactions during the Jan. 6th insurrection when domestic terrorists where hunting her down, the world got to watch America's top Congressional leadership demur to the woman who is third in line of succession as she essentially served as Acting President of the United States and helped effectuate the Constitutional transition of power from Trump to Joe Biden.
I'd met and photographed Nancy Pelosi very briefly over the years when she came to Los Angeles for an event I was covering. But after the #ResistMarch in 2018, it occurred to me that so many of the young people raising their fists in exuberant agreement with her remarks probably had no idea who she really was. I got in touch with her terrific out deputy chief of staff Drew Hammill and asked for an interview. We were slated for 15-20 minutes but she wanted to go longer.
It was May 2018. We talked about Donald Trump and his threat to democracy; the looming midterm elections; how Republicans brand her as being from San Francisco – a "coded" gay slur; the Equality Act; and her Catholicism in the context of a Church that worked hard to oppose Prop 8, calls homosexuality "intrinsically evil," and excluded her from taking Communion in SF because of her views on abortion.
"As a Catholic, I was raised to respect every person. We're all God's children. In my family, there was never any question about that," Pelosi told me. "In Baltimore, we did have a growing LGBT community—we didn't call it that then but it was part of our lives and it was not any question that we would be any more respectful of one person than another. It wasn't even an issue with me and I didn't ever even describe it or associate it with Catholicism because Catholicism taught me something different. It didn't teach me discrimination. It taught me respect. And so it prepared me very well, my Catholicism, for being a representative in San Francisco."
"There's no question the Catholic Church in California was a participant in Prop 8 in a negative way," Pelosi said. "We were on the other side of that. But to me—it was their problem. It wasn't anything that was any moral imperative to me for me to follow the Church in enshrining discrimination in the law in California."
Ironically, in San Francisco, the Church "was more sympathetic to people when they had HIV/AIDS because they needed help then they were to people who weren't infected. It was the strangest, strangest thing," Pelosi said.
AIDS was – and is – deeply personal to the Speaker of the House.
"Some people criticized me for talking about AIDS on my first day in Congress (in 1987) and I realized that it was not just about getting funding for AIDS research and prevention and care but it was about ending discrimination against people with HIV and AIDS," Pelosi told me.
More from the my cover story:
Pelosi responds viscerally when asked about losing friends. "Oh, my gosh. Oh, my gosh. A little flower girl in my wedding. My dear, dear friends in the community in San Francisco. We were going to two funerals a day. I was visiting people in the hospital all the time and quite frankly, when I say losing people," Pelosi says, "I lost friends because I just walked away from them because they were not treating people with HIV and AIDS with respect. They would say to me, 'I don't know why you hire that caterer – don't you know that everybody there has HIV?' And I'd say, 'Don't bother to come to my house anymore if that's your attitude.' It just changed my whole view of them."…
"I'll never stop missing some of my dearest dear friends from then," she says. "Of course, we went from funerals to people saying help me make out my will because this is going to end soon, to those very same people looking for a job and then wanting to get married. So, everything has improved but I would never have thought 30 years ago when I started all this in Congress that we still wouldn't have a cure for AIDS. We've improved the quality of life, we've sustained life. Everything is better but it's not over, not finished."
Whether comforting a friend with AIDS or pointing a powerful accusing finger at Trump, Nancy Pelosi exemplifies the humble nobility of servant leadership with a touch of classy swagger.
Thank you, Nancy Pelosi, for representing so many of us who still haven't found our power
Read the entire story here:
******************************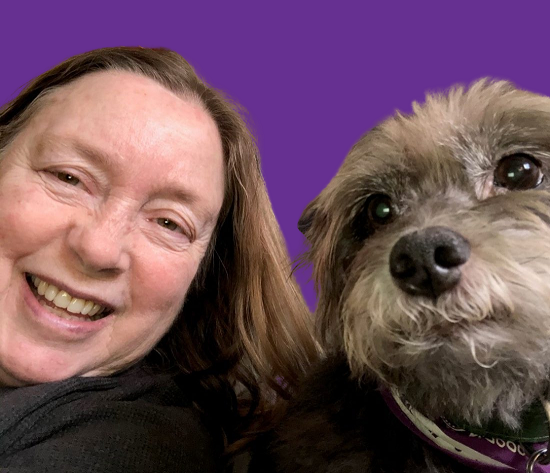 Karen Ocamb is the former news editor of the Los Angeles Blade. She is an award-winning journalist who, upon graduating from Skidmore College, started her professional career at CBS News in New York.
Ocamb started in LGBTQ media in the late 1980s after more than 100 friends died from AIDS. She covered the spectrum of the LGBTQ movement for equality until June 2020, including pressing for LGBTQ data collection during the COVID pandemic.
Since leaving the LA Blade Ocamb joined Public Justice in March of 2021 to advocate for civil rights and social, economic, and racial justice issues.
She lives in West Hollywood, California with her two rescue dogs.
******************************