LAC+USC Medical Center gets "LGBTQ+ Healthcare Equality Leader" nod
LAC+USC Medical Center received a maximum score among health care providers nationwide earning the coveted designation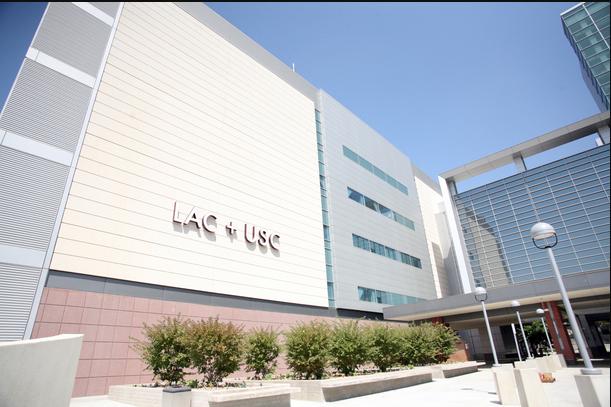 WASHINGTON— The LAC+USC Medical Center received the designation of "LGBTQ+ Healthcare Equality Leader" for the Human Rights Campaign Foundation's 15th anniversary edition of the Healthcare Equality Index (HEI), on Monday, earning an exemplary evaluation score of 100.
HEI, the nation's foremost benchmarking survey of healthcare facilities on policies and practices dedicated to the equitable treatment and inclusion of their LGBTQ+ patients, visitors and employees, had a record 906 healthcare facilities who actively participated in the 2022 HEI survey, with 496 of those earning an "LGBTQ+ Healthcare Equality Leader" designation.
"We are very pleased to be a recipient of the 2022 LGBTQ+ Healthcare Equality Leader designation.  Our healthcare professionals take great pride in providing world-class care and helping to advance the level of care equality to our  LGBTQ patients and their families, " said Jorge Orozco, Chief Executive Officer of LAC+USC Medical Center.  
"LAC+USC Medical Center is proud to provide high quality, patient-centered healthcare to our LGBTQ community, and to be a place of work where our staff thrive as their authentic selves," said Brad Spellberg, Chief Medical Officer of LAC+USC Medical Center.
"Every person deserves to have access to quality healthcare, be respected and heard by their doctor, and feel safe in the facility where they are receiving care. But LGBTQ+ people are often subject to discrimination in all spaces, including healthcare facilities, which leads to members of the community avoiding care and anticipating our voices will not be respected in an incredibly vulnerable environment," said Tari Hanneman, Director of Health & Aging at The Human Rights Campaign. "The Healthcare Equality Index, at its core, strives to ensure LGBTQ+ people are protected and affirmed by their healthcare providers and feel safe seeking services. Our HEI active participants are truly pioneering the healthcare industry by implementing robust, comprehensive LGBTQ+ inclusive policies that hopefully, because of their work, will become standard practice."
The HEI evaluates and scores healthcare facilities on detailed criteria falling under four central pillars:
Foundational Policies and Training in LGBTQ+ Patient-Centered Care;
LGBTQ+ Patient Services and Support;
Employee Benefits and Policies; and,
Patient and Community Engagement.
In the 2022 report, an impressive 496 facilities earned HRC's "LGBTQ+ Healthcare Equality Leader" designation, receiving the maximum score in each section and earning an overall score of 100. Another 251 facilities earned the "Top Performer" designation with scores between 80 and 95 points and at least partial credit in each section. With 82% of participating facilities scoring 80 points or more, health care facilities are demonstrating concretely that they are going beyond the basics when it comes to adopting policies and practices in LGBTQ+ care.
The remarkable progress reflected in the 2022 HEI includes:
93% of participants met the HEI's training requirements, completing more than 200,000 hours of staff training in LGBTQ+ patient-centered care.
82% of participating facilities earned either the Leader or Top Performer.
99% of HEI participants documented that they include both "sexual orientation" and "gender identity" in their patient non-discrimination policy.
99% of HEI participants documented that they include both "sexual orientation" and "gender identity" in their employment nondiscrimination policy.
81% of HEI participants offer transgender-inclusive healthcare benefits to their employees, up from 75% in 2019, which was the first year this it was required in order to obtain Leader status. 2020.
In addition to active survey participants, the HRC Foundation proactively researched the key policies for LGBTQ+ inclusion at over 1,300 non-participating hospitals. Unfortunately, these research hospitals were much less likely to have LGBTQ+ non-discrimination policies in place, which is a stark contrast to the near-perfect adoption by active participants. Among the researched hospitals in which we were able to find or obtain enumerated patient non-discrimination policies, only 70% have policies that include both sexual orientation and gender identity compared to 99% of HEI participants.
LAC+USC Medical Center
LAC+USC Medical Center, one of the largest public hospitals in the country is a 600-bed, Level One Trauma Center and an academic teaching hospital run by the Los Angeles County Department of Health Services (DHS). 
Through its affiliations with the Keck School of Medicine of the University of Southern California (USC) and the Los Angeles County College of Nursing and Allied Health, it is one of the premier academic teaching hospitals in the nation and one of the state's leading hospitals for training health professionals.
LAC+USC operates special units that serve patients across the Southern California region, including a Burn Center, Level III Neonatal Intensive Care Unit, and Psychiatric and Pediatric Emergency Rooms. LAC+USC is home to the Rand Schrader HIV/AIDS Clinic, the Violence Intervention Program (VIP) offering medical, mental health, protective, and social services to over 20,000 victims of family violence and sexual assault each year, and a renowned medical clinic for children at risk for or already in foster care.
LA Mayor Garcetti volunteers at Project Angel Food's Thanksgiving
For many of the celebrities joining Project Angel Food's Thanksgiving Day volunteers the day was about sharing the experience with family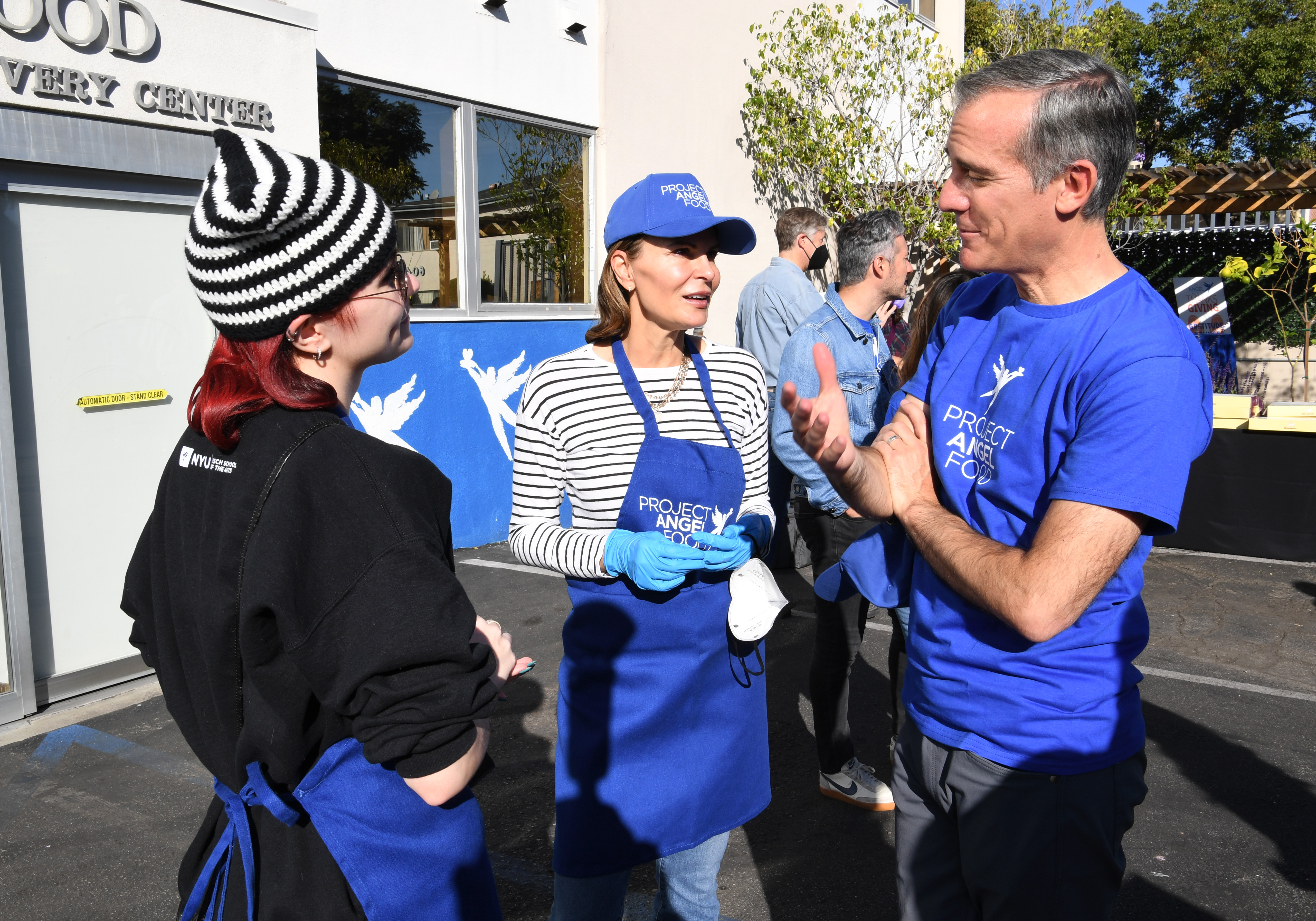 LOS ANGELES – In the early morning hours of Thanksgiving Day, Mayor Eric Garcetti joined Project Angel Food CEO Richard Ayoub, celebrity supporters and 225 volunteers and staff to prepare and deliver 7,400 meals on Thanksgiving Day to seriously ill and housing insecure people throughout 4,700 square miles of L.A. County.
"Mayor Eric Garcetti epitomizes what it is to be part of a community and lift one another through compassion and service. As he rolled up his sleeves and helped plate meals, he brought attention that while this is a day most of us are surrounded by people we love, we need to remember that some people don't have that," Project Angel Food CEO Richard Ayoub said. "He reminded us that no Angeleno should be alone and with a warm smile, a conversation and a meal, our volunteers can change the entire day for our clients, become angels in the City of Angels," Ayoub added.
For many of the celebrities joining Project Angel Food's Thanksgiving Day volunteer pool, the day was about sharing the experience with family. Volunteers included Lisa Rinna and husband Harry Hamlin; "Weird Al" Yankovic with his wife Suzanne and daughter Nina.
Also volunteering was Out actor and singer Cheyenne Jackson and husband Jason Landau with their twins Willow and Ethan. Jackson said the couple brought the children because, "I want to teach my kids to be grateful and thankful for everything that we have, and when you have the capability to give to other people, do it."
He also talked about the death of friend Leslie Jordan, a Project Angel Food supporter who died exactly one month earlier. "He was one of my best friends and it hit me really, really hard like so many people," he said.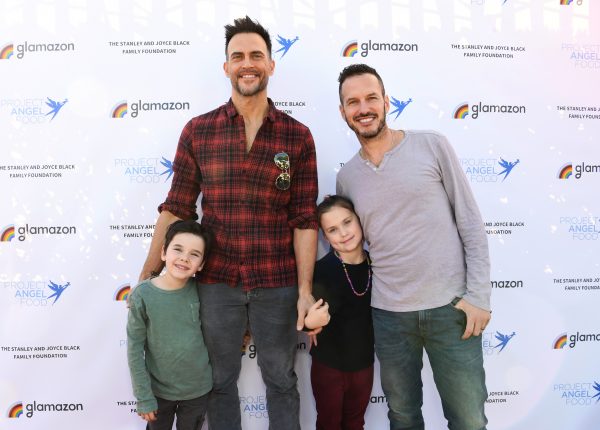 American Idol favorite Ava Maybee with her mother, and Melissa Rivers with son Cooper Endicott, continuing her mother Joan Rivers' legacy of volunteering on Thanksgiving.
Avatar: The Way of Water star Trinity Bliss brought her parents just weeks before the December 16 release of the highly anticipated film. "I'm so honored to work alongside so many people to bring a warm, delicious, tasty meal to people in need."
Of her much-anticipated film, Avatar: Way of Water, Trinity added, "Avatar was amazing, but I think Avatar: The Way of Water is going to be just so much more dramatic and be an experience people are going to need to experience in theaters."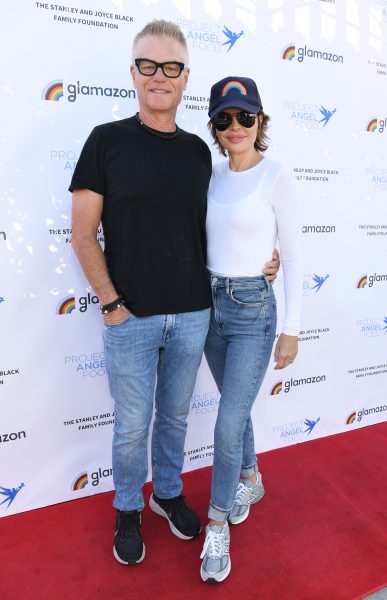 Lisa Rinna reflected on the fact that Project Angel Food is the primary source of food for most of its clients. "It's so important because that is going to be their only meal of the day." her husband Hamlin added, "to have the opportunity to give back is amazing."
Other celebrities included Eileen Davidson (RHOBH, Days of Our Lives), Peter Porte (Days of Our Lives), Juan Pablo Di Pace (DWTS, Fuller House), Olympian Tai Babilonia, Tim Bagley (Gracie & Frankie, Will & Grace), Michael Hitchcock (The Resort, Crazy Ex-Girlfriend), Lawrence Zarian (The Kelly Clarkson Show), Marc Malkin (Variety), James Wallington and Will Jardell (Amazing Race Season 32 winners), Romeo Escobar (Survivor 42 runner-up), and parenting author Donna Tetreault.
The 7,400 meals being delivered on Thanksgiving included 1,600 traditional turkey dinners to critically ill men, women, children and their caregivers, 5,600 Medically Tailored Meals and breakfasts regularly scheduled for Thursday delivery, and another 200 meals were provided to Project Angel Food community partner PATH for residents for two of PATH's Interim Housing and Permanent Supportive Housing sites.
Volunteers provided contactless "drive-by" pick-up of the meals which were then delivered to Project Angel Food clients. Traditional Thanksgiving dinners consisted of roasted turkey, root vegetables, stuffing, gravy, cranberry sauce and a slice of pumpkin cheesecake. Vegetarian meals were also provided.
The meal was sponsored by the Stanley and Joyce Black Family foundation with Glamazon (Amazon's affinity group for the LGBT+ community) sponsoring the volunteer event.
Project Angel Food CEO Richard Ayoub noted that Project Angel Food strives to end food insecurity and improve health outcomes of critically ill men, women and children in Los Angeles with Medically Tailored Meals, delivered with care and compassion.
Over 2,500 clients are fed daily. Project Angel Food delivers 1.3 million meals each year.