Newsom swears in first Latina to serve on state's highest court
Justice Patricia Guerrero hails from the Imperial Valley & has extensive experience as an appellate justice & trial court judge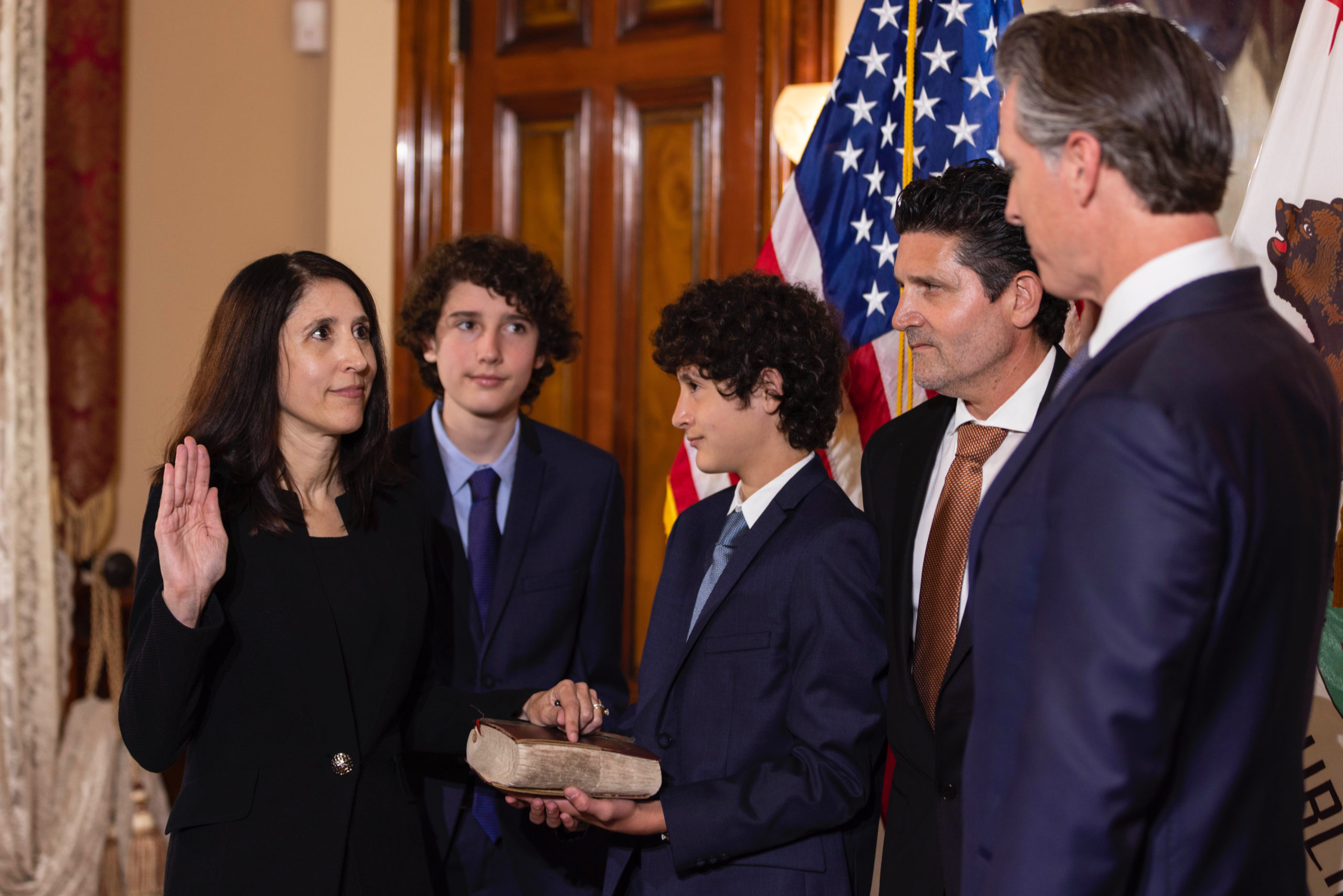 SACRAMENTO – Governor Gavin Newsom swore in Justice Patricia Guerrero to the California Supreme Court Monday– the first Latina Justice to serve on the bench of the state's highest court. A highly regarded jurist, Justice Guerrero's nomination to the court was unanimously confirmed by the Commission on Judicial Appointments last week.

Raised in the Imperial Valley by immigrant parents from Mexico, Justice Guerrero has served as an Associate Justice at the Fourth District Court of Appeal, Division One since 2017 and has wide-ranging experience as a trial court judge, partner at a major law firm and Assistant U.S. Attorney.
The Governor swore in Justice Guerrero in Sacramento at a ceremony joined by First Partner Jennifer Siebel Newsom, Chief Justice Tani Gorre Cantil-Sakauye, California Supreme Court Associate Justice Martin Jenkins, California Supreme Court Associate Justice Carol Corrigan, Fourth District Court of Appeal Justice Judith McConnell and other members of the judiciary, legislators, and Justice Guerrero's father Jorge, sister Claudia, husband Joe, and sons Anthony and Christopher.
"This is a proud day for all Californians," said Governor Newsom. "A first-generation Californian and daughter of the Imperial Valley, Justice Guerrero's extraordinary ascent to serve as the first Latina justice on our state's highest court is not only an incredible personal achievement, it is an inspiring example of California's enduring promise that any dream is possible, no matter who you are or where you come from. Justice Guerrero's brilliance, integrity, work ethic and rich insights will make an invaluable contribution to the court. I'm confident that Justice Guerrero will continue her life's work to uphold our fundamental rights and freedoms and advance equal justice and opportunity for all Californians."
"I'm incredibly honored to take the bench on our state's Supreme Court, and I thank everyone who has made this day possible," said Justice Guerrero. "I am here because of the courage, sacrifices and dedication of my parents and my grandparents who, like so many others, came to this country with the hope of a brighter future for their children. I hope that my journey encourages the next generation of leaders to pursue their dreams, and I look forward to taking on this opportunity to uphold the rule of law and work to ensure equal justice under the law for every Californian."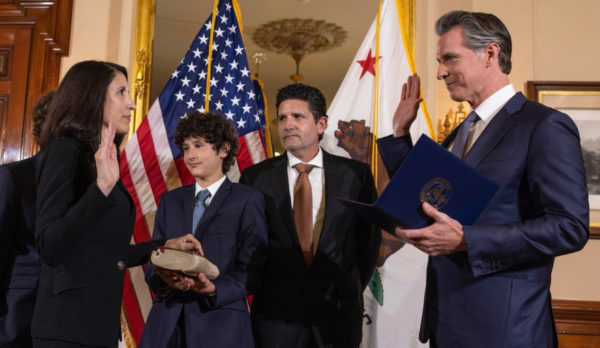 Justice Guerrero replaces Associate Justice Mariano-Florentino Cuéllar, who left the bench effective October 31, 2021.
"Your appointment is a testimony to not only your extraordinary judicial career, but also to your devotion and commitment to the citizens of California and their access to justice," wrote Sonia Sotomayor, Associate Justice of the Supreme Court of the United States, in a letter to Justice Guerrero. "Your appointment is an important reminder of how far we have come and of how far we have yet to go. I know you will make our country proud. You already have."
As an appellate justice at the Fourth District Court of Appeal, Justice Guerrero authored numerous opinions to protect the rights of consumers and individuals, while also ensuring that defendants' constitutional rights are protected and that all parties, including the government, are treated fairly and consistent with the rule of law. She served as a Judge at the San Diego County Superior Court from 2013 to 2017 and was Supervising Judge for the Family Law Division at the Court in 2017. Justice Guerrero was hired as an Associate at Latham & Watkins and became a Partner in 2006. She served as an Assistant U.S. Attorney at the U.S. Attorney's Office, Southern District of California from 2002 to 2003.
"To be the first Latina on the California Supreme Court and make history, it is clear that one must have an exceptional life story. Justice Patricia Guerrero is already inspiring young Latinas to set their sights higher and believe they can be anything they want to be," said Orange County Superior Court Judge Elizabeth G. Macias. "Justice Guerrero will be a justice who will uphold the Constitution and protect the rights of all Californians, including the voiceless and the vulnerable. Thank you, Governor Newsom and Judicial Appointments Secretary Luis Céspedes, for recognizing the importance of having a California Supreme Court that reflects the people of this great state. The California Latino Judges Association joins Governor Newsom and Justice Guerrero in celebrating this historic moment."
"The appointment of Justice Patricia Guerrero as the first Latina to serve on the California Supreme Court is truly a historic milestone for the judiciary and citizens of the State of California," said retired California Supreme Court Justice Carlos R. Moreno. "I have every confidence that she will serve with distinction. Her academic credentials, her litigation experience in the trial courts as a lawyer and as a judge – civil and criminal – as well as having served as an appellate justice on the Fourth District Court of Appeal, amply confirm that she is exceptionally well-qualified to serve on our State's highest court. I applaud Governor Newsom for this exceptional and well-deserved appointment."

"Congratulations to Justice Guerrero on this historic and well-earned achievement," said Vilma Martinez, former President and General Counsel of the Mexican American Legal Defense and Educational Fund (MALDEF). "I applaud this latest example of Governor Newsom's commitment to ensure that our judiciary reflects the marvelous diversity of our State."

Justice Guerrero has contributed many hours of pro bono work, including as a member of the Advisory Board of the Immigration Justice Project, to promote due process and access to justice at all levels of the immigration and appellate court system. She has assisted clients on a pro bono basis in immigration matters, including asylum applications and protecting vulnerable families by litigating compliance with fair housing laws. The Chief Justice of the California Supreme Court named her to the Blue Ribbon Commission on the Future of the California Bar Exam and Justice Guerrero has been active in the Chief's "Judges in the Classroom" civics program.
Placer County Sheriff's Office: Public's help in locating missing girl needed
Anyone with information about Kiely's whereabouts is asked to contact the Placer County Sheriff's Office at 530-886-5375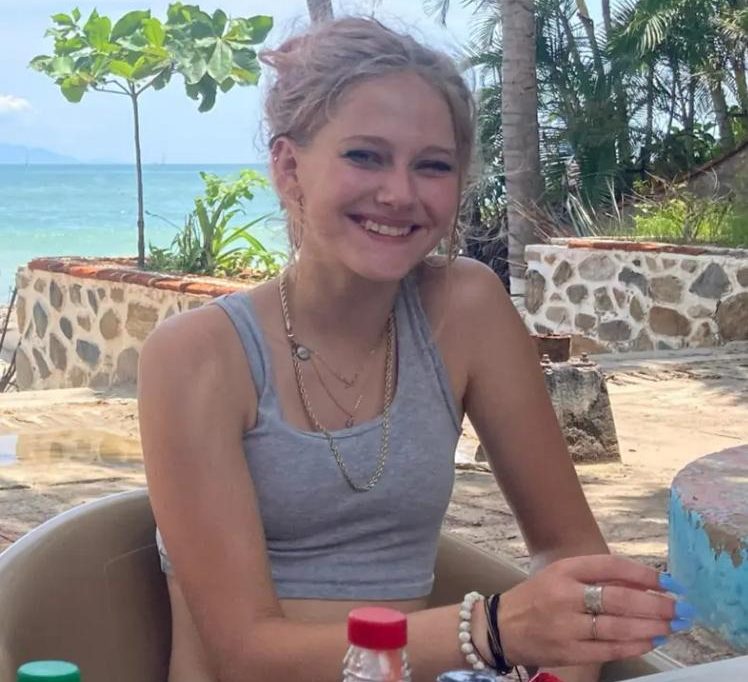 TRUCKEE, Ca. – Investigators with the Placer County Sheriff's Office are asking for the public's assistance in locating 16-year-old Kiely Rodni who disappeared in Northern California early Saturday morning. PCSD detectives say she may be the victim of an abduction.
Rodni was last seen around 12:30 a.m. Saturday near the Prosser Family Campground in the town of Truckee, according to the Placer County Sheriff's Office.
‼️MISSING PERSON – Community Help Needed‼️We need your help in locating missing 16-year-old Kiely Rodni who was last seen near the Prosser Family Campground, in Truckee on 8/6. If you have any information contact the Placer County Sheriff's Office immediately: 530-886-5375. pic.twitter.com/URhW4CGzge

— Placer Sheriff (@PlacerSheriff) August 7, 2022
We continue to search for missing 16-year-old Truckee resident, Kiely Rodni. Detectives are currently following up on leads and our Falcon 30 helicopter is assisting the Nevada County Sheriff's Office with the search for Kiely. More info: https://t.co/GnWdW7PbLf #PCSO #missing pic.twitter.com/ofEsZsLnSe

— Placer Sheriff (@PlacerSheriff) August 8, 2022
Kiely is described as 5'7 with blonde hair and hazel eyes. She was last seen wearing green Dickies pants, a black tank top and jewelry. The teen also has numerous piercings, including a nose ring.
She had attended a party with more than 100 young adults. Authorities said that her phone has been out of service since the party and that her car, a silver Honda CRV model year 2013 with California license plate "8YUR127" is also missing.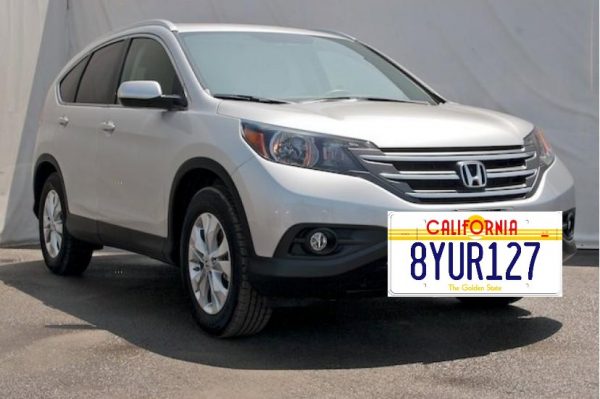 Anyone with information about Kiely's whereabouts is asked to contact the Placer County Sheriff's Office at 530-886-5375.
From KTLA sister station KTXL Sacramento:
California LGBTQ Health & Human Services Network names new director
Ceseña will work with advocates to ensure the implementation of legislation & policies that will benefit LGBTQ+ health and wellness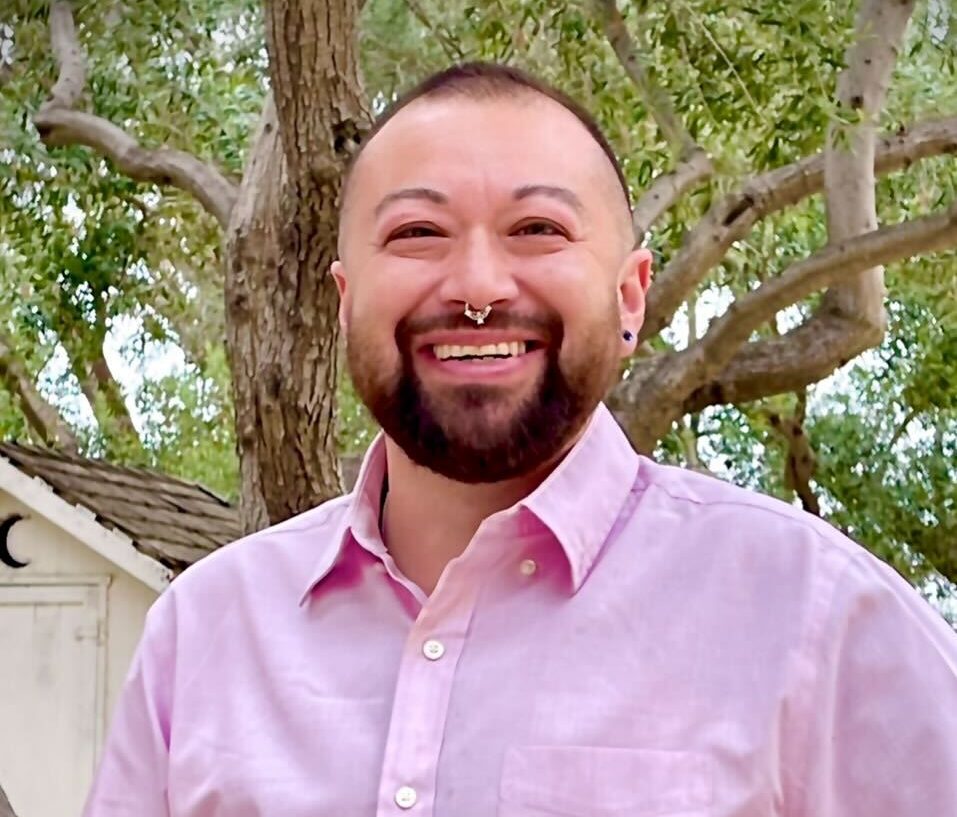 SACRAMENTO – The California LGBTQ Health and Human Services Network, the statewide coalition working to advance LGBTQ health equity, announced that Transgender Health Equity Manager Dannie Ceseña will lead the organization as its Network Director after Amanda McAllister-Wallner stepped down on July 31.
McAllister-Wallner had served as Network Director since 2016. Over the last six years under her leadership, the Network has grown to a team of six, and has launched multiple projects, including #Out4MentalHealth, We Breathe, Out About ACEs, and LGBTQ+ COVID Safety.
During this time, the Network has firmly established itself as the statewide leader on issues related to LGBTQ health – with state funding to coordinate efforts to reduce LGBTQ mental health and tobacco-related disparities.
McAllister-Wallner also pushed numerous advocacy efforts, including the creation of the Gender Health Equity Unit at CDPH, collection of sexual orientation and gender identity data during the COVID-19 pandemic, and prioritizing funding for LGBTQ communities impacted by the War on Drugs.
"It's impossible to overstate my excitement to welcome Dannie as the next Director of the California LGBTQ Health and Human Services Network! I feel fortunate to have had a front-row seat to Dannie's work and leadership over the past four years, and have no doubt that he will take the Network to exciting new heights in the coming years," said McAllister-Wallner.
"Serving as the Network Director for the past six years has truly been a dream come true. It's been an honor to have the opportunity to work on behalf of my community, achieve some amazing wins, and work alongside some of the most incredible LGBTQ community leaders in existence," she added.
Ceseña (he/they) is the first Indigenous, Two Spirit with Mexica roots to lead as Director of the Network. He has over 15 years of experience working with non-profits in program development and advocacy.
He has extensive knowledge in creating Transgender and Gender Nonconforming (TGNC) healthcare collaborations by utilizing upstream interventions and addressing the root cause of the lack of access to TGNC-affirming health care.
Ceseña's knowledge and leadership have assisted in the creation of two TGNC community health care clinics, and a monthly TGNC legal clinic in Orange County, CA.
Ceseña has become a trusted leader in LGBTQ health among partners in the California Tobacco Control Program, responsible for building We Breathe: Supporting Tobacco-Free LGBTQ Communities from the ground-up, and has established the program as a leader statewide, nationally, and even internationally. 
He provided leadership and guidance for LGBTQ organizations that are new to working with the Department of Public Health, helping them navigate the complicated bureaucracy and ensuring LGBTQ project staff always have a place to turn with their questions and concerns.
"With the enthusiastic support from both the staff and the steering committee, I am excited to promote Dannie as the fourth director of the California LGBTQ HHS Network, continuing his work to amplify the voices of LGBTQ-serving organizations and advance health equity." Said Anthony Wright, Executive Director of Health Access, the statewide health care consumer advocacy coalition, which hosts the Network.
"Amanda McAllister-Wallner took the CA LGBTQ HHS Network to another level, expanding the staff sixfold, creating new programs on mental health, tobacco control and health equity, and winning new policies on SOGI data collection and more. With his significant experience before and during his time with Health Access working on public health, trans inclusion, and program development, we are excited to see Dannie take the CA LGBTQ Network to be a greater resource and leader to support the community."
As the Network Director, Ceseña will work with advocates throughout the state to ensure the implementation of legislation and policies that will benefit LGBTQ+ health and wellness. Additionally, he will provide management and direction to Network programs and staff, and support the expansion and overall capacity of the Network by adding a new Network Organizer and Trans Health Equity Manager.
"Amanda has done a tremendous job in taking a small program that is housed at Health Access and turning it into a Statewide powerhouse and organization that has name recognition and respect among many state departments," stated Network Director Dannie Cesena. "Even though I am following in the footsteps of a legend, I look forward to working closely with our Steering Committee and deepening our work in State advocacy and policy for equitable and accessible LGBTQ health care."
Newsom rallies local water agencies to do more
Preliminary water savings reach 7.5 percent for June- Newsom urged local water agencies to continue driving conservation efforts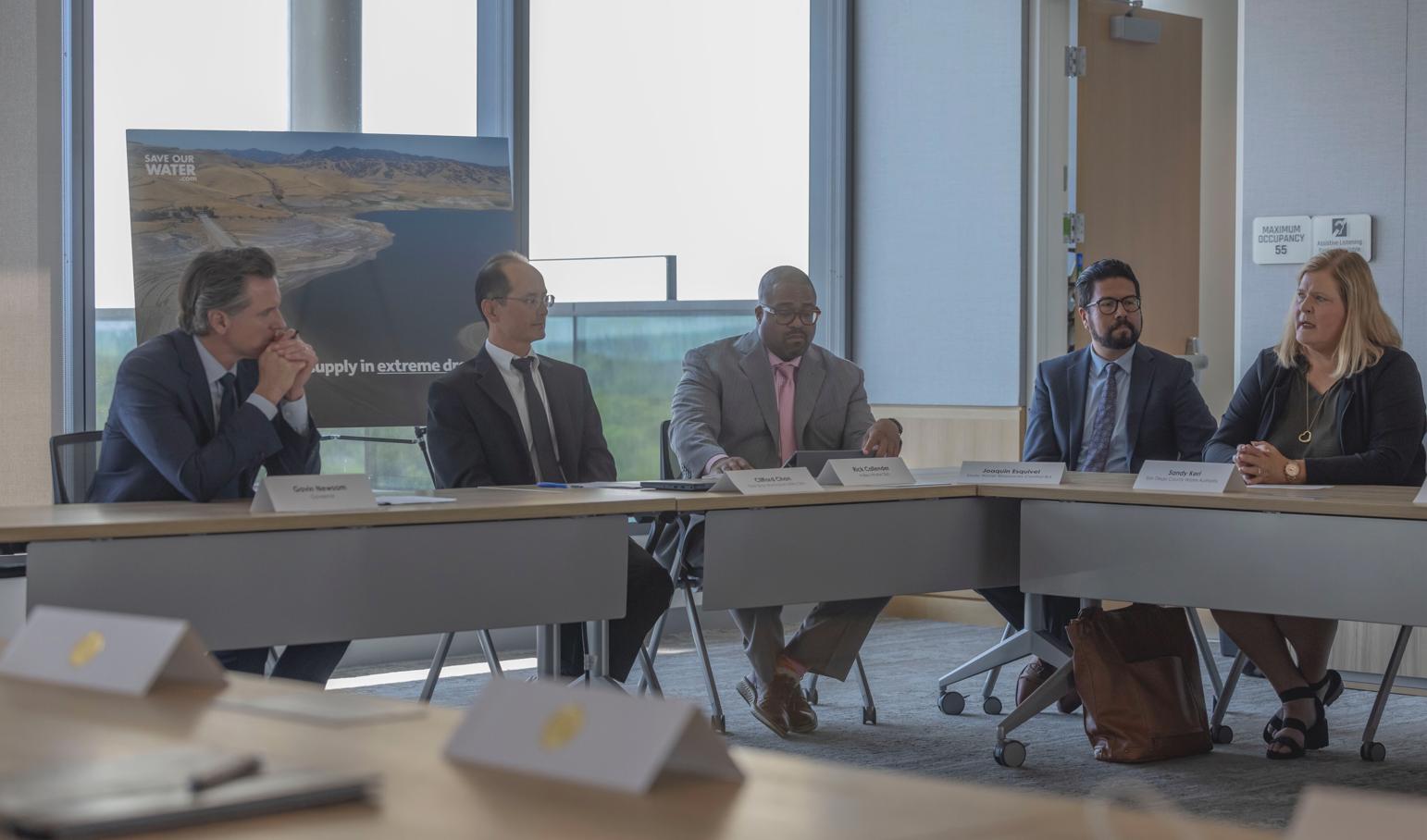 SACRAMENTO – Governor Gavin Newsom convened local water leaders this past Friday, for the second time in recent months, to call for their continued action to drive down urban water use and help Californians make permanent changes to adapt to a hotter and drier future.
Preliminary numbers that reflect 95 percent of the population show that Californians cut back on water use by 7.5 percent overall in June this year compared to June 2020. The increase in conservation comes a month after Governor Newsom directly called on local water leaders to step up their work to ensure all Californians are doing their part to save water.
The climate crisis has resulted in weather changes that have altered the water supply across the western United States. The West is experiencing some of the driest conditions ever recorded. January through March were the driest first three months in the state's recorded history, and the state's largest reservoirs are currently at less than half of their historical averages.

This year's budget provides an additional $2.8 billion over multiple years to support drought resilience and response, including $1.5 billion that will be allocated in the summer after additional discussions with the Legislature. These investments build on the previous $5.2 billion three-year investment in the state's drought response and water resilience through the California Comeback Plan (2021).

The state is calling on Californians to take immediate action to avoid a crisis, including:
Limiting outdoor watering – cutting back by even just one day a week can save you up to 20 percent more water.
Taking shorter showers. Going to a 5-minute shower to save up to 12.5 gallons per shower when using a water-efficient shower head.
Taking showers instead of baths – a bath uses up to 2.5 times the amount of water as a shower.
Using a broom instead of a hose to clean outdoor areas to save 6 gallons of water every minute.
Washing full loads of laundry to save 15-45 gallons of water per load.
More water-saving tips can be found at saveourwater.com.
For the latest on the state's drought response, please visit drought.ca.gov.