Third largest newspaper in Florida: DeSantis cruelly uses kids as pawns
The children at Monday's bill signing, used as scene-setting pawns in a war they didn't understand, may someday feel shame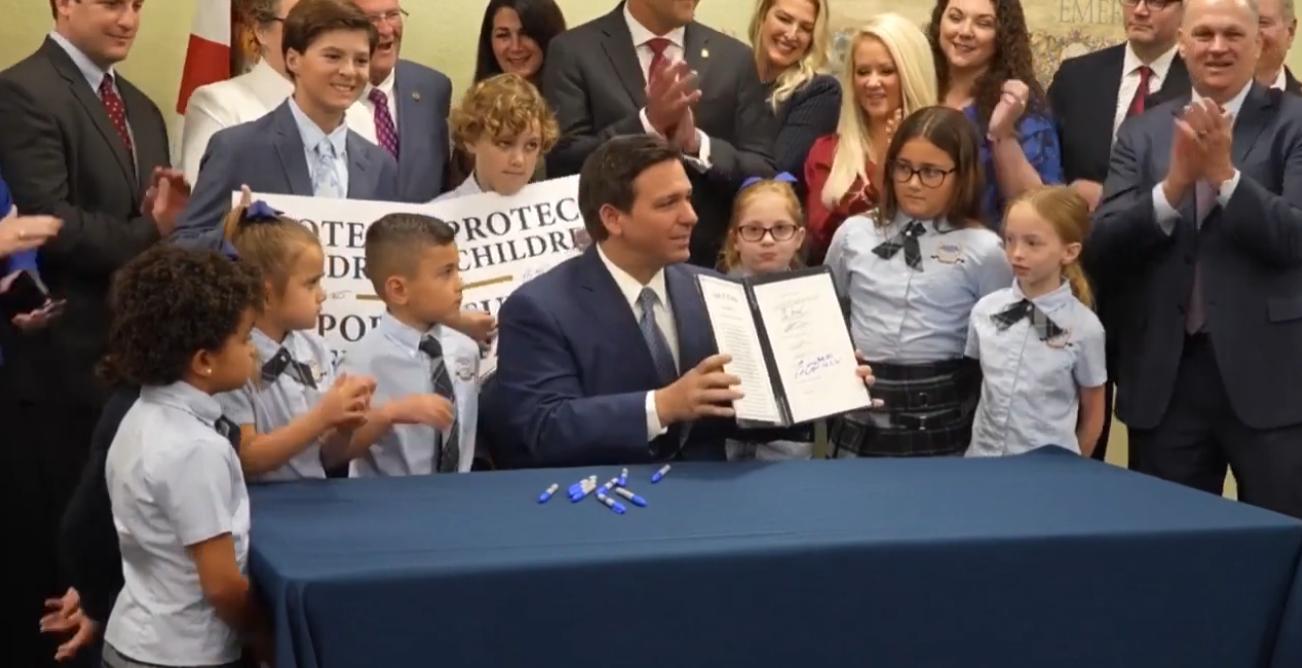 ORLANDO- In a take-no-prisoners op-ed Tuesday, the Editorial Board of the Orlando Sentinel eviscerated Republican Florida Governor Ron DeSantis for signing H.B. 1557, titled "Parental Rights in Education," colloquially known as the 'Don't Say Gay' bill, saying that the governor uses children as pawns in what the paper termed a "cruel political game."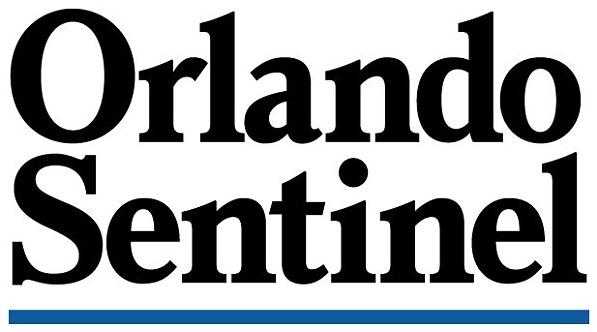 "The scene said it all. Surrounded by students in blue uniform shirts and plaid ties, some of whom had been given "Protect Children" signs to hold, Gov. Ron DeSantis signed HB 1557 — the so-called "Don't Say Gay" legislation that's been nationally castigated as cruel, divisive and potentially hazardous to the mental and physical wellbeing of Florida students.
The signing ceremony was staged at a Spring Hill charter school founded by the wife of DeSantis' top education official, where boys are required to keep their hair short and only girls are allowed to wear earrings. It was a safe space for the governor.
He laughed and handed the markers he was using to the children clustered around him. The children at Monday's bill signing, used as scene-setting pawns in a war they didn't understand, may someday feel shame. We doubt DeSantis will. But he should."
DeSantis uses children as pawns in cruel political game | Editorial https://t.co/CEuxAYAPuf pic.twitter.com/an3s3ytDs5

— Orlando Sentinel (@orlandosentinel) March 29, 2022
Speaking with reporters Tuesday at the capitol, DeSantis blasted The Walt Disney Company for its public denouncement of the legislation. The governor in response to Disney told reporters:
"For Disney to come out and put a statement and say that the bill should have never passed and that they are going to actively work to repeal it, I think one was fundamentally dishonest, but two, I think that crossed the line."
Taking aim at Disney corporate leadership including its CEO Bob Chapek he added:
"This state is governed by the interest of the people of the state of Florida, it is not based on the demands of California corporate executives," he continued. "They do not run this state, they do not control this state."
Read the full editorial. 
Miami Hyatt liquor license may be revoked over a drag show
This is the third time the state's Division of Alcoholic Beverages and Tobacco has targeted a business that hosted a drag show
MIAMI – The DeSantis administration is in the process of revoking the Hyatt Regency Miami's alcohol license after the Florida Department of Business and Professional Regulation determined that the hotel's affiliated James L. Knight Center had hosted "A Drag Queen Christmas" performed Dec. 27 with minors present in the audience.
The Knight Center is a major South Florida venue and has previously hosted the Miss Universe and Miss USA pageants. The venue's main room can seat 4,600 people.
This is the third time the state's Division of Alcoholic Beverages and Tobacco, which operates under the Department of Business and Professional Regulation, has targeted a business that hosted a drag show.
A popular restaurant and pub in Miami's Wynwood neighborhood is also under threat of losing its liquor license. The R House identifies itself on its Facebook page as "the proud home of South Florida's most popular weekend drag brunches."
The July 2022 complaint filed by the Department of Business and Professional Regulation asks for a final order that the R House restaurant is a declared a public nuisance and has its liquor license revoked.
According to the South Florida Sun Sentinel, the complaint was issued after a video of a recent performance at the bar's drag brunch went viral. A topless drag queen wearing lingerie stuffed with money can be seen in the video attempting to dance with a young girl, who the DPBR estimates is "between three and five years old." Twitter account "Libs of Tik Tok" originally found the footage on Tik Tok, posted by a user who wrote, "Children belong at drag shows!!!! Children deserve to see fun & expression & freedom."
In late December "A Drag Queen Christmas" was hosted by the Orlando non-profit Orlando Philharmonic Plaza Foundation on Dec. 28, filing a complaint alleging that children under age 18 were allowed to attend.
The complaint against the Orlando Philharmonic alleged the foundation violated Florida law in allowing for a person to "commit lewd or lascivious exhibition" in the presence of an individual who is less than 16 years old.
In this latest targeting of the show, which is a holiday-themed drag show that tours in 36 different cities and features stars from the reality show "RuPaul's Drag Race," Insider webzine journalist Kimberly Leonard reported that the DeSantis administration officials accused the Knight Center of several violations, including a prohibition of "lascivious exhibition" before people younger than 16, mirroring the December complaint against the Orlando Philharmonic.
The department's complaint said performers engaged in "acts of simulated sexual activity, and lewd, vulgar, and indecent displays" that included:
Performers forcibly penetrating or rubbing exposed prosthetic female breasts against faces of audience members
Intentionally exposing performers' prosthetic female breasts and genitalia to the audience
Intentionally exposing performers' buttocks to the audience
Simulating masturbation through performers' digitally penetrating prosthetic female genital
Graphic depictions of childbirth and/or abortion
Hyatt Regency Miami is allowed to keep selling alcohol until the department makes a final decision. The business has 21 days to request a hearing, Beth Pannell, spokeswoman for the department, told Insider.
Regulators had warned the facility to change how it marketed the show before it went live, according to a copy of the letter included in the complaint. The letter accused the marketers of putting on a performance that constitutes "public nuisances, lewd activity, and disorderly conduct" when minors are present.
News of this latest action was first reported by far-right conservative internet based outlet Florida's Voice.
As more and more Republican states target drag shows, in just the past few weeks, Tennessee became the first to ban adult performances, including drag, from public spaces such as parks and schools.