Republicans want retribution against Disney over its Don't Say Gay stance
"This state is governed by the interest of the people of the state of Florida, not based on the demands of California corporate executives"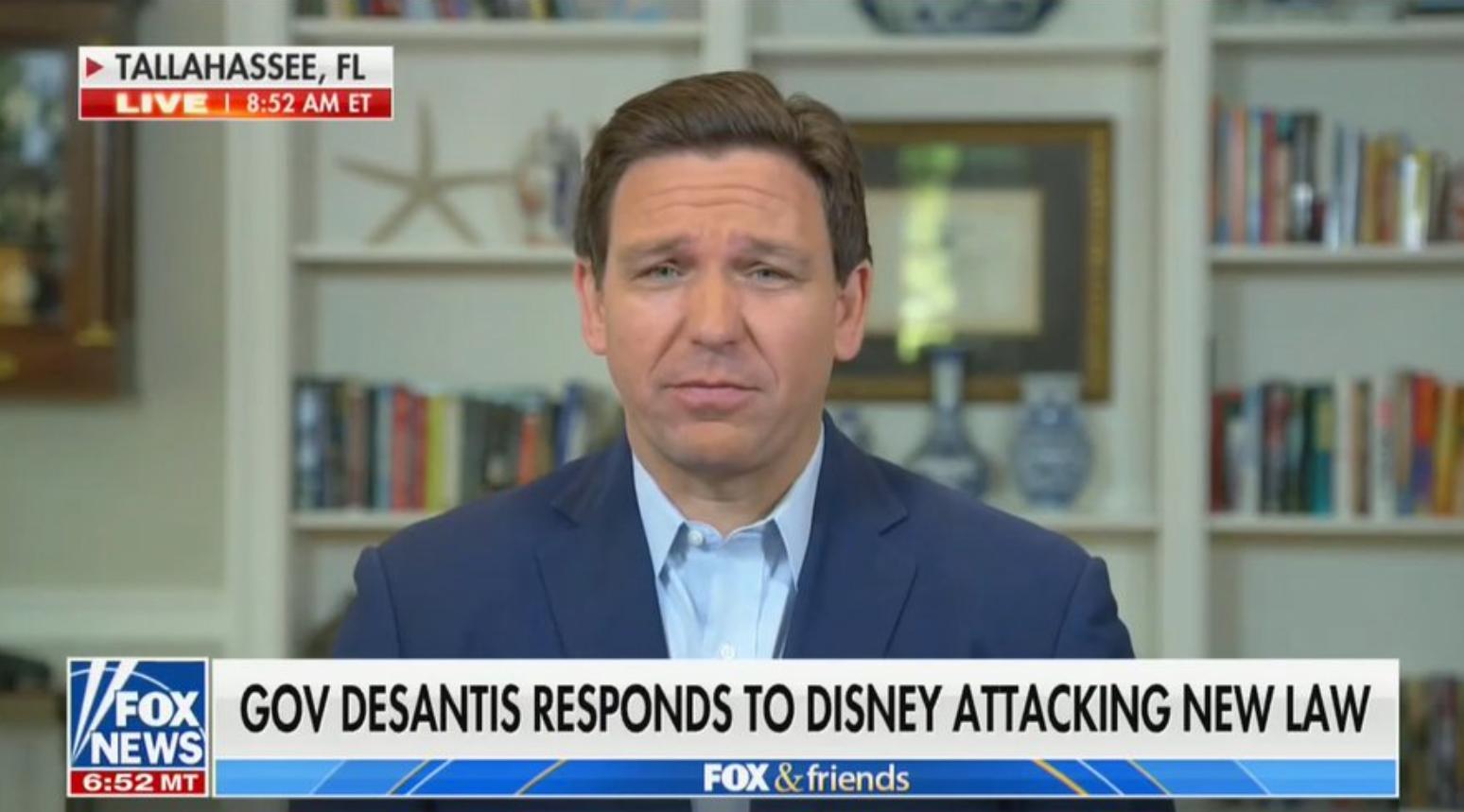 TALLAHASSEE – In an appearance on Fox & Friends on Friday morning, Florida's Republican Governor Ron DeSantis continued his week-long diatribe against the Walt Disney Company for its opposition to the anti-LGBTQ+ 'Parental Rights in Education bill' the governor signed into law earlier this week, which opponents have labeled as the "Don't Say Gay" law.
DeSantis accused Disney of imposing a "woke ideology" and warned that it'll "destroy" the United States if left "unabated."
.@GovRonDeSantis Sounds the Alarm: Disney Imposing a 'Woke Ideology' Will Destroy the Country https://t.co/9y3cIRFQ0E

— Mediaite (@Mediaite) April 1, 2022
DeSantis was enraged after Disney released a statement that read in part; "Florida's HB 1557, also known as the 'Don't Say Gay' bill, should never have passed and should never have been signed into law."
Speaking to reporters Tuesday at the state capitol, DeSantis ranted: "For Disney to come out and put a statement and say that the bill should have never passed and that they are going to actively work to repeal it, I think one was fundamentally dishonest, but two, I think that crossed the line."
Taking aim at Disney corporate leadership including its CEO Bob Chapek he added:
"This state is governed by the interest of the people of the state of Florida, it is not based on the demands of California corporate executives. They do not run this state, they do not control this state."
The governor then floated the idea Thursday of changing Florida law to revoke the Walt Disney Company's right of self-rule in the Reedy Creek Improvement District, the Florida-based seat of the Magic Kingdom. Referring to Disney DeSantis said; "As a matter of first principle, I don't support special privileges in law, just because a company is powerful, and they've been able to wield a lot of power."
One Florida lawmaker, Rep. Spencer Roach, R-Fort Myers, amplified the Governor's call. Roach, a retired U.S. Coast Guardsman, who is licensed to practice law in Florida and Texas, is opposed to abortion and also introduced legislation targeting what he terms "cancel culture" on the campuses of universities and colleges in the state, HB 233. Opponents of the legislation told the Tampa Bay Times it would allow extremists to use oppressive, hateful speech at Florida's universities without repercussions.
Roach sent out tweets calling for the 55 year-old agreement between the state of Florida and Disney to self govern be eliminated.
Disney runs a company town and they want FL to be a corporate state. Never forget that this is a California company with California values. https://t.co/4z3gBPJw78

— SpencerRoach (@SpencerRoachFL) April 1, 2022
Yesterday was the 2nd meeting in a week w/fellow legislators to discuss a repeal of the 1967 Reedy Creek Improvement Act, which allows Disney to act as its own government. If Disney wants to embrace woke ideology, it seems fitting that they should be regulated by Orange County. pic.twitter.com/6sj29Gj6Wz

— SpencerRoach (@SpencerRoachFL) March 30, 2022
Journalist Sam Sachs from NexStar Media Wire noted; Disney first got the right of legal self-control in 1967, with passage of the Reedy Creek Improvement Act.
According to historical documents from the Reedy Creek Improvement District, then-Florida Gov. Claude Kirk signed the RCID Act into law in May 1967, creating two municipalities: Bay Lake and Reedy Creek, which was later renamed Lake Buena Vista. The location, nestled between Orange and Osceola counties, would later become the site where Walt Disney World was built.
The RCID Charter created a 25,000-acre of land as a special taxing district. At the time, it was considered remote and uninhabitable, but now is the site of one of the busiest theme parks in the United States.
To make Disney's plan happen, the area had to get special privileges from the state of Florida to essentially run itself.
"In 1967, the Florida State legislature, working with Walt Disney World Company, created a special taxing district – called the Reedy Creek Improvement District – that would act with the same authority and responsibility as a county government," RCID says on its website.
Beyond Florida other Republicans who were angered by Disney's standing up for the LGBTQ+ community spoke out. U.S. Rep. Jim Banks (R-IN) appearing on Fox News threatened retaliation against the media conglomerate:
"If they're going to attack the American laws that are being put in place by duly elected governors and representatives at the state level, they don't deserve all the special American laws and protections that are granted to their company. So I wrote Disney a letter today and I said when your copyright laws expire, which is coming up in the next few years…I'm not gonna vote for it. I'm not gonna vote for special laws that help Disney when Disney is attacking American values on a regular basis."
Andy Vermaut shares:Disney waging 'an attack on American democracy': Rep. Jim Banks: Rep. Jim Banks, R-Ind., called Disney's opposition to Florida's parental rights law "an… https://t.co/GvFc6C0sbH Thank you. #ThankYouJournalistsForTheNewsWeGetFromYou #AndyVermautThanksYou pic.twitter.com/WmXnAz9hwm

— Andy Vermaut (@AndyVermaut) April 1, 2022
Quantity, cruelty of anti-LGBTQ state bills raise alarm bells
"We really need to support local LGBTQ organizations- lift them up as much as possible," particularly those in conservative & rural states"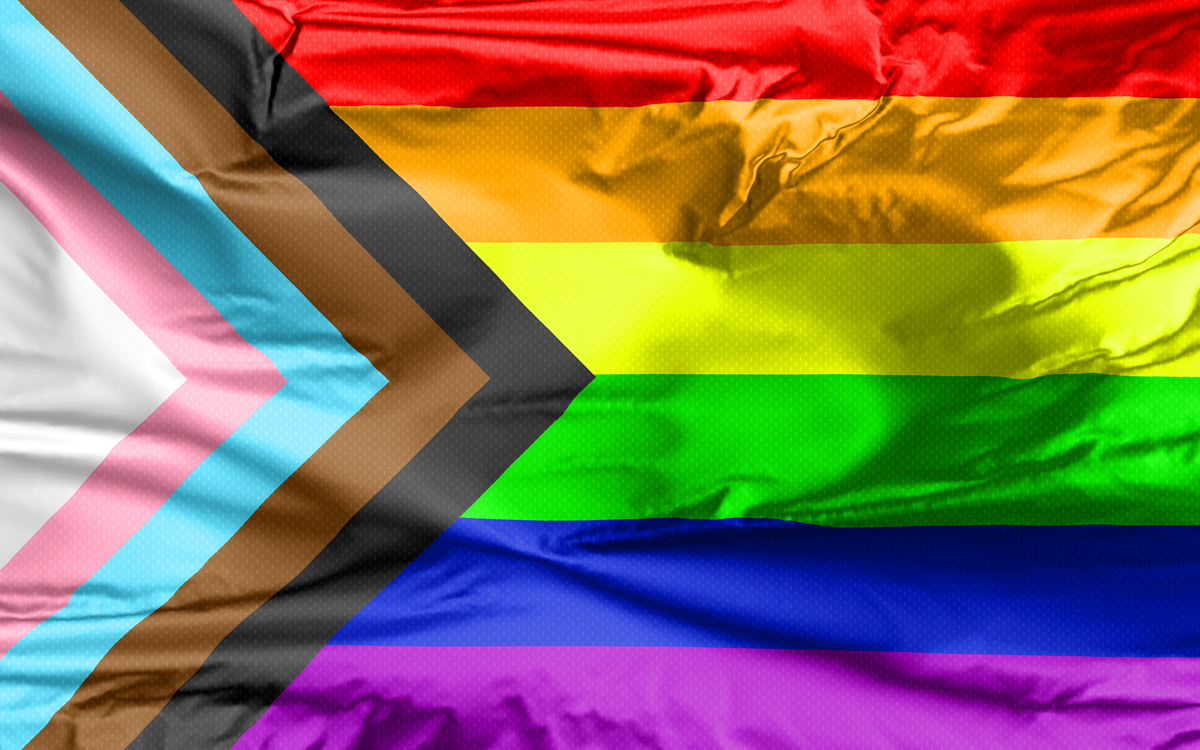 WASHINGTON – When the Washington Blade connected with activist and legislative researcher Erin Reed on Tuesday to discuss the new anti-LGBTQ bills that have been introduced in statehouses across the country, it was just as the news of an especially hateful proposal came across her desk.
Senators in West Virginia had teed up an anti-trans law that would criminalize "displays" that "shall include, but not be limited to, any transvestite and/or transgender exposure, performances, or display to any minor."
The move recalled anti-LGBTQ laws from the 1960s that criminalized the very existence of transgender and gender non-conforming persons as well as drag performers, while providing pretexts for police raids of LGBTQ establishments like the Stonewall Inn, Reed said.
For example, she said, many states once enforced dress codes that required people to wear at least three articles of clothing consistent with their sex assigned at birth.
Likewise, the West Virginia bill raises alarming questions about whether transgender parents and teachers in the state might be prosecuted, with a potential five-year prison sentence, said Reed, who is herself a transgender parent.
Additionally, the proposed legislation is "unconstitutionally vague," written so broadly that it would presumably become illegal to screen the film "Mrs. Doubtfire" or perform certain Shakespearen plays for an audience of minors if the measure were to pass, Reed said.
Less than three weeks into 2023, state legislatures have introduced nearly as many anti-LGBTQ bills as were introduced in the entirety of last year – and qualitatively, many of these new bills are more hateful than anything we have seen in decades, Reed said.
"I see an increase in both the number and in the cruelty towards transgender people," she said.
There are "new pieces of proposed legislation that go further than bills in 2021 and 2022," such as by "banning gender affirming care through age 26 in Oklahoma," and others that "target the drag community in ways that haven't happened in 30 to 40 years."
Fear and hate mongering over all-ages drag performances has been ratcheted up in the right-wing ecosystem, fueled by conservative media figures like Matt Walsh and Tucker Carlson, as well as social media accounts like Libs of TikTok and extremist militias, Reed said.
According to the ACLU, "As drag reality competitions and drag brunches become increasingly popular, backlash in the form of armed protests and intimidation of drag performers has followed."
Consequently, Reed said, this year for the first time anti-LGBTQ legislation has included measures targeting drag performances – with, so far, a dozen new bills. And the concern is not just that many of these proposed laws are draconian, like Nebraska's bill that would prohibit patrons younger than 21 from attending a drag show.
"Whenever I see those [laws] being proposed, I also see militant organizations storming in" to LGBTQ bars, schools, hospitals, and venues that host drag queen story hours, Reed said. "I see people trying to break into drag events and successfully doing so," disrupting them with violence and intimidation, she said.
"What I read into [the impetus behind these laws] is these legislators want to change the uniform of the people doing the storming," from militias comprised of far-right citizens to "people wearing badges."
Making matters worse, Reed said, there are "lots of cases where drag events have asked for local protection and not received any protection whatsoever."
Last month, organizers of a drag queen story hour-style event in Columbus, Ohio, had to cancel after they said police failed to work with them to protect participants from demonstrators affiliated with far-right groups like the violent neo-fascist Proud Boys. (Police dispute the organizers' account of events.)
The ACLU notes that, "Amidst this wave of anti-drag legislation and violence, drag performers and host venues across the country are moving to higher security or cancel performances altogether."
Looking at the slate of new statewide legislative proposals, many are a continuation of similar anti-trans themes that have emerged in recent years, but "we're seeing scary attempts to escalate things," Reed said.
For instance, bills that restrict or prohibit guideline-directed healthcare for transgender and gender non-conforming youth were introduced and passed in several states in 2021 and 2022, but new measures proposed this year would target adults as old as 26.
"It makes me wonder what their ultimate goal is," Reed said. "To ban transitions entirely?"
Every mainstream medical organization with relevant clinical expertise recommends age-directed gender affirming care according to clinical practice guidelines that are supported by a bevy of research and updated regularly to ensure best practices.
Still, right-wing figures have demagogued the issue and characterized responsible medical care as "experimentation" and child abuse.
Reed noted there are some "new wrinkles" in anti-trans healthcare bans that have been proposed this year.
For instance, she said, Indiana proposed folding gender affirming care into practices that would be outlawed under a conversion therapy ban – thereby conflating supportive and medically necessary healthcare with an abusive, ineffective practice that has been rejected by mainstream science and medicine.
Across the board, Reed noted, there is an increasing reliance on executive authority. This was previewed toward the end of last year, she said, pointing to Florida Gov. Ron DeSantis's weaponization of the state medical board and Texas Gov. Greg Abbott's weaponization of the Department of Family and Protective Services to, respectively, ban gender affirming care and prosecute parents for child abuse for facilitating their trans children's access to gender affirming care.
'The fight is on the state level right now'
Amid the onslaught of anti-LGBTQ legislation, Reed emphasized the need for coordinated action by the U.S. Congress, the Biden-Harris White House, progressive and pro-equality legal actors, and state legislatures, as well as local and national LGBTQ groups.
She noted that pro-equality interests have focused significant time, attention, and money urging Congress to pass the Equality Act, which is commendable and necessary, while the courts can provide (and, often, have provided) a path toward effectuating pro-equality policy.
At the same time, Reed said, for the foreseeable future federal legislators are unlikely to find a path forward for any major bills impacting LGBTQ people, while relying on the judiciary – particularly with the U.S. Supreme Court as it is currently construed – is far from a safe bet.
By contrast, "at the state level, we've seen the GOP focus time and attention and money and efforts on changing state laws," she said, adding, "it's important that we do the same."
Likewise, Reed said, "I also think we really need to support our local LGBT organizations and help lift them up as much as possible," particularly those located in more conservative and rural states, which largely do not earn commensurate resources and support.
"In places like North Dakota and Oklahoma, South Dakota, and West Virginia, we need to help the people who live there," Reed said, but also in blue states where significant progress toward LGBTQ equality has been made but there is still room for improvement. "Don't neglect your own backyard."
For instance, she said, the gay and trans panic defense is still legal in some progressive states.
"One of the biggest problems for people in some of these states criminalizing [healthcare for trans people] is they don't have resources to travel out of state," Reed said, noting that POLITICO has reported on the plights of people who have been forced to flee states with anti-trans laws.
And while "We have to take care of those people," Reed said, people should not be in a position where they must flee their home states. "We need federal action and federal protections," she said.
Thankfully, there is some movement on pro-LGBTQ state bills. Reed said she has seen more this year compared to last year, which is "a bit promising." She highlighted bills such as the proposal to protect gender affirming care in Maryland, access to bathrooms for trans youth in Minnesota, the ability to change information on birth certificates in West Virginia, and adoption by trans parents in Montana.