U.N. Development Program lauds Angola government for progress on LGBTQ+ rights
African country decriminalized homosexuality in 2021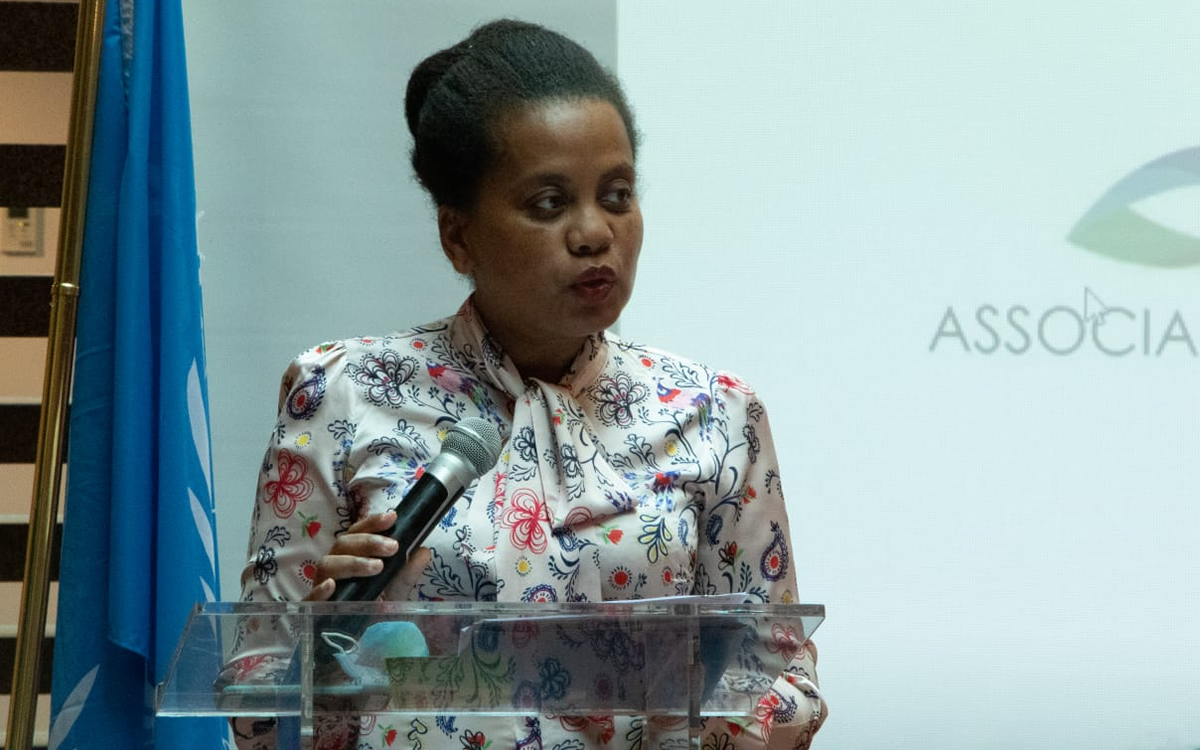 LUANDA, Angola — The U.N. Development Program has lauded the government of Angola for its efforts to protect LGBTQ+ rights.
Speaking on Monday at the opening ceremony of the See Beyond Your Prejudice photographic exhibition UNDP hosted alongside Associaçao Íris Angola, an LGBTQ+ rights organization, in Luanda, the Angolan capital, UNDP Angola Deputy Resident Representative Soahangy Mamisoa Rangers said the country was an example of gender inclusivity.
"Sexual and gender diversity deserve to be celebrated, instead of being a reason to exclude citizens from their rights and dignity," said Rangers. "Angola is an example on the African region that criminalizes discrimination based on sexual orientation, including in the workplace and for the Human Rights National Strategy, which clearly mentions LGBT people."
Rangers also said the UNDP is proud to work with its partners towards sustainable and inclusive development from which marginalized people can benefit.
Keke Petrova director of LGBT Angola, an Angolan LGBTQ+ rights group, said, however, the LGBTQ community is still stigmatized in spite of the government banning discrimination against it.
"Like everything in life, we are not everyone's cup of tea but gladly there are more and more people willing to learn and understand what we mean and what we have to say," said Petrova.
Petrova added they "fear for our safety" ahead of the country's general elections that are scheduled to take place in August.
"We have not seen an attempt directly of appealing the legalization of the 2SLGBTQIA+ community, but most news related to the 2SLGBTQIA+ community is often silenced here, through deaths, rapes and assaults," said Petrova. "So, my concern is that this year the government might try to act against us because of the looming presidential elections set to take place in August, as a result, I am really thinking about launching a preventive suicide and mental health line."
"However, besides that, the legalization of the 2SLGBTQIA+ community has brought more awareness to the people," added Petrova. "We keep on fighting through dialogues, conversations and we reach out and talk about 2SLGBTQIA+ issues to all that want to learn, and the feedback has been positive."
Angola's new Penal Code that decriminalized same-sex relations took effect on Feb. 10, 2021.
It introduced protections based on sexual orientation into some of Angola's non-discriminatory provisions and mentioned sexual orientation in the hate speech clauses of the Penal Code.
These changes were the first rewriting of colonial-era laws since Angola gained independence from Portugal in 1975.
A poll the International Lesbian, Gay, Bisexual, Trans and Intersex Association conducted in 2017 found 61 percent of Angolans support equal rights for gay, lesbian and bisexual people.
Sixty-five percent of them said they should be protected from discrimination in the workplace, while 27 percent of Angolans said people who are in same-sex relationships should face criminal charges.
The ILGA poll found 63 percent of Angolans support equal rights for Transgender people. Seventy-two percent of them said they should be protected from employment discrimination and 49 percent indicated their support for trans Angolans' ability to change their legal gender.
Congolese rebel group displaces Transgender people
Refugee camp residents consider Trans women sorcerers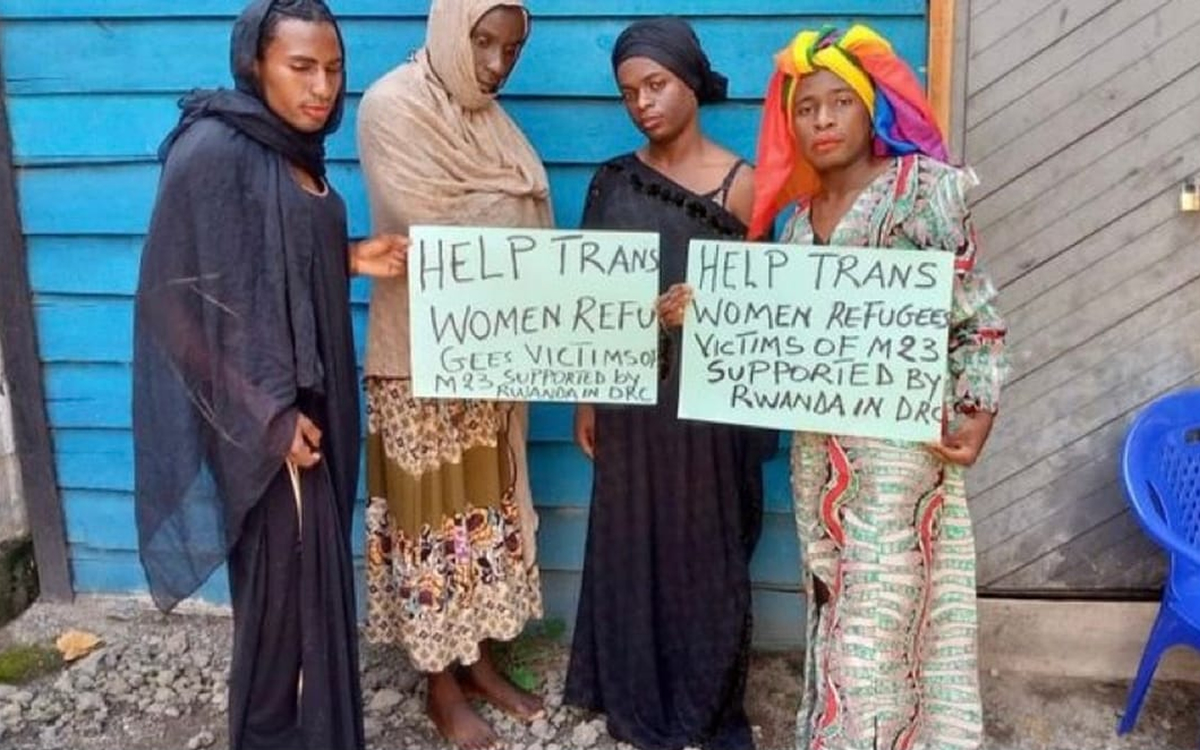 GOMA, Congo — M23 rebels in Congo's North Kivu province have displaced a number of Transgender people and left them even more vulnerable to persecution.
M23 rebels last November approached Goma, the province's capital city, and forced around 180,000 people to leave their homes. Jérémie Safari, coordinator of Rainbow Sunrise Mapambazuko, a Congolese LGBTQ+ and intersex rights group, told the Washington Blade that residents of the Kibumba camp where displaced people have settled have refused to assist trans people and have accused them of being sorcerers.
"Trans people went (through) war like everyone else," said Safari. "In the Kibumba camp where the displaced have settled, the local community there has refused Trans people access, accusing them of being sorcerers, bad luck charms and of being the origin of the war following their evil practice."
Safari said other displaced people who did not want Trans women in the camp have attacked them. Safari said these Trans women currently sleep in the street in Kibumba without food.
Safari, in addition, said the government has done little to help these displaced Trans people, even though consensual same-sex sexual relations are not criminalized in the country.
"The displaced people received help but not the trans people since they do not live in the camp and also the government is still extremely hostile towards LGBTIQA+ organizations in the DRC (Democratic Republic of the Congo). No LGBTQA+ organization can be legally recognized by the Congolese State," said Safari.
Safari said Rainbow Sunrise Mapambazuko currently needs funds to provide housing, food and medicine to the displaced Trans people.
"If we could have $7,000 (U.S. dollars) firstly for their survival, since we are afraid of their life and their health which is in danger, that would be of immense help," said Safari.
The M23 since last May has demonstrated increased firepower and defensive capabilities that have enabled the group to overrun U.N.-backed Congolese troops and hold territory.
The U.N. says the fighting between Congolese troops and M23 rebels has forced nearly 200,000 people to flee their homes.
Human Rights Watch has called upon the U.N., the African Union and governments to publicly denounce M23 abuses found to have been committed by other combatants, maintaining sanctions against senior M23 commanders and expanding them to those newly found responsible for serious abuses and senior officials from across the region complicit in them. Human Rights Watch also said any political settlement should not include amnesty for those responsible for human rights abuses and prevent responsible M23 commanders to integrate into the Congolese armed forces.
"The government's failure to hold M23 commanders accountable for war crimes committed years ago is enabling them and their new recruits to commit abuses today. Civilians in eastern Congo should not have to endure new atrocities by the M23," said Thomas Fessy, a senior DRC researcher at Human Rights Watch.
M23 sprung from elements within the Congolese army in 2012.
The rebel group claims it is defending the rights of Congolese Tutsi and originally comprised of soldiers who participated in a mutiny from the Congolese army in April-May 2012. They claimed their mutiny was to protest the Congolese government's failure to fully implement the March 23, 2009, peace agreement — M23 derives from this date — that had integrated them into the Congolese army.
The Congolese army and the U.N. Force Intervention Brigade defeated M23 in November 2013, and its members fled to Rwanda and Uganda. The group re-emerged in November 2021.
Daniel Itai is the Washington Blade's Africa Correspondent.