Newsom & cabinet members discuss California's homelessness crisis
$14 billion plan on homelessness is all-of-government approach focused on shelter, rehousing strategies, mental & behavioral health services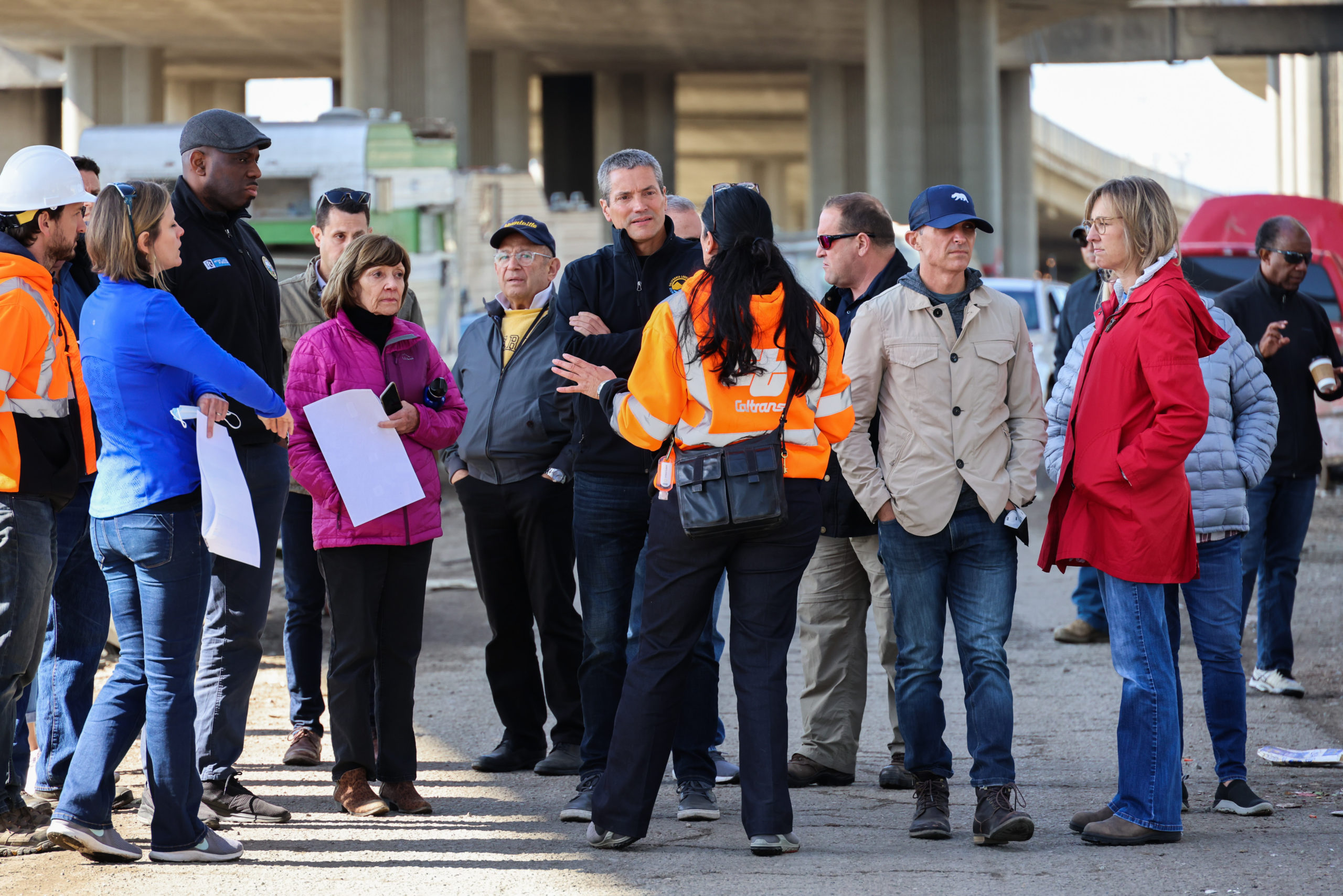 OAKLAND – Governor Gavin Newsom today took his Cabinet members to visit an encampment in Oakland to discuss the inhumane living conditions too many Californians face.
Since his first day in office, the Governor has made addressing homelessness a top priority for the administration. Governor Newsom's multibillion-dollar plan to tackle homelessness is an all-government effort to rapidly provide housing and connections to behavioral and physical health supportive services to individuals experiencing homelessness, while also cleaning up the state's highway off-ramps and encampments.
"Encampments across our state are constant reminders of the broken dreams of struggling Californians and their loved ones, making them a stubborn, painful issue that we must tackle with empathy," said Governor Newsom. "Homelessness affects us all and California is taking an all-hands approach to tackle this challenge from every angle."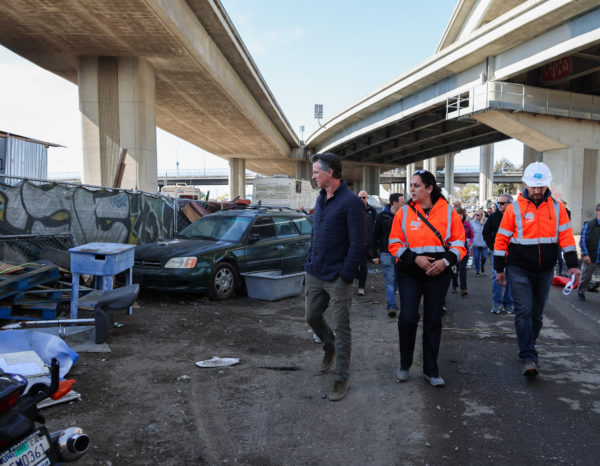 The Governor and his Cabinet members walked the Oakland encampment and spoke directly with people experiencing homelessness. The visit was followed by a Cabinet meeting to discuss the strategies all state agencies can employ to tackle the homelessness crisis.
Governor Newsom's multibillion-dollar homeless housing investments will provide more than 55,000 new housing units and treatment slots in the coming years. Building on last year's historic $12 billion investment to help get the most vulnerable people off the streets, the California Blueprint proposes an additional $2 billion investment in behavioral health housing and encampment rehousing strategies, creating a total $14 billion package to confront the homelessness crisis.
Earlier this year, the Governor announced $50 million in grants through the California Homeless Coordinating and Financing Council's Encampment Resolution Grant Program, which was created in partnership with the Legislature. The grants will serve 19 communities throughout California to provide shelter or housing for 1,401 individuals currently experiencing homelessness in encampments.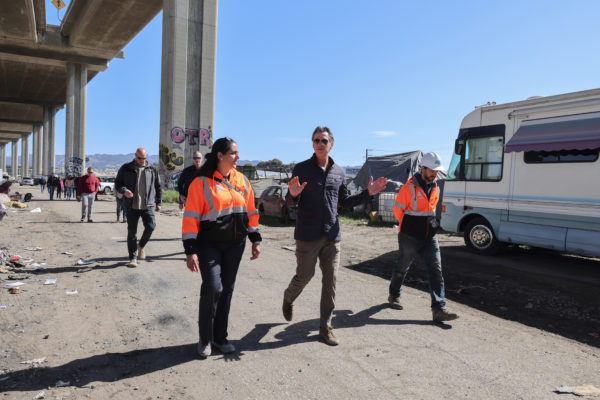 In September 2021, Governor Newsom set a goal of cleaning 100 encampments – since then, the state has cleaned 728 encampments, coordinating with local governments that provide housing and services to former residents. The state is on course to clear 1,000 encampments by the end of 2022.
Proud Boys disrupt San Lorenzo Library Drag Queen Story Hour
An active hate crime investigation is underway as is an investigation into the annoying and harassing of children

SAN LORENZO, Ca. – The Proud Boys, a right-wing extremist group whose membership espouse hate-filled anti-gay/anti-LGBTQ+ rhetoric disrupted a Drag Queen Story Hour event at the San Lorenzo Library located on Paseo Grande in Alameda County, California Saturday afternoon.
Lt. Ray Kelly, the Alameda County Sheriff's Office Public Information Officer said a that group of men described as members of the Proud Boys organization, entered the during library its "Drag Queen Story Time" event and made "homophobic and transphobic remarks against a member of the LGTBQ+ community who was hosting the event."
Witnesses reported that the men began to shout homophobic and transphobic slurs at the event organizer, drag queen Panda Dulce. The men were described as extremely aggressive with a threatening violent demeanor causing people to fear for their safety. Alameda County Sheriff's deputies were dispatched to the library and were able to de-escalate the situation.
Kelly indicated that there was an active hate crime investigation as a result of the actions of the five Proud Boys. According to Kelly, in addition to drag queen organiser Panda Dulce there were parents and minor children also present.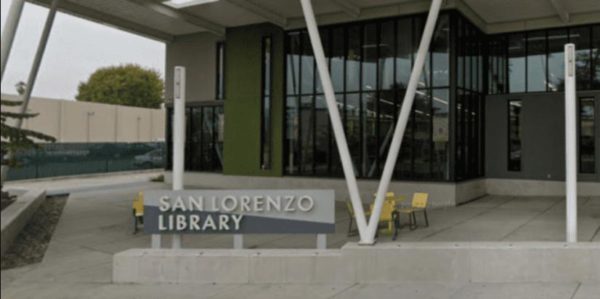 In a statement the Alameda County Sheriff's Department noted:
An active hate crime investigation is underway as is an investigation into the annoying and harassing of children.
ACSO will dedicate all resources to ensure the safety of members of our LGBTQ community. We will make sure any future events at the library are safe against hate speech and threats of violence. As we celebrate Pride Month, we will be swift in our response to any incidents where there are threats to harm members of this community.
We will release further details as the investigation continues.
Press Release: Hate Crime Incident at San Lorenzo Library by right wing hate group. https://t.co/SXp74X6jKT

— Alameda County Sheriff (@ACSOSheriffs) June 12, 2022
One law enforcement source told the Blade Sunday evening that the Proud Boys may have been induced to act based on a end of last month post by the vitriolic anti-LGBTQ+ Tik-Tok account which has been actively attacking the LGBTQ+ community and has spread the false narrative that LGBTQ+ people are "grooming" children.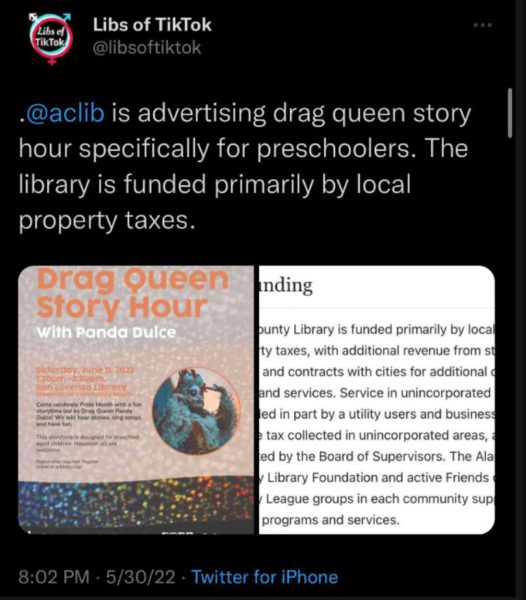 Reaction to the actions by the Proud Boys was swift. State Senator Scott Wiener, a member of the General Assembly's LGBTQ Caucus tweeted: "Yesterday: Proud Boys stormed Drag Queen Story Hour at San Lorenzo Public Library, wearing AK-47 shirts & calling the drag queen "pedophile" & "it." A right-wing militia was arrested for planning to attack Pride in Idaho. Direct results of political attacks on LGBTQ people."
Yesterday:

Proud Boys stormed Drag Queen Story Hour at San Lorenzo Public Library, wearing AK-47 shirts & calling the drag queen "pedophile" & "it."

A right-wing militia was arrested for planning to attack Pride in Idaho.

Direct results of political attacks on LGBTQ people.

— Senator Scott Wiener (@Scott_Wiener) June 12, 2022
Joe Fitzgerald Rodriguez, a local reporter for the Bay Area KQED public radio also tweeted on the incident:
UPDATE from Alameda County Sheriffs:https://t.co/6CFv2G4QGj

— Joe Fitzgerald Rodriguez (@FitzTheReporter) June 12, 2022
Panda Dulce, Kyle Chu, wrote on Instagram: "today a group of 8-10 proud boys stormed my drag queen story hour at san lorenzo public library."

The sheriff's office confirmed they wore black and yellow, colors associated w/Proud Boys.

There were no arrests, sheriffs said. pic.twitter.com/LMO6t4ajRY

— Joe Fitzgerald Rodriguez (@FitzTheReporter) June 12, 2022
"I left the room with the security guard. we hid in the back office while the other librarians called the sheriff.

when the sheriff arrived with backup, they escorted the protesters out. the protestors formed a line, tried to block the library exits and waited."

— Joe Fitzgerald Rodriguez (@FitzTheReporter) June 12, 2022
"then i returned to storytime and finished the fucking reading.

i eventually got out. i'm safe. i'll be fine.

drag queen story hours have always seen protesters. and i've always received hate mail.

but today hit different."

— Joe Fitzgerald Rodriguez (@FitzTheReporter) June 12, 2022
I'm linking Chu's Instagram, with permission: https://t.co/zOxRu8FoGZ

During the incident, Chu told me they had a "freeze response."

"I didn't know if they were armed. I was only acutely aware of the fact that neither myself nor any of the other librarians were." pic.twitter.com/Y5n2LtywDS

— Joe Fitzgerald Rodriguez (@FitzTheReporter) June 12, 2022
"Myself and other Alameda County elected officials are sending an open letter asking that Sheriff's Department and the district attorney to fully investigate and prosecute this as a hate crime," Dublin California City Councilman Shawn Kumagai told the Blade in a phone call Sunday.
Kumagai also sent the text of a letter that officials are planning on submitting which read in part:
"We, as out and proud LGBTQ+ officials and community leaders are outraged about the senseless act of hate caused during the Drag Queen Story Hour at the San Lorenzo Public Library on June 11th. We call upon the Alameda County Sheriff's Office and District Attorney to investigate and charge, to the greatest extent possible under the law, these acts of hate aimed at harming members of our community and our allies. Additionally, we urge our non-LGBTQ+ allies in offices across the region and state to provide additional support to our community during these increasingly challenging times.
On Saturday June 11th, The San Lorenzo Public Library hosted a Drag Queen Story Hour. This event was part of a series of events throughout the Alameda County Library system designed to celebrate PRIDE month and uplift LGBTQ+ stories and experiences. During this event, members of the Proud Boys, a right-wing hate group, stormed the story hour yelling homophobic and transphobic slurs, with the obvious intent of threatening and intimidating the participants of the event.
We strongly condemn this act of hate aimed at harming members of our community and our allies. We are living in a time where LGBTQ+ rights are under attack across several states in our nation, and sadly, even accepting and welcoming places like Alameda County are not exempt from this type of hate. Hate has no place in our community and must be met with decisive action."
Gay chocolatier opens new home of Michael's Chocolates in Oakland
The shop will offer house made marshmallows to pair with chocolate beverages- hot chocolate for kids and espresso drinks for adults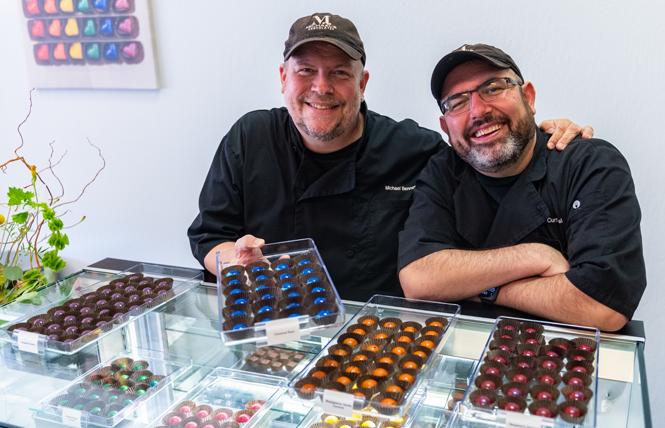 By Matthew S. Bajko | OAKLAND – Michael Benner began making his own specialty chocolate confections in 2015 and, within two years, had launched his own business under the brand name Michael's Chocolates. His husband, Curtis Wallis, assisted him with marketing and sales on a part-time basis.
Ever since then they had largely run the business out of their San Francisco home in the city's Mission Dolores micro-neighborhood, while renting a shared commercial kitchen in South San Francisco. His focus went from catering specialty events to adding online sales and getting local stores to sell his products.
The industry took note and routinely awarded Benner for his chocolate concoctions, from bars to caramels. He was named a 2021 6 Star Grand Master best chocolatier and confectioner in the U.S. by the International Chocolate Salon, which also had named his Bourbon Caramel Pecan bar as the best chocolate bar.
After surviving a brutal 2020 due to the COVID-19 pandemic wiping out many of the corporate events he would normally have been hired to provide sweet treats for, Benner is taking his chocolate business into a new stage. As of October 2 he now has his first brick-and-mortar retail location.
That Saturday he soft opened the new home of Michael's Chocolates at 3338 Grand Avenue in Oakland's Grand Lake district. The retail shop is a short walk from the city's Lake Merritt, which is home to the East Bay's largest farmers market on Saturdays, and from the Oakland LGBTQ Community Center.
"It literally came out of nowhere. We were not prepared," Benner told the Bay Area Reporter during a phone interview the day prior to his store's first day being open. "We were in survival mode."
For several years he had looked at renting a storefront in San Francisco but could never find a suitable space or a reasonable rent. Then came the global health crisis, and the money the gay couple had saved up for a retail location was diverted to keeping the business afloat last year.
"2020 was supposed to be the year we found a location but that didn't happen," said Benner. "The money we had saved for opening a store went to pay for the commercial kitchen and we scrambled to find enough business to keep us going."
Earlier this year Benner fielded a phone call from a fellow chocolatier with a tip that Michael Mischer, after 17 years of operating his own eponymously-named chocolate store, had decided that he was going out of business and was looking for someone to take over the lease at his Grand Avenue location. As it happened, Benner had thought about opening in the area but ruled it out because he didn't want to compete with another chocolate maker, nonetheless one also named Michael.
After talking to Mischer and checking out his location, which totals about 1,500 square feet and features an 18 foot high ceiling, Benner put in an offer. He beat out another chocolatier who also vied for it.
"We prevailed and we bought out not only his lease but also all of his equipment. It is a full turn-key kitchen," said Benner. "It has an ADA-compliant bathroom, sinks, and refrigerators. It kind of happened by serendipity; it was meant to happen."
Once their deal was finalized, Mischer announced his last day would be July 10 and notified his customers that "another, different Michael, will take over the store on Grand Avenue and will continue to produce and sell his own chocolates and other products."
Benner moved in August 1 and gave up the lease on the commercial kitchen he had been renting. All of his chocolates will now be made on-site at the , store, where he carved out a roughly 650 square foot space for the retail section.
"We did a major facelift of the space for the retail aspect. We painted, put up different shelving and are giving it our touch," said Benner, noting that one defining design feature is the giant pink stylized M from his brand logo on the back wall that has been painted black to match the colors of his packaging. "It is a lot of room for a little chocolatier."
Twelve of his most popular chocolate bonbon flavors will be available for purchase at the store. He is also debuting several new items he cooked up during the COVID pandemic, from new chocolate bars to fruit jelly confections.
The shop will also offer house made marshmallows to pair with chocolate beverages. There will be hot chocolate for kids and espresso drinks for adults.
Benner hired one of Mischer's employees to stay on and help him run his own shop. And he will continue selling the same Berkeley-based brand of gelato that Mischer offered, Almare Gelato.
He is already making plans to offer various classes, from making chocolate to pairing the sweet with wine, as he previously worked as a sommelier. His next-door neighbor is a natural wine shop he hopes to collaborate with on the classes and other events.
"It will work out well when COVID finally settles itself down. I love doing classes and things like that," said Benner, who doesn't have a liquor license of his own.
For now Benner plans to be open Tuesdays through Sundays from noon to at least 6 p.m. and likely as late as 8 or 9 p.m. depending on the foot traffic in the neighborhood. Customers can also expect expanded hours during the holiday shopping season in mid-November through December.
To learn more about his chocolates, visit https://www.michaelschocolates.com/#/
********************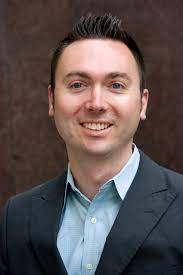 Matthew S. Bajko is the Assistant Editor of The Bay Area Reporter
The preceding article was previously published by the Bay Area Reporter and is republished by permission.