Homophobia is costly- the Disney debacle in Florida
The Republican lawmakers and Governor DeSantis seem to have as the old saying goes, "not done their homework"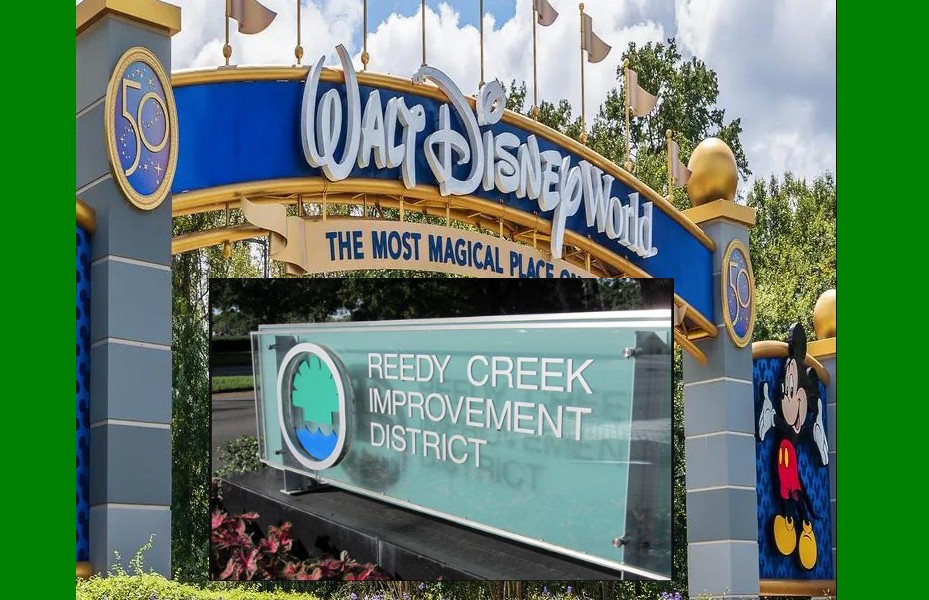 LOS ANGELES – In the weeks that followed the debate and then passage of Florida's 'Don't Say Gay' law, the feuding between Republican Governor Ron DeSantis with his legislative allies and the Walt Disney Company culminated in the Republican-controlled legislature passing a bill Thursday that repeals a 55 year-old law allowing Disney World to operate as a self-autonomous quasi governmental body.
The reasoning according to DeSantis and Republicans is that the Walt Disney Company was trying to impose their "woke" liberal agenda on Florida's residents by publicly calling out the governor and GOP lawmakers for their transparent homophobia and transphobia now codified into that widely criticized law.
The problem according to political observers and journalists is simply that in their collective haste to "punish" Disney for taking a public stance on a measure designed to erase LGBTQ+ people from discussions in the state's schools, it has become obvious that Florida Republicans have just created a massive economic deficit for the Central-Florida jurisdictions of Osceola and Orange counties as well as collateral negative fiscal impact on the City of Orlando.
The Republican lawmakers and DeSantis seem to have as the old saying goes, "not done their homework."
Orlando based political and general assignments journalist with ABC affiliate WFTV 9, Nick Papantonis, outlined the impact in a Twitter thread:
🧵: There's a lot of misinformation and confusion about what the end of Disney's Reedy Creek district means for the company and for taxpayers.
Here's what I know, after talking to lobbyists, lawyers and tax officials: pic.twitter.com/gllnJVvKqL

— Nick Papantonis WFTV (@NPapantonisWFTV) April 21, 2022
"There's a lot of misinformation and confusion about what the end of Disney's Reedy Creek district means for the company and for taxpayers. Here's what I know, after talking to lobbyists, lawyers and tax officials:
For those of you who haven't heard, Reedy Creek is the special tax district of Walt Disney World. It's essentially its own city. Disney pays taxes to Reedy Creek, which operates a fire department, planning department, sewer treatment plant and public works department.
On the other hand, Disney controls Reedy Creek, which means if they want to build a new hotel or highway, they just have to ask themselves for permission. The biggest loss for Disney is the end of that control.
It's a lot easier to ask yourself for permission than to go to the county. While they already follow all laws and building codes and they'll still get everything they want, it's going to slow the process down.
Potholes might develop on roads that they no longer pave themselves. They can't just call a meeting or alter their comprehensive plan on a random Friday. They also can't quickly finance new public projects like a fire station.
The bigger issue for everyone else is the tax revenue. Disney already pays the same local property taxes as every other landowner. Reedy Creek added its own tax on top of that to pay for its projects. That tax – $163 million per year – is illegal outside of the district.
When Reedy Creek goes away, that tax goes away, and Orange and Osceola Counties can't do anything to get it back. However, the counties will now be responsible for all of the services Reedy Creek provides and all of the debt it has accumulated.
They can't raise sales taxes or impact fees. So, the counties will have to raise property taxes. They must tax every property equally – not just Disney – and therefore it's expected that property taxes in Orange County will rise as much as 25% next June.
Osceola, much smaller and less wealthy, is still working on its figures, but it's going to be a hit to them as well. Many of that county's residents work for Disney or have jobs derived from WDW. They'll be paying their employer's taxes now.
Lawyers largely agree that the state followed all the laws while doing this. They agree Disney may sue, but probably doesn't have much ground to stand on. Some believe a vote of residents or delegates from the district is required to make this legal.
That doesn't appear to be the case here because a vote was never held to implement the district 55 years ago. Essentially, Disney will lose some control of its property, and get a $163 million per year tax break and ~$1 billion of debt passed onto taxpayers.
Some things will be negotiated – Disney still controls Bay Lake and Lake Buena Vista, two actual towns within RCID. Lawmakers might backtrack from this plan during the next session now that they're realizing what they've done.
However, aside from maybe taking away the company's ability to build a nuclear plant, we have yet to hear how this benefits Florida and especially the local residents in any way.
The residents, by the way, had no say in this vote, no say in their property taxes going through the roof, and no desire to have their communities staring at financial ruin. There is the question of whether the county CAN raise property taxes by 25%, well above the 10% or 3% cap the state imposes. If not, that likely means budget cuts unless the state steps in.
ANSWER: the cap is only on the assessed value of the home. The county would pass the 25% increase as a millage rate.
The most-asked question from my thread: Does Disney have a First Amendment case against the State of Florida? 1A attorneys say they have solid ground to stand on. Retaliation for speech is not allowed, plain and simple."
In response to Papantonis' research as outlined, Out Rep. Carlos G Smith the state's first Latino LGBTQ+ lawmaker who represents a portion of the Orlando metropolitan area noted;
Thanks for breaking this down @NPapantonisWFTV. The legislative staff analysis doesn't mention these impacts because Republicans rammed it thru without time for review. Squashing dissent against the #DeSantis regime is the only thing that matters to these Republicans.
ABC affiliate WFTV 9 reported that DeSantis signed the bill to dissolve Disney's Reedy Creek Improvement District on Friday afternoon. The state House passed the measure on Thursday. Orange County Tax Collector Scott Randolph said dissolving the district could be a massive financial burden for taxpayers.
"The moment that Reedy Creek doesn't exist is the moment that that those taxes don't exist," Randolph said. "You're literally taking $163 million a year of taxes that Disney pays for Reedy Creek and wiping it down to zero."
"I don't see that Orange County doesn't raise property taxes by 20% to 25%. That's what Orange County would probably have to do to cover this financial situation." Orange County Mayor Jerry Demings said if this moves forward, it will be catastrophic for the budget.
A young far anti-LGBTQ+ right-wing political activist, Danny De Urbina, a member of Turning Point USA and its chapter president at the George Washington University in Washington D.C. tweeted his endorsement of DeSantis' actions:
Straight 🔥🔥🔥 from America's Governor @GovRonDeSantis as he SIGNS multiple bills to protect children from CRT and treat Disney Inc. the same as any other company in Florida

Watch this WHOLE thing… Believe me. pic.twitter.com/9u2rPxgpTW

— Danny De Urbina (@dannydeurbina) April 22, 2022
The ongoing political drama solicited this response from President Joe Biden at a Democratic Party fundraiser in Seattle Thursday evening after being asked by a reporter for his thoughts on the subject:
"This is not your father's Republican Party. This is a different deal, not a joke. And it's not just Trump, it's the MAGA crowd. It's all about things that have nothing to do with traditional conservatives I respect conservatives. There's nothing conservative about deciding you're going to throw Disney out of its present posture because, Mickey Mouse? In fact, you think we should not be able to say, you know, 'gay'? I mean, what's going on here? What the hell is going on here? And it's just, it's so, I don't think this is where the vast majority of the American people are," the president said.
For its part, the media conglomerate has been silent this past week over the Florida Legislature's action to repeal the Reedy Creek Improvement District. Some observers noted that Disney's silence leaves much unknown about how the company will respond, and what its next steps will be. The legislation would take effect in June 2023.
Activists gather & prepare for post-Roe America
"For a country about personal rights, we're doing an awful lot right now to limit women's ability to do what they want with their body"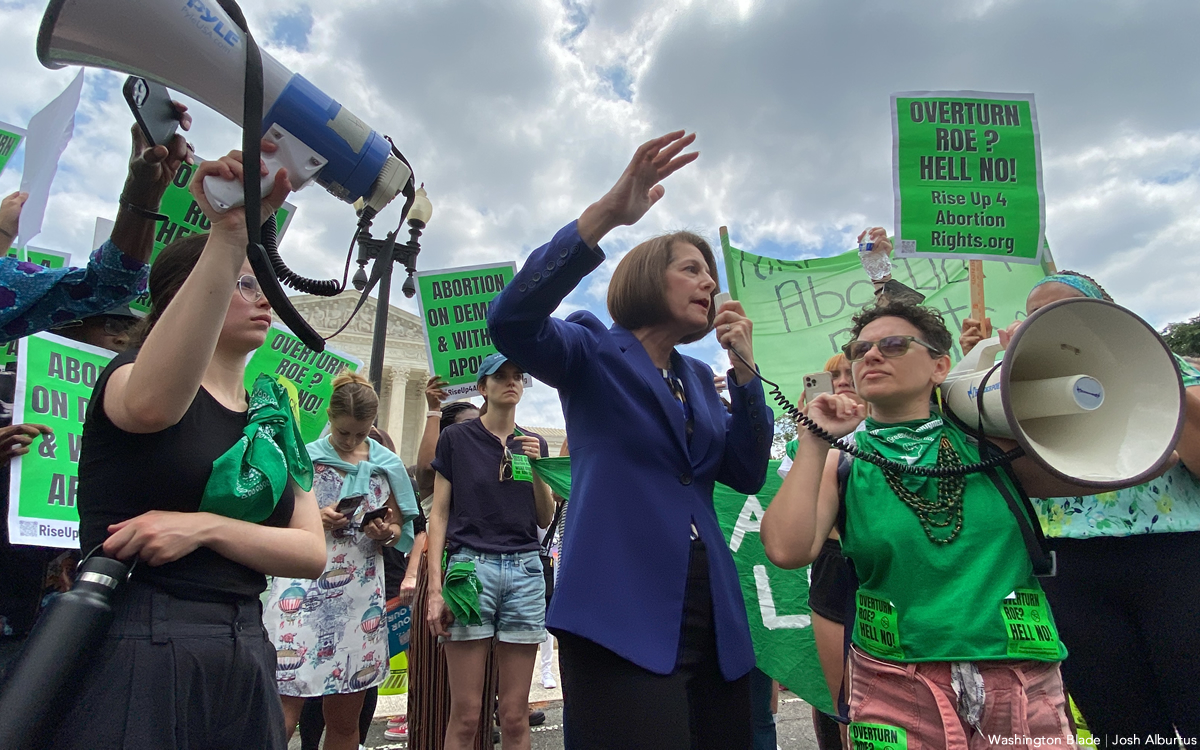 WASHINGTON – Just moments after the U.S. Supreme Court delivered its decision on Friday overturning its landmark ruling in Roe v. Wade that had legalized abortion nationwide for 49 years, hundreds gathered outside the Court to both protest and celebrate the ruling.
In its decision in Dobbs v. Jackson Women's Health Organization, the court found that access to abortion was not a right guaranteed under the language of the Constitution. The ruling effectively reversed the Court's 1973 decision that mandated states to allow the procedure in most instances throughout the first two trimesters of pregnancy.
Immediately following the decision, a group of those welcoming the decision quickly gathered in front of the Court.
Anna Lulis, a member of Students for Life of America, welcomed the decision as long overdue.
"I think it is a huge victory for human rights," Lulis said. "For far too long, since 1973, human rights have been infringed upon at an egregious level."
Beside Lulis, Olivia Cowin, a member of Survivors LA, shared a similar reason for gathering outside the Court.
"This is a celebratory day to show our support of the unborn and of women and support both simultaneously," Cowin said.
But not all that were gathered immediately after the unveiling of the decision were encouraged by the decision's implications.
Across the way from the Court's west side, Virginia resident Alysia Dempsey feared what the verdict in Dobbs could mean for women's rights – including those of her four daughters.
"I believe in women's rights, and I think that our country needs to be able to start listening to each of our stories and to have empathy for them in so many different aspects," Dempsey said. "I feel like we're sort of going back in time with regard to so many rights."
Hailing from Arizona, a state under Republican legislative leadership where Planned Parenthood has already halted all abortion services pending legal clarity from the state, Hannah Waldrip cast doubt on the sincerity of anti-abortion rationale.
"For a country about personal rights and personal freedom, we're doing an awful lot right now to limit women's or people with uterus' ability to do what they want with their body," Waldrip said.
Stark divisions between the groups arose as ideological lines could be seen physically emerging between the crowds.
And as the day progressed, those protesting the ruling quickly began to outnumber its supporters.
Among the protesters, the color green – a symbol for abortion rights activists borne out of similar movements in Argentina and elsewhere in Latin America – could be seen lining the street on scarves, shirts, stickers, and elsewhere.
As the crowd continued to grow and green began to eclipse the heat-simmering pavement beneath the protesters, several speakers emerged amidst the epicenter of the crowd.
One of those speakers was Elizabeth Paige White, a civil rights lawyer working under nationally renowned attorney Ben Crump.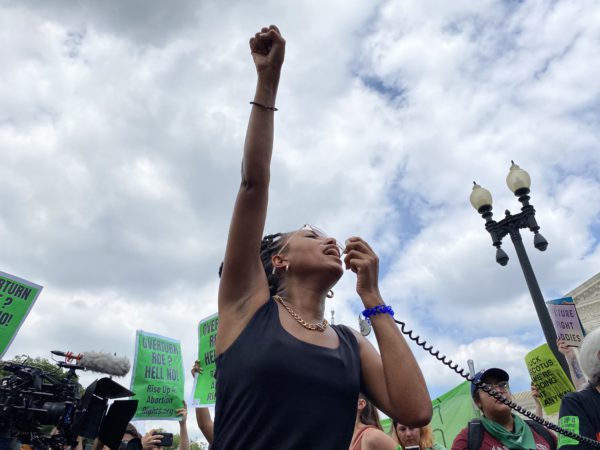 In connecting Friday's decision to the United States' history of patriarchal structure, White called into focus the disproportionate effect the repeal of nationwide abortion access is widely expected to have on minorities and communities of color with less resources to travel to abortion-friendly states.
"As Black, Brown, and all these women out here know, we've been fighting for our rights since the inception of this country," White said. "We have been fighting to have rights over our own bodies since the inception of this country."
With the repeal of Roe, decisions on whether to legalize or outlaw abortion will now be left to each individual state. As of Friday's ruling, 13 states are now set to make almost all abortions illegal, having passed "trigger bans" designed to take effect in the immediate aftermath of Roe's demise or within the next month.
However, many abortion rights supporters, activists and lawmakers still fear that the curtailing of reproductive rights won't end with the Court's decision.
Sen. Catherine Cortez-Masto (D-Nev.) addressed the crowd with a message of urgency and revelation.
"At the end of the day, let me just say, here's what's next," Cortez-Masto said. "I've got some of my Republican colleagues based on this decision who are already drafting legislation to restrict abortion in this country. If they win this election, they will pass that legislation and it will preempt all of the state laws we have protecting women in this country when it comes to our right to choose."
Even beyond nationwide restrictions on abortion, some fear even more privacy restrictions are now under fire.
Such privacy rights have been established in other past Supreme Court rulings based on the same Due Process and Equal Protection clauses of the 14th Amendment that justices used to interpret nationwide abortion rights nearly half a century ago. These cases have included those that established access in all states to contraception, same-sex marriage, interracial marriage, and the right to same-sex relations in the privacy of one's home.
Among the crowd gathered on Friday, such was a sobering outlook for many.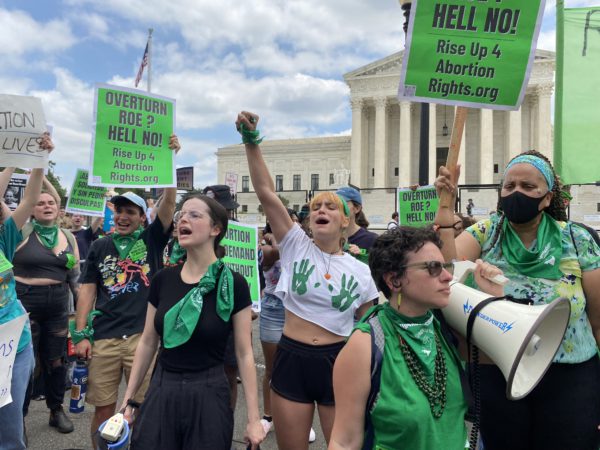 "Gay marriage, interracial marriage, gay sex are going to fall like fucking dominoes if we let them," one speaker outside the Court said.
Anger and fear could be felt permeating those in the crowd. Activists, however, were determined to turn their compatriots' fears into action and change.
"We must get out in the streets," the speaker said. "We need millions of people all around the country because this affects every single living, breathing person in this country whether they realize it yet or not."
Among protesters' trepidation regarding the future of women's rights and privacy rights in America, many clung to a message of hope as speakers and activists pledged to continue fighting.
"They have worked to keep us down, they worked to keep us enslaved, they worked to keep us out of the polls, they worked to keep us out of political offices, they've worked to keep us in the home," White said. "But we know, as we fought for centuries, that this will not stand."
Newsom & others move to protect abortion rights after SCOTUS ruling
The decision of allowing access now falls to individual states. 13 states have passed 'trigger laws' that criminalize & outlaw abortion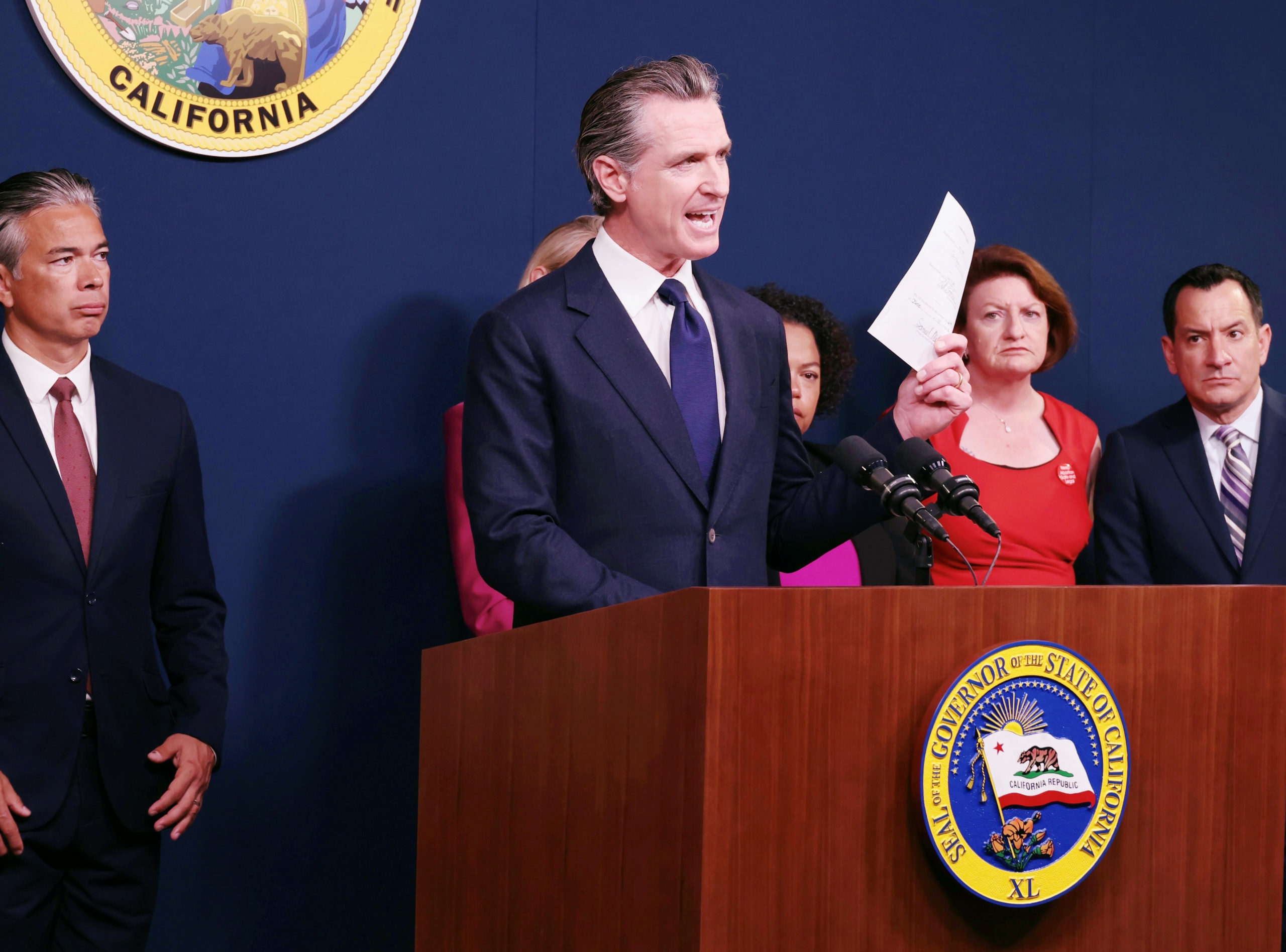 SACRAMENTO – Hours after the U.S. Supreme Court's decision to overturn Roe v. Wade, Governor Gavin Newsom announced that he others will take action on legislation to protect patients and providers in California against abortion bans in other states.
Also in response to the decision this morning, Newsom and the governors of Oregon, Kate Brown and Washington State, Jay Inslee launched a new Multi-State Commitment to defend access to reproductive health care and protect patients and providers.
California, Washington, Oregon Commitment to Reproductive Freedom: West Coast Offense:
Governor Newsom has proposed a $125 million Reproductive Health Package to expand access for women and help prepare for the influx of women seeking reproductive health care from other states. In addition, the California Legislature has introduced a constitutional amendment to enshrine the right to abortion in the state constitution.
Governor Newsom recently signed legislation eliminating copays for abortion care services and has signed into law a legislative package to further strengthen access and protect patients and providers.
With its ruling Friday the high court leaves the decision of whether to allow abortion access now falls to individual states. 13 states have already passed so-called 'trigger laws' which will criminalize and outlaw the procedure.
The following shows the state, the penalty and when the trigger law takes effect:
Newsom today signed legislation to help protect patients and providers in California against radical attempts by other states to extend their anti-abortion laws into California.
"With today's Supreme Court decision to endanger the health and safety of millions of women across the country, California must do everything it can to protect the fundamental rights of all women – in California and beyond," said Governor Newsom. "We know that states like Missouri are already targeting women seeking abortions in states like California where abortion remains legal. This legislation seeks to protect women and care providers from civil liability imposed by other states, and sends a clear message that California will continue to be a safe haven for all women seeking reproductive health care services in our state."
The Governor signed AB 1666 by Assemblymember Rebecca Bauer-Kahan (D-Orinda), which seeks to protect those in California from civil liability for providing, aiding, or receiving abortion care in the state.
The measure comes as lawmakers in Missouri advance a proposal to allow private citizens to sue Missouri residents who have an abortion out of state, as well as their providers and anyone who assists them in seeking an abortion. Texas has enacted a six-week ban on abortion with a private right of action enabling individuals to sue abortion providers and others.
U.S. Senator Marco Rubio has introduced a federal bill to exclude employers from receiving tax breaks if they provide abortion access to their employees.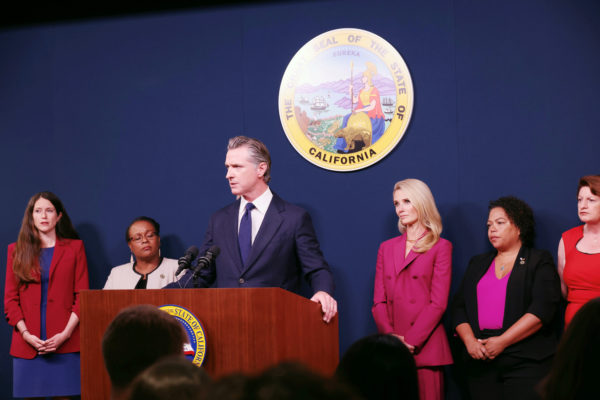 "This is a dark moment for our country," said California Attorney General Rob Bonta. "This court's decision is outrageous, unprecedented, and dangerous. It blasts our nation back into the dark ages. Millions are now facing a stark reality when it comes to their right to choose. People all across the nation — their bodies, futures, and families — will be hurt by this decision. But, in California, we refuse to turn back the clock and let politicians exert control over a person's body. Despite the decision, abortion remains fully protected here in California. We'll keep fighting to strengthen and expand access to safe and legal abortion. As Attorney General, I will use the full force of the law and the full authority of my office to protect reproductive healthcare for every person who seeks it in California. Abortion remains a legally protected right in our state and, in California, we won't backslide."
"Extremist laws – now deemed constitutional – will pursue our incredible providers for the care they provide, will penalize vulnerable people desperately seeking abortions in a last effort to control their own lives," said Assemblymember Bauer-Kahan. " In California we won't let this happen. I am incredibly grateful to the governor for signing AB 1666, which will immediately protect anyone in California from civil penalties for abortion. We will continue to fight and be a sanctuary for abortion care."
In a press release, the Los Angeles County Department of Public Health relayed that Abortion remains safe and legal in California and Los Angeles.
"We know from decades of research that the impact of criminalizing abortion falls hardest on people who already struggle to access health care, including abortion. This includes low income women, women of color, immigrants, youth, and LGBTQI+ people, many of whom will now potentially face the prospect of forced childbirth. All people, both residents of LA and those residing elsewhere, must have access to safe, legal, high quality abortion services," Public Health said.
"Los Angeles County's Safe Haven Abortion Project is underway. It seeks to improve access to abortion and to the full spectrum of reproductive health services for Los Angeles residents and for people who travel here from states where abortion is no longer an option. Access to the full spectrum of sexual and reproductive health care, including abortion, is fundamental to the health of individuals, families, and communities."
"Make sure your friends and families know: In California and here in LA County, abortion remains safe and legal," the statement concluded.
For more information about abortion as a public health issue, see http://publichealth.lacounty.gov/owh/Abortion.htm.
Hate group: Mattel is destroying gender lines with Laverne Cox Trans doll
"It is outrageous that a toy company is marketing and normalizing gender dysphoria to young children" AFA's Monica Cole said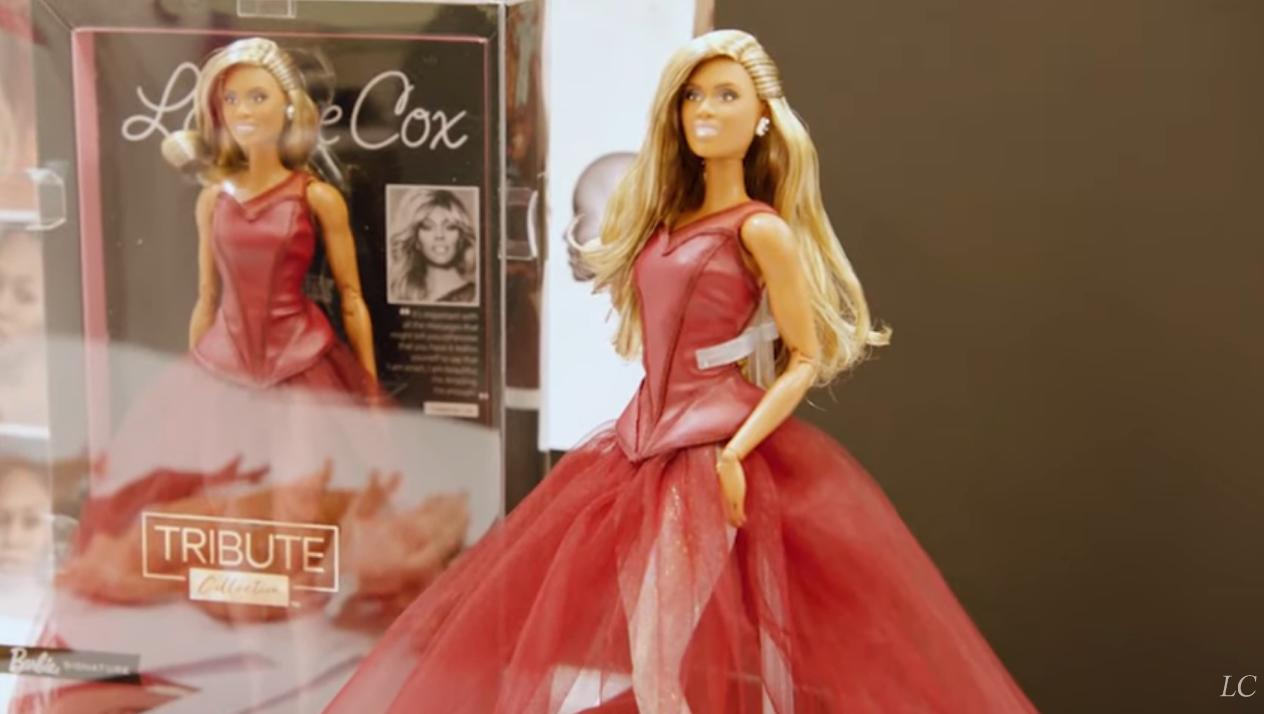 TUPELO, Ms. –  A leading national anti-LGBTQ+ group,  The American Family Association, (AFA) listed by the Southern Poverty Law Center as a 'Hate' group for its lies and propaganda about LGBTQ+ rights and expression, pornography, and abortion is attacking Mattel toy company over its Laverne Cox Barbie Doll.
One 'division' of the AFA is the notorious One Million Moms headed by AFA's Monica Cole who this past week sent out a newsletter attacking Mattel claiming that the toy company is hoping to have this doll placed in playrooms solely to "indoctrinate children into transgenderism and homosexuality."
In the newsletter Cole also writes that "Mattel is purposely confusing our innocent children by attempting to destroy very definitive gender lines. Why can't the toy manufacturer let kids be who God created them to be instead of glamorizing a sinful lifestyle?"
Full Text of the One Million Moms' newsletter:
Mattel recently announced its launch of the first transgender Barbie doll as part of its #TRANSISBEAUTIFUL Tribute Collection, modeled after the Orange Is the New Black actor and LGBTQ activist Laverne Cox.
Mattel created a Barbie in his likeness, wearing a red, sheer evening gown with a faux leather strapless top, a tulle skirt, and a sparkly silver bodysuit underneath.
The Laverne Cox doll promotes cross-dressing and glorifies the transgender lifestyle. Mattel has created a toy glorifying gender inclusivity while ignoring one's biological sex.
Barbie is also donating in Cox's name to TransFamilySOS, an organization that describes its mission as a service "that saves lives by shaping a gender affirming and accepting community."
It is outrageous that a toy company is marketing and normalizing gender dysphoria to young children.
Parents who are not already aware of the company's agenda, please be forewarned: Children are being "groomed" by Mattel trans Barbie dolls under the disguise of playtime.
Now, parents will have to deal with the confusion experienced by their children when these inappropriate dolls are seen on store shelves such as Walmart, Target, and other stores that sell Barbie dolls.
This new product makes it clear that Mattel has an LGBTQ agenda that it is forcing on extremely young audiences.
Obviously, Mattel is attempting to "groom" the next generation. This company should be enhancing learning during play, but instead, Mattel is brainwashing our preschoolers and elementary-age children.
Mattel is hoping to have this doll placed in playrooms solely to indoctrinate children into transgenderism and homosexuality.
The company's goal is to have everyone, even toddlers, accept the LGBTQ lifestyle, but a toy company should never even consider taking part in this abomination.
Mattel is purposely confusing our innocent children by attempting to destroy very definitive gender lines. Why can't the toy manufacturer let kids be who God created them to be instead of glamorizing a sinful lifestyle?
Mattel is choosing to push an agenda of sexual confusion instead of promoting its actual product.
This PC-inclusive toy blurs the biological distinctions between males and females. Introducing children to this lifestyle choice is contrary to what conservative, Christian parents are teaching their children about God's design.
Take Action now and demand that Mattel remove the controversial doll from shelves immediately!
TAKE ACTION: Sign our petition urging Mattel to discontinue production and sales of its trans Barbie doll immediately. Be sure to share this campaign with your friends and family!
BTS with Barbie!| Laverne Cox:
Editor's Note: Order your Laverne Cox Barbie here!