Buckle up folks! 'Staley vs Gilead' lawsuit could cost Big Pharma billions
The lawsuit accuses the drug companies of colluding to keep generic ingredients out of the combo pills and keep profits high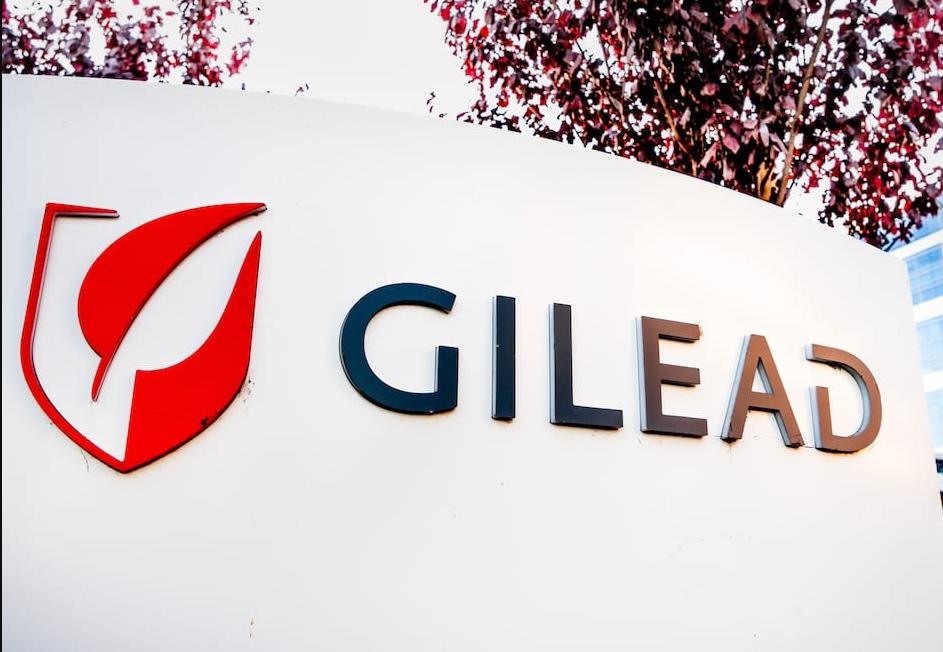 By Mark S. King | BALTIMORE – This is big news indeed.  Pay attention. The latest twist in the Staley vs. Gilead lawsuit could signal very bad things for Gilead Sciences and Janssen Pharmaceuticals. As the case barrels forward (a jury date is set for March 2023), it could eventually cost Big Pharma billions of dollars in profits that the lawsuit contends has been the result of illegally shaking down people living with HIV and our insurers.
In this new, exclusive interview with My Fabulous Disease, lead plaintiff and HIV activist Peter Staley breaks down the latest legal developments, and he doesn't hold back on the juicy details – including why the proposed removal of one of the pharmaceutical defendants actually helps the activists' lawsuit.
The case is a thrilling example of what happens when HIV activism takes its ferocious ingenuity from the streets to the courtroom. The ramifications could even extend beyond HIV and apply to people taking high-priced medications for other illnesses.
Let's walk through the basics of the lawsuit and get Staley's take on what it all means. This can be wonky stuff but it's worth it. We all have skin, and dollars, in this game.

The basics of the "Staley et al vs. Gilead Sciences" lawsuit
The private agreements between Gilead, Janssen, and Bristol Myers Squibb, hidden until recently from prying eyes, allegedly sought to keep the cost of HIV medications at about $40,000 per year, per patient, even after ingredients in "combo" medications (pills containing more than one drug, sometimes made by different pharma companies) became generic, which typically makes the medication far less expensive.
"This whole case is about the contracts between the pharmaceuticals about these generics," Staley explained. "Deep in those contracts is language that keeps generics out of the combo pills. If one of the drugs in the combo goes generic, the companies agreed not to use the generic version in the combo. That's what the whole case is about."
The lawsuit accuses the drug companies of colluding to keep generic ingredients out of the combo pills, thereby maintaining a cost of HIV medications of around $40,000 per year, per patient. I won't bother adding "allegedly" every time I tell you about Big Pharma's sleazy behavior. When dealing with Big Pharma, it's a given.
There are two mirror-image lawsuits happening, by the way, the second being a "copycat" lawsuit with different plaintiffs involved. For simplicity, we're going to focus on Staley vs Gilead, the lead suit in this fight. Among the plaintiffs alongside Staley are fellow HIV activists Gregg Gonsalves, Brenda Goodrow, Andrew Spieldenner, Robert Vázquez and Jason Walker, along with other consumers.
What the proposed Bristol Myers Squibb settlement really means
Last week it was announced that one of the defendants, Bristol Myers Squibb, has proposed settling its portion of the lawsuit for $10 million. Media reports left the impression that this was the beginning of the end of the lawsuit, and for a cheap price tag at that. Nothing could be further from the truth.
First, Bristol's settlement has to be approved by the judge of the antitrust case. That hasn't happened yet. But more importantly, the proposed settlement plays right into the hands of Staley and crew by isolating the remaining defendants, Gilead and Janssen, who have far more financial exposure.
And get this. The proposed settlement wasn't even Bristol's idea.
"We went to Bristol to suggest a settlement," Staley revealed. "There was very little liability left on the line for them"
Why? Because Evotaz, the Bristol drug involved in this, is an older HIV medication that very few patients use anymore. The $10 million settlement would reimburse co-pays spent on the Bristol drug that would have cost much less if the generic component had been used. (The lawsuit can only seek damages for the last five years, because of the statute of limitations for antitrust cases, Staley noted.)
But Staley isn't nearly as interested in money as much as the other terms of the proposed settlement. And those terms are much more ominous for Janssen and Gilead, the remaining defendants. Of all the patients newly diagnosed with HIV, 90% will begin a treatment regimen that includes a Gilead drug. Their exposure in this lawsuit cannot be underestimated.
As part of their settlement agreement, Bristol would walk away from their secret agreement with Gilead, allowing a generic to be used in their combo medication. Even though Bristol released a boilerplate statement denying any wrongdoing, blah blah blah, their proposed settlement breaks the former, secretive agreement and repays the people who suffered financially as a result. Actions speak louder than words, and these actions say quite a lot.
"We never launched this case for money," Staley said. "We launched this case because we exposed this illegal pharma practice. By getting Bristol to walk away, it's telling the world and the judge that one of the big defendants knows that this agreement between them wasn't kosher."
"Bristol just threw Gilead and Janssen under the bus," Staley added, "and they said to them, 'you're on your own.'"
How the lawsuit could play out from here
"Big Pharma conspired to keep low-cost medications out of the hands of patients whose lives depended on them and bled them for tens of thousands of dollars when cheaper drugs could have been used in their combination pills."
That's how the case might be explained to a jury, in one simple sentence. Just try to justify that behavior, Big Pharma.
Almost every antitrust case is settled the week before trial and usually after every strategy on behalf of defendants to end the case has been attempted. The pharma lawyers have already tried to have this case dismissed more than once but the judge has allowed it to move forward. This is real, folks.
The most delicious part of any proposed settlement from Janssen and Gilead is that they can't settle without the approval of Peter Staley and the other activist plaintiffs. Big Pharma must go through the activists if and when they want to settle. That fact alone gives me warm tingles all over.
A potential settlement from HIV pharma giant Gilead, for instance, might cover reimbursing the co-pays for the last five years on some of the most widely used drugs in the HIV arena, not to mention future profit they might have otherwise collected. That's not millions of dollars, or even hundreds of millions. That's billions of dollars in patient savings.
"All those contracts will have to be rewritten," Staley said. "The new contracts should allow that, whenever a drug involved in a combo pill goes generic, a combo version will come out that's cheaper than the fully branded one. Now, if you were Blue Cross, which version of the combo pill would you pay for?"
What this all means to HIV treatment progress in the future
Soaking Big Pharma for damages due to their shameless greed and contractual shenanigans would be satisfying, but there is an even better outcome that speaks to the future of HIV treatment itself.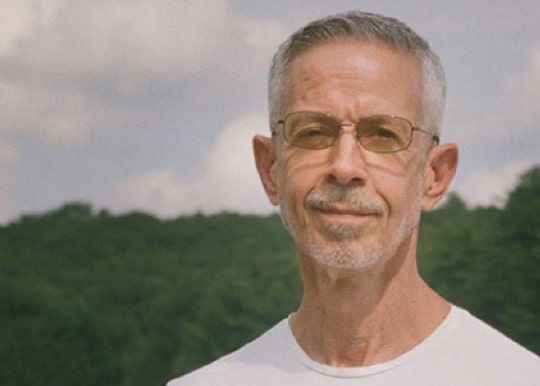 "Monopolies kill innovation," Staley warned. "We had massive innovation in the 1990s, including the advent of multi-drug therapies, which started saving lives, and new drug categories like protease inhibitors were developed. By 2005, we had more than 30 HIV drugs on the market, plus a new class called integrase inhibitors."
The problem was that Big Pharma got fat and happy and sat on its corporate research butt while they held the patent to these new treatments, changing formulations here and there to extend the patents but otherwise inventing nothing new. Then, when the drugs faced going generic at the end of the patents, the defendants started combining the pills and signing these shady contracts to keep out the generic formulations and keep profits high.
"What innovation," Staley asked, "has happened since 2005? Nothing. Except this year we finally got a one- or two-month long-acting treatment, but that technology has existed for years."
In other words, should this lawsuit wreck the gravy train Big Pharma has ridden all these years, they're going to have to get truly innovative if they want to make that kind of money in the HIV market again.
"Economics 101 says innovation is the only way to get a higher price," Staley said.
Just imagine what Big Pharma might come up with if they were forced to innovate again. Perhaps they would develop much longer acting medications or, God forbid, an actual cure for HIV. Our capitalist system would reward them handsomely for that.
Case in point: the treatment regimen for Hepatitis C went generic a decade ago, ending huge pharma profits and forcing them to come up with something better. Gilead's answer was Sovaldi in 2014, an actual cure for Hepatitis C that eclipsed previous sales records. Sovaldi raked in $2.27 billion in sales in the first three months it was available. 2.27 BILLION DOLLARS.
If Big Pharma wants to make money in the HIV arena again, maybe they should stop trying to illegally corner the market and actually invent something new.
The fallout of this lawsuit beyond HIV
It would be naive to presume that the kind of backroom agreement Big Pharma cooked up for their HIV combo pills is limited to their HIV portfolio, don't you think?
You can bet your bottom dollar that, once this lawsuit is settled, Staley & Company will begin to examine other agreements pharmaceuticals have with one another. Heavens knows what might turn up.
Meanwhile, coming in March of 2023, a jury could be weighing whether Gilead and Janssen were so monumentally vile as to deliberately keep affordable medications out of the hands of people who depend upon them for their very lives.
"We welcome a jury," Staley said. "We feel very confident about explaining this case to them."
Stay tuned.
********************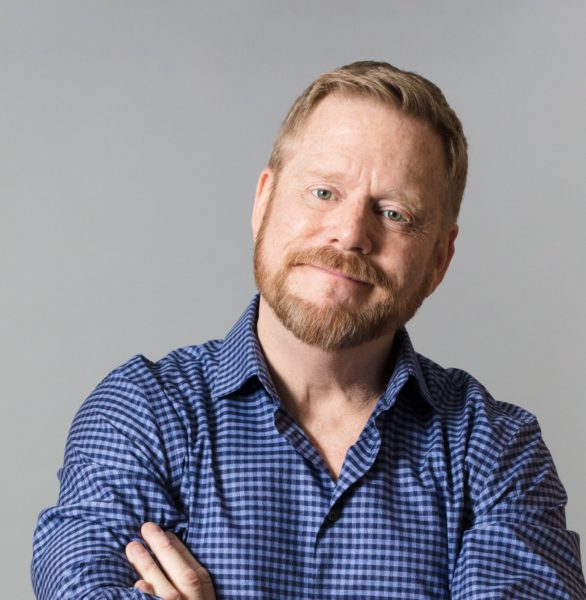 MARK S. KING is an award winning blogger, author, speaker, and HIV/AIDS activist who has been involved in HIV causes since testing positive in 1985.
King was named the 2020 LGBTQ Journalist of the Year by the National Lesbian and Gay Journalist Association (NLGJA). My Fabulous Disease won the 2020 GLAAD Award for Outstanding Blog after five consecutive nominations, and was named one of 2020's "OUT100" by OUT Magazine.
********************
The preceding article was previously published at My Fabulous Disease and is republished with permission.
The Right's targeting LGBTQ liberty- SCOTUS ruling on Roe is a precursor
"We now live in a country where it's illegal to help a 12-year-old rape victim end her pregnancy. We must reform SCOTUS"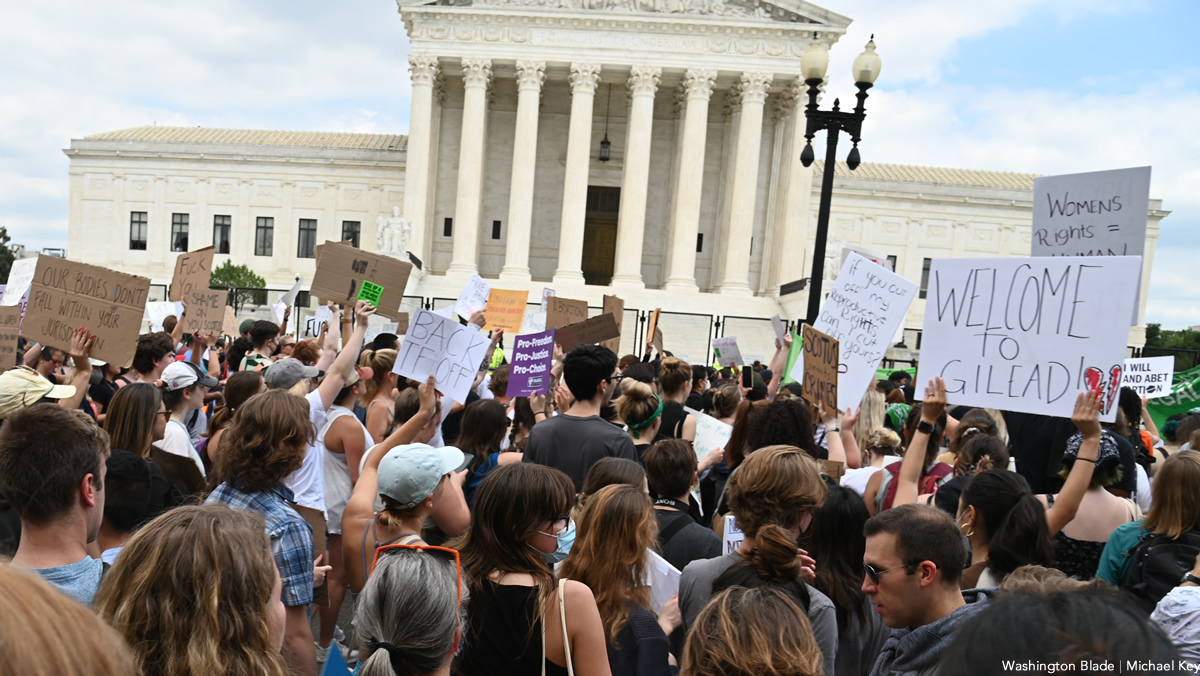 By James Finn | DETROIT – Somewhere in the U.S. this morning, a young girl is pregnant because she was sexually violated by somebody she trusts — a parent, an uncle, a teacher, maybe a Southern Baptist pastor. She's terrified, believing it's her own fault. Her mother is doing everything in her power to help, but her position is agonizing.
Because they live in Alabama, Arkansas, Florida, Kentucky, Louisiana, Missouri, Oklahoma, Ohio, South Dakota, Tennessee or Texas, her 12-year-old daughter cannot legally end her pregnancy — not even as a victim of rape or incest. If they're poor, traveling out of state for an abortion will be difficult or impossible, especially when abortion is illegal in surrounding states.
In at least two states, that mother could face crippling financial/legal consequences if she takes a bus with her daughter out of state for an abortion, and if one of her neighbors turns them in to authorities.
Welcome to the Republic of Gilead
This is real. This is happening right now, as you read this. For 50 years, women in the U.S. have enjoyed the Constitutional right to end their pregnancies before "viability," the point when a fetus can survive outside the uterus. This morning, I wake up in a country where a small cabal of religious extremists on the Supreme Court, in Dobbs v Jackson Women's Health Organization, have overturned Roe v Wade, snatching personal liberty from women and girls.
I wake knowing those justices are gunning for other fundamental privacy rights like contraception, same-sex marriage, and even the right to have consensual sex with other adults.
How did we get to this dark corner of official religious fanaticism?
Katherine Stewart in The Guardian spells out a decades-long process, detailing "how the Christian right took over the judiciary and changed America," despite representing only a fringe minority of Americans and a fringe minority of legal thinkers.
* If we fail to take the justices at their word about the rest of their extremist agenda, we do so at our peril as a free people. *
A super majority of Americans disagree with the high court, insisting traditional American liberty MUST include women, insisting the justices got it RIGHT 50 years ago when they recognized the Constitution implicitly guarantees to women the right to make their own reproductive choices based on their own values and religious beliefs — or lack of religious beliefs.
A super majority of Americans believe religious Jews, for example, have every bit as much right to act on their consciences, based on their faith traditions, as conservative Christians have. Traditional Jewish ethics require abortion in circumstances where the mother's well being would be severely impacted by pregnancy — like with that 12-year-old girl above.
The extremist Christian conservatives on the Supreme Court don't care.
They just said, in effect, we only care about what conservative Christians like us want. Welcome to the Republic of Gilead, where our religious beliefs dictate your lack of liberty.
Religious extremists on the Court take aim at LGBTQ equality
Justice Clarence Thomas isn't shy in his concurring opinion, writing, "We should reconsider all of this Court's substantive due process precedents, including Griswold, Lawrence, and Obergefell."
He means such "trivial" rights as using contraception to prevent pregnancy, having sex in private with a same-sex partner, or marrying a same-sex partner. He says the Constitution does not and should not prohibit the State from intruding into those extraordinarily private portions of American lives. Justice Samuel Alito is on the record agreeing with Thomas, although he wrote in yesterday's majority opinion that Dobbs should not be read to mean an automatic end to other substantive due process rights.
Legal scholars aren't impressed with that disclaimer, especially given Alito's prior statements expressing hostility to such rights. They note Justice Amy Coney Barrett is equally hostile to privacy rights. They ask how Dobbs' reasoning could fail, ultimately, in eviscerating general privacy rights for all Americans.
Writing in the LA Blade, leading LGBTQ activists express alarm over Dobbs' reasoning, warning that unless we act decisively, we will lose many of our cherished liberty guarantees.
Human Rights Campaign Legal Director Sarah Warbelow writes, "we know that if the Court was willing to overturn 50 years of precedent with this case, that all of our constitutional rights are on the line. Lawmakers will be further emboldened to come after our progress."
National Minority AIDS Council Executive Director Paul Kawata adds, "Justice Thomas's chilling concurring opinion makes it very clear that the court could target other rights."
They're right. We already know the conservative justices want to end civil equality for LGBTQ Americans. They've told us so in blistering language many times. Yesterday, as the justices snatched critical liberty from women and girls, they showed us not even 50 years of entrenched legal precedent will stop them. If we fail to take the justices at their word about the rest of their extremist agenda, we do so at our peril as a free people.
We must protect women and girls
In the short to medium term, working together to help women like that hypothetical 12-year-old rape victim must be a critical priority. The governors of California, Washington, and Oregon have already announced a joint effort to offer safe haven to women and girls, saying they plan to order state law enforcement agencies not to cooperate with out-of-state agencies investigating women or abortion providers.
According to The Atlantic, outraged women are already organizing around activism and safe-haven networking, determined to make abortion available for women and girls who need it.
The federal government has announced steps to make medical abortion (by pill) more accessible, although that's no panacea. It's usually illegal for a physician to prescribe medication via telemedicine to a patient in a state where such medication may not be lawfully dispensed.
Our Number One priority must be Supreme Court reform
President Biden called yesterday for a massive turnout at the polls in November to elect a Congress that will pass abortion protection legislation. He's absolutely right that we need that massive turnout, but he doesn't go far enough.
No amount of federal legislation will stop Supreme Court religious extremists from defending state abortion bans. Congress, arguably, lacks the authority to tell states how to regulate abortion, and if you think the conservative justices will just let that slide, you aren't paying attention.
As Stewart explains in The Guardian, the conservative justices hold fringe legal views, so don't expect them to play by conventional rules. Senators Susan Collins and Joe Manchin learned that the hard way yesterday after Justice Brett Kavanaugh broke what they describe as his personal, private pledge not to overturn Roe.
Only Supreme Court reform will save LGBTQ equality
The extremist religious justices are on a rampage right now, tearing down traditional walls of separation between Church and State, privileging religious instructions that discriminate against LGBTQ people, even ruling last week that Maine has an affirmative legal obligation to fund religious instruction with taxpayer dollars. Legal experts threw their arms up in astonished horror.
None of this is going to go away on its own. The justices aren't going to magically see the light and stop eviscerating liberty in favor of fringe religious views.
Yes, we need massive voter turnout in November to elect a Congress willing to save American freedom. No, passing a federal abortion law isn't the answer, or at least not the whole answer.
We must enact fundamental judicial reform
We must expand the number of justices on the Supreme Court and give President Bident the opportunity to appoint mainstream legal thinkers who will put the religious extremists dominating the court today in a minority.
That's perhaps a radical idea, but it's no more radical today than when FDR did the same thing in 1937 when faced with a judiciary implacably opposed to his efforts to rescue the U.S. from the Great Depression — implacably opposed to the will of the American people and mainstream legal thinking.
The only thing more radical than taming the court would be not taming it, allowing the Republic of Gilead to emerge from the pages of dystopian fiction into cruel reality.
Doubt me? Go talk to that 12-year-old rape victim and her mother who can't find a way to save her daughter.
In the meantime, act, organize, get out the vote. Our most cherished American liberties depends on massive turnout in November.
Get out there and make it happen!
************************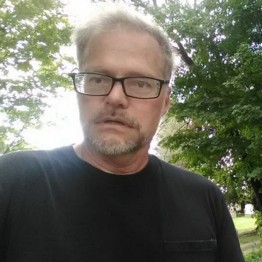 James Finn is a columnist for the LA Blade, a former Air Force intelligence analyst, an alumnus of Queer Nation and Act Up NY, and an "agented" but unpublished novelist. Send questions, comments, and story ideas to [email protected]
********************
The preceding article was previously published by Prism & Pen– Amplifying LGBTQ voices through the art of storytelling and is republished by permission.
Cops help masked Proud Boys terrorize kids at NC Pride event
Multiple library patrons report on Facebook that they felt threatened and terrorized by the masked Proud Boys and by the deputies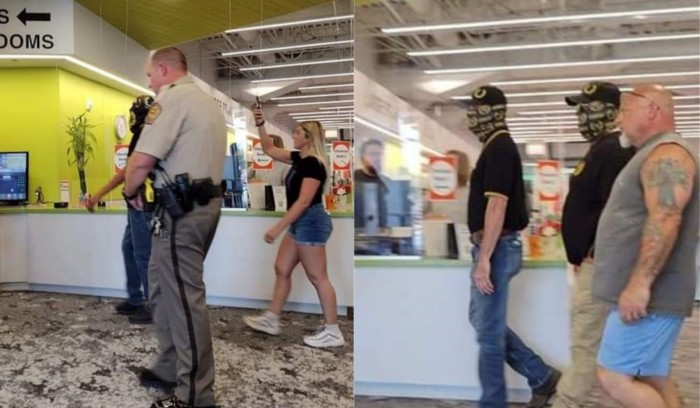 WILMINGTON- According to patrons at a Pride story event in the Pine Valley branch of the New Hanover, North Carolina library system, a group of 15 masked men terrorized them yesterday with the active assistance of sheriff's deputies, forcing families with children as young as 17 months old to flee through a side door, and preventing the library from being used for its ordinary purpose for as long as 90 minutes..
Bring out the drag queens!
According to local news reports, deputies responded to a demonstration at the Pine Valley library where a group of four parents brought a reported six children under seven years old to listen to library staff stories about diverse families.
Then, according to parents and witnesses, all hell broke loose.
They say the families and other library patrons were terrorized by a group of "Cape Fear Proud Boys" who deputies escorted from the parking lot into the library and up to the door of the reading room. Multiple witnesses report that the demonstrators shouted obscenities through the door and screamed, "Bring out the drag queens! Bring out the drag queens!"
Library staff say the event did not include drag queens.
Library patrons on Facebook report that deputies fist bumped the protestors and engaged in casual banter with them while they created a disturbance that ended the reading and forced librarians to hustle the parents and children out through a side door for their safety.
Sheriff's office denies allegations of unprofessional conduct and dereliction of duty. Eyewitnesses say the sheriff is lying.
According to a statement the New Hanover County Sheriff's Office posted on Facebook, nothing happened at all. The sheriff posted that the Pride event was completely orderly and that he fulfilled his oath of office:
A Sheriff's Office supervisor entered the library and positioned himself between the private room holding the reading and the demonstrators. The supervisor instructed the demonstrators that they were not allowed to enter the room. At no time did Sheriff Deputies witness nor did any library staff report any of the demonstrators causing a disturbance within the library or try to enter the private room that was holding the reading. After the reading, all the participants left the library with no incident.
Multiple witnesses agree that statement is false, claiming deputies let the protesters scream through the door and did not try to stop them from disturbing the peaceful use of the library or from terrorizing the families and the performer inside the reading room.
Angie Smith Kahney posted that she saw, "the [New Hanover County Sheriff's Office] escort the Proud Boys and their klan into the building straight to the room where children as young as 1 were with their parents, while they shouted obscenities and threats." She adds that the protestors "taunted parents and children" inside and outside the library after the event was over, while still being escorted by deputies who did not act to protect the public.
* The children aren't driving themselves to the library. Parents have the right to choose what they teach their children. *
Sandra Dawn posted that she "watched these protestors SCREAM at young children and their families as they exited the building. The sheriffs allowed these people to stand within feet of young children and SCREAM at them."
She asks, "Why on earth did the sheriffs allow these protestors to stand within feet of the doorways and go inside the building and stand outside of the room where the event was held? Why did the sheriffs not require these people to keep their distance?"
Witness Amy Holland says of the Sheriff's Office statement: 'This is a lie. At no time did deputies place themselves "between the room and protestors."
One mother tells reporters she felt blindsided
Emily Jones tells Star News that she took her 17-month-old daughter to the Pride event because she thought a library would be safe and peaceful. "I felt like this story time was really one of the safest places I could take my daughter for a Pride event. I just felt like it's the library, it's probably pretty low-risk."
She says she felt nervous when she saw demonstrators gathered in the parking lot holding signs saying "LGBT is grooming our kids" and "the library is responsible for child abuse." She added that she wished parents would have been notified prior to the event that safety was a concern.
She did not say what she thought about deputies escorting protestors to the door of the room she was in with her toddler or what she thought about deputies letting those protestors scream obscenities and threats through the door.
Community members express support for the Proud Boys
While community reaction to the Sheriff's Facebook statement is largely skeptical, some local residents are expressing solidarity with the Proud Boys.
Kevin Rigsbee writes, "Biggest question…. Why was there a "pride story time" for young children? These are kids…. They don't need this logic shoved down their throats too!"
Pamela Eaton writes, "Sad Childrens minds are innocent! They don't need to hear this garbage!"
Bruce True writes, " Public library means open to the public. NO PRIVATE ROOMS ! NO DOUBT THEY WERE INDOCTRINATING LITTLE KIDS"
Those statements and others like them are getting pushback, well represented by Alyssa Rangel, who writes, "The children aren't driving themselves to the library. Parents have the right to choose what they teach their children. If you don't want your children to be read pride books, stay home… These beautiful families were just trying to enjoy their day."
LGBTQ families deserve protection and support from law enforcement
New Hanover County residents have been commenting on Facebook and Twitter that the Cape Fear Proud Boys have been disrupting local school board meetings for months and that the Sheriff's Office appears to give them wide latitude to bully and harass citizens, often tolerating what appear to be blatant violations of "orderly meetings" and "disturbing the peace" laws. Locals observe that deputies appear to be overly friendly with the Proud Boys, often bantering and laughing with them instead of enforcing the law.
Locals say they believe the Sheriff's Office is actively biased against LGBTQ people and did not stop the Proud Boys from disrupting the Pride event yesterday because deputies approve of what the Proud Boys were doing. They say that among other things, the fist bumps between some of the deputies and the Proud Boys clearly signal the deputies' support for the Proud Boys, an avowed white supremacist organization whose leadership is under federal indictment for seditious conspiracy in the January 6 attack in the U.S. Capitol.
Besides open racism against Black people and Jews, the Proud Boys oppose equality for transgender and gay people. Proud Boy members terrorized a different Drag Queen Story Hour event on June 11 at the San Lorenzo Library in Alameda County, California.
At least in Alameda County, the Sheriff's Office is investigating and has pledged to crack down on the group and work to stop future harassment. New Hanover County residents say that their sheriff's "There's nothing to see here, move along" attitude shows them they can't rely on law enforcement for protection, especially if they're LGBTQ, Black, or members of other groups the Proud Boys don't like.
LGBTQ people in North Carolina deserve the active cooperation of law enforcement to keep Pride events safe and to be safe in their own persons at all times.
If the New Hanover County Sheriff's Office chooses to support white nationalist terrorists instead of enforcing the law, then state and federal authorities need to step in fast and take action to stop the collusion and corruption.
************************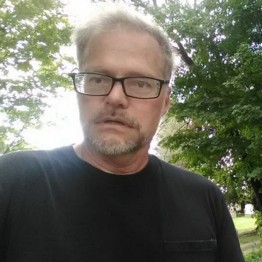 James Finn is a columnist for the LA Blade, a former Air Force intelligence analyst, an alumnus of Queer Nation and Act Up NY, and an "agented" but unpublished novelist. Send questions, comments, and story ideas to [email protected]
********************
The preceding article was previously published by Prism & Pen– Amplifying LGBTQ voices through the art of storytelling and is republished by permission.
Texas GOP calls to end gay marriage, criminalize adult Trans healthcare
"I have a hard time feeling sympathy for Log Cabin types knowing they support efforts to investigate parents of trans kids for 'child abuse'"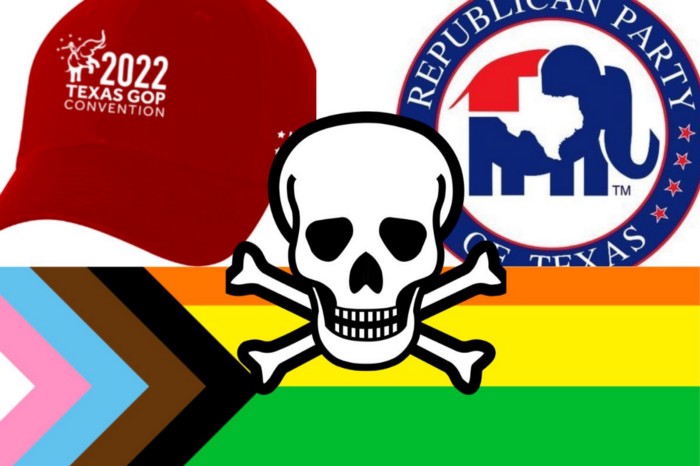 By James Finn | DETROIT – The Texas GOP isn't just saying the quiet part out loud. They've ripped off their masks to leer, revealing something like a skull and crossbones to LGBTQ people and all Americans who value personal self determination.
Texas Republicans pledge to destroy basic human rights, family autonomy, and traditional American liberty. They even seem to have declared a theocracy, insisting that Christian religious belief must trump law, science, and medicine.
Here's what's going on.
The Texas Republican Party held its convention over the weekend, and they released a 40-page party platform late yesterday afternoon, voted on and approved by a majority of members. This morning's headlines, as reported in The Hill, focus on a stunning guiding philosophy:
Homosexuality is an abnormal lifestyle choice. We believe there should be no granting of special legal entitlements or creation of special status for homosexual behavior, regardless of state of origin.
The Party clearly means what they say, having refused to allow the Log Cabin Republicans, a gay group, to participate on the floor of the state convention. While Log Cabin members profess to be "shocked," much of the rest of the LGBTQ world asks why they're surprised the Leopards Eating People's Faces Party is actually eating their faces.
NEW: The Texas Republican Party has voted to shut out Log Cabin Republicans, an organization of gay Republicans, from participating in their convention. Log Cabin Republicans just said it is "shameful" they they are being "excluded" and that Republicans are being "narrow-minded."

— No Lie with Brian Tyler Cohen (@NoLieWithBTC) June 18, 2022
Beyond the odious abnormal lifestyle header, the devil is in the GOP's "special legal entitlements" details
To the Texas GOP, the right to marry a same-sex partner is a special legal entitlement
The right for transgender adults to choose gender-affirming health care is also a special legal entitlement
The right (by implication) to have sex in private free from state criminal prosecution is a special legal entitlement
Choosing trans-affirming heath care for one's own children is a special legal entitlement
Calling for parents to be criminally sanctioned for letting drag queens read stories to their children, the GOP demonstrates that parenting one's own children is a special legal entitlement
Texas GOP wants to override overwhelming medical consensus opposing conversion therapy
The Texas Republican Party surprised exactly nobody when they claimed to know more than doctors about trans health care, but they didn't stop there. They affirmed support for conversion therapy for transgender and gay people, a practice mental health and other medical professionals know (from almost a century of clinical experience) doesn't work and causes severe mental health problems including suicide.
The GOP platform makes clear that science is irrelevant where it contradicts the Party's view of conservative Christian beliefs and practices. They declare their intent to override the overwhelming consensus of medical licensing boards by forcing them to set aside evidence-based care standards.
Even the right to private sex is called into question
The platform doesn't outright call for prosecuting gay people for having sex, but statements opposing honoring U.S. Supreme Court precedents, plus multiple references to "homosexual activity" as unacceptable, have obvious implications.
The Supreme Court struck down "sodomy" laws nationwide in 2003, telling states the U.S. Constitution grants people the right to the privacy of their own bedroom. But Texas Republicans have strongly disagreed every year since, refusing to strike down a state law that criminalizes "sexual intercourse with another individual of the same sex."
Apparently, sex is a "special legal entitlement" to Texas Republicans, who believe government should control even the most intimate, private details of Americans' lives.
I encourage you to read the entire platform, because it's an unabashed theocratic attack on American liberty, including calling for criminalizing abortion from the "moment of conception" with no exceptions. But if you don't have time, here are two screenshot of some of the most egregious language.
Texas GOP calls for criminalizing trans health care and encouraging conversion therapy
Texas GOP call for ending same-sex marriage
Let's talk about the Log Cabin Republicans
If you're tempted to feel sympathy for or solidary with the Log Cabin Republicans, let me tell you why that's a bad idea. The Log Cabin crowd, who endorsed Donald Trump for president in 2020, oppose the proposed Equality Act that would protect LGBTQ Americans from discrimination in employment, housing, and public accommodation. They support the right of religious people to refuse to provide goods or services to LGBTQ people. They speak up fiercely and regularly against transgender equality.
They are, in short, assimilationists who believe we LGBTQ people fuel our own persecution by not being "normal" enough. They just got taught a harsh lesson: they're not normal either, despite their best efforts to appear so by throwing queer weirdos under the bus.
As former federal prosecutor, gay man, and USA Today columnist Michael J. Stern tweeted Saturday, "The LogCabinGOP are a bunch of self-hating gay men who support the "family values" party as a way of trying to wash some of their perceived homosexual stink from their souls."
The @LogCabinGOP are a bunch of self-hating gay men who support the "family values" party as a way of trying to wash some of their perceived homosexual stink from their souls.

When you cozy up to a snake, don't act surprised when it bites you.

— Michael J. Stern (@MichaelJStern1) June 18, 2022
I agree with Stern, and I'll add that I have an especially hard time feeling sympathy for the Log Cabin group knowing they spoke up to support Texas Republican efforts to investigate the parents of trans kids for "child abuse."
Washing the "homosexual stink" from their souls apparently comes with a strong aversion for transgressing gender norms, and if any group in the U.S. is more hostile to trans equality than the Log Cabin bunch, I can't think of one.
All Americans ought to be free to order their lives as they see fit
What's the main takeaway from the Texas GOP platform? Texas Republicans want to run Americans' private lives. They want to force medical decisions on children, parents, and adults. They want to dictate marriage based on their private religious beliefs. They want to dictate to doctors. They want to tell parents how to parent.
They insist on insinuating themselves, largely based on religion, into the most intimate areas of private life, areas Republicans once insisted government had no business meddling in.
Americans are already free to practice religion as they see fit, but yesterday, the Texas Republican Party released a 40-page document outlining how they intend to force their fellow Texans to follow the dictates of one particular religion, conservative Christianity — science, medicine, and differing faith traditions be damned.
That's the big story here. No matter what political party you traditionally support, this blatant attack on American liberty should shock you.
Will you let this stand? Gay, straight, trans, or Republican, ask yourself this: what can you do to help stop this march toward Gilead?
************************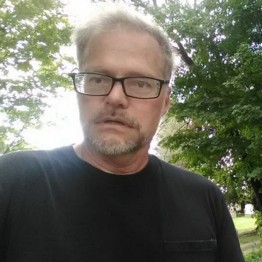 James Finn is a columnist for the LA Blade, a former Air Force intelligence analyst, an alumnus of Queer Nation and Act Up NY, and an "agented" but unpublished novelist. Send questions, comments, and story ideas to [email protected]
********************
The preceding article was previously published by Prism & Pen– Amplifying LGBTQ voices through the art of storytelling and is republished by permission.