Oklahoma lawmaker introduces 'Don't Say Gay' & prevent gender care bills
"I applaud Florida for enacting this measure, & call on my colleagues to follow their lead & do the right thing to protect our children"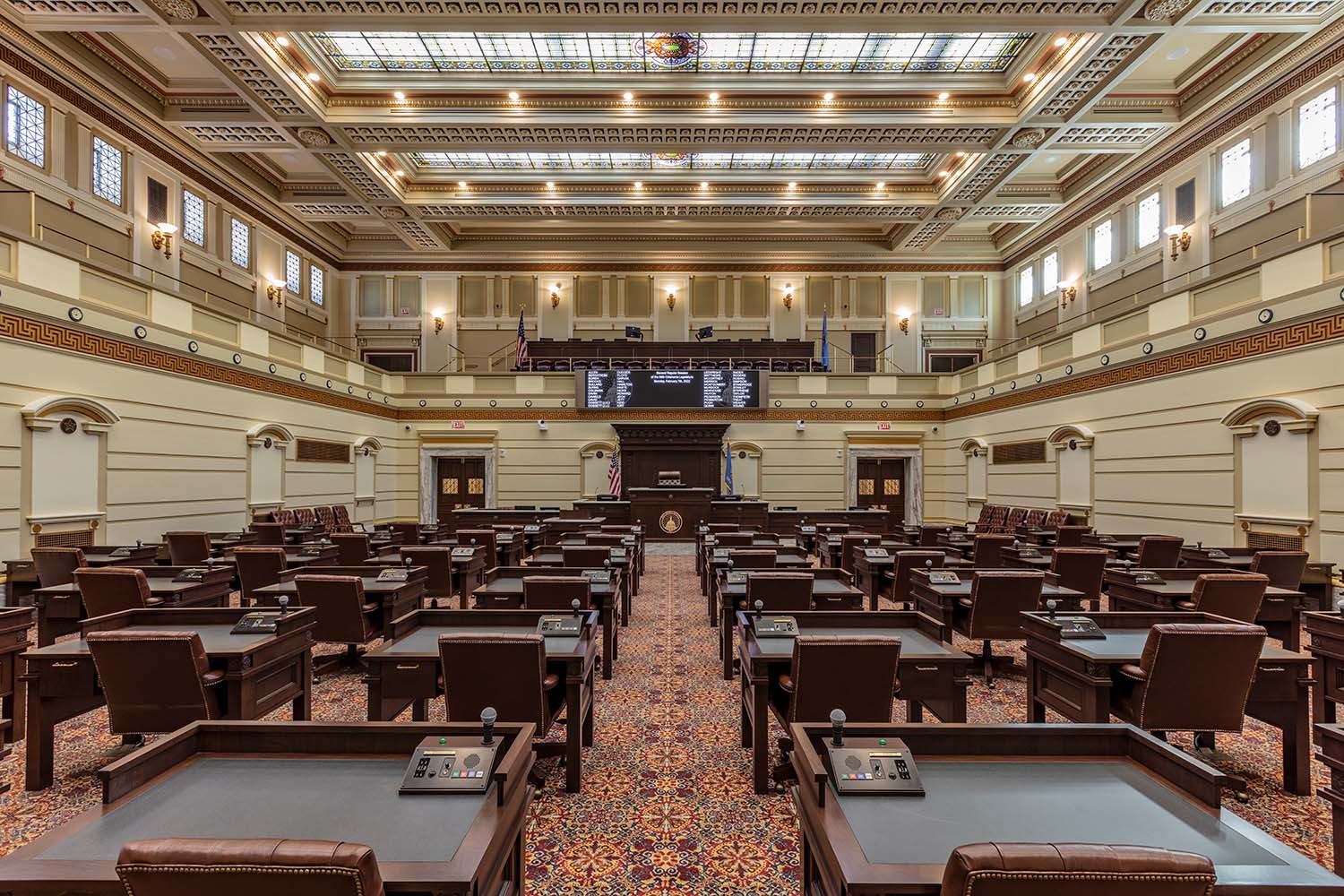 OKLAHOMA CITY – On the heels of Oklahoma Republican Governor Kevin Stitt signing a bill Tuesday that explicitly prohibits the use of nonbinary gender markers on state birth certificates, Republican State Senator Nathan Dahm introduced legislation mirroring Florida's 'Don't Say Gay' law as well as a second measure that would prohibit any person under the age of 18 from undergoing gender affirming treatment in the state.
House Bill 1074 is modeled after Florida's Parental Rights in Education Act, commonly referred to as the "Don't Say Gay" law. The legislation would prohibit educators or other school personnel from teaching about sexual orientation or gender identity for grades kindergarten through fifth. It also requires that any curriculum taught in grades six through 12 must be age and developmentally appropriate for students, KFOR News Channel 4 reported.
"There is absolutely no reason we should be teaching or talking about sexual orientation or gender identity in elementary school," Dahm said. "Kids need to be learning their ABCs and how to read and write – not that a man can be a woman if [s]he feels like it, or vice versa. I applaud the State of Florida for enacting this measure, and call on my colleagues in Oklahoma to follow their lead and do the right thing to protect our children."
The second piece of legislation, HB 1076, would prohibit any person under the age of 18 from undergoing gender affirming treatment in the state.
"If we can't trust those under 18 to purchase or use tobacco and alcohol, they aren't mature enough to make a long-term decision like changing their gender," Dahm told KFOR. "As gender reassignment surgery has become more and more common over the years, we are now hearing stories of transgender adults who are reversing these procedures because they realize they made a grave mistake. And unfortunately, their bodies are mutilated because of it. This legislation would protect these vulnerable individuals from making rash decisions without fully thinking them through."
In the language of the measure the penalty for violating the proposed statue would be that any physician that performs the treatment would be subject to professional discipline by the State Medical Board and could receive a suspended or revoked license.
"All major medical associations support best-practice medical care that affirms transgender youth. Affirming health care is proven to save kids' lives. Care includes a range of approaches, which are thoughtfully considered by youth, guardians, and doctors. The way care is portrayed by the Senator carrying this language is factually incorrect and intentionally inflammatory. Banning best-practice medical care is dangerous government intrusion. This is one of the most extreme political attacks on transgender people in recent memory. To try to sneak this effort into the end of the legislative session is egregious.

To partner it with an effort to further censor classrooms and chill speech in schools is life-threatening for too many LGBTQ+ kids in Oklahoma. Just last month the CDC published new data that in the first half of 2020, 1 in every 4 LGBTQ+ teens acted on suicidality. We're being literal when we say the lives of some of the most vulnerable members of our communities are at stake.

We're incensed that LGBTQ+ kids and their families yet again have to face the fear and uncertainty of if and how elected officials will use their platforms to advance what are clearly harmful attacks. In every state where this language is copied and pasted into efforts, we've seen that the impact is harm, potentially irreparable harm, to LGBTQ+ kids and kids of LGBTQ+ parents."

FREEDOM OKLAHOMA EXECUTIVE DIRECTOR, NICOLE MCAFEE
In reaction to the Governor's signing of the Gender Marker bill, Oklahoma Republican Representative Sheila Dills, the House sponsor of the bill, said;
"People are free to believe whatever they want about their identity, but science has determined people are either biologically male or female at birth. We want clarity and truth on official state documents. Information should be based on established medical fact and not an ever-changing social dialogue."
According to the National Center for Transgender Equality and the National LGBTQ Task Force, 15 states and the District of Columbia specifically allow a gender marker designation outside of male or female currently however, that number will increase on July 1 when Vermont's new statute goes into effect.
Oklahoma's GOP governor targets trans rights in executive order
"This Executive Order is not about protecting women. It is a thinly veiled attack on codifying discrimination against trans women."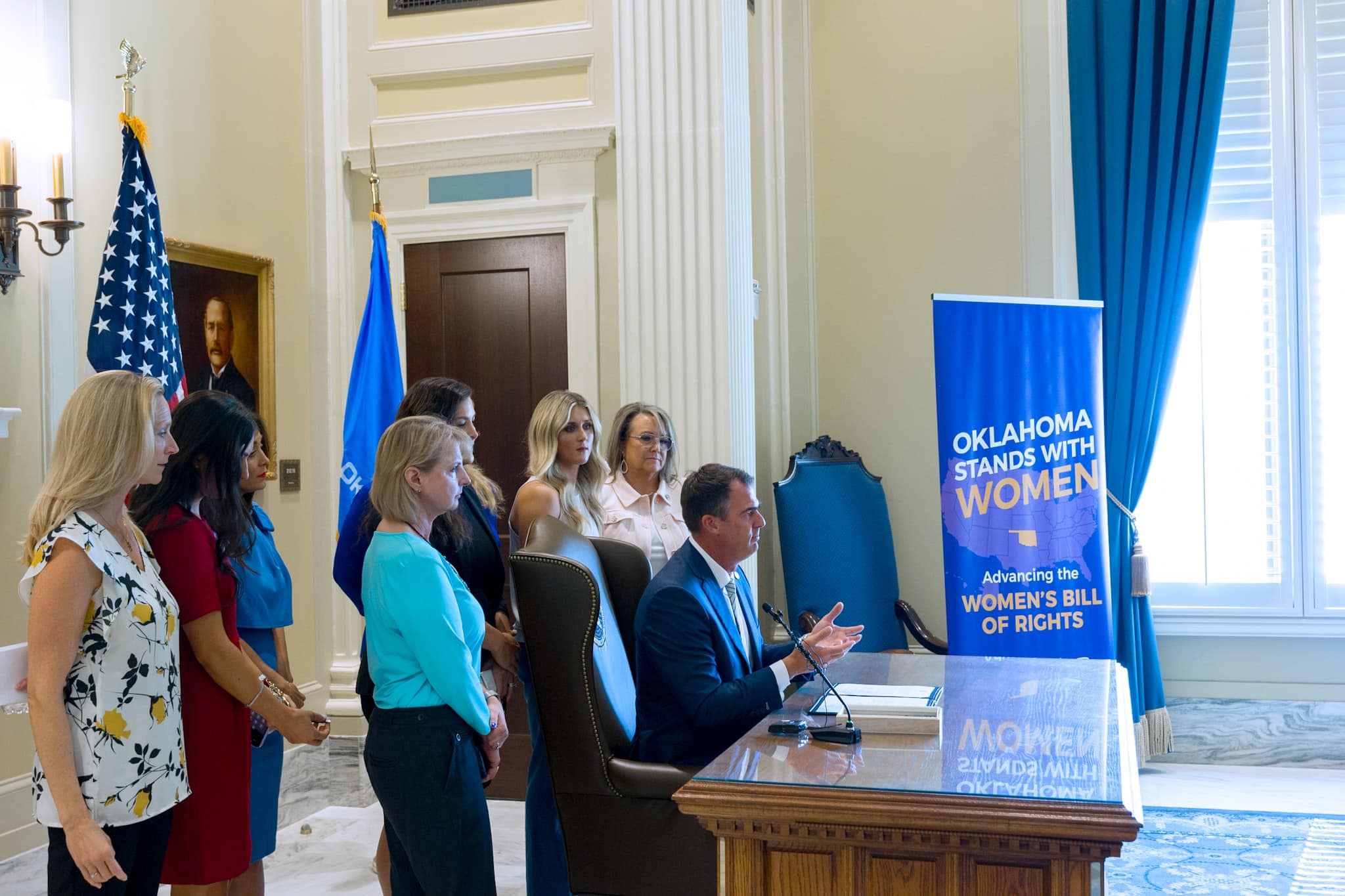 OKLAHOMA CITY – Republican Oklahoma Governor Kevin Stitt issued an executive order Tuesday — defining sex-based words like 'female,' 'woman,' and 'mother' and targeting trans females by designating women-only spaces predicated on gender "assigned at birth."
The governor's order is directed at state agencies. The state already has restrictive laws enacted that target trans participation in sports, use of public bathrooms and other accommodations, and a bill targeting gender-affirming healthcare.
Stitt in March signed into law Senate Bill 2, the "Save Women's Sports Act," which restricts transgender girls from playing on school sports teams that match their gender identity. He also signed the anti-Trans measure Senate Bill 615 into law, which requires all kindergarten through 12th grade students in public and charter schools to use restrooms and changing facilities associated with the sex listed on their birth certificates.
Stitt also signed Senate Bill 613 that will result in criminal penalties for medical professionals providing gender-affirming healthcare for minor patients. The law now makes it a felony for physicians to provide trans youth with treatments that can include puberty-blocking drugs and hormones.
 "I am taking decisive executive action to ensure the true definition of the word woman, meaning a biological woman, is what guides the state as we reaffirm our commitment to ensuring the safety, dignity, and sanctity of women across Oklahoma. As long as I'm governor, we will continue to protect women and ensure women-only spaces are reserved solely for biological women," the governor said as he signed the order.
Joining the governor was Independent Women's Voice, a right-wing anti-trans extremist group that also included Riley Gaines, a former University of Kentucky swimmer known for criticizing an NCAA decision allowing transgender swimmer Lia Thomas to compete against her in a women's championship race.
Riley Gaines told those gathered at the governor's signing ceremony, "Biological differences must be respected in the law to ensure female-only spaces have a future. It is sad that such basic truths must be spelled out to ensure equal protection, but I applaud Governor Stitt for taking decisive action today. Establishing common language by way of the Women's Bill of Rights is a way of saying enough is enough: Oklahoman women deserve equal opportunity, privacy, and safety, and this order will help deliver it."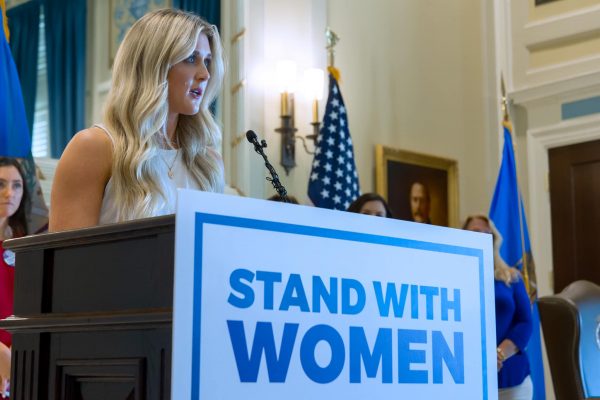 The Associated Press reported:
In addition to requiring state agencies and boards to define the words "female" and "male" to correspond with the person's sex assigned at birth, the executive order also includes definitions for the words "man," "boy," "woman," "girl," "father" and "mother." The order specifically defines a female as a "person whose biological reproductive system is designed to produce ova" and a male as a "person whose biological reproductive system is designed to fertilize the ova of a female."
It also directs schools and other state agencies to use these definitions when collecting vital statistics and further directs schools to provide dedicated restrooms and locker room facilities for boys and girls, respectively.
"Today Governor Stitt is going to claim he cares about women, while signing policy authored by an organization that has opposed both the Equal Rights Amendment and the Paycheck Fairness Act.
"This Executive Order is neither about rights, nor is it about protecting women. It is a thinly veiled attack on codifying discrimination against transgender women. This bill does not protect women, but instead opens the door for further civil rights violations that open all women to being harassed and targeted as they have their femininity assessed and judged by a public who feels increased permission to police gender.
"We know that this Executive Order, like the legislation we saw from this same organization this session, is not rooted in what is best for women or even clarity within the law, rather it is a blatant celebration of transmisogyny from the Governor's office." said Nicole McAfee, Executive Director of Freedom Oklahoma.
"Two Spirit, transgender, and gender nonconforming people have always been in Oklahoma. And we'll always be here. While we won't pretend to be surprised that the Governor is engaging in yet another blatant attacks on our community, we will continue to act with urgency towards the future where all 2SLGBTQ+ people have the safety to thrive."