2022 AAA Car Guide – Going High-Tech often means going electric
Mustang Mach-E Takes Top Honors – Researchers: its got a dramatic new profile, is powerful, electric, quiet, quick, roomy & fun to fun drive
LOS ANGELES – New vehicle shoppers primarily want two things in their next ride – better fuel efficiency and more driver assist safety features. According to AAA, nearly 80% of drivers want automakers to focus on improving fuel economy.
And 76% want active driving assistance systems (ADAS), like automatic emergency braking, lane keeping assistance, and adaptive cruise control. Addressing these twin desires can be accomplished with the newest batch of EVs (electric vehicles), which are often the most technologically cutting-edge and the most fuel efficient.
Many of the world's major automakers have announced plans to dramatically increase electric vehicle production or phase out gasoline-powered vehicles entirely by 2035. The AAA Car Guide helps consumers navigate the changing automotive marketplace by ranking and rating the newest vehicles available for sale, including alternative fuel vehicles.
For the 2022 edition of the AAA Car Guide, the 2021 Ford Mustang Mach-E Premium AWD earned the overall top score. Researchers noted this Mustang has a dramatic new profile, is powerful, electric, quiet, quick, roomy and fun to fun drive. The AAA Car Guide provides consumers with reviews highlighting how many advanced driver assistance systems (ADAS) are included in the vehicle along with other criteria and information. All category winners for 2022 are electric, plug-in electric hybrid, or hybrid vehicles. In addition to being highly fuel efficient, the winners are also loaded with the latest in advanced driver assistance systems.
In 2021, electric vehicle sales rose to nearly 477,000, representing 3.3% of total vehicle sales – but a whopping 81.5% increase over 2020 sales. Of the 62 vehicles reviewed for the 2022 AAA Car Guide, six are electric.
"EV sales, while small, are growing, and the signs are everywhere that the future is electric," said Megan McKernan, manager of the Auto Club's Automotive Research Center that produced the guide. "And that future may arrive faster with consumer preferences changing because of factors such as high gas prices and the gradual phasing-out of gasoline-powered vehicles in some areas.."
The 2022 AAA Car Guide includes comprehensive reviews of each vehicle based on 12 criteria, including the number of ADAS safety features, fuel efficiency, emissions, braking, handling, ride quality, and acceleration. These vehicles are tested, scored, and placed in one of five vehicle categories by the Automotive Research Center (ARC) of the Automobile Club of Southern California, a member of the AAA federation of motor clubs.
"Our research is designed to eliminate the guesswork for consumers when they are looking to purchase a new vehicle," said McKernan. "The AAA Car Guide is an easy-to-understand resource that can help improve consumers' decisions when it comes to car buying."
Industry analysts forecast that the COVID-19 pandemic, the semi-conductor chip shortage, and the proliferation of EVs will affect the availability, types, and prices of new and used cars in 2022. For those in the market for newer used vehicles, the online AAA Car Guide website also contains links to the two prior editions in 2021 and 2020.
Each of the 2022 AAA Car Guide winners has numerous ADAS safety features and achieves high fuel efficiency by being hybrid or all-electric, generating a higher score. The highest scoring ranked by category are: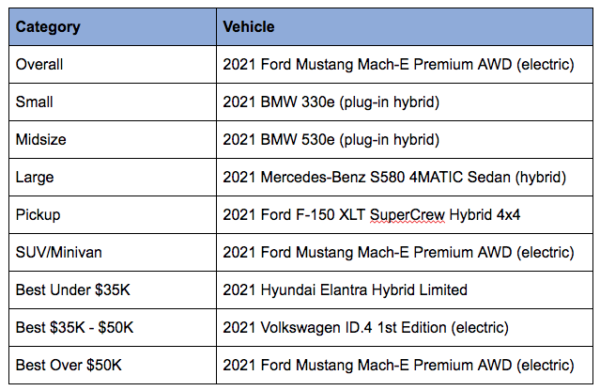 Winners, detailed evaluation criteria, vehicle reviews, and an in-depth analysis of the ADAS technology can be found at aaa.com/carguide.
The AAA Car Guide also contains detailed information about AAA's recent research on current automotive technologies and topics, such as advanced driver assistance systems (ADAS), gasoline quality, headlight effectiveness, and safely transporting a pet in the vehicle.
Low-priced, high-value rides: Kia Sportage, Nissan Rogue
Finally, car buyers are paying less than the sticker price for a new car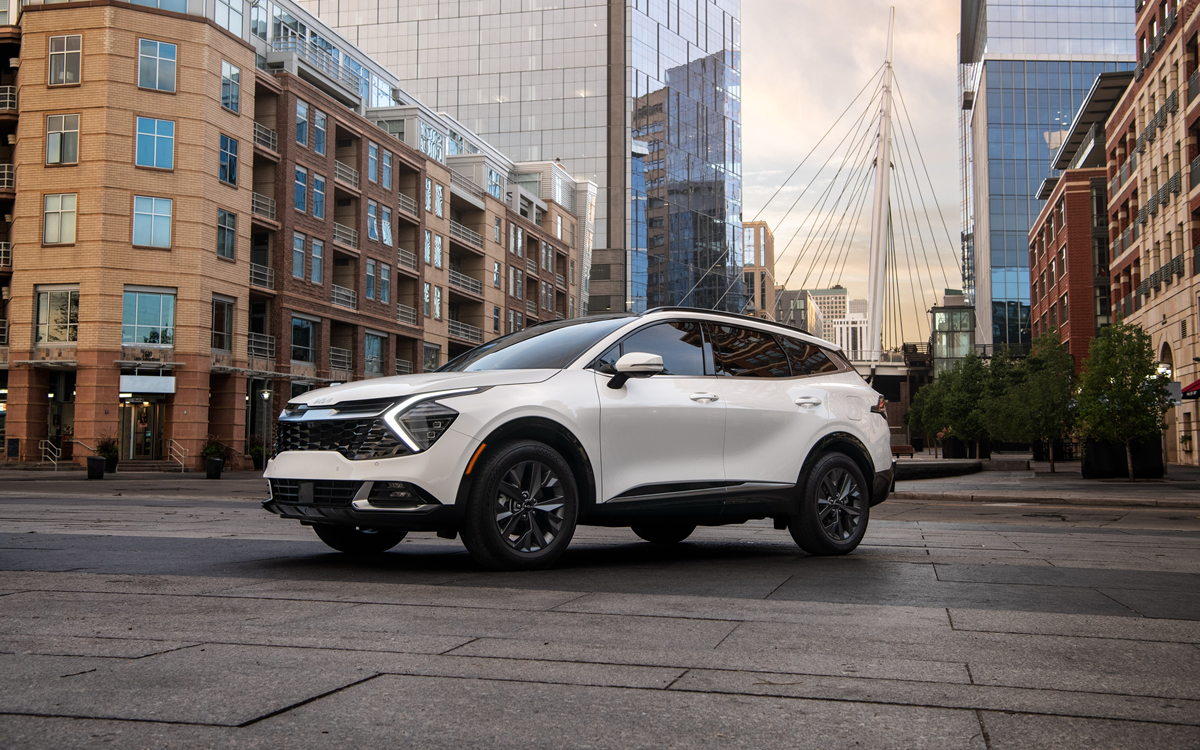 Hallelujah! For the first time in two years, car buyers are paying less than the sticker price on a new car. After a years-long economic rollercoaster — driven by the pandemic, the war in Ukraine and a gaping shortage of microchips needed to produce cars and trucks — vehicle inventory is finally up. And automaker incentives—those much-touted discounts and cash-back offers—are back, too.
But lest you think we've returned to the days of pre-COVID pricing, here's a reality check: The average price for a new vehicle in 2019 was just shy of $39,000, while this year it is expected to top—yikes!— $50,000.
That's why the two compact crossovers reviewed here are so appealing. Both look sassy, handle sharply and are chock-full of standard gear. Best of all, sticker prices on these rides start below $30,000.
KIA SPORTAGE
$28,000
MPG: 25 city/32 highway
0 to 60 mph: 9.3 seconds
Think of the Kia Sportage as Dorian Gray: an alluring crossover that never gets old. The popular Sportage is the automaker's longest-running nameplate in America, arriving here in the mid-1990s. But this fifth-gen version—completely redesigned for 2023—mirrors the edgy, come-hither look of a luxe-laden Lexus NX. There's a slightly obnoxious, wraparound grille, which caused more than a few raised eyebrows each time I zipped around town. And don't ask me why, but the design of the hiked-up rear-end reminded me of a buff Tom of Finland character wearing spikey heels—those would be Jimmy Choo or Christian Louboutin pumps, of course, not any of that clunky Naturalizer stuff. In other words, the Sportage could easily set tongues wagging at your next drag story-time event. Inside, the hedonism continues, with an obscenely wide digital monitor that stretches almost fully across the dashboard. This includes a 12.3-inch instrument panel and 12.3-inch touchscreen infotainment system. Even the base model gets heated seats, and the rear seats both slide and recline. Remote keyless entry, smartphone integration and Wi-Fi hotspot are standard. So are various safety features, such as forward-collision warning, lane-departure warning, lane-keeping assist and a driver-attention system that can sense if you are getting drowsy. But trust me, with all the sybaritic delights—including heated steering wheel, premium stereo, panoramic sunroof, and satin chrome accents—there is plenty here to keep you awake. There are also a dozen trim levels, with three priced below $30,000. This includes a fuel-friendly hybrid, with up to 44 miles per gallon on the highway. My test vehicle was the X-Pro Prestige, which was fully decked out. My only complaint was the tepid engine, which is pokey compared with the hybrid and some other highly competitive crossovers. Luckily, I really enjoyed the capable handling and braking. And overall, it would be hard to resist the class-leading warranty and passenger room in the Sportage, as well as that tantalizing design.
NISSAN ROGUE
$28,000
MPG: 30 city/37 highway
0 to 60 mph: 8.4 seconds
The iconic Nissan Rogue was completely redesigned in 2021. As with the Kia Sportage, this means snazzier styling—inside and out—as well as improved handling and a quieter interior. But there also are some key differences. The Sportage flaunts a more in-your-face exterior, has better towing capacity, and is available as a hybrid or plug-in hybrid. Kia also offers a better warranty, and its vehicles have higher reliability ratings. Yet while the Sportage has more rear-seat legroom, the Rogue boasts more front-seat legroom and headroom. The Rogue also has a larger fuel tank, so fewer stops at the gas station, as well as better horsepower and torque. And the Rogue is a bit narrower and has a smaller turning radius, which makes it somewhat easier to maneuver. I enjoyed testing the Sportage, as noted above. But the Rogue was just as delightful in its own way. While the exterior design may be more sedate on the Rogue, it is still beguiling. Yes, the interior is low-key, but it echoes the restrained cabin of a sporty BMW. This included a simple-yet-refined dashboard, upscale trim and pleasing soft-touch materials throughout. There is no ginormous, IMAX-like digital display as in the Sportage, but the sleek easy-to-use infotainment touchscreen does sit prominently atop the dash. Acceleration, cornering and braking were all sure and capable, and standard safety features included automated emergency braking with pedestrian detection as well as blind-spot monitor with rear cross-traffic alert. Choosing either the Sportage or the Rogue is like choosing between, say, the sparkly RuPaul or the spellbinding actress Daniela Vega. Personally, it would be a thrill to drive anywhere with either one.