Florida high school students beat back anti-LGBTQ+ yearbook censorship
Seminole County Public Schools board voted unanimously to put disclaimer stickers in the yearbook versus having white blackout stickers used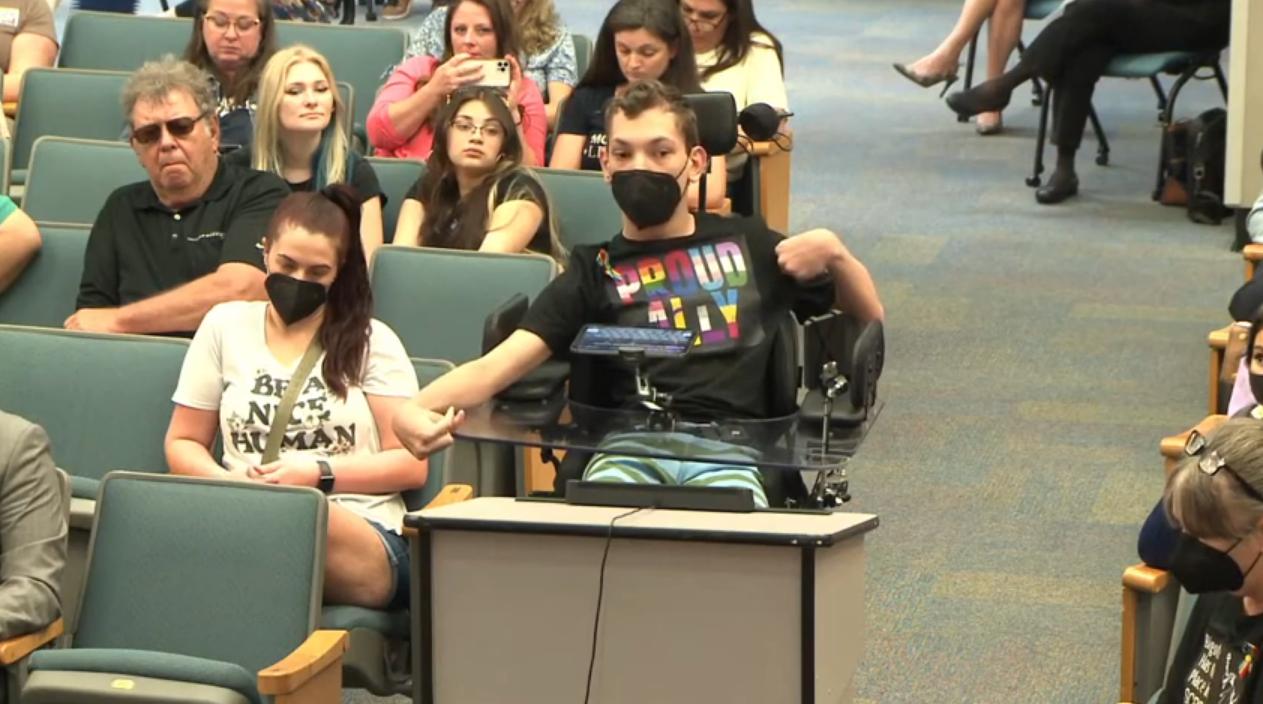 LONGWOOD, Fl. – Lyman High School students in Seminole County Florida will receive their complete yearbooks — without covered photos and captions that had sparked calls of protest and outrage.
Tuesday night, the Seminole County Public Schools board voted unanimously to put disclaimer stickers in the yearbook versus having white blackout stickers to cover the three pictures of the student led protest walk-out over the state's infamous 'Don't Say Gay' law which had not been passed at the time of the protest walkout.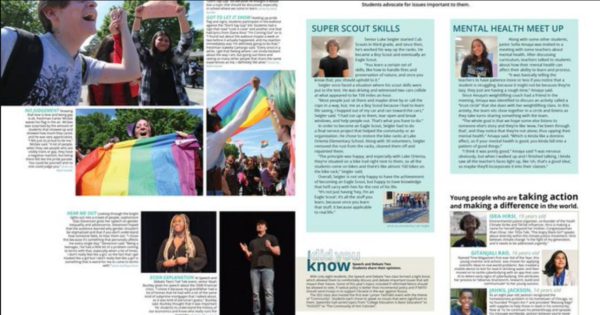 Lyman High School principal, Michael Hunter, had ordered the pictures covered with white black-out stickers and notified parents and staff earlier this week of his action justifying the decision as "ensuring the yearbook meets all aspects of Seminole County School Board policies, particularly as it pertains to non-school sponsored events contained in school publications."
The board voted to put disclaimer stickers in the yearbook instead.
Danielle Pomeranz, the yearbook's faculty adviser, told the board her students were only doing their job of documenting an important event that happened on campus. She said she thinks the yearbook can still be distributed to students by the end of the week, the Orlando Sentinel reported.
For the first time in a long time, Florida students are being listened to & supported by their elected officials. Committee hearings are often brutal for LGBTQ+ students but last night in Seminole County they got a beautiful lesson in government working for the and by the people. pic.twitter.com/IfxyzGA2RP

— Rindala رِندلى (@rindala_aj) May 11, 2022
The photos in question show students holding rainbow flags and a "love is love" sign. Accompanying captions include quotes from students sharing their views on the legislation and why they participated in the protest.
Superintendent Serita Beamon said the section didn't make clear that the protest was student led, and covering the content was viewed as the best way to comply with board policy and get the yearbook to students in a timely fashion.
At one point in the board meeting, J.J. Holmes, a disabled Seminole County high school student who types his own speeches using his nose delivered a message that had some people in the audience in tears. (Editor's note: J.J. Holmes speaks at the 57 minute mark, See video below)
"'Don't Say Gay' isn't even a law yet and you're already using it to target students of the LGBTQ+ community," Holmes said. "Tyler Clemente was 18-years-old when he jumped to his death from the George Washington Bridge. He was outed by another student for being gay," Holmes said.
SCPS School Board Meeting – 05-10-2022
Panhandle Florida teacher wants 117 books removed as obscene
ALA says 1,600 books in more than 700 libraries and library systems across the nation involving race, gender and the LGBTQ community targeted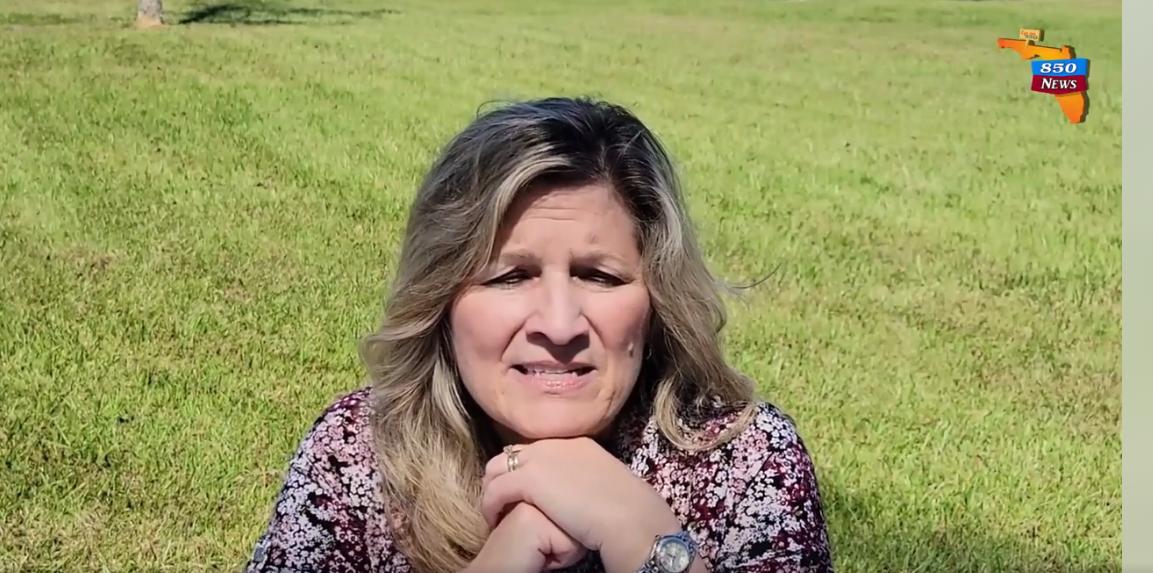 PENSACOLA – An English teacher in Escambia Public Schools is challenging 117 books available to high school and middle school students labeling them as obscene.
Vicki Baggett recently sat for an interview with The Panhandle Citizen/Studio 850, a local news content provider, to express her point of view on the books she labeled obscene including titles that had LGBTQ+ affirming themes.
The District has been center to controversy over book bans and teaching materials being deemed inappropriate on not only LGBTQ+ themes but race related as well. A career special education teacher resigned this past month just as classes were scheduled to start after a Escambia County Public School District staffer removed posters and pictures of historically significant Black Americans from his classroom.
Michael James, 61, who has taught special ed classes for the past fifteen years told Pensacola News Journal reporter Colin Warren-Hicks in an interview that he had emailed a letter to Florida Republican Gov. Ron DeSantis and Escambia County Superintendent Tim Smith in which he wrote that a district employee removed the pictures citing the images as being "age inappropriate."
Images that were removed from the bulletin board at O.J. Semmes Elementary School included depictions of Martin Luther King Jr., Harriett Tubman, Colin Powell and George Washington Carver, James said.
Florida Politics reported that the controversy comes as the first Florida schools, including Escambia County schools, begin their first academic year under legislation signed by DeSantis that targets "critical race theory."
Among other rules, the law prohibit lessons teaching students that they are inherently racist, sexist or oppressive because of their race, color, sex or national origin. It would also ban instruction that they are personally responsible and should feel guilty for the past actions of members of their race, color, sex or national origin.
A new report released by the American Library Association (ALA), covering its annual assessment of books being challenged or banned in the United States showed a dramatic increase in just a three month period of time in 2021 versus all of the previous year.
According to the ALA, nearly 1,600 books in more than 700 libraries and library systems across the nation involving race, gender and the LGBTQ community, were targeted by conservative groups in many cases led by anti-LGBTQ+ groups like the Florida-based 'Moms for Liberty.'
ALA's Office for Intellectual Freedom tracked 729 challenges to library, school, and university materials and services in 2021, resulting in more than 1,597 individual book challenges or removals.
WATCH:
Escambia Public Schools District published a listing of the titles she challenged:
Title
Author
Level
(ES, MS, HS)
School form submitted and date
*All Boys Aren't Blue
George M. Johnson
HS
8/1/22
*Bluest Eye
Tony Morrison
MS, HS
8/1/22
*Perks of Being a Wallflower
Stephen Chbosky
HS
Northview High 6/2/22
A Court of Frost and Starlight
Sarah J. Maas
HS
9/2/22
A Court of Mist and Fury
Sarah J. Maas
HS
9/2/22
A Court of Wings and Ruin
Sarah J. Maas
HS
9/2/22
Ace of Spades
Abike-lyimide
MS, HS
9/2/22
All the Things We Do in the Dark
Saundra Mitchell
HS
9/2/22
Almost Perfect
Brian Katcher
MS, HS
9/2/22
And Tango Makes Three
Justin Richardson
ES
9/2/22
Angus, Thongs and Full-Frontal Snogging
Georgia Nicolson
HS
9/2/22
Art of Racing in the Rain
Garth Stein
HS
9/2/22
Autobiography
Christina Lauren
HS
9/2/22
Being Jazz: My Life as a Transgender
Jazz Jennings
HS
9/2/22
Beloved
Toni Morrison
HS
9/2/22
Better Nate than Never
Tim Federle
ES
9/2/22
Beyond Magenta
Susan Kuklin
MS, HS
9/2/22
Black Girl Unlimited: The Remarkable Story of a Teenage Wizard
Echo Brown
MS, HS
9/2/22
Boy2Girl
Terence Blacker
HS
9/2/22
Breathless
Jennifer Niven
HS
9/2/22
Bumped
Megan McCafferty
HS
9/2/22
City of Thieves
David Benihoff
HS
9/2/22
Crank
Ellen Hoover
HS
9/2/22
Darius the Great Deserves Better
Adib Khorram
HS
9/2/22
Dead Until Dark
Charlaine Harris
HS
9/2/22
Deogratias: A Tale of Rwanda
J.P. Stassen
HS
9/2/22
Dime
E R Frank
HS
9/2/22
Doing It
Hannah Witton
HS
9/2/22
Drama
Raina Telgeimeier
ES, MS
9/2/22
Draw Me a Star
Eric Carle
ES
9/2/22
Empire of Storms
Sarah Mass
HS
9/2/22
Extremely Loud and Incredibly Close
Jonathan Sagran Foer
HS
9/2/22
Fade
Lisa McMann
HS
9/2/22
Forever
Judy Blume
HS
9/2/22
George
Alex Gino
ES, MS, HS
9/2/22
GLBTQ
Kelly Huegel
HS
9/2/22
Go Ask Alice
Anonymous
HS
9/2/22
Graceling
Kristin Cashore
ES, MS
9/2/22
Ground Zero
Alan Gratz
ES, MS, HS
9/2/22
Hear These Voices: Youth at the Edge of the Millennium
Anthony Allison
HS
9/2/22
Heroine
Mindy McGinnis
HS
9/2/22
Identical
Ellen Hopkins
HS
9/2/22
Infandous
Elana K. Arnold
HS
9/2/22
Jesus Land: A Memoir
Julia Scheeres
HS
9/2/22
Killing Mr. Griffin
Lois Duncan
MS
9/2/22
L8r G8r
Lauren Myracle
HS
9/2/22
Lessons from a Dead Girl
Jo Knowles
HS
9/2/22
Lexicon
Max Berry
HS
9/2/22
Little and Lion
Brandy Colbert
HS
9/2/22
Looking for Alaska
John Green
MS, HS
9/2/22
Lucky
Alice Sebold
HS
9/2/22
Lush
Natasha Friend
MS, HS
9/2/22
Me and Earl and the Dying Girl
Jesse Andrews
HS
9/2/22
Melissa (George)
Alex Gino
MS
9/2/22
Milk and Honey
Rupi Kaur
HS
9/2/22
Monday's Not Coming
Tiffany Jackson
MS, HS
9/2/22
More Happy Than Not
Adam Silvera
MS, HS
9/2/22
My Friend Dahmer: A Graphic Novel
Derf
HS
9/2/22
New Kid
Jerry Craft
ES, MS, HS
9/2/22
Nineteen Minutes
Jodi Picoult
MS, HS
9/2/22
Out of Darkness
Ashley Perez
HS
9/2/22
Push
Sapphire
HS
9/2/22
Queer, There and Everywhere: 23 People Who Changed the World
Sarah Prager
HS
9/2/22
Race and Policing in Modern America
Duchess Harris
MS
9/2/22
Rainbow Boys
Alex Sanchez
HS
9/2/22
Ready or Not (All-American Girl Series)
Meg Cabot
MS, HS
9/2/22
Red Hood
Elana K. Arnold
HS
9/2/22
Slaughterhouse Five
Kurt Vonnegut
HS
9/2/22
Sloppy Firsts
Megan McCafferty
HS
9/2/22
Sorted: Growing Up, Coming Out, and Finding My Place
Jackson Bird
HS
9/2/22
Speak
Laurie Halse Anderson
HS
9/2/22
Stamped from the Beginning: The Definitive History of Racist Ideas in America
Ibram X Kendi
HS
9/2/22
The 1619 Project
MS
9/2/22
The Absolutely True Diary of a Part-Time Indian
Sherman Alexie
MS, HS
9/2/22
The Black Flamingo
Dean Atta
HS
9/2/22
The Breakaways
Cathy Johnson
MS
9/2/22
The God of Small Things
Arundhati Roy
MS
9/2/22
The Handmaid's Tale
Margaret Atwood
HS
9/2/22
The Hate U Give
Angie Thomas
MS
9/2/22
The House of Spirits
Isabel Allende
HS
9/2/22
The Kingdom of Little Wounds
Susan Cokal
HS
9/2/22
The Kite Runner
Khaled Hosseini
MS, HS
9/2/22
The Music of What Happens
Bill Konigsberg
HS
9/2/22
The Nowhere Girls
Amy Reed
HS
9/2/22
The Poet X
Elizabeth Avevedo
MS, HS
9/2/22
The Prince and the Dressmaker
Jen Wang
HS
9/2/22
The Truth About Alice
Jennifer Mathieu
HS
9/2/22
Thirteen Reasons Why
Jay Asher
MS
9/2/22
This One Summer
Mariko Tamaki
HS
9/2/22
This One Summer
Mariko Tamaki
HS
9/2/22
Tricks
Ellen Hopkins
HS
9/2/22
Two Boys Kissing
David Levithan
HS
9/2/22
Uncomfortable Conversations with a Black Boy
Emmanuel Acho
HS
9/2/22
Unravel
Tahereh Mafi
MS, HS
9/2/22
Water for Elephants
Sara Gruen
MS, HS
9/2/22
We are the Ants
Shaun David Hutchinson
HS
9/2/22
What Girls Are Made Of
HS
9/2/22
When Aidan Became a Brother
Kyle Lukoff
ES
9/2/22
When Wilma Rudolph Played Basketball
Mark Weakland
ES
9/2/22
57 Bus
Dashka Slater
MS, HS
9/16/22
Bear Town: Book 1
Fredrick Backman
HS
9/16/22
Eleanor and Park
Rainbow Rowell
MS, HS
9/16/22
From Blood and Ash
Jennifer L. Armentrout
HS
9/16/22
The Freedom Writers Diary
Erin Gruwell
MS, HS
9/16/22
Girl in Pieces
Kathleen Glasgow
HS
9/16/22
Grit
Gillian French
HS
9/16/22
Guyaholic
Carolyn Mackler
HS
9/16/22
The Haters
Jesse Andrews
HS
9/16/22
Leah on the Offbeat
Becky Albertalli
MS, HS
9/16/22
Ramona Blue
Julie Murphy
HS
9/16/22
Scars
Cheryl Rainfield
HS
9/16/22
Simon vs The Homo Sapiens Agenda
Becky Albertalli
MS, HS
9/16/22
Smoke
Ellen Hopkins
HS
9/16/22
Stella Brings the Family
Miriam B. Schiffer
ES
9/16/22
The Upside of Unrequited
Becky Albertalli
MS, HS
9/16/22
Where I End and You Begin
Preston Norton
HS
9/16/22
North-Central Florida Pride Community Center vandalized
"Our Pride Center is a place where our community can come & be safe- feel welcomed. Seeing the center vandalized in this way breaks my heart"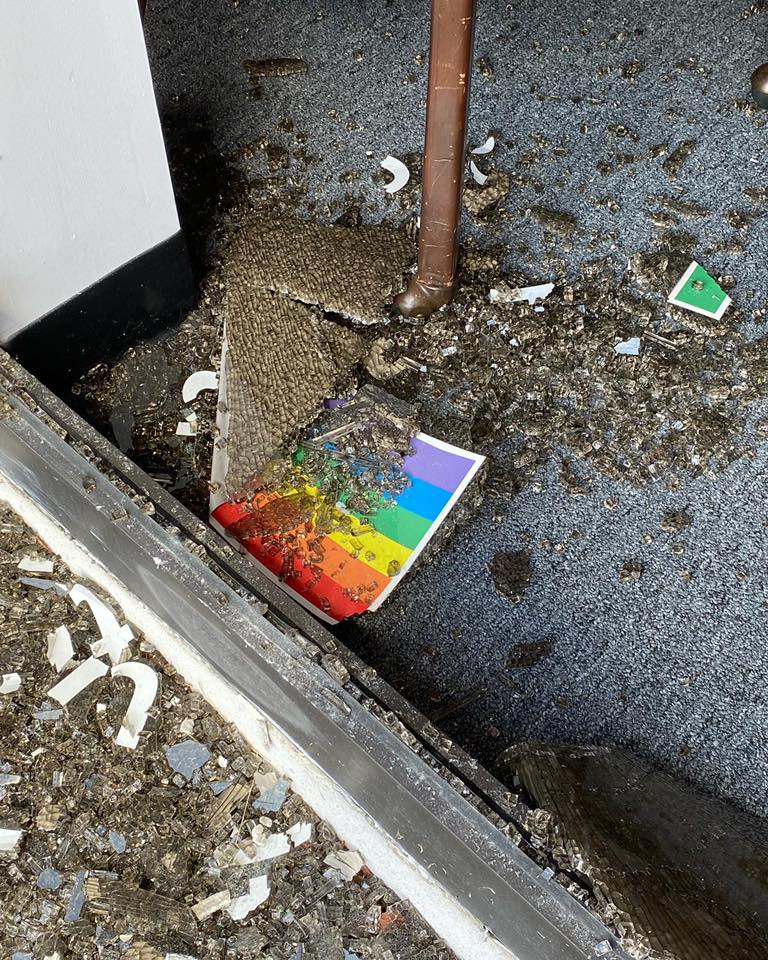 GAINESVILLE, Fl. – With less than a month from the return of in-person LGBTQ+ Pride after a two-year coronavirus pandemic imposed hiatus, staff of the Pride Community Center of North Central Florida, (PCCNCF) were alerted to vandalism at the center early Saturday morning.
PCCNCF board member Debbie Lewis told Gainesville ABC News affiliate WCJB-20 that she received a call from a real estate office in the same complex about their building being vandalized.
"She told me that she was just informed by somebody that came to her office that the pride center had been vandalized and that the windows were all smashed," said Lewis. She added that she immediately reached out to PCCNCF Board vice-chair James Brown.
"Early today and in the pit of my stomach right now is it's heartbreaking to see a building that we pour so much love and energy into. Being vandalized by people that were obviously targeting us because of the work we do here," Brown later told ABC 20.
In a statement released by the center Brown noted: "Our Pride Center is a place where our community can come and be safe and feel welcomed. Seeing the center vandalized in this way breaks my heart. This incident is exactly the reason why our community needs safe spaces. Your board at this Pride Center will keep working hard and pouring our love into this community and on making this a safe space again."
During the initial investigation by Gainesville Police a message was discovered attached to a rock. That message is currently not being disclosed although a police spokesperson said that Gainesville Police Department is investigating the incident as a hate crime.
PCCNCF board president Tamara Perry-Lunardo, told local media outlets that the vandal or vandals will not detour their work in the community.
"We are heartbroken but undeterred," The Pride Community Center of North Central Florida remains committed to being a safe place, and this display of hatred has only strengthened our resolve to continue to show up with love for our beautiful LGBTQ+ community. We're here, we're queer—loud and proud."
The Center noted that nothing had been stolen and that volunteers cleaned up the broken glass and boarded the openings to protect the Center ahead of the expected hurriacane and heavy rain storms expected this week.
The Center asked that donations can be made directly at https://gainesvillepride.org/donate/.
Heartbroken to see the Pride Center of North Central Florida vandalized.

Please show your support to our friends in Gainesville as they work to repair the damage ahead of a potential storm. https://t.co/W6e3h15ZvJ

— Equality Florida (@equalityfl) September 25, 2022
Largest school district in Florida rejects LGBTQ+ history month
School security had to intervene when the crowd got rowdy after Mendez, 17, said she supported the recognition of LGBTQ History Month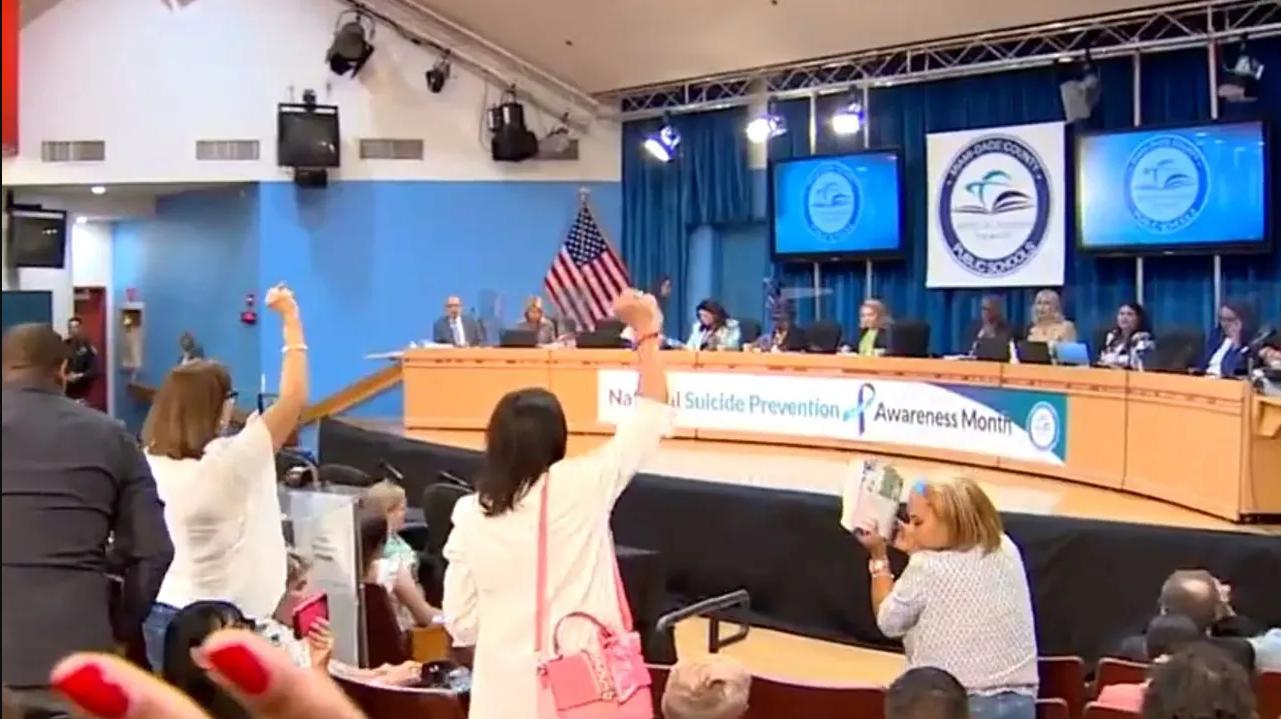 MIAMI – DADE COUNTY – The Miami Dade School Board rejected, by an 8-1 vote, a proclamation recognizing October as LGBTQ History Month in the district. This proclamation mirrored a nearly identical proclamation approved by the board with a 7-1 vote last year.
The board's lone non-voting student advisor Andrea S. Pita Mendez, told Miami ABC News affiliate WPLG that she was very scared during the meeting. School security had to intervene when the crowd got rowdy after Mendez, 17, said she supported the recognition of LGBTQ History Month after talking to her peers.
"Our students want this to pass," said Mendez.
School Board member Luisa Santos, who represents District 9, told WPLG ABC 10 News she was outraged by the way the adults who were in the room disrespected Mendez. Some of the adults booed the high school student who was attending the second meeting of her term.
The measure, introduced by Board Member Lucia Baez Geller, would have symbolically declared October LGBTQ History Month in Miami Dade County Public Schools and included a request to district staff to explore ways to support 12th grade civics teachers interested in including landmark Supreme Court cases on marriage equality and nondiscrimination in their course work.
During the public comments, many of the statements made were decidedly homophobic and transphobic with emphasis on religious freedoms and parental rights. Amid the mention of religion WPLG noted that MaryBeth Loretta, a clinician at The Alliance for LGBTQ+ Youth, asked the members to support the recognition "like Christ would do."
The Miami-Dade School Board's majority during the debate made statements that indicated that the vote to reject was due to seeing the proclamation being in conflict with the state's Parental Rights in Education bill, also known as the 'Don't Say Gay' law.
Eulalia Maria Jimenez, the chair of Moms for Liberty Miami-Dade, asked the school board members to vote against the recognition and said it equated to "indoctrination."
"Tonight's vote is one more proof point of the sweeping chilling effect of Florida's discriminatory Don't Say LGBTQ law and the toxic anti-LGBTQ environment being fostered by Governor DeSantis," said Equality Florida Senior Political Director Joe Saunders.
"The Don't Say LGBTQ law is rooted in the same dangerous tropes about LGBTQ people and baseless attacks on teachers that were on full display in public comments at last night's hearing. We are shocked and alarmed to see this reversal from the Miami Dade School Board. This is a horrible signal to send to the thousands of LGBTQ youth in Miami-Dade County public schools. Voting down this simple recognition of our LGBTQ community makes our schools less safe."
In a statement released Thursday, Equality Florida, the largest statewide LGBTQ equality rights advocacy non-profit thanked School Board Member Lucia Baez-Geller, who brought the LGBTQ History Proclamation [and] "stood strong in the face of unprecedented vitriol from extremists last night."
"Nearly every board member opposing the resolution voiced their belief that the proclamation violated the Don't Say LGBTQ Law, further evidence of the sweeping censorship of this law. Across the state, the law has fueled bans on books and "safe space" stickers and has led to dangerous policies targeting transgender students. Miami Dade County Public Schools have a long history of leading on common sense policies that include, recognize, and protect LGBTQ youth. Last night, board members abandoned that mission in service to anti-LGBTQ fear, misinformation, and a governor obsessed with a future presidential run," the statement added.