Senate rejects codifying Roe v. Wade into law along party lines, 49-51
"What resources are they prepared to provide to support these women and the children they'll bear? The answer, we know is none"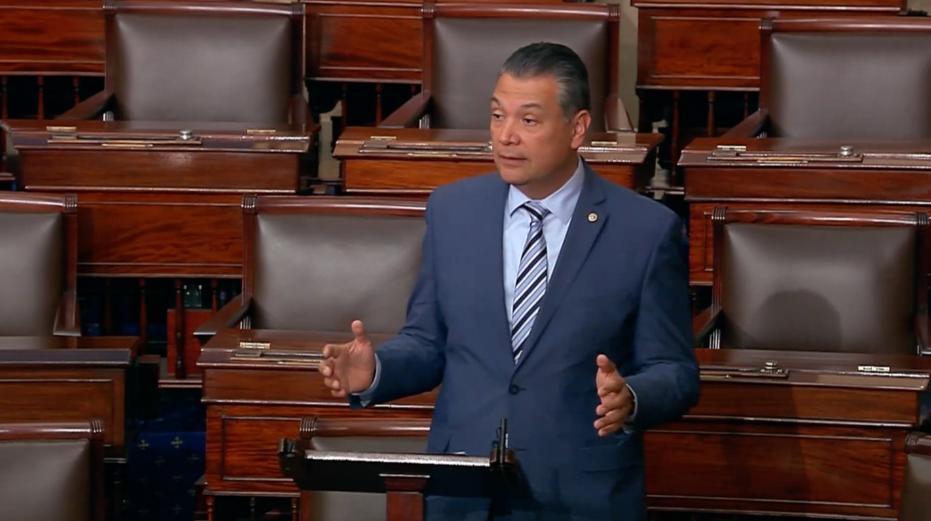 WASHINGTON – The United States Senate in a 49-51 vote rejected an effort to advance the Women's Health Protection Act (WHPA). The Democrats were unable to break a Republican-led filibuster to stop the legislation as West Virginia Senator Joe Manchin was the lone Democratic to vote no. None of the Republicans voted in the affirmative.
Manchin in clarifying his opposition said that the bill "is not Roe v. Wade codification, it's an expansion."
U.S. Senator Alex Padilla (D-Calif.), a member of the Senate Judiciary Committee, spoke on the Senate floor Tuesday to urge his colleagues to pass the Women's Health Protection Act to codify the right to an abortion into federal law.
"It is abundantly clear that Congress must pass the Women's Health Protection Act and codify the right to an abortion into federal law. All across America, a strong majority support a woman's right to make her own health care decisions," said Padilla. "We can't stand by and watch while right-wing politicians and judges roll back the clock on women's rights. We must protect the fundamental rights of women across the country."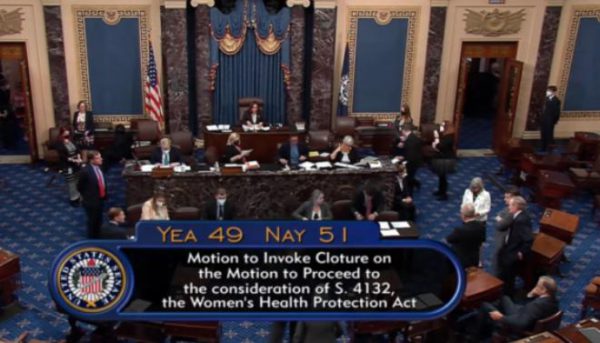 The debate on the Senate floor Wednesday reflected the unyielding partisan divide over the issue of abortion rights. The New York Times noted that Ben Sasse, a Nebraska Republican asked on the Senate floor; "Where's the tolerance? Where's compassion? Where's the humanity?" Sasse accused Democrats of promoting "brutal indifference hiding behind euphemisms" by holding on to abortion rights instead of policies that would help mothers, babies and children.
"What laws are these states prepared to pass?" Senator Patrick J. Leahy, Democrat of Vermont, asked. "What resources are they prepared to provide to support these women and the children they'll bear? The answer, we know — and I fear — is none."
The New York Times observed that amid the fury of the abortion debate and the charges and countercharges of hypocrisy, it is hard to imagine the parties coming together around a bipartisan effort to ease the burdens of pregnancy and child-rearing.
Vice-President Kamala Harris who presided over the Senate today was asked by a reporter; "what does this vote mean? And what is your message to women and childbearing people in America about what's next?"
She answered;
"Yeah, so, I just presided over the Women's Health Protective Act vote. And sadly, the Senate failed to stand in defense of a woman's right to make decisions about her own body.
And let's be clear, the majority of the American people believe in defending a woman's right, her choice to decide what happens to her own body. And this vote clearly suggests that the Senate is not where the majority of Americans are on this issue.
It also makes clear that a priority for all who care about this issue — a priority should be to elect pro-choice leaders at the local, the state, and the federal level, because what we are seeing around this country are extremist Republican leaders who are seeking to criminalize and punish women for making decisions about their own body."
In an emailed statement to the Blade, Kierra Johnson, Executive Director, National LGBTQ Task Force Action Fund noted:
"Once again, conservative political extremists and Senators from both parties blocked a vote on, let alone passage of the Women's Health Protection Act (WHPA). The final vote was 49 yay, 51 nay. Our Senators, sent to Washington to do the people's work, continue to support filibuster to the detriment of the people who put them office. Here the filibuster rule wrongly enabled a minority of Senators to block what the people of this country need and want. The WHPA is federal legislation – passed by the House on September 24, 2021 – designed to bar states from enacting laws to restrict access to abortion to people who need it.
Passage of the WHPA is vital to our communities' health and people's bodily autonomy especially considering last week's news that Justice Samuel Alito's draft majority opinion portends the Supreme Court reversing the longstanding precedent, Roe v. Wade. A full 69% of people in this country disagree with overturning Roe, erasing 50 years of abortion access, critical health care, for which our communities fought hard and upon which we rely. The research is clear: where abortion access is restricted, the greatest harms occur to Black and Brown people, LGBTQ people, people living in poverty and people living in rural areas. Alito's reasoning threatens important case precedents impacting LGBTQ people, people of color, and others whose rights the people won after the Constitution was ratified.
In the last 24 hours, The Task Force mobilized hundreds of voters who sent close to a thousand letters to Senators, urging for their support of WHPA and sharing the dire impacts to their lives without federal protections in place. Today's vote reflects an infuriating intertwining of racism, sexism, and classism. The possible overturn of Roe reflects the ongoing and escalating attacks on bodily autonomy, efforts that are profoundly wrong and harmful as well as unconstitutional.
The people elected U.S. Senators to uphold justice and equity – but some have chosen to use their positions of power to take away our basic human rights, our civil liberties, and our dignity. Each person deserves their humanity to be affirmed, protected, and celebrated. Where, as here, the filibuster undermines democracy, where it undermines our power to shape our families, our lives, and our futures, it must be set aside.
Despite the historic gains we have made as queer people, conservative activists and lawmakers threaten these victories, accelerating anti-LGBTQ+ and anti-reproductive rights legislation as well as anti-democratic, often anti-Black, voter suppression. The National LGBTQ Task Force Action Fund has launched "Queer the Vote" a civic engagement campaign to engage, educate and mobilize LGBTQ+ rights supporters while creating paths to activate and organize with direct action. Together we can hold our elected leaders accountable in the 2022 Midterm Elections and continue to expand and leverage our collective power to rebuild and reclaim our Democracy."  
Attorney expects Santos FEC complaint will deadlock
New York Democratic Reps. Ritchie Torres and Daniel Goldman have filed a complaint against Santos to the House Committee on Ethics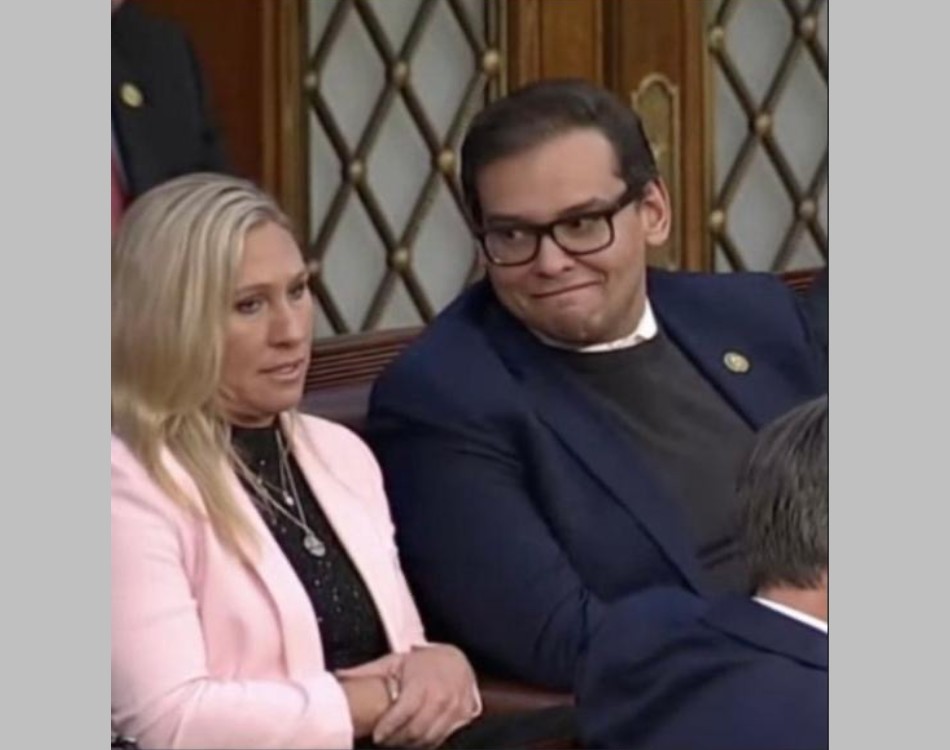 WASHINGTON – An attorney with the group that filed a complaint to the Federal Election Commission (FEC) on Monday against Republican Rep. George Santos (Ny.) said the FEC is unlikely to pursue an investigation or bring any enforcement action against the congressman or his campaign.
"There are at least 3 commissioners who are ideologically opposed to enforcing campaign finance law," Campaign Legal Center Senior Vice President and Legal Director Adav Noti told The Washington Blade by phone on Tuesday.
With a four-vote majority of the FEC's six sitting commissioners required to open an investigation, "the working assumption has to be – for every FEC complaint, no matter how egregious – that at least 3 commissioners will block an investigation," Noti said.
Noti previously served at the FEC in the Office of General Counsel, as associate general counsel for policy, and in the Litigation Division, where he argued cases before federal district and appellate courts as well as the U.S. Supreme Court, including the landmark 2010 case Citizens United v. FEC.
Notwithstanding what may happen at the FEC, Noti told The Blade the Santos case is unlike anything he had ever seen, in multiple respects.
Per the Campaign Legal Center's complaint, Santos and his 2022 campaign committee, Devolder-Santos for Congress, stand accused of engaging "in a straw donor scheme to knowingly and willfully conceal the true sources of $705,000 that Santos purported to loan to his campaign; deliberately reporting false disbursement figures on FEC disclosure reports, among many other reporting violations; and illegally using campaign funds to pay for personal expenses, including rent on a house that Santos lived in during the campaign."
Some of these allegations, which sometimes result in prosecutions, happen, unfortunately, "with some regularity," Noti said. "But I cannot think of another situation where a successful candidate turns out to have fabricated his entire campaign apparatus."
Sometimes, candidates will falsify the source of the money they received to fund their campaigns, and other times they will conceal how they spent those funds, but "I can't think of another instance where every dollar that went into a campaign and a significant portion of the dollars that were spent by that campaign appear to be fictitious, or just made up," Noti said.
Looking at the money that was funneled through the campaign, even if assuming that the dollar amounts that were reported were accurate, "we don't know where it came from, and we know where almost none of it went," Noti said.
Unfortunately, however, "Even in the highly unlikely event that the FEC does conduct an investigation or [pursue an enforcement action], it would take years," Noti said, adding that slow-rolling the process is another means by which the commissioners can prevent the agency from enforcing the law.
Nevertheless, Santos is in potential legal jeopardy. Investigations of the congressman have reportedly been opened by the U.S. Attorney's Office for the Eastern District of New York, the Nassau County District Attorney's Office, and the office of New York Attorney General Letitia James.
On Tuesday, New York Democratic Reps. Ritchie Torres and Daniel Goldman filed a complaint against Santos to the House Committee on Ethics.
Noti said the Justice Department's case would be a criminal probe into Santos's possible violations of campaign finance laws, but otherwise the FEC has sole jurisdiction over these matters, so other legal actors are likely looking into other types of financial malfeasance by the congressman.
The FEC will typically wait for the resolution of a criminal probe initiated by the U.S. Attorney's Office before proceeding with a complaint, Noti said. "If the DOJ starts investigating, they'll tell the FEC, and then the FEC will wait for the criminal investigation to conclude."
Either way, "I would be shocked if [Santos] were not seeking legal counsel," Noti said, adding that he might have a difficult time finding an attorney to represent him.
Santos has been under fire for weeks after media reports revealed the congressman had lied about virtually every aspect of his life, career, and identity.
With respect to his treatment of campaign finance laws, "What he did was intentionally deprive the public of the information that voters are entitled to before they decide who to vote for," Noti said.