Appreciating lesbian thinker & activist Urvashi Vaid
"I remember her as a whip-smart lesbian of color who stood up and fought but also offered peace and hope when possible"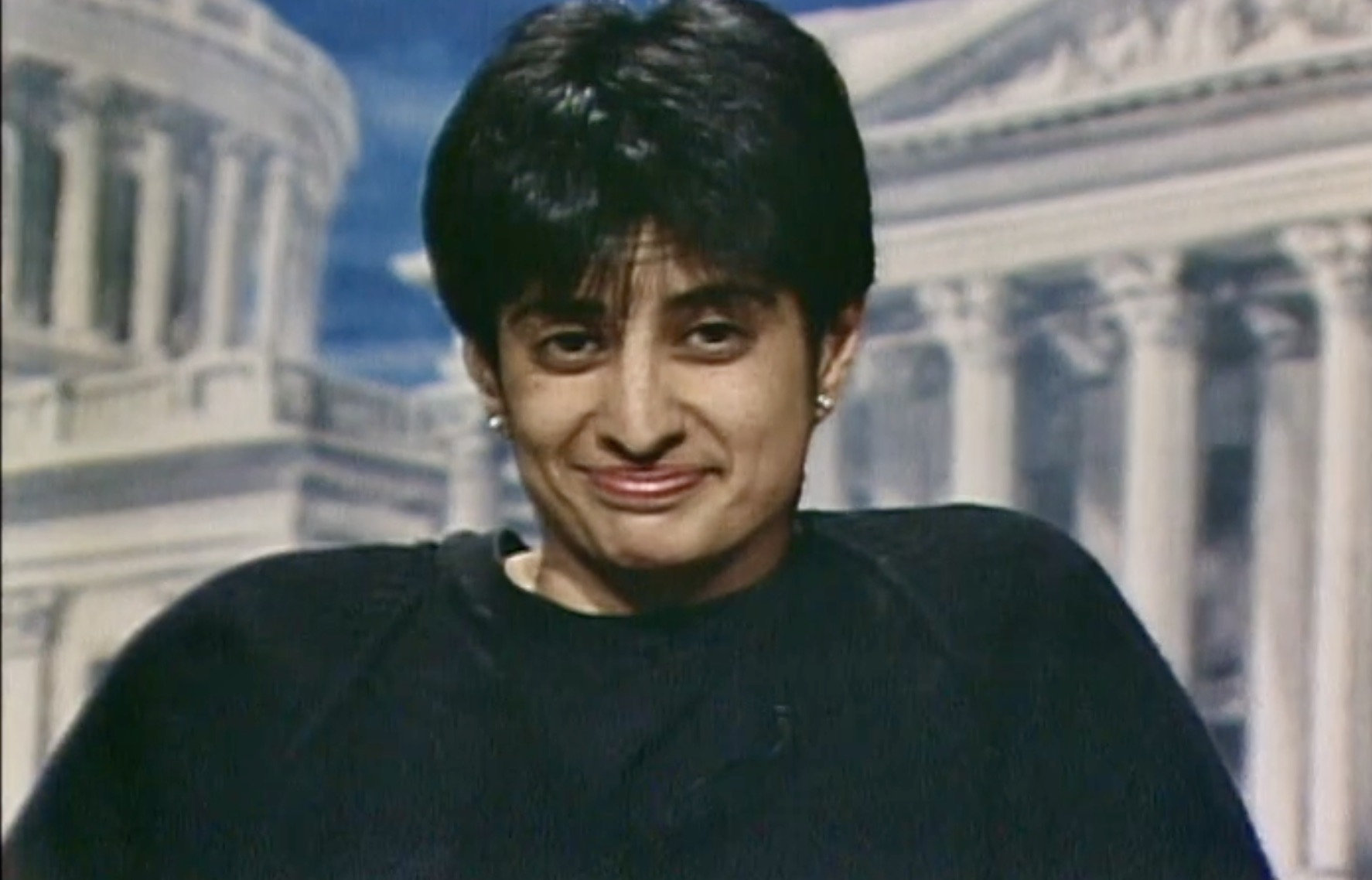 By Karen Ocamb | WEST HOLLYWOOD – Urvashi Vaid was whip smart. She could look at you with some analysis spinning behind her eyes and then smile a deep broad smile and you could exhale as a shared vision started coursing through your veins — a warrior sisterhood striving and fighting for liberation.
And you didn't even know liberation was on your wish-list.
It's hard to register that Urvashi Vaid is gone. 
Urvashi could seduce your brain with elevated and clear-spoken common sense. And damn if she couldn't rile you up and spur you to action as she did in Sacramento in 1991 after Republican Gov. Pete Wilson vetoed AB 101, the gay rights bill he promised to sign, and with her 1993 speech at the March on Washington.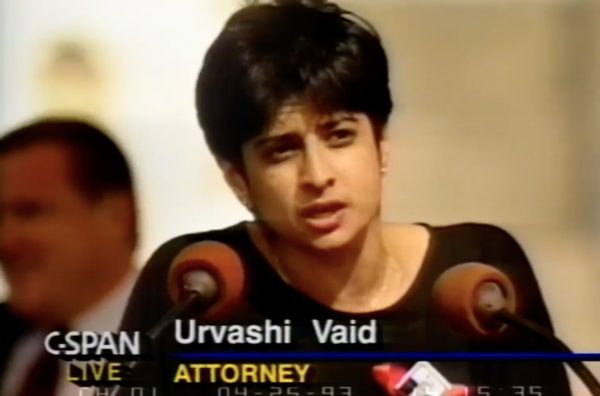 And we needed that. After years of excruciating pain losing lovers, family and friends while Ronald Reagan's spokesperson laughed about the scourge of AIDS in the White House press room, a serious LGBTQ political movement was emerging in the late 1980s. And igniting those righteous flames of fury was this short, thin, proud lesbian of South Indian heritage who exuded the perfume of power. She knew her stuff. And she was at ease with powerbrokers, including Hollywood A+ types who made history attending an August 1991 benefit for the National Gay & Lesbian Task Force, thrown by gay Hollywood manager Barry Krost, entertainment attorney Alan Hergott and Hergott's lover, NGLTF Board co-chair Curt Shepard. Hollywood was finally showing up for AIDS benefits — but gay rights was still just too controversial. It was a very big deal.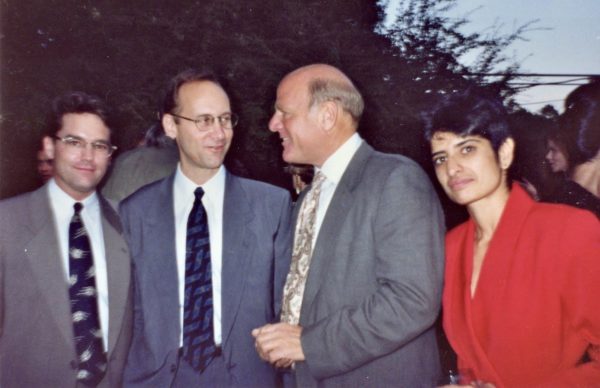 Among our own, Urvashi would let fools yammer on with puffed-up opinions. But eventually she would halt us with a glance, a quick quip or a concise Marxist-ish dissertation on any situation and its connection to poverty, rendering you dumbstruck, agog – pick a synonym.
Urvashi was a teacher, a mentor — though I don't think she thought of herself that way. She was merely trying to help a brother or sister — especially younger folks — learn to think differently, think for themselves, and think of themselves as part of the larger movement for civil rights.
One moment perfectly captures that for me. I was a freelancer covering the monumental 1992 Creating Change conference in Los Angeles. That was the year when esteemed gay author Paul Monette (Borrowed Time) ripped up a picture of the Pope, freaking out a lot of Catholic Latinos. I kept an eye on Urvashi and her pal Torie Osborn, head of the LA Gay & Lesbian Community Services Center, as they talked art with closeted LA City Councilmember Joel Wachs, as well as the usual leadership discussions, debates and skirmishes among activists in a heightened political year.
I also covered breakout sessions and one proved to be particularly daunting. It was a discussion about race in the gay movement. A young fierce gay Asian artist named Joel B. Tan took over the discussion and challenged my press credentials, my commitment to the movement, and my ability to report ANYTHING accurately or fairly about that meeting because I'm white. He called for a vote on whether I should be allowed to stay or get kicked out.
Some folks in the room, familiar with my reporting since the late 1980s, defended me. I was prepared to get shamefully kicked out when Joel went just a tad too far and started claiming the Task Force itself was a cauldron of white racism. In fact, the whole damn gay movement was basically a rich white gay conspiracy to get power and use everyone else as pawns.
When Joel finally took a breath, a muffled sound came from just outside the room. We looked and there was Urvashi, casually leaning on the door jamb with Phill Wilson, then co-founder of the National Black Gay & Lesbian Leadership Forum and of the LA chapter of Black and White Men Together. "What about us?" Urv asked very simply. The tension evaporated, I was allowed to stay and racism within the gay community was discussed with passion but without grandstanding. (I called Joel later and he said my report was acceptable.)
The tension eased so quickly because Urvashi had been fighting systemic racism at every level for a very long time, including within the gay community. Her power was smarts, compassion, humor — and credibility.
Not to say Urvashi was perfect. In fact, I had a serious disagreement with her over an incident that happened in Los Angeles. There was a ballot initiative that called for a new statewide Insurance Commissioner to be appointed by the governor. APLA Board Chair Dr. Scott Hitt and political consultant David Mixner opposed the initiative, which drove some AIDS activists crazy. We were in the middle of the second wave of AIDS and we needed government help. Hitt and Mixner explained that they didn't oppose the idea, just the method: the Insurance Commissioner should be elected, not appointed. Imagine if we had a governor more horrific than Pete Wilson?
I reported that and activist writer Stuart Timmons freaked out. He wrote a 7,000 word thesis in a treading-water alternative weekly bashing Hitt and Mixner. He also showed up at my apartment screaming about how I was afraid of these prominent politicos. I was pissed — so I did my own deep dive into his tome and found people who complained that he quoted them out of context or actually changed their quotes to fit his activist premise. Eventually, we all moved on, including me since Stuart was friends with my friend Harry Hay.
But then Urvashi quoted extensively from Stuart's disinformation piece in her book Virtual Equality: The Mainstreaming of Gay and Lesbian Liberation. I tried to reach her but failed. I later heard her cite Stuart's story as an example of bad gays. I fumed for a moment, then let that go, too.
Besides, Urvashi was doing so much good. And her relationship with Kate Clinton was so cool and extraordinary. I learned what a "soft butch" was — but that's another story.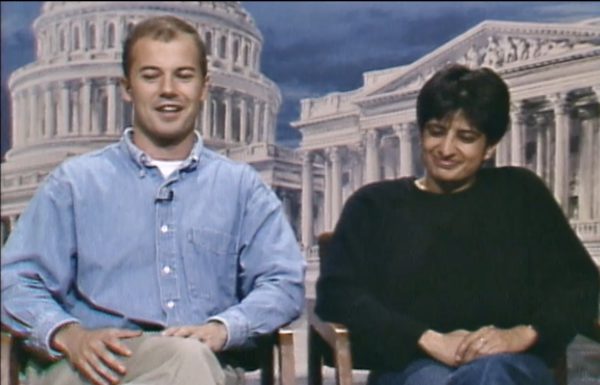 Urvashi Vaid is appropriately being lauded as an exemplary warrior for justice and civil rights. I remember her as a whip-smart lesbian of color who stood up and fought but also offered peace and hope when possible — as she did appearing with conservative gay writer/editor Andrew Sullivan on the Charlie Rose show before the 1993 march.
Last July, Urvashi was the guest on Gay USA, anchored by her friends Ann Northrop and Andy Humm. She talked about the National LGBTQ+ Women's Survey, an American LGBTQ+ Museum — and about fighting breast cancer. Urv seemed upbeat but a burdened aura of mortality cloaked her Zoom appearance. She seemed determined to approach death as she had lived — educating people about our ongoing fight for liberation and, with a deep, broad smile and thoughtful eyes, telling the truth about her own humanity.
Thank you, Urvashi Vaid.
********************
Gay USA 7/7/2021- Free Speech TV:
********************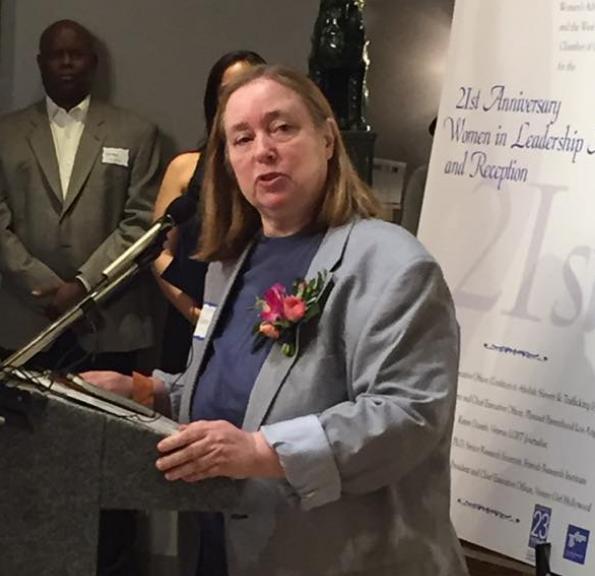 Karen Ocamb an award winning veteran journalist and former editor of the Los Angeles Blade has chronicled the lives of LGBTQ+ people in Southern California for over 30 plus years.
She lives in West Hollywood with her two beloved furry 'kids' and writes occasional commentary on issues of concern for the greater LGBTQ+ community.
Why LGBTQs Must Fight to Save Democracy 
This is essential for LGBTQ folks: We are still considered an "issue," not an intersectional minority that deserves equality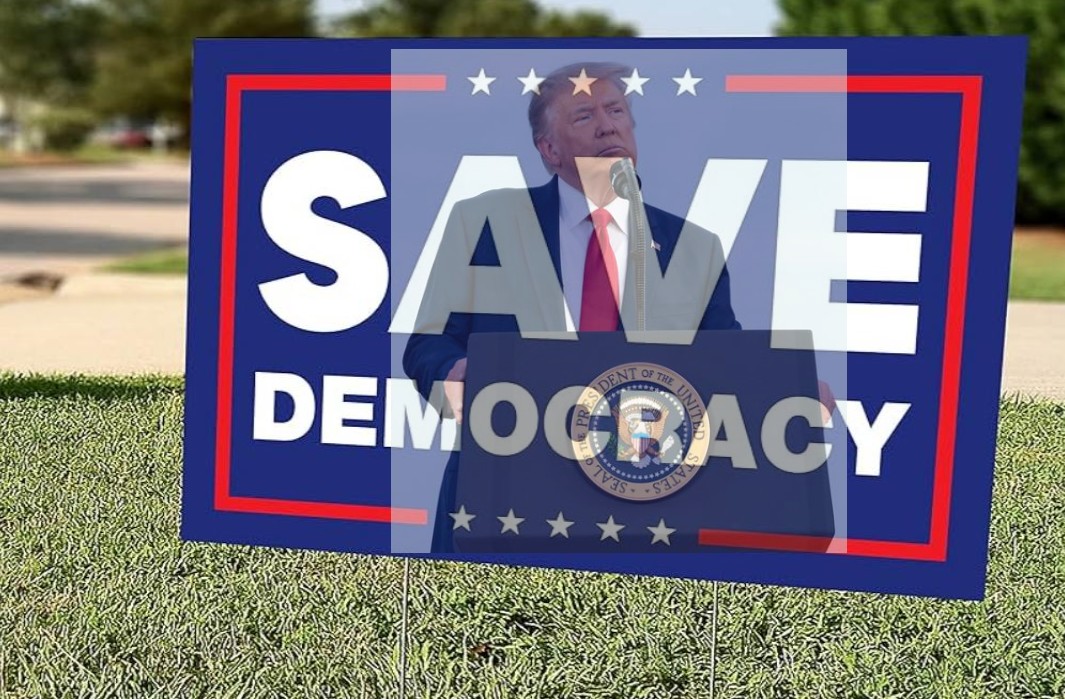 By Karen Ocamb | WEST HOLLYWOOD – The great Maya Angelou once said: "When someone shows you who they are, believe them the first time."
So why do so many people shrug off Donald Trump's dangerous proclamations of near divinity and absolute immunity from the rule of law?
Recently, in response to an avalanche of reports about his "authoritarian bent" and dire warnings of an "increasingly inevitable" Trump dictatorship in a second term, Trump – who's already been convicted of fraud in a New York civil lawsuit and faces up to 91 charges in four significant criminal cases – told Fox's Sean Hannity that he won't be a dictator, except on Day One.
"I love this guy," Trump said. "He says, 'You're not going to be a dictator, are you?' I said: 'No, no, no, other than Day One. We're closing the border and we're drilling, drilling, drilling. After that, I'm not a dictator.'"
After that? Does anyone believe Trump hasn't already developed a taste for dictatorship, having long boasted: "I could stand in the middle of 5th Avenue and shoot somebody and I wouldn't lose voters."
The twice impeached Trump is doubling down on Watergate-disgraced former President Richard Nixon's assertion: "Well, when the president does it, that means that it is not illegal."
And Trump has friends in high places. Democracy Docket's Marc Elias notes that newly elected House Speaker Mike Johnson "was a ringleader" in the coup attempt to overturn the results of the 2020 election. "He used his position as a lawyer and member of Congress to legitimize the fringe legal theory underpinning the 'Big Lie.' Other than former President Donald Trump, he is arguably the most culpable federal elected official in what transpired on Jan. 6, 2021."
The Brennan Center for Justice notes: "Johnson has ties to a movement that incorporates election denial into evangelical Christianity. Members of the movement held prayer sessions in which they asked for divine intervention to reverse the 2020 result….In 2024, Mike Johnson will hold the gavel. That should scare us all."
Johnson is now doctoring footage of the January 6th riot against the Capitol to prevent the Department of Justice from identifying and investigating the insurrectionists. Trump has already promised to pardon "a large portion" of Jan. 6 rioters convicted and jailed on federal offenses. Those rioters include Proud Boy whose members have shown up at drag readings and school board meetings, sometimes prompting anti-LGBTQ violence.
LGBTQ people should be seriously concerned. For nearly a decade, Johnson worked at Alliance Defending Freedom, "the far-right Christian group that has recently sought to ban the abortion medication mifepristone and public drag performances," according to The New Republic.
Additionally, one of Johnson's clients was anti-gay activist and former radical Christian preacher Grant Storms. Johnson "helped convince New Orleans officials to grant Storms a permit for a protest against an annual Pride celebration. Storms's protest ended up getting national attention when an anti-gay protester attempted to murder a man with a steak knife. Storms said the attacker was not part of his organization, but the assailant later told police he went to Storms's event because he wanted to 'kill a gay man.'"
LGBTQ people have long been targets for cruelty and hate. But the Trumpification of America has made it worse.
Last June, the New York Times reported: "There were more than 350 incidents of anti-L.G.B.T.Q. harassment, vandalism or assault in the United States from June 2022 through April 2023, according to a new report [by the Anti-Defamation League and GLAAD], reflecting a climate in which bias against gay and especially transgender people has become widespread."
Another report from the Center for the Study of Hate and Extremism at California State University, San Bernardino "shows a 52 percent increase in anti-L.G.B.T.Q. hate crimes around the country in 2022 and a 28 percent increase in the narrower anti-transgender category," and "a 47 percent increase in hate crimes against gender-nonconforming people, which the report defines as including drag performers."
When out progressive MSNBC host Rachel Maddow interviewed former Rep. Liz Cheney, the staunchly conservative Republican who co-chaired the House Jan. 6 Committee, they both were adamant about setting aside their serious political disagreements to join forces to stop Trump and prevent a Republican House majority in the 2024 election.
Cheney described it as "the cause of our time."
This is essential for LGBTQ folks, especially as we continue to be ignored unless we somehow make news. We are still considered an "issue," not an intersectional minority that deserves equality. Even the Supreme Court ruled against us based on a hypothetical possibility where the key document turned out to be fake.
We need to take a lesson from Stonewall and ACT UP and FIGHT BACK however we can.
And that includes me.
Last year Max Huskins – a straight Millennial friend of mine – and I decided to produce the YouTube series "Race to the Midterms," in partnership with the Los Angeles Blade. This fall, I realized we needed to do another series for the 2024 elections.
But the scope is too large to do as a cause/hobby to my full-time job. So I talked with my friend Steve Ralls (formerly with Servicemembers Legal Defense Network and Immigration Equality) – the VP of External Affairs who recruited me to Public Justice – and we worked out an arrangement where I will step away from my full-time staff position there and instead, be under contract to work exclusively on the Public Justice Emeritus Legacy Project, allowing me to devote the majority of my time to this new initiative.
This is our fight. Parental rights? These are our LGBTQ kids who've already suffered too much trauma, assaults and death by suicide. As Harvey Milk said: "We must give them hope."
We need to not only re-elect Joe Biden and Kamala Harris – but determined candidates for elective and public office who see us as a people deserving of equality, decency and the fundamental right to life, liberty and the pursuit of happiness.
See you in the trenches next year as we Race to Save Democracy!
****************************************************************************************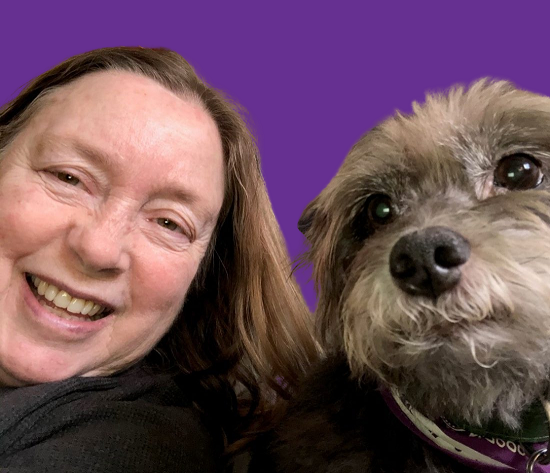 Karen Ocamb is the former news editor of the Los Angeles Blade. She is an award-winning journalist who, upon graduating from Skidmore College, started her professional career at CBS News in New York.
Ocamb started in LGBTQ media in the late 1980s after more than 100 friends died from AIDS. She covered the spectrum of the LGBTQ movement for equality until June 2020, including pressing for LGBTQ data collection during the COVID pandemic.
Since leaving the LA Blade Ocamb continues to advocate for civil rights and social, economic, and racial justice issues.
She lives in West Hollywood, California with her rescue dog Pepper.
******************************