Blackpool's Jake Daniels- First Out UK pro soccer player in 30 years
The Blackpool FC forward joins with Justinus Soni "Justin" Fashanu as the only two footballers to declare themselves openly Out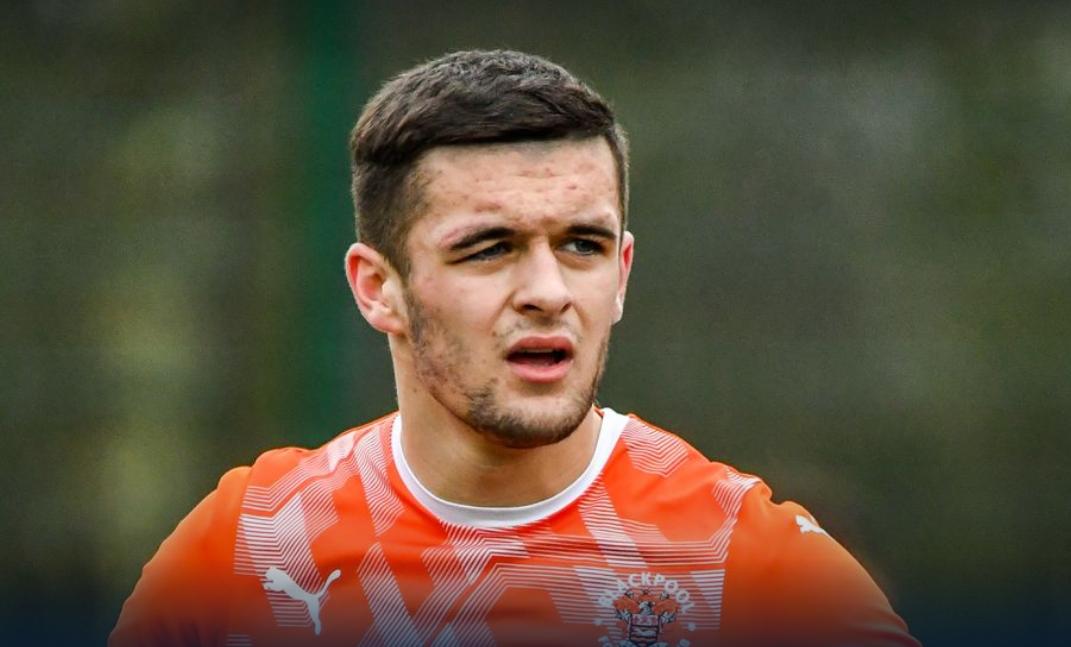 BLACKPOOL, Lancashire, England – A seventeen-year-old professional soccer player has made history as only the second person in the past 30 years to acknowledge their sexual orientation publicly in the sport in the United Kingdom.
Blackpool FC forward Jake Daniels joins with Justinus Soni "Justin" Fashanu as the only two footballers to declare themselves openly Out. Fashanu had come out in an exclusive with The Sun tabloid newspaper on October 22, 1990 and later retired in 1997. He later passed away in London in May 1998.
Daniels made his announcement via a statement released by the team on its webpage:
"This season has been a fantastic one for me on the pitch. I've made my first-team debut, scored 30 goals for the youth team, signed my first professional contract and shared success with my team-mates, going on a great run in the FA Youth Cup and lifting the Lancashire FA Pro-Youth Cup.
But off the pitch I've been hiding the real me and who I really am. I've known my whole life that I'm gay, and I now feel that I'm ready to come out and be myself.
It's a step into the unknown being one of the first footballers in this country to reveal my sexuality, but I've been inspired by Josh Cavallo, Matt Morton and athletes from other sports, like Tom Daley, to have the courage and determination to drive change.
In reaching this point, I've had some of the best support and advice from my family, my Club, my agent and Stonewall, who have all been incredibly pro-active in putting my interests and welfare first. I have also confided in my team-mates in the youth team here at Blackpool, and they too have embraced the news and supported my decision to open up and tell people.
I've hated lying my whole life and feeling the need to change to fit in. I want to be a role model myself by doing this.
There are people out there in the same space as me that may not feel comfortable revealing their sexuality. I just want to tell them that you don't have to change who you are, or how you should be, just to fit in.
You being you, and being happy, is what matters most.
Jake"
The team itself also noted:
"Blackpool Football Club has worked closely with Stonewall and the relevant footballing organisations to support Jake and is incredibly proud that he has reached a stage where he is empowered to express himself both on-and-off the pitch.
It is vital that we all promote an environment where people feel comfortable to be themselves, and that football leads the way in removing any form of discrimination and prejudice."
The largest LGBTQ+ advocacy organisation in the UK, Stonewall tweeted:
We are proud that Jake has felt able to share his truth with the world. To come out publicly as the first openly gay player in men's professional football in the UK in the last 30 years takes courage. We're honoured to be supporting him! 🏳️‍🌈⚽ https://t.co/4q1j9PSNxD

— Stonewall (@stonewalluk) May 16, 2022
Blackpool Football Club is a professional association football club based in seaside resort of Blackpool on the Irish Sea coast of England.
Anti-Trans activists claim trans women have an advantage at darts
Victoria Monaghan became the first trans woman to ever compete in the WDF World Darts Championship in England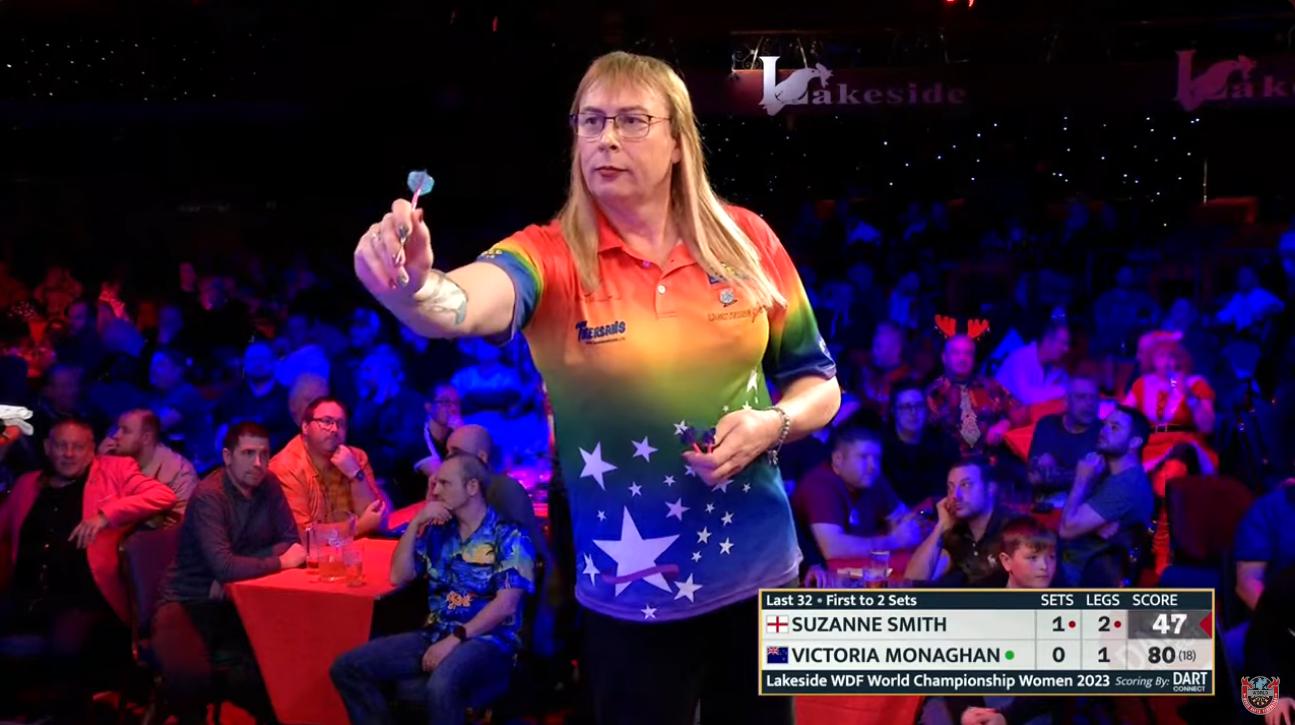 By Erin Reed | WASHINGTON – In recent years, those lobbying for restrictions on transgender individuals have focused heavily on sports. Some of the most influential anti-trans lobbyists in this arena, such as Terry Schilling of the American Principles Project, have stated that sports are an easy way to sell anti-trans policies to people who might otherwise reject discrimination.
Initially, the attacks on sports focused on contests of extreme endurance, such as elite swimming. Lately, however, these bans have entered new arenas. Now, there is a new sport where transgender participation is causing controversy: darts.
On Sunday, December 3rd, Victoria Monaghan made history as the first transgender woman to compete in the World Darts Federation's World Darts Championship. Monaghan, who has played darts since she was 12, mentioned that the New Zealand Darts Council has been incredibly supportive of her participation.
However, recently, after qualifying for the international tournament, opponents of transgender rights attacked her participation. They argued that transgender women should be banned from women's darts, claiming her participation was unfair due to supposed "biological advantages."
Martina Navratilova, a famed retired tennis player known for making anti-trans comments, decried Monaghan's participation, asking, "how the fuck is this acceptable?" The UK-based organization Fair Play For Women, which opposes transgender participation in sports, ridiculed Monaghan for participating, referring to her as a man.
One commentator claimed that trans women had physical advantages such as being able to throwing harder. One of the most outlandish claims, however, came from Dr. Linda Duffy, a sports psychology professor at Middlesex University. She stated that trans women have an advantage due to "cognition and brain structure."
See Dr. Duffy's comments here:
Quickly, however, people criticized the idea that trans women have an advantage in darts. Mark Grimshaw, a UK comedian, noted that the conversation swiftly shifted towards the notion that "women's brains are biologically cognitively inferior to men," ridiculing this idea as blatantly misogynistic.
TakedownMRAs, a Twitter account focused on opposing men's rights activism, also ridiculed the notion that trans women have an advantage in darts. Even some who generally support bans on trans individuals expressed concerns, with one person stating, "okay, this is giving the trans movement ammo."
There is no evidence supporting the idea that transgender women have a biological advantage in darts. Physical attributes such as strength or height are not significant in the game. For instance, one of the all-time best players, Phil Taylor, who is 5'8″, played in a World Darts Championship tournament at 59 years old. Similarly, there is no proof that transgender women possess a "cognitive advantage" over cisgender women in darts.
Recently, transgender participation in sports with no conceivable arguments for any "biological advantage" has come under fire. This is particularly evident in sports like pool. The same group that is attacking Monaghan's participation in darts also targeted a transgender pool player for participating in a pool tournament.
Additionally, transgender participation in chess has recently faced scrutiny from FIDE, the leading international chess organization. FIDE stated that trans women "do not have any right" to compete in women's chess categories.
As for Monaghan, she lost in the first round of the tournament. The woman she competed with, Suzanne Smith, gendered her correctly and stated that it was a hard won game that she was glad to get under her belt. Despite the hate that she is receiving from those who oppose her participation, Monaghan states that this is not the norm.
"Most of the women darts players have been really supportive," she wrote in an article released the day of her match. "and the others are starting to come around."
****************************************************************************
Erin Reed is a transgender woman (she/her pronouns) and researcher who tracks anti-LGBTQ+ legislation around the world and helps people become better advocates for their queer family, friends, colleagues, and community. Reed also is a social media consultant and public speaker.
Follow her on Twitter (Link)
Website here: https://www.erininthemorning.com/
******************************************************************************************
The preceding article was first published at Erin In The Morning and is republished with permission.