NPR poll: Supreme Court leak firing up Democratic voters
Two-thirds of Democrats say the contents of the Supreme Court leak make them more likely to vote in November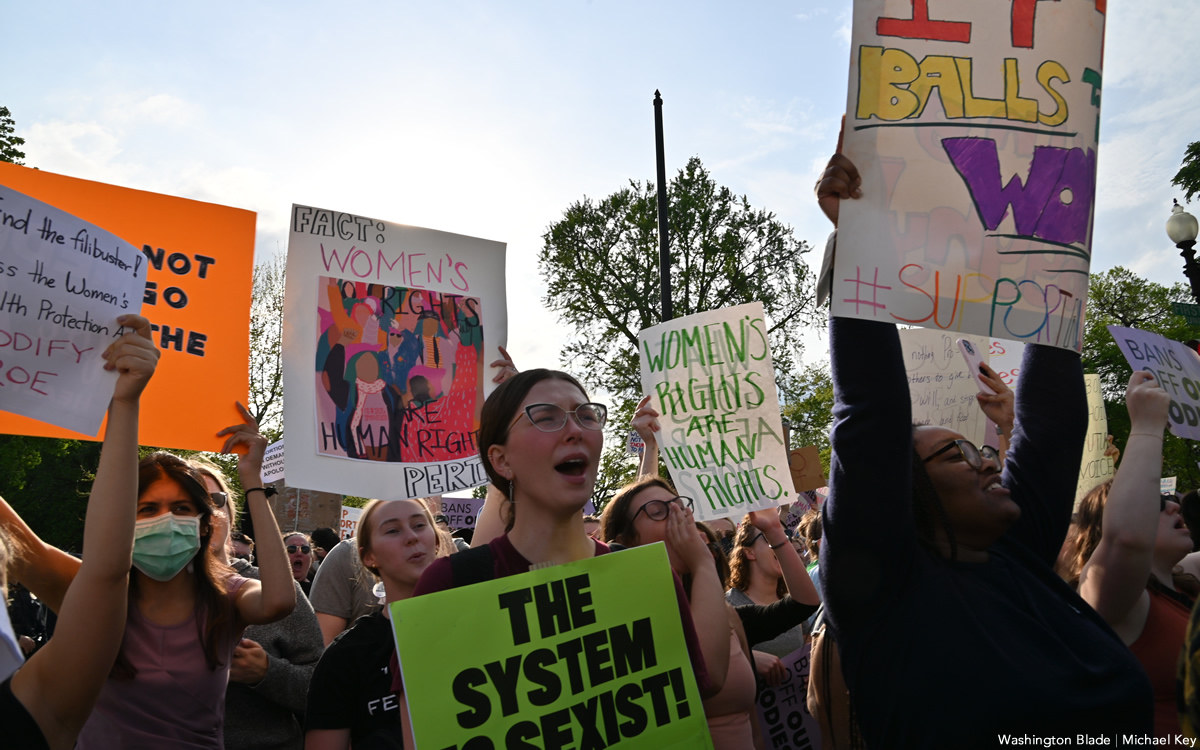 WASHINGTON – The latest NPR/PBS NewsHour/Marist poll released Thursday showed that two-thirds of voters do not support overturning Roe v. Wade. However, the poll also revealed that in this mid-term election year cycle, the leak of the draft U.S. Supreme Court opinion that indicated the court's willingness to overturn the landmark ruling on abortion rights has fired up Democrats.

NPR reported that the poll shows that two-thirds of Democrats say the contents of the leak make them more likely to vote in November, as compared to just 40% of Republicans who said so.
"It definitely has them [Democrats] focused as no other issue in the recent months has," said Lee Miringoff, director of the Marist Institute for Public Opinion, which conducted the poll. "And to have a gap of that magnitude over the Republicans is something that, at this point, should not go unnoticed."
The survey of 1,304 adults, including 1,213 registered voters, has a margin of error of +/- 3.9 percentage points when adults are referenced and +/- 4.1 percentage points when referring to voters. That means results could be about 4 points higher or lower. The poll was conducted from May 9 to 13 by live interview callers, who reached respondents via cell phone and landline in English and in Spanish.
Abortion rights: California Constitutional Amendment heads to ballot
The state is expanding efforts to protect women seeking abortions or reproductive care as well as anyone assisting those women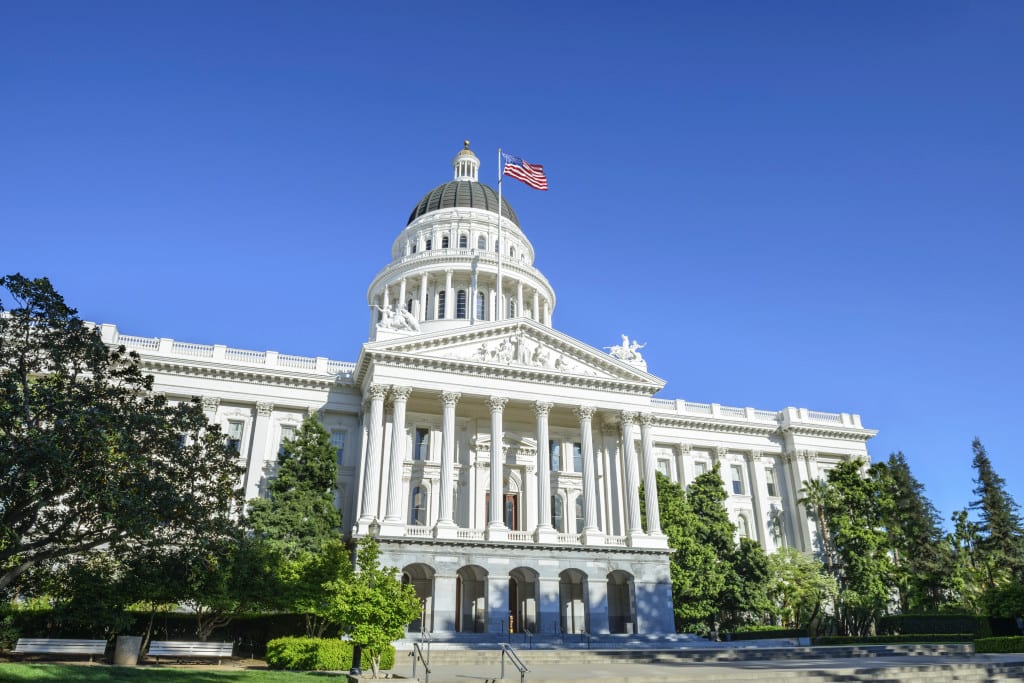 SACRAMENTO – In November, California voters will have an opportunity to amend the state's constitution to include the right to an abortion and today, Governor Gavin Newsom signed an executive order to further protect women coming to California from other states.
"California will not back down from the fight to protect abortion rights as more than half the states in this country, enabled by the Supreme Court, ban or severely restrict access," said Newsom. "We are ensuring Californians will have the opportunity this November to enshrine the right to choose in our state constitution. And we're not waiting until November to take action, today's executive order ensures that the state will not hand over patients who come here to receive care and will not extradite doctors who provide care to out-of-state patients here. In California, women will remain protected."
The order signed today prevents any information, including medical records and patient data, from being shared by state agencies or departments in response to inquiries or investigations brought by other states or individuals within those states looking to restrict access. The state is expanding efforts to protect women seeking abortions or reproductive care as well as anyone assisting those women.

SCA 10 was passed by the California State Assembly today and now heads to the November ballot.
Within hours of the U.S. Supreme Court's decision to overturn Roe v. Wade last Friday, Governor Newsom signed legislation to help protect patients and providers in California from civil liability for providing, aiding, or receiving abortion care in the state. In addition, Governor Newsom and the governors of Oregon and Washington launched a new Multi-State Commitment to defend access to reproductive health care and protect patients and providers.
The budget agreement announced yesterday includes more than $200 million in additional funding for reproductive health care services. Governor Newsom recently signed legislation eliminating copays for abortion care services and has signed into law a legislative package to further strengthen access and protect patients and providers.
Newsom, Senate & Assembly leaders announce budget agreement
23 million Californians will benefit from direct payments of up to $1,050 & additional funds to help people pay rent & utility bills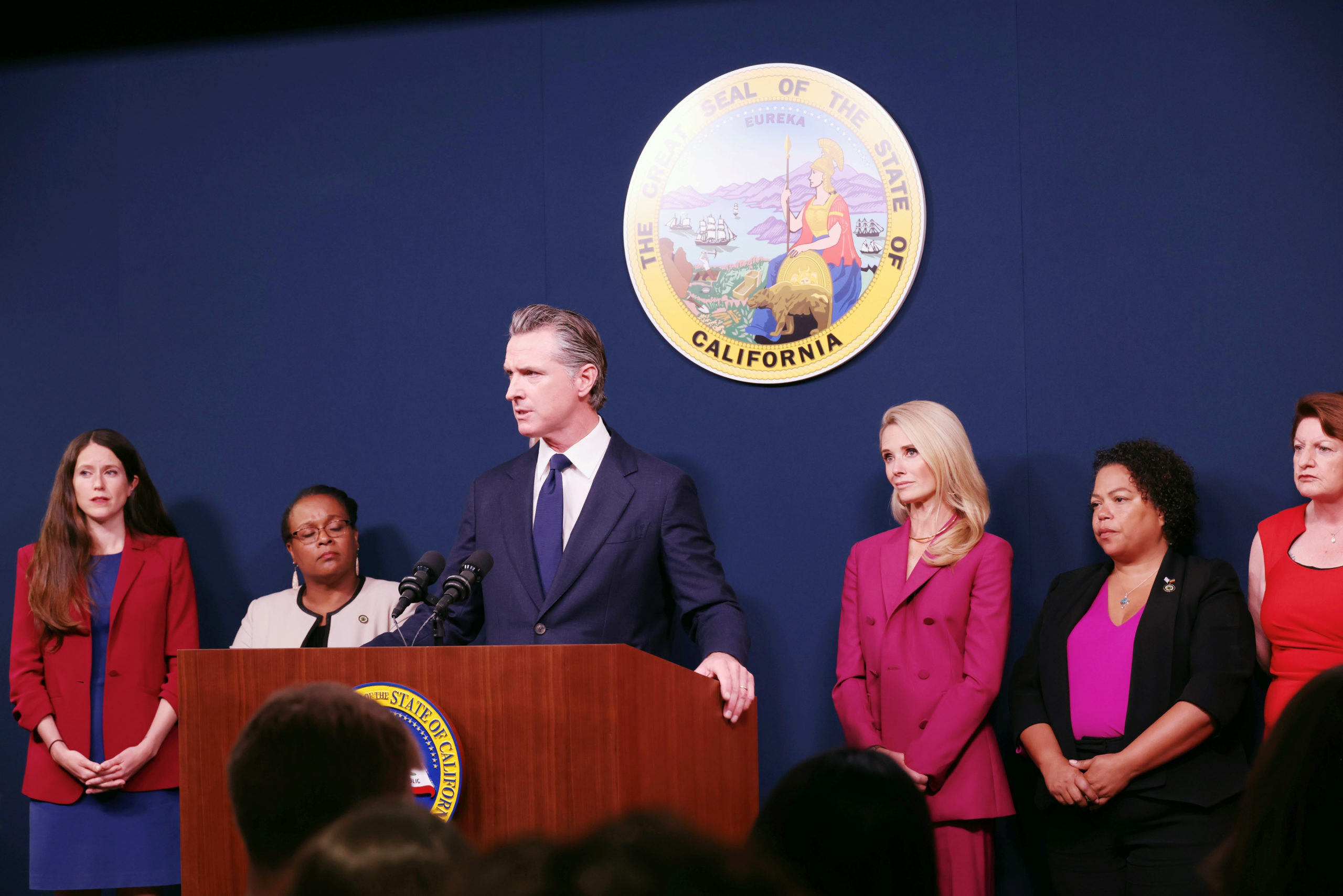 SACRAMENTO – California Governor Gavin Newsom, Senate President pro Tempore Toni G. Atkins (D-San Diego) and Assembly Speaker Anthony Rendon (D-Lakewood) announced they had were able to reach an agreement on the framework for the 2022-23 state budget.
In a statement released Sunday evening, the state's leadership said:
"California's budget addresses the state's most pressing needs, and prioritizes getting dollars back into the pockets of millions of Californians who are grappling with global inflation and rising prices of everything from gas to groceries.
"The centerpiece of the agreement, a $17 billion inflation relief package, will offer tax refunds to millions of working Californians. Twenty-three million Californians will benefit from direct payments of up to $1,050. The package will also include a suspension of the state sales tax on diesel, and additional funds to help people pay their rent and utility bills.
"In addition, California is doubling down in our response to the climate crisis – securing additional power-generating capacity for the summer, accelerating our clean energy future, expanding our ability to prepare for and respond to severe wildfires, extreme heat, and the continuing drought conditions that lie ahead.
"This budget builds on our unprecedented commitment to transform the resources available in our state, from a $47 billion multi-year infrastructure and transportation package to education and health care, showing the nation what a true pro-life agenda looks like. With these new investments, California will become the first state to achieve universal access to health care coverage.
Newsom and his legislative counterparts also highlighted that in the wake of Friday's stunning U.S. Supreme Court decision, California is reaffirming its commitment to defending reproductive rights, providing more than $200 million in additional funding for reproductive health care services. The state will also be investing in key programs that help California families, from funding for homeownership programs and billions of dollars in additional ongoing funding for education, to universal preschool, children's mental health, and free school meals.
"In the face of growing economic uncertainty, this budget invests in California's values while further filling the state's budget reserves and building in triggers for future state spending to ensure budget stability for years to come," the statement read.
Yesterday the governor and the leadership agreed to the framework to offset the high cost of gas prices and the hit inflation has created on the wallets of taxpayers, particularly those who least able to bear the added cost burden. Under the budget compromise most California taxpayers would get hundreds of dollars in cash to help offset the high price of fuel and other goods.
Activists gather & prepare for post-Roe America
"For a country about personal rights, we're doing an awful lot right now to limit women's ability to do what they want with their body"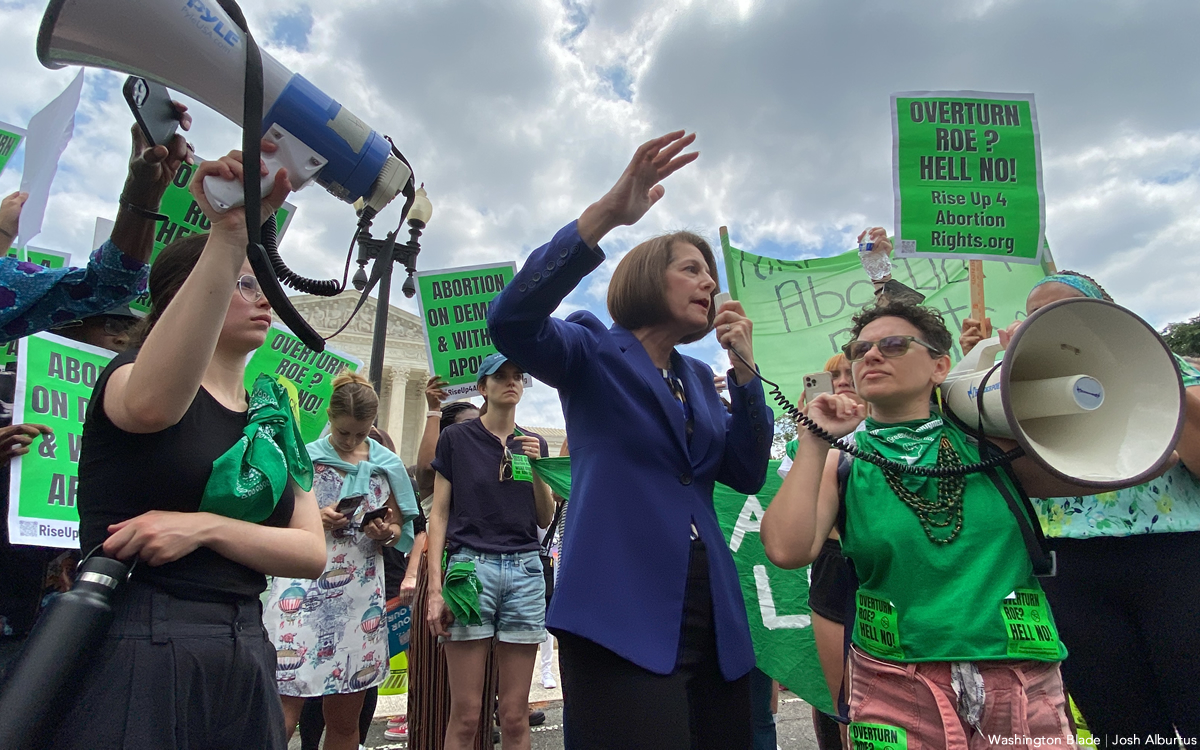 WASHINGTON – Just moments after the U.S. Supreme Court delivered its decision on Friday overturning its landmark ruling in Roe v. Wade that had legalized abortion nationwide for 49 years, hundreds gathered outside the Court to both protest and celebrate the ruling.
In its decision in Dobbs v. Jackson Women's Health Organization, the court found that access to abortion was not a right guaranteed under the language of the Constitution. The ruling effectively reversed the Court's 1973 decision that mandated states to allow the procedure in most instances throughout the first two trimesters of pregnancy.
Immediately following the decision, a group of those welcoming the decision quickly gathered in front of the Court.
Anna Lulis, a member of Students for Life of America, welcomed the decision as long overdue.
"I think it is a huge victory for human rights," Lulis said. "For far too long, since 1973, human rights have been infringed upon at an egregious level."
Beside Lulis, Olivia Cowin, a member of Survivors LA, shared a similar reason for gathering outside the Court.
"This is a celebratory day to show our support of the unborn and of women and support both simultaneously," Cowin said.
But not all that were gathered immediately after the unveiling of the decision were encouraged by the decision's implications.
Across the way from the Court's west side, Virginia resident Alysia Dempsey feared what the verdict in Dobbs could mean for women's rights – including those of her four daughters.
"I believe in women's rights, and I think that our country needs to be able to start listening to each of our stories and to have empathy for them in so many different aspects," Dempsey said. "I feel like we're sort of going back in time with regard to so many rights."
Hailing from Arizona, a state under Republican legislative leadership where Planned Parenthood has already halted all abortion services pending legal clarity from the state, Hannah Waldrip cast doubt on the sincerity of anti-abortion rationale.
"For a country about personal rights and personal freedom, we're doing an awful lot right now to limit women's or people with uterus' ability to do what they want with their body," Waldrip said.
Stark divisions between the groups arose as ideological lines could be seen physically emerging between the crowds.
And as the day progressed, those protesting the ruling quickly began to outnumber its supporters.
Among the protesters, the color green – a symbol for abortion rights activists borne out of similar movements in Argentina and elsewhere in Latin America – could be seen lining the street on scarves, shirts, stickers, and elsewhere.
As the crowd continued to grow and green began to eclipse the heat-simmering pavement beneath the protesters, several speakers emerged amidst the epicenter of the crowd.
One of those speakers was Elizabeth Paige White, a civil rights lawyer working under nationally renowned attorney Ben Crump.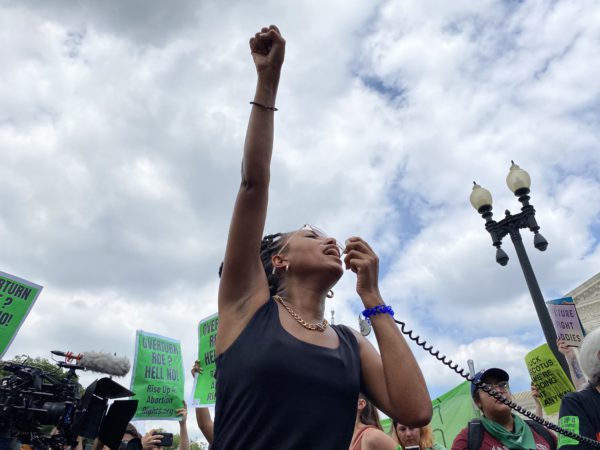 In connecting Friday's decision to the United States' history of patriarchal structure, White called into focus the disproportionate effect the repeal of nationwide abortion access is widely expected to have on minorities and communities of color with less resources to travel to abortion-friendly states.
"As Black, Brown, and all these women out here know, we've been fighting for our rights since the inception of this country," White said. "We have been fighting to have rights over our own bodies since the inception of this country."
With the repeal of Roe, decisions on whether to legalize or outlaw abortion will now be left to each individual state. As of Friday's ruling, 13 states are now set to make almost all abortions illegal, having passed "trigger bans" designed to take effect in the immediate aftermath of Roe's demise or within the next month.
However, many abortion rights supporters, activists and lawmakers still fear that the curtailing of reproductive rights won't end with the Court's decision.
Sen. Catherine Cortez-Masto (D-Nev.) addressed the crowd with a message of urgency and revelation.
"At the end of the day, let me just say, here's what's next," Cortez-Masto said. "I've got some of my Republican colleagues based on this decision who are already drafting legislation to restrict abortion in this country. If they win this election, they will pass that legislation and it will preempt all of the state laws we have protecting women in this country when it comes to our right to choose."
Even beyond nationwide restrictions on abortion, some fear even more privacy restrictions are now under fire.
Such privacy rights have been established in other past Supreme Court rulings based on the same Due Process and Equal Protection clauses of the 14th Amendment that justices used to interpret nationwide abortion rights nearly half a century ago. These cases have included those that established access in all states to contraception, same-sex marriage, interracial marriage, and the right to same-sex relations in the privacy of one's home.
Among the crowd gathered on Friday, such was a sobering outlook for many.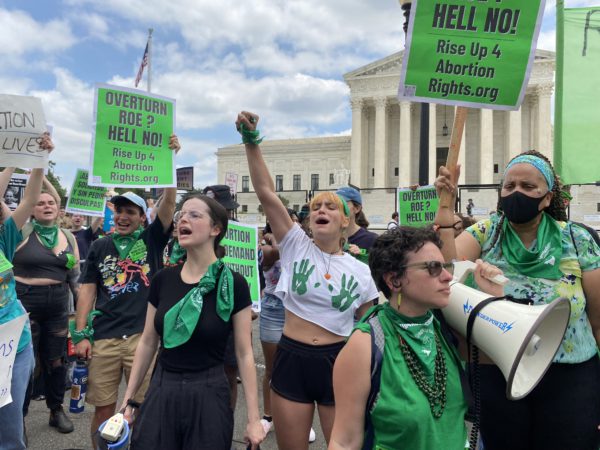 "Gay marriage, interracial marriage, gay sex are going to fall like fucking dominoes if we let them," one speaker outside the Court said.
Anger and fear could be felt permeating those in the crowd. Activists, however, were determined to turn their compatriots' fears into action and change.
"We must get out in the streets," the speaker said. "We need millions of people all around the country because this affects every single living, breathing person in this country whether they realize it yet or not."
Among protesters' trepidation regarding the future of women's rights and privacy rights in America, many clung to a message of hope as speakers and activists pledged to continue fighting.
"They have worked to keep us down, they worked to keep us enslaved, they worked to keep us out of the polls, they worked to keep us out of political offices, they've worked to keep us in the home," White said. "But we know, as we fought for centuries, that this will not stand."