100+ confirmed cases of monkeypox in 12 countries & spreading
A notable proportion of cases in the UK and across Europe have been found in gay & bisexual men health officials say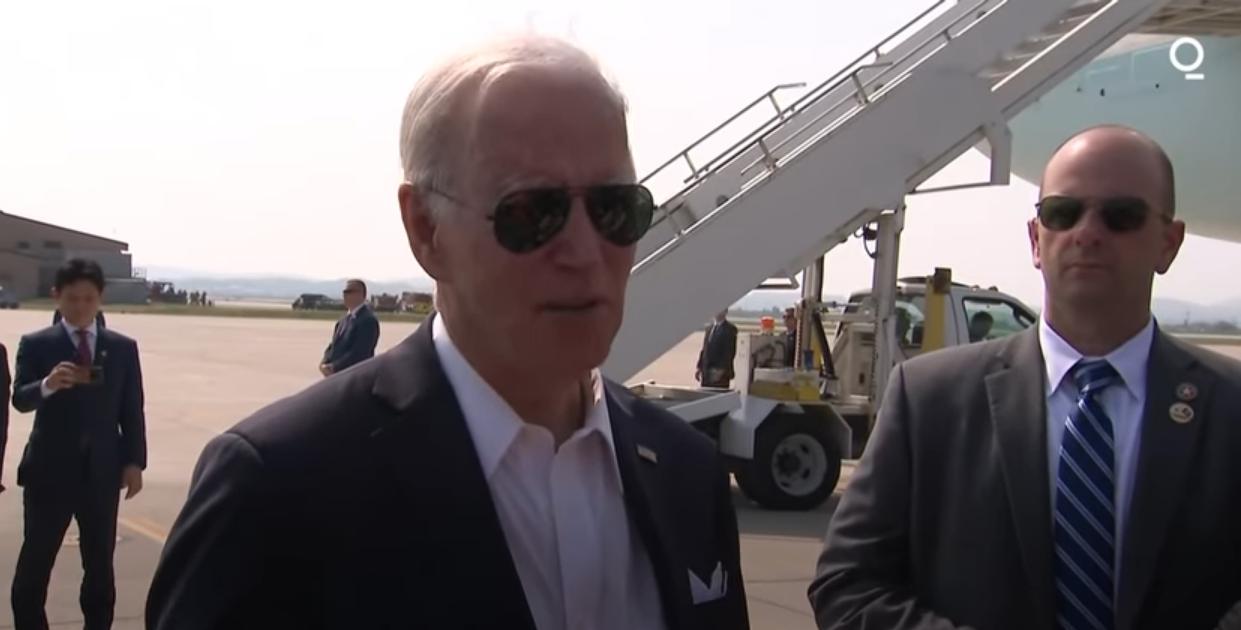 COPENHAGEN, Denmark – Dr. Hans Henri P. Kluge, the Regional Director of Europe for the World Health Organisation (WHO) is warning that confirmed cases of monkeypox, which is most often seen in West and Central Africa, has escalated in Europe and elsewhere globally.
The United Kingdom, Spain, Portugal, Germany, Belgium, France, the Netherlands, Italy and Sweden – as well as the U.S., Canada and Australia are all reporting cases
"The situation is evolving and WHO expects there will be more cases of monkeypox identified as surveillance expands in non-endemic countries," Kluge said.
In Britain, the UK Health Security Agency's Chief Medical Adviser Dr. Susan Hopkins noted in a statement released this past weekend:
"We anticipated that further cases would be detected through our active case finding with NHS services and heightened vigilance among healthcare professionals. We expect this increase to continue in the coming days and for more cases to be identified in the wider community. Alongside this we are receiving reports of further cases being identified in other countries globally.
Because the virus spreads through close contact, we are urging everyone to be aware of any unusual rashes or lesions and to contact National Health Service or a sexual health service if they have any concerns. Please contact clinics ahead of your visit and avoid close contact with others until you have been seen by a clinician.
A notable proportion of recent cases in the UK and Europe have been found in gay and bisexual men so we are particularly encouraging them to be alert to the symptoms and seek help if concerned.
Clinicians should be alert to any individual presenting with unusual rashes without a clear alternative diagnosis and should contact specialist services for advice," she added.
Monkeypox, which can be transmitted by droplets and by close contact with infected skin lesions or contaminated materials, usually incubates in people for 6 to 13 days before symptoms appear.
UKHSA notes that this rare virus, in the same family as smallpox, has not previously been described as a sexually transmitted infection, but it it can be passed on through very close human contact, such as touching blood or body fluids or prolonged exposure to the respiratory droplets of an infected person. It can also been transmitted with clothing or linens used by an infected person.
In Washington D.C., Dr. Ashish Jha, the White House Covid-19 response coordinator, told ABC he wouldn't be surprised if the US saw "a few more" cases of monkeypox in the coming days.
"But I feel like this is a virus we understand, we have vaccines against it, we have treatments against it, and it's spread very differently than SARS-CoV-2" — the virus that causes Covid-19, Jha told ABC's Martha Raddatz on Sunday.
Traveling in Asia, President Joe Biden told CNN's Kaitlan Collins as he was preparing board Air Force One to depart South Korea on Sunday; "They haven't told me the level of exposure yet, but it is something that everybody should be concerned about," he said.
"We're working on it hard to figure out what we do and what vaccine, if any, might be available for it. It is a concern in that if it were to spread it would be consequential. That's all they told me," the president added.
CNN reported that the US Centers for Disease Control and Prevention is evaluating whether a smallpox vaccine should be offered to health care workers treating monkeypox patients and other people who may be at "high risk" for exposure to monkeypox.
UK Health Security Agency's Hopkins cautions that people should be aware of monkeypox — but that the risk to the general population "remains extremely low at the moment."
"I think people need to be alert to it," said Hopkins. "We really want clinicians to be alert to it and send the test if they're concerned."
Hopkins also said based on reports from Africa, the UKHSA knows certain people are "much more at risk of severe disease, particularly immunosuppressed individuals or young children.
"While there is "no direct vaccine for monkeypox," she said, "we are using a form of smallpox vaccine or third-generation smallpox vaccine that's safe on individuals who are contacts of cases."
Symptoms
Initial symptoms of monkeypox include fever, headache, muscle aches, backache, swollen lymph nodes, chills and exhaustion. A rash can develop, often beginning on the face, then spreading to other parts of the body including the genitals.
The rash changes and goes through different stages, and can look like chickenpox or syphilis, before finally forming a scab, which later falls off.
"A feature that distinguishes infection with monkeypox from that of smallpox is the development of swollen lymph nodes," the CDC said.
Biden Comments On Monkeypox As He Leaves South Korea: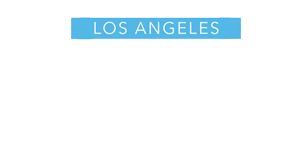 Unvaccinated 14 times more likely to contract monkeypox
Racial disparities persist in new cases of monkeypox as Black & Latino people are overrepresented in the numbers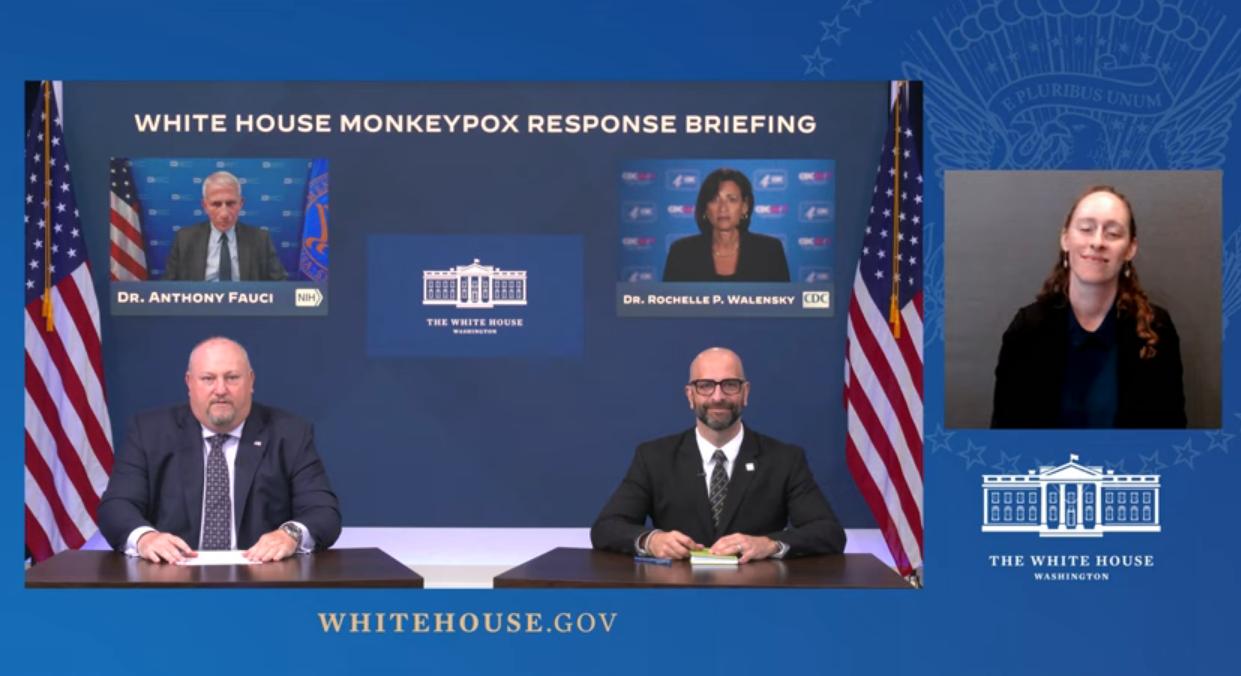 WASHINGTON – U.S. health officials are celebrating preliminary data on the vaccine used in the monkeypox outbreak, which has led them to conclude eligible persons who didn't get a shot were 14 times more likely to become infected than those who are vaccinated.
The new data, as described by health officials on the White House monkeypox task force during a call with reporters on Wednesday, comes as the overall number of new cases of monkeypox is in sharp decline, although considerable racial disparities persist in the remaining cases as Black and Latino people are overrepresented in the numbers.
Rochelle Walensky, director of the Centers for Disease Control & Prevention, said during the conference call the preliminary data — collected from 32 states between July 2022 and September 2022 — provides an early shapshot of the effectiveness of the vaccine and cause for optimism on the path forward.
"These new data provide us with a level of cautious optimism that the vaccine is working as intended," Walkensky said. "These early findings and similar results from studies and other countries suggest even one dose of the monkeypox vaccine offers at least some initial protection against infection."
Walensky during the conference call admitted the data is incomplete in numerous ways. For example, the data is based on information on individuals who have obtained only the first shot as opposed to both shots in the two-shot vaccination process. (The data showing positive results from individuals who have only one shot contradicts previous warnings from the same U.S. health officials that one shot of the monkeypox vaccine was insufficient.)
The data also makes no distinction between individuals who have obtained a shot through subcutaneous injection, a more traditional approach to vaccine administration, as opposed to intradermal injection, which is a newer approach adopted in the U.S. guidance amid the early vaccine shortage. Skeptics of the new approach have said data is limited to support the idea the intradermal injection is effective, particularly among immunocompromised people with HIV who have been at higher risk of contracting monkeypox.
Not enumerated as part of the data were underlying numbers leading health officials to conclude the unvaccinated were 14 times more likely to contract monkeypox as opposed to those with a shot, as well as any limiting principle on the definition of eligible persons. Also unclear from the data is whether individual practices in sexual behavior had any role in the results.
Despite the positive data on the monkeypox vaccine based on one shot, U.S. health officials warned during the conference call the two-shot approach to vaccine administration is consistent with their guidance and more effective.
Demetre Daskalakis, the Biden administration's face of LGBTQ outreach for monkeypox and deputy coordinator for the White House monkeypox task force, made the case that for individuals at risk obtaining a second dose is "really important."
"So we see some response after the first [shot] in the laboratory, but the really high responses that we want to really get — that you know, level 10 forcefield as opposed to the level five forcefield — doesn't happen until the second dose," Daskalakis said. "So the important message is this just tells us to keep on trucking forward because we need that second dose at arms that people haven't gotten the first should start their series of two vaccines."
Also during the call, health officials said they would be expanding opportunities for vaccines as pre exposure prophylaxis, as opposed to practices in certain regions granting vaccines in their limited supply to individuals who meet certain criteria or have had risk of exposure.
The Centers of Disease Control & Prevention, officials said, is also updating its guidance to allow injection of the vaccines in places other than a patient's arm.
Daskalakis said fear of stigma about getting a noticeable shot in the forearm after obtaining a monkeypox vaccine was a key part of the decision to issue the new guidance on implementation.
"Many jurisdictions and advocates have told us that some people declined vaccine to monkeypox because of the stigma associated with the visible but temporary mark often left on their forearm," Daskalakis said. "New guidance from CDC allows people who don't want to risk a visible mark on their forearm to offer a vaccine on their skin by their shoulder or their upper back. Those are areas more frequently covered by clothes."
Supervisor Hahn to host Downey & Long Beach vax pop-ups
"This vaccine is critical to keeping people safe from the MPOX virus and I want to make it as easy as possible for people to get vaccinated"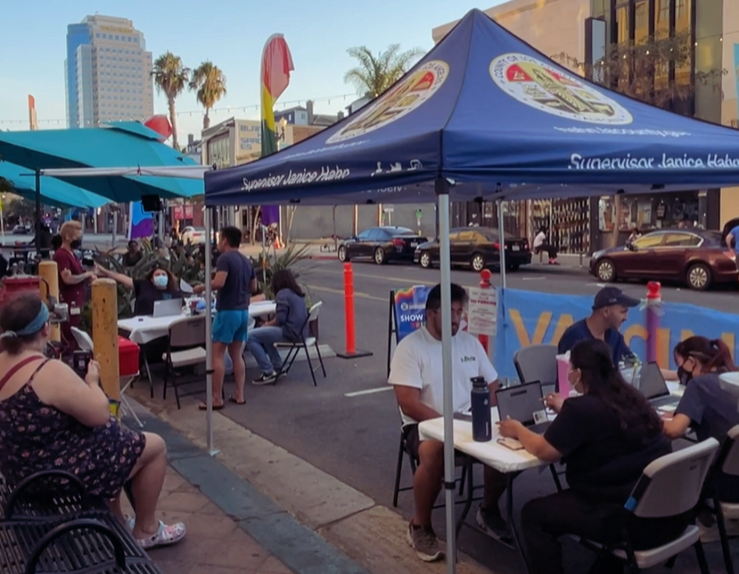 DOWNEY, Ca – Los Angeles County Supervisor Janice Hahn will host a series of Mpox vaccine pop-up clinics outside of bars in Downey and Long Beach this coming weekend. These follow a successful Mpox vaccine pop-up that the Supervisor held outside of Hamburger Mary's in Long Beach earlier this month, where 67 people received a dose.
"This vaccine is critical to keeping people safe from the MPOX virus and I want to make it as easy as possible for people to get vaccinated," said Supervisor Hahn. "I am partnering with the LA County Department of Public Health, Long Beach Public Health, and the City of Downey to bring these pop-up vaccine clinics to places where people spend their free time and that are considered safe spaces by the LGBTQ+ community."
Muevelo Fridays is an LGBTQ+ Latino dance party held once a week at The Epic Lounge in Downtown Downey. Falcon and Falcon North are well-established bars serving Long Beach's LGBTQ+ community. The Falcon is located on East Broadway, home to several other gay bars that attract people from across the region.
"We appreciate that the Supervisor listens to community concerns, especially when it comes to public health, and we're grateful that she's using her resources at the county level to bring the mobile testing unit to Downey," said Downey Councilman Mario Trujillo, who worked with Supervisor Hahn's office to bring the pop-up to Downey on Friday. "We invite Downey residents and residents from surrounding communities to take advantage of the unit that's being brought locally for their benefit."
The vaccine pop-ups are carried out using a cargo van mobile unit. Supervisor Hahn purchased one of these mobile vans to bring COVID-19 vaccines to communities across her district.
On-site vaccination staff are employees of the Los Angeles County and Long Beach public health agencies.             
What:  Supervisor Janice Hahn Mpox vaccine pop-ups
Details:
Friday, September 23, 8pm to 10:30pm
Muevelo Fridays
The Epic Lounge
8239 2nd St., Downey, CA 90241
Saturday, September 24, 8pm to 12am
Falcon
1435 East Broadway, Long Beach, California 90802
Sunday, September 25, 5pm to 9pm
Falcon North
2020 East Artesia Boulevard, Long Beach, California 90805
Racial disparities persist in monkeypox outbreak
With the racial disparity ongoing, health observers say additional efforts are needed to reach out to marginalized communities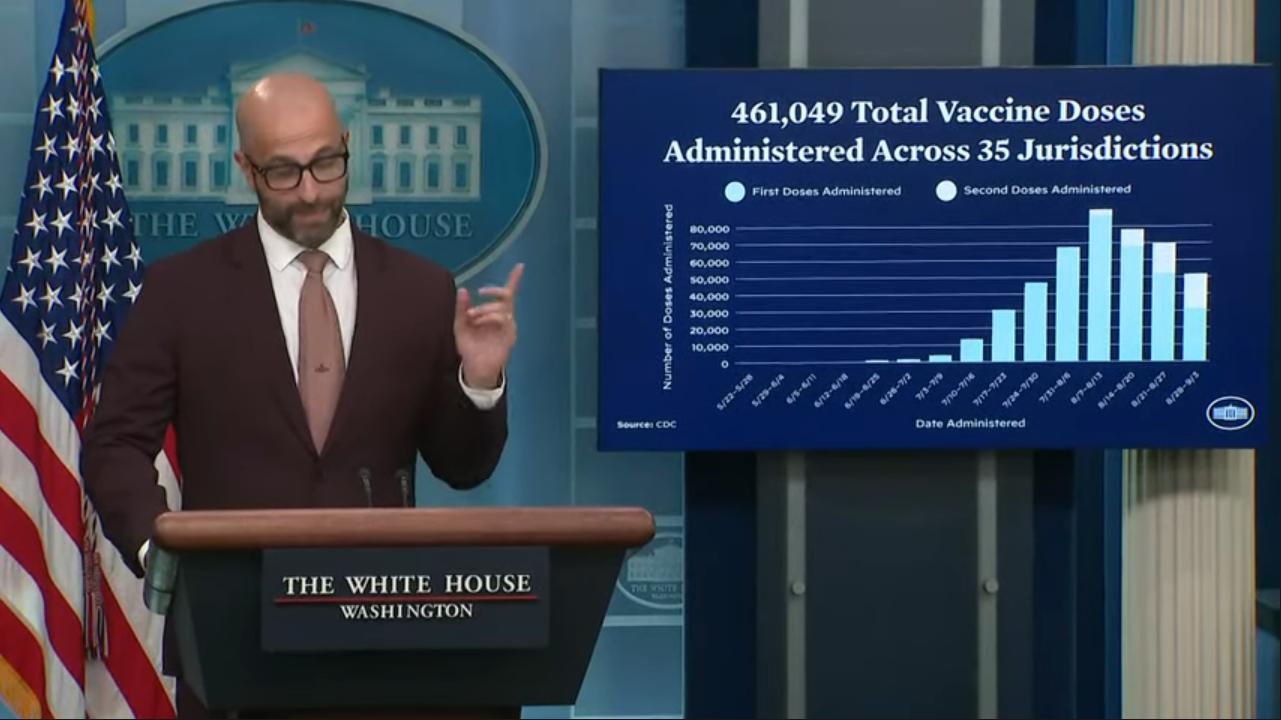 WASHINGTON – Racial disparities persist in response to the monkeypox outbreak as the numbers of Black and Latino men contracting the disease are now disproportionately high, but that inequity is getting new attention as overall cases drop.
Although overall new cases in the monkeypox outbreak are steadily on the decline after numbers peaked in the summer, a growing share of the continuing numbers belong to men who have sex with men who are racial minorities.
The latest numbers show the racial disparity dramatically. In the week of Sept. 4, Black people consisted of 41 percent of the cases and Latinos consisted of 27 percent, while 26 percent were white and three percent were Asian, according to data from the Centers for Disease Control.
Black people among the new cases of monkeypox were much smaller when numbers were first reported earlier in the summer. For example, the percentage was 18 on June 22 and as low as 8 percent June 8. The percentage of Latinos, as with white people, has been on the decline, although they're still overrepresented in new cases in the context of their demographics in the U.S. population at large.
The disproportionate impact of new monkeypox cases on racial minorities hasn't gone unnoticed. As a result, health officials are attempting to shift the focus of the monkeypox outbreak away from gay and bisexual men and other men who have sex with men more broadly and more toward men of color who are sexual minorities.
Sean Cahill, director of health policy research at the Boston-based Fenway Institute, said in an interview with the Washington Blade the racial disparities in the monkeypox outbreak are largely the result of Black and Latino men being "less likely to get vaccinated than their proportion of the population."
"So they're more vulnerable to monkeypox, and they're less likely to get the vaccine," Cahill said. "So that's a real problem, and it's really critical that you know, federal, state and local partners come together and really center equity in the response and try to reduce the burden on Black and Latino gay men, but also increase access to the vaccine to ensure that people can protect themselves."
The Fenway Institute last week issued a blueprint calling for a more effective federal response to monkeypox, accusing the U.S. government of failing to effectively mobilize existing public health infrastructure to aid communities affected by the virus. The document outlines a range of possible actions, but also concludes marginalized communities are having difficulty accessing vaccines and treatments, which are concentrated at well-resourced institutions less accessible to communities of color.
Cahill, asked to characterize whether the numbers demonstrating racial disparity have changed over time or have remained stagnant, said any trends are difficult to determine because the data on racial demographics has been available only recently and "it's very imperfect data."
"I don't know if it's getting worse or better, the disproportionate racial ethnic impact," Cahill said. "But it's definitely there, and it doesn't seem to be going away."
The Biden administration, while touting the 20 percent decline in overall cases in the monkeypox outbreak, has also started to recognize the continued disproportionate impact of monkeypox on Black and Latino men who have sex with men.
Rochelle Walensky, director for the Centers for Disease Control & Prevention, said during a conference call with reporters the U.S. government approaches the decline with "cautious optimism."
"Over the past several weeks, we have also seen the racial and ethnic makeup of this outbreak evolve," Walensky said. "While monkeypox cases were first seen predominantly in non-Hispanic white men, in the last week, among the cases for which we have race and ethnicity data, non-Hispanic Black men represented 38 percent of cases, Latino or Hispanic men represented 25 percent of cases, and non-Hispanic white men represented 26 percent of cases."
Among the efforts the Biden administration has undertaken is a pilot program for vaccines reserved for large events and equity. Monkeypox vaccines have been administered to more than 10,000 people, including at Southern Decadence in New Orleans, Atlanta Black Gay Pride, Charlotte Pride, Boise Pride Festival, and Oakland Pride and Pridefest.
Dr. Demetre Daskalakis, the face of LGBTQ outreach for the Biden administration in monkeypox efforts and deputy director the White House monkeypox task force, was among those promoting the pilot program in equity efforts during a conference call with reporters.
"Health departments will use their local experience and connection to the community to identify hyperlocal strategies to improve vaccine access to communities of color, specifically those that are overrepresented in this outbreak," Daskalakis said.
David Johns, executive director of the National Black Justice Coalition, said in the racial disparities in the monkeypox outbreak are consistent with other trends in public health.
"There have been so many opportunities to learn ways to address health inequities before they grow," Johns said. "That Black people continue to be disproportionately impacted by this newest health epidemic is additional evidence of how white supremacy works and the importance of democratized responses to crises."
Biden health officials, asked by the Washington Blade during the virtual meeting why the administration's stated goal of equity in managing the monkeypox outbreak isn't producing racial equity among new cases, restated their efforts and talked about the difficulty in achieving that goal.
Walensky, who has also had a lead role in the Biden administration combating the coronavirus pandemic, said racial disparities in the monkeypox outbreak "is not uncommon for many infectious diseases, quite unfortunately," and defended the U.S. government's approach to monkeypox.
"And it is exactly for these reasons why we started on these pilot projects before we even saw the shifts in data, as that is often the case in infectious diseases that we have more vulnerable population — racial and ethnic minorities — who are most impacted later on," Walensky added. "And so, we anticipated this. We have embarked on these activities to address this in exactly this moment."
Daskalakis, following up in defense of the Biden administration's efforts on equity, said he's "spoken to providers on the ground and also promoters at these events who have noted that this effort is really unprecedented in terms of reaching deeply into these communities."
"I think all of our commitment in the administration is to really focus efforts on equity to resolve the issues that we're seeing. It is a hard effort and it's a challenge," Daskalakis added. "And I think that the way to address equity is intentionally, and this is an example of intentional work to address equity."
With the racial disparity in the monkeypox outbreak ongoing, health observers say additional efforts are needed to reach out to marginalized communities to ensure they have access to public messaging and vaccinations.
Cahill said although people of color in urban areas go to LGBTQ centers to receive health care, many of them are also getting care through other facilities that aren't LGBTQ-specific, such as emergency rooms and urgent care clinics .
"I think providing some training and technical assistance to those healthcare organizations in how to provide affirming care to bisexual men could be an important approach and could make it so that people might be more likely to disclose same-sex behavior in those contexts," Cahill said.