Poll: Parents split on teaching LGBTQ+ subject materials in classrooms
Half of all Americans said they are comfortable learning children are being taught lessons on LGBTQ history at school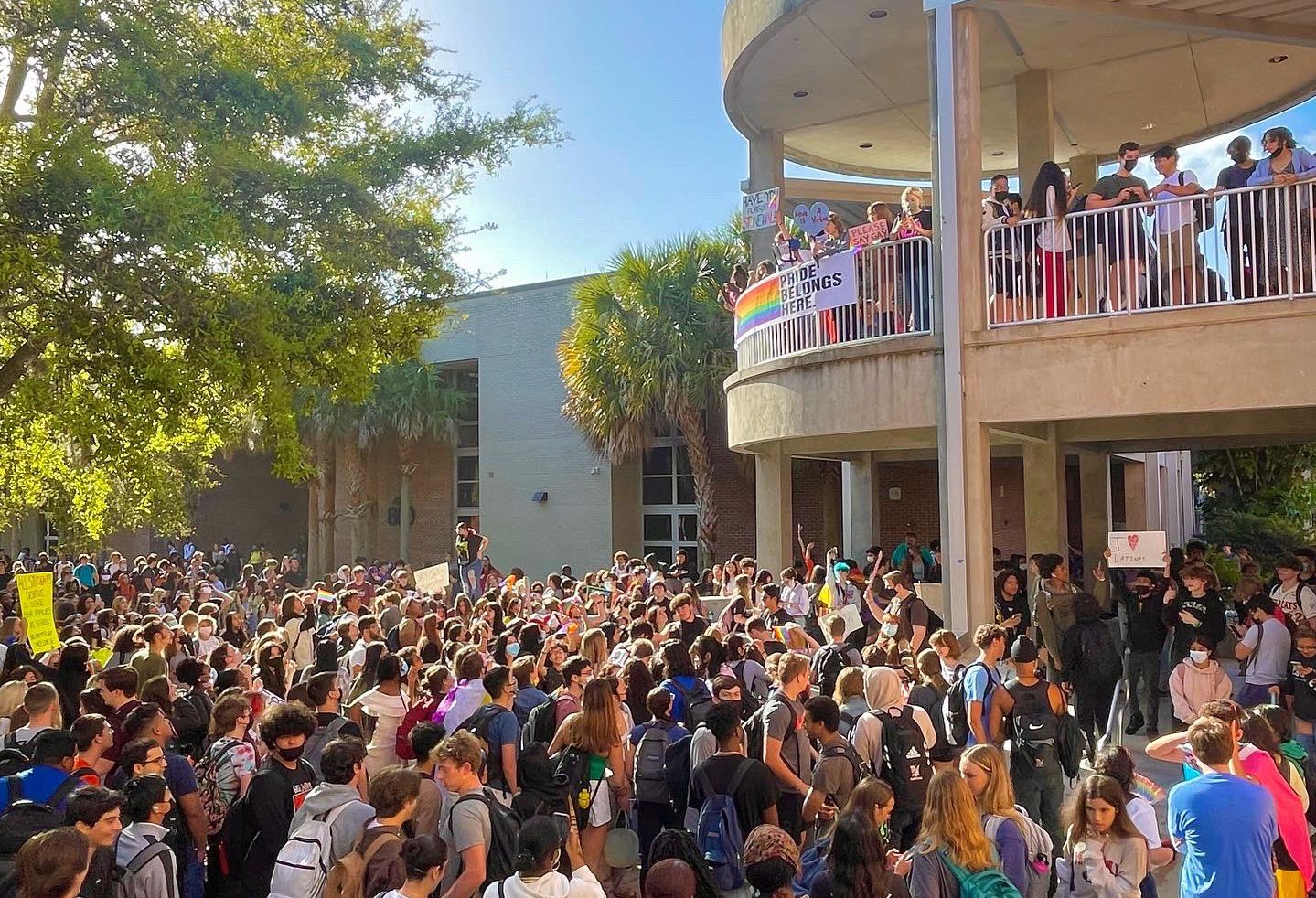 WASHINGTON – A new poll released on Monday by Morning Consult an online survey research technology firm showed that there is a fairly even split among American parents over the teaching or discussion of sexual orientation and gender identity in K-12 classrooms.
The polling revealed that parents who politically identify from both Republican and Democratic parties are become more comfortable with increasing LGBTQ prominence in everyday life. These factors coming as Republican state lawmakers claim 'parental rights' as the justification for a litany of anti-LGBTQ+ legislation in the past three years that they have pushed including multiple 'Don't Say Gay' laws in state houses across the country, the Florida law becoming a lightening rod in political discourse.
Key Findings:
Where Americans stand on LGBTQ in the classroom
American parents or guardians of children 18 years old or younger are essentially split over the teaching or discussion of sexual orientation and gender identity in K-12 classrooms: 41% support it and 44% are opposed. Parents are slightly more likely to support (44%) than oppose (40%) instruction about the LGBTQ civil rights movement.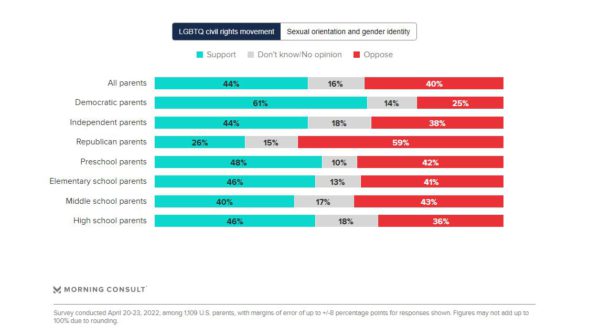 According to Morning Consult, there are only small differences between parents of younger pupils and of high schoolers, but stark partisan divides are evident: Roughly 3 in 5 Democratic parents nationwide support discussion of sexual orientation and gender identity, while nearly as many Republican parents and almost half of independent parents oppose it.
Annise Parker, president and CEO of the pro-LGBTQ Victory Fund, told Morning Consult that schools have often marked the frontlines of the culture wars, and this time, proponents of legislation like Florida's have been especially able to wedge Americans' still-mixed views about rights for transgender people.
"One of the reasons we've made such great progress over the years in terms of how the public perceives people who are gay and lesbian is because of proximity — knowledge of people coming out individually. The transgender issue is still unknown for a lot of folks," she said. "For an issue that it took some education for my own community to come to grips with, we shouldn't be surprised it's much harder for the broader society."
The poll also examined the influences that teachers have over students in discussions of sexual orientation and gender identity noting while most Americans — including 82% of Republican parents — trust teachers to "act in good faith, do their jobs fairly and prepare their students for the world," the GOP's focus on LGBTQ topics in the classroom could capitalize on declining trust in the public education system, especially among Republicans, who are more likely than the broader population to believe classroom instructors have influence on children's values and their sexuality and gender identity.
Republicans are aligned with much of their base in the view that LGBTQ discussion is inappropriate for the educational system. But some have gone even further and accused those who believe teachers should be able to discuss such matters in the classroom of being "groomers," a term used to refer to people who lure children for sexual abuse.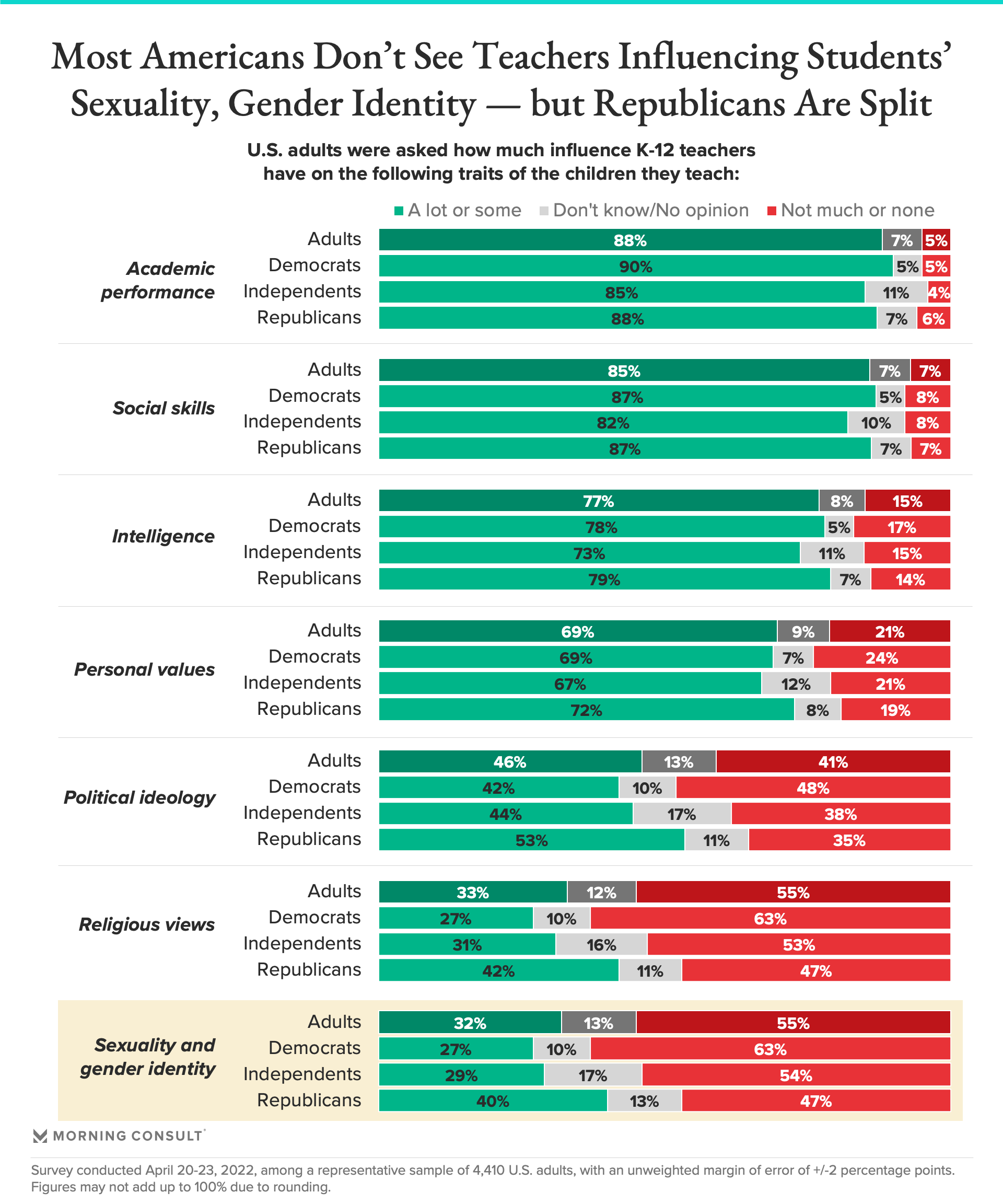 The poll asked about faculty who identify as LGBTQ+: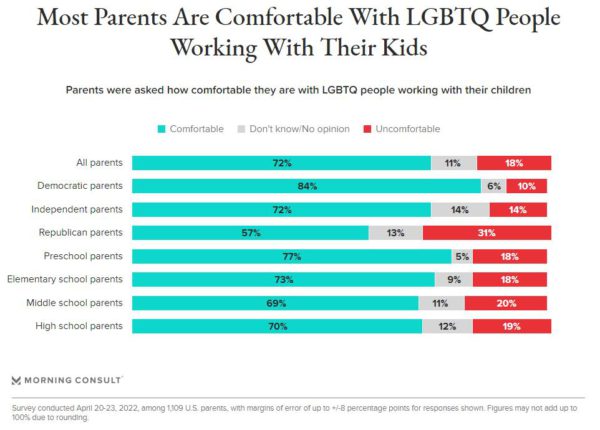 Vast majorities of parents who are Democrats or independents said they are comfortable with LGBTQ people interacting with their kids, while nearly 3 in 5 Republican parents agreed. Roughly 3 in 10 Republican parents said they do not personally know or associate with an LGBTQ person. Those parents were more likely to say they are uncomfortable having an LGBTQ person interact with their children than the roughly two-thirds who do, 44% to 25%.
Americans' increasing comfort with the LGBTQ community
Most Americans, including Republicans generally and the parents among them, have become more comfortable with the LGBTQ community over the past three years, according to Morning Consult surveys.
When it comes to educational instruction, about a third of Republican parents (32%) said they are comfortable with LGBTQ history lessons in their child's classroom, more than twice the share who said so in May 2019, while the share who said they were uncomfortable with it fell, from 77% to 55%.
On the question of teaching LGBTQ+ history to students the split was nearly even: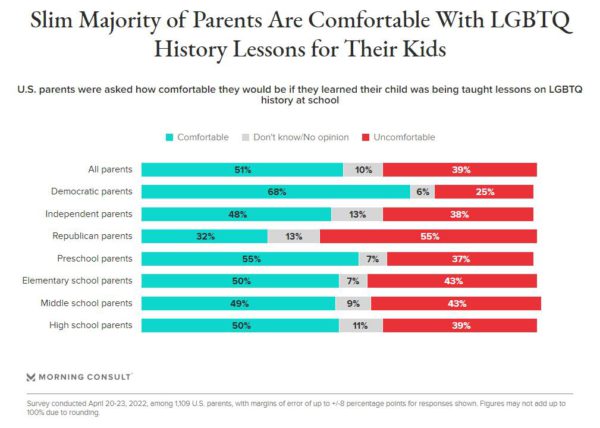 As for the broader population, half of all Americans said they are comfortable learning children are being taught lessons on LGBTQ history at school, compared to roughly 2 in 5 who said it makes them uncomfortable. Both figures were similar to the shares measured in 2019, but comfort has increased with regard to other aspects of queer life, including seeing a child being raised by a same-sex couple, being invited to a same-sex wedding or being represented by a person who is LGBTQ in Congress.
The final question dealt with how Americans are increasingly comfortable with LGBTQ association: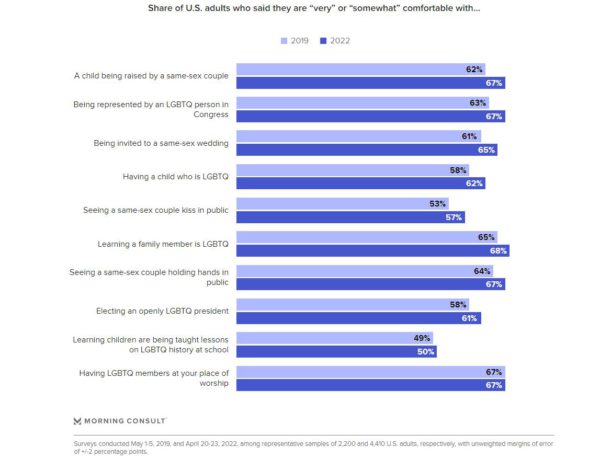 The entire Morning Consult Poll is here: (Link)
150 people on Tennessee's sex offender registry for HIV-related conviction
Nearly one-half of HIV registrants on the SOR were women and over three-quarters of HIV registrants were Black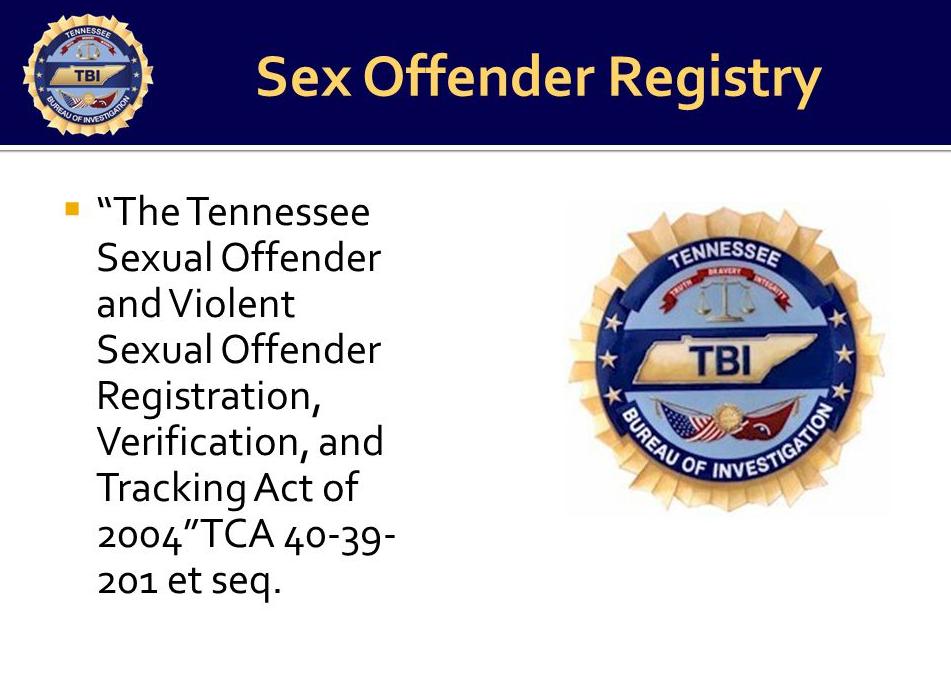 LOS ANGELES – At least 154 people have been placed on Tennessee's sex offender registry (SOR) for an HIV-related conviction since 1993, according to a new report by the Williams Institute at UCLA School of Law.
Enforcement of HIV crimes in Tennessee disproportionately affects women and Black people. Nearly one-half of HIV registrants on the SOR were women and over three-quarters of HIV registrants were Black.

Tennessee's two primary HIV criminalization laws—aggravated prostitution and criminal exposure—make it a felony for people living with HIV to engage in sex work or other activities, such as intimate contact, blood donation, or needle exchange, without disclosing their status. Both are considered a "violent sexual offense" and require a person convicted to register as a sex offender for life.

Examining Tennessee's sex offender registry, researchers found that Shelby County, home to Memphis, accounts for most of the state's HIV convictions. Shelby County makes up only 13% of Tennessee's population and 37% of the population of people living with HIV in the state, but 64% of HIV registrants on the SOR. Moreover, while Black Tennesseans were only 17% of the state's population and 56% of people living with HIV in the state, 75% of all HIV registrants were Black.

In Shelby County, 91% of aggravated prostitution convictions resulted from police sting operations in which no physical contact ever occurred. In addition, the case files showed that 75% of those convicted were Black women. When it came to criminal exposure case files, all of those convicted except one person were Black men.

"Tennessee's HIV criminal laws were enacted at a time when little was known about HIV and before modern medical advances were available to treat and prevent HIV," said lead author Nathan Cisneros, HIV Criminalization Analyst at the Williams Institute. "Tennessee's outdated laws do not require actual transmission or the intent to transmit HIV. Moreover, the laws ignore whether the person living with HIV is in treatment and virally suppressed and therefore cannot transmit HIV."

KEY FINDINGS
Incarcerating people for HIV-related offenses has cost Tennessee at least $3.8 million.
Of the 154 people who have been placed on Tennessee's SOR for an HIV-related conviction, 51% were convicted of aggravated prostitution, 46% were convicted of criminal exposure, and 3% were convicted of both.
Women account for 26% of people living with HIV in Tennessee and 4% of people on the SOR, but 46% of the SOR's HIV registrants.
Black people account for 17% of people living in Tennessee, 56% of those living with HIV, 27% of people on the SOR, but 75% of the SOR's HIV registrants.
Black women were the majority of aggravated prostitution registrants (57%), while Black men were the majority of criminal exposure registrants (64%).
People with an HIV-related offense are more economically vulnerable when compared to others on the state's SOR.

One in five (19%) HIV registrants were homeless compared to 9% of all SOR registrants.
28% of HIV registrants reported an employer address compared to about half (49%) of all SOR registrants.

Shelby County has one aggravated prostitution conviction for every 115 people living with HIV in the county, and Black people were 90% of all people convicted for aggravated prostitution.

Over 90% of aggravated prostitution convictions in Shelby County were the result of police sting operations.
Only 3% of aggravated prostitution convictions in Shelby County alleged any intimate contact.
Nearly all (95%) people arrested in Shelby County for criminal exposure were Black men, compared to 64% of people statewide.
The Williams Institute has conducted research on HIV criminalization in numerous U.S. states.
New Pew Research Center poll: Americans at odds over Trans issues 
Strong majorities favor non-discrimination protections but weaker support for access to transition-related care among minors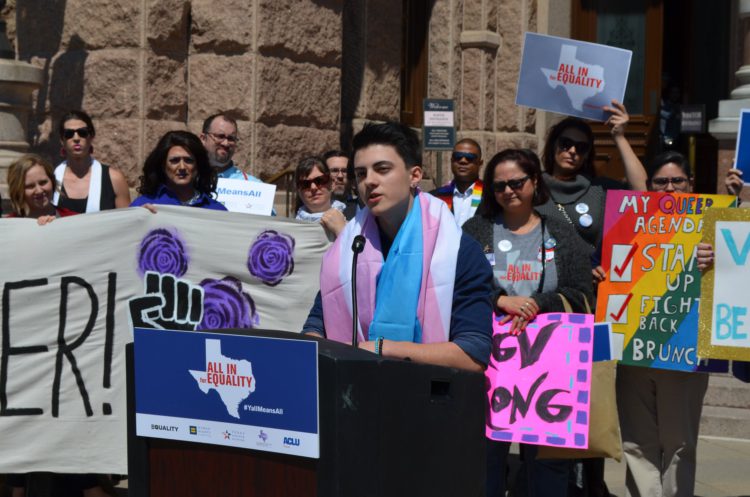 WASHINGTON – A new survey from a leading non-partisan research center reveals Americans have mixed views on transgender issues at a time when states are moving forward with measures against transgender youth, with strong majorities favoring non-discrimination protections but weaker support for access to transition-related care among minors and participation in school sports.
The Pew Research Center issued the findings on Tuesday as part of the results of its ongoing study to better understand Americans' views about gender identity and people who are transgender or non-binary. The findings are based on a survey of 10,188 U.S. adults from data collected as part of a larger survey conducted May 16-22.
A majority of respondents by wide margins favor non-discrimination protections for transgender people. A full 64 percent back laws or policies that would protect transgender people from discrimination in jobs, housing, and public spaces, while roughly 8-in-10 acknowledge transgender people face at least some discrimination in our society.
Additionally, nearly one half of Americans say it's extremely important to use a transgender person's new name after they undergo a transition, while an additional 22 percent say that is somewhat important. A smaller percentage, 34 percent, say using a transgender person's pronouns is extremely important, and 21 percent say it is somewhat important.
But other findings were less supportive:
60 percent say a person's gender is determined by sex assigned at birth, reflecting an increase from 56 percent in 2021 and 54 percent in 2017, compared to 38 percent who say gender can be different from sex assigned at birth.
54 percent say society has either gone too far or been about right in terms of acceptance, underscoring an ambivalence around transgender issues even among those who see at least some discrimination against transgender people.
About six-in-ten adults, or 58 precent, favor proposals that would require transgender athletes to compete on teams that match the sex they were assigned at birth as opposed to teams consistent with their gender identity, compared to 17 percent who oppose that and 24 percent neither favor nor oppose it.
46 percent favor making it illegal for health care professionals to provide transition-related care, such as hormones or gender reassignment surgery, to someone younger than 18, compared to 31 percent who oppose it.
Americans are more evenly split when it comes to making it illegal for public school districts to teach about gender identity in elementary schools (which is favored by 41 percent, and opposed by 38 percent) and investigating parents for child abuse if they help someone younger than 18 obtain transition-related care (37 percent are in favor and 36 percent oppose it).
Young adults took the lead in terms of supporting change and acceptance. Half of adults ages 18 to 29 say someone can be a man or a woman even if that differs from the sex they were assigned at birth, compared to about four-in-10 of those ages 30 to 49 and about one-third of respondents 50 and older.
Predictably, stark differences could be found along party lines. Democrats by 59 precent say society hasn't gone far enough in accepting people who are transgender, while 15 percent say it has gone too far and 24 percent say it's been about right. For Republicans, 10 percent say society hasn't gone far enough, while 66 percent say it's gone too far and 22 percent say it's been about right.
Read the full report here.
A Moms for Liberty leader threatens gun violence against librarians (Audio)
"[…] making librarians who make 85k a year answer to parents when we ask how sexually explicit books got into the library"


By Olivia Little | WASHINGTON – Leaked audio from a Moms for Liberty meeting in Lonoke County, Arkansas, reveals a member of the chapter's leadership flippantly threatening gun violence against librarians. 
In the audio obtained by Media Matters, the chapter's head of communications and media, Melissa "Missy" Bosch, complained about librarians in the district, saying, "I'm telling you, if I was — any mental issues, they would all be plowed down with a freaking gun by now."
Bosch is an Arkansas-based anti-mask activist who has since redirected that energy to her new charter school and the Moms for Liberty "parental rights" campaign that advocates for the banning of books across the country and strategically harasses school officials.
She was made aware of the recorded audio and took to Facebook falsely claiming it was "illegally recorded" and "illegally spliced." It wasn't — Arkansas is a one-party consent state and Media Matters has reviewed the original recording in full.
Bosch also threatened legal action in her post, claiming to know "some fantastic lawyers," and she said her comments came while she was talking about "making librarians who make 85k a year answer to parents when we ask how sexually explicit books got into the library." Bosch — along with other Moms for Liberty members — advocates for banning "pornographic books" to protect children, parroting a line right-wing media often use to target books about race and LGBTQ identity.
Yet Bosch's hypocrisy is clearly evident since she rationalizes book bans to "protect" children while also hiring a lawyer who also represented a high-profile child sex offender. Travis Story, who represented Bosch in 2021 in a lawsuit against school mask mandates, simultaneously represented former TLC star and reported "longtime friend" Josh Duggar, who has since been convicted of "receiving and possessing child sexual abuse material."
As right-wing media and organizations push false and misleading claims about education policies, there has been an uptick in violence against school employees across the United States. Moms for Liberty members have also previously threatened school officials, and this incident is symptomatic of the group's toxic campaign as a whole.
Editor's Note: Moms for Liberty, a nonprofit claiming to advocate for "parental rights," appears to be using parents as pawns to advance a far-right agenda.  Read more here: (LINK)
********************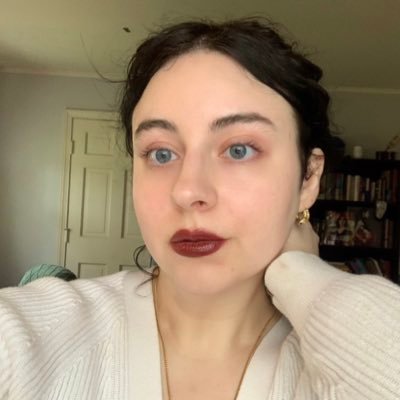 Olivia Little is a researcher at Media Matters. She holds a bachelor's degree in law and public policy from Indiana University. Olivia previously worked as a research associate for Sen. Bernie Sanders' 2020 presidential campaign.
The preceding article was previously published by Media Matters for America and is republished with permission.