California's rent relief programs distribute over $5 billion
Governor Newsom has proposed an additional $2.7 billion in emergency rental assistance in the California Blueprint May Revision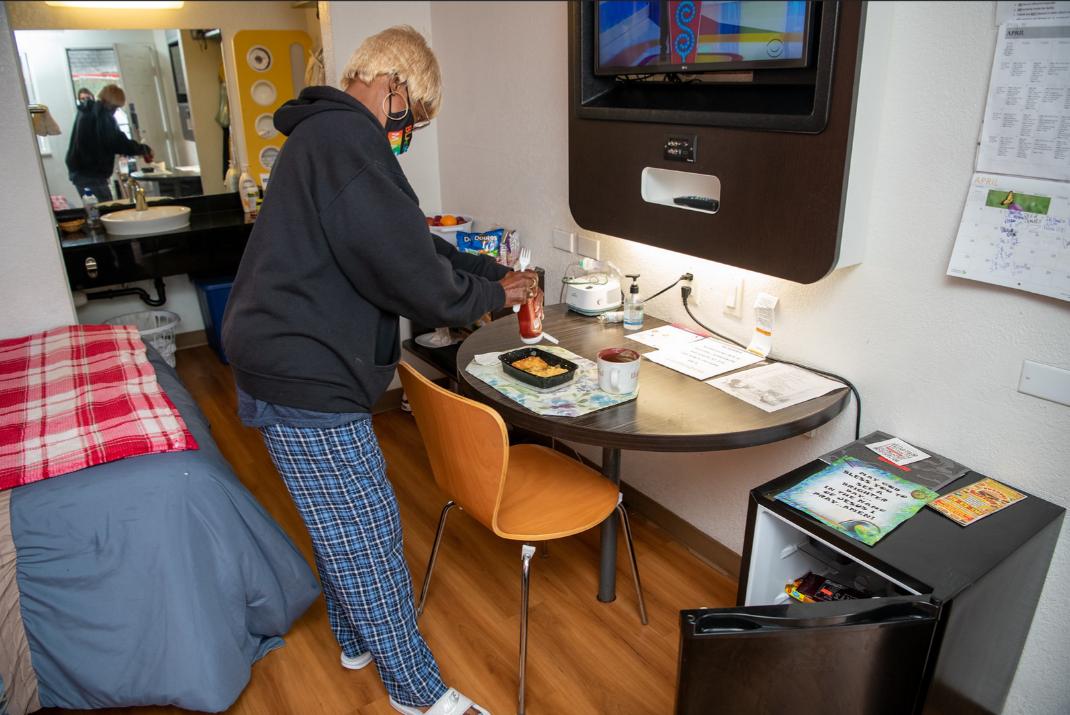 SACRAMENTO – Governor Gavin Newsom announced Thursday that California's state and local rent relief programs have hit a major milestone with over $5 billion having been distributed to help more than 1.2 million Californians impacted by the COVID-19 pandemic stay stably housed.
The Governor's California Blueprint May Revision proposes an additional $2.7 billion in emergency rental assistance for eligible applicants who applied through March 31, creating a total $8.1 billion investment.
"With the largest rent relief program of any state in the nation, we've ensured more than one million Californians remain housed, and we're advancing funding to help more families get back on their feet through this historic effort," said Newsom. "As California's recovery progresses, the state is committed to continuing our work to ensure the hardest-hit communities have the support and resources they need to thrive."
Throughout the pandemic, California has had the most robust eviction protections, for the longest period of time, in the country. Statewide eviction protections remain in place through June 30, 2022, for eligible applicants who applied through March 31, with additional local protections in place throughout the state.
The state program has helped those hardest hit by the pandemic, with more than 85 percent of households that have received rental assistance at or below 50 percent of Area Median Income.
"Keeping people stably housed has been a critical component of California's emergency response to the COVID-19 pandemic," said Business, Consumer Services and Housing Agency Secretary Lourdes Castro Ramírez. "In partnership with our federal and local partners, we have responded quickly and compassionately to address housing insecurity as a health emergency and stabilize over a million vulnerable Californians."
As of this week, the state program has provided rental assistance to more than 309,000 households, with an average payment of more than $11,000. With an average of 2.33 individuals per household assisted, the state program has kept more than 720,000 adults, children and seniors in their homes. And with the hard work of local jurisdictions that are running their own rent relief programs, an additional 233,000 households have been served, assisting a total of more than 500,000 residents.
In all, the number of people kept stably housed exceeds 1.2 million.  
"Since the beginning of the COVID-19 pandemic, California has answered the call of the U.S. Treasury to work with urgency to get rental assistance dollars into the hands of families in need so they could remain housed during the emergency," said Gustavo Velasquez, the Director of the California Department of Housing and Community Development. "To reach more than one million residents in just over a year is incredible. It is critical that applicants act as quickly as possible to reply to any requested action or response so they can receive the funding they requested."
The milestone comes as the state program announced that case managers have reviewed all applications submitted by March 31, 2022, and continue working with applicants, both landlords and renters, as the state program reviews the remaining applications and distributes relief funds to eligible Californians in need. All eligible applicants who submitted complete applications by March 31, 2022 will receive assistance, covering a total of up to 18 months for the period beginning April 1, 2020 and ending March 31, 2022.
State program dollars have been distributed throughout California, with residents of the City of Los Angeles receiving the largest share of California's COVID-19 Rent Relief program funds totaling over $1 billion to nearly 86,000 households. The counties of Los Angeles, Orange, Contra Costa, and the city and county of San Francisco round out the top five jurisdictions with tenants assisted to date.
Martha, an Orange County resident, was assisted by the state program and Local Partner Network organization, Helpline Youth Counseling. The pandemic brought hardship to her life, and she struggled with health issues. "I have not been able to work and was behind on rent for several months," she said. "I am so happy programs like these exist. Completing this application has given me hope that I thought I lost since COVID-19."
Adam, a resident of Los Angeles County, had the following to say about the state's rental assistance program: "This program has been extremely helpful during these tough times. I've had personal difficulties throughout and am blessed to have received this assistance. It has helped keep me from being placed in a homeless shelter."
Individual support for applicants needing assistance with outstanding tasks, appeals, or other help with their application is still available. Applicants are encouraged to call 833-687-0967 to schedule an appointment in their preferred language.
In addition, legal aid resources are available to support tenants navigating available protections. Low-or no-cost legal help is available through www.lawhelpca.org and/or the Tenant Resources page on HousingIsKey.com.
Newsom & LGBTQ Caucus lift up California's fight for equality 
Governor joins LGBTQ Caucus 20th anniversary Pride celebration, announces signature of AB 1741 to honor victims of transphobia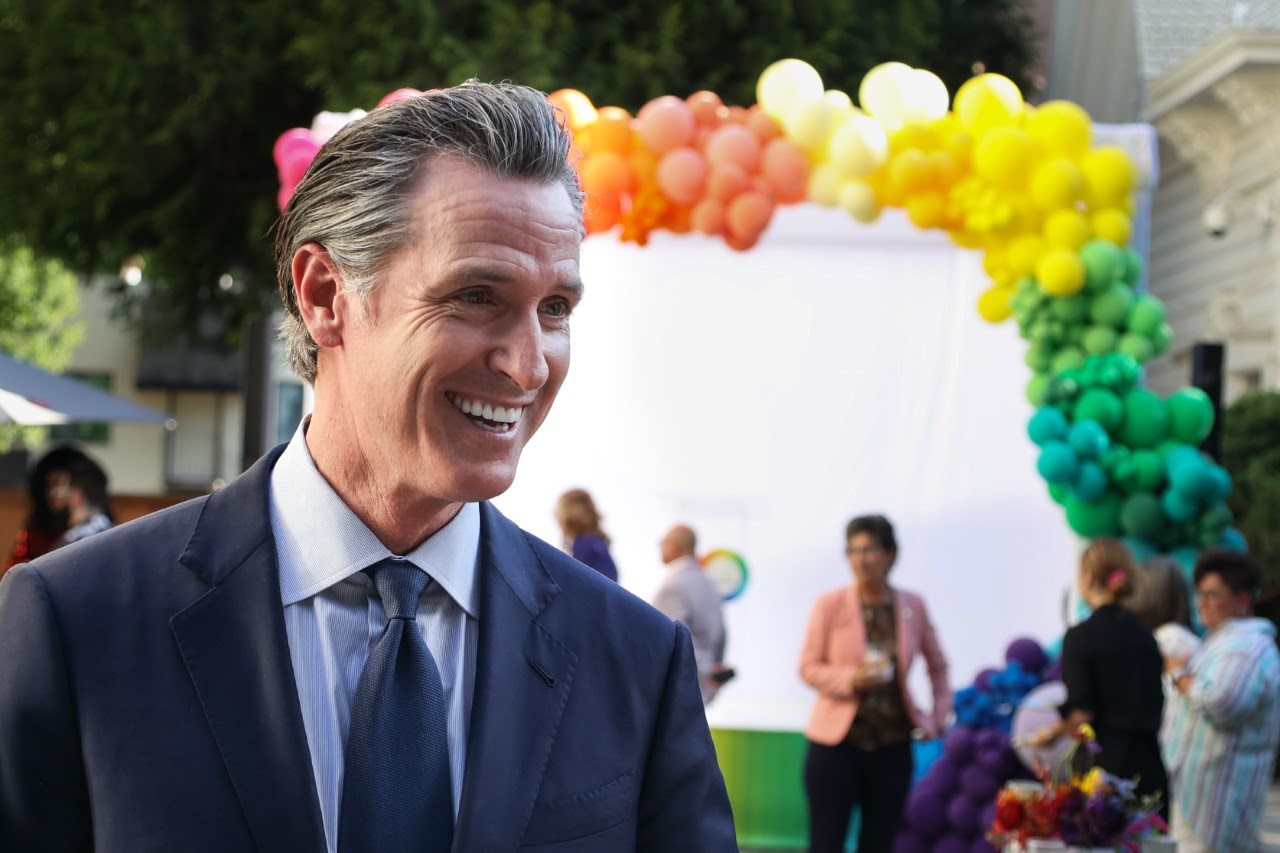 SACRAMENTO – Governor Gavin Newsom and First Partner Jennifer Siebel Newsom today joined members of the California Legislative LGBTQ Caucus at the historic Governor's Mansion for the Caucus's 20th anniversary Pride celebration and to highlight California's leadership on LGBTQ rights.
"In California, we fight for and celebrate our LGBTQ community's right to live their lives out loud," said Governor Newsom. "I'm proud to stand with our LGBTQ Caucus today and lift up their commitment to advancing equality, freedom and acceptance. As we push back on the forces of hate that seek to undo our progress, California will continue to lead the way to a better, fairer future for all."
"I'm so proud to live in California where we understand the value of diversity and support and embrace everyone who lives here," said First Partner Siebel Newsom. "We're committed to supporting members of the LGBTQ community to live as their most authentic selves and will fight to safeguard the policies that protect those rights. Alongside the Governor and the LGBTQ Caucus, I encourage us all to continue to lead with California's values of respect, equality, kindness, and acceptance because that's the California Way and the best way forward."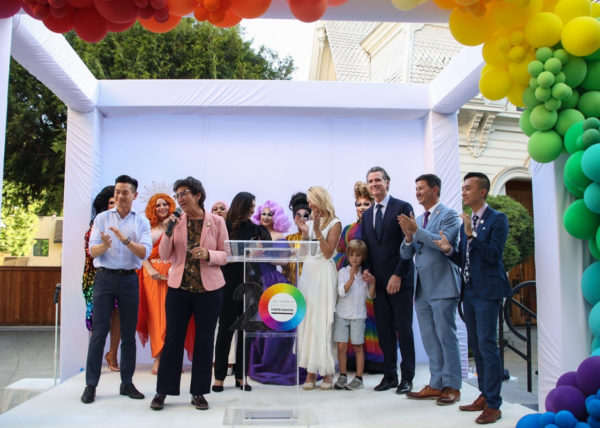 Governor Newsom today announced that he has signed AB 1741 by Assemblymember Evan Low (D-Campbell), an LGBTQ Caucus priority bill that designates November 20 as "Transgender Day of Remembrance" to honor those who have been killed as a result of transphobia. The Governor also signed AB 421 by Assemblymember Christopher M. Ward (D-San Diego), which makes technical changes to the procedures for changing gender and sex identifiers on official documents, such as a marriage certificate.
California was the first state in the country to officially form a caucus of openly-LBGTQ state legislators and continues to lead in advancing policies that create safer, more inclusive communities. Governor Newsom has signed a number of measures to advance these efforts, including AB 493 to develop a training program for educators to better support LGBTQ youth; SB 932, which ensures comprehensive data collection to understand how COVID-19 is impacting the LGBTQ community; AB 2218 to establish the Transgender Wellness and Equity Fund to provide grants for programs focused on trans-inclusive health care; AB 1094 to collect data on an individual's sexual orientation or gender identify in cases of violent death to help inform prevention efforts; and SB 1255 to end the practice of insurance companies discriminating against individuals because of their HIV status.

In 2020, the Governor appointed Justice Martin Jenkins to serve as the first openly gay man on the California Supreme Court, and this year appointed Sacramento County Superior Court Judge Andi Mudryk, the first openly transgender person to serve on the state's judicial bench. Shortly after taking office, the Governor launched a new initiative to pardon people who were prosecuted in California for being gay.
EDD recovers $1.1 billion in Unemployment Insurance funds
Recovery follows EDD's recent thwarting of 47,000 potentially fraudulent claims worth up to $560 million across California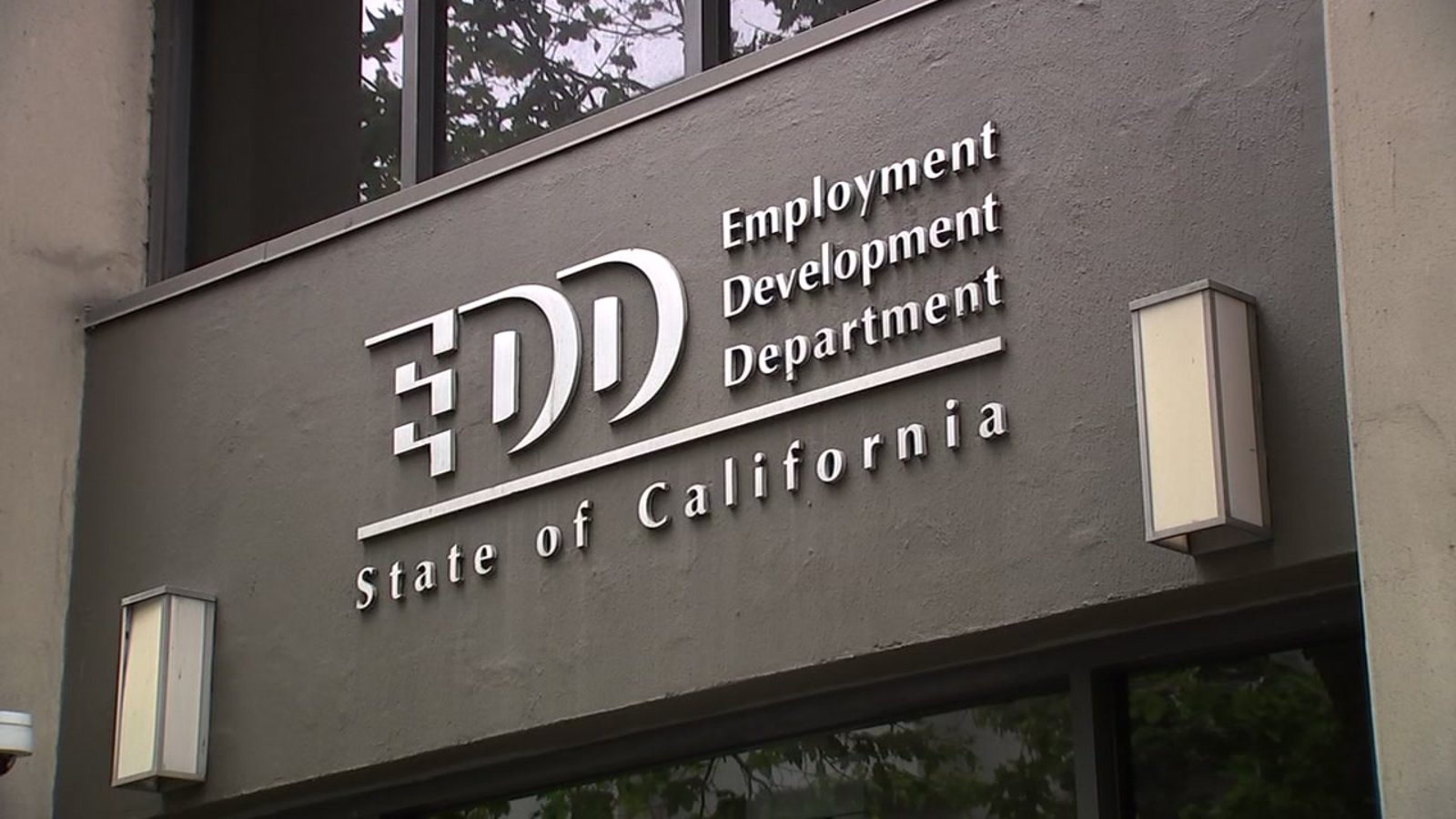 SACRAMENTO – In another major step toward continuing to investigate fraudsters and recover unemployment insurance funds, the California Employment Development Department (EDD) today announced it has recovered $1.1 billion in unemployment insurance funds.
The recovered funds were located on approximately 780,000 inactivated benefit cards. Most of the recovered funds will return to the federal government because the fraudulent claims are from the emergency federal Pandemic Unemployment Assistance program, which was the primary target of fraud nationwide.
"Fraudsters and criminal organizations ripped off California, along with every other state, during one of the worst crises in history – we're taking aggressive action to return that money to the taxpayers," said Governor Newsom.
In July 2021, California hired McGregor Scott as EDD Fraud Special Counsel. Scott aids the state's work with law enforcement to combat fraud—including supporting state, federal, and local investigations and prosecutions. Working with EDD, he has leveraged his experience to deliver leads and evidence to aid prosecutions and strengthen ongoing investigations.
"We will continue working with law enforcement to put fraudsters behind bars and recover every stolen dollar that we can," Scott stated.
Today's billion-dollar recovery furthers the monumental efforts of EDD and the California Governor's Office of Emergency Services to investigate and prosecute criminals who defrauded federal emergency unemployment benefit programs. Within the past 15 months, ​​total investigations, prosecutions, and dollars seized in the counties reporting information to the state include:
Total investigations – 1,525
Arrests – 467
Money seized – $3,474,448
Convictions – 162
Other actions California has taken to strengthen its fraud fighting include:
Stopping over $125 billion in attempted fraud by deploying a new identity verification system, ID.me, in 2020 and partnering with Thomson Reuters to help detect and prevent UI and PUA fraud.
Setting up the 1099-G call center to help victims of identity theft deal with any tax related questions—work that answered 24,000 calls. Fraud can be reported by selecting Form 1099G in Ask EDD or calling 1-866-401-2849.
Working with Bank of America to issue chip-enabled debit cards that enhance security and to strengthen fraud-prevention strategies.
Working with the California Office of Emergency Services Fraud Task Force on over a thousand active investigations, arrests, and prosecutions across California.
Creating law enforcement investigative guides and offering technical assistance to law enforcement partners who are working fraud investigation cases.
Setting up designated regional contacts for each division of the state and working with any agency that needs assistance with an unemployment insurance fraud case.
Continuing to issue consumer scam alerts throughout the pandemic that warn about cell phone and email phishing schemes designed to steal personal information.
EDD runs one of the nation's largest public benefit systems. Over 20 million people filed over 60 million unemployment, disability insurance, and paid family leave claims over the past decade. EDD prepared, printed and mailed 45 million documents to customers through the most recent fiscal quarters. EDD was mailing nearly 600,000 documents a day during the height of the pandemic.
Newsom proclaims Juneteenth day of observance
"This Juneteenth, I urge all Californians to reflect on the ongoing cause of freedom for Black Americans" – Gov. Gavin Newsom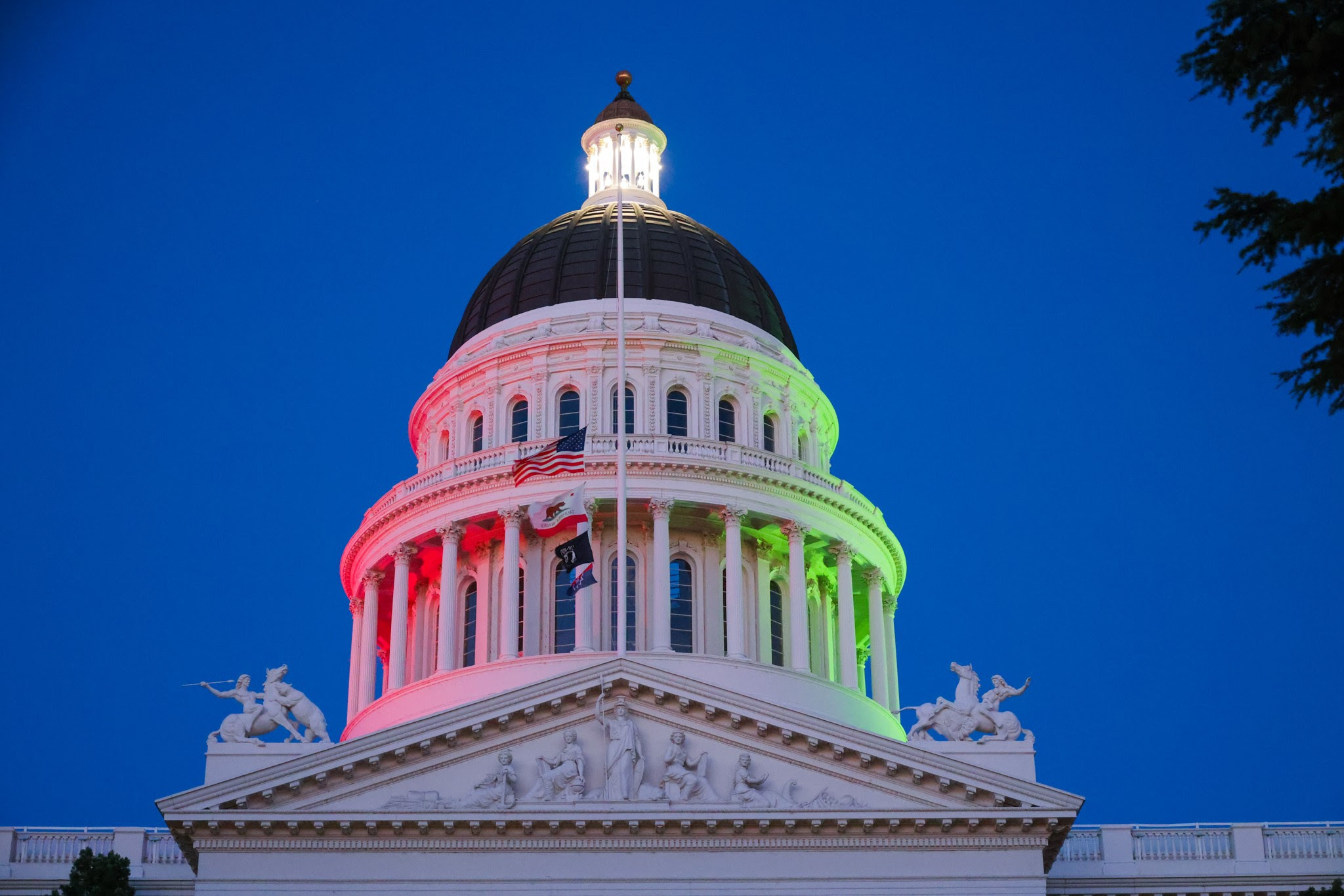 SACRAMENTO – Governor Gavin Newsom today proclaimed June 18, 2022, as "Juneteenth National Freedom Day: A Day of Observance" in the State of California.
PROCLAMATION
America does not only celebrate our independence on July 4. On June 19 each year, we look back to this day in 1865, on which Union General Gordon Granger led troops into Galveston, Texas, to announce the end of the Civil War and the insidious institution of slavery. Thousands of enslaved people in Texas – among the last to learn of their independence – tasted hard-won freedom for the first time.

Over the next several decades, African-Americans who journeyed out of the South seeking better lives brought Juneteenth celebrations with them. The thousands who settled in California, especially in Los Angeles and the San Francisco Bay Area, taught our state that America's struggle for independence did not end in 1776 or 1865, but continues to this day.

This Juneteenth, I urge all Californians to reflect on the ongoing cause of freedom for Black Americans – remembering that, though General Granger's announcement in 1865 called for "absolute equality," that vision was, and remains, far from complete.

With the Juneteenth flag proudly raised over the State Capitol, let us celebrate how far we have come and take stock of how far we must go, and honor all those who have lived and died in pursuit of a more perfect union.

NOW THEREFORE I, GAVIN NEWSOM, Governor of the State of California, do hereby proclaim June 18, 2022, as "Juneteenth National Freedom Day: A Day of Observance."
IN WITNESS WHEREOF I have hereunto set my hand and caused the Great Seal of the State of California to be affixed this 17th day of June 2022.
GAVIN NEWSOM
Governor of California
ATTEST:
SHIRLEY N. WEBER, Ph.D.
Secretary of State