President Biden gives national address calling for laws to fight gun violence
"The fact that a majority of Senate Republicans don't want any of these proposals even to be debated- I find unconscionable"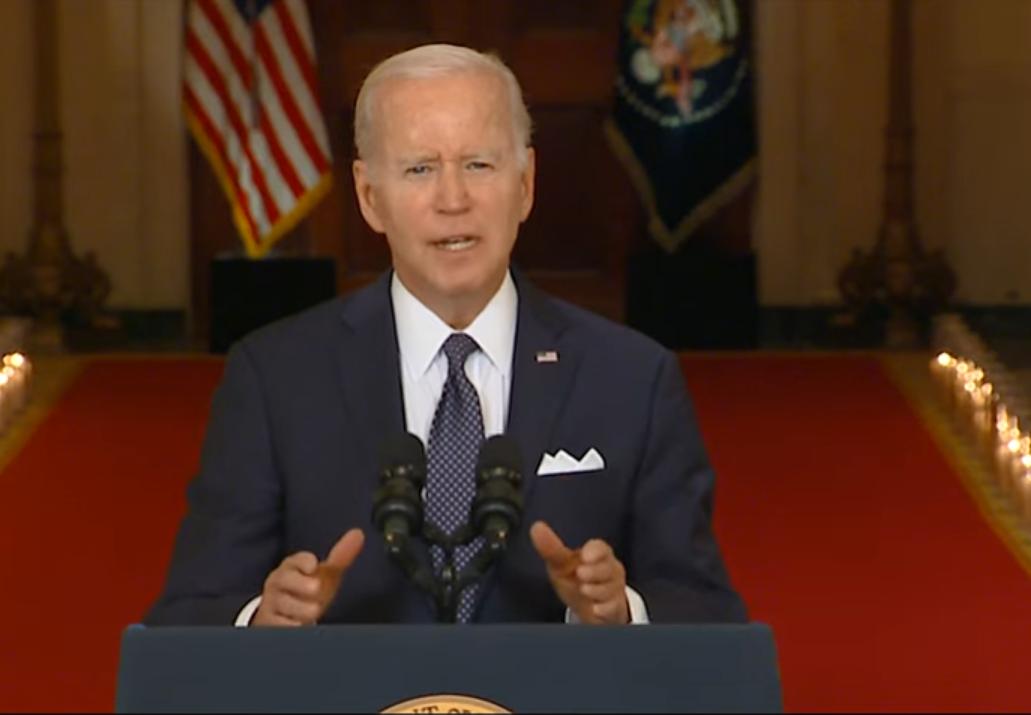 WASHINGTON – A somber President Biden addressed Americans Thursday night as the nation is still reeling after the 233rd mass shooting in the U.S. this year took place in Tulsa, Okla., that resulted in five people dead including the shooter at a hospital.
Gripping the front of the podium in a navy suit and dark speckled tie, he asked that Congress resume the provisions under the former assault weapons ban, expand background checks, and pass red flag and safe storage laws.
Without an assault weapons ban, he called for the minimum purchasing age to be raised to 21. He also called for a repeal to the "liability shield" around firearms manufacturers and requested increased mental health services.
The president made note that he and the First Lady, Dr. Jill Biden had recently traveled to two other cities where gun violence in separate mass shootings, one in Buffalo, New York where a racially motivated hate crime attack by an avowed white nationalist took the lives of 10 people and left three others injured and then a week later where 19 students and two teachers were killed, and 17 others injured at Robb Elementary in Uvalde, Texas.
"There are too many other schools, too many other day places that have become killing fields, battlefields here in America," Biden said. "The issue we face is one of consciousness and common sense… I want to be very clear. This is not about taking away anyone's guns. It's not about vilifying gun owners."
But the president also graphically pointed out the physical harm visited upon the elementary school children by the gunman's AR-15 in Uvalde, noting; "The damage was so devastating in Uvalde that parents had to do DNA swabs to identify the remains of their children, 9- and 10 year olds," he said.
NPR noted that although there are nascent signs of an agreement on potential legislation that would offer state incentives to pass red-flag laws, update school-safety protocols, and changes to background checks, the prospect of bipartisan action on guns typically fades in the weeks after mass shootings.
"This time, it's time for the Senate to do something," Biden said, adding that 10 Republican senators need to be on board with any effort.
"The fact that a majority of Senate Republicans don't want any of these proposals even to be debated, or come up for a vote, I find unconscionable. We can't fail the American people again."
After finishing, he exited quietly and didn't take shouted questions about how to keep guns out of the wrong hands.
Reacting to the President's speech, Governor Gavin Newsom issued the following statement:
"America has a gun problem. Our country's addiction to guns and gun culture is killing our kids, our teachers, our family and our friends. I want to thank President Biden for his steadfast commitment to getting more guns off our streets and I join him in urging Congress to act.
"Common sense gun laws work. In California, we prove that every single day. Our gun safety laws – banning assault weapons, universal background checks, red flag laws, age restrictions and waiting periods – have cut our state's gun death rate in half since the 1980s. California has spent decades testing and perfecting these policies. Now it's time for Congress to put the lives of our people first and pass California-tested, California-proven gun safety laws."
Transcript:
REMARKS BY PRESIDENT BIDEN ON GUN VIOLENCE IN AMERICA
THE PRESIDENT:    On Memorial Day this past Monday, Jill and I visited Arlington National Cemetery.

As we entered those hallowed grounds, we saw rows and rows of crosses among the rows of headstones, with other emblems of belief, honoring those who paid the ultimate price on battlefields around the world.

The day before, we visited Uvalde — Uvalde, Texas.  In front of Robb Elementary School, we stood before 21 crosses for 19 third and fourth graders and two teachers.  On each cross, a name.  And nearby, a photo of each victim that Jill and I reached out to touch.  Innocent victims, murdered in a classroom that had been turned into a killing field.

Standing there in that small town, like so many other communities across America, I couldn't help but think there are too many other schools, too many other everyday places that have become killing fields, battlefields here in America.
We stood at such a place just 12 days before, across from a grocery store in Buffalo, New York, memorializing 10 fellow Americans — a spouse, a parent, a grandparent, a sibling — gone forever.

At both places, we spent hours with hundreds of family members who were broken and whose lives will never be the same. And they had one message for all of us: Do something. Just do something. For God's sake, do something.

After Columbine, after Sandy Hook, after Charleston, after Orlando, after Las Vegas, after Parkland, nothing has been done.

This time, that can't be true. This time, we must actually do something.

The issue we face is one of conscience and common sense.

For so many of you at home, I want to be very clear: This is not about taking away anyone's guns. It's about vili- — not about vilifying gum [sic] — gun owners. In fact, we believe we should be treating responsible gun owners as an example of how every gun owner should behave. I respect the culture and the tradition and the concerns of lawful gun owners.

At the same time, the Second Amendment, like all other rights, is not absolute. It was Jus- — it was Justice Scalia who wrote, and I quote, "Like most rights, the right…" — Second Amendment — the rights granted by the Second Amendment are "not unlimited." Not unlimited. It never has been.

There have always been limitations on what weapons you can own in America. For example, machine guns have been federally regulated for nearly 90 years. And this is still a free country.

This isn't about taking away anyone's rights. It's about protecting children. It's about protecting families. It's about protecting whole communities. It's about protecting our freedoms to go to school, to a grocery store, and to a church without being shot and killed.

According to new data just released by the Centers for Disease Control and Prevention, guns are the number one killer of children in the United States of America. The number one killer. More than car accidents. More than cancer.

Over the last two decades, more school-aged children have died from guns than on-duty police officers and active-duty military combined. Think about that: more kids than on-duty cops killed by guns, more kids than soldiers killed by guns.

For God's sake, how much more carnage are we willing to accept? How many more innocent American lives must be taken before we say "enough"? Enough.

I know that we can't prevent every tragedy. But here's what I believe we have to do. Here's what the overwhelming majority of the American people believe we must do. Here's what the families in Buffalo and Uvalde, in Texas, told us we must do.

We need to ban assault weapons and high-capacity magazines. And if we can't ban assault weapons, then we should raise the age to purchase them from 18 to 21. Strengthen background checks. Enact safe storage laws and red-flag laws. Repeal the immunity that protects gun manufacturers from liability. Address the mental health crisis deepening the trauma of gun violence and as a consequence of that violence.

These are rational, commonsense measures. And here's what it all means. It all means this: We should reinstate the assault weapons ban and high-capacity magazines that we passed in 1994 with bipartisan support in Congress and the support of law enforcement. Nine categories of semi-automatic weapons were included in that ban, like AK-47s and AR-15s.

And in the 10 years it was law, mass shootings went down. But after Republicans let the law expire in 2004 and those weapons were allowed to be sold again, mass shootings tripled. Those are the facts.

A few years ago, the family of the inventor of the AR-15 said he would have been horrified to know that its design was being used to slaughter children and other innocent lives instead of being used as a military weapon on the battlefields, as it was designed — that's what it was designed for.

Enough. Enough.

We should limit how many rounds a weapon can hold. Why in God's name should an ordinary citizen be able to purchase an assault weapon that holds 30-round magazines that let mass shooters fire hundreds of bullets in a matter of minutes?

The damage was so devastating in Uvalde, parents had to do DNA swabs to identify the remains of their children — 9- and 10-year-old children.

Enough.

We should expand background checks to be- — keep guns out of the hands of felons, fugitives, and those under restraining orders.

Stronger background checks are something that the vast majority of Americans, including the majority of gun owners, agree on.

I also believe we should have safe storage laws and personal liability for not locking up your gun.

The shooter in Sandy Hook came from a home full of guns that were too easy to access. That's how he got the weapons — the weapon he used to kill his mother and then murder 26 people, including 20 first graders.

If you own a weapon, you have a responsibility to secure it — every responsible gun owner agrees — to make sure no one else can have access to it, to lock it up, to have trigger locks. And if you don't and something bad happens, you should be held responsible.

We should also have national red-flag laws so that a parent, a teacher, a counselor can flag for a court that a child, a student, a patient is exhibiting violent tendencies, threatening classmates, or experiencing suicidal thoughts that makes them a danger to themselves or to others.

Nineteen states and the District of Columbia have red-flag laws. The Delaware law is named after my son, Attorney General Beau Biden.

Fort Hood, Texas, 2009 — 13 dead and more than 30 injured.

Marjorie Stoneman Douglas High School in Parkland, Florida, 2018 — 17 dead, 17 injured.

In both places, countless others suffering with invisible wounds.

Red-flag laws could have stopped both these shooters.

In Uvalde, the shooter was 17 when he asked his sister to buy him an assault weapon, knowing he'd be denied because he was too young to purchase one himself. She refused.

But as soon as he turned 18, he purchased two assault weapons for himself. Because in Texas, you can be 18 years old and buy an assault weapon even though you can't buy a pistol in Texas until you're 21.
If we can't ban assault weapons, as we should, we must at least raise the age to be able to purchase one to 21.

Look, I know some folks will say, "18-year-olds can serve in the military and fire those weapons." But that's with training and supervision by the best-trained experts in the world. Don't tell me raising the age won't make a difference.

Enough.

We should repeal the liability shield that often protects gun manufacturers from being sued for the death and destruction caused by their weapons. They're the only industry in this country that has that kind of immunity.

Imagine — imagine if the tobacco industry had been immune from being sued — where we'd be today. The gun industry's special protections are outrageous. It must end.

And let there be no mistake about the psychological trauma that gun violence leaves behind.

Imagine being that little girl — that brave little girl in Uvalde who smeared the blood off her murdered friend's body onto her own face to lie still among the corpses in her classroom and pretend she was dead in order to stay alive. Imagine — imagine what it would it be like for her to walk down the hallway of any school again.

Imagine what it's like for children who experience this kind of trauma every day in school, in the streets, in communities all across America.

Imagine what it is like for so many parents to hug their children goodbye in the morning, not sure whether they'll come back home.

Unfortunately, too many people don't have to imagine that at all.

Even before the pandemic, young people were already hurting. There's a serious youth mental health crisis in this country, and we have to do something about it.

That's why mental health is at the heart of my Unity Agenda that I laid out in the State of the Union Address this year.

We must provide more school counselors, more school nurses, more mental health services for students and for teachers, more people volunteering as mentors to help young people succeed, more privacy protection and resources to keep kids safe from the harms of social media.

This Unity Agenda won't fully heal the wounded souls, but it will help. It matters.
I just told you what I'd do. The question now is: What will the Congress do?

The House of Representatives has already passed key measures we need. Expanding background checks to cover nearly all gun sales, including at gun shows and online sales. Getting rid of the loophole that allows a gun sale to go through after three business days even if the background check has not been completed.

And the House is planning even more action next week. Safe storage requirements. The banning of high-cama- — -capacity magazines. Raising the age to buy an assault weapon to 21. Federal red-flag law. Codifying my ban on ghost guns that don't have serial numbers and can't be traced. And tougher laws to prevent gun trafficking and straw purchases.

This time, we have to take the time to do something. And this time, it's time for the Senate to do something.
But, as we know, in order to do any- — get anything done in the Senate, we need a minimum of 10 Republican senators.

I support the bipartisan efforts that include a small group of Democrats and Republican senators trying to find a way. But my God, the fact that the majority of the Senate Republicans don't want any of these proposals even to be debated or come up for a vote, I find unconscionable.

We can't fail the American people again.
Since Uvalde, just over a week ago, there have been 20 other mass shootings in America, each with four or more people killed or injured, including yesterday at a hospital in Tulsa, Oklahoma.

A shooter deliberately targeted a surgeon using an assault weapon he bought just a few hours before his rampage that left the surgeon, another doctor, a receptionist, and a patient dead, and many more injured.

That doesn't count the carnage we see every single day that doesn't make the headlines.

I've been in this fight for a long time. I know how hard it is, but I'll never give up. And if Congress fails, I believe this time a majority of the American people won't give up either. I believe the majority of you will act to turn your outrage into making this issue central to your vote.

Enough. Enough. Enough.

Over the next 17 days, the families in Uvalde will continue burying their dead.

It will take that long in part because it's a town where everyone knows everyone, and day by day they will honor each one they lost.

Jill and I met with the owner and staff of the funeral home that is being strong — strong, strong, strong — to take care of their own.

And the people of Uvalde mourn. As they do over the next 17 days, what will we be doing as a nation?

Jill and I met with the sister of the teacher who was murdered and whose husband died of a heart attack two days later, leaving behind four beautiful, orphaned children — and all now orphaned.
The sister asked us: What could she say? What could she tell her nieces and nephews?

It was one of the most heartbreaking moments that I can remember. All I could think to say was — I told her to hold them tight. Hold them tight.

After visiting the school, we attended mass at Sacred Heart Catholic Church with Father Eddie.

In the pews, families and friends held each other tightly. As Archbishop Gustavo spoke, he asked the children in attendance to come up on the altar and sit on the altar with him as he spoke.

There wasn't enough room, so a mom and her young son sat next to Jill and me in the first pew. And as we left the church, a grandmother who had just lost her granddaughter passed me a handwritten letter.

It read, quote, "Erase the invisible line that is dividing our nation. Come up with a solution and fix what's broken and make the changes that are necessary to prevent this from happening again." End of quote.

My fellow Americans, enough. Enough. It's time for each of us to do our part. It's time to act.
For the children we've lost, for the children we can save, for the nation we love, let's hear the call and the cry. Let's meet the moment. Let us finally do something.

God bless the families who are hurting. God bless you all.

From a hymn based on the 91st Psalm sung in my church:
May He raise you up on eagle's wings
and bear you on the breath of dawn
make you to shine like the sun
and hold you in the palm of His hand.

That's my prayer for all of you. God bless you.
Biden executive order bolsters efforts to secure release of Americans detained abroad
Brittney Griner remains detained in Russia
WASHINGTON — President Joe Biden on Tuesday signed an executive order that will bolster his administration's efforts to secure the release of Americans who are detained or being held hostage abroad.
The executive order, which is based on the 2020 Robert Levinson Hostage Recovery and Hostage-Taking Accountability Act, a retired FBI agent who Iranian authorities arrested in 2007, reinforces what a press release describes as "the administration's tool kit in key ways."
Reinforces the U.S. government's efforts to support families of Americans wrongfully detained or held hostage overseas;
Authorizes agencies to impose costs and consequences, including financial sanctions, on those who are involved, directly or indirectly, in hostage-taking or wrongful detentions to support expanded and ongoing interagency efforts;
Directs relevant parts of the U.S. government to bolster their engagement and sharing of relevant information, including intelligence information, consistent with the protection of sources and methods, with families regarding their loved ones' status and U.S. Government efforts to secure their release or return, as appropriate; and
Charges experts across the interagency to develop options and strategies to deter future hostage-taking and wrongful detentions.
"It reaffirms the fundamental commitment of the president of the administration to bring home those Americans held hostage (and) wrongfully detained abroad," said senior administration on Monday during a conference call with reporters.
Another senior administration official added the executive order "reinforces U.S. government efforts to support the families of Americans wrongfully detained or held hostage overseas by directing parts of the federal government to bolster their engagement with such families and their sharing of relevant information, including intelligence information, with families regarding their loved one's status, and the government's efforts to secure their release or their return."
"This EO (executive order) reflects the administration's commitment not just to the issues generally, but to the families in particular and it has been informed by the government's regular engagements with them and other stakeholders who have and continue to undertake important constructive advocacy efforts on behalf of their loved ones," they said. "President Biden and those across the administration will now draw on this EO to advance our efforts and we hope to do so in an active conversation with family members and outside stakeholders."
The executive order also creates a "D" indicator in the State Department's travel advisories that notes the countries in which American citizens are at risk for "wrongful detention." Burma, China, Iran, North Korea, Russia and Venezuela are the first six countries named.
"We're committed to provide us citizens with comprehensive safety and security information about foreign countries so they can make informed travel decisions before they before they head overseas," said another senior administration official during Monday's conference call. "The United States opposes wrongful detention and the practice of using individuals as political bargaining chips everywhere. These practices we know represent a threat to the safety of all US citizens traveling and living abroad."
Biden signed the executive order against the backdrop of WNBA star Brittney Griner's continued detention in Russia.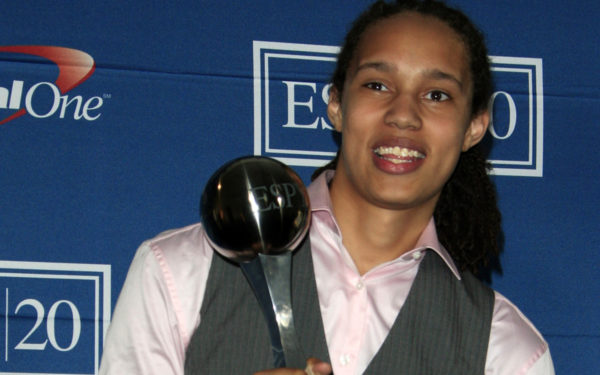 Officials at Moscow's Sheremetyevo Airport in February detained Griner — a Phoenix Mercury center and two-time Olympic gold medalist who is a lesbian and married to her wife, Cherelle Griner, — after customs inspectors allegedly found hashish oil in her luggage.
The State Department has determined that Russia "wrongfully detained" her.
Griner's trial, which began on July 1, continues, even though she has pleaded guilty to charges that she smuggled drugs into the country. The White House is under increased pressure from Griner's wife and family, teammates and LGBTQ+ activists to secure her release.
A senior administration official on Monday's call did not directly respond to a question about how the executive order will help secure Griner's release.
"There are a number of ways in which it would affect cases like that case in the wrongful detainee category," said the official. "The executive order directs those across the executive branch to share consistent accurate information with the families of those who are deemed wrongfully detained, to ensure that they receive support and assistance throughout the ordeal, and to work with parts of our government to try to impose costs on those responsible."
First Lady Jill Biden addresses LGBTQ+ donors at Equality PAC fundraiser
The Equality PAC is a congressional political action committee led by the openly gay and lesbian members of the U.S. House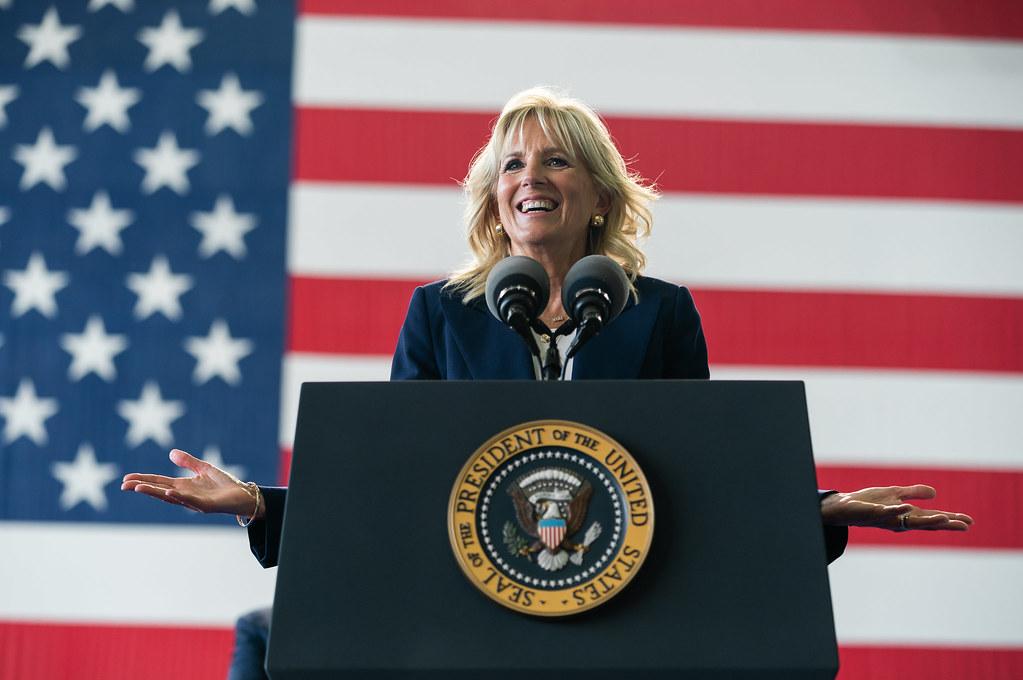 WASHINGTON – First lady Jill Biden expressed solidarity with members of the LGBTQ community Monday at a D.C.-based fundraiser hosted by the Equality PAC, urging action amid fears same-sex marriage is under threat in the wake of the U.S. Supreme Court ruling overturning Roe v. Wade.
"Right now we're fighting the battles we thought we had already won," Jill Biden said. "And we don't need to guess where the extremists are going next because they've already told us in the Dobbs decision."
The Equality PAC is a congressional political action committee led by the openly gay and lesbian members of the U.S. House. Among the notables seen in attendance who spoke at the fundraiser were Reps. Mark Takano (D-Calif.) and David Cicilline (D-R.I.), who co-chair the caucus. The event was held at the Long View Gallery.
"Progress isn't a line," Jill Biden said. "It sometimes feels like an ocean, pushing forward and pulling back. But with time and persistence, the shore of injustice does wear away."
Jill Biden touted President Biden's actions on behalf of the LGBTQ community, pointing out he signed an executive order against anti-LGBT discrimination, ended the transgender military ban, and appointed LGBTQ federal officials. She also mentioned an executive order President Biden signed in June, which included new prohibitions on widely discredited conversion therapy.
The first lady closed the event urging action and expressing solidarity, although she momentarily tripped over the LGBTQ acronym.
"I want you to know that I will be there beside you every step of the way. It won't be easy," she said. "The legacy of the LGD – the LGBTQI community is a hope that has never been crushed."
Takano also spoke at the event and said Equality PAC raised a total of $217,000 at the event and more than $10.8 million this cycle, envisioning wins for Democrats on Election Day despite expectations of Republican gains.
"We are going to keep our majority and I dare say we're going to expand it," Takano said.
Biden defends human rights commitment before Saudi Arabia trip
Homosexuality punishable by death in kingdom
JERUSALEM — President Biden on Thursday stressed he has "never been quiet about talking about human rights" in response to a question about whether he will raise them while in Saudi Arabia.
Biden made the comment in response to a reporter's question during a press conference in Jerusalem with Israeli Prime Minister Yair Lapid after their meeting, which took place a day before the U.S. president travels to Saudi Arabia.
Saudi Arabia is among the handful of countries in which consensual same-sex sexual relations remain punishable by death.
The reporter specifically asked Biden about Jamal Khashoggi, a Washington Post columnist who was killed inside the Saudi Consulate in Istanbul in 2018.
American intelligence has concluded Saudi Crown Prince Mohammed bin Salman approved Khashoggi's murder. Biden is expected to meet with bin Salman while in the Saudi city of Jiddah, even though the U.S. president previously said he wanted to make Saudi Arabia a "pariah" state.
Secretary of State Antony Blinken last month told the Washington Blade during a roundtable with LGBTQ+ and intersex reporters that the State Department has used the "Khashoggi Ban" to sanction more than 70 Saudi citizens and others who have targeted journalists, government critics and others in a third country. Biden on Thursday said his "views on Khashoggi have been made absolutely, positively clear."
"I always bring up human rights, but my position on Khashoggi has been so clear," said Biden.
Blinken last month said Biden "will be bringing up rights issues across the board when he's in Saudi Arabia, as he does in any country where we have or he has concerns." Blinken further noted the U.S. welcomes the Saudi government's efforts to combat extremism, counter Iran's influence in the Middle East and its role in the continued ceasefire in Yemen.
"At the same time, we have been very determined from day one to recalibrate the relationship, not rupture it, recalibrate, because we had concerns that it wasn't as effectively as it could be advancing our own interests and our own values," said Blinken. "So, we took the time to do that."
"It's a long way of saying that there are complex issues," he added. "Human rights, including LGBTQI rights, are something that is central to our foreign policy, but it's not the totality of it. And everything has to be reflected in what we do and we have to make a judgment, which may be right or may be wrong, about what is the most effective way to advance these issues in this agenda."