"Stop grooming the kids," right-wing protests Dallas Drag event at gay bar
The organizers of the drag event billed it as a "family-friendly" drag queen story hour event at Mr. Misster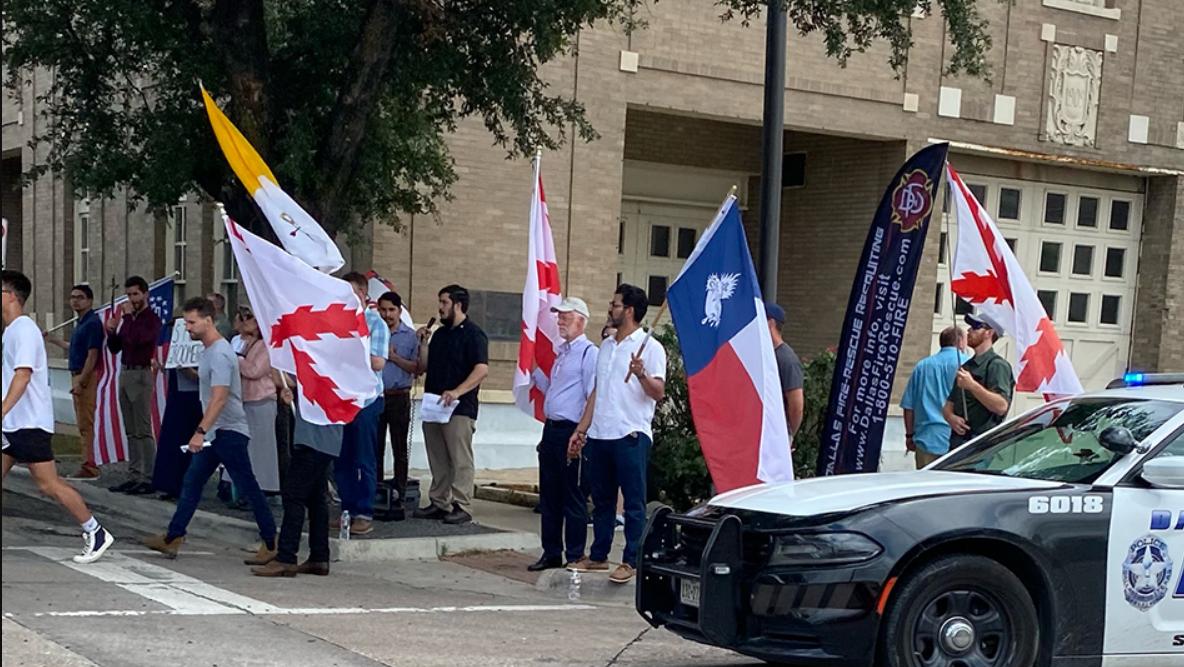 DALLAS – The "Drag the kids to pride" drag show to kick off Pride month in Dallas, Texas found itself to be a flashpoint between anti-LGBTQ+ right-wing protesters, attendees of the event, and police at a popular gay bar and safe space in the city's Oak Lawn neighborhood.
The organizers of the drag event billed it as a "family-friendly" drag queen story hour event at Mr. Misster, located at the corner of Cedar Springs Road and Reagan Street, but according to both The Dallas Voice, the local LGBTQ+ media outlet and Dallas–Fort Worth ABC News affiliate WFAA 8, protesters also showed up outside the event, some carrying signs that read "Stop grooming the kids" and "Stop exploiting kids," and similar variations.
According to WFAA ABC 8, During the event, drag performers danced and walked down the aisle in the center of the room. At times, the dancers would take dollar bills from some of the children. Kids also walked with the dancers down the aisle during the event.
Cannon Brown, a Dallas LGBTQ+ activist and founding former head of the Dallas Stonewall Young Democrats took to Facebook posting pictures of the protestors captioning the post with "Christofascists on Cedar Springs in front of Mr Mister. Get down here."
Photos posted by The Dallas Voice journalist Tammye Nash, using photos by Chad Mantooth, show one protester carrying a sign declaring "confuse a child, abuse a child," and another had a sign shouting "stop groomers." Yet another demands, "Stop exploiting our kids." And, in what is apparently a swipe at the rainbow power of Pride Month, one woman wore a black T-shirt with a block of rainbow colors saying "rainbow revival."

One woman who was protesting, Dasy, who didn't want to give her last name, told WFAA ABC 8 that she first saw the poster for the event near where she lives. She was at the bar after the event with a "Stop grooming the kids" poster.
"I live in this community," Dasy said. "I have for several years. I don't believe that I should be seeing signs advertising for children to be dancing on stage with men in thongs and in inappropriate clothing and makeup. I do not in any way condone the behavior that these people are engaging in, but what drags me out here is its kids now."
A media statement the venue released after the event noted:
"We host our Champagne Drag Brunch every Saturday at 2pm for guests that are 21+ but we have partnered with some of our major community partners to host a special Pride Drag Brunch for all guests, including guests that couldn't normally attend our regular show because of the drinking age restriction, to raise money for a local LGBTQ+ youth organization.
We are more than happy to open our doors to celebrate Pride in a family friendly, safe environment, separate from our normal operations of 2 p.m. – 2 a.m. on Saturdays because we believe that everyone should have a space to be able to celebrate who they are.
Mr. Misster is a place where everyone is welcome to feel accepted, safe and included. We had a group of protestors outside yelling homophobic threats, transphobic remarks and vile accusations at these children and parents.
It is so sad to see that in 2022, there are people that still want to protests others celebrating who they are, but our staff and wonderful officers helped keep us safe and kept the protestors at bay.
In a statement provided by the anti-LGBTQ+ group Protect Texas Kids tried to claim that Dallas Police officials had "removed" the children from the drag show, which WFAA ABC 8 reported as untruthful, a fact verified by the Dallas Police Department.
A spokesperson for the police department told media outlets that its officers showed up to "assist with crowd control" and help the crowd "disperse in a safe manner."
"We decided to organize this protest when we saw advertising for the event a few weeks ago – we researched the bar and quickly found out that it's a gay bar, and we were also pretty concerned when we saw the signage on the bar's website that says "it's not gonna lick itself." We just launched our organization and this was our first event.
The mission was to raise awareness that an event like this, a drag show for children, was happening right in Dallas. We also hoped that if we raised awareness, the event might be canceled or modified so that children couldn't be present.
We were very happy with how the event went overall. The police were able to come in and remove all of the children and their families from inside of the bar. There were a lot of people in attendance who didn't have kids, so those people were able to stay and the event continued."
According to WFAA ABC 8 Mr. Misster also said the bar had received several hundred threatening emails, nasty Google reviews and aggressive threating phone calls from protestors.
New Study: anti-abortion, LGBTQ policies impact state economies
State-level shifts in social & legal rights for women & LGBTQ individuals may have negative impacts on states' economies and workforces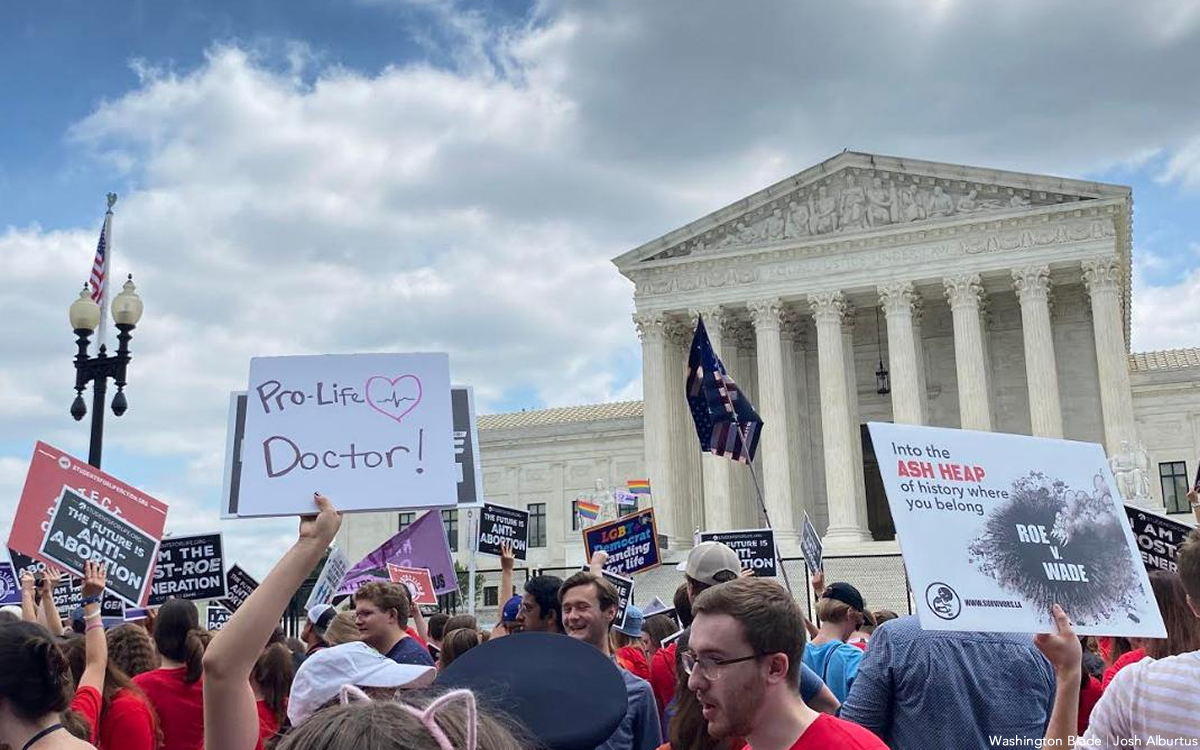 By Bryan Luhn | HOUSTON, Texas – Researchers at the University of Houston say major, state-level shifts in social and legal rights available to women and lesbian, gay, bisexual and transgender (LGBTQ) individuals are affecting interstate migration attitudes and may have negative impacts on states' economies and workforces.
In a study published in Population Research and Policy Review, researchers surveyed more than 1,000 people from varying backgrounds after the U.S. Supreme Court's decision last year that ended the constitutional right to an abortion and assessed their views on the desirability of moving to a state with restrictions on access to abortions, gender-affirming medical care, participation in team sports for transgender individuals, teaching about gender and sexuality in schools, same-sex marriage and protections from employment discrimination based on sexual orientation.
"The majority of people who responded to our survey, regardless of their political orientation, indicated they would be less willing to move to states with these policies or that the policies wouldn't affect their decision to do so," said Amanda Baumle, lead author and sociology professor at UH. "These policies are much more of a deterrent to migration than an incentive."
The study found that women, and their partners, gay men, lesbians and those with LGBT family members may choose to avoid states with policies suggesting an unfriendly political environment. The findings also suggest that those in higher-earning occupations, or those who are invested in work or education opportunities, could be discouraged from moving to states with these policies.
"Migration attitudes provide an important benchmark for understanding how abortion and LGBTQ laws and policies influence opinions about the desirability of states as potential destinations," Baumle said. "If the policies are deterring people from moving to a certain state, there could be negative economic and workforce impacts."
According to The New York Times, 21 states now ban or restrict abortions. In several other states, there is an ongoing legal battle over abortion access. And the American Civil Liberties Union says state legislatures advanced more than 500 anti-LGBTQ bills this year, more than double the number of similar bills introduced last year.
The UH study found most people are averse to moving to states that enacted highly restrictive abortion laws, such as bans on traveling to other states for abortions or policies allowing people to report abortion seekers to authorities. They were the least averse to moving to states with restrictions related to gender-affirming care for children, transgender children playing on sports teams different than their assigned sex at birth and education-related restrictions such as "don't say gay" laws.
"I think that fits in with a lot of prior research that people perceive children as in need of being sheltered from anything that falls outside of the gender binary or heterosexuality," said study co-author Elizabeth Gregory, professor of English and director of Women's Gender and Sexuality Studies at UH. "Something that was somewhat surprising was that restrictions on participation in sports for transgender youth was viewed less negatively for migration and more as a potential draw than any of the other policies."
One of the key takeaways of the study, Baumle says, is that states continuing to enact these laws and policies may do so at considerable risk of diminishing their state's attractiveness, or pull, as a potential migration destination.
"Our findings suggest these restrictive laws and policies have implications for migration attitudes beyond women and LGBTQ individuals," Gregory said. "States, including legislators and business owners, should consider potential social and economic effects of these actions as an important part of their policy deliberations."
***************************************************************************************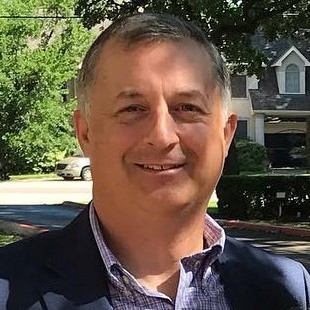 Bryan Luhn is the Interim Director of Media Relations at the University of Houston. Luhn is an award-winning storyteller and content creator.
The preceding piece was previously published by the University of Houston and is republished with permission.