LA County Parks & Rec invites folks to Juneteenth at Jackie Robinson Park
FREE Performances, Guest Speaker Series, Games, Art Displays, Car Exhibits and So Much More this Saturday!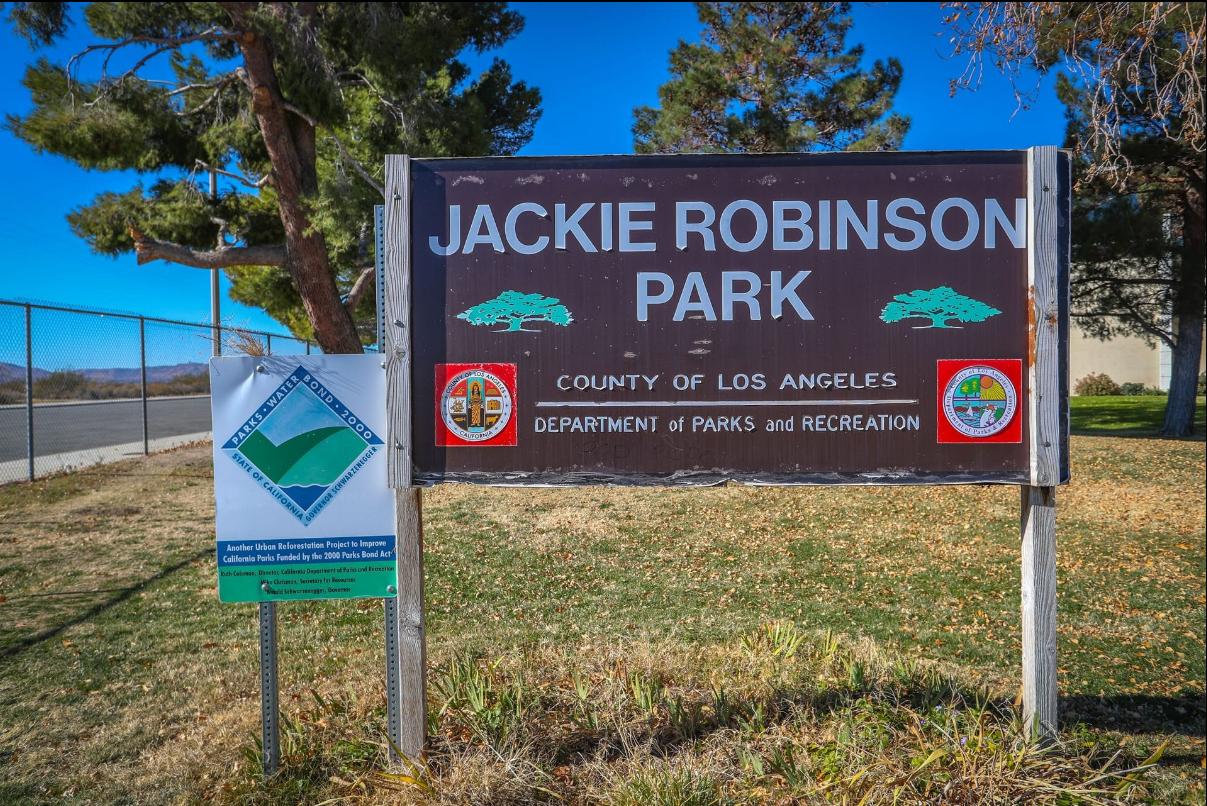 LOS ANGELES – It's Park Time L.A. County! LA County Parks and Recreation invites you to our Juneteenth celebration, on Saturday, June 18th from 10am to 10pm at Jackie Robinson Park (8773 E Avenue R Sun Village).
Juneteenth commemorates the emancipation of enslaved people in the United States; specifically, when former slaves were finally freed in Galveston, Texas, two years after the signing of the Emancipation Proclamation. Though long celebrated within the Black community, Juneteenth was formally made a federal holiday on June 17th, 2021.
The L.A. County Juneteenth Celebrations are possible thanks to the generosity of the L.A. County Board of Supervisors – First District Supervisor Hilda L. Solis, Second District Supervisor and Board Chair Holly J. Mitchell, Third District Supervisor Sheila Kuehl, and Fifth District Supervisor Kathryn Barger – and many community-based organizations throughout L.A. County.
Juneteenth at Jackie Robinson is hosted in partnership with local community organizations. This year's activities include musical performances, speaker's series, wellness activities, resource fairs, artist experiences, hands-on children's activities, video game trucks and so much more.
For more information on Juneteenth celebrations, contact Delmy Villegas-Delgado, Recreation Manager at (626) 369-5141 or at [email protected]
Juneteenth at Jackie Robison is a FREE events with no registration required. Food available onsite at cost by local businesses and vendors.
Please join us at the following parks and celebrate Juneteenth with us this Saturday:
Jackie Robinson Park – 8773 E Avenue R Sun Village from 10 am to 10 pm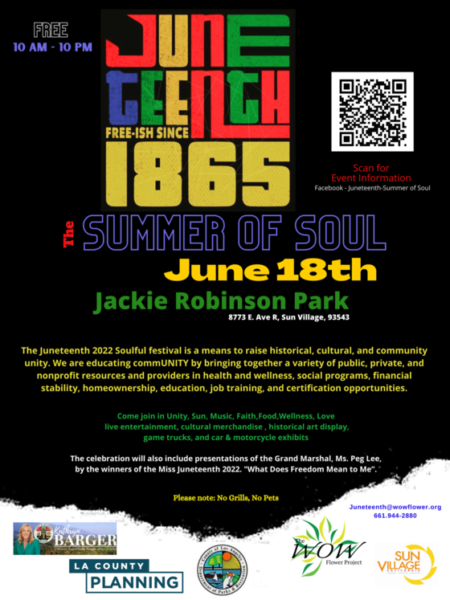 LA County Parks Winter Wonderland returns
Snow Days, Sled Rides, Toy Giveaways, Craft Villages, Teen Zone and More!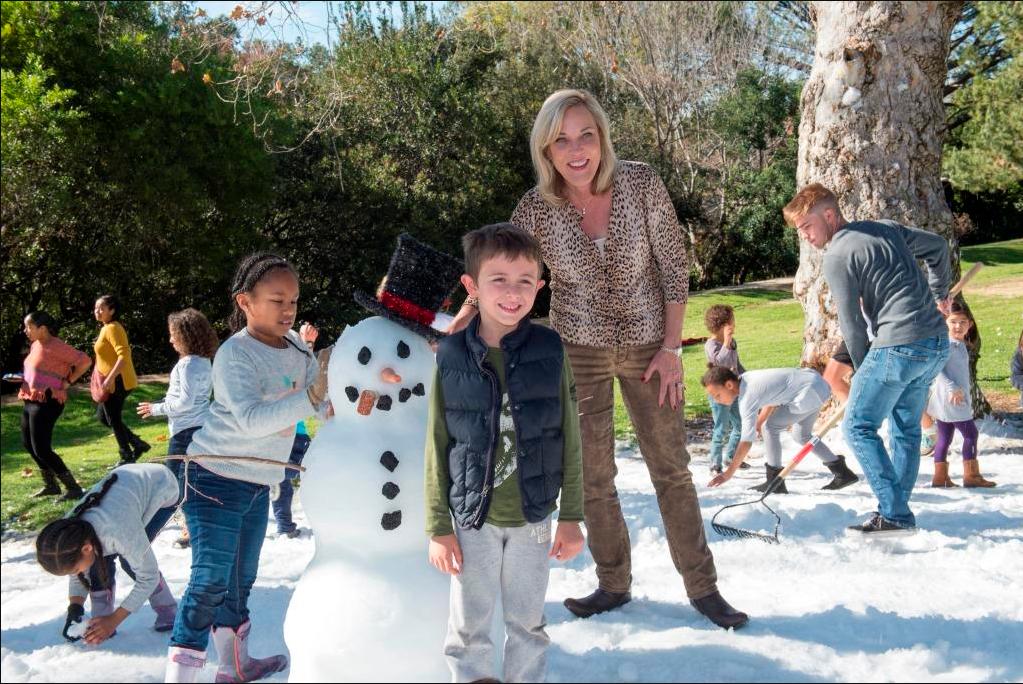 LOS ANGELES – It's Park Time L.A. County! Parks After Dark returns with an enchanting Winter Wonderland experience that will bring holiday cheer and 40 to 80 tons of snow to 34 L.A. County Parks in the month of December.
This holiday action packed celebration is for the entire family and is bigger and better than ever before, with more snow, more toys, more craft activities and more fun! All for free!
Parks After Dark Snow Patrol teams, staffed by passionate and dedicated Parks & Recreation personnel, are ready to transform local parks into wintry paradises complete with sled runs, photo opportunities, snack stations, holiday treats and a craft village where children can decorate their own holiday stocking! Families should plan to arrive early at their local park for a toy giveaway for ages 0-17, while supplies last.
New this year to the Winter Wonderland experience is a Teen Zone where young adults can enjoy their own space to hang out with their friends, create and design art, listen to music, silkscreen holiday shirts and make their own personalized Santa hat!
Also beginning this year, selected parks will double their fun with Mega Snow days, which will bring up to 80 tons of snow to Earvin "Magic" Johnson Park, Val Verde Park, Belvedere Park, El Cariso Park, Loma Alta Park, Ted Watkins Park, Roosevelt Park and Valleydale Park.
The L.A. County Parks Winter Wonderland is possible thanks to the generosity of Los Angeles Department of Social Services, Los Angeles County Department of Parks and Recreation, and the L.A. County Probation Department.
"Parks After Dark brings family, friends, neighbors and community together in their local park," County of Los Angeles Department of Parks and Recreation (DPR) Director Norma Edith García-González said. "The Winter Wonderland experience will provide youth and families a memorable snow day experience and much more to celebrate the joy of the holiday season. I am grateful to DPR Staff for all their work to bring 40 to 80 tons of snow to 34 parks this holiday season!"
Parks After Dark, launched in 2010, has proven to be a successful prevention and intervention program that provides multiple benefits to vulnerable communities, decreasing violence and crime, and increasing social cohesion and community well-being. In 2018, Parks After Dark was recognized by the National Recreation and Park Association, which presented L.A. County Parks and Recreation with is Best in Innovation award.
For more information on Parks After Dark Winter Wonderland, visit https://parks.lacounty.gov/winterpad
Locations, dates, and times for Parks After Dark Winter Wonderland are listed below:
Friday, Dec. 2
Col. Leon H. Washington Park – 8908 S. Maie Ave., Los Angeles (4-8 p.m.)
Mary M. Bethune Park – 1244 E. 61st St., Los Angeles – (4-8 p.m.)
Charter Oak Park – 20261 E. Covina Blvd., Covina – (4-8 p.m.)
Pamela County Park – 2236 Goodall Ave., Duarte – (4-8 p.m.)
Saturday, Dec. 3
Eugene A. Obregon Park – 4021 E. First St., Los Angeles – (12-4 p.m.)
City Terrace Park – 1126 N. Hazard Ave., East Los Angeles – (4-8 p.m.)
Earvin "Magic" Johnson Park – 905 E. El Segundo Blvd., Los Angeles (12-4 p.m.) (Mega Snow)
George Washington Carver Park – 1400 E. 118th St., Los Angeles – (4-8 p.m.)
Val Verde Community Regional Park – 30300 W. Arlington Rd., Val Verde
(12-4 p.m.) (Mega Snow)
Belvedere Community Regional Park – 4914 E. Cesar Chavez Ave., Los Angeles
(4-8 p.m.) (Mega Snow)
Friday, Dec. 9
Adventure Park – 10130 S. Gunn Ave., Whittier – (4-8 p.m.)
Sorenson Park – 11419 Rose Hedge Dr., Whittier – (4-8 p.m.)
Saybrook Park – 6250 E. Northside Dr., East Los Angeles – (4-8 p.m.)
Jesse Owens Community Regional Park – 9651 S. Western Ave., Los Angeles –
(4-8 p.m.)
Saturday, Dec. 10
El Cariso Community Regional Park – 13100 Hubbard St., Sylmar – (12-4 p.m.) (Mega Snow)
Loma Alta Park – 3330 N. Lincoln Ave., Altadena – (4-8 p.m.)
Helen Keller Park – 12521 S. Vermont Ave., Los Angeles – (12-4 p.m.)
Athens Park – 12603 S. Broadway, Los Angeles – (4-8 p.m.)
San Angelo Park – 245 S. San Angelo Ave., La Puente – (12-4 p.m.)
Bassett Park – 510 N. Vineland Ave., La Puente – (4-8 p.m.)
East Rancho Dominguez Park – 15116 S. Atlantic Ave., Compton – (12-4 p.m.)
Ted Watkins Memorial Park – 1335 E. 103rd St., Los Angeles – (4-8 p.m.)
(Mega Snow)
George Lane Park – 5520 W Ave L-8, Quartz Hill (4-8 p.m.)
Friday, Dec. 16
Ruben F. Salazar Park – 3864 Whittier Blvd., Los Angeles (4-8 p.m.)
William Steinmetz Park – 1545 S, Stimson Ave., Hacienda Heights – (4-8 p.m.)
Amigo Park – 5700 S. Juarez Ave., Whittier – (4-8 p.m.)
Amelia Mayberry Park – 13201 E. Meyer Rd., Whittier – (4-8 p.m.)
Saturday, Dec. 17
Stephen Sorenson Park – 16801 E. Avenue P, Lake Los Angeles (12-4 p.m.)
(Mega Snow)
Jackie Robinson Park – 8773 E. Avenue R, Littlerock – (4-8 p.m.)
Mona Park – 2291 E. 121st St., Compton (12-4 p.m.
Franklin D. Roosevelt Park – 7600 Graham Ave., Los Angeles – (4-8 p.m.)
(Mega Snow)
Rimgrove Park – 747 N. Rimgrove Dr., La Puente – (12-4 p.m.)
Allen J. Martin Park – 14830 E. Giordano St., La Puente – (4-8 p.m.)
Valleydale Park – 5525 N. Lark Ellen Ave., Azusa – (4-8 p.m.) (Mega Snow)