To Biden: No Pride in detention of Transgender, queer communities
Jennicet Gutiérrez declines to attend White House Pride event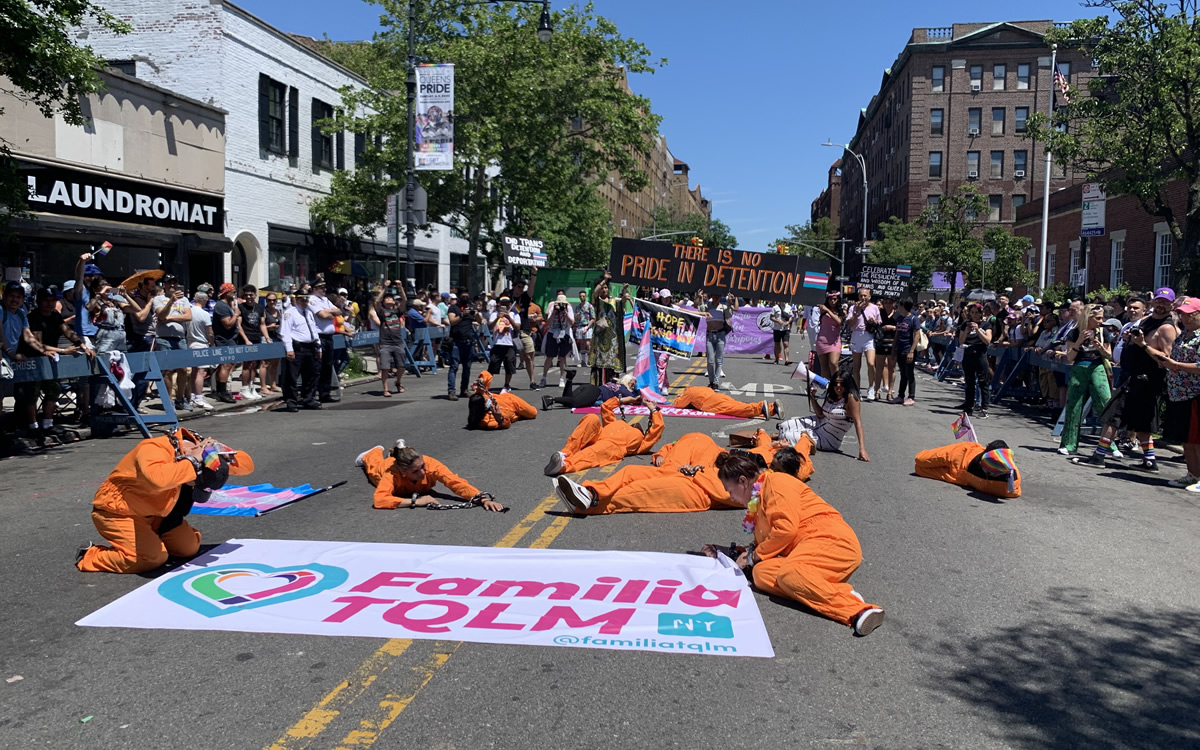 Editor's note: This is the letter that Jennicet Gutiérrez sent to the White House in response to the invitation she received to attend its Pride Month celebration.
June 13, 2022
Dear President Biden and Dr. Biden,
I received your invitation to the White House Pride Celebration on June 15, 2022, and with a clear conscience I am letting you know that I will not be attending this event. There should be no White House celebration when Trans and queer communities are suffering and being detained by your administration. There is no pride in detention.
At the start of your administration you pledged to protect LGBTQ+ people worldwide, but it's a commitment that you have failed to uphold at home.
Almost a year ago, while you were holding a Pride reception, Trans and queer immigrant leaders from across the nation marched to the White House, demanding the release of trans people, people living with HIV, and any medical condition, from detention centers across the country. We are still seeking justice for Victoria Arellano, Roxsana Hernández, and Johana Medina, trans women who died because of the negligence of Immigration and Customs Enforcement (ICE).
Our members across the country are marching and protesting this Pride Month with the same demand of ending the violence and killings of Trans people. There have been over two million deportations since you took office, setting you up to be the next deporter-in-chief. Your administration has used Title 42 as an excuse to deport immigrants seeking a better future, most of them Black and brown people and including Trans and queer immigrants, even as your administration is relaxing requirements for people traveling to the United States. More than 32 states have drafted bills that would criminalize trans youth and their families for providing life affirming healthcare. Transgender people and children are under attack by the same white supremacist forces that are plaguing our nation and we haven't seen your administration's response be enough in the face of these attacks.
The reality is that as this celebration is taking place, Trans people currently in ICE custody will be in unsafe conditions. You could easily stop their suffering by instructing the Department of Homeland Security to implement a policy of liberating Trans people, people living with HIV and other medical conditions, as well as other vulnerable people.
Ending Trans detention and using your executive powers to protect LGBTQ people would have a greater impact on our community and would save many lives rather than hosting an event to deliver a well-crafted speech with broken promises.
Respectfully,
Jennicet Eva Gutiérrez
—
13 de julio del 2022
Estimados presidente Biden y Dr. Biden,
Recibí su invitación a la Celebración del Orgullo de la Casa Blanca el 15 de junio de 2022 y con la conciencia clara les hago saber que no asistiré a este evento. No debería haber celebración de Orgullo en la Casa Blanca cuando las comunidades trans y queer están sufriendo y siendo detenidas por su misma administración. No hay orgullo en la detención.
Al comienzo de su administración, se comprometió a proteger a las personas LGBTQ + en todo el mundo, pero es un compromiso que no ha podido mantener en casa.
Hace casi un año, mientras celebraban una recepción de Orgullo, líderes inmigrantes trans y queer de todo el país marcharon a la Casa Blanca, exigiendo la liberación de las personas trans, las personas que viven con el VIH y cualquier condición médica, de los centros de detención de todo el país. Todavía estamos buscando justicia para Victoria Arellano, Roxsana Hernández y Johana Medina, mujeres trans que murieron debido a la negligencia del Servicio de Inmigración y Control de Aduanas (ICE).
Nuestros miembros en todo el país están marchando y protestando este mes del orgullo con la misma demanda de poner fin a la violencia y los asesinatos de personas trans. Ha habido más de dos millones de deportaciones desde que asumió el cargo, lo que lo prepara para ser el próximo jefe-de-deportaciones. Su administración ha utilizado el Título 42 como una excusa para deportar a los inmigrantes que buscan un futuro mejor, la mayoría de ellxs personas Negras y personas de color, e incluyendo a inmigrantes trans y queer, mientras su administración está relajando los requisitos para las personas que viajan a los Estados Unidos. Además, más de treinta y dos estados han redactado proyectos de ley que criminalizan a los jóvenes trans y sus familias por proporcionarles atención médica que afirma su género y salvan sus vidas. Las personas transgénero y los niños están siendo atacados por las mismas fuerzas supremacistas blancas que están plagando nuestra nación y no hemos visto que la respuesta de su administración es suficiente frente a estos ataques.
La realidad es que a medida que se lleva a cabo esta celebración, personas trans actualmente bajo custodia de ICE estarán en condiciones inseguras y peligrosas. Usted podría parar fácilmente su sufrimiento instruyendo al Departamento de Seguridad Nacional para que implemente una política de liberación de personas trans, personas que viven con VIH y otras condiciones médicas, así como otras personas vulnerables.
Poner fin a la detención trans y usar sus poderes ejecutivos para proteger a las personas LGBTQ tendría un mayor impacto en nuestra comunidad y salvaría muchas vidas en lugar de organizar una celebración de Orgullo para pronunciar un discurso bien elaborado con promesas incumplidas.
Respetuosamente,
Jennicet Eva Gutiérrez
Monkeypox vaccines coming- we must mitigate risk & spread for now
Clinics are expected to have vaccines available by summer's end. In the meantime, we need community-informed prevention & treatment strategies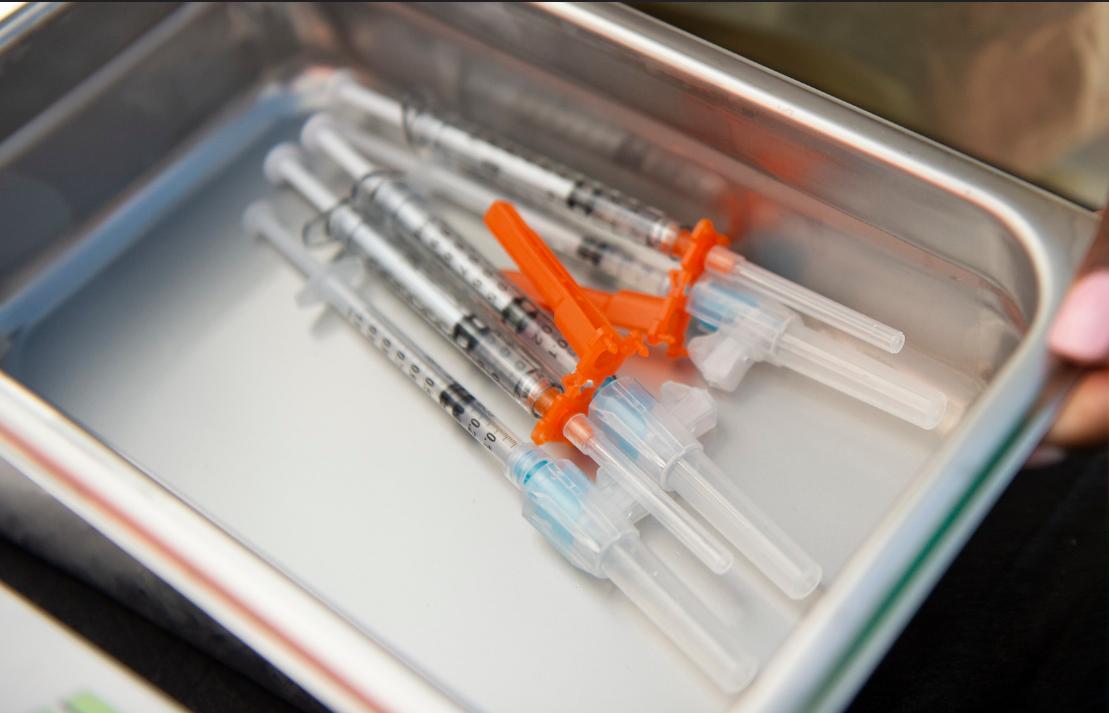 By Jim Mangia | LOS ANGELES – Monkeypox virus (MPV) is on the rise – and many are understandably frustrated by the federal government's slow response. The LGBTQ+ community has been demanding vaccines since day one, with many drawing similarities between today's lackluster approach to MPV and the inhumane response to HIV/AIDs in the '80s and '90s.
MPV is a serious health concern that indeed deserves swift action from elected officials. But truly drawing from lessons learned during the HIV/AIDs crisis means not relying on vaccines alone – especially while waiting for the federal government and supply chain to catch up to our demand for them. We need community-wide education, prevention, and treatment strategies around MPV – and we need them now.
I was a young, gay man during the HIV/AIDs crisis. Last week, a friend and I reflected on how, out of our large social group from our early twenties, we are the only two left alive. Everyone else we loved during those years was killed by AIDS.
The Republican dominated government at the time didn't care if we lived or died – and many preferred the latter. As AIDS dominated our lives, groups like the Gay Men's Health Crisis mobilized, setting up hotlines to circulate information, writing and disseminating guidelines for safer sex, and creating tight-knit networks to support the sick or suffering. Simultaneously, ACT-UP (AIDS Coalition to Unleash Power) activated the LGBTQ+ community and allies to demand governmental action.
Now, we can draw on our community's past resilience. We must keep ourselves safe, from both MPV and from the dangerous, homophobic messaging that's emerging around it.
First, LGBTQ+ people must avoid perpetuating the dangerous myth that MPV only impacts us. The scientific truth is that pathogens often first spread among social groups in close contact with one another – for example, outbreaks of meningitis among college students. MPV is continuing to primarily impact the LGBTQ+ community because the virus hasn't yet had the biological need to move onto another social group. This is important both in terms of combating homophobia, and also in recognizing our community's responsibility to help prevent MPV's spread.
We also need to emphasize that MPV is not an STI. While it is spread through close physical contact, that contact can be nonsexual. Day care workers, nannies, massage therapists, tattoo artists, and others whose livelihoods involve skin-to-skin contact are also at high risk right now, and we need to be educating and advocating for those folks as well.
Direct contact with the rash or body fluids and sexual contact are the most risky activities; kissing, cuddling, and being in crowds of non fully clothed people are moderately risky; and sharing dishes, beds, towels, toiletry items or being in crowds with fully clothed people are possible ways of contracting MPV. Limiting those activities for now and communicating with each other about exposure are essential ways to prevent spread.
There are other tools we should be advocating for in addition to vaccines. One is Tpoxx, an antiviral medication that hasn't been approved by the FDA but is being widely and successfully used in Europe. Another is faster MPV tests – currently, the results can take several days. Only a few lab companies are approved to test MPV specimens sent by clinics and hospitals, and we need faster results to prevent further spread in real time.
Today, a multibillion dollar industry fuels many issues that plague our community – including major circuit party promoters, hookup apps, and corporations who infiltrated our pride events. These industries depend on our money, and are only interested in getting our bodies where they need them in order to cash in.
Exploitative messaging from these industries can permeate our collective consciousness. They tell us we need and deserve certain things, and we need and deserve them immediately. They don't care about our safety, and they aren't advocating for our actual lives. They're just contributing to a sense of urgency in the name of their bottom line. It's up to LGBTQ+ people to get to the root of what's important. We must organize ourselves, act with care for each other, and demand a comprehensive strategy from LGBTQ+ institutions and the government – rather than just looking for quick-fix solutions for ourselves.
Clinics in California are expected to have thousands of vaccines available by summer's end. In the meantime, we need community-informed prevention and treatment strategies from our leaders. And now more than ever, with both MPV and COVID-19 threatening our health, we must treat each other with consent and respect.
*********************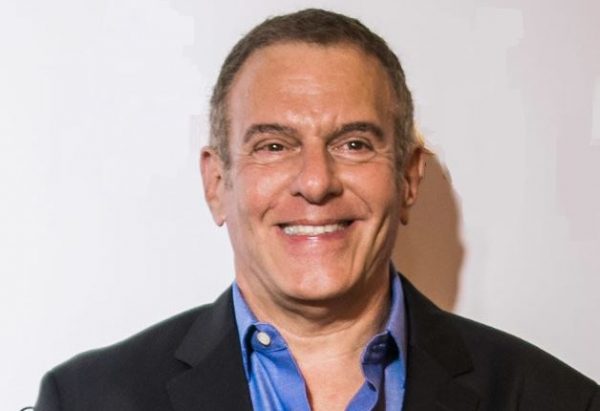 Jim Mangia is the president and CEO of St. John's Community Health, a network of public health clinics serving South, Central, and East Los Angeles.
Why supporting LGBTQ women in primary races is vital for our democracy
The majority of the 100 candidates LPAC has endorsed this election cycle are running for State Legislatures
By Lisa Turner | WASHINGTON – For ten years, LPAC has been at the forefront of supporting candidates who champion LGBTQ equality, women's rights, and social justice. As the only national political organization dedicated to electing LGBTQ women to local, state and federal office, LPAC firmly believes that having LGBTQ women at the table makes a real impact in the quality of our democracy.
As Americans face down callous attacks on reproductive rights and LGBTQ equality, it is clear LPAC's work on the frontlines of politics supporting LGBTQ women is more important than ever. 
When LPAC was founded in 2012 only one openly LGBTQ woman had ever been elected to Federal office, then-Congresswoman Tammy Baldwin. Since then there has been progress – Baldwin was elected to the U.S. Senate, Kate Brown became the first openly LGBTQ person elected as a governor, Maura Healey became the first LGBTQ state attorney general, and Lori
LIghtfoot was elected as the first LGBTQ mayor of Chicago. However LGBTQ women are still underrepresented in public office, and LPAC is committed to continue this game-changing work.
So far this year LPAC has endorsed 100 LGBTQ women vying to become everything from city council and school board members to Congresswomen and governors. This is the most candidates LPAC has ever endorsed in an election cycle.
Making this many early endorsements in advance of the November elections was an important strategic decision. The first step to increasing LGBTQ women's representation is to make sure they are competitive and win their primary elections, otherwise they will not even appear on the general election ballot. Endorsing candidates and providing financial support provides a critical strategic edge in their path to victory.
This is particularly important for LGBTQ women, who face institutional barriers when they run for office. Even when there is not overt bias and discrimination, LGBTQ women are often assumed to be less competitive than straight candidates or even gay men, and passed over when it comes to endorsements and fundriasing from political organizations. This is despite the fact that LGBTQ women actually often outperform other candidates in elections.
Take for example the 2018 midterm elections. In races for the U.S. House, 30 Democratic challengers defeated Republican incumbents. Of those successful challengers, three were LGBTQ women – Angie Craig, Sharice Davids, and Katie Hill. And on the Senate side, only two Democrats flipped Republican-held seats. One of those flips was an LGBTQ woman – Kyrsten Sinema. Clearly, when they advance from primaries LGBTQ women are formidable, viable candidates with general election voters.
The 2022 Election Cycle
This election cycle, LPAC has been committed to making sure LGBTQ women receive the early support they deserve. LPAC has contributed hundreds of thousands of dollars to more than 50 candidates in primary races, and consistently stepped up with endorsements and contributions to level the playing field by making an impact when it matters. Take three examples of candidates who had primary elections in May of this year.
Oregon Democratic gubernatorial nominee Tina Kotek received early support from LPAC, in terms of both an endorsement and financial backing. As Oregon's longest continually-serving State House Speaker, Kotek was clearly the best Democrat to run in November. LPAC made a substantial contribution to her campaign in March, and she went on to her primary in May with 56% of the vote. LPAC has since doubled down on the investment and look forward to seeing Kotek become the first open lesbian to move into a Governor's mansion. This is going to be one of the most expensive gubernatorial races in the country in 2022, and LPAC is proud to be leading the way among LGBTQ organizations in providing financial support to make sure Kotek wins.
Jamie McLeod-Skinner in Oregon's 5th Congressional district received her first national and LGBTQ endorsement from LPAC. This was a bold move, as McLeod-Skinner was challenging a Democratic incumbent, U.S. Rep. Kurt Schrader. It was a risk LPAC was willing to take because the committee had been working with McLeod-Skinner from the early days of her campaign, and knew from political experience that she not only had a campaign plan in place to provide a path to victory in the primary, but also that she would be the best candidate for the general election. LPAC was confident in an early endorsement and investment. Other organizations followed LPAC's lead, and McLeod-Skinner won the primary by a substantial margin.
State Rep. Renitta Shannon's campaign for Georgia Lt. Governor also received its first LGBTQ endorsement from LPAC. Rep. Shannon was ultimately just 3% away from making the runoff election. This race is illustrative of the barriers LGBTQ women face when they run for office. Rep. Shannon was the only woman in the field, and the only LGBTQ person, however other national groups that focus on women and LGBTQ candidates did not endorse her. The 2nd place finisher (a straight white man) had five times the amount of funds and barely made his place in the runoff. If Rep. Shannon had been fully funded and able to adequately reach voters via paid communications, she likely would have been successful.
Rights and LGBTQ Women's Leadership
The majority of the 100 candidates LPAC has endorsed this election cycle are running for State Legislatures. This is important, as the states have truly become the frontlines in the battles for reproductive health, LGBTQ rights, voting rights, and other important policy matters. And throughout the country, it is LGBTQ women who are leading these fights, oftentimes against long odds. When it comes to abortion rights, there are numberous examples of LGBTQ women leaders to chose from.
In Ohio, State Senator Nickie Antonio has been at the head of Democratic efforts, both in her past State House service and current State Senate seat, to block Republican efforts in the state pass a "trigger law," which would have automatically ban abortion in the state when Roe was overturned.
In Texas, State Reps. Jessica González, Mary González, Celia Israel, Ann Johnson, Julie Johnson, and Erin Zwiener have been vocal opponents of extremist GOP legislation targeting reproductive healthcare and voting rights. They all participated in a walkout in the Summer of 2021 which delayed passage of these harmful Republican laws.
In Colorado, State Reps. Daneya Esgar, Leslie Herod, and Brianna Titone, along with State Sens. Joann Ginal and Sonya Jaquez Lewis, all co-sponsored legislation, passed in April 2022, which enshrined a woman's right to choose into state law. This ensured that when Roe was overturned Coloradans continued to have access to safe and legal abortion services, and has allowed Colorado to serve as a haven for Americans in neighboring states seeking abortion services.
LGBTQ women are also leading the way at the Federal level. Sen. Tammy Baldwin is the lead sponsor of the Women's Health Protection Act, legislation which would guarantee equal access to abortion across the country. Sen. Baldwin is also a lead Senate sponsor of the Respect for Marriage Act, which recently passed in the U.S. House and would require the Federal government to recognize same-sex marriages. Rep. Angie Craig and Congresswoman Sharice Davids were leaders in cosponsoring both pieces of legislation in the U.S. House.
Moving Forward
In example after example, LGBTQ women serving in local, state, and federal offices are truly leading the way in the fights for our rights and our Democracy. As frontline leaders, it is crucial that those LGBTQ women serving in office are re-elected, and that more are elected in November to join them. In order for that to happen they must win primary and runoff elections, and LPAC is proud to lead the way and step in early to support those efforts.
**********************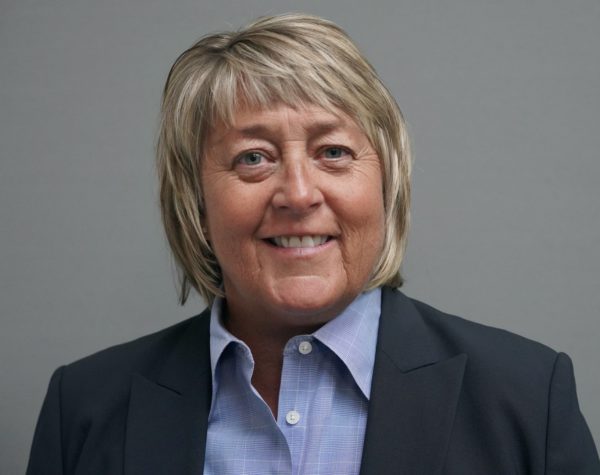 Lisa Turner is the Executive Director of LPAC, the national committee supporting LGBTQ+ women candidates running for political office.
Turner served in the Obama Administration as a political appointee at USDA and HHS. She has worked on the national political scene for many years as a campaign consultant.
"Just Vote" is not a strategy
The GOP found out long ago that keeping their based terrified and angry was the key to victory: Democrats need to learn to use it as well

By Eric Tannehill | FAIRFAX COUNTY, Va. – When the Supreme Court overturned Roe v. Wade, it sent waves of dismay through the LGBT community. Clarence Thomas' concurrence made it clear that he wants to overturn Obergefell (marriage) and Lawrence v. Texas (sodomy laws).
Already, Texas Attorney General Ken Paxton has called upon the Supreme Court to overturn Lawrence, and sources tell The Blade that the Alliance Defending Freedom is gearing up challenges to Obergefell in the conservative 5th and 11th Circuits. Even if these challenges fail at the Supreme Court on the first try, the Circuit Courts are likely to issue injunctions that make life miserable for years for LGBT people.
NEW: The Attorney General of Texas, Ken Paxton (R), just said that the Supreme Court should overturn Lawrence v. Texas, which struck down laws that banned LGBTQ people from having sex. If this happened, 16 states have laws banning "sodomy" that would immediately go into effect.

— No Lie with Brian Tyler Cohen (@NoLieWithBTC) June 28, 2022
It's unclear whether the Supreme Court would overturn these rulings. In the Dobbs v. Jackson abortion decision by Alito, he claims that this case is different because it involves human life. On the other hand, the tests for constitutionality created by Alito in Dobbs clearly indicate that Obergefell and Lawrence would fail if brought before him, and should be struck down. Alito very clearly and deliberately left a road map for how to make arguments that ensure these seminal LGBT rights cases are overturned.
The Democratic response to Roe, reassuring the LGBT community, has achieved exactly the opposite: people are terrified and hopeless. Singing "God Bless America," reading poems, making outraged statements, proposing bills that haven't a prayer of becoming law, and doing yoga is about all that Democratic leaders have been able to offer the people who put them in office.
Nancy Pelosi Criticizes 'Hypocrisy' Of Supreme Court Overturning Roe v. Wade:
Every proposed solution that might actually work has been shot down. The White House has unilaterally rejected expanding the court or providing abortions on federal land. Manchin and Sinema refuse to budge on the filibuster. No one dares speak about malicious compliance or the legitimacy of a court where most of the justices were put in place by Republicans who lost the popular vote. Meanwhile, Republicans are gleefully planning how they can abuse the system to prosecute women who flee to other states, or people who provide abortifacient drugs by mail.
The singular message Democrats are providing is, "give us money and vote for us, and maybe something good will happen."
The singular message Democrats are providing is, "give us money and vote for us, and maybe something good will happen." Vote is not a strategy. Nor is the Democratic base stupid: we know damn well that there is a +7 lean towards the GOP in the Senate, meaning that Democrats must win the national vote by an average of 7 points every year to even have a 50-50 shot of controlling the Senate.
We know that lifetime appointments to the bench mean that the GOP will control SCOTUS for decades. "Just vote" is not a strategy, just like hope is not a plan. But it is patronizing.
This is a complete failure of leadership. Democrats must state explicitly what they will do, and how they will do it, to protect the people voting for them from an increasingly fascist GOP that wants to remake America in its white, Christian, heterosexual image.
We are facing a queer apocalypse, and we're getting tips on perfecting your "downward dog" and emails begging for money so they can keep doing what they're doing: which is effectively nothing besides passing legislation that will never see the light of day in the Senate. (The Equality Act, anyone?)
There's a glimmer of hope: congressional generic ballot polling after the Dobbs v. Jackson decision shows a strong shift towards Democrats, and that the ruling made Democrats much more likely to vote. However, without a clearly enumerated plan and messaging, this is just a blip in our collective short term political memory.
Between now and the election Democratic ads and messaging need to highlight every woman who dies, or nearly so, because of the Dobbs decision. Ads with interviews with women left in screaming bloody agony for hours while a priest and lawyers bicker over whether this is covered by "life of the mother" exceptions.
Women denied lifesaving chemotherapy or forced to carry a pregnancy that could kill them. Women forced to carry a rape to term, and then share custody with their assailant. Make the messaging as brutal as possible: remind voters every day that a vote for Republicans is a vote to torture or kill women.
The GOP found out long ago that keeping their based terrified and angry was the key to victory: Democrats need to learn to use it as well.
The GOP found out long ago that keeping their based terrified and angry was the key to victory
They also need to be explicit in what they are going to do if they somehow manage to retain the House and Senate: namely they will end the filibuster and enshrine Roe v. Wade as federal law.
They need to explicitly spell out how they will use the power given them to prevent SCOTUS from allowing gerrymandered red states from eliminating marriage equality and throwing LGBT people in jail for having consensual sex in the privacy of their own homes.
Democrats need to stop over-promising and under delivering. The public knows damned well what cannot be accomplished as long as the filibuster is in place, or SCOTUS dominated by conservative ideologues.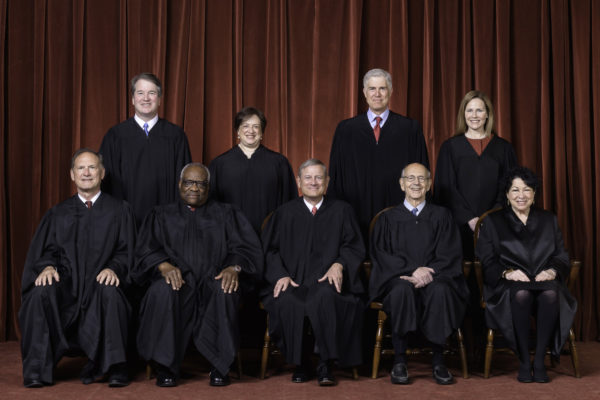 Failing to do these things will produce even worse outcomes: namely people giving up hope of solutions from within the system, ceasing to vote, and attempting to take matters into their own hands out of a sense of hopelessness and rage.
Viable plans create hope. Scared, desperate angry people do stupid things if they do not have both hope and a plan.
It's President Biden's responsibility as a leader to map out that plan unambiguously, while Democrats need to make certain everyone knows what the consequences of failure are.
**********************
Eric Tannehill is a twenty-something queer activist and university student.