World swimming body FINA votes to ban Trans athletes
FINA says it was necessary to determine eligibility criteria because of the "biological performance gap" that appears between males & females
BUDAPEST – The Swimming's world governing body FINA meeting in the Hungarian capital city voted to restrict transgender athletes from elite women's competitions. The final vote tally of the representatives was 71.5% approval for the new policy which requires transgender athletes show that "they have not experienced any part of male puberty beyond Tanner Stage 2 or before age 12, whichever is later."
Enactment of that requirement effectively eliminates trans women's eligibility to compete in the women's category.
Tanner Stages describe the physical changes people undergo during puberty.
"We have to protect the rights of our athletes to compete, but we also have to protect competitive fairness at our events, especially the women's category at FINA competitions," FINA's president, Husain Al-Musallam, said in a statement.
The organisation is maintaining that it was necessary to use sex and sex-linked traits to determine eligibility criteria because of the "performance gap" that appears between males and females during puberty.
"Without eligibility standards based on biological sex or sex-linked traits, we are very unlikely to see biological females in finals, on podiums, or in championship positions; and in sports and events involving collisions and projectiles, biological female athletes would be at greater risk of injury," the statement from FINA's new policy read.
Athlete Ally, which advocates for Trans athletes responded:
"FINA's new eligibility criteria for transgender athletes and athletes with intersex variations is deeply discriminatory, harmful, unscientific and not in line with the 2021 International Olympic Committee framework on Fairness, Inclusion and Non-Discrimination on the Basis of Gender Identity and Sex Variations," said Anne Lieberman, Director of Policy and Programs at Athlete Ally.
"This sudden and discriminatory decision is a blatant attack on transgender athletes who have worked to comply with longstanding policies that have allowed them to participate for years without issue," said Joni Madison, Human Rights Campaign Interim President. "This policy is an example of swimming organizations caving to the avalanche of ill-informed, prejudiced attacks targeted at one particular transgender swimmer. We urge the FINA to rethink its policy and ensure inclusion for all athletes — including transgender women – and allow them to participate in sports free from discrimination, abuse and harassment.
"To the young athletes who may be disheartened by this policy, know that we know and believe that every young person deserves to be treated with dignity and respect and that transgender kids, like their friends, deserve the same chances to learn sportsmanship, self-discipline, and teamwork, and to build a sense of belonging with their peers," Madison added.
Swimming Body FINA Votes To Segregate Trans Athletes | 10 News First:
**********************
Rapinoe exits early as Ali Krieger & team win championship
Gotham FC win National Women's Soccer League trophy in Krieger and Rapinoe's final appearance on the pitch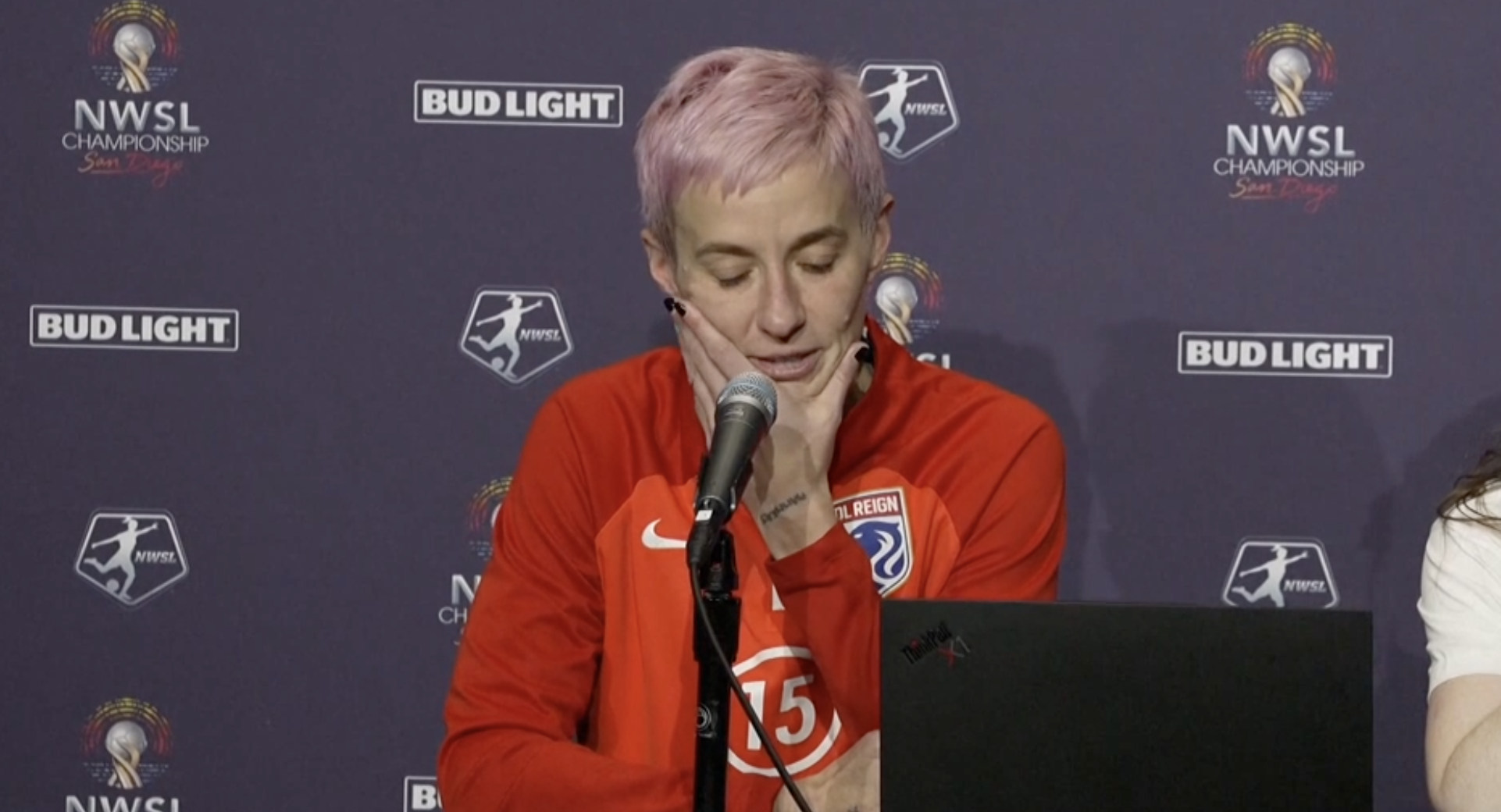 SAN DIEGO — One last time, two soccer icons took to the field in San Diego Saturday night as Seattle's OL Reign faced New York's Gotham FC at Snapdragon Stadium.
In what was the absolutely last, concluding and final end to their respective careers in professional soccer, following more than a few "farewell" games, Megan Rapinoe limped off the pitch and Ali Krieger raised the National Women's Soccer League championship trophy. 
Ali Krieger went out on top 🏆 pic.twitter.com/4SeEaTev91

— National Women's Soccer League (@NWSL) November 12, 2023
And Krieger's teammates raised her up in victory as well.
🤩 Her storybook ending, @alikrieger! pic.twitter.com/jnVlwA1tF0

— FIFA Women's World Cup (@FIFAWWC) November 12, 2023
History will record World Cup winner Esther González as scoring the go-ahead goal for New York on a header in first-half stoppage time, and that Gotham beat the Reign 2-1. 
🤷‍♀️ Whatever the result tonight, you're both leaving the game better than you found it. That's the W.

Enjoy retirement, @mPinoe and @AliKrieger 🙌#NWSLChampionship pic.twitter.com/uApxZ3rhwM

— FIFPRO (@FIFPRO) November 11, 2023
But what true women's soccer fans will take away from this clash of the champions is watching the pink-haired legend who won two World Cups, an Olympic gold medal and a bronze inexplicably fall to the ground in the third minute. 
As Maitane Lopez of Gotham was dribbling the ball outside the penalty area, Rapinoe ran toward her and suddenly went down. After laying there for a few minutes, Rapinoe refused the stretcher and accepted help from two trainers for the long walk along one end line and then down the sideline to the Reign's bench.
Rapinoe said later she realized too late how long that walk would be, and told reporters it felt like someone kicked her and she felt "a huge pop" in her Achilles.
"You don't always get to have the perfect ending," said Rapinoe after the match, appearing in good spirits and wearing a walking boot on her right foot. She joked that she's now just a normal person facing surgery and rehab.
"I've had so many perfect endings, even just thinking back to 2019, that was the most perfect whole script you could ever write personally and as a team, just what it meant. On balance, I don't think anything that negative about it," said Rapinoe.
Upon her early exit, Krieger ran over and hugged her former teammate from the U.S. Women's National Team.
"It's devastating to see one of the best players in the world have to step out because of injury in the first five minutes of the game," said Krieger, who told reporters she was "gutted" for Rapinoe. "To have such a buildup to this moment, to have her of anyone, that was devastating, because it does change the game. You want to play against the best players."
Krieger said she thought Rapinoe hurt her ankle. "I was really upset for her," she said, and shared part of their conversation. "I said, 'Just wrap it up and I'll see you back out here in a couple minutes.' Then when I saw the sub come on, obviously it was a different story. Immediately you have to switch back on to your team and my job. You have to kind of shut that out."
Rapinoe announced that she was stepping away from the game for good before this past summer's Women's World Cup. At the 2019 World Cup in France, Rapinoe scored six goals, including a penalty in the final against the Netherlands. When she posed with her arms outstretched in victory pose at that championship game, it was an image that conveyed just how dominant was Team USA.
Krieger was also on that 2019 team as well as the U.S. World Cup team that won the title in 2015.
"I don't think I could dream of a better ending for myself," Krieger said. "I just want to ride off into the sunset and enjoy this with my family and friends and kids, most importantly, and my teammates. My back hurts, my calves hurt. I love it so much and it's so much fun. But it's time. This is the perfect ending for me."