Supreme Court gun ruling: New York Gov. says its 'a Dark day'
The opinion expands the scope of the Second Amendment to establish a new test that will render many gun control laws unconstitutional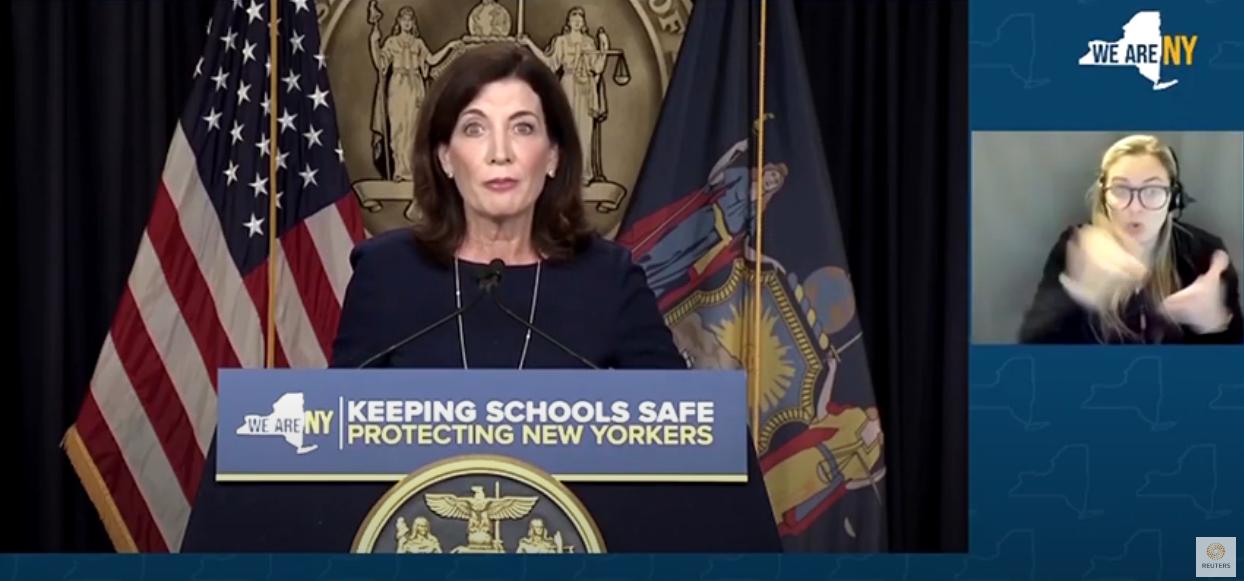 WASHINGTON – Reaction to the U.S. Supreme Court's 6–3 ruling issued Thursday that New York's strict limits on the concealed carry of firearms in public violates the Second Amendment was swift and angry from the state's Governor Kathy Hochul who categorized the announcement as a "dark day."
California Governor Gavin Newsom weighed in echoing his fellow Democratic Governor wrote on Twitter, "A dark day in America. This is a dangerous decision from a court hell bent on pushing a radical ideological agenda and infringing on the rights of states to protect our citizens from being gunned down in our streets, schools, and churches. Shameful."
Justice Clarence Thomas wrote that the Second Amendment does protect the right of individuals to carry a gun outside the home.
Washington D.C. based attorney, legal analyst and senior writer for Slate magazine noted; "Clarence Thomas' opinion for the court dramatically expands the scope of the Second Amendment, blasting past ostensible restrictions laid out in Heller to establish a new test that will render many, many more gun control laws unconstitutional."
Stern also pointed out that in a concurring opinion, Alito snidely points out that New York's now-invalidated restrictions on concealed carry did not stop the recent mass shooting in Buffalo.
He added that Thomas overrules the "two-step approach" used by many courts of appeals when assessing gun control laws, instead placing an incredibly heavy burden on the government to prove that every regulation of firearms "is part of the historical tradition."
Before today, about 83 million people—about one in every four Americans—lived in a state that strictly limited concealed carry to those who had a heightened need for self-defense. Now, zero people live in such a state.

— Mark Joseph Stern (@mjs_DC) June 23, 2022
The White House released President Joe Biden's reaction to the Supreme Court ruling: "We must do more as a society — not less — to protect our fellow Americans."
Full Text of the President's statement:
I am deeply disappointed by the Supreme Court's ruling in New York State Rifle & Pistol Association v. Bruen.
Since 1911, the State of New York has required individuals who would like to carry a concealed weapon in public to show a need to do so for the purpose of self-defense and to acquire a license.
More than a century later, the United States Supreme Court has chosen to strike down New York's long-established authority to protect its citizens.
This ruling contradicts both common sense and the Constitution, and should deeply trouble us all.
In the wake of the horrific attacks in Buffalo and Uvalde, as well as the daily acts of gun violence that do not make national headlines, we must do more as a society — not less — to protect our fellow Americans.
I remain committed to doing everything in my power to reduce gun violence and make our communities safer.
I have already taken more executive actions to reduce gun violence than any other President during their first year in office, and I will continue to do all that I can to protect Americans from gun violence.
I urge states to continue to enact and enforce commonsense laws to make their citizens and communities safer from gun violence. As the late Justice Scalia recognized, the Second Amendment is not absolute.
For centuries, states have regulated who may purchase or possess weapons, the types of weapons they may use, and the places they may carry those weapons. And the courts have upheld these regulations.
I call on Americans across the country to make their voices heard on gun safety. Lives are on the line.
"For all who care about ending hate violence and gun violence, today the Supreme Court issued a devastating ruling in the case of New York State Rifle & Pistol Association v. Bruen. The case is about enforcing reasonable gun regulations adopted by the State of New York that required a person to show proper cause to get a license to carry a concealed handgun by showing a special need for self-protection. Court conservatives reversed the Second Circuit Court's decision and ruled that the U.S. Constitution's Second and Fourteenth Amendments protect people's 'right to keep and bear arms in public for self-defense,'" Liz Seaton, Policy Director, National LGBTQ Task Force said in an emailed statement to the Blade.
"The Task Force joined Lambda Legal and the law firm of Williams & Connolly LLP's amicus brief in this case because it detailed the use of guns in hate violence against LGBTQ people, especially transgender and Black and Brown LGBTQ people. The brief urged the Supreme Court to uphold the New York law because gun violence disproportionately impacts LGBTQ people—especially transgender and LGBTQ people of color— therefore keeping the law would continue to protect LGBTQ+ people from gun-related hate crimes. The decision on this case is a loss."
In a press conference Thursday Gov. Hochul said in part:
"Does everyone understand what a concealed weapon means? That you have no forewarning. That someone can hide a weapon on them and go into our subways, go into our grocery stores, like stores up in Buffalo, New York, where I'm from. Go into a school in Parkland or Uvalde, This could place millions of New Yorkers in harm's way.
As governor of the state of New York, my number one priority is to keep New Yorkers safe, but today the Supreme Court is sending us backwards in our efforts to protect families and prevent gun violence.
And it's particularly painful that this came down at this moment, when we are still dealing with families in pain from mass shootings that have occurred, the loss of life, their beloved children and grandchildren.
I'm prepared to call the Legislature back into session to deal with this. We've been in contact with leadership — we're just looking at dates — but I will say, we are not powerless in this situation.
We're not going to cede our rights that easily, despite the best efforts of the politicized Supreme Court of the United States of America.
This decision isn't just reckless, it's reprehensible. It's not what New Yorkers want, and we should have the right of determination of what we want to do in terms of our gun laws in our state."
U.S. Senator Alex Padilla (D-Calif.), a member of the Senate Judiciary Committee, released the following statement on the ruling on New York State Rifle & Pistol Association v. Bruen:
"Today's decision will make our communities less safe, plain and simple. At the same time as the Senate advances bipartisan legislation to take on America's crisis of gun violence, the extreme right-wing majority on the Supreme Court has chosen to exacerbate it. This dangerous decision misinterprets the Constitution and jeopardizes gun safety laws in a number of states, including California, which has some of the most effective gun safety measures in the nation.
"The majority of Americans want commonsense gun reform. Everyone deserves to live without fear in their schools, grocery stores, places of worship, and neighborhoods. But today, the Supreme Court moved us backward in keeping our communities safe."
New York Governor Reacts To Supreme Court Ruling On Guns:
Amicus brief: No negative incidents from Trans people in bathrooms
The brief details the constitutionality of bathroom bans. Courts across the U.S. have determined trans people have right to access bathrooms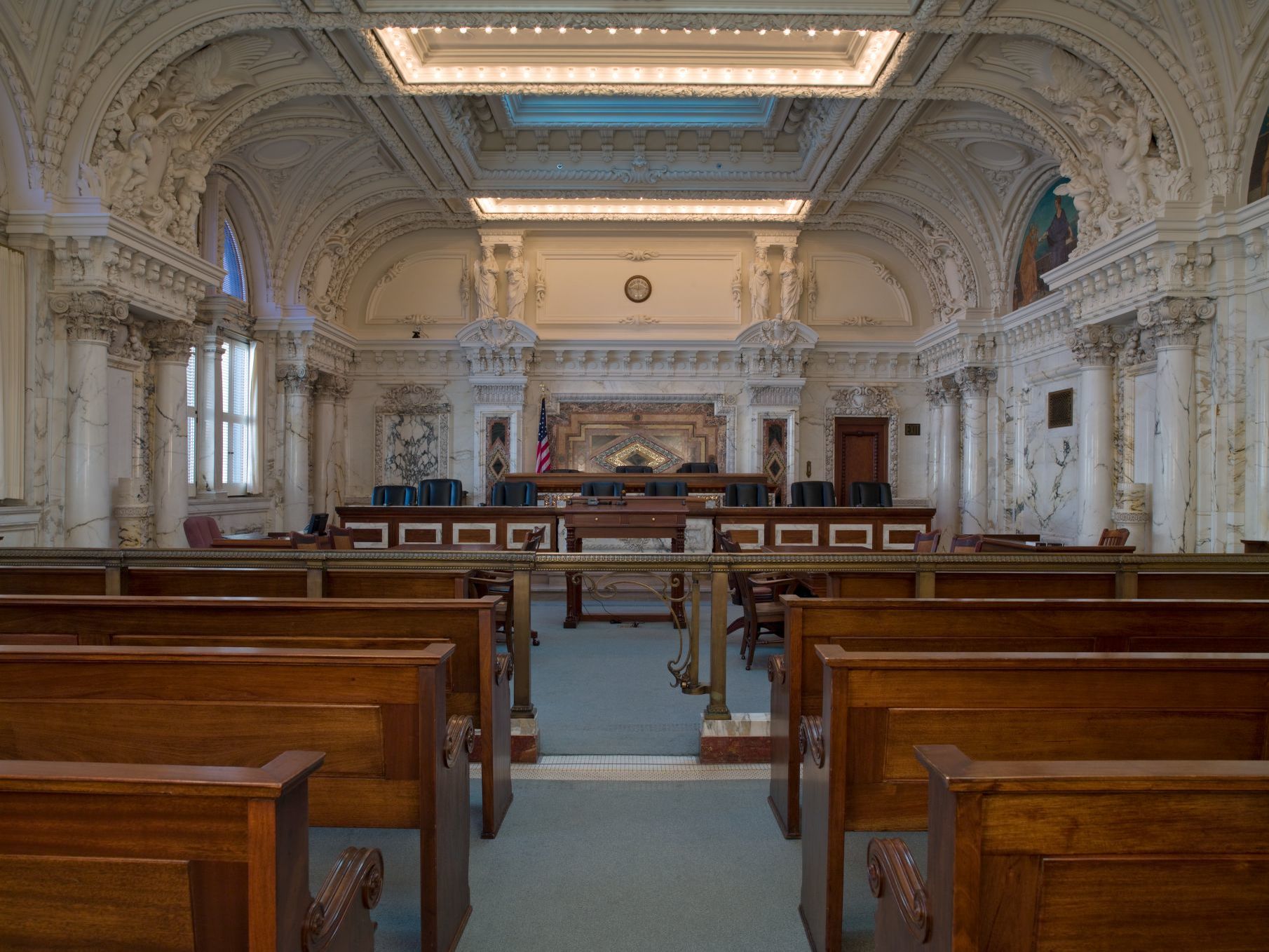 By Erin Reed | WASHINGTON – On Thursday, 21 state attorneys general filed an amicus brief with the 9th U.S. Circuit Court of Appeals, stating that transgender people must be allowed to use restrooms matching their gender identity.
This action comes after a district court judge in Idaho refused to block a ban on transgender bathroom usage in the state; he was promptly overruled by the 9th Circuit, which did block the ban.
The letter represents the latest development in a fight that has worked its way across the country, focusing on equal rights in bathroom accommodations for transgender people and barreling towards the Supreme Court.
The amicus brief is substantial. It represents the work of attorneys general in 21 states, and contains legal precedents, nondiscrimination laws, and the experiences of those states around allowing equal accommodations for transgender people. It cites 13 pages worth of laws, court decisions, and studies to support the rights of transgender people in bathrooms. It draws a final conclusion stating that disallowing trans bathroom access causes "emotional, psychological, educational, and constitutional harm," and requests that the court uphold these rights for transgender students.
The brief is unique in that it outlines the findings of negative events that stem from allowing transgender people to use the bathroom of their gender identity. The brief finds that "nondiscriminatory restroom policies produce important benefits and pose no safety concerns." Importantly, it shows that in states that allow trans students to use bathrooms according to their gender identity, there were "no reported instances of transgender students harassing others in restrooms or locker rooms."
See the briefing on this topic:
Meanwhile, the brief highlights the many negative effects of disallowing transgender people from using locker rooms and bathrooms. The report states that discriminatory policies for transgender people promote absenteeism, leading to trans youth missing valuable school time. These policies also harm the physical and mental health of transgender students.
The brief reports that 73% of trans students avoid restrooms in school because they feel unsafe or uncomfortable. Additionally, over half report negative health effects from doing so, such as kidney infections and other kidney-related problems. Rebecca, one of the plaintiffs in the case, reported limiting fluid intake at school and suppressing bathroom urges, both of which are unsafe for children.
The brief also details expansive case law surrounding the constitutionality of bathroom access. Courts across the United States have determined that transgender people have the right to access bathrooms that match their gender identities. Among the most significant cases is Grimm v. Gloucester County, where the 4th Circuit Court ruled that a transgender boy has the right to use the bathroom of his gender identity.
Similarly, in the 7th Circuit Court, A.C. v. Metropolitan School District of Martinsville was ruled in favor of a transgender plaintiff. Even the 9th Circuit Court, which is hearing this case, has favorable precedent. In Parents for Privacy v. Barr, it was ruled that transgender bathroom access does not violate other students' privacy.
Ultimately, the strength of these cases was bolstered by the Supreme Court's decision in Bostock v. Clayton County, which the report also heavily references. In that decision, which was ruled 6-3 with conservative Justice Neil Gorsuch authoring the opinion, the Supreme Court ruled that "it is impossible to discriminate against a person for being homosexual or transgender without discriminating against that individual based on sex."
Although the decision covered employment law and not bathroom access, many courts have interpreted it as applicable to bathroom access and other areas protected by Title IX.
The brief also directly addresses the idea that Title IX only protects "biological sex." It points out that Title IX regulations do not state that it only applies to "biological" sex "as determined by chromosomes and internal and external reproductive anatomy." Instead, the brief argues that discrimination based on assigned sex at birth treats, for instance, a transgender girl different from a cisgender girl when allowing restroom access. The overreliance on a very specific facet of biological sex likely renders the bill unconstitutional, the brief states.
For now, the bill is blocked in court, allowing Idaho transgender students to use the restroom that matches their gender identity if their school permits it. Meanwhile, cases concerning bathroom access are swiftly moving towards the Supreme Court, with a recent decision from the 7th US Circuit Court currently being appealed to the Supreme Court.
It appears likely that the Supreme Court will soon revisit transgender rights. In this interim, this coalition of 21 states has emerged, vocally advocating for the rights of transgender students and leveraging their collective authority to do so.
Related:
****************************************************************************
Erin Reed is a transgender woman (she/her pronouns) and researcher who tracks anti-LGBTQ+ legislation around the world and helps people become better advocates for their queer family, friends, colleagues, and community. Reed also is a social media consultant and public speaker.
Follow her on Twitter (Link)
Website here: https://www.erininthemorning.com/
******************************************************************************************
The preceding article was first published at Erin In The Morning and is republished with permission.