Newsom & others move to protect abortion rights after SCOTUS ruling
The decision of allowing access now falls to individual states. 13 states have passed 'trigger laws' that criminalize & outlaw abortion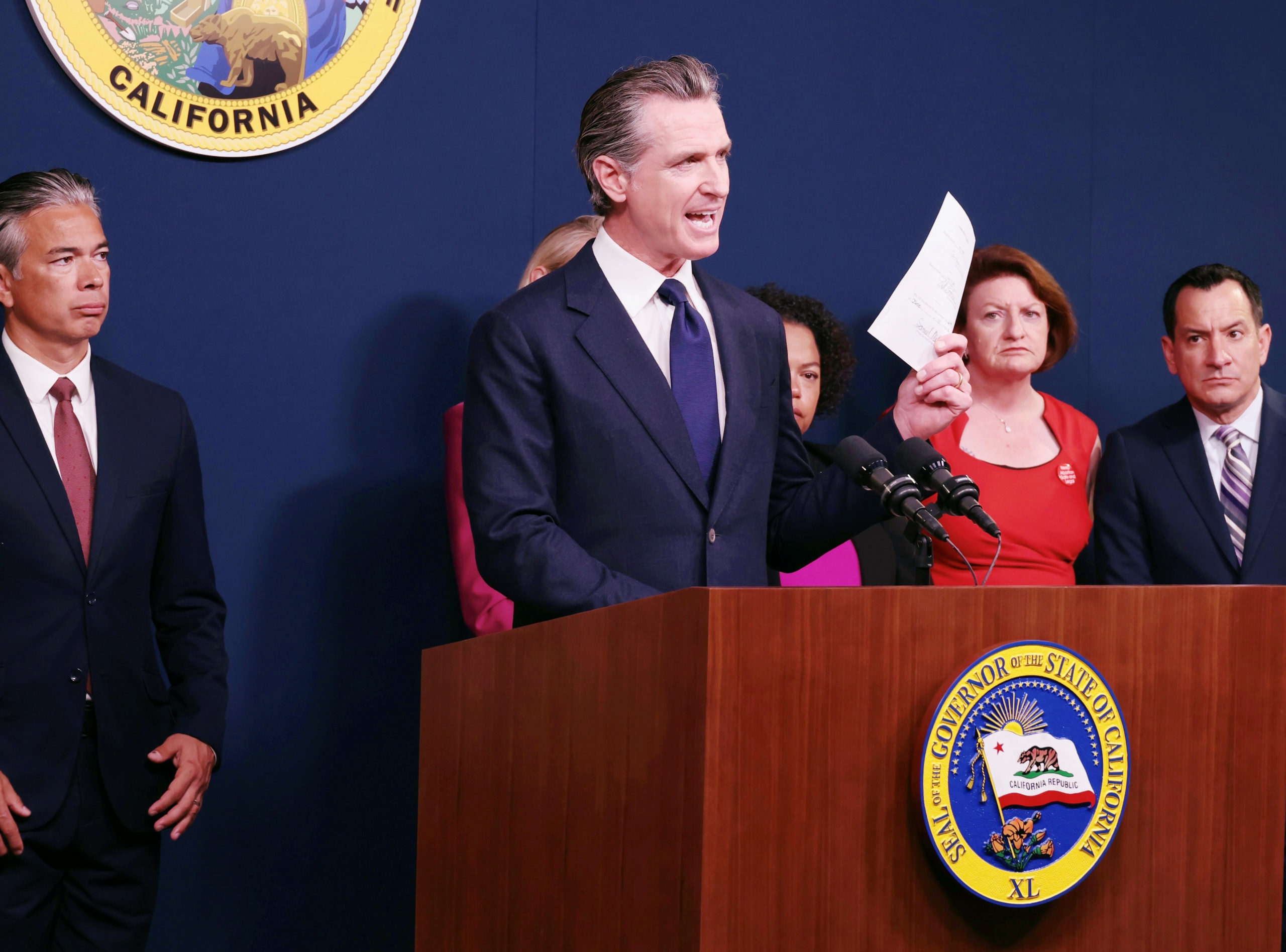 SACRAMENTO – Hours after the U.S. Supreme Court's decision to overturn Roe v. Wade, Governor Gavin Newsom announced that he others will take action on legislation to protect patients and providers in California against abortion bans in other states.
Also in response to the decision this morning, Newsom and the governors of Oregon, Kate Brown and Washington State, Jay Inslee launched a new Multi-State Commitment to defend access to reproductive health care and protect patients and providers.
California, Washington, Oregon Commitment to Reproductive Freedom: West Coast Offense:
Governor Newsom has proposed a $125 million Reproductive Health Package to expand access for women and help prepare for the influx of women seeking reproductive health care from other states. In addition, the California Legislature has introduced a constitutional amendment to enshrine the right to abortion in the state constitution.
Governor Newsom recently signed legislation eliminating copays for abortion care services and has signed into law a legislative package to further strengthen access and protect patients and providers.
With its ruling Friday the high court leaves the decision of whether to allow abortion access now falls to individual states. 13 states have already passed so-called 'trigger laws' which will criminalize and outlaw the procedure.
The following shows the state, the penalty and when the trigger law takes effect:
Newsom today signed legislation to help protect patients and providers in California against radical attempts by other states to extend their anti-abortion laws into California.
"With today's Supreme Court decision to endanger the health and safety of millions of women across the country, California must do everything it can to protect the fundamental rights of all women – in California and beyond," said Governor Newsom. "We know that states like Missouri are already targeting women seeking abortions in states like California where abortion remains legal. This legislation seeks to protect women and care providers from civil liability imposed by other states, and sends a clear message that California will continue to be a safe haven for all women seeking reproductive health care services in our state."
The Governor signed AB 1666 by Assemblymember Rebecca Bauer-Kahan (D-Orinda), which seeks to protect those in California from civil liability for providing, aiding, or receiving abortion care in the state.
The measure comes as lawmakers in Missouri advance a proposal to allow private citizens to sue Missouri residents who have an abortion out of state, as well as their providers and anyone who assists them in seeking an abortion. Texas has enacted a six-week ban on abortion with a private right of action enabling individuals to sue abortion providers and others.
U.S. Senator Marco Rubio has introduced a federal bill to exclude employers from receiving tax breaks if they provide abortion access to their employees.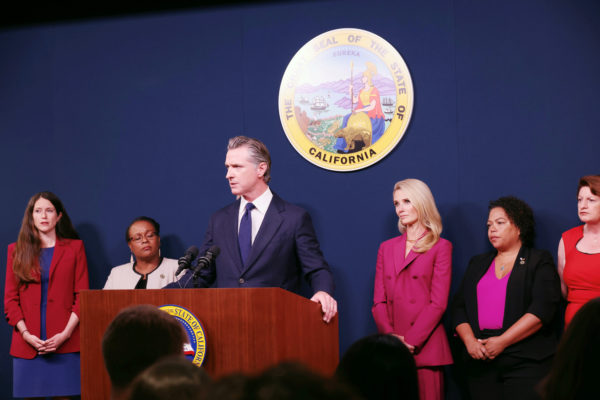 "This is a dark moment for our country," said California Attorney General Rob Bonta. "This court's decision is outrageous, unprecedented, and dangerous. It blasts our nation back into the dark ages. Millions are now facing a stark reality when it comes to their right to choose. People all across the nation — their bodies, futures, and families — will be hurt by this decision. But, in California, we refuse to turn back the clock and let politicians exert control over a person's body. Despite the decision, abortion remains fully protected here in California. We'll keep fighting to strengthen and expand access to safe and legal abortion. As Attorney General, I will use the full force of the law and the full authority of my office to protect reproductive healthcare for every person who seeks it in California. Abortion remains a legally protected right in our state and, in California, we won't backslide."
"Extremist laws – now deemed constitutional – will pursue our incredible providers for the care they provide, will penalize vulnerable people desperately seeking abortions in a last effort to control their own lives," said Assemblymember Bauer-Kahan. " In California we won't let this happen. I am incredibly grateful to the governor for signing AB 1666, which will immediately protect anyone in California from civil penalties for abortion. We will continue to fight and be a sanctuary for abortion care."
In a press release, the Los Angeles County Department of Public Health relayed that Abortion remains safe and legal in California and Los Angeles.
"We know from decades of research that the impact of criminalizing abortion falls hardest on people who already struggle to access health care, including abortion. This includes low income women, women of color, immigrants, youth, and LGBTQI+ people, many of whom will now potentially face the prospect of forced childbirth. All people, both residents of LA and those residing elsewhere, must have access to safe, legal, high quality abortion services," Public Health said.
"Los Angeles County's Safe Haven Abortion Project is underway. It seeks to improve access to abortion and to the full spectrum of reproductive health services for Los Angeles residents and for people who travel here from states where abortion is no longer an option. Access to the full spectrum of sexual and reproductive health care, including abortion, is fundamental to the health of individuals, families, and communities."
"Make sure your friends and families know: In California and here in LA County, abortion remains safe and legal," the statement concluded.
For more information about abortion as a public health issue, see http://publichealth.lacounty.gov/owh/Abortion.htm.
Obama rallies for Warnock as Walker goes transphobic in latest ad
"Tomorrow is the last day for early voting and then we need to get people out to the polls on Tuesday, which means we still got work to do"
ATLANTA – Former President Barack Obama held a rally with Sen. Raphael Warnock (D-GA) tonight in Atlanta as the Georgia election runoff for the U.S. Senate seat currently held by Warnock enters its final week.
Speaking to the enthusiastic crowd in the historic Pullman Yard, Obama urged supporters to continue pressing to secure Warnock's chances as early voting ends Friday ahead of next Tuesday's election.
"Now I know a lot of folks have been voting early over the last few days, that is a good thing. That is an encouraging thing. But — you knew there was a but —plenty of folks haven't voted yet. Tomorrow is the last day for early voting and then we need to get people out to the polls on Tuesday, which means we still got work to do," Obama said.
A spokesperson for the the Georgia secretary of state's office told the Blade that more than 1.1 million votes have been cast so far.
Warnock's Republican challenger meanwhile focused on his opposition to transgender rights. In a recent campaign ad, Herschel Walker is featured alongside cisgender former University of Kentucky swimmer Riley Gaines, who tied with University of Pennsylvania trans female swimmer Lia Thomas.
In the ad Gaines says she "worked so hard" at competitive swimming but she was "forced to compete against a biological male."  The ad also goes on to attack Warnock in the Chyron onscreen stating: "Raphael Warnock voted to allow biological men to compete in women's sports." That particular charge by Walker's campaign is factually incorrect as the U.S. Senate has not held any votes on the subject of transgender women in sports.
Politico's National political reporter Natalie Allison tweeted:
Herschel Walker is up with a new runoff ad about transgender athletes, featuring a swimmer who tied with Lia Thomas.

"My senior year, I was forced to compete against a biological male," Riley Gaines says in the ad for Walker's Senate campaign. pic.twitter.com/MlVxnJwkgB

— Natalie Allison (@natalie_allison) November 21, 2022
During the rally in Atlanta this evening Politico reported Warnock received roaring applause when he poked fun at Walker, something Obama also did, referencing a series of outlandish comments the retired football star has made over the course of his candidacy.
"We all know some folks in our lives who, we don't wish them ill will, they say crazy stuff … but you don't give them serious responsibility," Obama said.
"He was an amazing running back," Warnock said of Walker. "And come next Tuesday, we're going to send him running back to Texas."
Walker, who was raised in the Peach State and was a star player at the University of Georgia, lived the majority of his adult life in Texas before returning to run for Senate in 2021.
Politico also noted that Warnock, the pastor of the Atlanta church that Martin Luther King Jr. attended, tied the election to the long struggle of African Americans for equal rights, noting the crowd had gathered on the 67th anniversary of Rosa Parks refusing to get up from a bus seat in Montgomery, Alabama. Walker is also African American.