Dorian Awards cast a queer eye on television
Netflix favorite 'Heartstopper' nabs three nominations
As Hollywood gears up for the year's second "Awards Season" ahead of July 12's scheduled announcement of the 2022 Emmy nominations, it seems only fitting for us to bring some attention to another awards organization that has already dropped its picks for the year's best in TV content. We're referring, of course, to the Dorian Awards, which have been bestowed by the Society of LGBTQ Entertainment Critics since 2009.
If you've never heard of the Dorians, that's not surprising. In keeping with the entertainment industry's frustratingly persistent skittishness when it comes to All Things Queer, the Dorians haven't gotten much attention in the mainstream press – though with a 385-member voting body and a scandal-free history, they are arguably more reputable than the Golden Globes. Named in honor of iconic queer writer Oscar Wilde (as a reference to his novel "The Picture of Dorian Gray"), they are admittedly low profile when it comes to glitz and glamour, handing out their prizes at an annual "Winner's Toast" day party instead of a formal evening affair. Nevertheless, they've gained traction as Hollywood's attitudes toward LGBTQ inclusion and representation have shifted, and each of their two annual ceremonies – one for TV, one for film, held about six months apart – draw an increasing number of A-listers to participate, both as nominees and presenters; and while the Dorians may not hold the level of prestige enjoyed by some of the industry's other awards, at least we can be sure their voting membership won't overlook queer shows and talent as often as their counterparts at the Motion Picture and Television Academies.
That doesn't mean the Dorians are exclusively focused on LGBTQ content. The Society of LGBTQ Entertainment Critics – formerly known as the Gay and Lesbian Entertainment Critics Association, or GALECA – explicitly states that its awards are to honor "the best in film and TV, mainstream to queer+", while calling attention to the importance of queer contribution and sensibility within the wider culture and reminding "bullies, bigots, and our own at-risk youth that the world loves the sly Q eye on entertainment." With some state governments and the SCOTUS itself dedicating themselves an all-out assault on the LGBTQ community and its hard-won rights, that last point seems particularly resonant; with so much homo- and transphobic hate pouring its efforts into erasing us, our visibility is more crucial than ever.
Fortunately, as the slate of Dorian nominees announced by GALECA on June 22 reveals, the queer presence on television is strong. No longer segregated to a "niche" genre, the LGBTQ community has finally begun to appear on our screens as it does in life – blended, alongside everyone else, into a world that has room for us all. That's what ideal inclusion looks like, and it's heartening – especially now – to see that it has become the norm in so much of the industry's best offerings.
This year, HBO leads the pack in terms of nods. Two of its heavily queer-inclusive shows, "Hacks" and "Somebody Somewhere," received five nominations each, while "Euphoria" and "The White Lotus" snagged 4 and 3, respectively. In total, the cable-and-streaming giant got 24, with an additional 13 for programming exclusively on HBO Max, bringing the total to 37.
Coming in second with less than half that number is Netflix. Among its 15 nominations are three nods for "Heartstopper," the runaway queer fan favorite based on a sweet UK webcomic about two schoolboys in love, and two each for Natasha Lyonne's brain-twisting time travel dramedy "Russian Doll" and the already-award-winning Korean thriller "Squid Game."
New series scored high among Dorian voters this year. Besides "Heartstopper" and "Somebody Somewhere," ABC's "Abbott Elementary," Showtime's "Yellow Jackets," and Apple TV+'s "Severance" each received multiple nominations, with many other freshman titles picking up individual nods.
As for the awards themselves, the Dorians feature fewer overall categories – instead of being split into "gendered" divisions, actors of all genders compete for a single award in each category – and set themselves apart by striking a mildly tongue-in-cheek pose in the presentation of its "special" accolades. In presenting awards like Campiest TV Show or the brand new "You Deserve an Award" award, the Dorians give a tip of the lavender hat to the tradition of Wildean wit at their back – but they also assert the importance of queer perspective when it comes to taste-making and the aesthetic arts.
Nominees for the 14th Annual Dorian TV Awards (honoring shows which debuted June 1, 2021-May 31, 2022) are listed below. Winners will be revealed on Wednesday, Aug. 12.
BEST TV DRAMA: "Better Call Saul"; "Heartstopper"; "Yellowjackets"; "Severance"; "Succession"
BEST TV COMEDY: "Abbott Elementary"; "Barry"; "Hacks"; "The Other Two"; "Our Flag Means Death"
BEST LGBTQ SHOW: "Hacks"; "Heartstopper"; "The Other Two"; "Our Flag Means Death"; "Somebody Somewhere"; "RuPaul's Drag Race"
BEST TV MOVIE OR MINISERIES: "Dopesick"; "The Dropout"; "Midnight Mass"; "Station Eleven"; "The White Lotus"
BEST NON-ENGLISH LANGUAGE TV SHOW: "Elite"; "Lupin"; "My Brilliant Friend"; "Pachinko"; "Squid Game"
BEST UNSUNG SHOW: "Better Things"; "The Other Two"; "Our Flag Means Death"; "Russian Doll"; "Somebody Somewhere"; "We Are Lady Parts"
BEST TV PERFORMANCE: Quinta Brunson ("Abbott Elementary"); Kit Connor ("Heartstopper"); Bridget Everett ("Somebody Somewhere"); Bill Hader ("Barry"); Lily James ("Pam & Tommy"); Natasha Lyonne ("Russian Doll"); Melanie Lynskey ("Yellowjackets"); Amanda Seyfried ("The Dropout"); Jean Smart ("Hacks"); Zendaya ("Euphoria")
BEST SUPPORTING TV PERFORMANCE: Murray Bartlett ("The White Lotus"); Anthony Carrigan ("Barry"); Jennifer Coolidge ("The White Lotus"); Hannah Einbinder ("Hacks"); Jeff Hiller ("Somebody Somewhere"); Janelle James ("Abbott Elementary"); Matthew Macfadyen ("Succession"); Christina Ricci ("Yellowjackets"); Rhea Seehorn ("Better Call Saul"); Sydney Sweeney ("Euphoria")
BEST TV MUSICAL PERFORMANCE: Beyonce, "HYPERLINK "https://www.youtube.com/watch?v=4aeDlZOD-B0″Be Alive" (94th Academy Awards); Kristin Chenoweth and cast, "HYPERLINK "https://www.youtube.com/watch?v=_PmS5JIfSkk"Tribulation" ("Schmigadoon!"); Bridget Everett and Jeff Hiller, "HYPERLINK "https://www.youtube.com/watch?v=As-a_bzFrl0″Don't Give Up" ("Somebody Somewhere"); Jean Smart, "You Make Me Feel Like a Natural Woman" ("Hacks"); Cecily Strong and cast, "HYPERLINK "https://www.youtube.com/watch?v=Dj5mJGyoYIM"Corn Puddin'" ("Schmigadoon!"); Hannah Waddingham and cast, "HYPERLINK "https://www.youtube.com/watch?v=4B0HktX4xqQ"Never Gonna Give You Up" ("Ted Lasso")
BEST TV DOCUMENTARY OR DOCUMENTARY SERIES: "The Andy Warhol Diaries"; "The Beatles: Get Back"; "How to with John Wilson"; "Spring Awakening: Those You've Known"; "We Need to Talk About Cosby"
BEST CURRENT AFFAIRS PROGRAM: "The Amber Ruffin Show"; "The Daily Show with Trevor Noah"; "Full Frontal with Samantha Bee"; "Last Week Tonight with John Oliver"; "The Late Show with Stephen Colbert"; "The Rachel Maddow Show"; "ZIWE" (Showtime)
BEST ANIMATED SHOW: "Arcane"; "Big Mouth"; "Bob's Burgers"; "Q Force"; "Tuca & Bertie"; "What If…?"
BEST REALITY SHOW: "Legendary"; "The Real World Homecoming: New Orleans"; "RuPaul's Drag Race"; "Survivor"; "Top Chef: Houston"; "We're Here"
MOST VISUALLY STRIKING SHOW: "Euphoria"; "The Gilded Age"; "Loki"; "Severance": "Squid Game"
CAMPIEST TV SHOW: "Diana: The Musical"; "Euphoria"; "Girls5Eva"; "Nine Perfect Strangers"; "Schmigadoon!"
WILDE WIT AWARD (to a performer, writer or commentator whose observations both challenge and amuse): Joel Kim Booster; Quinta Brunson; Jerrod Carmichael; Jennifer Coolidge; Bowen Yang
THE "YOU DESERVE AN AWARD!" AWARD (to a uniquely talented TV icon we adore): Gillian Anderson; Christine Baranski; Lynda Carter; Kim Cattrall; Cassandra Peterson
GALECA LGBTQIA+ TV TRAILBLAZER (for creating art that inspires empathy, truth and equity): Jerrod Carmichael; Margaret Cho; Russell T. Davies; Kate McKinnon; Bowen Yang
A queer screen roundup for the holidays
Hotly anticipated films like 'The Whale' and a Whitney biopic are just around the corner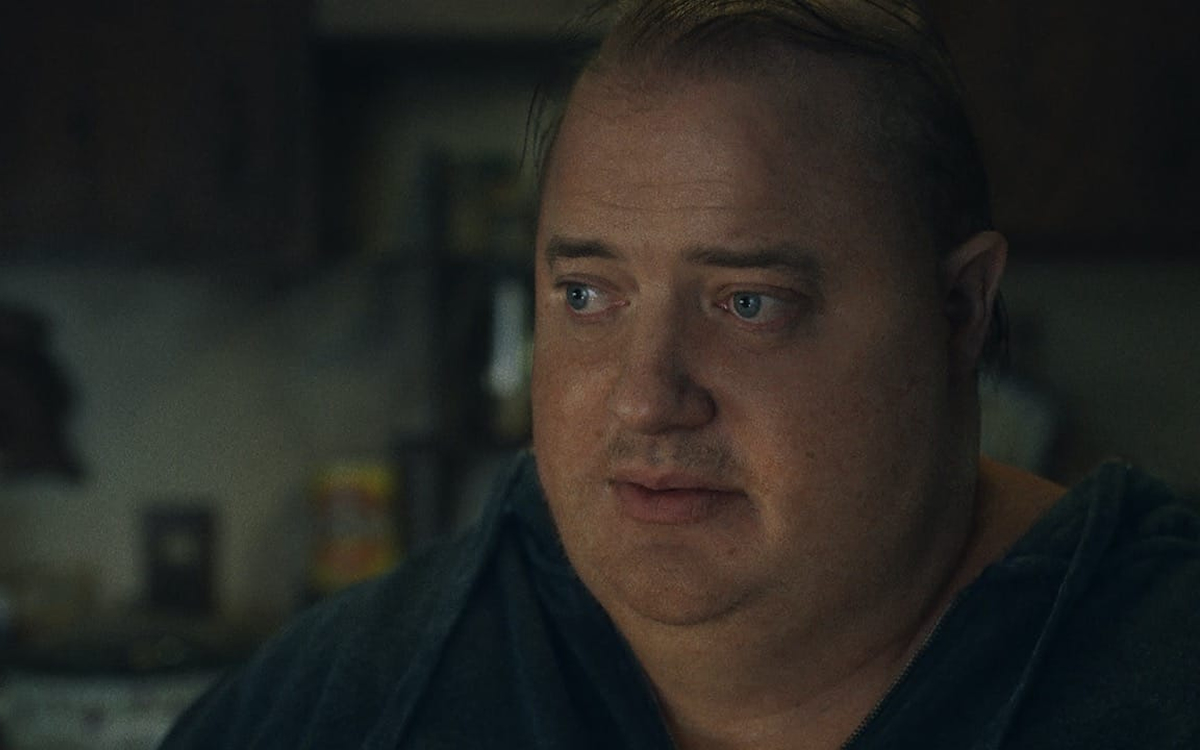 Thanksgiving is less than a week away, and we all know what that means.
No, we're not talking about digging out all those saved recipes for using leftover turkey. We mean, of course, that it's time for the Blade's annual Holiday Entertainment Preview, when we round up all the new LGBTQ viewing options coming our way during the upcoming season. No, they're not all themed for the holidays (because, let's face it, sometimes everybody needs a little escape from all that seasonal cheer), but they're all definitely worth spending a couple of hours' worth of your time in between shopping, planning, partying, and going to the gym to work off all those giant meals and decadent sweets.
"She Said" (in theaters Nov. 18)
Carey Mulligan and Zoe Kazan star as New York Times journalists Jodi Kantor and Megan Twohey in this true-life drama about the investigation that led to the bombshell 2017 report exposing Harvey Weinstein's decades-long history of sexual misconduct against women. There's no direct LGBTQ connection here, per se, but the #MeToo movement inspired by the revelations is cause enough for us to include it on our list, simply in the name of solidarity. The fact that it's female-written and female-directed (by Rebecca Lenkiewicz and Maria Schrader, respectively) bodes well for the messaging in this one, which also stars Patricia Clarkson, Andre Braugher, Jennifer Ehle, and Samantha Morton.
"Wednesday" (Netflix, Nov. 23)
Again, there's no direct LGBTQ connection within the content here (at least as far as we know, yet), but surely none is needed to explain why this new supernatural comedy/mystery series from Executive Producer Tim Burton and creators Alfred Gough and Miles Millar – detailing the crime-solving adventures of now-teenaged Wednesday Addams as she navigates her high school years at Nevermore Academy – has our recommendation. The goth daughter of Gomez and Morticia has long been a queer fan favorite, after all, and there are plenty of other reasons to look forward to this new iteration of "The Addams Family" and its "creepy and kooky" world. Starring Jenna Ortega in the title role, with Gwendoline Christie, Riki Lindhome, and Jamie McShane – and Catherine Zeta-Jones, Luis Guzman, and Fred Armisen making guest appearances as Morticia, Gomez, and Uncle Fester, respectively.
"The Holiday Sitter" (Hallmark, Dec. 11)
This one not only has LGBTQ appeal, it's an actual holiday movie. From the notorious-but-beloved Christmas universe of the Hallmark Channel comes the network's first holiday rom-com about two men (a queer couple was featured in 2020's "The Christmas House," but it wasn't about them falling in love) starring out "Mean Girls" star Jonathan Bennett as a workaholic bachelor who finds himself overwhelmed while babysitting for his out-of-town sister and her husband and recruits a handsome neighbor to help him. We're sure you'll know where things will go from there, but it should be a cozy seasonal watch, anyway. Also starring George Krissa and Chelsea Hobbs.
"Spoiler Alert" (in theaters, limited Dec. 2 / wide Dec. 9)
December's awards season push kicks off with this adaptation of Michael Ausiello's bestselling memoir, in which a young gay couple meet, fall in love, and build a life together for over a decade – only to be faced with a terminal cancer diagnosis for one of them. We know it doesn't sound like holiday cheer, but it takes as light an approach with the subject matter as possible; that doesn't mean you won't cry, of course, but this Michael Showalter-directed tearjerker is hoping you'll get the point that love is worth it even when you know there's going to be a sad ending – and you can't ask for a more appropriate seasonal message than that. Starring Jim Parsons, Ben Aldridge, Sally Field, and Bill Irwin.
"Framing Agnes" (in theaters, limited Dec. 2/Dec. 9)
Not quite a documentary, not quite a fictional narrative, this innovative cinematic exercise from director Chase Joynt takes the story of Agnes – a pioneering transgender woman whose participation in an infamous UCLA gender health study in the 1960s allowed her to gain access to gender-affirming healthcare – and blends it with other stories from long-shelved case files to "widen the frame through which trans history is viewed." Promising "vividly rendered" re-enactments of vintage trans history, collaboratively created by an all-star cast of trans performers, artists, and thinkers, this one is only getting a limited theatrical release, for now – but even if it doesn't screen near you, keep your eyes open, because it looks like it's worth waiting for. Angelica Ross, Jen Richards, and Zackary Drucker are among the featured stars.
"The Whale" (in theaters, Dec. 9)
Another award contender surfaces with this buzzy new drama from the ever-intense Darren Aronofsky, adapted by Samuel D. Hunter from his own play and featuring the long-anticipated return of former Hollywood hunk Brendan Fraser – who stars as an obese middle-aged man trying to reconcile with his estranged daughter after abandoning her and her mother to be with another man. It's won awards already, at Venice and other film festivals, and if the advance praise we've been hearing – both for the film and for Fraser's comeback performance – is to be believed, it's probably going to get several more. But that's not why we recommend it; we just know you love Brendan Fraser as much as we do. Also starring Sadie Sink, Hong Chau, Ty Simpkins, and Samantha Morton.
"Babylon" (in theaters, Dec. 23)
"La La Land" filmmaker Damien Chazelle returns with this original period epic set in 1920s Los Angeles, and he doesn't skimp on the star power. With Brad Pitt, Margot Robbie and Diego Calva leading an ensemble cast, this lavish look at early Hollywood traces the rise and fall of several intertwined characters to spin a tale of "outsized ambition during an era of unbridled decadence and depravity." We're told there's a queer storyline involved, though there are no details yet – but regardless of that, we're in based on that description alone. Also starring Jean Smart, Jovan Adepo, Li Jun Li, P.J. Byrne, Lukas Haas, Olivia Hamilton, Tobey Maguire, Max Minghella, Rory Scovel, Katherine Waterston, Flea, Jeff Garlin, Eric Roberts, Ethan Suplee, Samara Weaving, and Olivia Wilde, this is bound to be another awards favorite, and probably a whole lot of opulent fun, too.
"I Wanna Dance With Somebody" (in theaters, Dec. 23)
Finally, this eagerly awaited biopic of Whitney Houston – directed by Kasi Lemmons and written by Oscar nominee Anthony McCarten – shows up just in time for Christmas to deliver "a no-holds-barred portrait" of the iconic pop star, following her life and career from New Jersey choir girl to one of the best-selling and most awarded recording artists of all time. Starring BAFTA winner Naomi Ackie as Houston, it promises to take us on "an inspirational, poignant – and so emotional – journey" through the late singer's "trailblazing life and career," with "show-stopping performances and a soundtrack of the her most beloved hits as you've never heard them before." That's a lot of hyperbole, but frankly, we'll be disappointed if it doesn't get real about Houston's long-obscured sexuality. Even so, it gets our tentative recommendation on the basis of diva interest alone.
Happy holidays!