Court issues 2nd injunction, blocks Texas investigating more Trans families
The injunction bars DFPS from investigating these families based solely on allegations that they are providing gender affirming care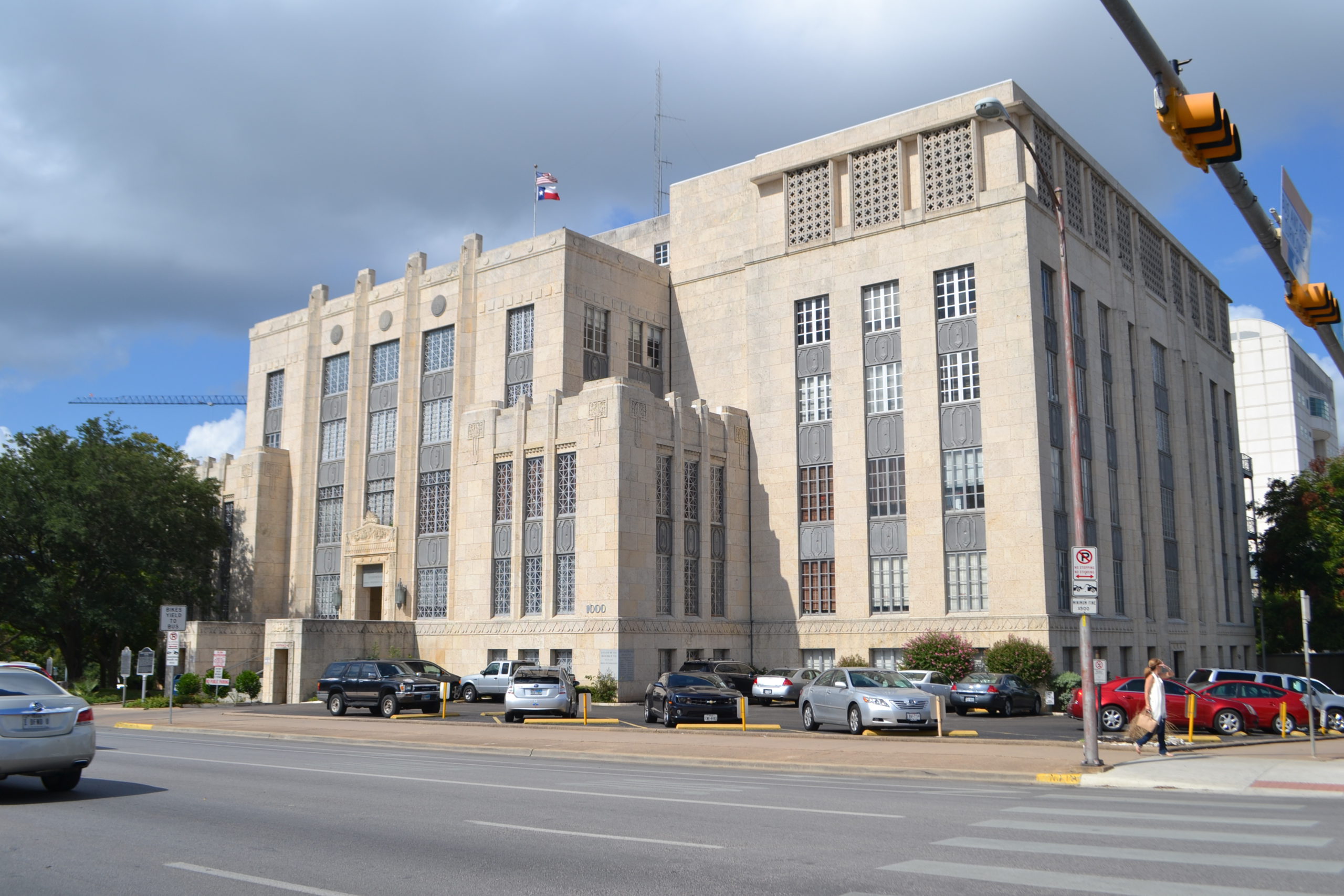 AUSTIN – The Travis County District Court entered a second injunction on Friday against the Texas Department of Family and Protective Services (DFPS) and Commissioner Masters, barring them from implementing the agency's rule expanding the definition of child abuse to presumptively treat the provision of gender affirming care as child abuse.
Friday's action blocks Texas DFPS from investigating against two more families, Mirabel Voe and her son Antonio, and Wanda Roe and her son Tommy.
The injunction bars DFPS from implementing the rule by investigating these families based solely on allegations that they are providing gender affirming care to their adolescents, or taking any action in open investigations other than to close them so long as DFPS can do so without making further contact with the families. The Court is still considering the request for additional injunctive relief to protect the other clients, the Briggle family and Texas PFLAG members with transgender children.
Today's ruling came in the lawsuit, PFLAG v. Abbott, filed by Lambda Legal, the American Civil Liberties Union Jon L. Stryker and Slobodan Randjelović LGBTQ & HIV Project, the ACLU Women's Rights Project, the ACLU of Texas, and the law firm of Baker Botts LLP. The legal organizations issued the following statement:
"We are gratified that the Court reiterated that the DFPS rule is unlawful and changed the status quo for Texas transgender youth and their families. The Court recognized yet again that being subjected to an unlawful and unwarranted investigation causes irreparable harm for these families who are doing nothing more than caring for and affirming their children and seeking the best course of care for them in consultation with their medical providers. We are confident that the Court will continue to recognize those harms as it considers the injunction we have requested for PFLAG families, including the Briggles.
"An hour after the District Court's ruling, Texas has already filed an appeal, seeking permission to continue their persecution of transgender youth and their families. But every court to consider the actions of these Texas officials has recognized both their unlawfulness and the irreparable harms they cause to these families. We will not stop fighting until all Texas families are protected.
Brian K. Bond, Executive Director of PFLAG National also noted in a statement released late Friday afternoon:
"For nearly 50 years, LGBTQ+ people and their families have turned to PFLAG for support in the face of government harm, and have found community and safety within our organization. We are heartened that the Court recognized that Governor Abbott's order is harmful, and hopeful that the Court will find similarly for PFLAG families. We remain committed to protecting the rights of trans kids and their families to make personal decisions for themselves, and to access gender-affirming care."
Texas Drag Bingo Night sees armed protestors engage one another
"It's no different than someone dressed up like a superhero at a comic convention or someone who puts on a Halloween costume"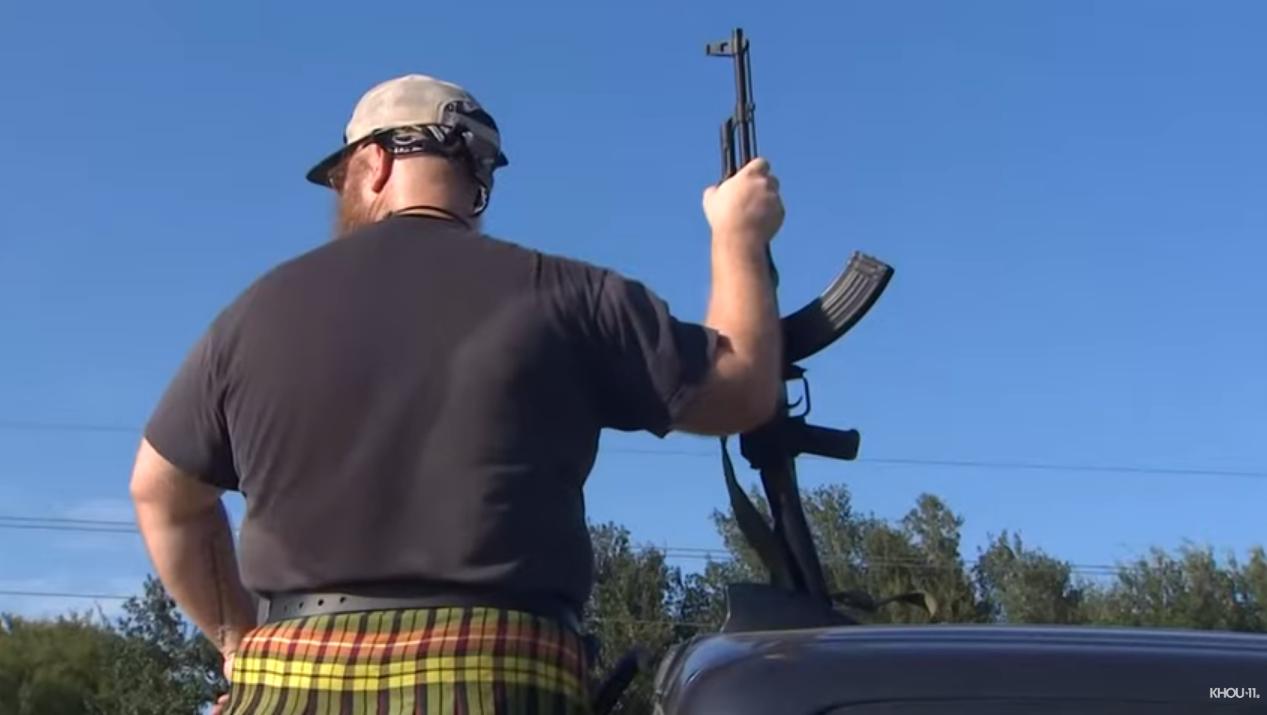 KATY, Tx. – The First Christian Church on Morton Ranch Road located in the suburban Houston, Texas metropolitan area was sponsoring an event to raise money for a clothing drive for Trans youth this past Saturday evening.
Billed as a Drag Bingo Night the event was advertised on social media platforms which drew the attention of anti-LGBTQ activists and extremists.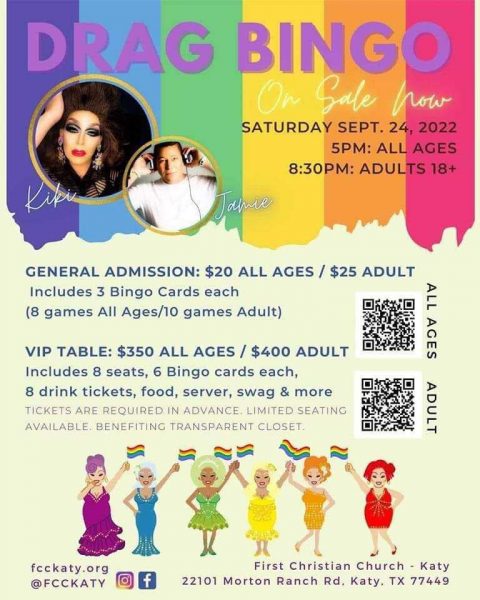 KPRC-TV Click2Houston reported that the opposing groups of anti-LGBTQ+ and groups in support of the LGBTQ+ community verbally confronted each other in heated arguments that were separated by Katy Police and the Harris County Sheriff's office.
Local CBS affiliate KHOU 11 reported that the heavily armed law enforcement officers formed a line in the median in an effort to keep the two sides separate. As the crowds grew bigger and bigger, more officers arrived.
Cesar Franco, who was with an anti-LGBTQ+ protest group who said "sexualizing and child-grooming kids by exposing them to drag culture is an abomination!" Founder of Urban Conservatives of America, Jonathan McCullough said: "We are out here to push back on things that society knows is wrong. They are having an event, welcoming children to drag queen bingo hour. This is unacceptable."
There was pushback KHOU CBS 11 noting that across the street, counter-protesters had a different message.
"That is nonsense, because drag in itself is just a costume," said one person supporting the event. "It's no different than someone dressed up like a superhero at a comic convention or someone who puts on a Halloween costume."
Problematically for law enforcement was that both sides had heavily armed people not wanting to back down. Each side spent much of the afternoon yelling at each other with megaphones.
Despite the chaos, a pastor told KHOU 11 the event was a sold-out success.
"We know that not everyone will agree with us, so we create a place for people to feel welcomed and understand there will always be people who don't agree with us," the pastor said.
Under the blazing sun outside, the scene at First Christian Church in Katy felt chaotic– and angry. More than 100 people traded insults for hours with counter-protesters. Some on both sides hid their faces. Some on both sides displayed big guns. https://t.co/7Ho3djT9id

— Houston Chronicle (@HoustonChron) September 26, 2022
Dueling rallies held outside Katy church outside drag queen bingo fundraiser event:
Texas court blocks CPS from investigating PFLAG trans families
The directive could have led to transgender youth being placed in foster care and their parents criminally charged with child abuse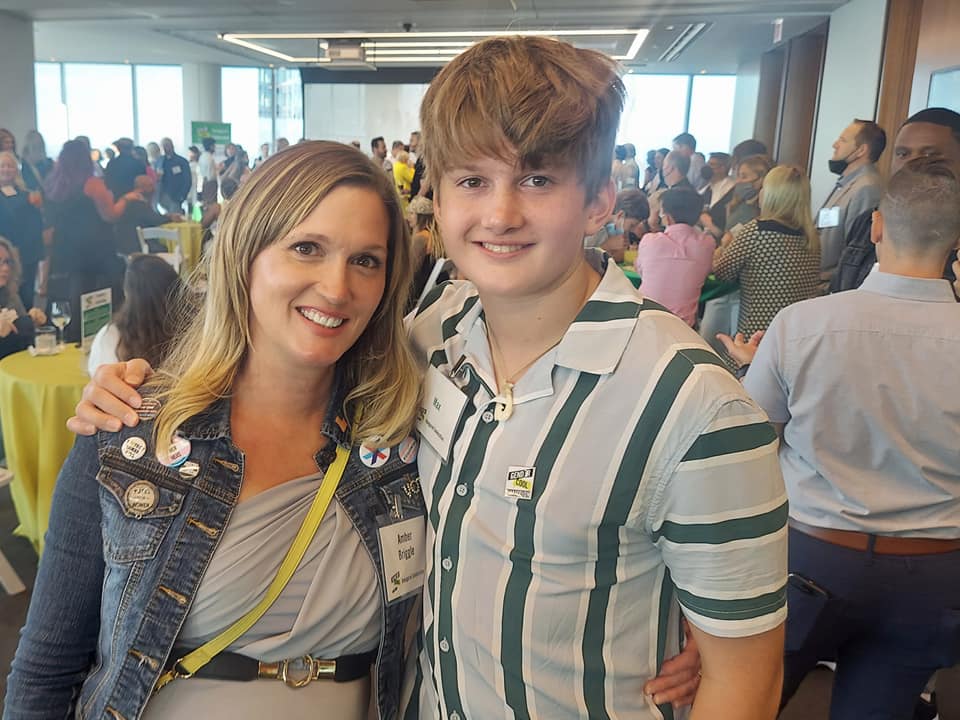 AUSTIN – The Travis County District Court issued a third injunction today blocking the State of Texas from implementing a directive issued by Republican Governor Greg Abbott that targets trans youth and their families across Texas.
The directive ordered the Department of Family and Protective Services (DFPS) to investigate parents who work with medical professionals to provide their adolescent transgender children with medically necessary healthcare.
The directive could have led to transgender youth being placed in foster care and their parents criminally charged with child abuse—just for following the advice of their physicians and mental health providers.
Today's ruling in PFLAG v. Abbott covers all Texas families who are members of PFLAG National, a national LGBTQ+ organization with 17 chapters in Texas. It also covers Adam and Amber Briggle and their son, Max.
Earlier, the court had issued an injunction blocking DFPS from investigating two other plaintiff families in the PFLAG v. Abbott lawsuit who are anonymous for purposes of the lawsuit. These injunctions became necessary to protect Texas families after the statewide injunction against the directive issued in an earlier lawsuit, Doe v. Abbott, was put on hold during the State's appeal.
The ruling comes after the plaintiffs notified the court last week that DFPS was continuing intrusive investigations against PFLAG members, including by pulling a student out of class and questioning him at school about his medical history.
"Today, families of transgender kids in Texas who are members of PFLAG National find shelter from Gov. Abbott's unjust order," said Brian K. Bond, Executive Director of PFLAG National. "PFLAG, our chapters in Texas and around the country are sources of support and safety from government harm because every LGBTQ+ person deserves respect, dignity and the right to access the care they need when they need it."
"Again, the court has grasped the magnitude and breadth of the continued harm that Gov. Abbott's directive and Attorney General Paxton's opinion would have caused if DFPS was allowed to pursue its investigations," said Nicholas "Guilly" Guillory, Tyrone Garner Memorial Law Fellow, Lambda Legal. "Families across Texas, since Gov. Abbott issued his directive, have lived in fear of the knock on the door. Even after the Texas Supreme Court ruled that Gov. Abbott could not compel DFPS to conduct investigations, many families remained under investigation. Parents who love their transgender children and work with healthcare providers to support and affirm their well-being should be celebrated, rather than investigated as criminals as the state sought to do here."
"Once again a Texas court has stepped in to say what we knew from the beginning: State leaders have no business interfering with life-saving care essential for transgender youth,"  said Adri Pérez (they/them), of the ACLU of Texas. "We should trust doctors and every major medical association on how to support transgender youth. State leadership continues to attack parents for how they raise their kids — and all our plaintiffs are doing is providing unconditional love and support for children of all gender identities. We will never stop fighting for the rights, safety, and dignity of transgender Texans."
Disney-themed drag brunch cancelled after violent threats in Texas
The threats of violence came after social media posts by the anti-LGBTQ+ Libs Of TikTok and far-right media outlet Blaze TV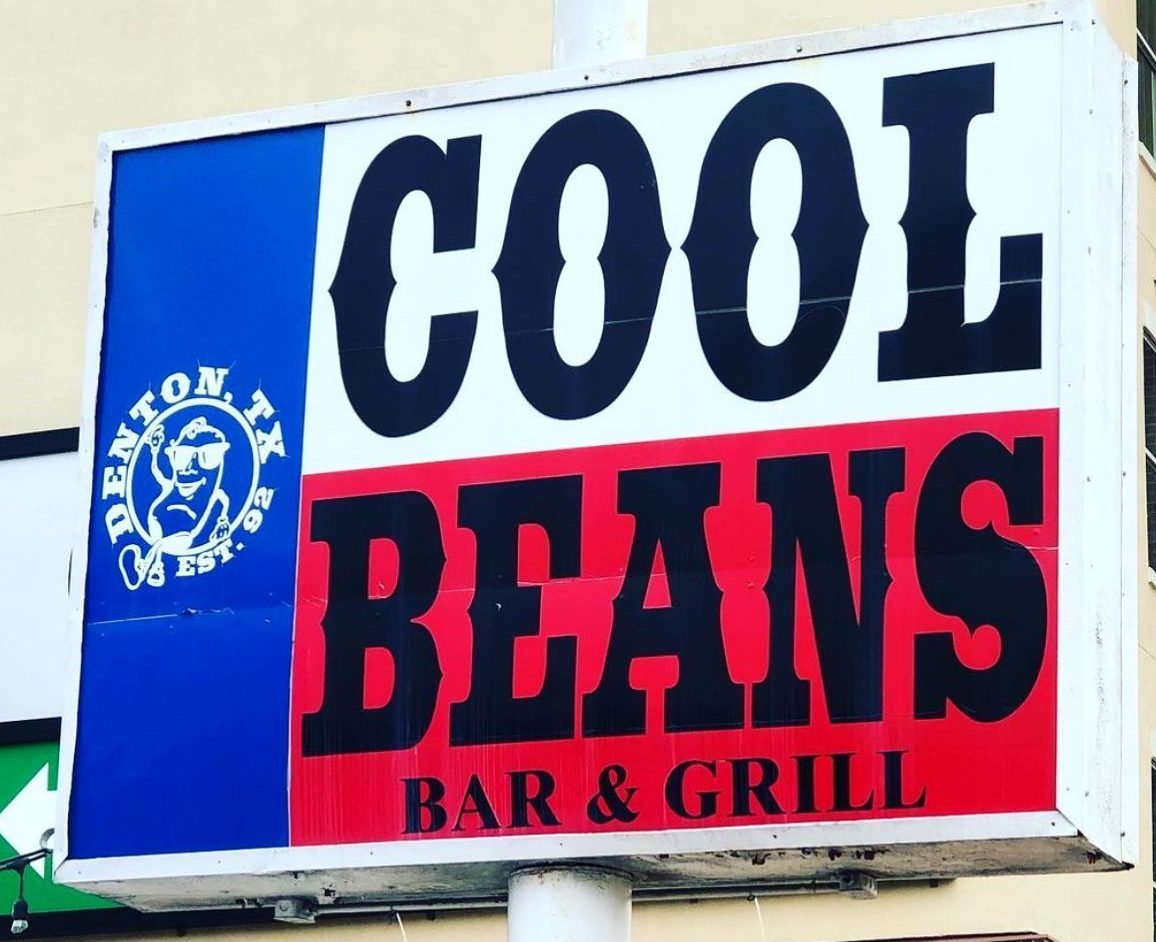 DENTON, Tx. – The Disney-themed drag brunch scheduled for Sunday, Sept. 11 was abruptly cancelled last week after an onslaught of threats of violence to the venue, the Cool Beans Bar and Grill, an LGBTQ+ friendly establishment.
The threats of violence came after social media posts by anti-LGBTQ+ users and far-right media outlet Blaze TV's host Sara Gonzales, who invited her viewers to join her in shutting the event down.
Cool Beans Bar and Grill in Denton, TX is hosting an ALL AGES drag show THIS SUNDAY. Who's coming with me to shut it down? pic.twitter.com/giaXh9umXr

— Sara Gonzales (@SaraGonzalesTX) September 8, 2022
Denton is home to two state universities with a combined enrollment of over 55,000 students, the University of North Texas and Texas Woman's University, along with North Central Texas College. It is in the same county where barely two weeks ago, crowds were gathered outside a family friendly drag show at Anderson Distillery and Grill, in Roanoke, Texas, some with signs accusing the establishment and its patrons of sexually abusing children, or of "grooming" them for abuse.
The owners of Cool Beans Bar and Grill posted a message on its expressing their disgust over being forced to cancel the event: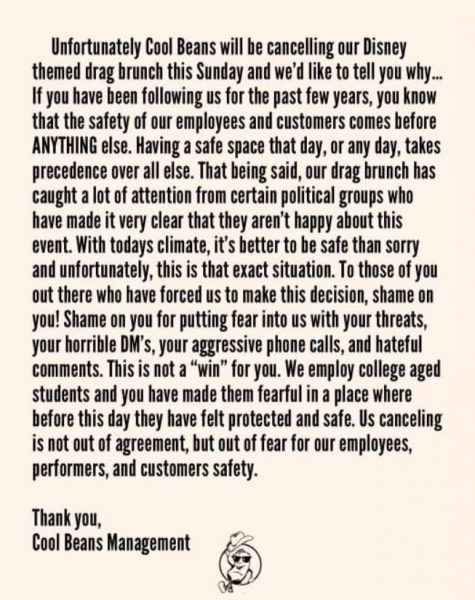 A former employee, Megan Queen, described the bar the bar as a welcoming place for the LGBTQ community and said she was heartbroken at the threats made against the establishment, according to the Dallas Observer.
As with many all-ages LGBTQ+ events this summer – from California to North Carolina – hate was ginned up on social media among right-wing extremists who sought to interrupt the event and disband the attendees.
Leading up to the event, word was spread on anti-LGBTQ+ Facebook groups like Texas Family Project and Protect Texas Kids, the latter warning, "We need to show up in full force and show that the majority of us are against children being involved in these disturbing, sexually explicit shows."
Editor's note, story updated: Reference to anti-LGBTQ+ Twitter account LibsofTikTok removed.