Biden heckled by Parkland shooting victim's Dad during White House event
The president was interrupted by the father of Parkland victim 17-year-old Joaquin Oliver who yelled: "We have to do more than that"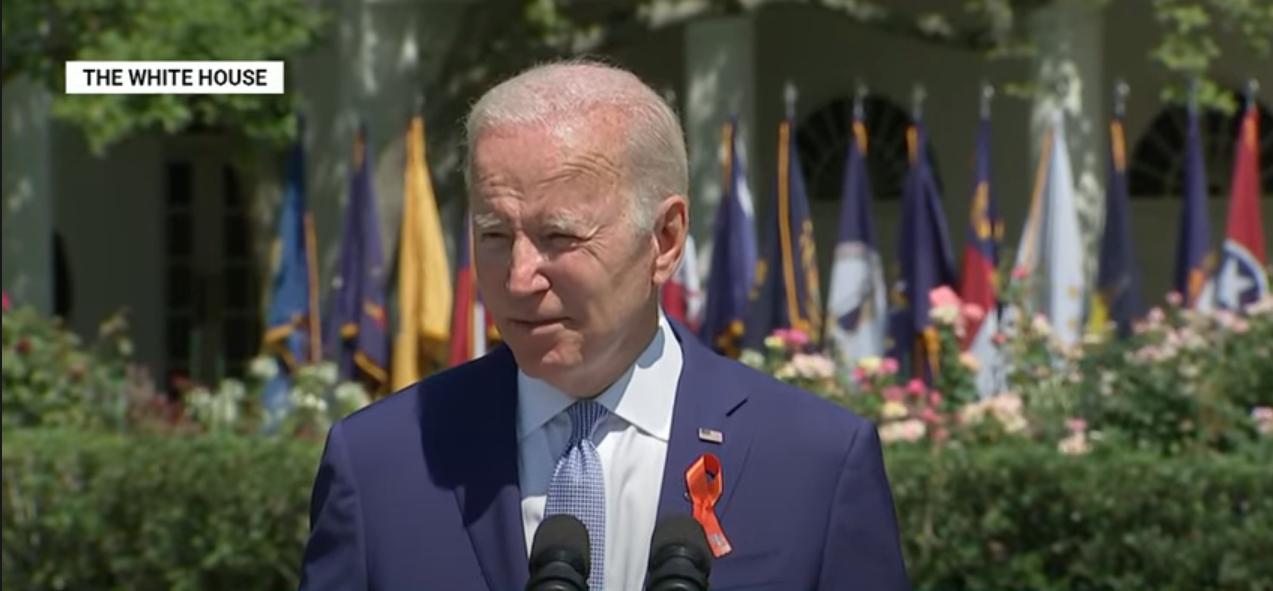 WASHINGTON – As he was making remarks during a Rose Garden event Monday meant to celebrate a new law aimed at reducing gun violence, President Joe Biden was interrupted by a father of a victim of the 2018 Valentine's Day mass shooting at Marjory Stoneman Douglas High School in Parkland, Florida, that killed 17 people.
The crowd gathered for the bill signing ceremony on the South Lawn was fairly substantial, a pool reporter estimating at there were at least 500 plus people present.
As the president was speaking to the audience of lawmakers, dignitaries, survivors and family members of victims of mass shootings from Columbine, Virginia Tech, Aurora, Tucson, Sandy Hook, Orlando, Parkland, Santa Fe, along with recent survivors of the mass-shootings in Uvalde, Buffalo, and Highland Park- which was represented by presence of Illinois Governor J. B. Pritzker as well as Highland Park Mayor Nancy Rotering, he was interrupted by Manuel Oliver, the father of Parkland victim 17-year-old Joaquin Oliver.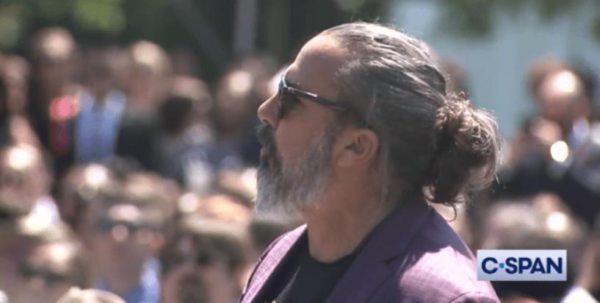 As the president was remarking that the bill was proof that, "despite the naysayers, we can make meaningful progress on dealing with gun violence," Oliver yelled from the audience: "We have to do more than that."
"Sit down and hear what I have to say," Biden responded, gesturing to Oliver that he should sit down
The Executive Director of @gunsdownamerica Igor Volsky tweeted a clip of the exchange:
Parkland father Manuel Oliver @manueloliver00 stood up and urged @POTUS to do more and open a White House Office of Gun Violence Prevention and appoint a Gun Czar.

He and other survivors are hosting a 2pm presser on PA Ave in front of WH demanding Biden *act* https://t.co/sP0gIeL2F7

— igorvolsky (@igorvolsky) July 11, 2022
Biden's speech lasted for about 20 minutes. Earlier Texas pediatrician Roy Guerrero, who triaged and treated the Uvalde victims spoke noting it has been 40 days since the massacre at an elementary school there, and that a makeshift memorial to the massacre has been taken down.
"These parents seek a safe and secure environment for their children," Guerrero said. "It's tough being a pediatrician in a community where kids don't want to go back to school and their parents don't want to send them."
He said it is difficult to reassure scared children while the weapons used in the massacre are still available. "Hopefully, this is the start of a movement toward banning assault weapons," he said to applause from the crowd and then introduced Vice-President Kamala Harris.
Harris praised the law known as the Safer Communities Act, as a historic accomplishment and highlighted the dedication of members of Congress to passing gun legislation.
"We would not be here without the vision, the courage and unwavering determination of one man in particular: Joe Biden," Harris said, noting his decades of work on the issue.
She then introduced Garnell Whitfield, Jr., who began by ticking off the names of the victims of the Buffalo shooting. Whitfield thanked Harris for attending his mother's memorial service, adding she was a big fan of the Vice President and was "dancing in heaven" knowing Harris was in attendance.
Whitfield said the country needed to do more to combat racism and white supremacy.
"They are a leading threat to our homeland and way of life," he said.
He then introduced President Biden as "the person we the people, but more importantly, God, as chosen to lead us at a time such as this."
Newsom appoints Laphonza Butler to Feinstein seat
Newsom's office confirmed that he has picked Butler, an Out Black lesbian Democratic strategist who rose to prominence in the labor movement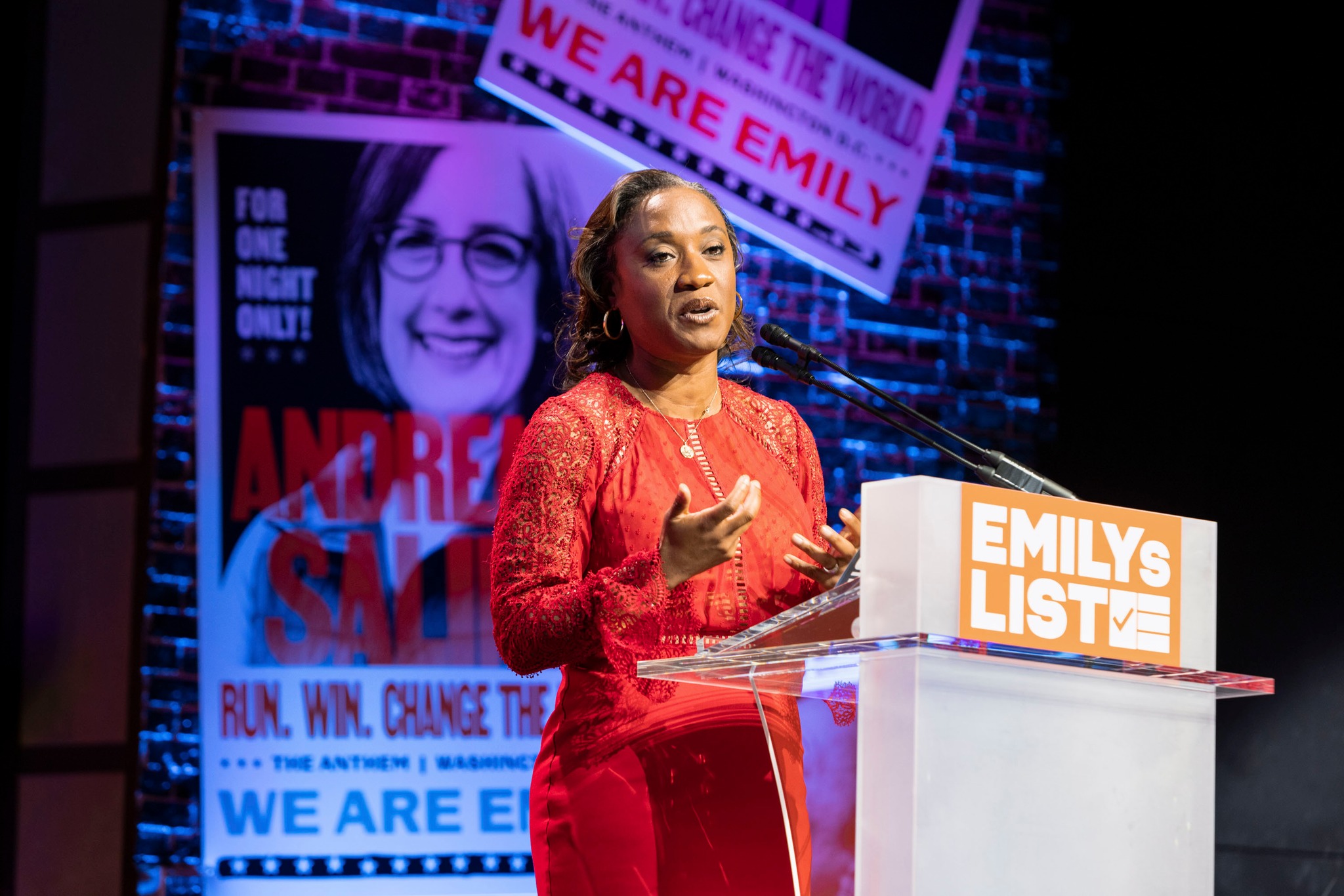 SACRAMENTO, Calif. – On Sunday evening, California Governor Gavin Newsom announced he is appointing Black openly lesbian EMILY's List President, Laphonza Butler, to the vacant seat of the late U.S. Senator Diane Feinstein who died Friday at age 90.
Butler's wife is Neneki Lee, the Washington D.C.-based Director for labor union SEIU's Public Services Division.
News of Butler's selection by Newsom was first reported by POLITICO's California Bureau Chief Christopher Cadelago. A source knowledgeable on the governor's team told POLITICO there were no preconditions about whether she could run in 2024.
Newsom's office confirmed that he has picked Butler, a Democratic strategist who rose to prominence in the labor movement, to fill Feinstein's seat.
In an emailed statement, Governor Newsom said:
"An advocate for women and girls, a second-generation fighter for working people, and a trusted adviser to Vice President Harris, Laphonza Butler represents the best of California, and she'll represent us proudly in the United States Senate. As we mourn the enormous loss of Senator Feinstein, the very freedoms she fought for — reproductive freedom, equal protection, and safety from gun violence — have never been under greater assault. Laphonza will carry the baton left by Senator Feinstein, continue to break glass ceilings, and fight for all Californians in Washington D.C."
SCOOP: Gavin Newsom will appoint EMILY's List President Laphonza Butler to fill the seat of the late Sen. Dianne Feinstein, elevating the head of a fundraising juggernaut that works to elect Dem women who support abortion rights, per a person familiar.https://t.co/FtOv4fneAk

— Christopher Cadelago (@ccadelago) October 2, 2023
Equality California tweeted a statement praising Newsom's action:
Executive Director @TonyHoang on Governor @GavinNewsom's selection of @LaphonzaB to serve as the next U.S. Senator from California: pic.twitter.com/6RYB1SUyEr

— Equality California (@eqca) October 2, 2023
Democrat Alex Padilla, now serving as California's senior U.S. Senator, released the following statement after Newsom appointed Butler to fill the vacancy created by the late Senator Feinstein: 
"Throughout her career, Laphonza Butler has been a strong voice for working families, LGBTQ rights, and a champion for increasing women's representation in politics. I'm honored to welcome her to the United States Senate.
"Governor Newsom's swift action ensures that Californians maintain full representation in the Senate as we navigate a narrow Democratic majority. I look forward to working together to deliver for the people of California."
Butler is a longtime leader in Democratic politics in California and beyond. She has been involved in campaign strategy, and the labor movement for two decades, and according to her official biography she has dedicated her life to empowering women and supporting them in finding their voice, and using it to make meaningful change.
Newsom's office noted in its statement:
"Butler, a longtime senior adviser to Vice President Kamala Harris, labor leader, and advocate for women and working people, will be the first openly LGBTQ person to represent California in the Senate. She will also be the first Black lesbian to openly serve in Congress in American history and the second Black woman to represent California in the Senate following Vice President Kamala Harris."
Prior to joining EMILYs List, Butler served as Director of Public Policy and Campaigns in North America for Airbnb. She also was a partner at SCRB Strategies, a political consulting firm where she was a strategist for candidates running up and down the ballot and a senior advisor to Vice President Kamala Harris's presidential campaign.
With nearly 20 years in the labor movement, Butler has served as the president of the biggest union in California, and the nation's largest homecare workers union, SEIU Local 2015. She was elected to this position at just 30 years old, one of the youngest to take on this role. As president, Butler was the leading voice, strategist, and architect of efforts to address pay inequity for women in California and a top advocate for raising the state's minimum wage to $15 an hour – the first state in the nation to do so, benefiting millions of working women in low wage jobs. That effort also gave hundreds of thousands of home workers access to paid time off. She also served as an SEIU International Vice President and President of the SEIU California State Council.
Throughout her career, Butler has been highly regarded as a strategist working to elect Democratic women candidates in political offices across California and nationally. A long-time supporter of Kamala Harris in her California runs, Butler was a key leader in Vice President Harris's presidential campaign. She served as a senior advisor to Hillary Clinton's presidential campaign in California during the primary and general elections. Most recently, Butler was a campaign operative behind the campaign to make the Los Angeles Board of Supervisors all-women for the first time in its history with the election of Supervisor Holly Mitchell.
She has been a member of the University of California Board of Regents and a member of the board of directors for the Children's Defense Fund and BLACK PAC.
Laphonza grew up in Magnolia, MS, and attended one of the country's premier HBCUs, Jackson State University. She lives in Maryland with her wife, Neneki, and together they have a daughter, Nylah.
EMILY's List is an American political action committee that aims to help elect Democratic female candidates in favor of abortion rights to office. It was founded by Ellen Malcolm in 1985. The group's name is an acronym for "Early Money Is Like Yeast". Malcolm commented that "it makes the dough rise".
Related:
Governor Gavin Newsom Appoints Laphonza Butler to the U.S. Senate: