WHO Chief: COVID-19 'nowhere near over' as Monkeypox spreads faster
On the subject of the ongoing monkeypox outbreaks, officials are saying that there are currently 9,200 cases throughout 63 countries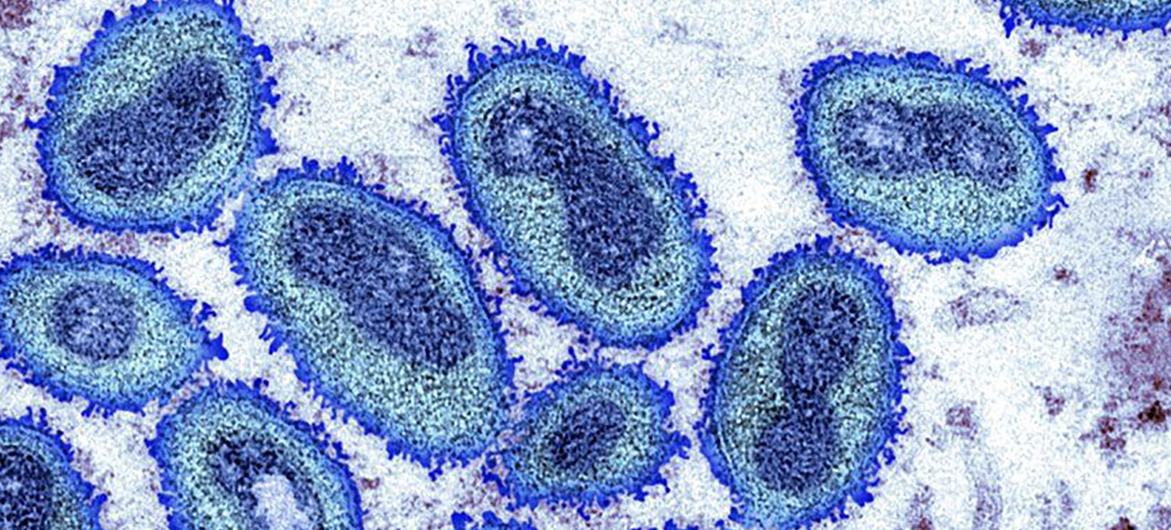 GENEVA, Switzerland – World Health Organization (WHO) chief Tedros Adhanom Ghebreyesus told journalists at the regular weekly press briefing on Tuesday that rising COVID-19 cases are not only putting further pressure on already stretched global healthcare systems and workers but also triggering an "increasing trend of deaths."
He reported that the Emergency Committee on COVID-19 last Friday concluded that "the virus remains a Public Health Emergency of International Concern."
And while acknowledging that "we are in a much better position than at the beginning of the pandemic," he stressed that new waves of variants demonstrate that the COVID-19 pandemic "is nowhere near over."
The WHO chief outlined for reporters the interlinked challenges presented now by the virus, beginning with sub-variants of Omicron, like BA.4 and BA.5, which continue to drive waves of cases, hospitalizations and deaths globally.
The WHO Chief also pointed to diagnostics, treatments and vaccines that are not being deployed effectively.
"The virus is running freely, and countries are not effectively managing the disease burden based on their capacity, in terms of both hospitalization for acute cases and the expanding number of people with post COVID-19 condition, often referred to as long-COVID," he said. 
He highlighted a disconnect in COVID-19 risk perception between scientific communities, political leaders and the general public, describing it as "a dual challenge of communicating risk and building community trust in health tools and public health social measures like masking, distancing and ventilation."
He then pivoted to the ongoing monkeypox outbreaks saying that there are currently 9,200 cases throughout 63 countries,
Next week the Emergency Committee for the disease will reconvene to examine trends, the success so far of countermeasures and next steps tackling the outbreak, he added.
In the meantime, he said that the WHO continues to battle the stigma around the virus, coordinate vaccine sharing, and drive forward research and development.
"I again stress that we must work to stop onward transmission and advise governments to implement contact tracing to help track and stem the virus as well as to assist people in isolation," Tedros highlighted.
On Tuesday the UK Health Security Agency reported that as of 11 July, there were 1,735 confirmed cases in the UK. Of these, 1,660 are in England. The UKHSA also noted that a significant majority of cases are in reported in metropolitan London.
In the U.S., the Centers for Disease Control and Prevention (CDC) says there are more than 750 monkeypox cases in the U.S. — across almost every state.
However, a stepped up response in ordering vaccines as well as testing has begun. In announcement Monday, the CDC noted that the Mayo Clinic Laboratories will begin testing for monkeypox using CDC's orthopoxvirus test, which detects most non-smallpox related orthopoxviruses, including monkeypox.
 
"The ability of commercial laboratories to test for monkeypox is an important pillar in our comprehensive strategy to combat this disease," said CDC Director Rochelle Walensky, M.D., M.P.H.  "This will not only increase testing capacity but also make it more convenient for providers and patients to access tests by using existing provider-to-laboratory networks."
On June 22, HHS announced that five commercial laboratory companies would soon begin offering monkeypox testing. Since then, CDC has shipped the tests to the laboratories and their employees have been trained on their administration, among other steps. 
 
Anyone with a rash that looks like monkeypox should talk to their healthcare provider about whether they need to get tested, even if they don't think they had contact with someone who has monkeypox. Healthcare providers, nationwide, can order the orthopoxvirus test from Mayo Clinic Laboratories just as they normally would order other tests. The public will not be able to go to a Mayo Clinic laboratory and submit a specimen. Mayo Clinic Laboratories will use electronic laboratory reporting to report results to jurisdictions as outlined in the CDC reporting guidance.
 
CDC anticipates additional commercial laboratories will come online in the coming days, and monkeypox testing capacity will continue to increase throughout the month of July.  Healthcare providers can access information on Mayo Clinic Laboratories' test at https://news.mayocliniclabs.com/*.
The latest CDC information on monkeypox is available at www.cdc.gov/monkeypox.
On the subject of COVID, the CDC cautioned Monday that BA.4 and BA.5 – subvariants of the Omicron variant – now make up 80 percent of COVID-19 cases in the U.S., with BA.5 accounting for a majority of cases.
Early indications signal that BA.5 may have some increased ability to escape immunity, including from prior infections, meaning it has the potential to cause the numbers of infections to rise in the coming weeks.
This potential for increase is greatest where fewer people are up to date on their vaccinations and there is increased waning of immunity from vaccines, the CDC said.
LA County Public Health expands Monkeypox vaccination eligibility
Eligible residents can go to a Public vaccinating site or visit Myturn.ca.gov to find other vaccinating sites near you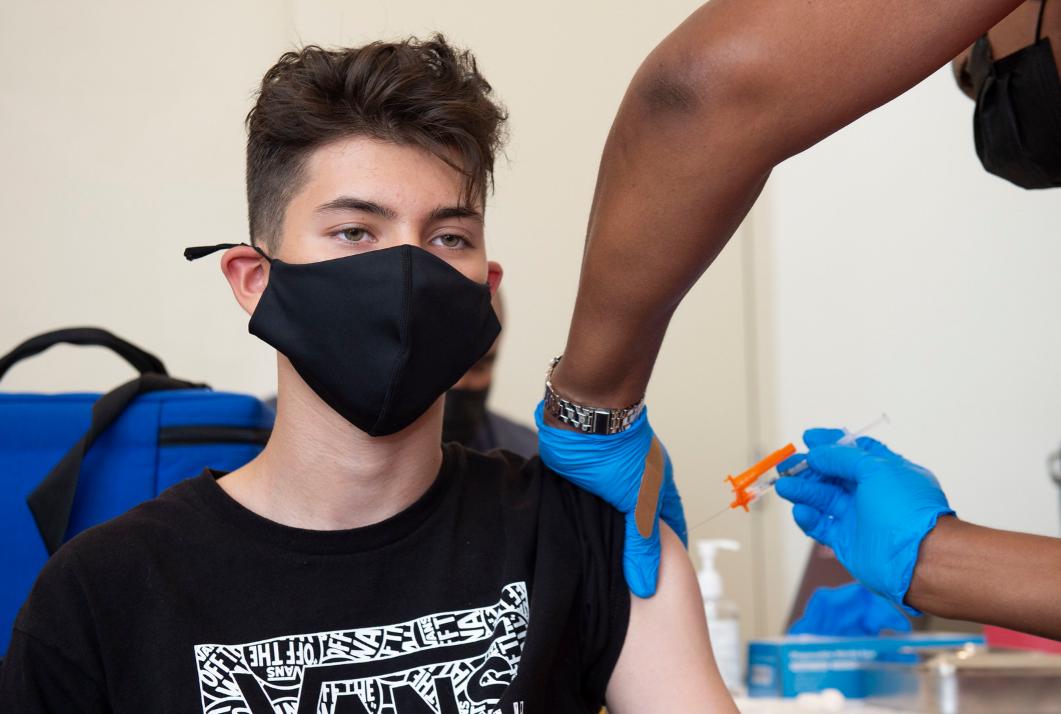 LOS ANGELES – The Los Angeles County Department of Public Health has expanded eligibility to the monkeypox vaccine to closely align with the Centers for Disease Control and Prevention's recent expansion, which includes persons in select occupational groups whose jobs may expose them to orthopoxviruses (such as monkeypox).
Monkeypox vaccine will be available to residents who self-attest to being in the following groups:
Gay, bisexual or other men who have sex with men or transgender people who have sex with men or other transgender people
Persons of any gender or sexual orientation who engage in commercial and/or transactional sex
Persons living with HIV, especially persons with uncontrolled or advanced HIV disease
Persons who had skin-to-skin or intimate contact with someone with suspected or confirmed monkeypox, including those who have not yet been confirmed by Public Health
(NEW) Sexual partners of people in any of the above groups
(NEW) People who anticipate being in any of the above groups
Monkeypox vaccine is also available for persons in select occupational groups whose may be exposed to orthopoxviruses including:
Research laboratory personnel working with orthopoxviruses
Clinical laboratory personnel performing diagnostic testing for orthopoxviruses
Designated public health response team members
Health care personnel who administer ACAM2000 (Smallpox [Vaccinia] Vaccine)
Designated health care workers who care for persons with suspected or confirmed orthopoxvirus infections, including clinicians and environmental services personnel
Note that the risk of monkeypox transmission remains very low for health care workers if appropriate personal protective equipment is worn and other infection control practices are followed.
Eligible residents can go to a Public vaccinating site or visit Myturn.ca.gov to find other vaccinating sites near you.
Residents do not need to show ID in order to get a vaccine at sites run by Public Health. However, because residents may need to show vaccination record and ID if you travel or visit certain venues, it is recommended that when getting a vaccine that residents provide the name that is on their ID.
Residents who met prior eligibility criteria can still get vaccinated (see below for prior criteria).
Gay or bisexual men or transgender people who:
Had multiple or anonymous sex partners in the past 14 days
Had skin-to-skin or intimate contact with persons at venues or events in the past 14 days
Had a history of early syphilis or gonorrhea in the past 12 months
Are on HIV pre-exposure prophylaxis (PrEP)
Had anonymous sex or sex with multiple partners in the past 21 days in a commercial sex venue or other venue.
Residents who have monkeypox symptoms or are currently under isolation for monkeypox, should not come to the vaccination clinics or walk-up sites. If residents think they have monkeypox, they should speak with a provider and get tested. If residents do not have a provider, residents can call the Public Health Call Center for more information on monkeypox, including general information, testing, treatment, and vaccines at (833) 540-0473 (open 7 days a week 8am – 8:30pm).
For more information, please visit: http://publichealth.lacounty.gov/monkeypox/.
Los Angeles County Supervisors approve sick leave for monkeypox
Both coronavirus and the monkeypox outbreak has disproportionately affected essential workers, who are predominantly Black and Latino
LOS ANGELES – The Los Angeles County Board of Supervisors unanimously passed a motion Tuesday, sponsored by Supervisors Hilda Solis and Sheila Kuehl, which directs County attorneys to report back to the board in three weeks on how the County could implement a paid sick leave policy for people who contract monkeypox, or other new and emerging infectious diseases.
The Board also is urging California Governor Gavin Newsom to extend the state's coronavirus supplemental paid sick leave by signing the AB-152 COVID-19 relief leave bill.
Supervisor Solis prior to the vote pointed out that both coronavirus pandemic and the monkeypox outbreak has disproportionately affected essential workers, who are predominantly Black and Latino.
Solis further noted that without a form of paid sick leave, are in most cases, unable to take the recommended five to 10 days to isolate for COVID-19 — much less the two to four weeks needed to isolate for the duration of a monkeypox diagnosis as recommended by the Centers for Disease Control and Prevention as well as the County Dept. of Public Health .
During a monkeypox townhall hosted by the Blade in East Los Angeles last week, which was also attended by Supervisor Solis, Sherrill Brown, M.D, AltaMed's Medical Director of Infection Prevention, in her presentation noted the need for economic relief.
In her practice treating primarily Latino monkeypox cases at AltaMed clinics in Los Angeles and Orange Counties, she told the townhall attendees she was hearing some of her patients were having difficulty with the required isolation protocols because of their economic needs.
Unvaccinated 14 times more likely to contract monkeypox
Racial disparities persist in new cases of monkeypox as Black & Latino people are overrepresented in the numbers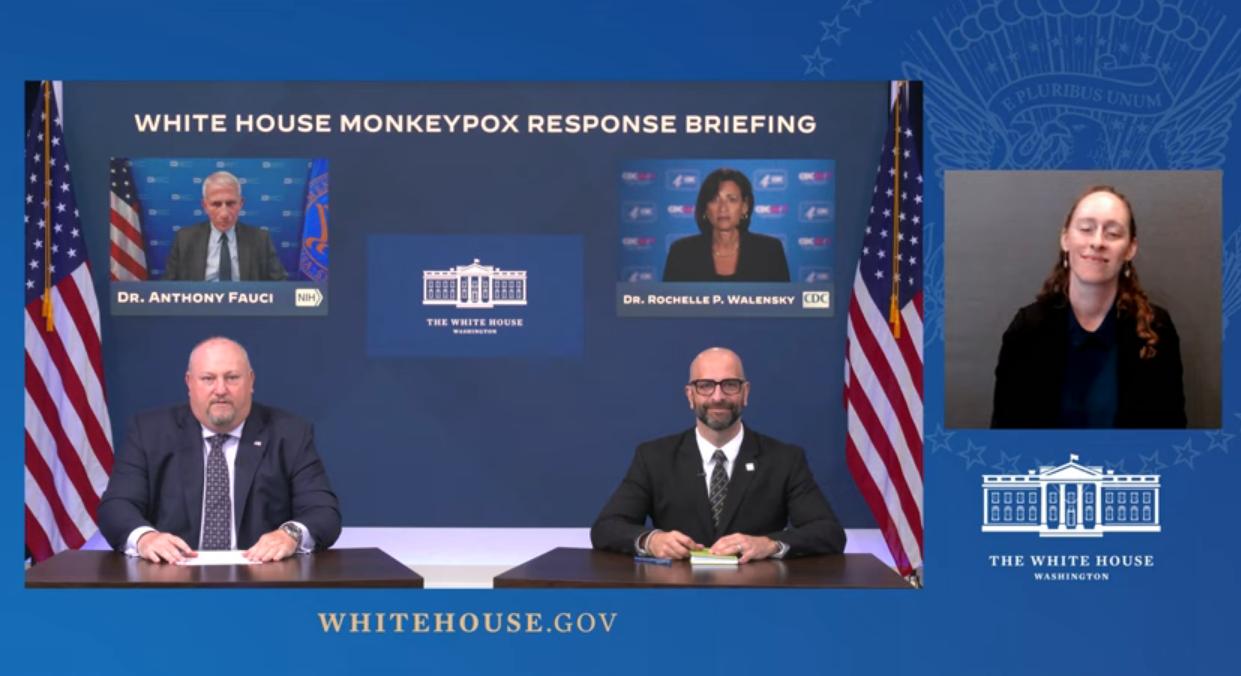 WASHINGTON – U.S. health officials are celebrating preliminary data on the vaccine used in the monkeypox outbreak, which has led them to conclude eligible persons who didn't get a shot were 14 times more likely to become infected than those who are vaccinated.
The new data, as described by health officials on the White House monkeypox task force during a call with reporters on Wednesday, comes as the overall number of new cases of monkeypox is in sharp decline, although considerable racial disparities persist in the remaining cases as Black and Latino people are overrepresented in the numbers.
Rochelle Walensky, director of the Centers for Disease Control & Prevention, said during the conference call the preliminary data — collected from 32 states between July 2022 and September 2022 — provides an early shapshot of the effectiveness of the vaccine and cause for optimism on the path forward.
"These new data provide us with a level of cautious optimism that the vaccine is working as intended," Walkensky said. "These early findings and similar results from studies and other countries suggest even one dose of the monkeypox vaccine offers at least some initial protection against infection."
Walensky during the conference call admitted the data is incomplete in numerous ways. For example, the data is based on information on individuals who have obtained only the first shot as opposed to both shots in the two-shot vaccination process. (The data showing positive results from individuals who have only one shot contradicts previous warnings from the same U.S. health officials that one shot of the monkeypox vaccine was insufficient.)
The data also makes no distinction between individuals who have obtained a shot through subcutaneous injection, a more traditional approach to vaccine administration, as opposed to intradermal injection, which is a newer approach adopted in the U.S. guidance amid the early vaccine shortage. Skeptics of the new approach have said data is limited to support the idea the intradermal injection is effective, particularly among immunocompromised people with HIV who have been at higher risk of contracting monkeypox.
Not enumerated as part of the data were underlying numbers leading health officials to conclude the unvaccinated were 14 times more likely to contract monkeypox as opposed to those with a shot, as well as any limiting principle on the definition of eligible persons. Also unclear from the data is whether individual practices in sexual behavior had any role in the results.
Despite the positive data on the monkeypox vaccine based on one shot, U.S. health officials warned during the conference call the two-shot approach to vaccine administration is consistent with their guidance and more effective.
Demetre Daskalakis, the Biden administration's face of LGBTQ outreach for monkeypox and deputy coordinator for the White House monkeypox task force, made the case that for individuals at risk obtaining a second dose is "really important."
"So we see some response after the first [shot] in the laboratory, but the really high responses that we want to really get — that you know, level 10 forcefield as opposed to the level five forcefield — doesn't happen until the second dose," Daskalakis said. "So the important message is this just tells us to keep on trucking forward because we need that second dose at arms that people haven't gotten the first should start their series of two vaccines."
Also during the call, health officials said they would be expanding opportunities for vaccines as pre exposure prophylaxis, as opposed to practices in certain regions granting vaccines in their limited supply to individuals who meet certain criteria or have had risk of exposure.
The Centers of Disease Control & Prevention, officials said, is also updating its guidance to allow injection of the vaccines in places other than a patient's arm.
Daskalakis said fear of stigma about getting a noticeable shot in the forearm after obtaining a monkeypox vaccine was a key part of the decision to issue the new guidance on implementation.
"Many jurisdictions and advocates have told us that some people declined vaccine to monkeypox because of the stigma associated with the visible but temporary mark often left on their forearm," Daskalakis said. "New guidance from CDC allows people who don't want to risk a visible mark on their forearm to offer a vaccine on their skin by their shoulder or their upper back. Those are areas more frequently covered by clothes."