Seoul Queer Culture Festival draws thousands of participants
This was the first major gathering of LGBTQ+ groups and people since the COVID19 pandemic restrictions were lifted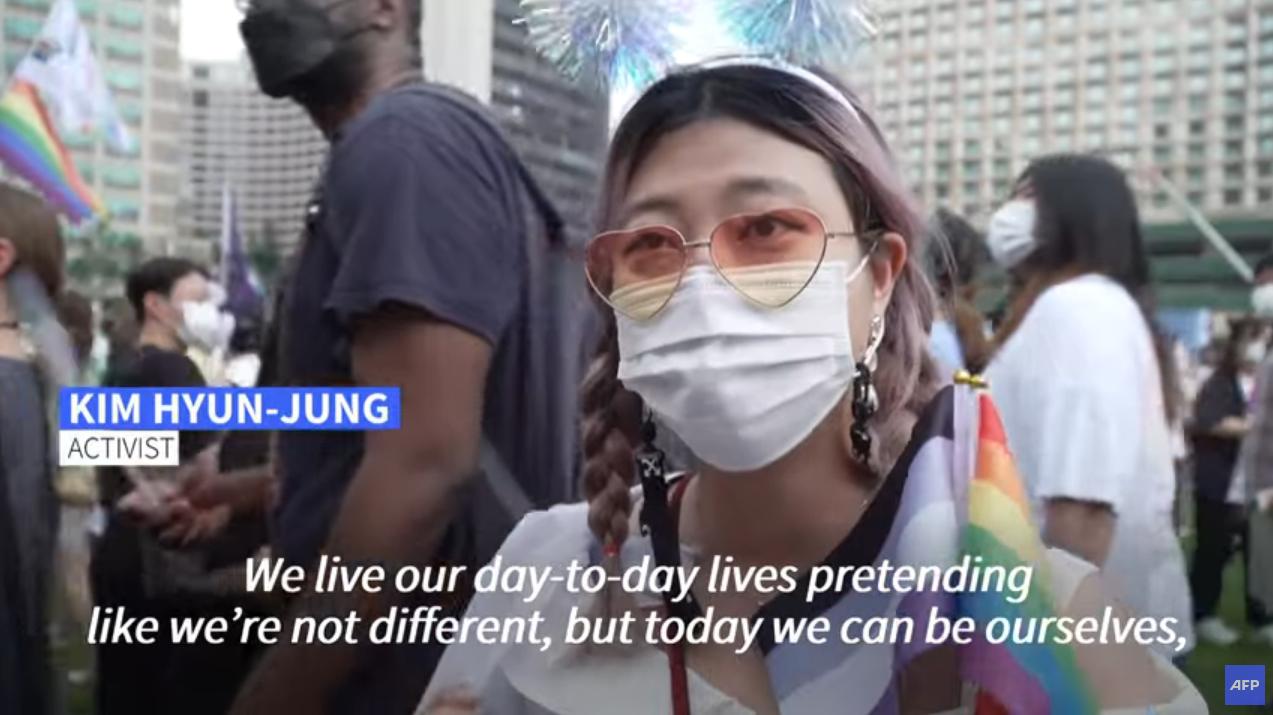 SEOUL, South Korea – The Seoul Queer Culture Festival kicked off Saturday (Local Time) in the South Korean capital city with crowds of participants estimated at nearly 14,000 according to the Korean Yonhap News Agency.
This was the first major gathering of LGBTQ+ groups and people since the COVID19 pandemic restrictions were lifted.
The event, which featured 72 booths and exhibitions staffed by LGBTQ+ groups, university clubs, human rights organisations, foreign diplomatic missions, as well as Korean progressive groups was attended by the U.S. ambassador to South Korea, Philip Goldberg, who appeared at the festival to show his support.
"To express the strong commitment of the United States to ending discrimination wherever it occurs and ensuring that everyone is treated with respect and humanity, we simply cannot leave any of you behind," Goldberg told the crowd.
"We're going to fight with you for equality and human rights," the ambassador added.
"I'm glad we can have an offline festival after a long time. LGBT people are not hateful people who appear one day out of the year but people who live their daily lives just the same," Hurricane Kimchi, a drag queen who attended the festival told Reuters.
"The Queer Festival has gotten bigger, and many LGBT people show up without hiding, because the perception in our society is getting better," Kimchi said.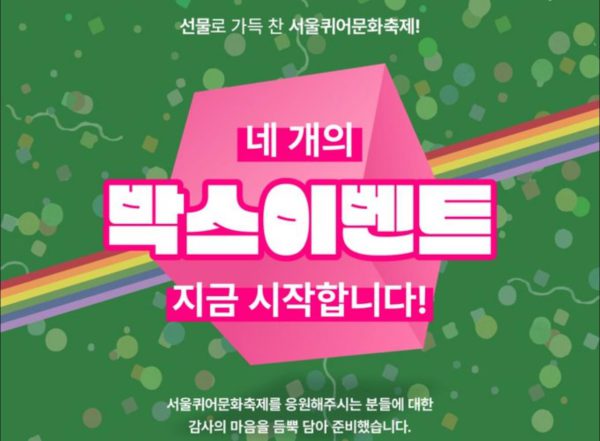 Reuters and the Yonhap News Agency noted that the festival drew a crowd of anti-LGBTQ+ Christian and conservative groups, who held a rally in protest across the road. Police maintained positions in-between to prevent a violent clash.
The protest rally had at least 15,000 participants, according to Yonhap.
"We are protesting and holding a national convention for the healthy sexual ethics of our children, and we are rallying together to call for the proper operation of Seoul Plaza, which is run with citizens' taxes," said Lee Yong-hee, a university professor and participant in the protest rally told a reporter from Yonhap.
Video for the first post-Covid Seoul Pride is met with anti-gay protesters | AFP
Chinese activist continues fight for LGBTQ+, intersex rights from U.S.
Yanhui Peng successfully challenged 'conversion therapy' clinic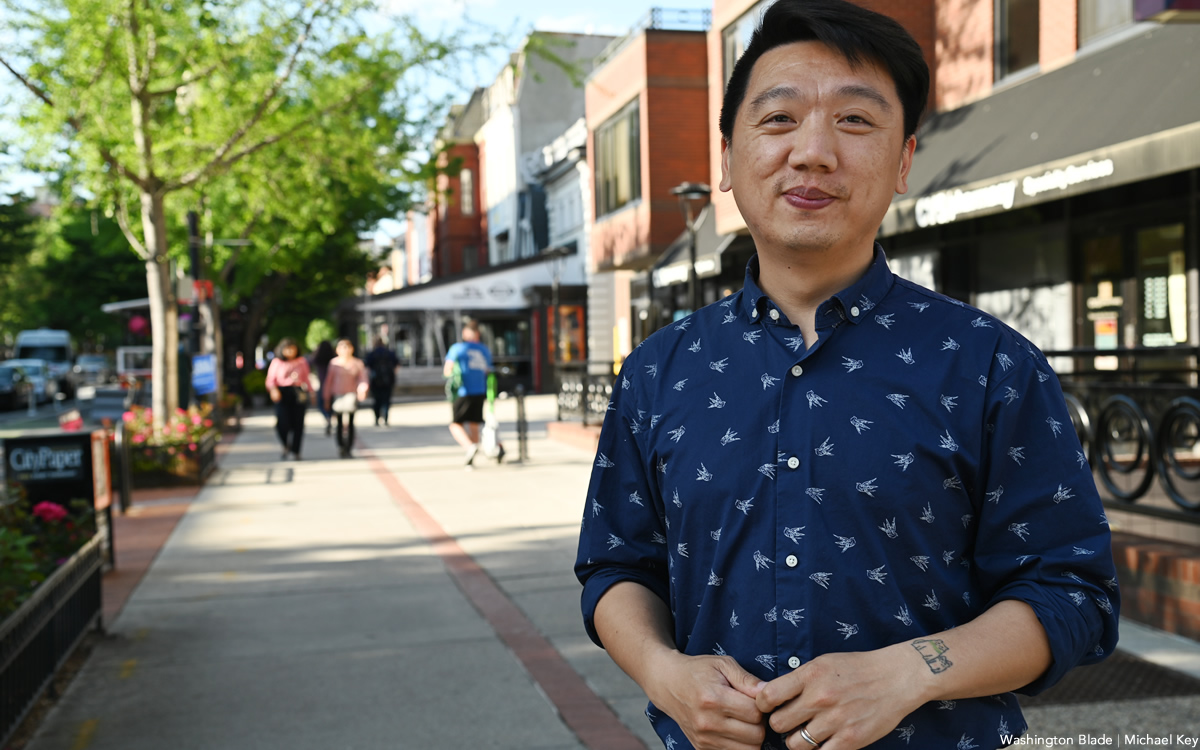 WASHINGTON — Yanhui Peng, co-founder of LGBT Rights Advocacy China, a Chinese advocacy group, in 2014 sought to expose doctors and therapists who practice so-called conversion therapy.
He saw an ad on Baidu, a Chinese search engine, for a therapist in the city of Chongqing who used electroshock therapy to "cure" a person's homosexuality. The therapist charged patients $5,000 (34,506 Chinese yuan) for 30 treatments.
"They will make sure you will be straight," Peng recalled to the Washington Blade during a May 19 interview in D.C.
Peng decided to receive a treatment, which cost $90 (621.12 Chinese yuan) and lasted an hour.
"He asked me to lay down on a sofa and he started to hypnotize me," recalled Peng. "He asked me to close my eyes, calm down, breathe in, breathe out."
Peng described the room in which he was as "small" and "very uncomfortable."
"He then started to ask me to think about a situation, having sex with men, and see if I have some mental or physical reaction to move my fingers … he didn't wait until I moved my finger. He just used the electroshock equipment. He electroshocked me on my arms," he said. "It wasn't so strong, but it was scary because it was sudden."
Peng said he received two additional electroshock treatments before he left the clinic. Peng kept his receipt and included it in a complaint against the therapist that he filed in court.
A judge ruled in his favor, noting homosexuality is not a disease and "gay cure advertisement is illegal." The ruling is the first time a judge in China ruled in favor of LGBTQ+ and intersex rights.
"Luckily we won the case," Peng told the Blade. "It was a surprise."
Peng said the ruling inspired LGBT Rights Advocacy China to file additional cases.
One case involved a 37-year-old man whose parents forcibly admitted him to a mental hospital for 19 days because he is gay. Peng told the Blade that personnel forced the man to take medication and punished him if he refused.
Another case involved a kindergarten teacher who was fired after he posted gay-specific news on social media. LGBT Rights Advocacy China also represented a lesbian couple from China who had a child after they legally married in Los Angeles.
LGBT Rights Advocacy China shut down in November 2021 amid increased government restrictions against NGOs and what the Associated Press described as "social activism."
Peng, who currently studies at Yale University, continues to champion LGBTQ+ and intersex rights in China. Peng, among other things, speaks with IBM and other companies with offices in China about the need to support their LGBTQ+ and intersex employees.
"In China, they focus on economic development and there are so many international companies," he said. "More and more companies realize there is a pink dollar."
'I just persuaded myself that I'm not gay'
Peng, 39, grew up in a small town about 180 miles outside of Guangzhou, a city in southern China that is close to Hong Kong. Peng was still in the closet when he enrolled in a Guangzhou university in 2002.
"It was my first time knowing the term homosexuality," he said, noting he learned about homosexuality on the internet that had just begun to become widely available in China. "It was so negative because when I searched the term 'tong zhi' (gay in Chinese) it all appeared abnormal, [gay people] have sex with everybody and get diseases like HIV. I was scared. I thought it wasn't ok."
Peng said he went to his university's library to research homosexuality. He told the Blade that most of the books he read "didn't mention homosexuality" and the few that did "said homosexuality is a disease."
"I couldn't even accept myself," he said. "I just persuaded myself that I'm not gay."
Peng said he didn't talk about his homosexuality with his family, in part, because his classmates bullied him because he was "kind of feminine." Peng told the Blade that he was afraid to use the bathroom in school because he "was afraid that when I would go to the toilet people would laugh at me."
Peng said he "persuaded myself to fall in love with other girls" when he was a university student.
He told the Blade that he was still in the closet when he began to work for an NGO and "started to realize there were LGBT groups in Guangzhou."
"The community was there, but I was so scared to join them," said Peng. "I tried to be a volunteer and persuade myself that I'm not gay."
Peng was 27 in 2010 he finally mustered the courage to come out to a colleague on whom he had a crush while they were participating in a two-day hiking event. The man was straight, but Peng told the Blade that his reaction to his homosexuality was "so positive."
"He encouraged me a lot," said Peng. "I forgot to tell him that I love him."
"After that I started to come out to everybody," he added.
Peng in 2013 quit his job and co-founded LGBT Rights Advocacy China. He filed suit against the Chongqing conversion therapy clinic the following year.
Peng's parents still did not know about his homosexuality, but they did watch him on Chinese television after the judge ruled in his favor.
"The national media talked about our case," he said. "All my relatives called them and asked what happened, what happened to your son. I think they got a lot of pressure. They presented not to know and haven't discussed this topic with me. They know … I think they don't accept it. They can't control me because I live so far away."
Peng over the summer married his husband in Utah.
Government censorship, COVID-19 lockdowns among community challenges
China decriminalized homosexuality in 1997, but the government has banned depictions of same-sex relationships and "sissy men" in the media. Transgender people who are at least 18 can legally change their gender after the undergo sex-reassignment surgery.
The State Department's 2021 human rights report cites reports of discrimination and harassment based on sexual orientation and gender identity. The report also notes LGBT Rights Advocacy China's decision to shut down.
Peng told the Blade that the Chinese government's sweeping lockdowns to prevent the spread of COVID-19 have had a serious impact on LGBTQ+ and intersex people.
He noted NGOs in Wuhan worked with local authorities to provide medications to people with HIV/AIDS when the city was locked down from Jan. 23, 2020, until April 8, 2020. Peng said they also sought to hold virtual meetings in which LGBTQ+ and intersex people could participate from their homes.
Pride Month events took place in Shanghai in June 2020, but the city was under a strict COVID-19 lockdown when Peng spoke with the Blade.
"It's kind of difficult," he said.
Hong Kong had been scheduled to host the Gay Games in November, but the pandemic prompted organizers to postpone them to 2023. The Federation of Gay Games, which organizes the quadrennial event, earlier this year announced Hong Kong will co-host it with Guadalajara, Mexico.
Gigi Chao, co-founder of Hong Kong Marriage Equality, late last year during an interview with the Blade dismissed calls to boycott the 2023 Gay Games over China's human rights record.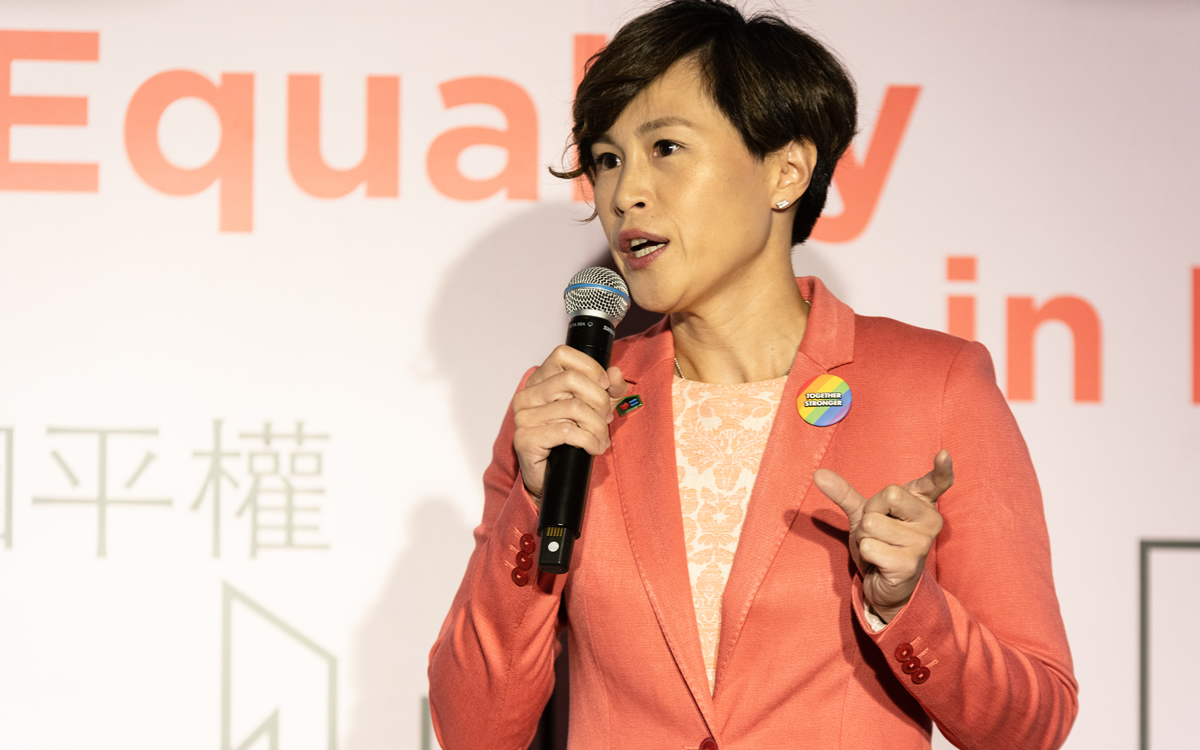 Peng said he and other activists in China "were so happy that Hong Kong was going to organize" the Gay Games, but he did not specifically discuss the human rights concerns. Peng nevertheless said he continues to support the event's organizers in Hong Kong.
"I hope they won't give up," he said. "It's a good opportunity for more businesses because there are a lot of international businesses in Hong Kong to show support. I think they should speak out to support them."
Asian Development Bank LGBTQ+, intersex safeguards 'quite important'
Chantale Wong, the U.S. director of the Asian Development Bank who is the first openly lesbian American ambassador, was born in Shanghai in 1954. Her parents in 1960 placed her in the bottom of a boat that brought her and her grandmother to Hong Kong, which was a British colony at the time.
Peng praised Wong and her ambassadorship. He has also testified in support of LGBTQ+ and intersex-specific safeguards for the Asian Development Bank.
"It's quite important because ADB invests $2 billion every year in China," said Peng. "If there's an LGBT safeguard, these projects can be LGBT-inclusive, friendly … can have some benefit for LGBT people."
WorldPride 2025 in Taiwan cancelled
"Taiwan deeply regrets that InterPride, due to political considerations, has unilaterally rejected the mutually agreed upon consensus"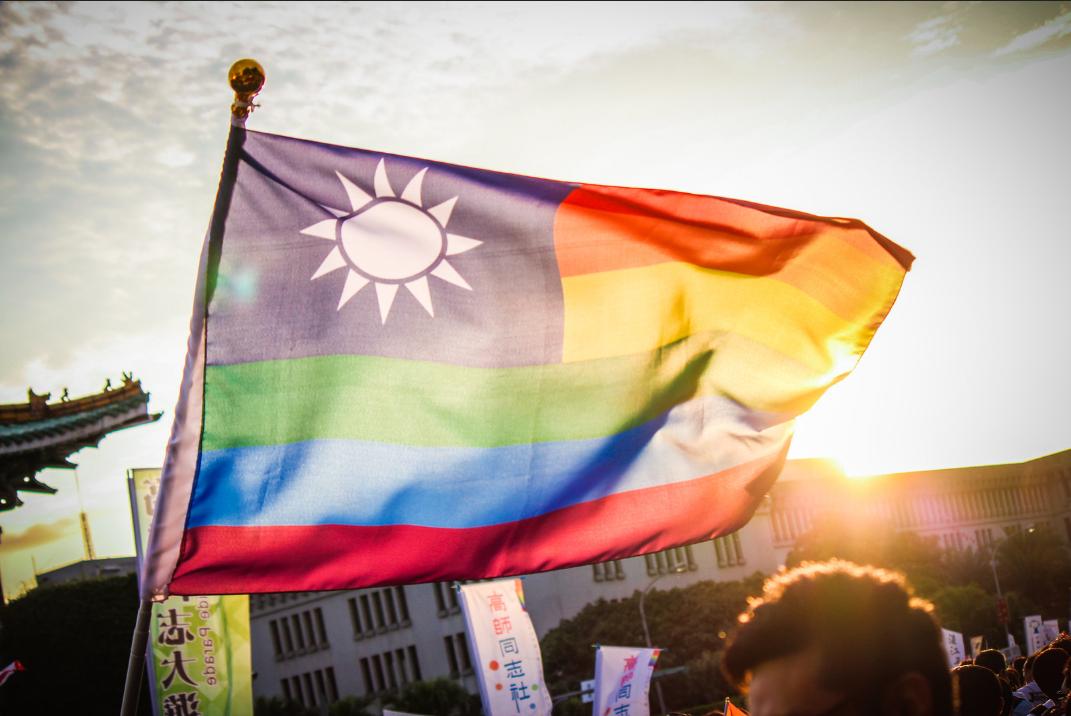 TAIPEI, Taiwan – Taiwanese organizers of the WorldPride 2025 Taiwan will not hold the event after they said InterPride, a global LGBTQ rights group, refused to let the Taiwanese organizers use the island nation's name in the event title.
WorldPride Taiwan 2025 was initially slated to be hosted by the southern city of Kaohsiung after the Taiwan Preparation Committee, consisting of representatives from Kaohsiung Pride and Taiwan Pride, had their bid accepted by InterPride, a global LGBTQ rights group.
A-Ku (阿古), co-chairman of the local WorldPride Taiwan 2025 organizing committee told media outlets that InterPride had recently "suddenly" asked them to change the name of the event to "Kaohsiung," removing the word "Taiwan."
"After careful evaluation, it is believed that if the event continues, it may harm the interests of Taiwan and the Taiwan gay community. Therefore, it is decided to terminate the project before signing the contract," said the co-chair in a statement.
Taiwan's Ministry of Foreign Affairs (MOFA) helped organize a tripartite meeting with InterPride and Kaohsiung Pride on Nov. 16, 2021 during which the three parties agreed upon the name Taiwan, A-Ku told Focus Taiwan/CNA News English.
Despite this, InterPride subsequently announced in a letter dated July 26 that, based on a vote by the directors and supervisors, the event must be named either "WorldPride Kaohsiung" or "Kaohsiung WorldPride," A-Ku said.
He also noted that InterPride's assertion that it had suggested using the name "WorldPride Kaohsiung, Taiwan" was "completely inconsistent with the facts."
A-Ku added that the name "WorldPride Taiwan 2025" had been used throughout the entire bidding process from the beginning of 2021, including on application forms, plans, and other relevant documents.
Taiwan's Foreign Ministry released a statement noting that the event would have been the first WorldPride event to be held in East Asia.
"Taiwan deeply regrets that InterPride, due to political considerations, has unilaterally rejected the mutually agreed upon consensus and broken a relationship of cooperation and trust, leading to this outcome," the statement said adding;
"Not only does the decision disrespect Taiwan's rights and diligent efforts, it also harms Asia's vast LGBTIQ+ community and runs counter to the progressive principles espoused by InterPride."
Taiwan had legalized same-sex marriage in 2019.
"On May 17th, 2019 in Taiwan, Love Won," tweeted President Tsai Ing-wen at the time. "We took a big step towards true equality, and made Taiwan a better country."
The island nation's recognition of same-sex marriage is a first for Asia, and Taiwan is proud of its reputation as a central bastion of LGBTQ rights and liberalism in Asia.
Hadi Damien and Linda DeMarco, the co-presidents of the InterPride board of directors, disputed the committee's claims during an interview with the Los Angeles Blade on Monday.
Damien said an Oct 26, 2021, email thread with the committee confirms "the bidding committee is going to use the title 'WorldPride Taiwan 2025 candidate'" only during the bidding process. Damien said this decision was made "not because InterPride wants to cozy up to any government, not because InterPride does not respect, honor and acknowledge the right to self-determination of people in general."
"It's simply because the tradition of naming WorldPride is based on the city itself," said Damien, noting WorldPride Copenhagen 2021 did not include Denmark in its name.
Damien also told the Blade there were concerns about the committee's commitment to abide by previous agreements it made with InterPride and "precise financial statements."
The committee announced its decision to cancel World Pride shortly after U.S. House Speaker Nancy Pelosi (D-Calif.)'s visit to Taiwan that prompted sharp criticism from the Chinese government, which considers the island a part of China.
DeMarco told the Blade that geopolitics did not factor into the negotiations between InterPride and the committee.
"In all our conversations, it was never even brought up, the geopolitical allegations," said DeMarco. "We were just all concentrating on making sure that we had a human rights conference there, that they had the finances to put on such an event. When we were negotiating with their team, it was all about our community and the WorldPride message that we would get in that area for equality and rights."
"Its unfortunate they brought it to this level," added DeMarco. "We were very clear that we weren't bringing it to that level."
WorldPride 2025 Taiwan's full statement:
Statement on Project Termination of Hosting WorldPride Taiwan 2025
The WorldPride 2025 Taiwan Preparation Committee would like to express our sincere gratitude for all the generous support we have received since winning the bid to host WorldPride 2025 in Taiwan. After months of preparation and collaboration with various government departments and corporate enterprises, it is a great pity to announce that the project of WorldPride Taiwan 2025 has been terminated.
When discussing and negotiating the event contract's terms and conditions, the WorldPride 2025 Taiwan Preparation Committee (consisting of Taiwan Pride and Kaohsiung Pride) was unable to reach a consensus with InterPride, the event licensor. There were major discrepancies between our stances on the event's naming, understandings of Taiwan's culture, and expectations of what a WorldPride event should look like.
In the back-and-forth discussions, InterPride repetitively raised their concerns and doubts about whether Taiwan has the capacity, economic and otherwise, to host an international event like WorldPride. This is despite our team consisting of highly competent Pride organizers who have successfully organized some of the largest Pride events in Asia. Although we have presented past data and relevant statistics to prove our track record, we were still unable to convince InterPride. However hard we have tried to cooperate, our efforts did not result in an equal and trusting working partnership with the event licensor.
The final straw that led the negotiation to a deadlock was the abrupt notice from InterPride, requiring the name of the event to change from "WorldPride Taiwan 2025" to "WorldPride Kaohsiung 2025". This is despite the fact that the name "WorldPride Taiwan 2025" was used throughout the entire bidding process: From the bid application and the bid proposal evaluation to the voting process and the winner announcement back in 2021.
We had made it clear to InterPride that there are some significant reasons why we insist on using the name "WorldPride Taiwan 2025". First, the name "Taiwan Pride" is of symbolic significance to the Taiwanese LGBTIQ+ community as it has been used for Taiwan's first and still ongoing Pride parade since the first edition in 2003. It was not named after the city but the nation as a whole. Second, WorldPride Taiwan 2025 was planned to connect several Pride events and activities across Taiwan, with many cities, in addition to Kaohsiung, participating.
After the winner announcement, upon reading InterPride's congratulatory letter which mistakenly named Taiwan as a region instead of a country, Taiwan's Ministry of Foreign Affairs (MOFA) helped organize a tripartite meeting with InterPride and KH Pride on November 16 2021. In the meeting, the three parties (MOFA, InterPride, KH Pride) agreed on using "WorldPride Taiwan 2025" as the name for all the sequential events and activities. However, during the recent contract negotiation, InterPride suddenly made it a requirement that WorldPride 2025 can only be named after the host city rather than the country ("WorldPride Kaohsiung 2025" instead of "WorldPride Taiwan 2025"). This unexpected requirement essentially reneges on the previously made agreement.
In the face of many uncertainties such as InterPride's inconsistent attitude toward the event naming and doubts about our team and the Taiwan market, we have to make the painful decision to terminate the project of hosting WorldPride 2025 in order to strive for the best interest of the LGBTIQ+ community in Taiwan. The WorldPride 2025 Preparation Committee will also resign to take responsibility for failing to host the event.
We would like to express our most profound appreciation to everyone who has supported us. We are especially grateful for the continuous assistance and resources provided by Taiwan's Presidential Office and Ministry of Foreign Affairs.
We promise that the termination of hosting WorldPride Taiwan 2025 will not undermine our motivation to serve the LGBTIQ+ community. We will continue to promote Taiwan's LGBTIQ+ culture worldwide.
The WorldPride 2025 Taiwan Preparation Committee
2022/08/12
InterPride Board of Director's full statement:
Today, InterPride was surprised to learn about the decision of KH Pride to walk away from negotiations to host WorldPride 2025.
We were confident a compromise could have been reached with respect to the long-standing WorldPride tradition of using the host city name. We suggested using the name "WorldPride Kaohsiung, Taiwan."
We were also working with KH Pride to ensure they would deliver the event they promised to our members, who voted for their bid.
While we are disappointed, InterPride respects and acknowledges KH Pride's decision.
InterPride Board of Directors
Michael K. Lavers contributed to this story.
Transgender influencers in Asia use platforms to promote acceptance
Indian model Sushant Divgikar has 1.8 million Instagram followers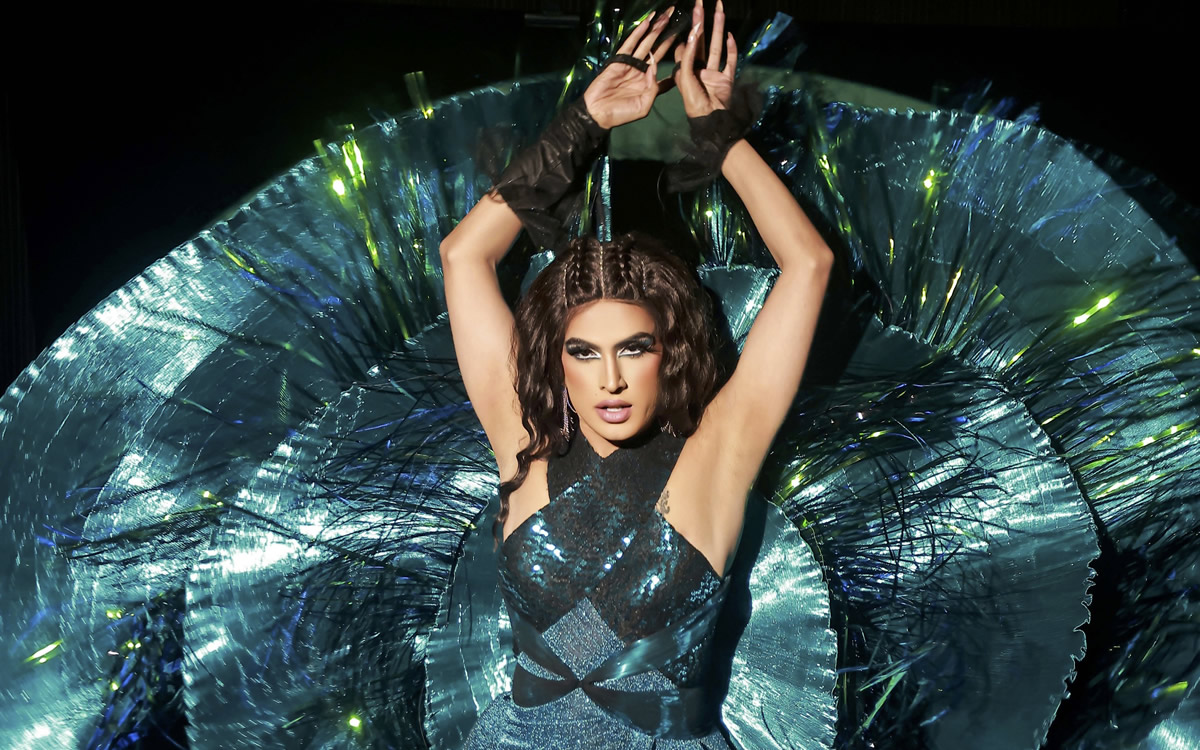 TOKYO — In the time of the internet, new influencers are becoming famous every day. Some dance to someone's else songs for viewership. Some talk about different gadgets, while others use the platform to create a powerful impact on society.
The Transgender community in Asia continues to become more visible, but it still has a long way to go. Trans icons in the region who have become famous online are using their influence to spread awareness of the Trans community among their fans and across their respective countries alike.
Kaede Sari, a Japanese architect, is fighting to spread awareness about Trans people in her country and change society's perspective of Trans people as mere entertainment. 
She released a documentary, "You Decide," in July 2020 that is based on her life. The idea was to spread awareness about Trans people in Japan and inspire other Trans people in the country. The documentary was available in select theaters and on Netflix Japan.
"I have continued to disseminate information, especially to students and families, as well as corporate employers and personnel," said Sari in a statement to the Washington Blade. "However, society is still in the process of change. Some Transgender people may not be able to come out depending on their position. I want to tell them, 'You don't have to come out until the environment is ready. Until we change the whole society, please find a reliable person (to whom you) can come out. And please be a person that is trusted to receive the coming out of many people.'"
The Trans community has been an integral and mostly accepted part of Japanese culture since the Edo period from 1603-1868.
Japan in the late 1800s moved from a country that accepted gender fluidity to one that adopted Western gender binary norms. The Trans community in Japan now faces regular humiliation, misunderstanding and discrimination. 
Japanese law stipulates a person has to show their ID — which often has a gender identity marker — when accessing education, health, transportation and other services. Authorities often ask invasive questions if a Trans person's picture doesn't match their gender marker on the ID card.
Sari told the Blade she wanted to come out after finishing school, getting a job or moving into a new home.
She came out just before she began to look for employment. Sari said her Trans friends either dropped out of school or decided not to come out.
"In Asia, many countries, including Japan, are conservative in change, and policies for LGBT (people) are spreading only in limited areas," said Sari. "There are two steps to changing those who disagree with LGBT. 'The stage of understanding LGBT' and 'the stage of accepting LGBT.' I think we are in the stage of understanding now, so please get the correct knowledge."
China, like Japan, has a long relationship with the Trans community, but repression against it is a reality. Trans cultural icons in China are fighting hard to change the narrative and situation inside the country and abroad.
Fan Popo, a Chinese filmmaker and LGBTQ+ and intersex activist, is working to change attitudes about the country's trans community through films and documentaries. 
Popo is known for his iconic documentary "Mama Rainbow," which has inspired many LGBTQ+ and intersex people in China. The film attracted significant viewers on the internet in China and started a public discussion about the queer community. It has since disappeared from Youku, Tudou, 56.com and other popular Chinese streaming services.
Popo launched a ferocious legal battle with China's State Administration of Radio, Film and Television and the fight resulted in a partial victory in 2015.
He continues to make LGBTQ+-focused films to spread awareness in China and among Chinese people who are living abroad. 
Popo moved to Germany in 2017 and is now working on a fictional film debut. While talking with the Blade, he said the film is important for him as he feels he didn't do enough for the queer community, and he wants to contribute more to the community in the coming years.
"Ever since I moved to Germany, I have been facing systematic racism. There are little resources are available for people of color," said Popo. "What my colleagues in China have to face is also impacting me, so this makes me feel frustrated and unsafe. Another difficulty that I am facing right now is traveling back to China because of restrictions."
Despite all the struggles, Popo has had a huge impact with his fans inside China and around the world.
His creativity and films historically have inspired the Trans community. He has made six films, and his last film was "Beer! Beer!" in 2020.
In India, the Trans community has historical ties to traditional Indian culture. 
According to scholars and ancient Indian texts, the Trans community garnered respect, but things changed once the British colonized the country. 
Section 377 of India's colonial-era penal code that came into force in 1861 criminalized homosexuality. The Indian Supreme Court in 2018 struck down the discriminatory law, but more than 200 years of British colonial rule pushed Indian society to become discriminatory against trans people.
To create awareness about Trans Indians, Trans icons are using their social media platforms and creating a positive impact on society.
Sushant Divgikar is an Indian model, actor, singer, drag queen and motivational speaker who won Mr. Gay India in 2014. With 1.8 million Instagram followers, Divgikar has been spreading awareness about the country's Trans community. 
"The Transgender community has shared a very beautiful status in the context of Indian cultural history in the pre-colonial area. After things changed because the British had very narrow-minded thoughts on the queer community. They talk about how the British divided and ruled the country based on caste, but they do not talk about how British rule divided the country based on gender diversity," Divgikar told the Blade. "Over the past 16 and half years, I have been performing as a drag queen, actor, model, and motivational speaker, so of course, it has been a roller coaster ride, but I have never imagined this anything else. If I had not struggled this much, I would not have known what I have today and what I did not have."
Divgikar since 2012 has appeared on many TV shows and participated in numerous competitions. They have also been using Instagram to talk about the queer community and start a public discussion. Divgikar has inspired many fans with their inspirational posts and stories.
Divgikar in 2020 appeared on Forbes 30 under 30 list.
"At the time when people were not ready to talk about their orientation, I was on TV, risking my life because I used to get death threats, I used to get rape threats. When I was younger, I used to get frustrated because of threats, but now I feel bad for them," they said. "They are the ones who really need a big hug and some therapy. I don't mind paying for their therapy."
Divgikar also talked about their appearance on the third largest billboard in New York's Times Square for an entire month.
While talking with the Blade, Divgikar said Trans Indians feel represented when they see them on big stages. Divgikar feels pride in representing every Asian, and especially Trans Indians, on the world stage.
"When you harm another person, you are not just harming that person," said Divgikar while talking about hate crimes against the trans community in Asia. "You are killing the whole humanity."
Ankush Kumar (Mohit) is a freelance reporter who has covered many stories for Washington and Los Angeles Blades from Iran, India and Singapore. He recently reported for the Daily Beast. He can be reached at [email protected]. He is on Twitter at @mohitkopinion.