Illinois Gov. Pritzker, Sen. Durbin condemn anti-LGBTQ+ extremism
"I am deeply troubled by the empowerment of extremism we're experiencing at this moment in history," Pritzker told The Blade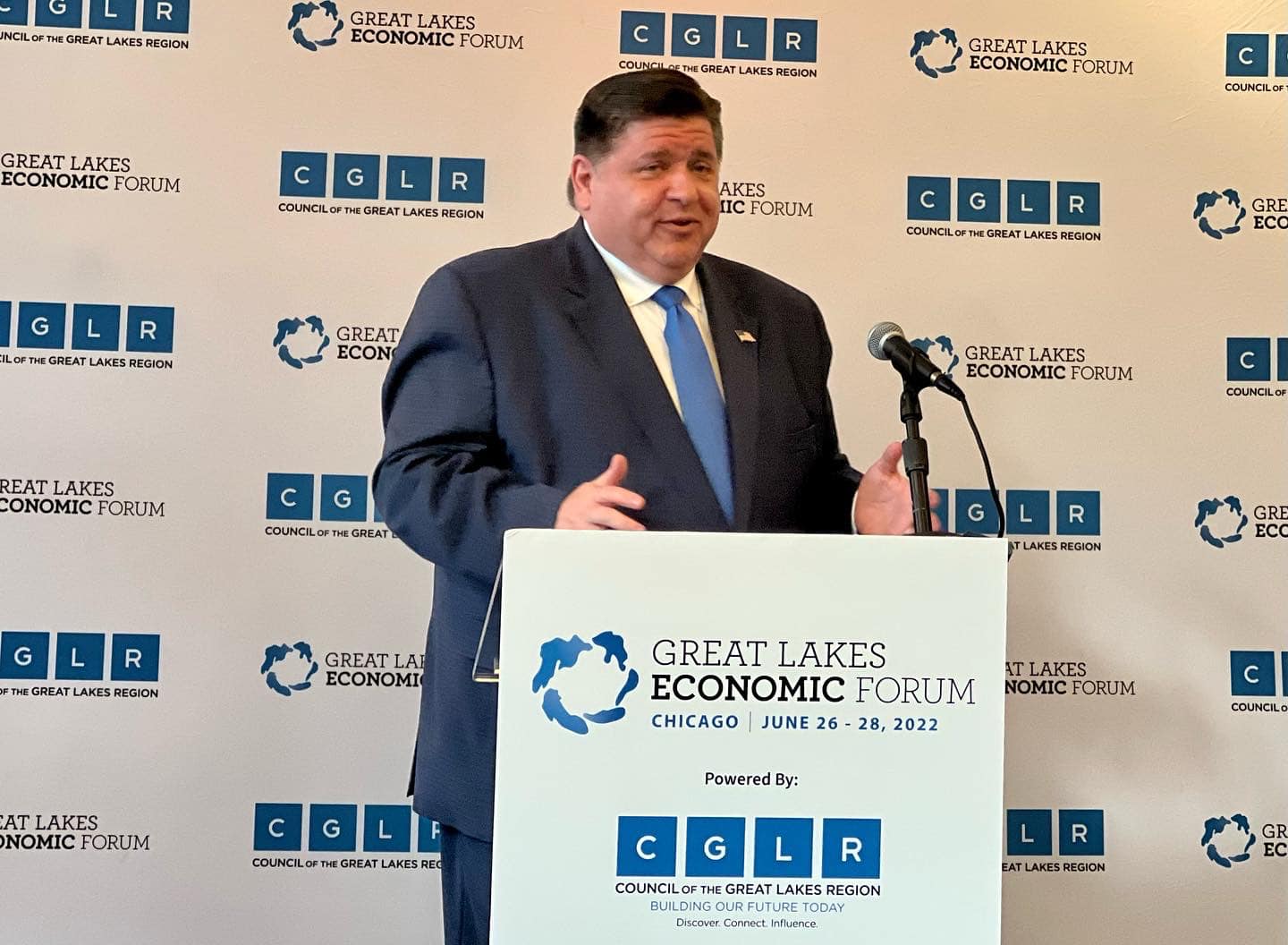 WASHINGTON – Following the escalation of anti-LGBTQ+ attacks against a bakery northwest of Chicago last weekend, U.S. Sen. Dick Durbin (D-IL), the majority whip, and Illinois Governor J.B. Pritzker expressed to The Los Angeles Blade their concerns over the rise of hate and extremism in America.
On July 23, a man was arrested and charged with a hate crime after allegedly smashing the windows of UpRising Bakery and Café and spray-painting offensive messages on the building, in Lake in the Hills, Illinois.
After announcing plans to host a family-friendly drag show, the establishment was targeted with a campaign of harassment that, ahead of the vandalism, included an incident where a bag of feces was left outside with a note proclaiming, "pedophiles work here."
"No one should have to live in fear for being who they are," Durbin told The Blade. "Yet we continue to see extremists target minority groups, including the LGBTQ community, with threatening, hateful acts."
More broadly, Durbin said domestic extremism and hate is among the biggest threats facing our country. "Groups like the Proud Boys are weaponizing violent extremism to target communities, traumatize our country, and leave unimaginable pain and fear in their wake," he said. "That's why we must finally pass my Domestic Terrorism Prevention Act, which would put serious federal resources toward combatting these threats with research, training, and investigations."
Durbin, who chairs the powerful Senate Judiciary Committee, first introduced the Domestic Terrorism Prevention Act in 2017 and reintroduced it this year with Sen. Tammy Baldwin (D-WI). A companion bill sponsored by U.S. Rep Brad Schneider (D-IL-10) passed the House on May 18, but Senate Republicans filibustered the legislation on May 26.
"I am deeply troubled by the empowerment of extremism we're experiencing at this moment in history," Pritzker told The Blade. "But Illinois will continue to fight against it at every turn." He added, "I welcome every effort by LGBTQ+ advocacy organizations to pursue additional policy at the state and federal level to ensure this nation is safe for all who call it home."
Pritzker said the "disturbing" attacks against UpRising Bakery are wholly inconsistent with "the Illinois I know." He pointed to an incident in which a homeowner's Pride flag was stolen and replaced with an American flag and the entire neighborhood decided to decorate their homes and yards with rainbow flags in a show of solidarity.
The state's record on human rights came into sharp relief with developments over the border in Indiana, whose legislature convened a special session this week to consider legislation that would outlaw most abortions and permit criminal prosecution of women who lie to terminate their pregnancies.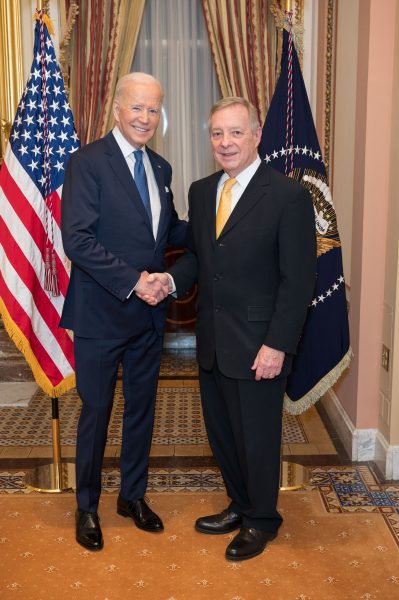 Asked about these developments, Durbin took the opportunity to draw a stark contrast. Unlike Republican legislatures, he said, which are "hellbent on instituting draconian restrictions at the expense of women and people who rely on" healthcare including abortion, Illinois – a "safe haven surrounded by states with increasingly restricted access" – plans to hold a special session to "bolster abortion protections."
At the federal level, Durbin said, "I'm committed to ensuring that our state remains open to those seeking care, which is why I cosponsored the Freedom to Travel for Health Care Act." Durbin was joined by U.S. Sens. Patty Murray (D-WA), Catherine Cortez Masto (D-NV), Sheldon Whitehouse (D-RI), and Kirsten Gillibrand (D-NY) in introducing the bill, which was defeated by Senate Republicans earlier this month.
"We are a hub for the heartland on reproductive rights," Pritzker said, "and so long as I'm governor, we always will be. I'm incredibly disturbed by the attacks on healthcare freedoms at our borders, so I've directed my administration to do everything in our power to double down on Illinois' support and protections and I've asked that the Biden Administration do the same."
Marjorie Taylor Greene tweets homophobic attack on Sen. Wiener
"Greene is a toxic person & embodies why the MAGA movement is dangerous, a threat to our democracy & to the personal safety of LGBTQ people"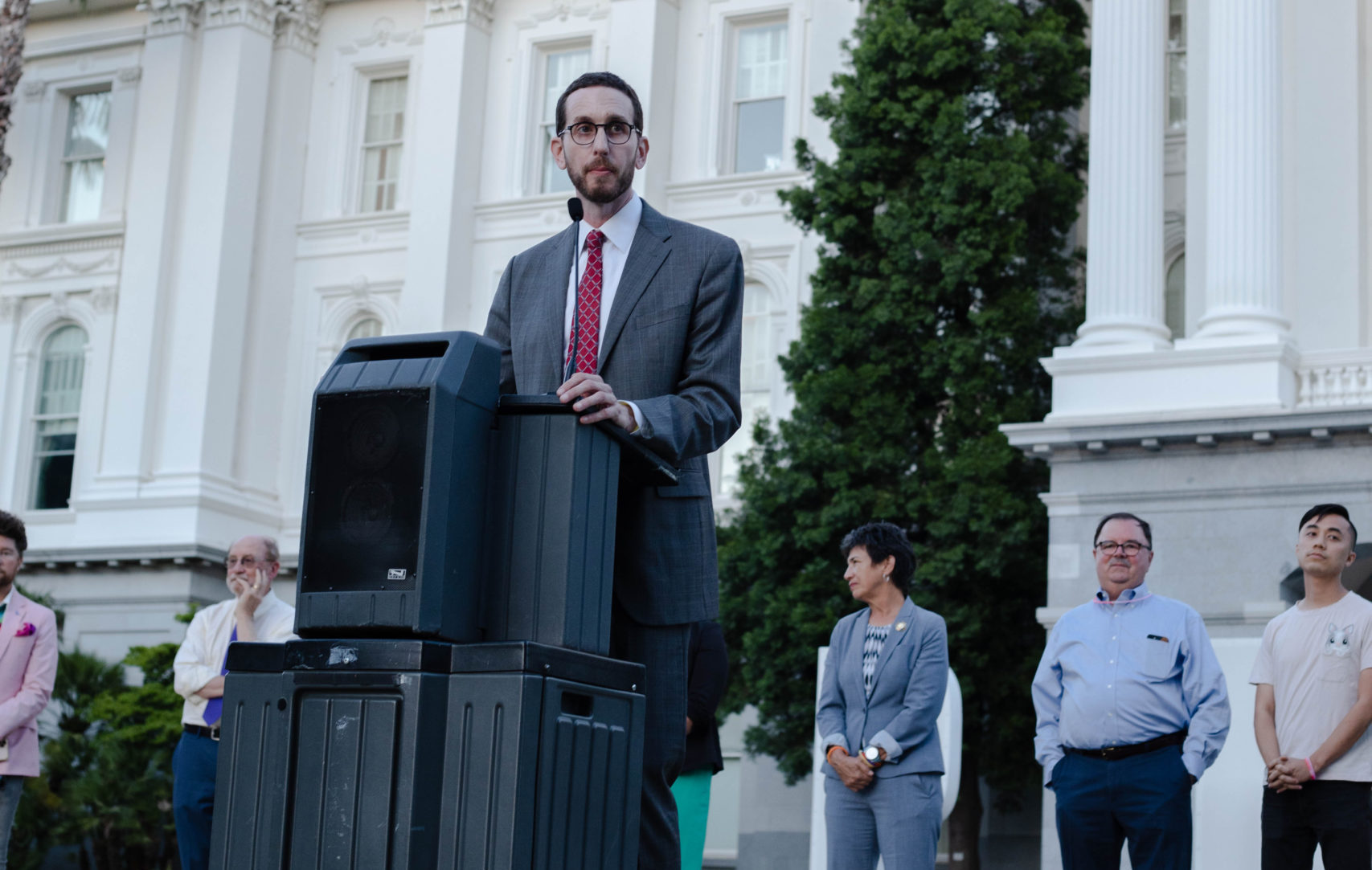 LOS ANGELES – Far-right Republican U.S. Rep. Marjorie Taylor Greene attacked Calif. State Sen. Scott Wiener, (D-San Francisco) on Tuesday after Wiener made a point of calling out use of the word "groomer," as the abusive reaction and fallout from right-wing sources regarding the mass-shooting at Club Q in Colorado Springs, continues to ratchet up against the LGBTQ+ community.
"The word "groomer" is categorically an anti-LGBTQ hate word. It's super homophobic/transphobic. It plays into the slander that LGBTQ people are pedophiles. It's no different than calling someone a fagg*t. If you call someone groomer, you're inciting violence against LGBTQ people," Wiener stated in his tweet.
Quoting Wiener's tweet the far-right MAGA Georgia congresswoman called the Senator a "communist" questioning Wiener's loyalty and service to both the State of California and the U.S. she then went on to accuse Wiener of being a "groomer" implying that the Senator was a predator of minors for sexual purposes:
"Pass my Protect Children's Innocence Act to stop communist groomers like this from using state government power to take children away from their parents to allow a for-profit medical industry to chop off these confused children's genitals before they are even old enough to vote."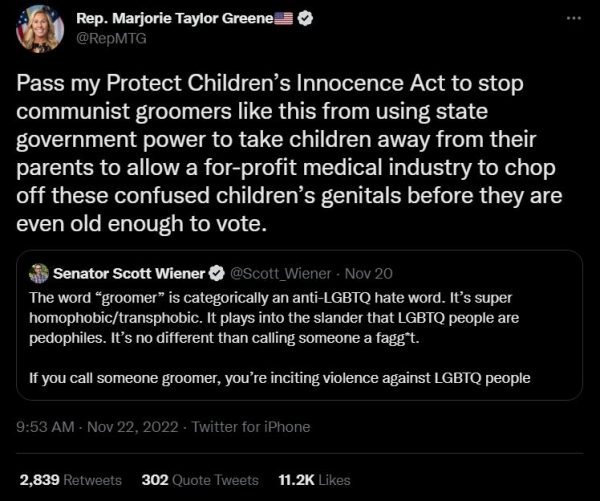 In an emailed statement, Senator Wiener responded to the homophobic attack by the Georgia Republican:
"The same day Elon Musk reinstated QAnon extremist Marjorie Taylor Greene, she launched a vile homophobic attack on me because of my vocal advocacy in response to the Club Q slaughter. When Greene has attacked me in the past, threats against me have typically increased. She is a toxic person and embodies why the MAGA movement is so dangerous. Green is a threat to our democracy and to the personal safety of LGBTQ people."
The term 'groomer' is considered highly offensive as it broadly brushstroke paints LGBTQ+ people as child molesters.
The definition according to the Urban online dictionary:
1 (the crime definition): An adult that builds a sense of trust with a minor to exploit and/or abuse them, typically (but not always) in a sexual manner. This is a crime, and it also causes harm to the minor.
2 (in US politics): What republican politicians and supporters refer to LGBTQIA+ people and their allies as, to manipulate their audience to pass anti-LGBTQIA+ legislation. This is targeting and harming LGBTQIA+ people and the people using the word in this manner typically are (or have connections with those who are) actual groomers.
National Public Radio, (NPR) reported this past May the Movement Advancement Project's executive director, Ineke Mushovic, pointed out:
"What the far right often does is they engage people's reptilian brains, the fight-or-flight instinct," says Mushovic. "And so it behooves far-right conservatives to put people in a state of fear, because then they're reactive. They don't support change."
The "grooming" narrative, Mushovic added, "taps into this primal sense of fear and this kind of parental protective instinct. But we know it's a completely false narrative."
The "grooming" narrative has been actively promoted by conservative activist Christopher Rufo, and Daily Wire pundit and transphobe Matt Walsh who have both attacked gender affirming care in their assaults on the LGBTQ+ community.
It took three days after the mass shooting at Club Q for the Daily Wire's Matt Walsh to blame the victims for the massacre. pic.twitter.com/08kitTdpMt

— Ari Drennen (@AriDrennen) November 22, 2022
Green's H.R.8731 – Protect Children's Innocence Act, was introduced this past August 19 and has forty-nine Republican members listed as co-sponsors. The language as introduced stated targets primarily Trans youth healthcare and targets colleges and universities from "offering instruction in gender affirming care:"
This bill places restrictions on the provision of gender affirming care. Gender affirming care includes performing surgery, administering medication, or performing other procedures for the purpose of changing the body of an individual to correspond to a sex that differs from the individual's biological sex.
Specifically, the bill makes it a felony to perform any gender affirming care on a minor and it permits a minor on whom such care is performed to bring a civil action against each individual who provided the care.
Additionally, the bill prohibits the use of federal funds for gender affirming care or for health insurance that covers such care. Such care may not be provided in a federal health care facility or by a federal employee. The bill also prohibits qualified health plans from including coverage for gender affirming care. Further, plans that include coverage for such care are not eligible for federal subsidies. […]