The voice of Los Angeles Dodgers baseball, legendary Vin Scully has died
"The game is the thing, not me," he told The LA Times in 1998. "I am just a conduit for the game. I am the guy between the expert & the fan. I am not the expert"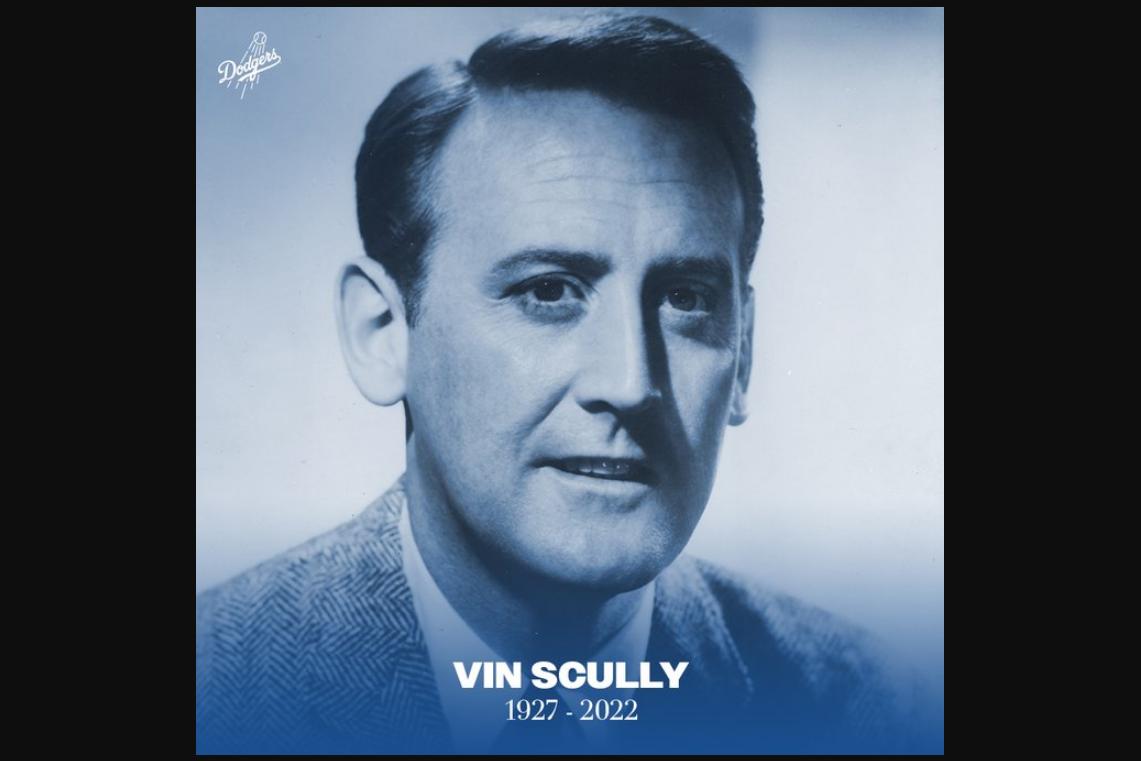 LOS ANGELES – The iconic phrase "It's time for Dodgers baseball" voiced by Vin Scully, ringing out at the home of the Los Angeles Dodgers for over 60 years was termed "the heartbeat of the Dodgers," by the team as it sadly announced the legendary broadcaster's passing at age 94 Tuesday.
"We have lost an icon," said Dodger President & CEO Stan Kasten. "The Dodgers' Vin Scully was one of the greatest voices in all of sports. He was a giant of a man, not only as a broadcaster, but as a humanitarian. He loved people. He loved life. He loved baseball and the Dodgers. And he loved his family. His voice will always be heard and etched in all of our minds forever. I know he was looking forward to joining the love of his life, Sandi. Our thoughts and prayers go out to his family during this very difficult time. Vin will be truly missed."
California Governor Gavin Newsom expressed his condolences Tuesday evening after the news broke of Scully's death. In a statement the Governor said:
"Vin Scully was a master of his craft. A native son of New York, his unmistakable voice will forever be synonymous with Los Angeles.
When the Dodgers moved from Brooklyn in 1958, Vin came with them. For more than six decades, he provided the soundtrack for generations of baseball fans. He was a master storyteller whose calls had an unparalleled musical quality that was a source of comfort for millions.
Over his remarkable career, Vin consistently demonstrated the remarkable ability to improvise poetry, a true artist whose love for the game rang through every Dodgers broadcast. He was quite simply the greatest of all time, and will be sorely missed not just by his family and friends but by millions of baseball fans."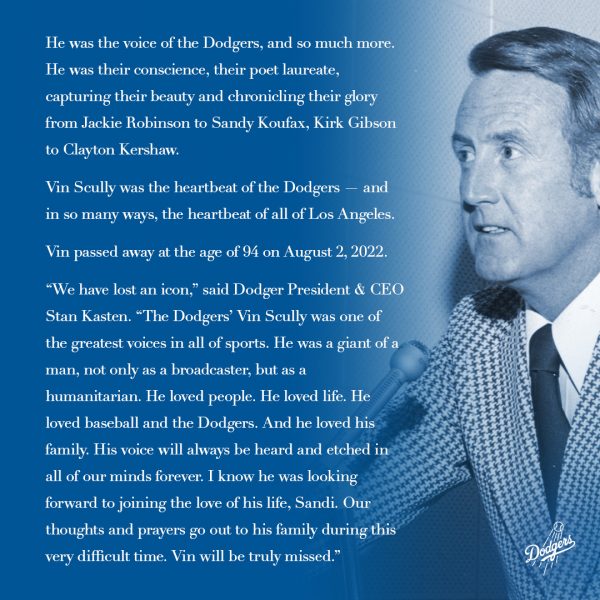 LA's hometown station KTLA 5 reported that Vincent Edward Scully was born on Nov. 29, 1927, in Bronx, New York. He began his legendary career at Fordham University, where he worked on the school paper and for the college radio station.
He latched onto the then-Brooklyn Dodgers in the 1950s and followed the team to the West Coast where he would become synonymous with Dodgers baseball for the next 67 season.
Scully retired from calling Dodgers games after the 2016 season, eight years after announcing his original plans to step away from the game he loved.
He was a MLB Hall of Fame inductee in the 1980s, becoming one of only a handful of announcers to receive the honor. In 2016 he was awarded the Presidential Medal of Freedom by President Barack Obama.
Earlier this year, he was awarded the Baseball Digest lifetime achievement award.
California U.S. Senator Alex Padilla remembered the Dodger broadcaster in a statement:
"Angela and I join Los Angeles—and baseball fans around the world—in mourning the passing of Vin Scully. From Opening Day to the World Series and every inning in between, for generations of fans, Vin Scully's voice meant it was time for Dodger baseball. Growing up in the San Fernando Valley in the 1980s, I spent many evenings dreaming of playing baseball in the major leagues while Vin's voice narrated the action.
"Vin's unparalleled storytelling and love of sports allowed him to transcend baseball. Many fans recall Vin's unique calls on some of the most memorable football games and golf tournaments of the 20th Century.
"While he became a legend for his talents behind the microphone, he will be remembered best for his decency beyond the broadcast booth. A few years ago, as California's Secretary of State, I had the opportunity to introduce Angela and our boys to Vin at a voter registration event before the game. He was incredibly gracious to my family, as he was to all fans. He always made time for fans—regardless of age or occupation—whenever and wherever he met them. Vin Scully was truly an ambassador for the Dodgers, Los Angeles, and the entire sport of baseball. Our hearts go out to the entire Scully family."
In a Facebook post, Out Dodgers executive Erik Braverman expressed his sadness at the passage of the team's legendary broadcaster:
August 3, 2022
From KTLA:
Blinken criticizes FIFA over threat to fine World Cup team captains with 'one love' armbands
Qatar criminalizes homosexuality by death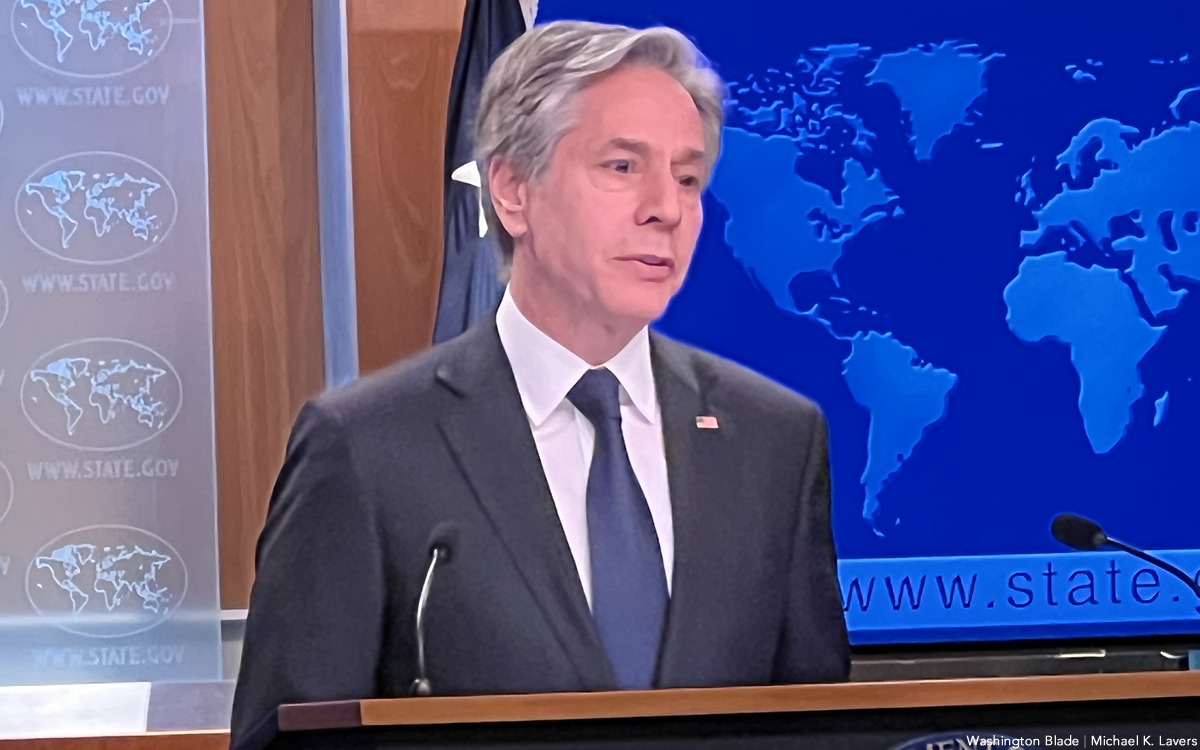 DOHA, Qatar — Secretary of State Antony Blinken on Tuesday criticized FIFA over its threat to sanction European soccer teams if their captains wore "one love" armbands during the 2022 World Cup.
"It's always concerning from my perspective when we see any restrictions on freedom of expression. It's especially so when the expression is for diversity and for inclusion," Blinken told reporters during a press conference with Qatari Foreign Minister Mohammed Bin Abdulrahman Al-Thani in Doha, the Qatari capital. "And in my judgment, at least, no one on a football pitch should be forced to choose between supporting these values and playing for their team."
Seven European soccer teams on Monday announced their captains will not wear LGBTQ+ and intersex armbands during the 2022 World Cup after FIFA threatened to sanction them.
The captains of Belgium, Denmark, England, Germany, the Netherlands, Switzerland and Wales had planned to wear the armbands in support of the LGBTQ+ and intersex community during the World Cup. The teams on Monday in a joint statement said they would not wear the armbands because FIFA had threatened to sanction them if their captains did.
The World Cup began in Qatar on Sunday.
Qatar is among the handful of countries in which consensual same-sex sexual relations remain punishable by death. A report that Human Rights Watch published last month noted several cases of "severe and repeated beatings" and "sexual harassment" of LGBTQ+ and intersex people while in police custody from 2019 and September 2022.
A State Department official last week acknowledged to the Washington Blade that the U.S. raised LGBTQ+ and intersex rights with the Qatari government ahead of the World Cup.
The U.S. men's soccer team while in Qatar will have a redesigned logo with the Pride flag in its badge. Blinken attended their match against Wales on Monday.