Public help sought identifying patient at County-USC Medical Center
Anyone with information on the patient's identity is asked to call Clinical Social Worker Cesar Robles at 323-409-6884 or 323-409-5253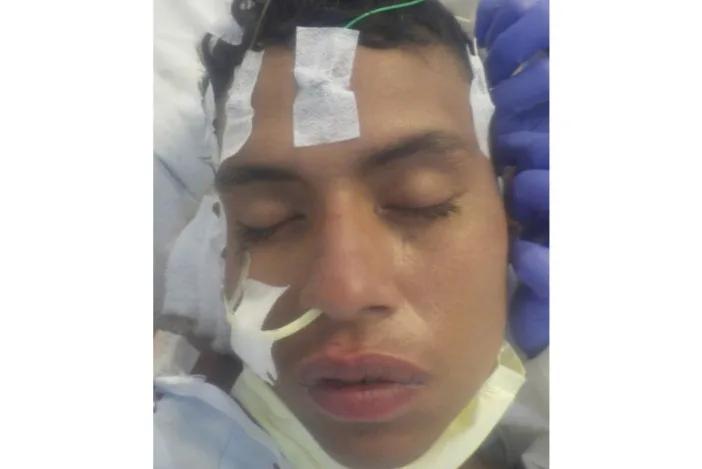 LOS ANGELES – The Los Angeles County Department of Health Services asked the public for help Tuesday in identifying a possible juvenile who has been hospitalized for nearly two weeks.
According to a news release the young male who could be in his late teens was dropped off at LA County-USC Medical Center on July 22. The patient was described as a male Hispanic between 16 and 20 years old. He is about 5 feet 8 inches tall and weighs 154 pounds.
The Medical Center described him as having a thin stature with short dark hair and brown eyes. The patient also has a tattoo of a cross under his right eye and another tattoo on his right hand.
No further information about the nature of the injuries or the condition of the patient was released.
Anyone with information on the patient's identity is asked to call Clinical Social Worker Cesar Robles at 323-409-6884 or 323-409-5253.
LA County Parks should be your destination this Fall!
Make LA County Parks your destination this fall as you explore, engage and connect through our exciting programs!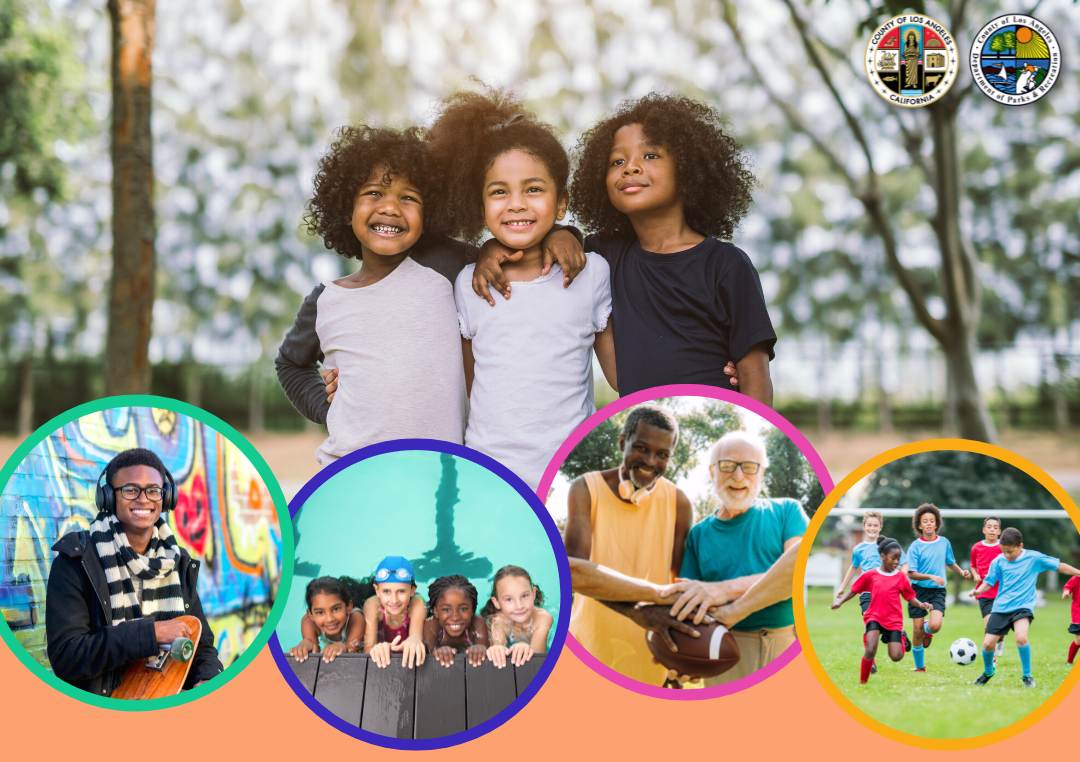 LOS ANGELES – Summer is coming to an end soon, but the fun doesn't stop here! LA County Parks presents an exciting slate of fun programming for the whole family this fall! Join us to create lifelong memories with your family. From recreation classes and nature center programs to sports and aquatics, there's something for every body to enjoy.

Check out some of our new programs, as well as community favorites that are back for another season! Join the fun starting September 6, 2022.
Check out a few of our upcoming programs!

SPORTS FOR ALL
Days and times vary based on location
Program availability may vary by location
Pre-registration is required, register HERE

Sports for All clinic is a youth sports clinic is an 8-week skills development clinic that meets once a week for basketball, baseball, softball, soccer, volleyball, cheer and other sports. Clinics focus on building foundational skills, self-confidence and teamwork.

EVERY BODY PLAYS DROP IN RECREATION ADVENTURES
Mondays – Fridays, 2:30 PM – 5:30 PM
Free drop-in program; No registration required

Every Body Plays is a positive space with a curriculum that is youth centered and designed for fun! This FREE drop-in program launches September 6, 2022 and runs until May 26, 2022. Children can enjoy a snack with their friends at select parks from 3:00 PM – 4:00 PM. The program provides children ages 7-17 with access to caring and trained park staff who serve as mentors and lead an array of programs and activities, ranging from sports, fitness, arts and crafts, STEM, group games, story time and so much more. Every day is an adventure in LA County Parks!

FREE SNACK PROGRAM
September 6, 2022 – May 26, 2023
Mondays – Fridays; 3:00 PM – 4:00 PM
Children and youth under 18 years of age are invited to receive a nutritious grab-n-go snack that includes vegetables, fruits, seeds and healthy dairy products like milk, string cheese, and yogurt. Created to help reduce the growing percentage of young people in the United States challenged by obesity or lack of consistent access to wholesome meals, the program aims to provide a healthy alternative for children when school is out. There are no meals served on County observed holidays.

NATURAL AREAS:

EVERY BODY EXPLORES
Tuesdays – Fridays, 2:30 PM – 5:30 PM & Saturdays 10:30 AM – 1:30 PM
Free drop-in program; No registration required

The Everybody Explores program provides participants of all ages an opportunity to check out a Naturalist field backpack they can use to complete self-guided activities, make observations and explore the park.

NATURE KNOWLEDGE NIGHTS
Dates vary by location, 6:00 PM – 7:00 PM
Free drop-in program; No registration required

Spend an evening getting to know the beauty of the natural world at a Los Angeles County Nature Center. Activities vary based on topic but may include group activities, ESTEAM fundamentals, community science, nature hikes, guided tours or animal ambassador experience.

NATURE CENTER DISCOVERY
Every Saturday at select Nature Centers, 10:00 AM – Noon
Free drop-in program; No registration required

Each Saturday you'll have an opportunity to meet our Nature Center Superintendents and learn about the park, history and the natural habitat around you, even meeting Animal Ambassadors native to the area! Find a Nature Center near you HERE.

You can also participate in our Saturday Morning Discovery Tables, where you and your family can explore table exhibits and "ask a naturalist" about the flora and fauna all around us. These exhibits will take place from 10:00 AM – 12:30 PM.

FALL RECREATION CLASSES
Dates, times and locations vary by class
Registration required. Register HERE

We teamed up with some of the best instructors in Los Angeles to bring you hundreds of classes for all ages, levels and budgets. Take a class at your local park for some fresh air or join virtual classes from the comfort of your own home! Whether you're looking to be more active, learn a new hobby or take up a new skill or language, we have just the class for you and everyone in your family.

TRICK-OR-TREAT VILLAGE
October 25-29, 2022 at several LA County Parks
Dates and times vary by location
Free; No registration required

Join us for a fantastically spooky time at a park near you this October to enjoy free activities. Costumes are encouraged! More information coming soon.

HARVEST FESTIVAL
November 15-23, 2022 at several LA County Parks
Dates and times vary by location
Free; No registration required

Families are invited to enjoy cultural celebrations that include food tasting, dancing, music, crafts and family activities. More information coming soon.

EDDIE HEREDIA BOXING CLUB
The Eddie Heredia Boxing Club has reopened! Do have what it takes to be a world class boxer? The Eddie Heredia Youth Boxing Club offers a variety of boxing classes geared to teach youth who are just beginning to learn the sport, to advanced classes for youths who are ready to spare and participate in competitions on a local, regional, and national level.

AQUATICS:

LEARN TO SWIM
Monday-Friday, Saturdays
August 29, 2022 thru December 23, 2022
Times may vary by location, level and session
Pre-registration is required; register HERE

Swim Lessons teach core swimming skills including water safety, floating and technique for the four core swimming strokes. The program is designed to provide swimmers with a positive learning experience while steadily progressing through the core skills and strokes.  All levels are in alignment with the American Red Cross' "Learn to Swim" Program.

EVERY BODY SWIMS
Saturday from 12:30pm – 2:00pm; 2:30pm – 4:00pm
Begins September 3rd, 2022

FREE Rec Swim is a fun and positive way to practice new skills, be physically active, keep your heart rate up, reduce stress and build muscle. Rec swim also provides an opportunity to socialize and make new friends.  Rec Swim starts September 3 and takes place on Saturdays from 12:30 PM – 2:00 PM and 2:30 PM – 4:00 PM.

SENIOR PROGRAMS AND ACTIVITIES
Dates and times vary by location Free; No registration required

LA County Senior Centers, Programs and Activities are a great place for adults ages 60+ years to stay fit, active and to meet new people. Activities promote physical and mental well-being, socialization, nutrition, life-long learning and volunteer opportunities. Lean more HERE.

OUR SPOT
Monday to Friday 3:00 PM – 7:00 PM
Free program; Register HERE

FREE daily after-school program that supports positive youth development by exposing teens to caring mentors, social justice projects, leadership and artists experiences, early career exploration, substance abuse prevention, sports and physical fitness, and other opportunities meaningful to youth. Teens participate in park advisory groups and contribute to the planning of field trips, events and social action projects.

… AND MUCH MORE!
Follow us on Facebook @parks.lacounty.gov and Twitter & Instagram @lacountyparks!
LA LGBT Center & Public Health host virtual townhall on Monkeypox
Topics will include a situational update, vaccine eligibility, & preventative measures. The town hall will also include a Q&A with residents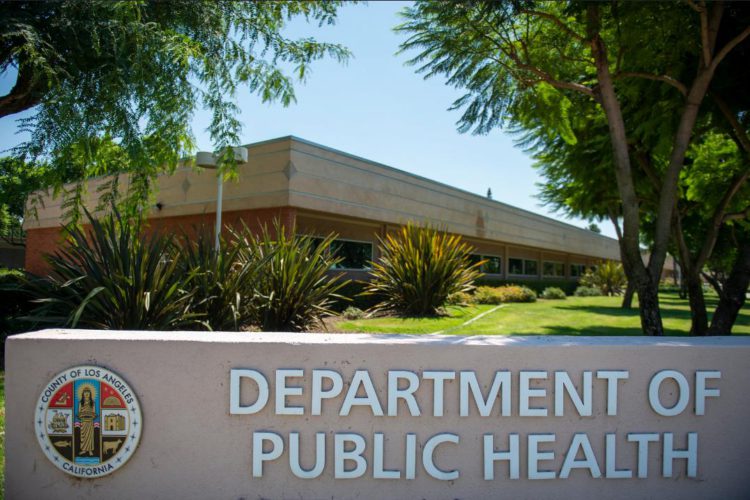 LOS ANGELES – Los Angeles County Department of Public Health and the Los Angeles LGBT Center will host a virtual town hall for the public on the topic of Monkeypox. Topics will include a situational update, vaccine eligibility, and preventative measures. The town hall will include the latest updates and a Q&A with residents.
WHEN:
Tuesday, July 12, 2022
6:00 p.m.
WHERE:
Submit questions ahead HERE to have them answered during the livestream.
WHO:
Sonali Kulkarni, MD, MPH, Medical Director in the Division of HIV and STD Programs (DHSP) at the Los Angeles County (LAC) Department of Public Health
Nava Yeganeh, MD, MPH, Pediatric Infectious Disease Physician and Medical Director of the Vaccine Disease Preventable Control Program
Robert Bolan, MD, Medical Director of Research and Education, Los Angeles LGBT Center
David Herman, MD, Medical Director of Primary Care, Los Angeles LGBT Center
LA County Parks after Dark program celebrates 50th anniversary of Title IX
Parks & Rec offers sport opportunities for girls in flag football, soccer, softball, basketball, lacrosse, cheerleading and volleyball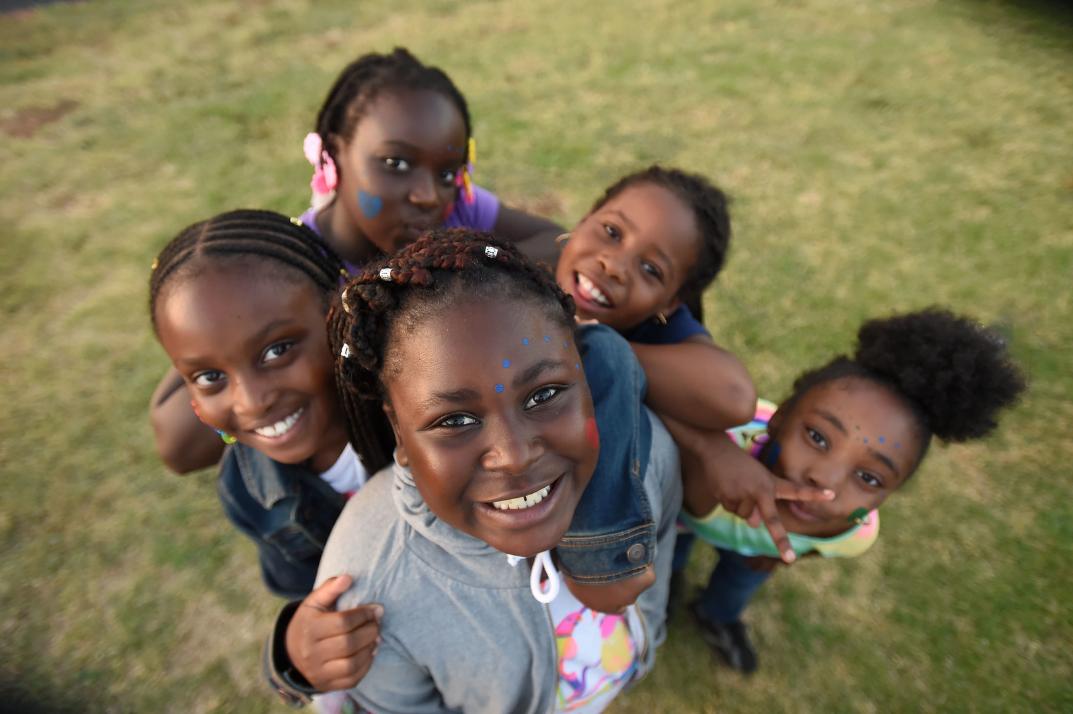 LOS ANGELES – On Thursday, June 23, 2022, 34 participating Parks After Dark (PAD) parks will celebrate the 50th Anniversary of Title IX with a highly anticipated girls' sports clinic and showcase starting at 6:00 p.m.
More than 1,800 girls, ages 5 to 18 will have the opportunity to learn skills and techniques from various sports such as soccer, lacrosse, softball, basketball and cheerleading. Sports will vary at each park.
In 1972, Title IX, the civil rights legislation that prohibits sex-based discrimination in any school or any other college sports was passed into law to provide equal opportunity, scholarships and participation for girls in sports. In 2022, the department of Parks and Recreation is striving to offer girls sports County-wide to support the vision of Title IX and aiming for gender equity across all sports programs.
"The department's goal is to provide a safe space dedicated for girls to play, increase opportunities for women coaches and administrators and to provide a positive experience while participating in sports," says Regina Bradley, LA County Parks and Recreation Sports Manager.
The department currently offers sport opportunities for girls in flag football, soccer, softball, basketball, lacrosse, cheerleading and volleyball.
Parks After Dark is an award-winning program designed to bring communities together by filling park spaces with family-centered activities that transform local parks into summer safe havens. This summer's program lineup will feature an array of girls' sports programs to commemorate the 50th anniversary of Title IX, which paved the way to gender equity for girl's participation in sports.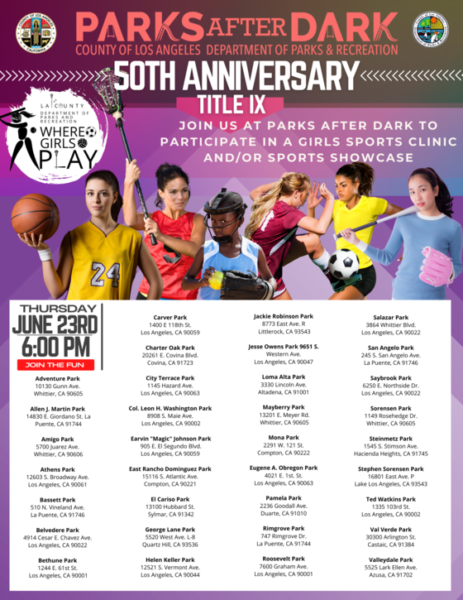 The L.A. County Parks after Dark program is possible thanks to the generosity of the L.A. County Board of Supervisors – First District Supervisor Hilda L. Solis, Second District Supervisor and Board Chair Holly J. Mitchell, Third District Supervisor Sheila Kuehl, Fourth District Supervisor Janice Hahn and Fifth District Supervisor Kathryn Barger – L.A. County Chief Executive Office, L.A. County Department of Public Social Services, L.A. County Probation Department and many community-based organizations throughout L.A. County.
"Now more than ever, L.A. County families need park spaces to heal from the trauma brought on by COVID-19 combined with the financial stress many people are facing," L.A. County Parks Executive Director Norma Edith García-González said. "Parks after Dark eliminates barriers to recreational opportunities and introduces families to no cost enriching experiences that promote mental and physical health through fun and games."
Parks After Dark, launched in 2010, has proven to be a successful prevention and intervention program that provides multiple benefits to vulnerable communities,decreasing violence and crime, and increasing social cohesion and community well-being. In 2018, Parks After Dark was recognized by the National Recreation and Park Association, which presented L.A. County Parks and Recreation with its Best in Innovation award.
For more information on Parks After Dark, visit https://parks.lacounty.gov/PAD.
All PAD parks will host programs on Thursday, Friday and Saturday nights from 6:00-10:00PM between June 16th and August 6th:
Jackie Robinson Park – 8773 E. Avenue R, Littlerock
Stephen Sorenson Park – 16801 E. Avenue P, Lake Los Angeles
George Lane Park – 5520 W. Ave L-8, Quartz Hill
Val Verde Community Regional Park – 30300 W. Arlington Rd., Val Verde
El Cariso Community Regional Park – 13100 Hubbard St., Sylmar
Loma Alta Park – 3330 N. Lincoln Ave., Altadena
Pamela County Park – 2236 Goodall Ave., Duarte
Valleydale Park – 5525 N. Lark Ellen Ave., Azusa
Charter Oak Park – 20261 E. Covina Blvd., Covina
San Angelo Park – 245 S. San Angelo Ave., La Puente
Bassett Park – 510 N. Vineland Ave., La Puente
Allen J. Martin Park – 14830 E. Giordano St., La Puente
Rimgrove Park – 747 N. Rimgrove Dr., La Puente
William Steinmetz Park – 1545 S, Stimson Ave., Hacienda Heights
Amigo Park – 5700 S. Juarez Ave., Whittier
Sorenson Park – 11419 Rose Hedge Dr., Whittier
Adventure Park – 10130 S. Gunn Ave., Whittier
Amelia Mayberry Park – 13201 E. Meyer Rd., Whittier
City Terrace Park – 1126 N. Hazard Ave., East Los Angeles
Eugene A. Obregon Park – 4021 E. First St., Los Angeles
Belvedere Community Regional Park – 4914 E. Cesar Chavez Ave., Los Angeles
Ruben Salazar Park – 3864 Whittier Blvd., Los Angeles
Saybrook Park – 6250 E. Northside Dr., East Los Angeles
East Rancho Dominguez Park – 15116 S. Atlantic Ave., Compton
Mona Park – 2291 E. 121st St., Compton
Athens Park – 12603 S. Broadway, Los Angeles
Mary M. Bethune Park – 1244 E. 61st St., Los Angeles
Earvin "Magic" Johnson Park – 905 E. El Segundo Blvd, Los Angeles
Helen Keller Park – 12521 S. Vermont Ave., Los Angeles
Jesse Owens Community Regional Park – 9651 S. Western Ave., Los Angeles
Franklin D. Roosevelt Park – 7600 Graham Ave., Los Angeles
Ted Watkins Memorial Park – 1335 E. 103rd St., Los Angeles
Col. Leon H. Washington Park – 8908 S. Maie Ave., Los Angeles
George Washington Carver Park – 1400 E. 118th St., Los Angeles